This weekend was a quick drive over to Iowa and back to see a couple things that had been on our Summer 2021 Out West road trip itinerary, but we had to cut short at the end for Norah's 4H events… I had been waiting almost 3 years now… trying to fit them in…but finally got them done! We were a little worried this weekend would end like the last weekend had in Kentucky where everything was closed. We started seeing tornado warnings and forecast charts that did NOT look good for the areas we would be going. In the end, we missed almost all weather that came through the area by just a few hours each time and other than a little rain on our first stop in Pekin, IL- we had great weather and most everything was open!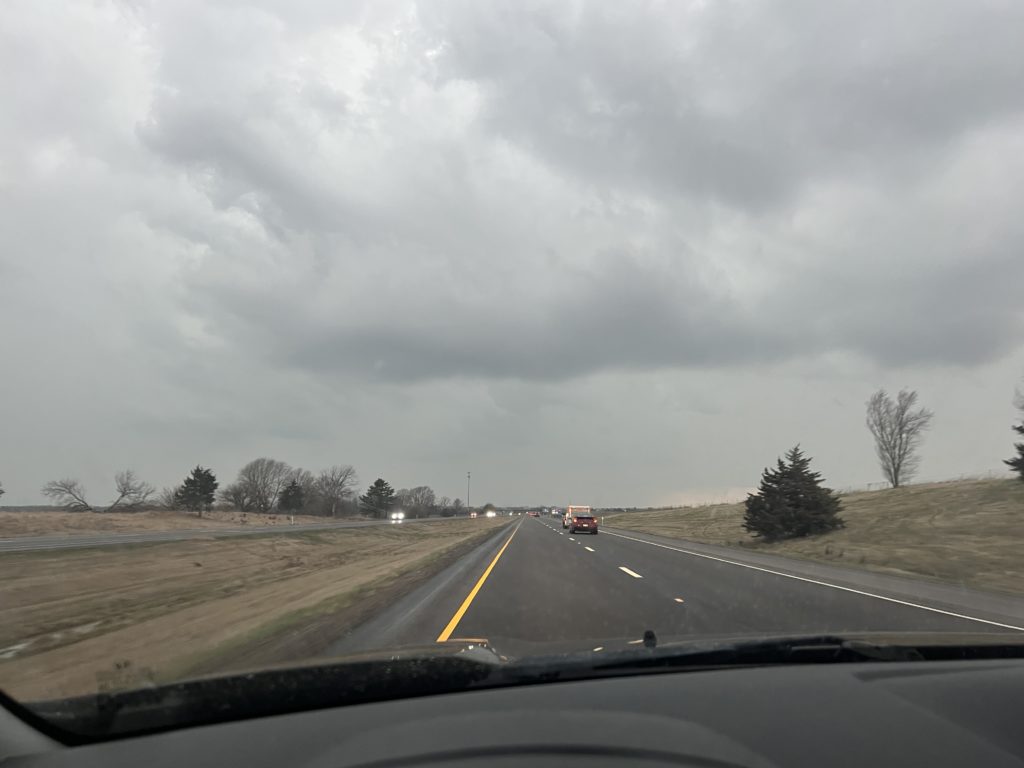 I added a stop in this tiny town on a last second whim because of a TikTok video I saw. This man was talking about this insanely cringe-y town in Illinois that was called Pekin- a play on Peking, China- which they claimed was exactly on the other side of the world.. They had a Chinese theater, their school mascot was "The Chinks", they used to dress up their homecoming king and queen in cartoonish stereotypical Chinese hats and clothes.. NOT KIDDING. I was like- this CANT exist… OMG… and when I looked to see where it was, it was 15 miles off our path for the weekend. So, we veered into town mostly for the shock factor.
Happy to report- we found NOTHING remaining of that time… looks like someone came to their senses in the 1980s and everything was changed/fixed…. it was just a simple midwestern town these days.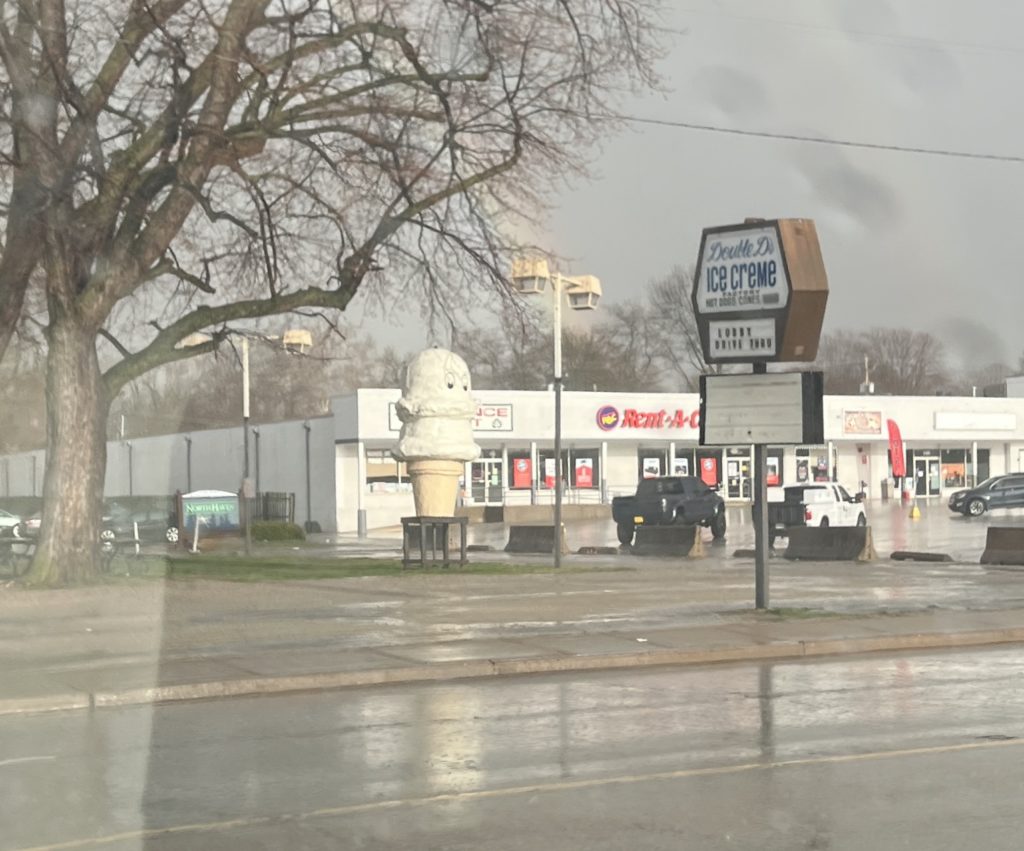 With, thankfully, nothing to report in Pekin- we continued on up the highway into Peoria. We passed this Uniroyal Gal still standing on the roadside.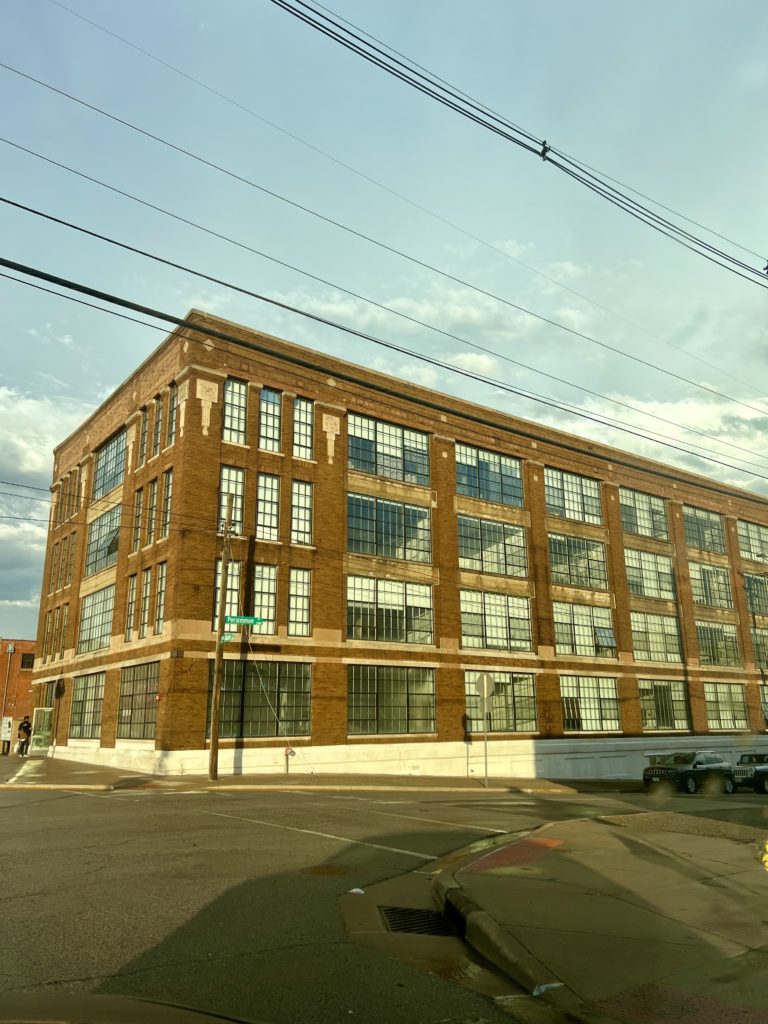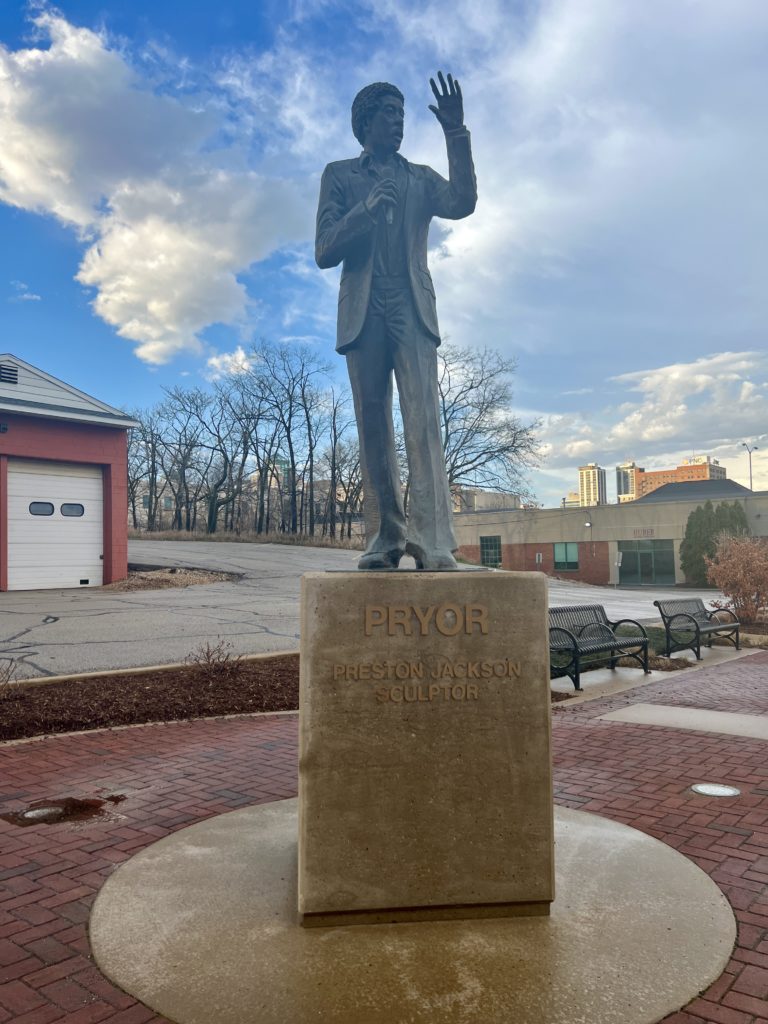 Peoria is the home of Richard Pryor, a famous standup comedian who died in the early 2000s. I love stand up comedy… I know some of his more famous material is incredibly offensive to a lot of people…but I can't -and wont-deny that he was groundbreaking in his material….and that comedy comes from a very dark place 99% of the time. Bill Cosby even said " Richard Pryor drew the line between comedy and tragedy as thin as one could possibly paint it."
He was raised in a brothel where his mother was a prostitute and his father a pimp and hustler. Beaten regularly growing up, sexually abused at age 7, expelled from school at age 14, entered the Army, but spent his entire time in the Army jail, once for stabbing a white soldier who laughed a little too hard at a racially charged scene in a film. He moved to New York in 1963 and started playing clubs doing opening comedy routines. His early stuff was much more "middlebrow" and less controversial. He wrote for Sandford and Son, the Flip Wilson Show… he appeared on the Tonight Show with Johnny Carson, The Ed Sullivan Show and others… it wasn't until 1974 that he really became a hit- and that was when he co-wrote Blazing Saddles with Mel Brooks ( he was supposed to play Bart… but he was un-insurable… so they went with Cleavon Little) and he released his famous controversial albums and stand up routines that he became known for. He always struggled with drugs and alcohol, married 5-6 times, 7 children with 6 women… and at the end of his life, struggled with Multiple Sclerosis and heart issues from a lifetime of hard living and tobacco use. In the end, a 3rd heart attack got him. I respect Richard Pryor for turning pain and experience into art… and for speaking his truth on his experience with race in America..and for leaving us with some of the best belly-laughing stand up that will never be topped.
Continuing to drive around we saw the Caterpillar headquarters. There is a visitor center for seeing the big machines up close- but they closed at 5pm and we didn't hit town until after 6.
The Peoria Riverfront Museum was closed, but we stopped by the Holocaust memorial outside to see it before dinner. From their website:
We are honored to be home to the Peoria Holocaust Memorial, the only memorial of its kind in the world. Created by the Jewish Federation of Peoria, each of its 11 million buttons, collected by school children during the "The Button Project," symbolizes a life lost during the Holocaust.

The purpose of the Peoria Holocaust Memorial is to remember the 6 million Jews and 5 million enemies of the state who lost their lives during the Nazi Holocaust, and to help educate future generations about the importance of standing up to bigotry, prejudice and hatred wherever and whenever they occur.

Every 6th- and 8th-grade student in the museum's donor-sponsored "Every Student Initiative" tours the Memorial after first hearing a presentation.
Today, its lessons are as relevant as ever.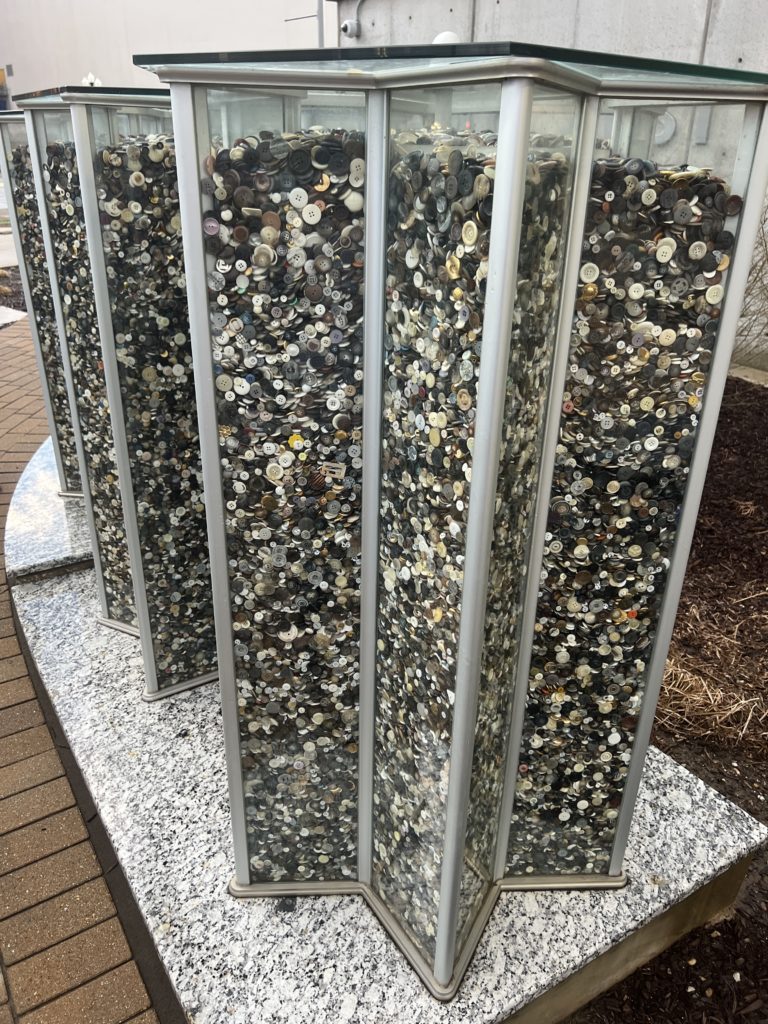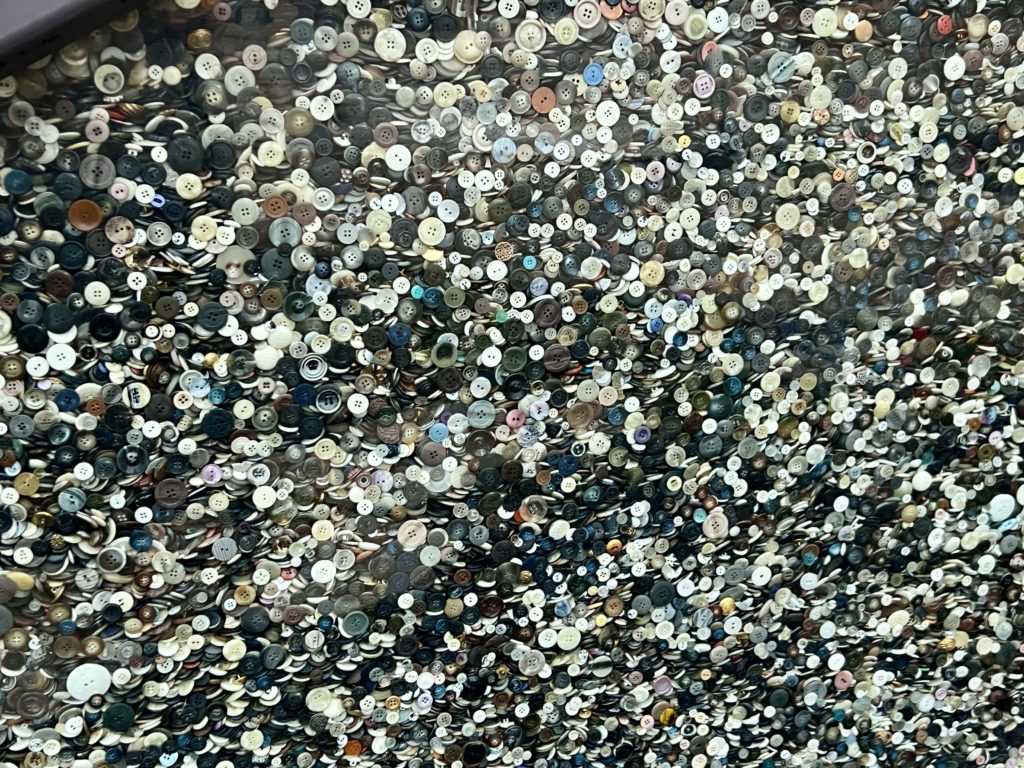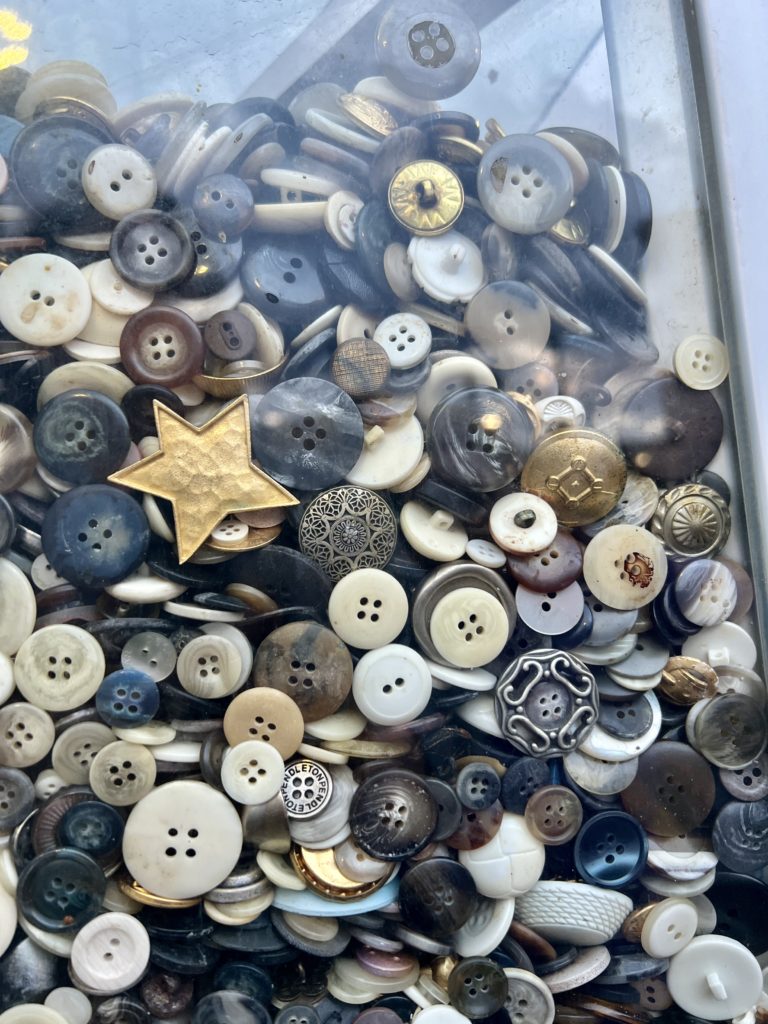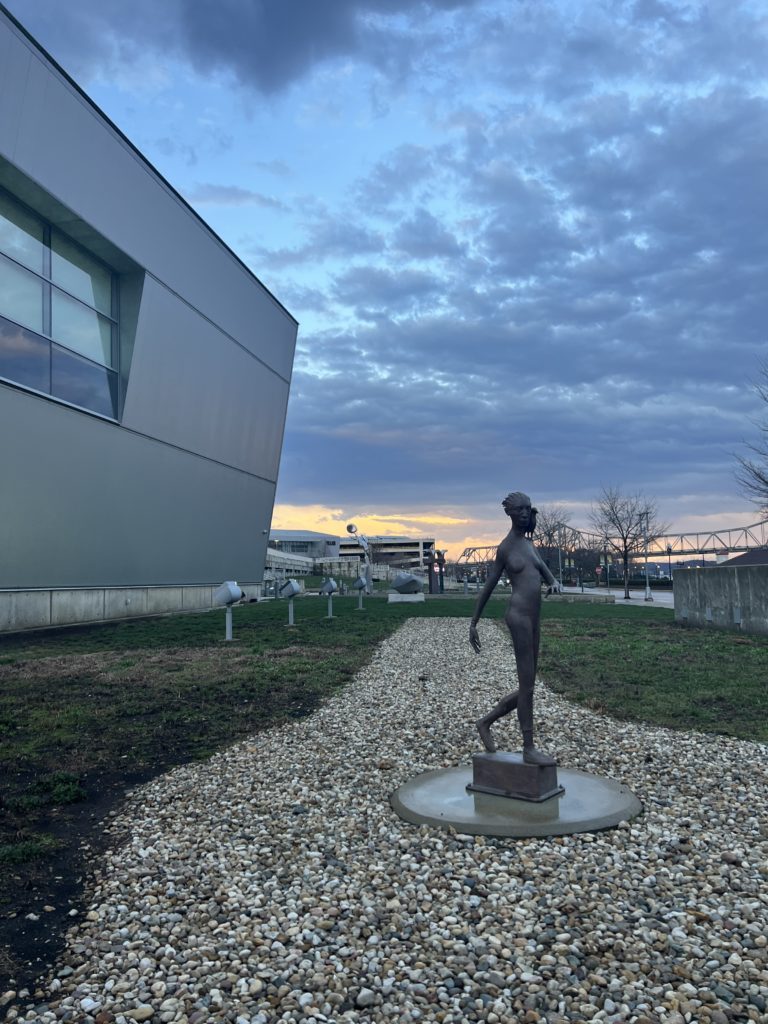 We tried to go to a restaurant right downtown at the Holocaust Memorial called Blue Duck Barbecue- but they were closed from the tornado that came through earlier in the day. Right next door was another restaurant high on the list- Rhythm Kitchen- but they were closed because their basement flooded from the storm… So… we looked at a few options including a brewery in an old church- but in the end, the food photos at a little Israeli place looked best.
It was not disappointing. As we walked up, the waiter and cook were coming to the door to look outside at the sky… and we think to turn the lights off because the place was empty. No one was out and about because of the storms. But, they were happy to see us and we had very fast quick service. So fast and so good, that I forgot to photograph the food! doh!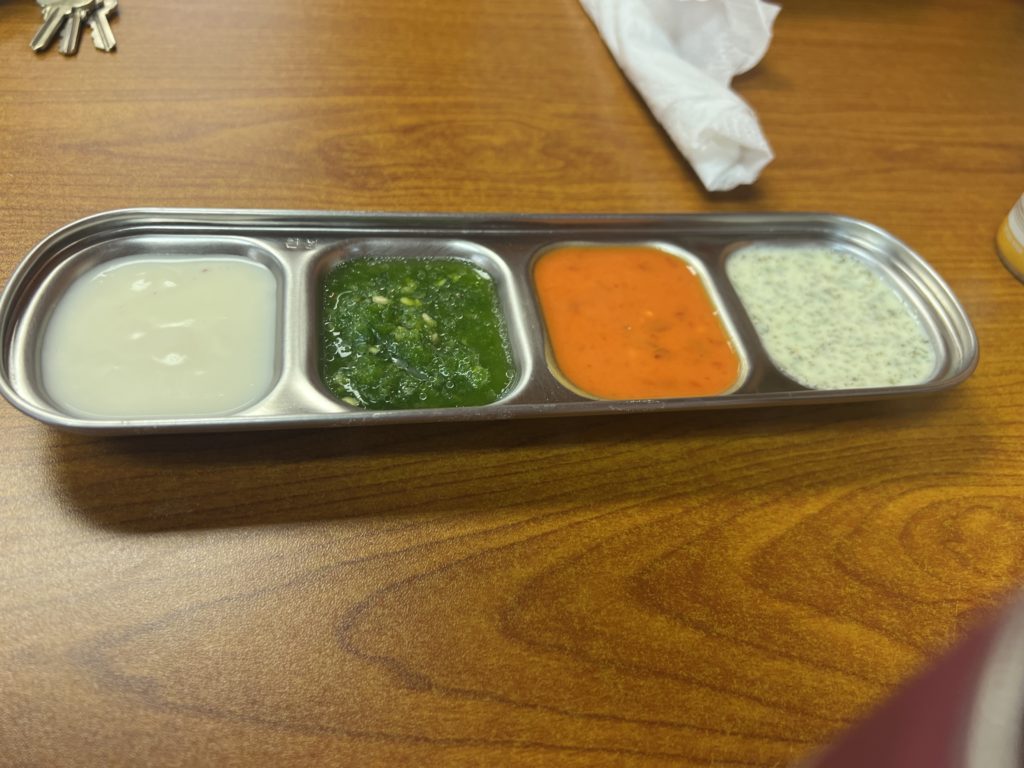 Here are 2 photos from the internet of what we got! Ha Kegan got the lamb shank and I got the combination plate
Dinner was so quick, we were very early for our escape room we booked, but I read online they had a 10 minute Dr Who themed escape in the lobby you could maybe do…. so we headed on over.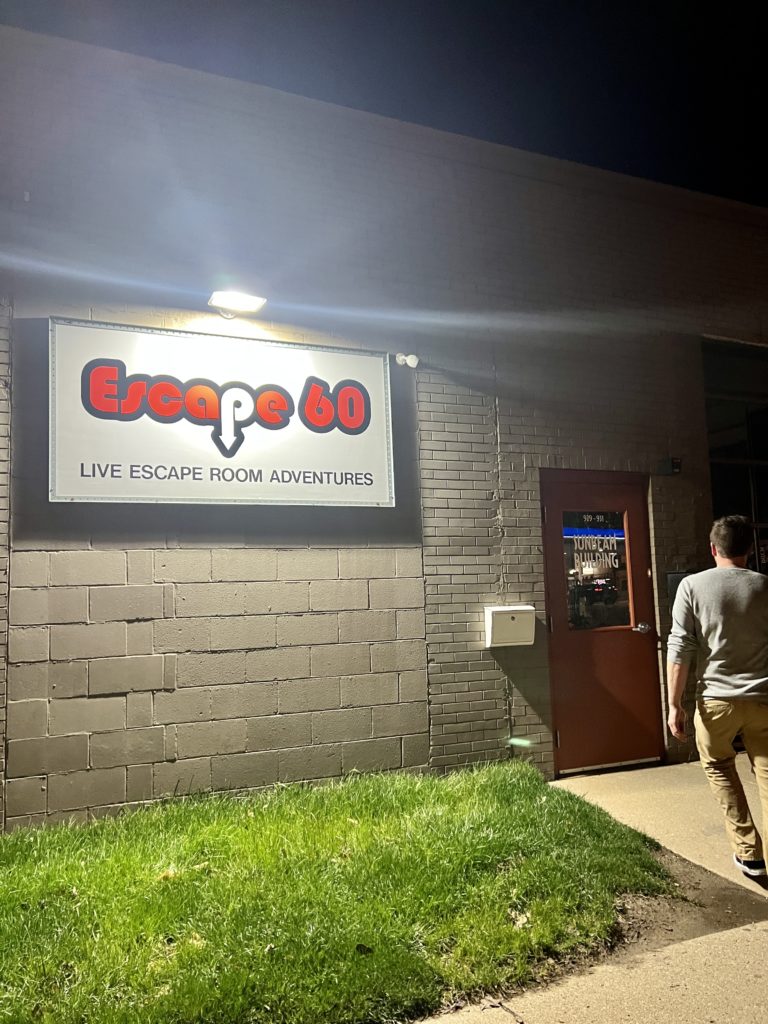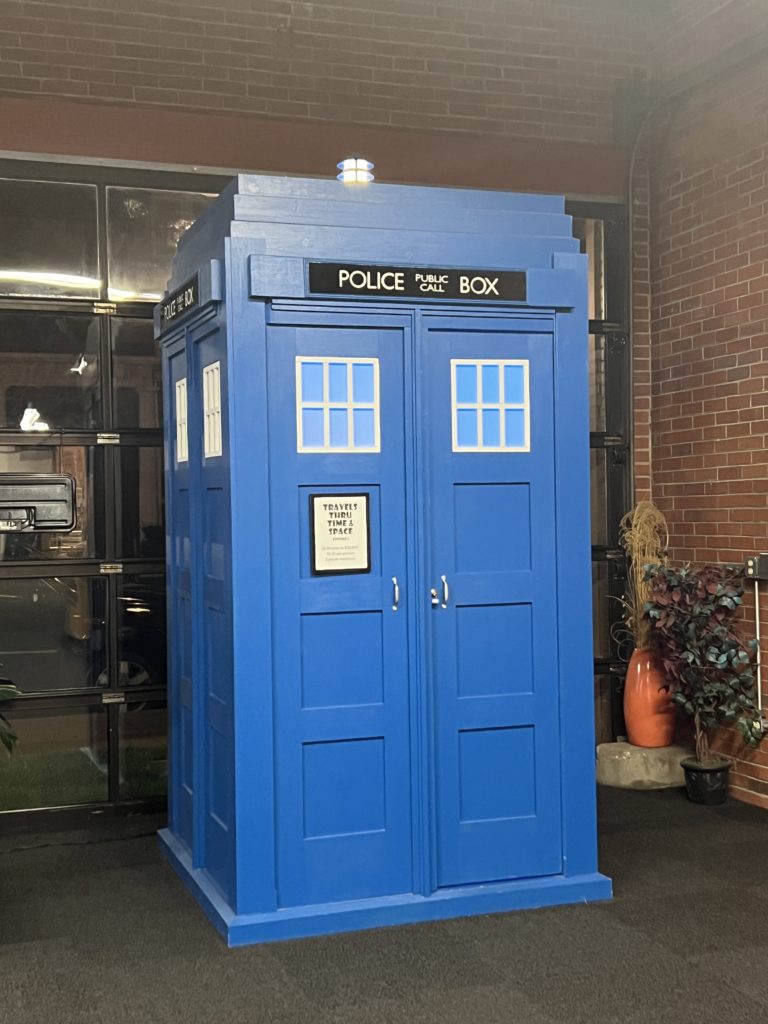 Our real room for the night was the Help! We got Shrunk! room, a spoof on Honey I Shrunk the Kids. Super cute! We were shrunken down to Barbie doll size and had to set up the laser and program the shrink ray correctly to make ourselves big again and escape.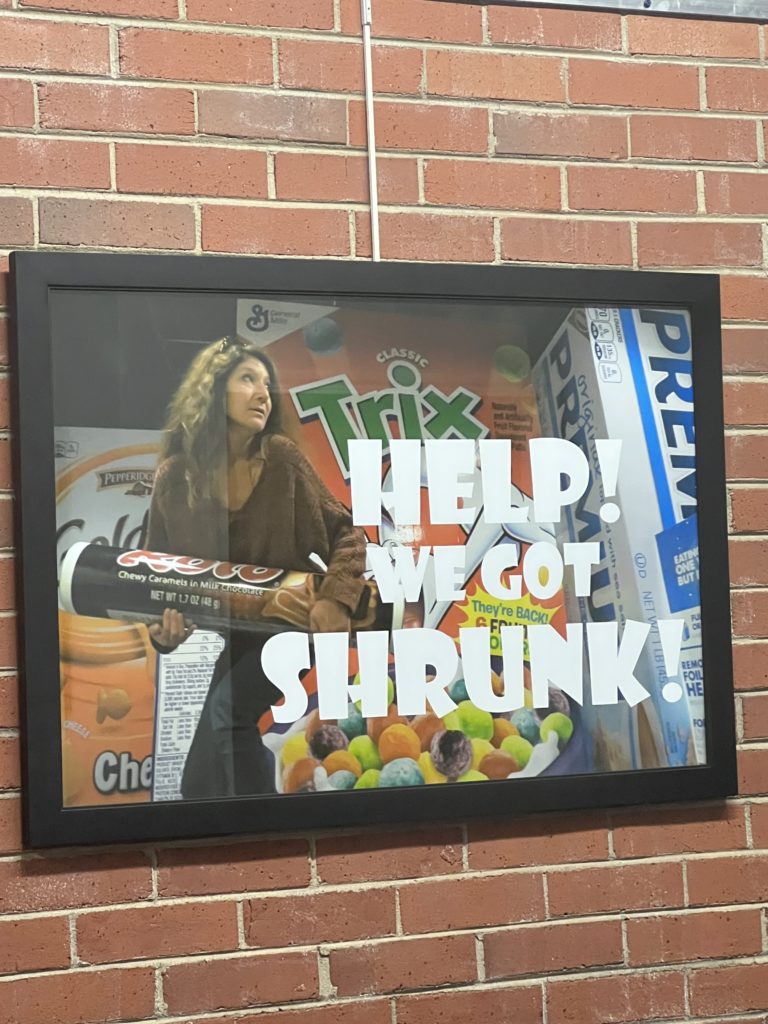 After that, it was on to Iowa… and when driving on I-80 in Iowa- you HAVE to stop at the World's Largest Truck Stop! So even though we really didn't need to stop- we made a quick stop by to check it out before hitting the hotel.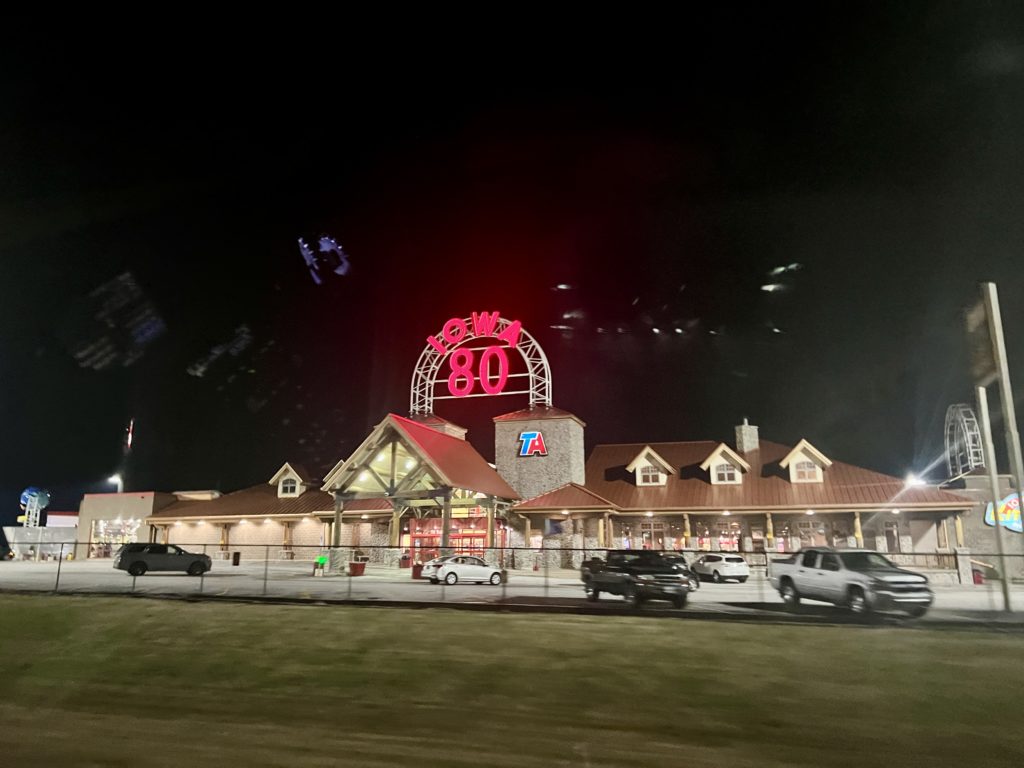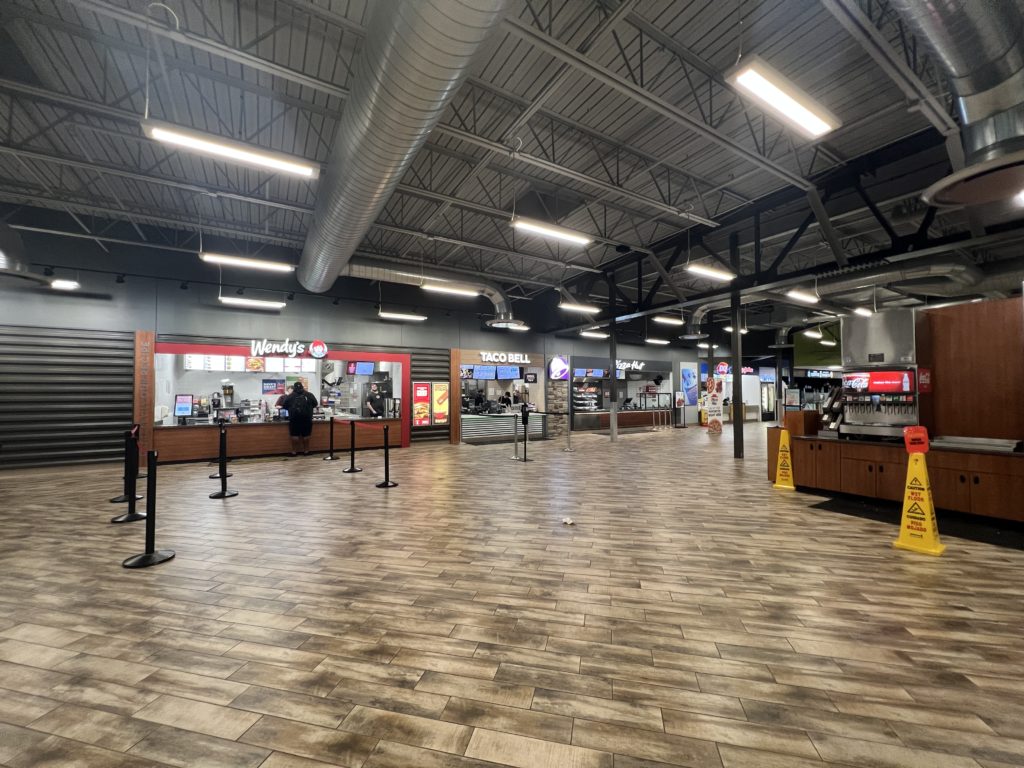 We finished our drive to Coralville, IA and crashed. Arriving around 1am.
We started Saturday ordering carryout from Goosetown Cafe which looked to be delicious brunch food. But it was a huge disappointment. Soggy wet raw poached egg, flimsy cheap bacon strips with the photos online were thick cut rashers…green olives that were supposed to be Spanish citrus marinated olives (Kegan fell in love with these in Spain, so we had to try!) We barely ate most of it… except Kegan's bagel with Lox- it was good! (I dont know about $20 good… ) anyway, wouldn't recommend at all.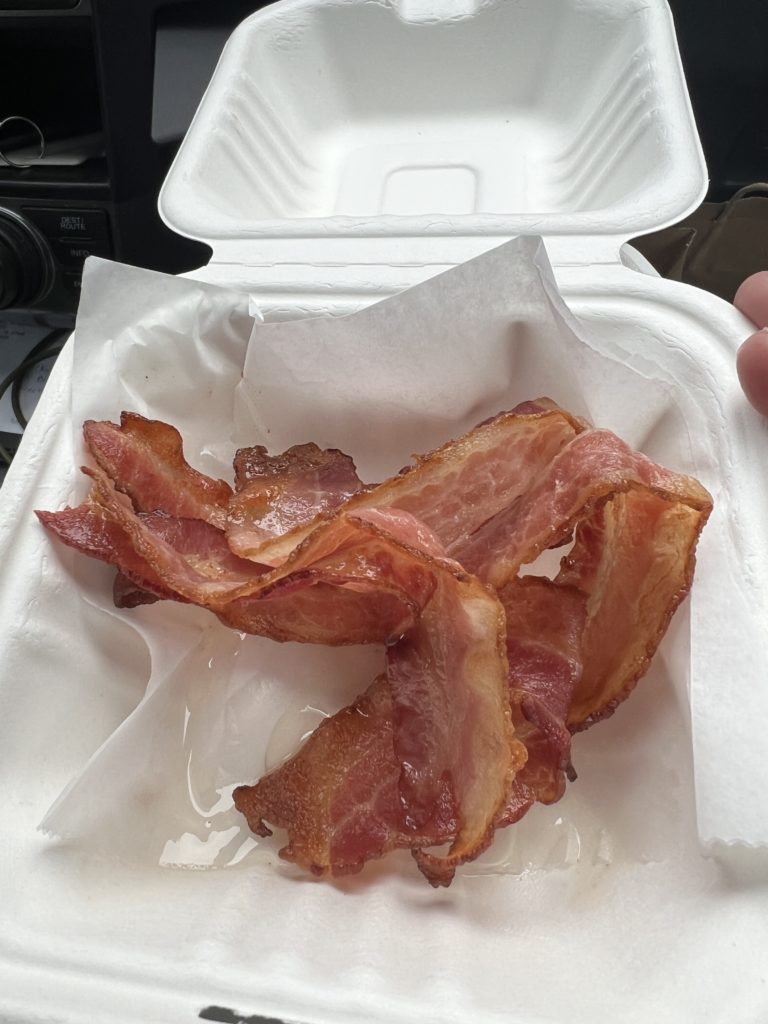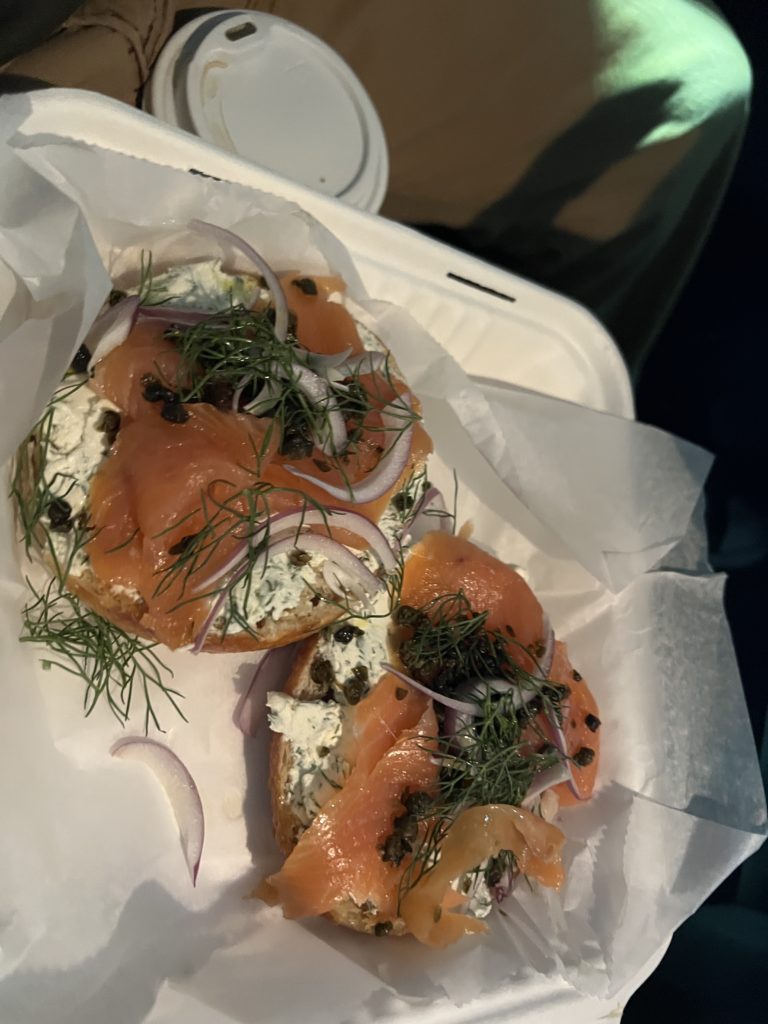 We had to wait until 10am for the first building to open for the day. We headed to Macbride Hall on the University of Iowa campus for the Natural History Museum.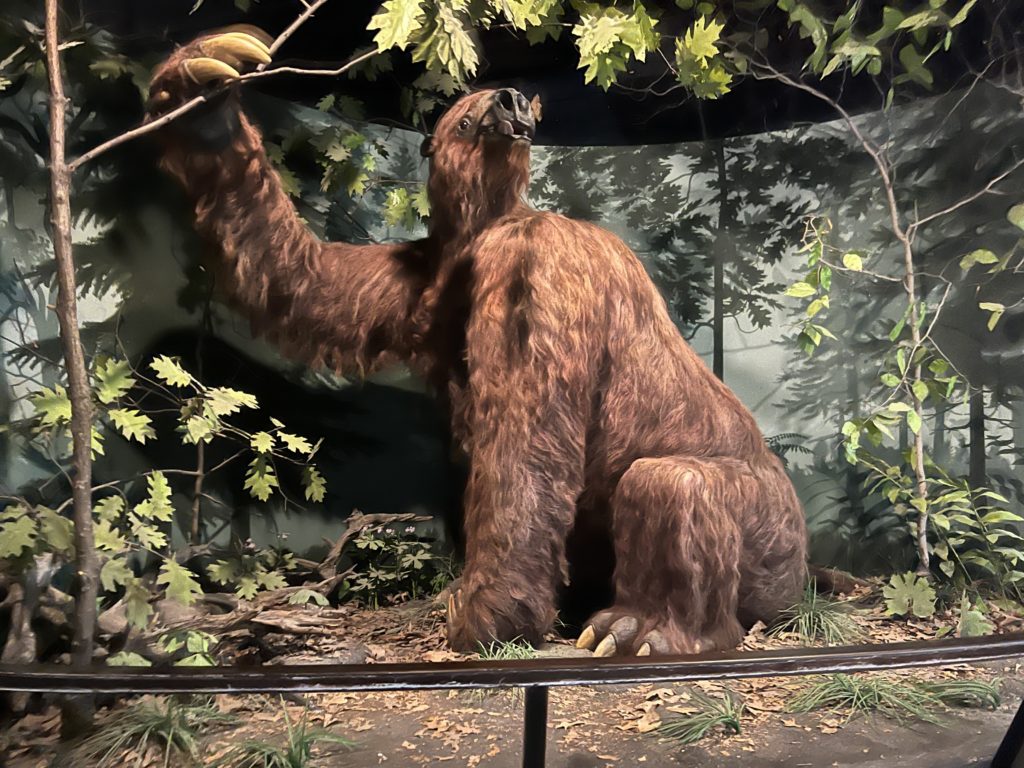 The bird and mammal halls of the museum were fantastic! Very much in the style of the Theodore Roosevelt/American Museum of Natural History in New York City that we visited. Dioramas and scenes behind glass in substantial wooden cases. It was much better than I had expected. If you loved looking at taxidermy animals up close, you could spend a day here…
After that nice trek, it was time for some real TREK. We walked back to the car to drive to Riverside, Iowa. The future birthplace of James T. Kirk. Star Trek canon says that James T Kirk will be born in Riverside Iowa on March 22, 2228.
Truthfully, it wasn't Star Trek canon until May 2009…. the original Star Trek idea from creator Gene Roddenberry was just that Kirk would be born in a small town in Iowa, but Steve Miller- a Riverside councilman- was a trekkie and read Gene's book from 1968 and thought- why not Riverside??? At the next council meeting in 1985, he proposed that Riverside declare itself the Future Birthplace and the motion passed unanimously. The Star Trek movie in 2009 is the first time the franchise every actually says "Riverside, IA".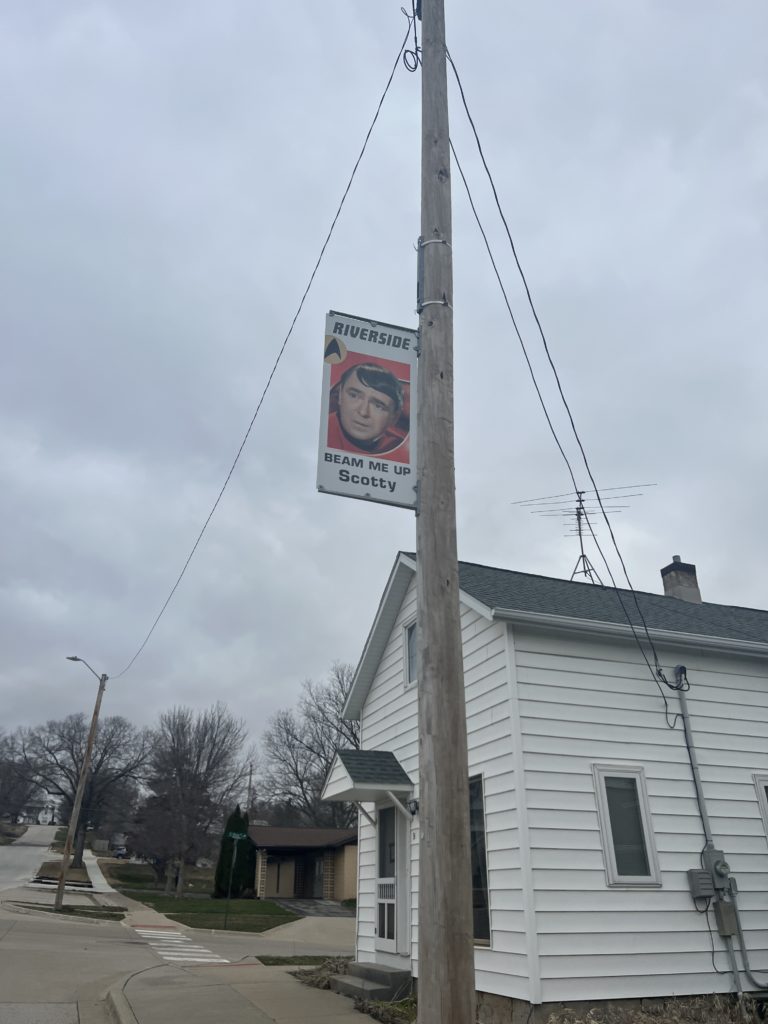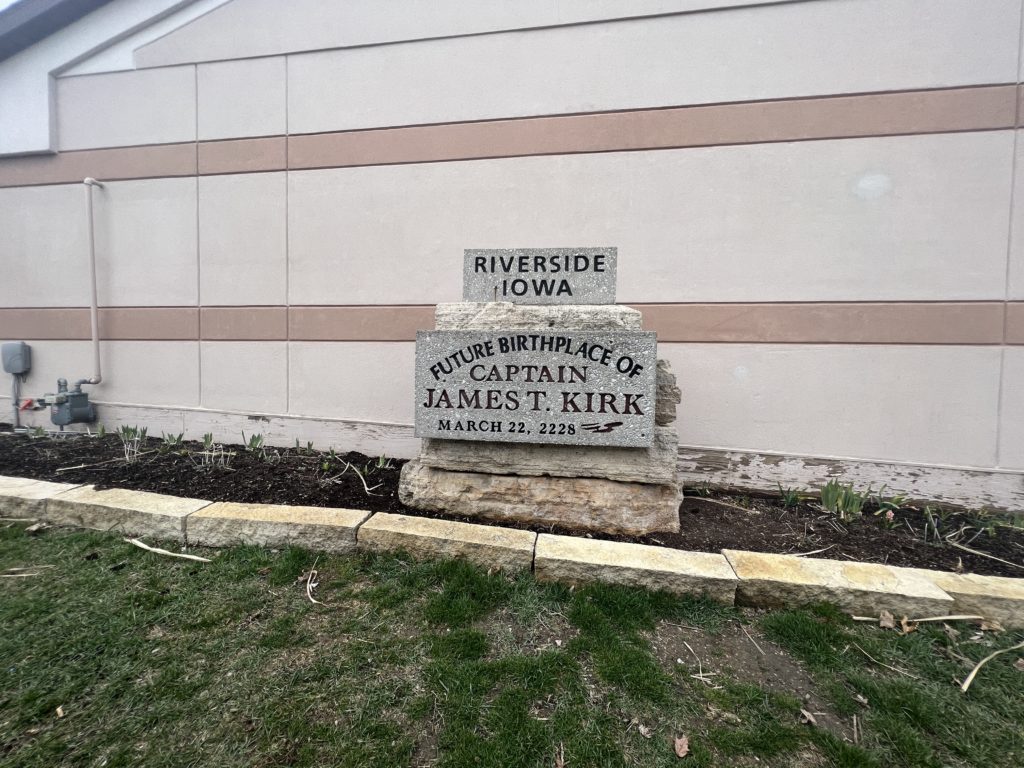 Riverside changed it slogan from "Where the best begins" to "Where the Trek begins" and changed its annual summer RiverFest to TrekFest- now entering its 38th season. (June 24-26, 2023- thinking about attending… lol)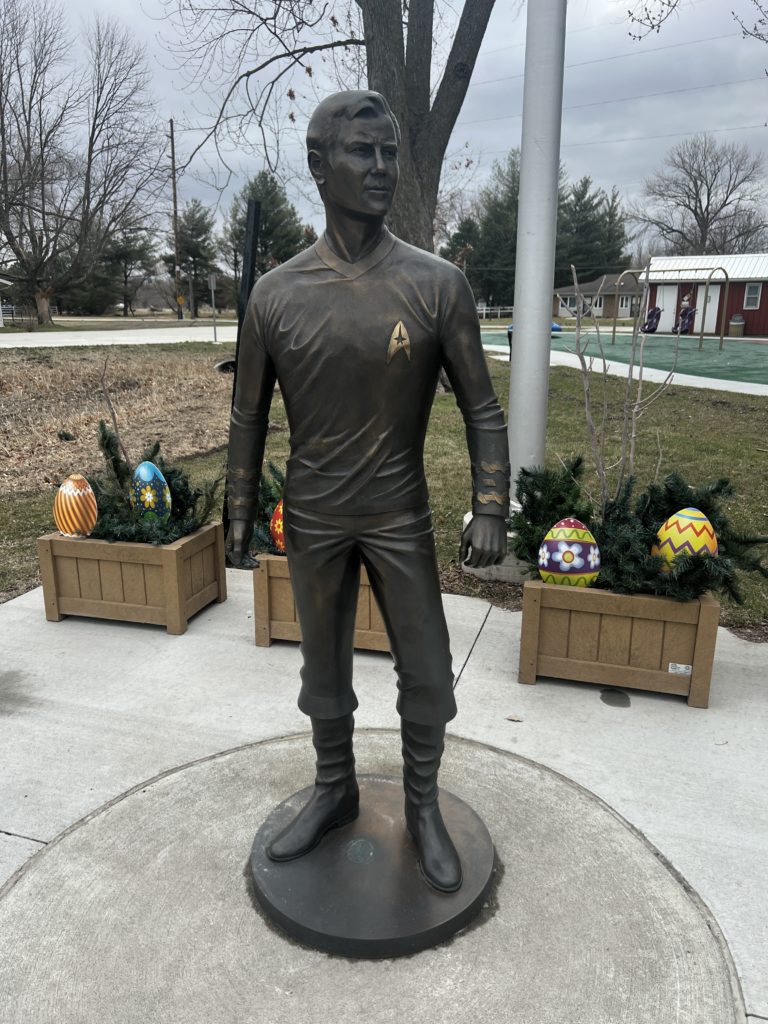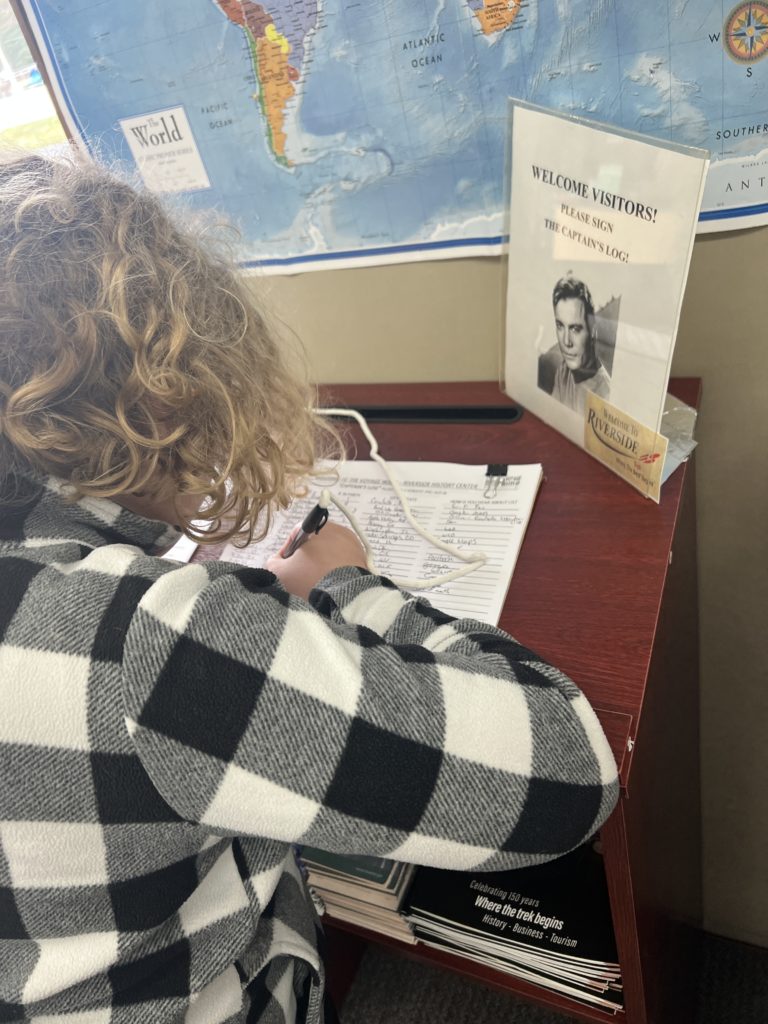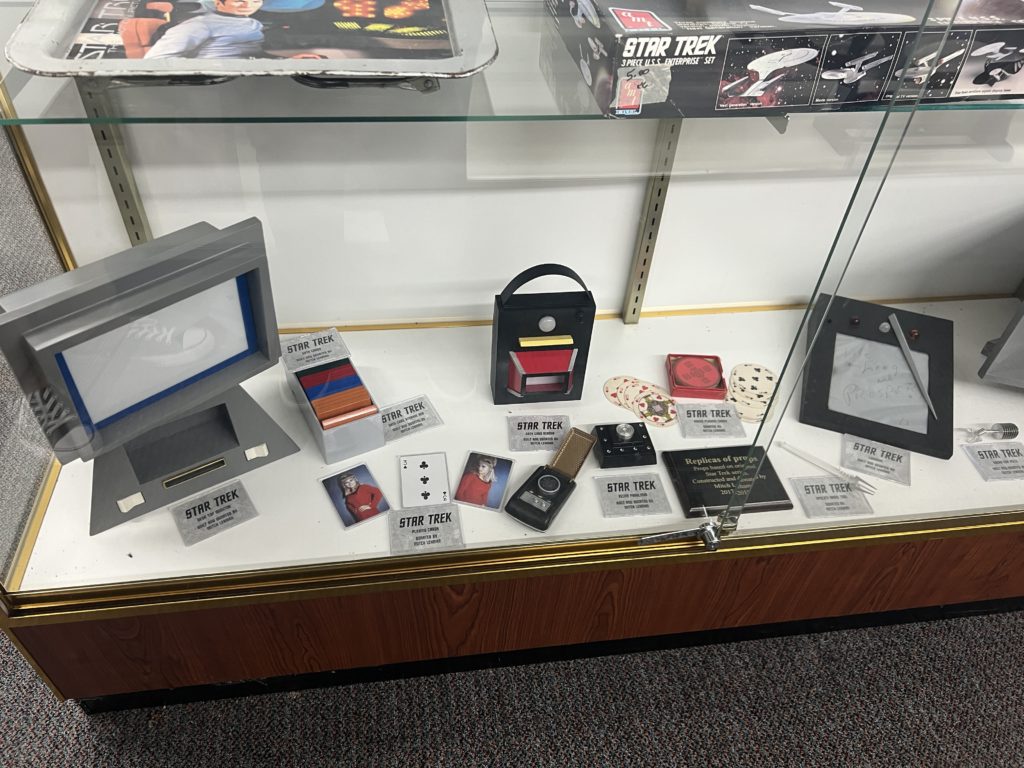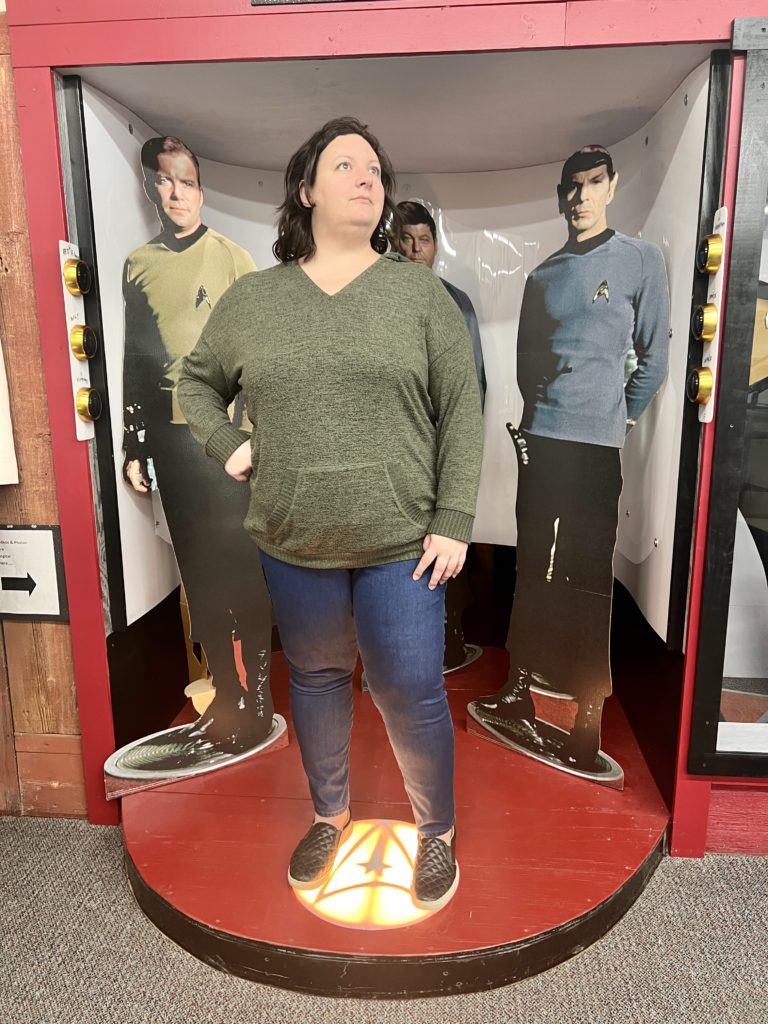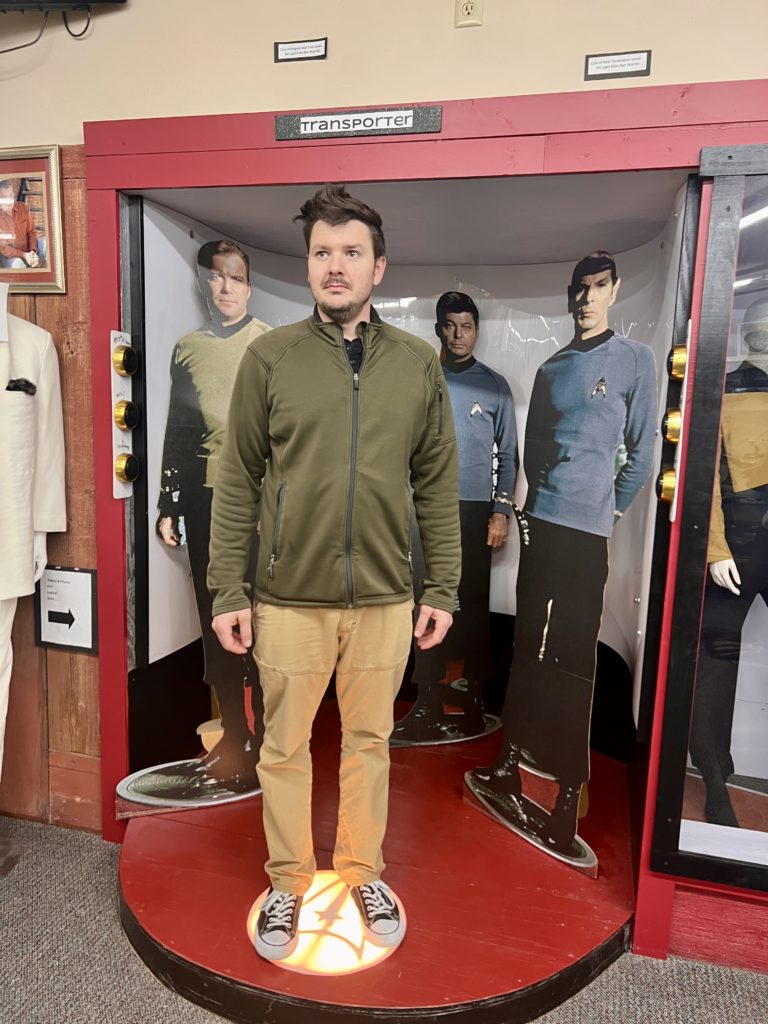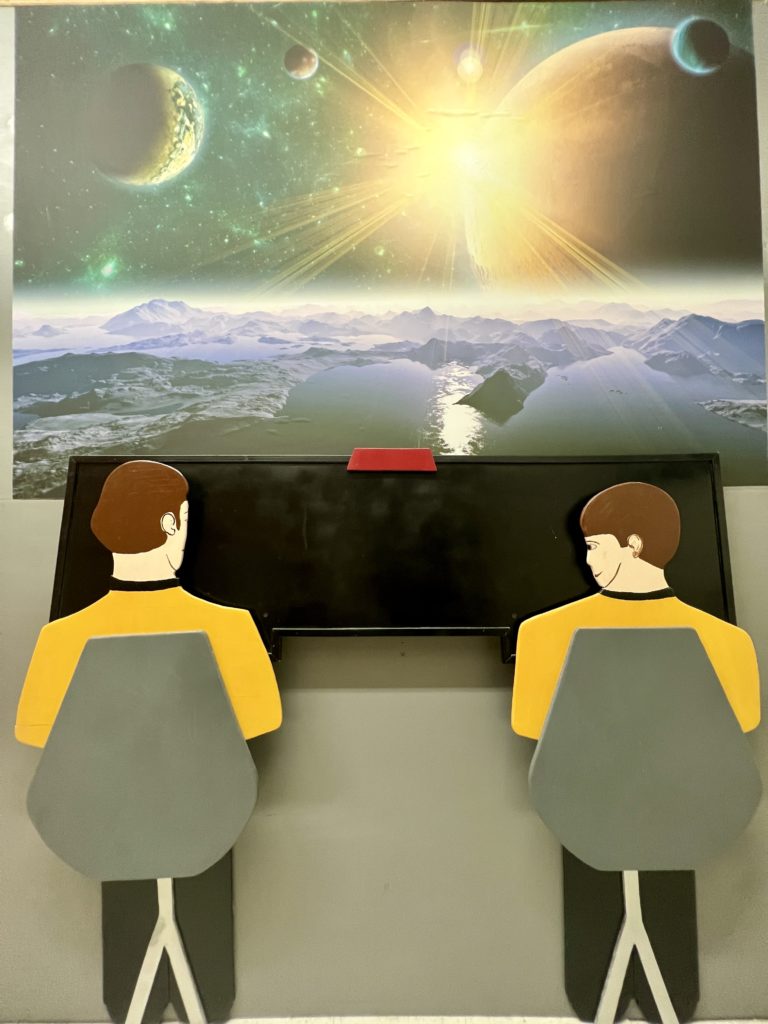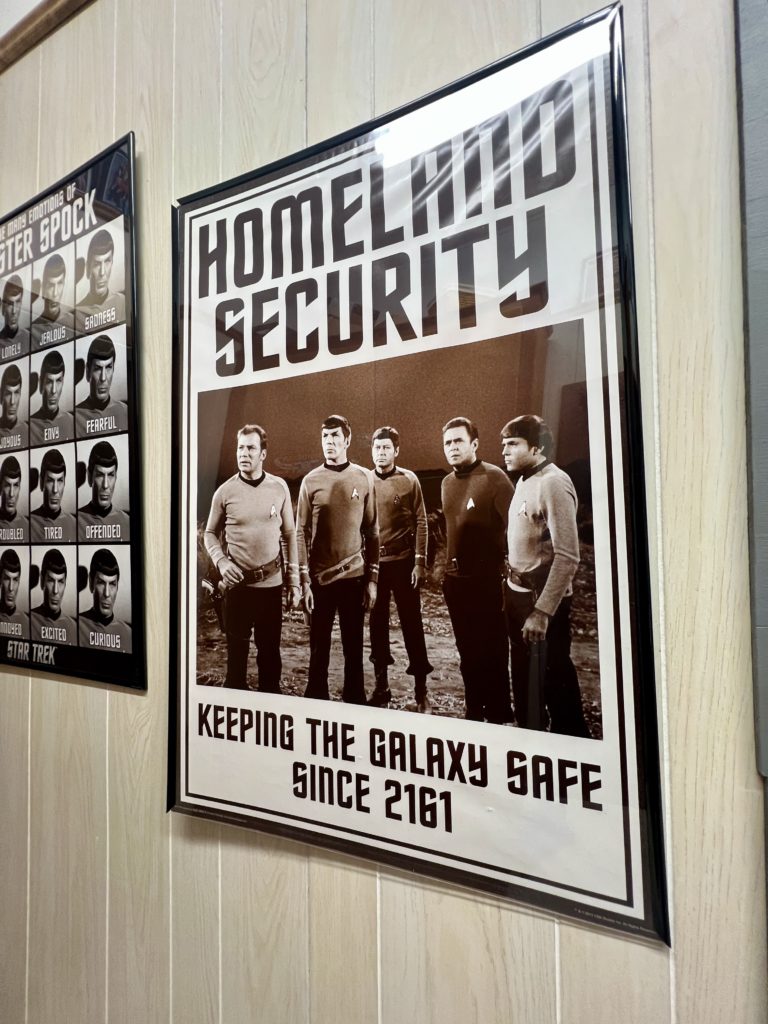 Riverside was fun- I was very happy it exists… and I love that people volunteer their time (I'm sure) to keep that museum open. I would have liked to see a bit more there to make me stay longer… a documentary, excerpts of episodes, behind the scenes footage playing on a screen, maybe. What about a video game console to play Star Trek themed games or pinball… or a table with Star Trek themed board games, put feelers out on websites, conventions, etc offering to display and insure memorabilia, anonymously or with credit. Recreate the terrain from famous scenes for photo ops. Head in a hole photo ops…
I'm telling you… I think I could do some stuff with that museum! 🙂 Call me. lol
We travelled right back to the University of Iowa campus to see the Stanley Art Museum. (The Star Trek museum was only open 12-4- so I didn't want to hang out in the art museum too long and they close up shop for the day… so we we took the drive in the middle of the UI sites.)
After the art museum, we walked to the Old Capitol Building and museum.
Iowa City was chosen as the capitol of the territory in 1839… 8 years before Iowa would become a state in 1846.
The building was completed in 1841 and the Territory Legislature met here starting in 1842.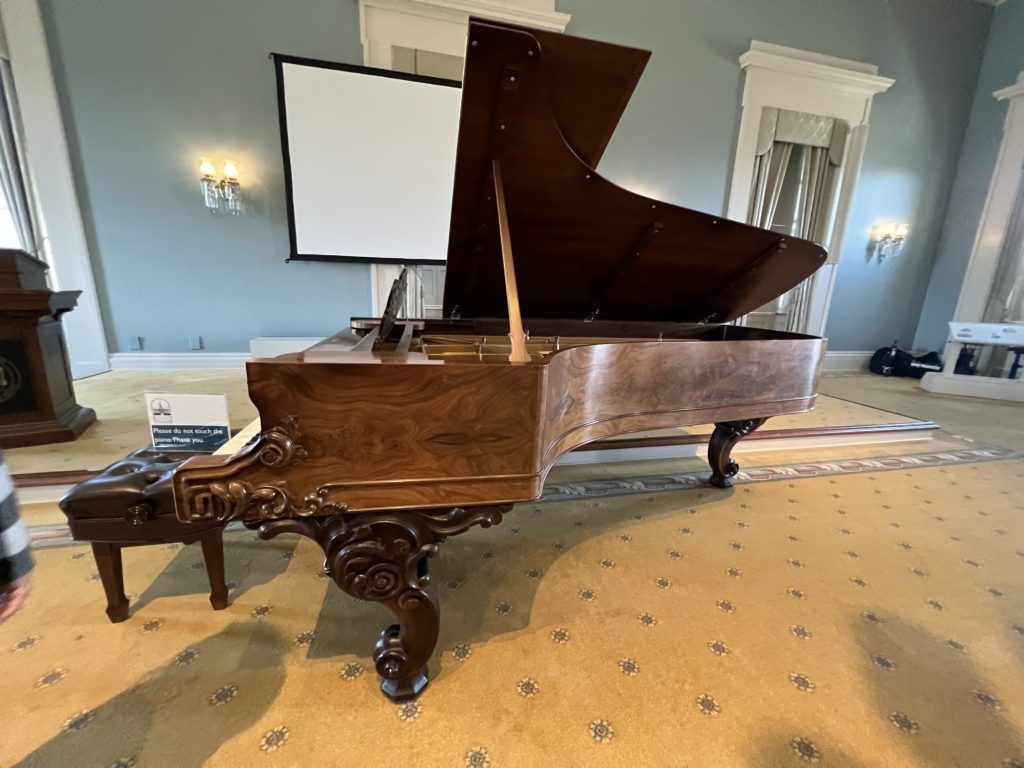 The state capitol moved to Des Moines in 1857… and this building became the first permanent building on the University of Iowa campus… it opened in 1976 as a National Historic Landmark after extensive renovations, a fire in 2001 was started by contractors using a heat gun on renovations that burned the entire dome and bell, which took 4 years of repairs to renovate.
We decided that was enough museums for the day- time to do something else fun. Fossil spotting!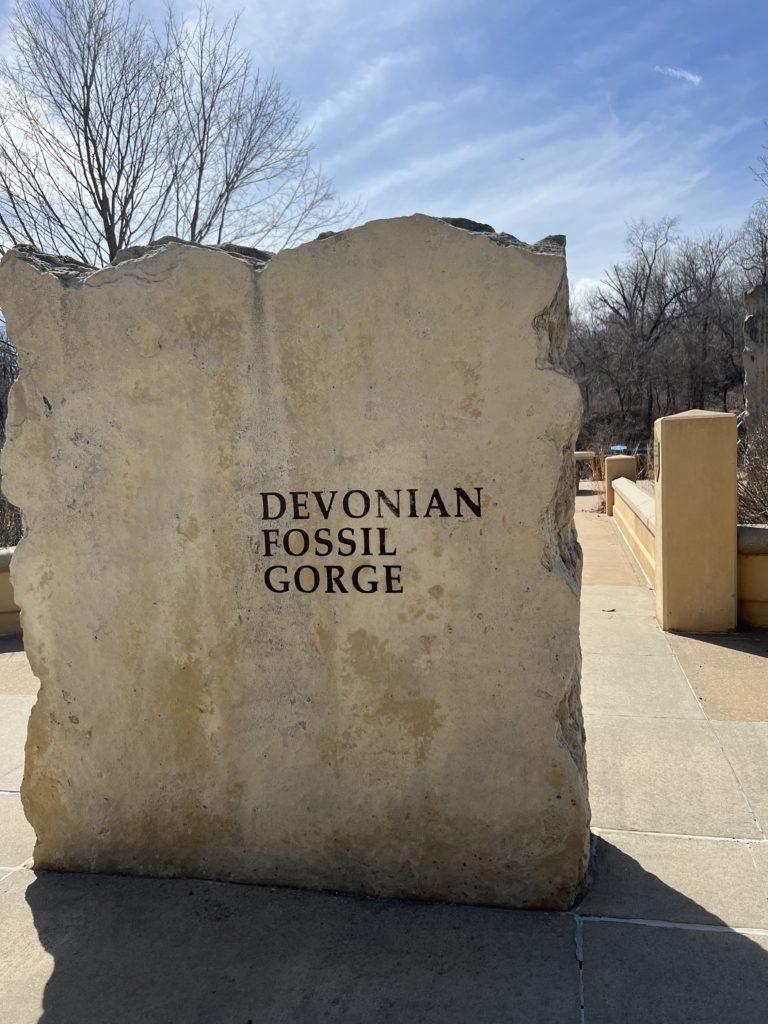 This spot is a gem of a place… Coralville Lake was created with a spillway dam… but it wasn't until 1993 that Iowa saw enough flooding to spill over the dam. Maximum lake inflows of 41,000 cubic feet per second. For 28 days as much as 17,000 cubic feet of water per second flowed down the spillway, washing away 15 feet of river bottom silt along with the water as it ran. This exposed the Devonian area limestone rock beds- 375 million years old! That's almost 200 million years before dinosaurs… that's…well, I cant even fathom numbers like that. It's crazy.
There were more floods in 2008 that exposed more beds… and I find that interesting because we were in Iowa for those floods in 2008 trying to get to California for my first contract there. We had to drive around for hours trying to get through flooded towns and eventually got stuck in Lincoln, NE for 3 days trying to get a wheel repaired from a pothole if I remember correctly ha
We found lots of Devonian area sea floor fossils and we found that Norah LOVES hunting for fossils- so now I have catalogued all the major US sites you can fossil hunt and potentially take home your finds. Future trip ideas 🙂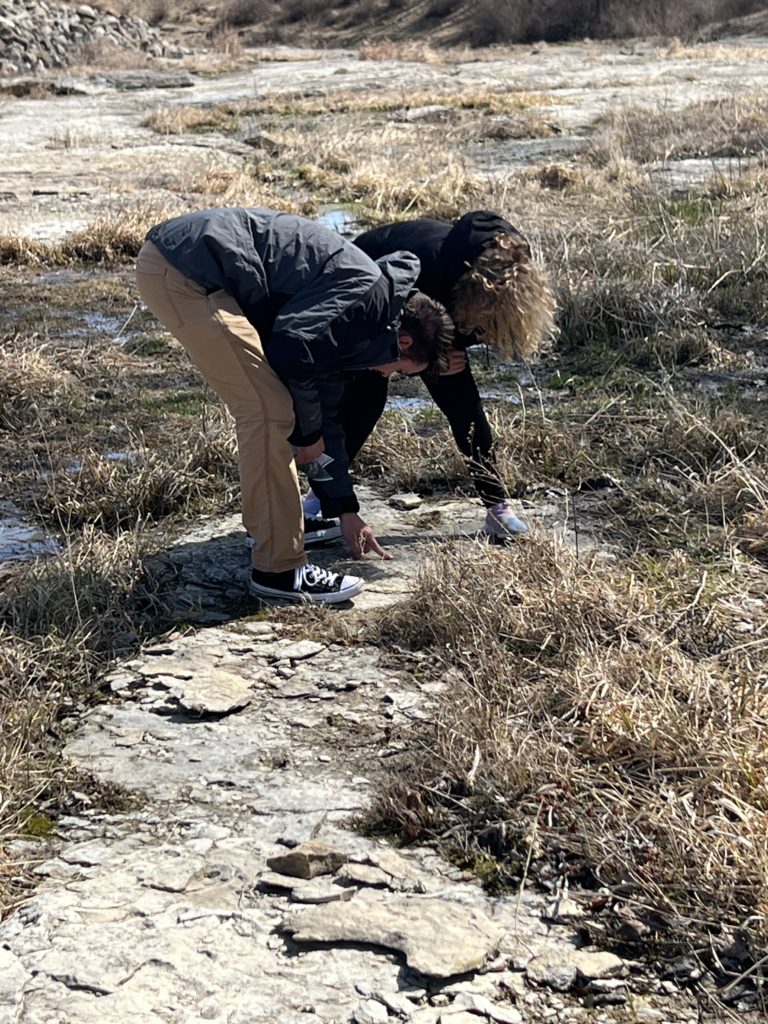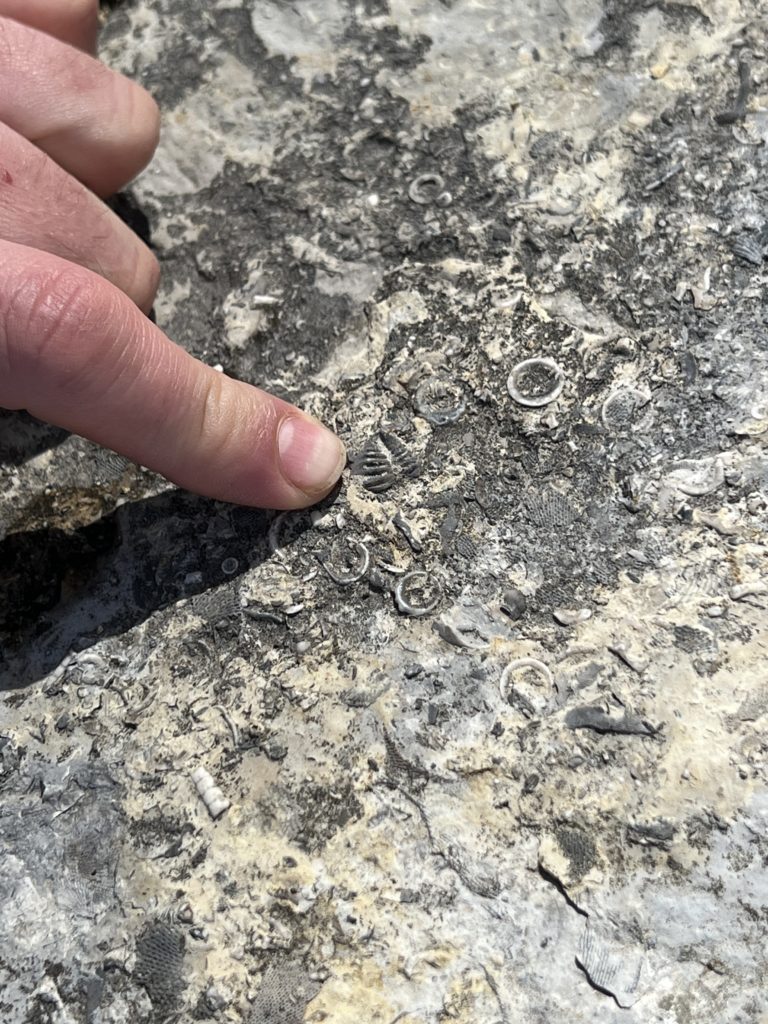 Overall a nice hour spent outside on a cool sunny afternoon seeing something rare. I recommend it!
Next we started driving to some random roadside sites we marked on the map.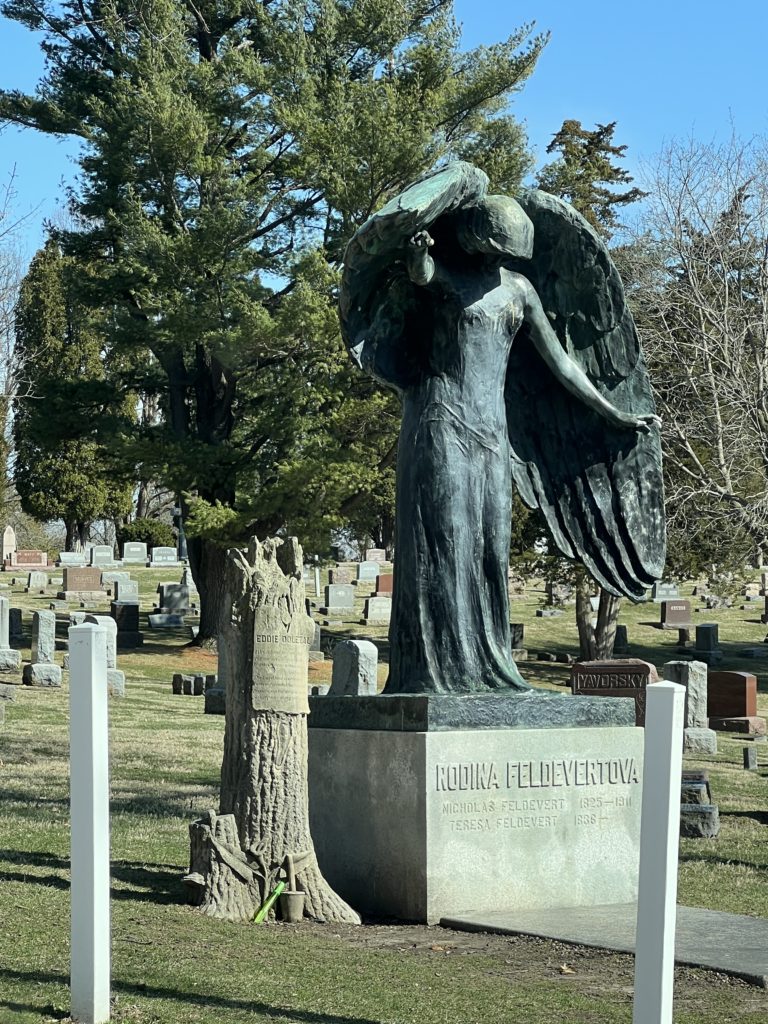 Time for some fun after all of the sites were done- we headed back downtown to the SpareMe Bowling and arcade for what we hoped would be a couple hours of fun. I called ahead to make sure they were kid friendly because they had a bar and it was near a college campus… but they said they were. Never mentioned that I should reserve a bowling lane for Saturday if we wanted to bowl… turns out there were only 6 bowling lanes and they were full… and they normally had 6 skeeball lanes, but half of those were out of order. So, really- all we could do was play a few vintage arcade games and a pinball… so we did that for a while…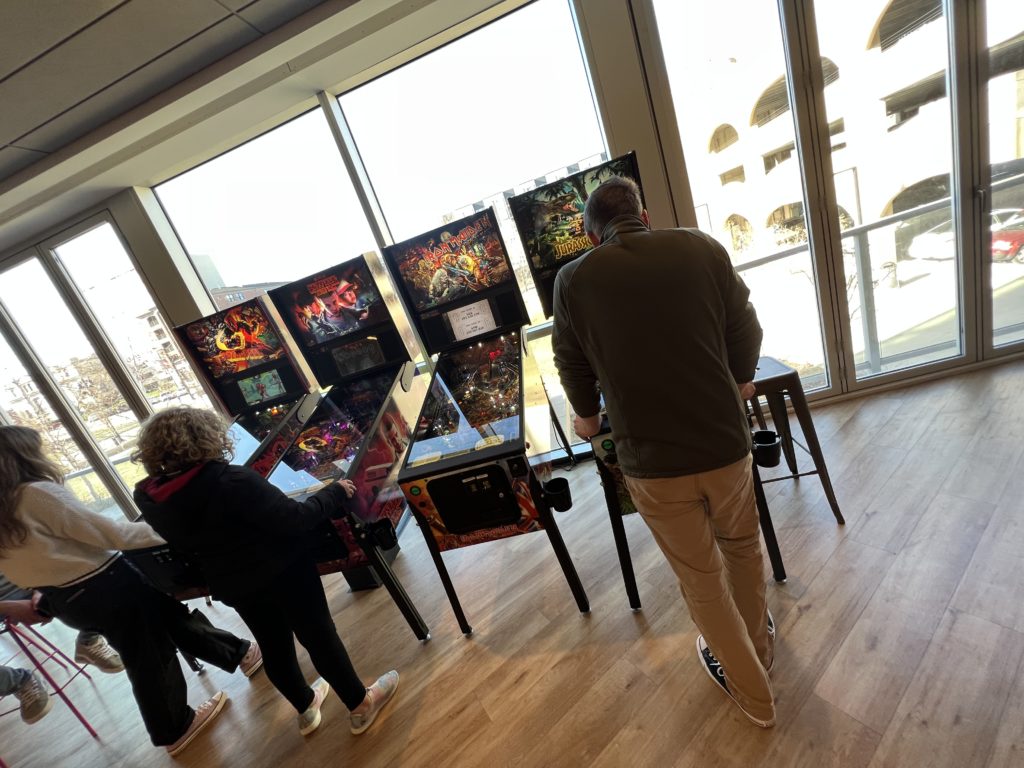 We had dinner at JiangHu Asian Street Food just across the street. We just ordered a bunch of everything. ha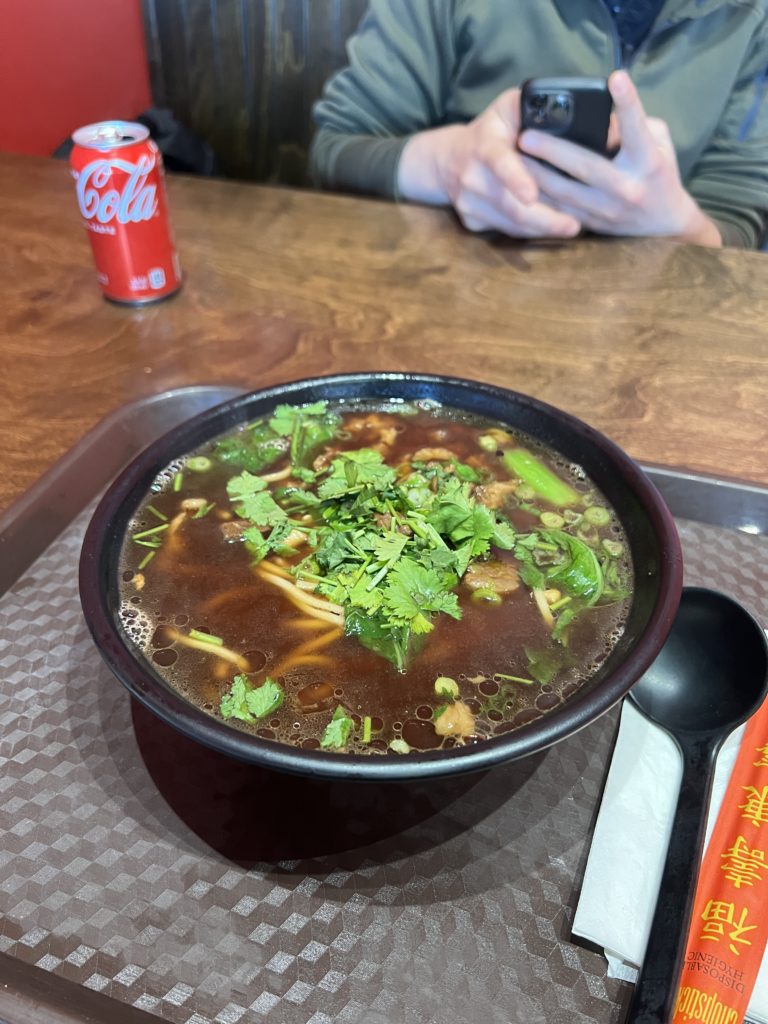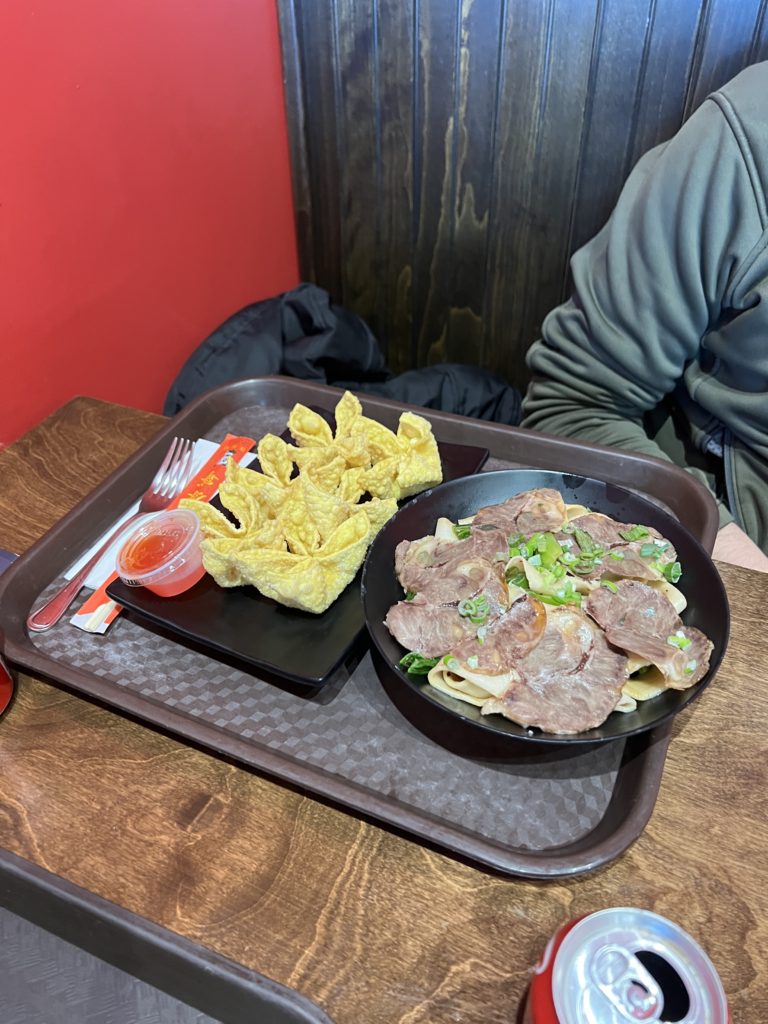 Overall, it was a decent meal…. nothing to flag for future trips. The food was pretty good but every table was dirty and stayed that way through our whole visit. Had to go ask if they got one meal that they missed after they brought everything out one at a time over 15 minutes…just stuff that I think will end up with them closing. Not everyone is cut out for a restaurant ha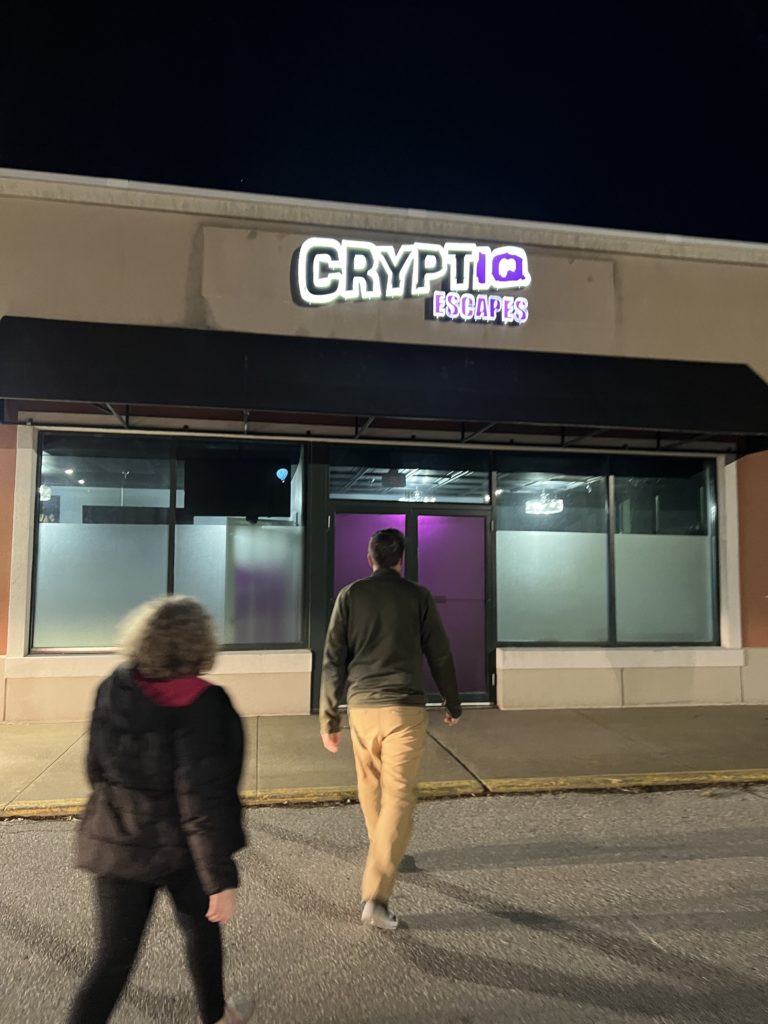 Last item for the night was one more escape room, since Norah just loves them. and we don't hate them… they are definitely a fun brain teaser… but I wouldn't do so many if my kid didn't think they were the greatest thing ever. ha
This one is a small independent place. Owners created the rooms. I thought it would be a cheesy poorly designed room but we were impressed! It was a lot of fun. It was called Grandma's House… and so you start out at Grandma's, trying to find an heirloom item… and you find out Grandma was a secret CIA Spy with a hidden room! We had to find computer codes, point lasers in a certain direction… it was fun! Lots of misdirection and items that weren't used for anything keeping it interesting and fun. 10/10 – recommend. Oh, and we escaped- whew… gotta keep that street cred up 🙂
We got back to the hotel right at 10pm when the pool was supposed to close- but I told Norah we could give it a shot and see if they didn't kick us out…. and no one did. Gave her a 30 minute swim before bed.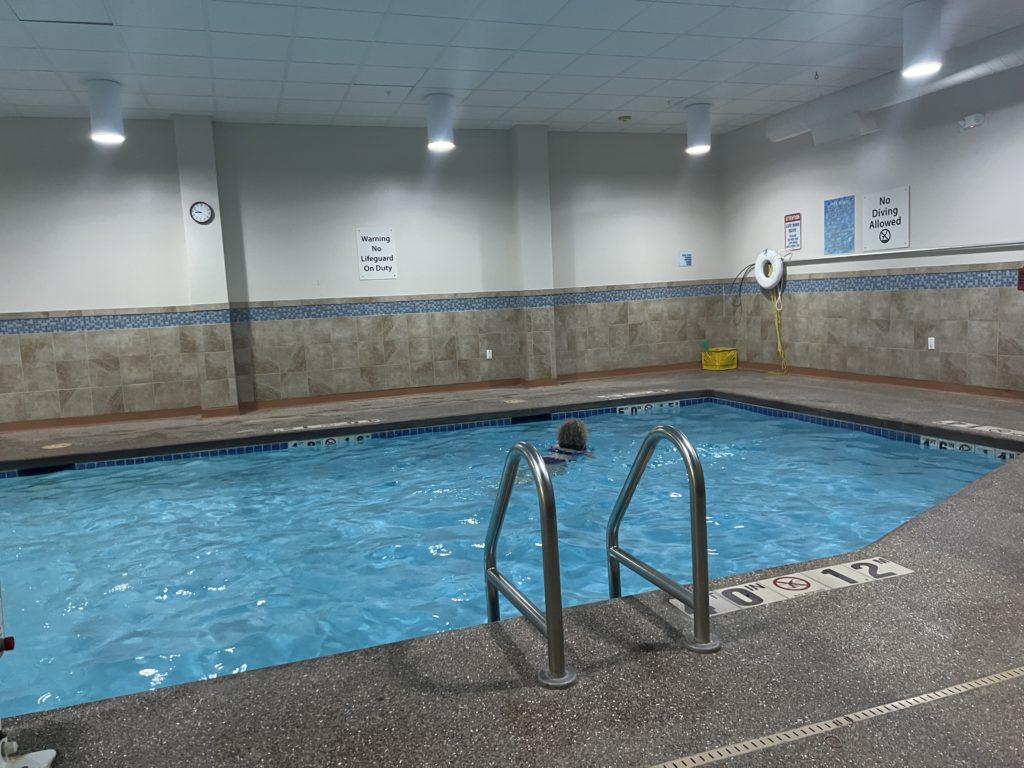 We were up early Sunday morning for an early check out and a 3 hour drive to Springfield, IL. We stopped for breakfast and coffee at a Caribou Coffee drive thru right near the hotel and Kegan and I were both impressed by the strength of the coffee drinks and how good their Lumberjack breakfast sandwich was! If you pass one, check it out- I would choose it over Starbucks every time… and I love my Starbucks.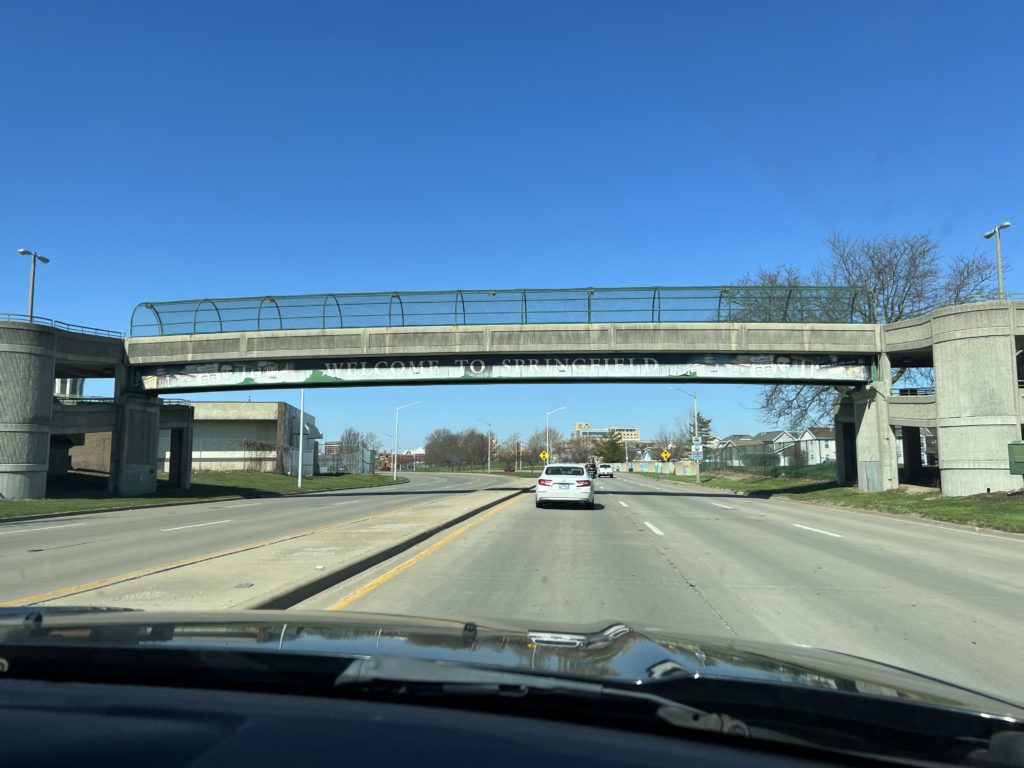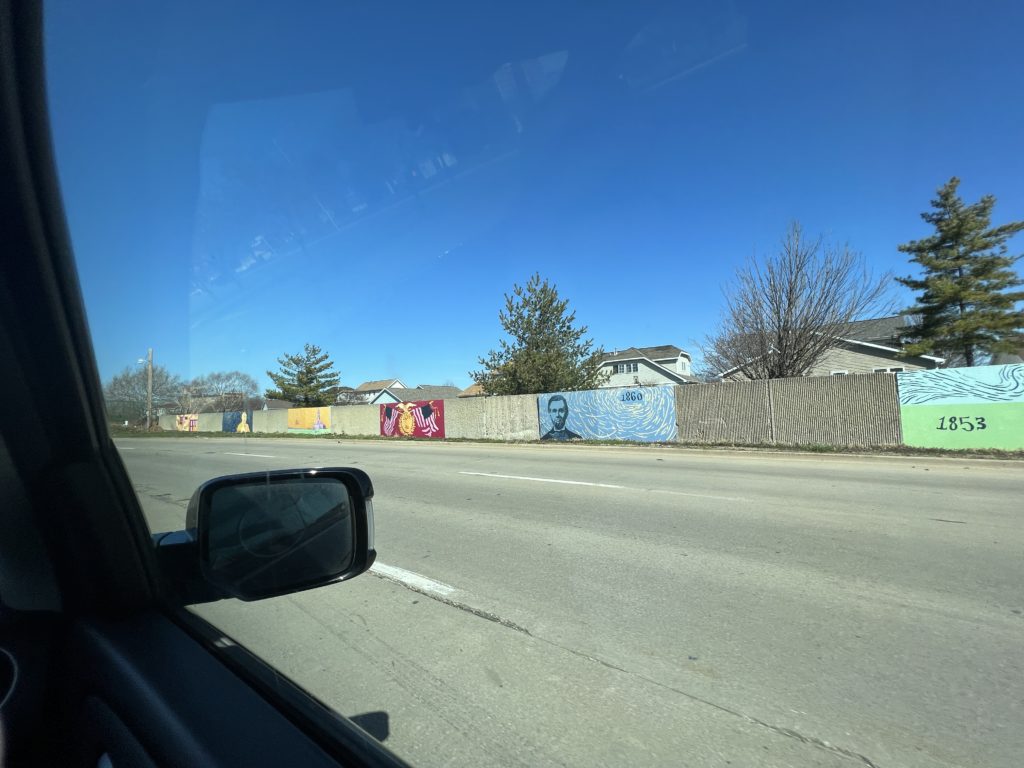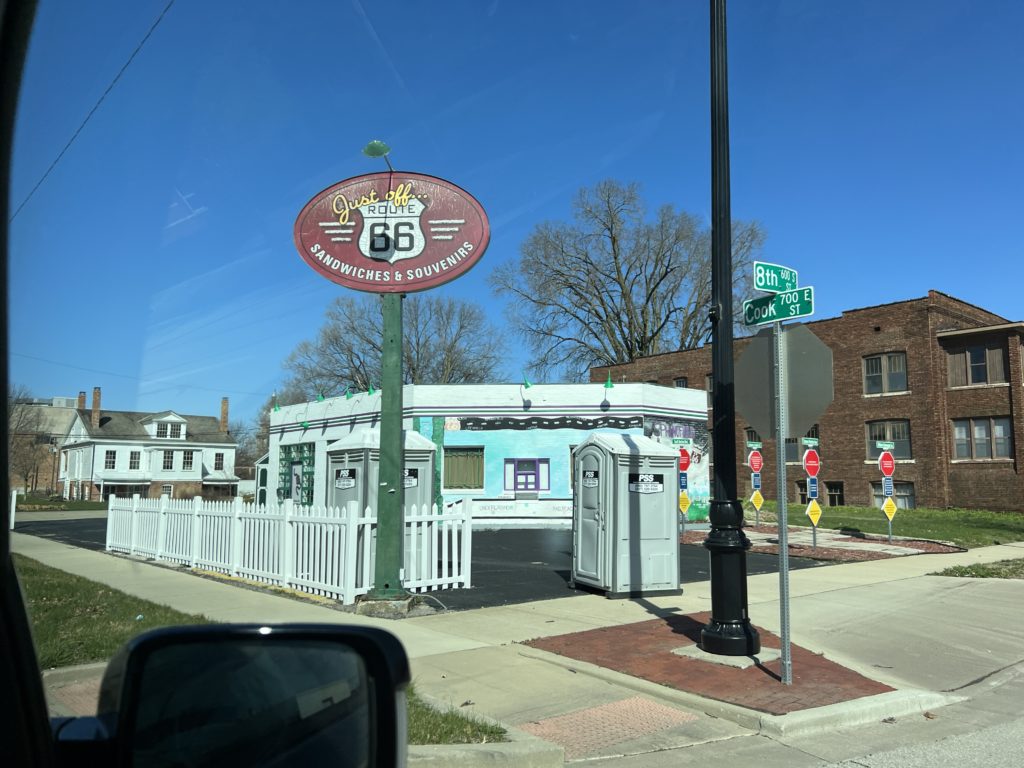 Our first stop in town was the Lincoln Home National Historic Site run by the National Park Service.
The Home here at the site is the first and only home Abraham Lincoln owned- with much of the original structure, walls and foundations remaining. The entire street is preserved to remember what a typical day in 1860 Springfield would have looked like.
After spending some time here and the visitor center, we walked to the oldest house in Springfield- the Elijah Iles house….but even though it said it was open for tours in April, apparently not April 2nd… they were closed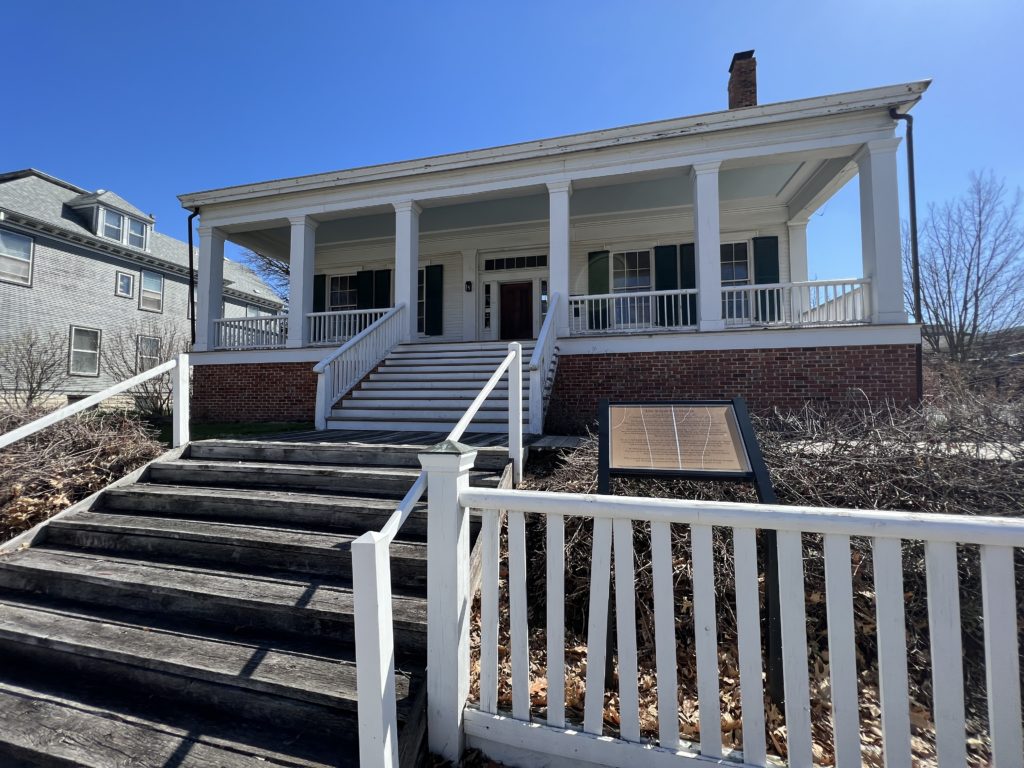 Just down the street was a Frank Lloyd Wright designed house – the Dana-Thomas House. The next tour wasn't until 1:30pm and it was 11am… so we booked tickets online and came back for the tour later.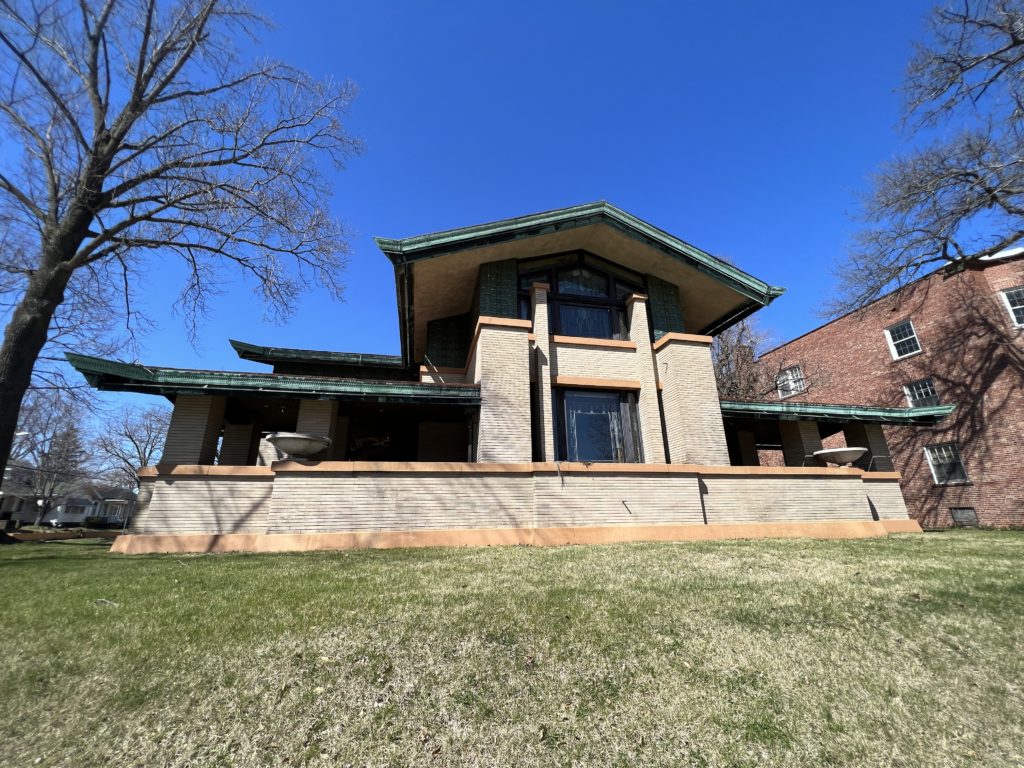 We drove and parked at the Illinois State Museum, but they didn't open until 12… so we decided to hit all of the outdoor sculptures and sites and see if we could walk through the Capitol building… we figured it would be closed, but to our surprise it was open.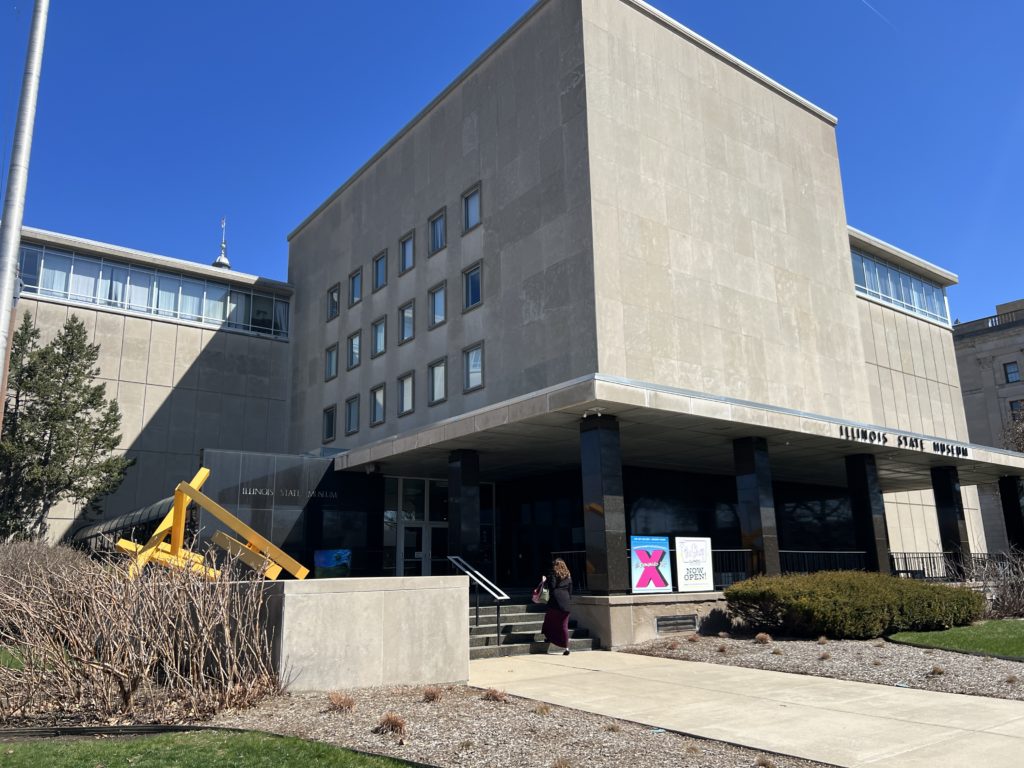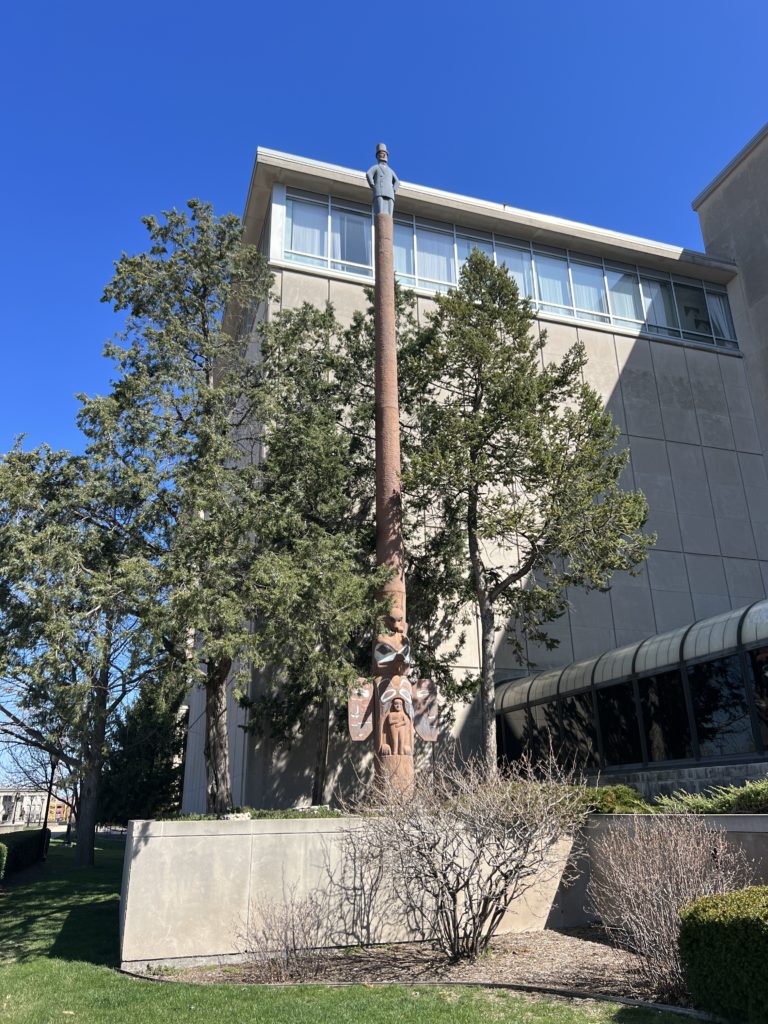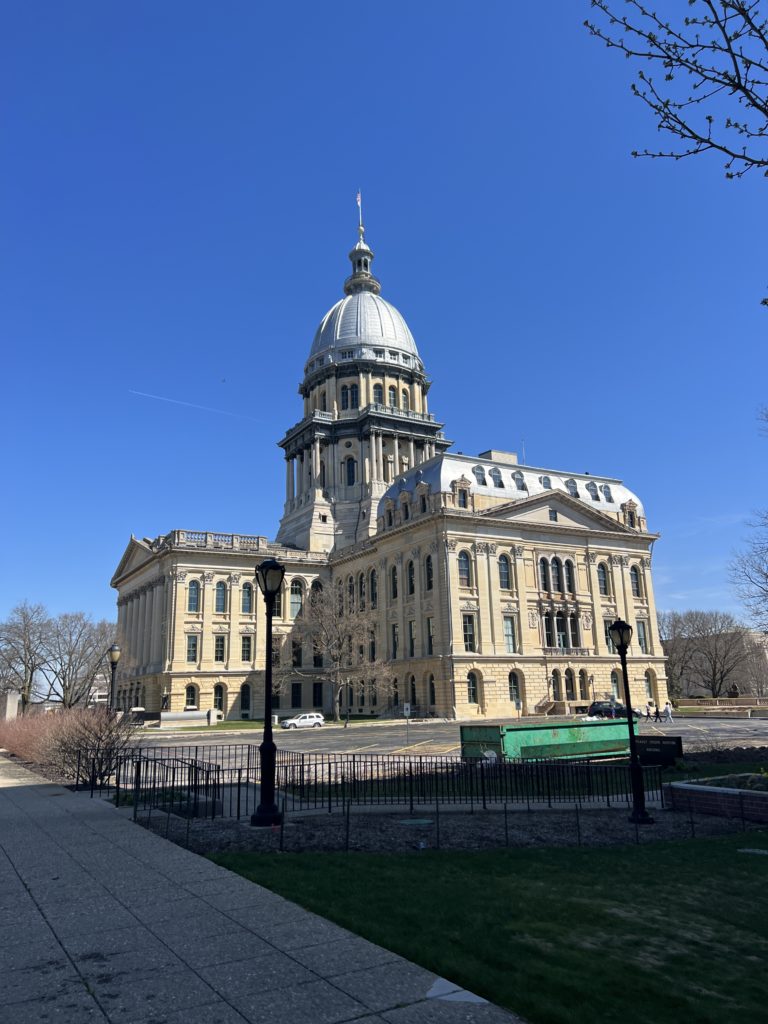 The Capitol building was amazing inside with a 405 foot dome in the center.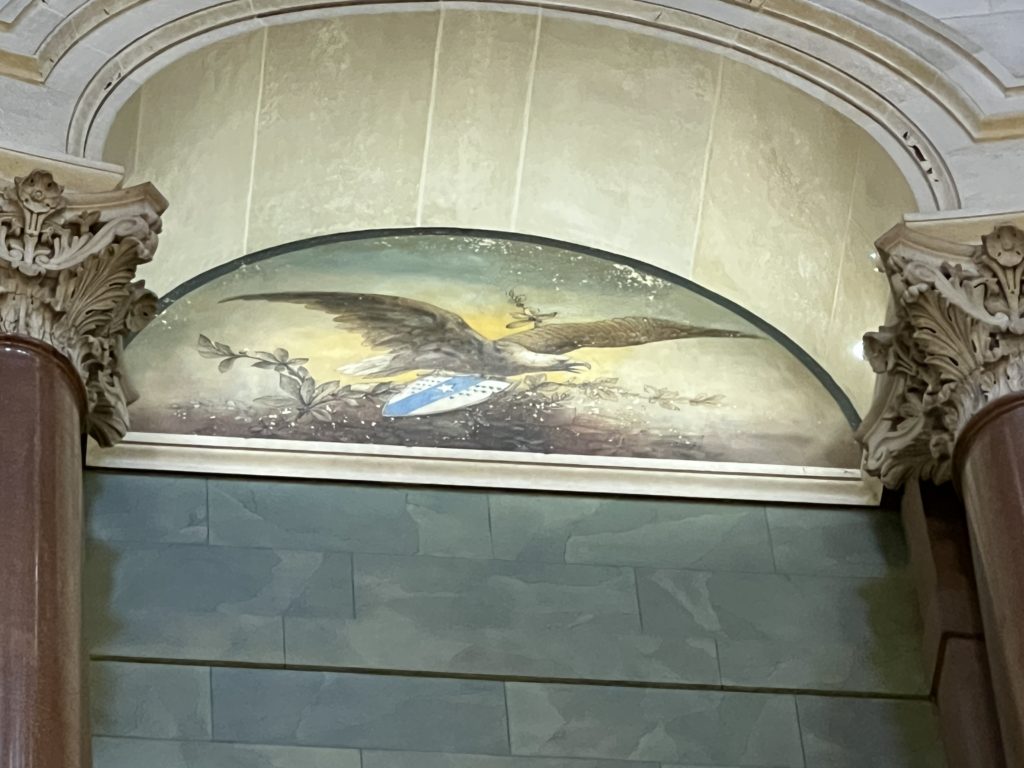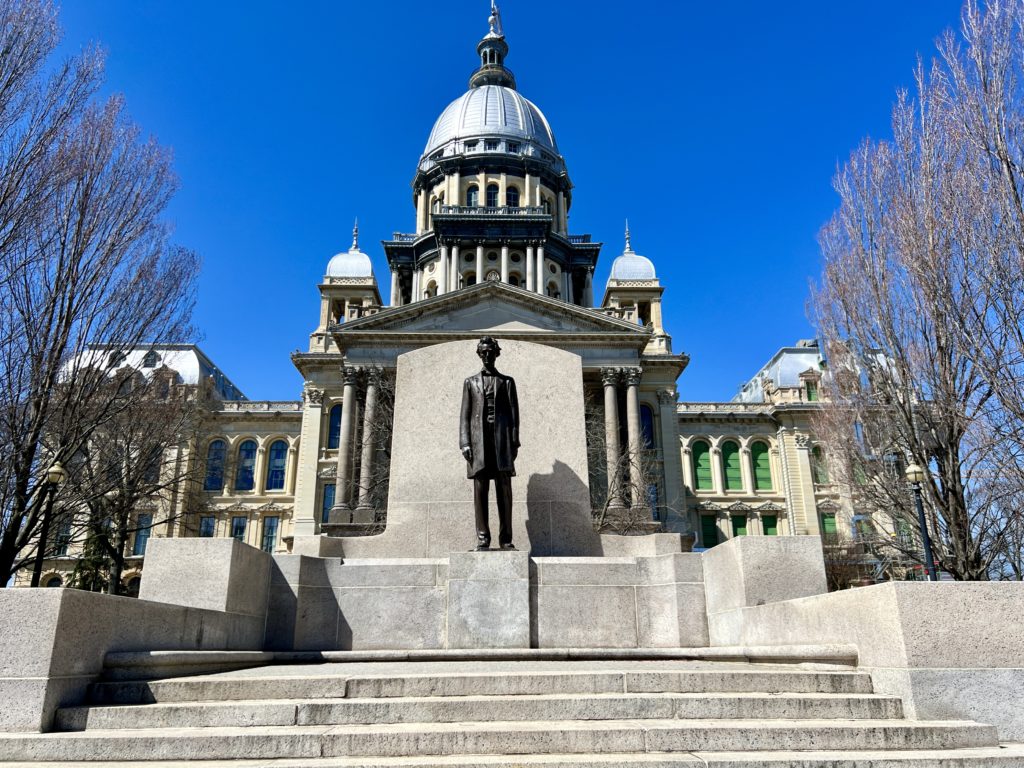 We had finally made it to noon for the State Museum to open so walked back there. The ground floor was fossils, geology, animals, etc. A natural history type exhibit.
Norah's favorite part- by FAR- was the Generation X exhibit. It was a floor of items dedicated to Gen X, including a full recreation of a late 70s/early 80s Rec Room- complete with Atari, wood panelling, a record player and a set of encyclopedias. She was in heaven haha It definitely helps that we are all currently listening to the audiobook of Ready Player One in the car while she reads along in the book- and that is just FULL of 80s references and pop culture. So, it was very fitting to the culture she has been immersing herself in this week.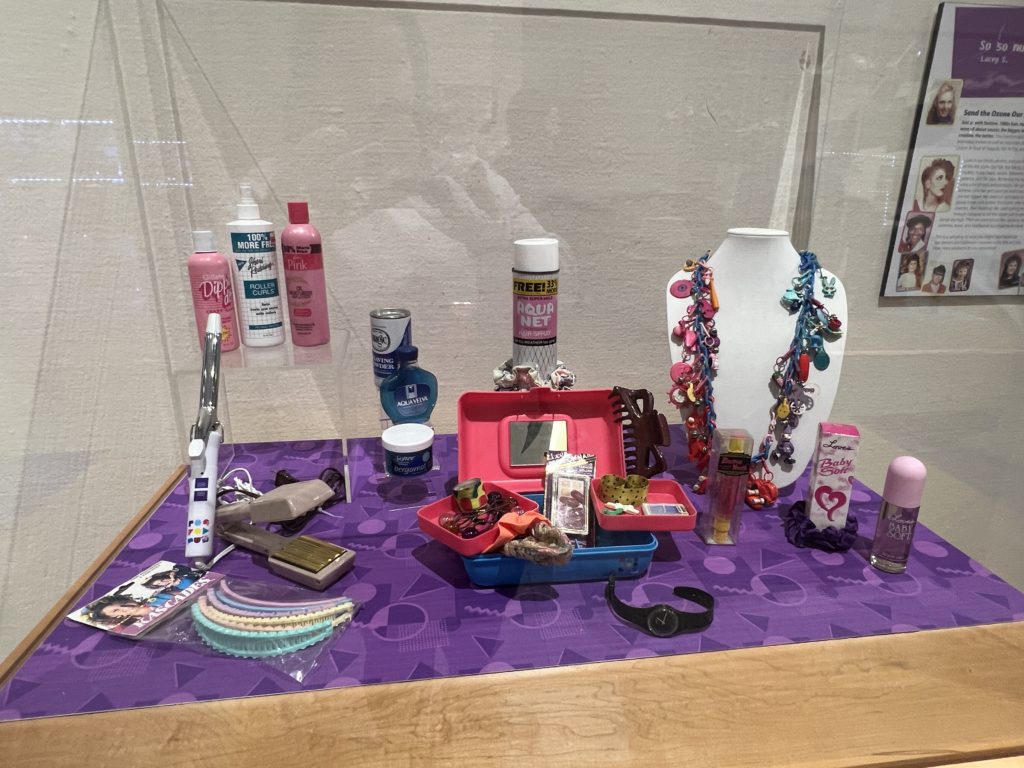 I finally coaxed Norah into leaving when I promised she could have a slice of pizza before our tour if we left right then. That worked. ha
Our house tour was surprisingly the highlight of the whole trip! They only do a few scheduled tours a day with a max of 15 people, so it was a small group and our guide was very good. The house was designed by Frank Lloyd Wright in 1902- completed 1904. It has 35 rooms, 12000 square feet over 3 main levels with 16 level changes throughout. This was FLWs first "blank check" commission- and it shows, we more art glass in this house that any other FLW structure in the world, with more than 450 art glass windows, doors and light fixtures as well as 100 pieces of custom furniture.
The craftsman style woodwork and built in cabinetry, which wouldn't become popular for 20 more years, was just fantastic. The roman stack mid-century brick walls with open concept spaces that wouldn't be seen for another 30-40 years in other home designs. A multiple line phone system installed in 1904! you had 9 private lines in the house. Full electric, indoor toilet – all first in the area at a time when outhouses and no electricity was still very common.
The house also contains 2 different barrel vault ceilings – the only time FLW did barrel vaulting outside of his own house for the rest of his career.
Photos were not allowed on the tour, but here are a few from the internet to show the house: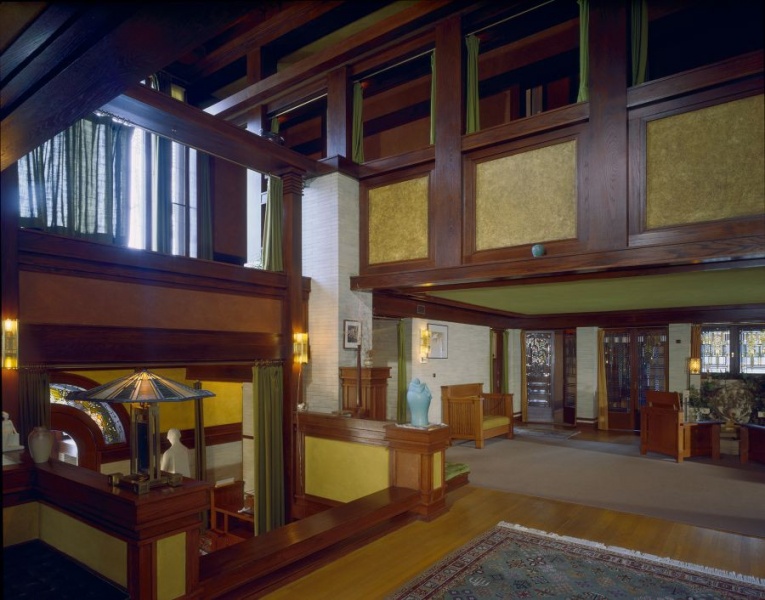 It was a good note to end on… We could have seen more in Springfield- there was a train station, some Lincoln statues… lots more we missed- but we needed to head further East to get back home at a decent time for school the next day.
Our last stop was in Casey, IL on the way- a town full of the World's Largest Everythings. ha It made for some fun and silly photos.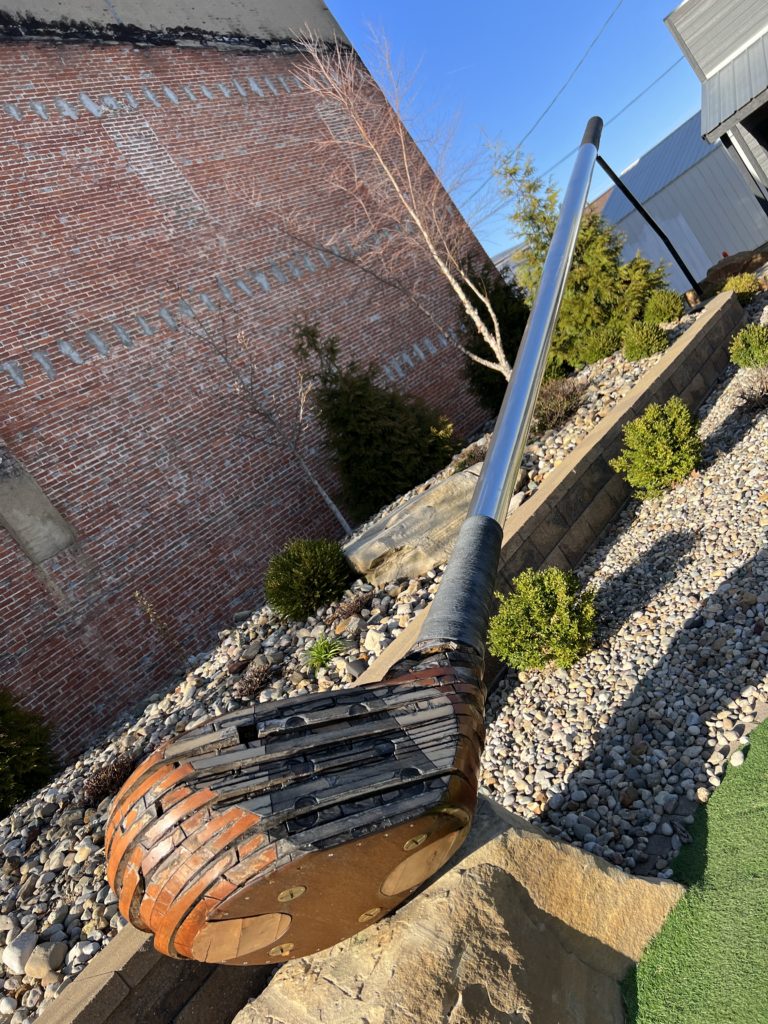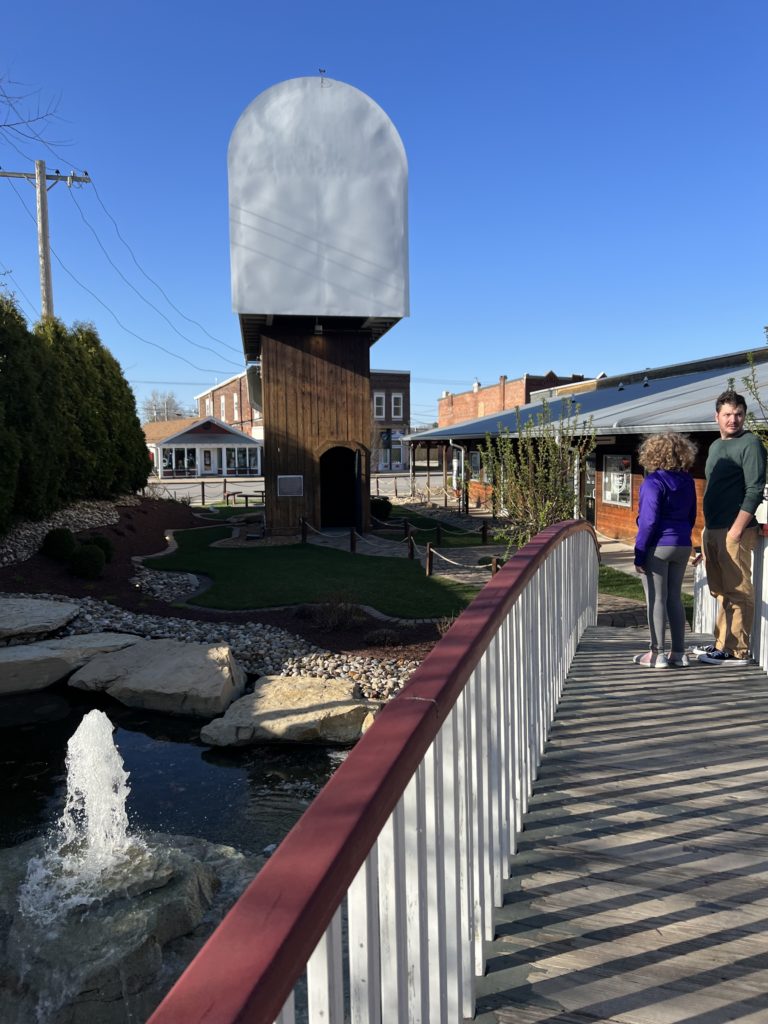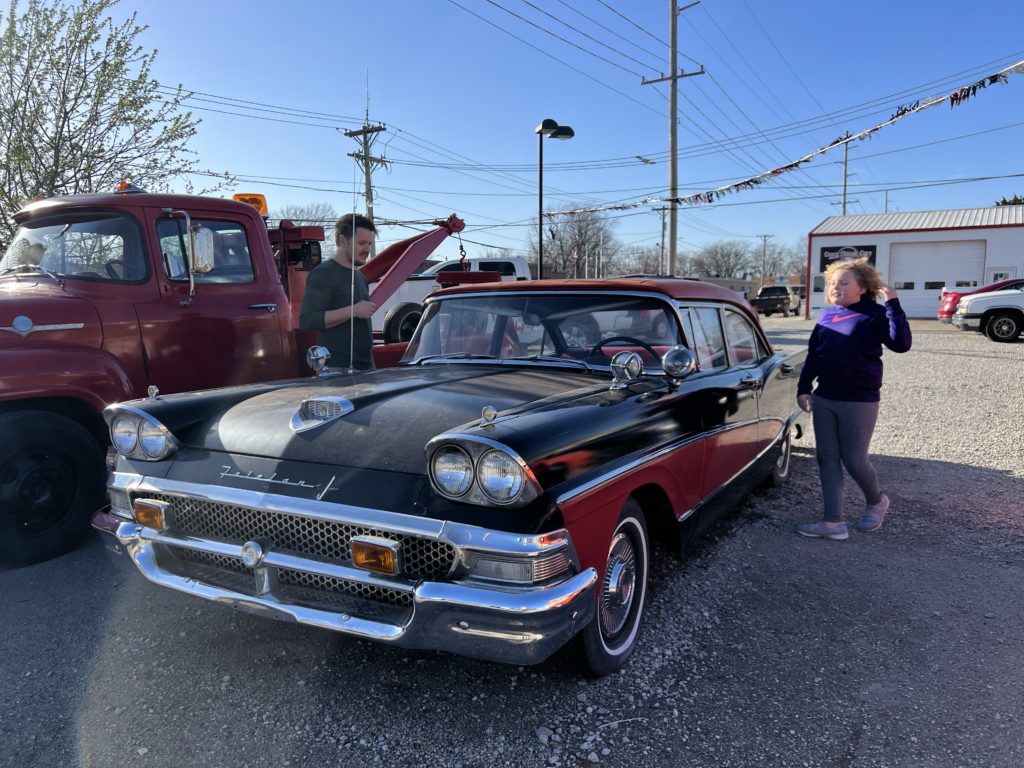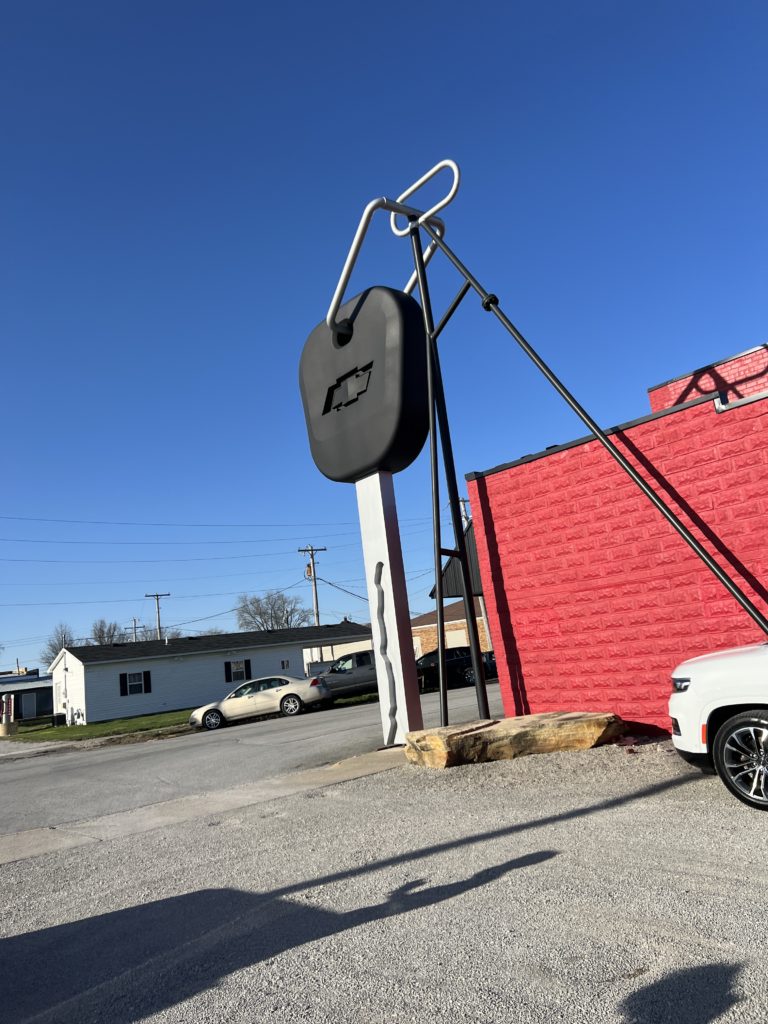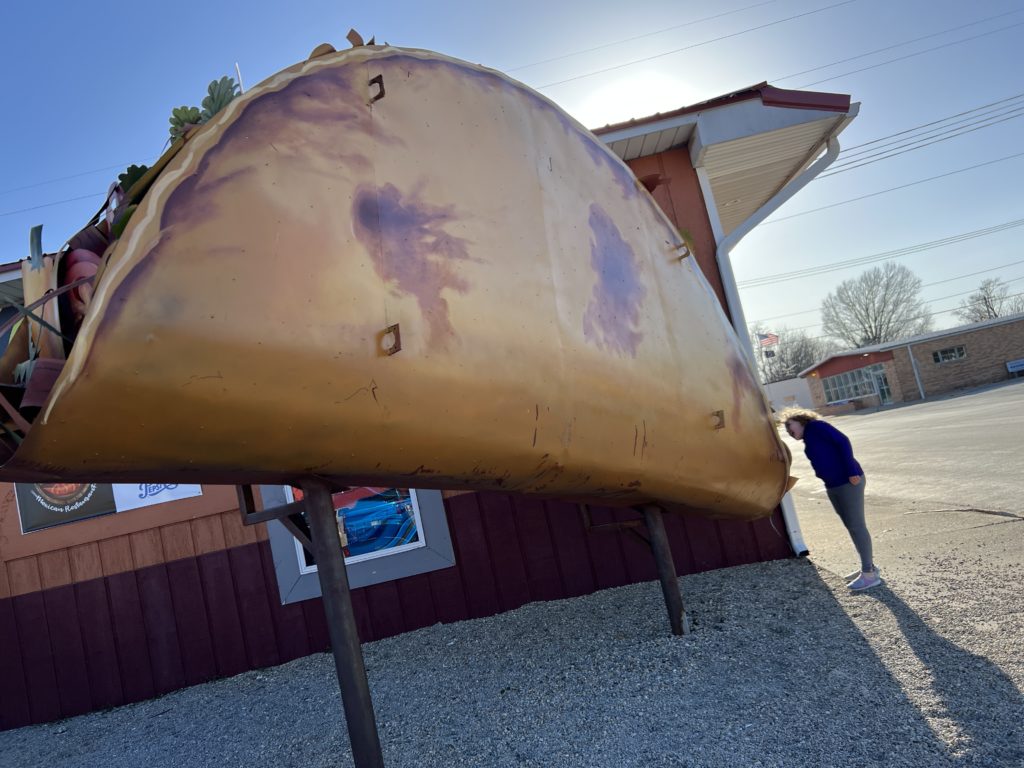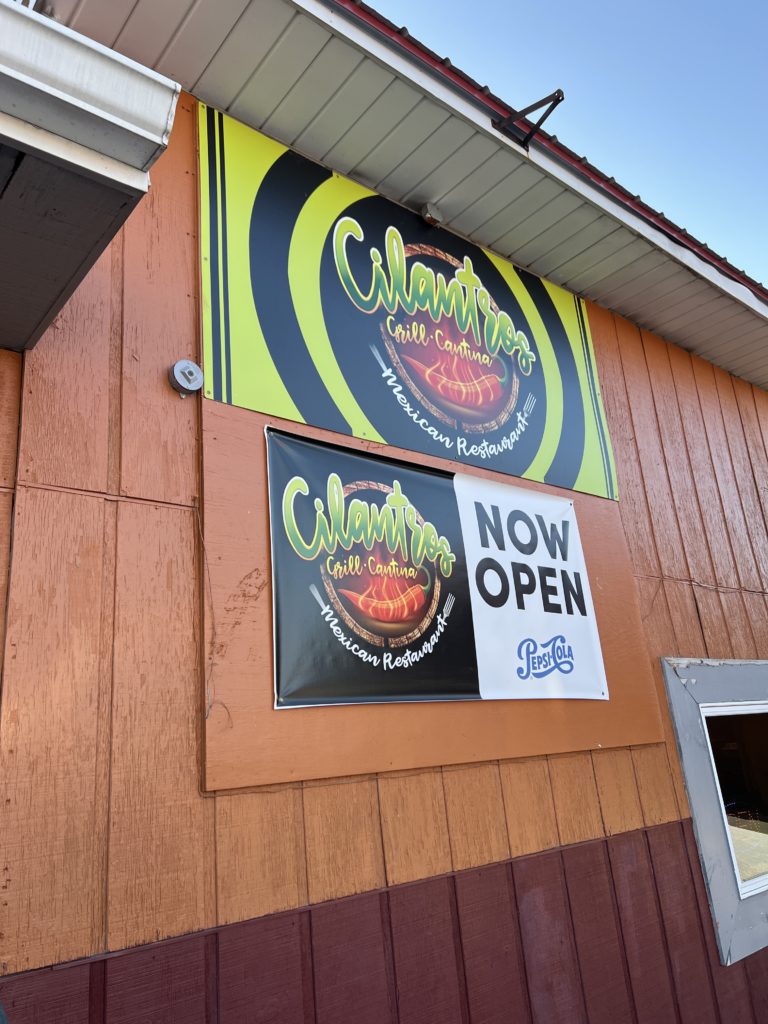 Dinner was at a Mexican restaurant called Cilantros..and it was good Mexican food!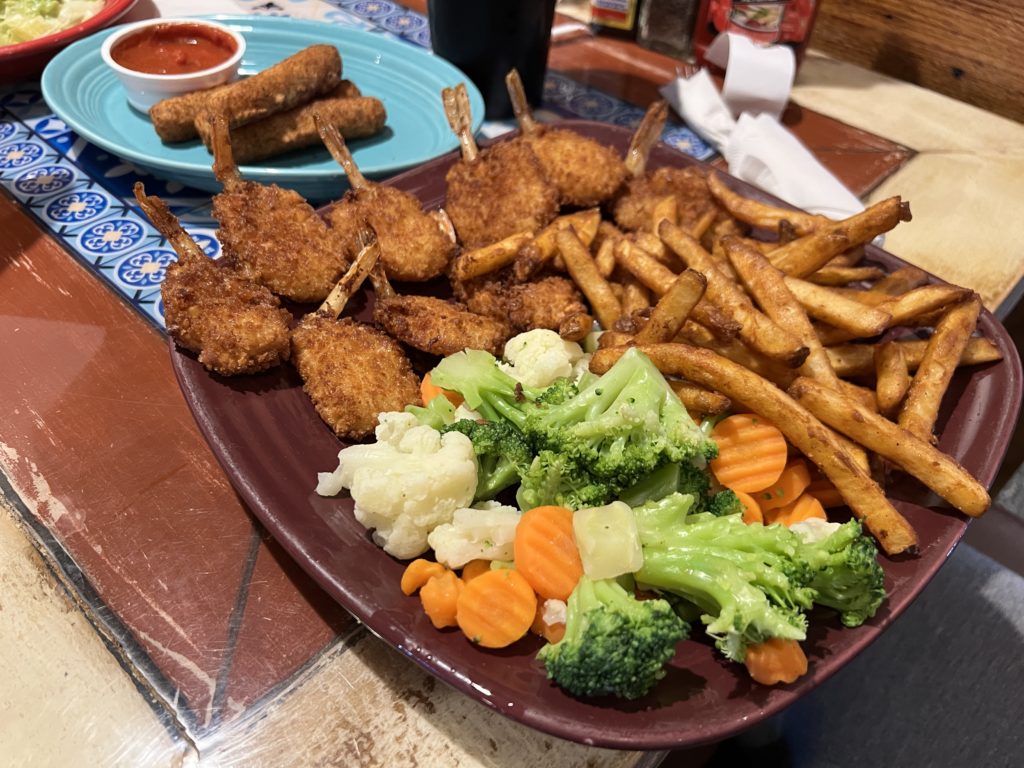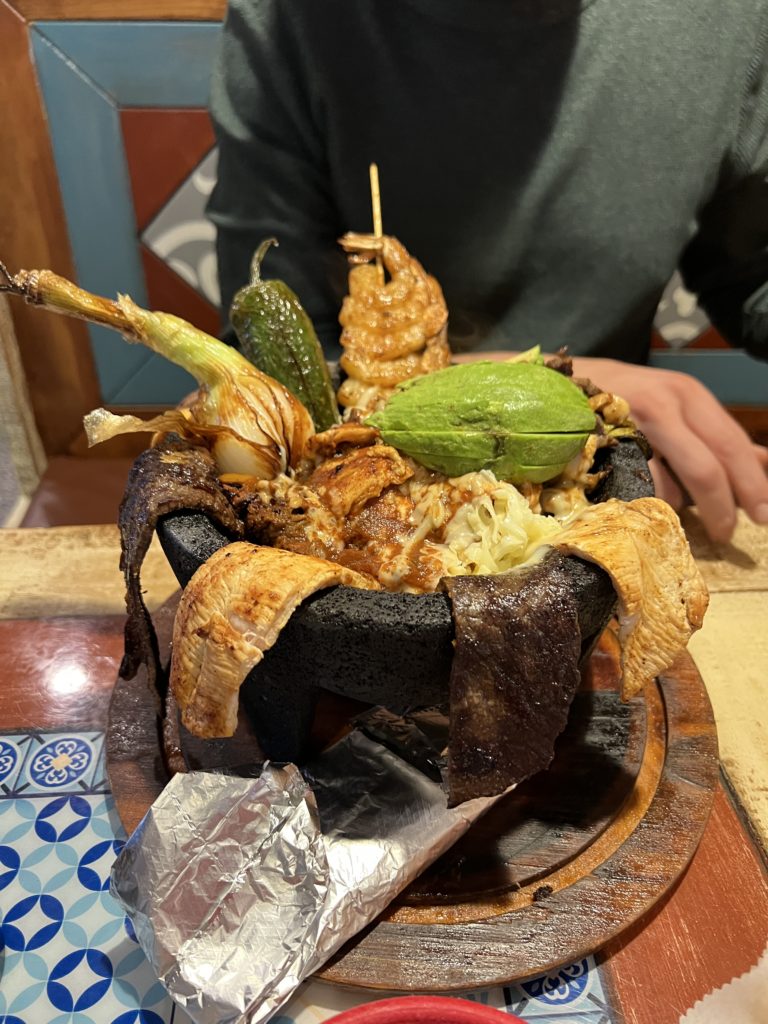 Overall, a busy busy weekend! But tons of sights seen, fun times had… it was a good trip! Glad we got to squeeze it in while we are still in the area locally.
Next trip is to Cleveland in early May because Norah and I are headed to Washington, DC in a couple weeks with her school for 5 days… I figured I needed both weekends on each side of that to both recover from kid overload and to catch up on work from actually taking some time off! See you then!