Today was a leisurely day making our way from northern Portugal across the parques and mountains of Northern Spain. Mostly just driving goat path roads over mountains and through tiny towns. I tried to grab some shots that might do the views justice, but they really don't.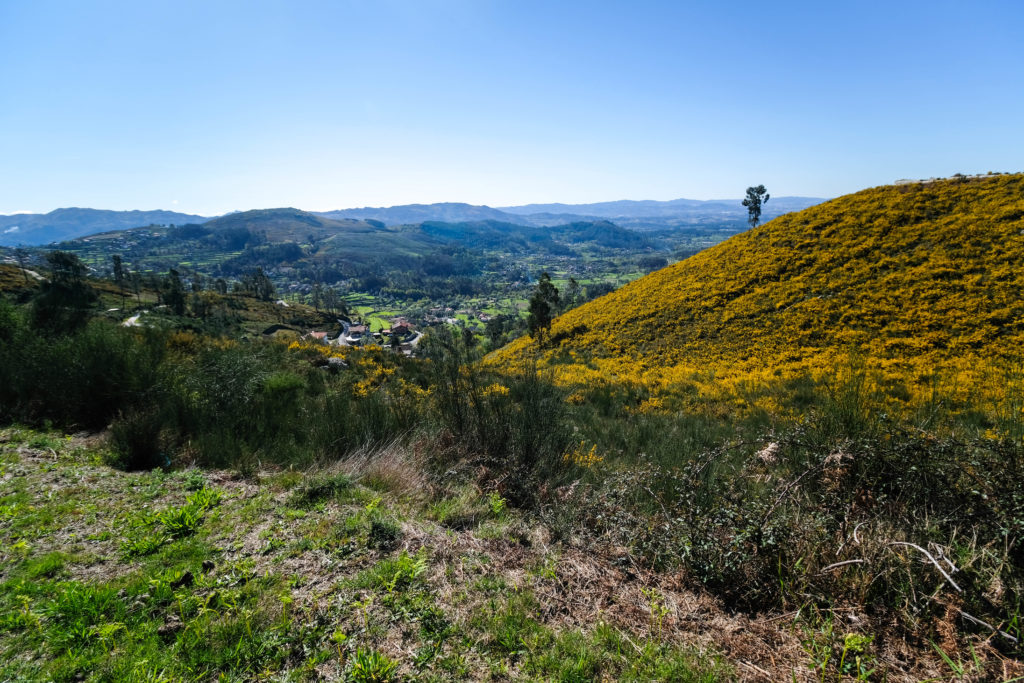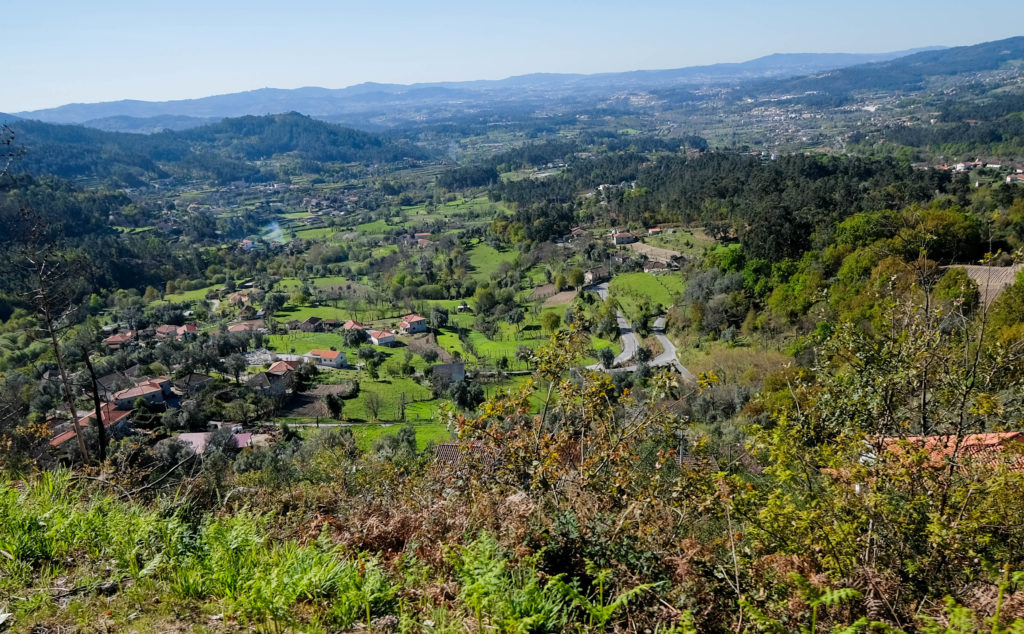 We passed through a tiny village with these flower arches over the narrow little mountain road. No idea what are for… but they made me smile. ha There was a guy here outside smoking his morning cigarette in his pajamas at 11am. That made me giggle, too. I could live here if they had wifi. ha
We stopped along the highway at a "cafestore" which is basically a gas station that has drinks and a food counter… which , let me tell you- most gas stations do not even have water or drinks. That was a weird finding. ha I walked into one and it was just a bare store with some motor oil and a guy reading a paper looking at me like i was a weirdo. i said "agua?" and he smirked. no…. so i said "baño?" and he smirked again and told me where it was. haha Apparently, most everyone else in Spain knows gas stations don't have anything inside. ha I'm trying to figure out how we didn't run into this issue on our last trip, but multiples this time had this "issue". Also- another strange finding… a lot of restrooms will be outside of the main building… and with no paper products. No soap, no toilet paper.. but they have a bidet beside the toilet. So, noted and quickly, I started carrying my own toilet paper. ha I still haven't quite figured out how the bidet fixes everything. Now, you just have A LOT of water dripping off places that want to be dry. haha…i know-TMI.. but seriously. I wonder how most people utilize these facilities.
So, anyway.. this cafestore.. we ordered ham and camembert sandwiches for lunch. Norah had a hamburger and french fries. surprisingly good for gas station food!
Our trek across Spain led us to the town of Ponferrada to the Templar Castle in town. A king gave these castle grounds to the Templars in the 1100s to help protect the Way of St. James, also known as the Camino de Santiago- a great Christian Pilgrimage. (More about that tomorrow) They built more and more defensive structures as their power and their numbers grew…
It was a cool castle. Lots of remodelling, new parts added, etc… but still nice to tour.
Norah pretended to shoot arrows at invaders through the slit windows.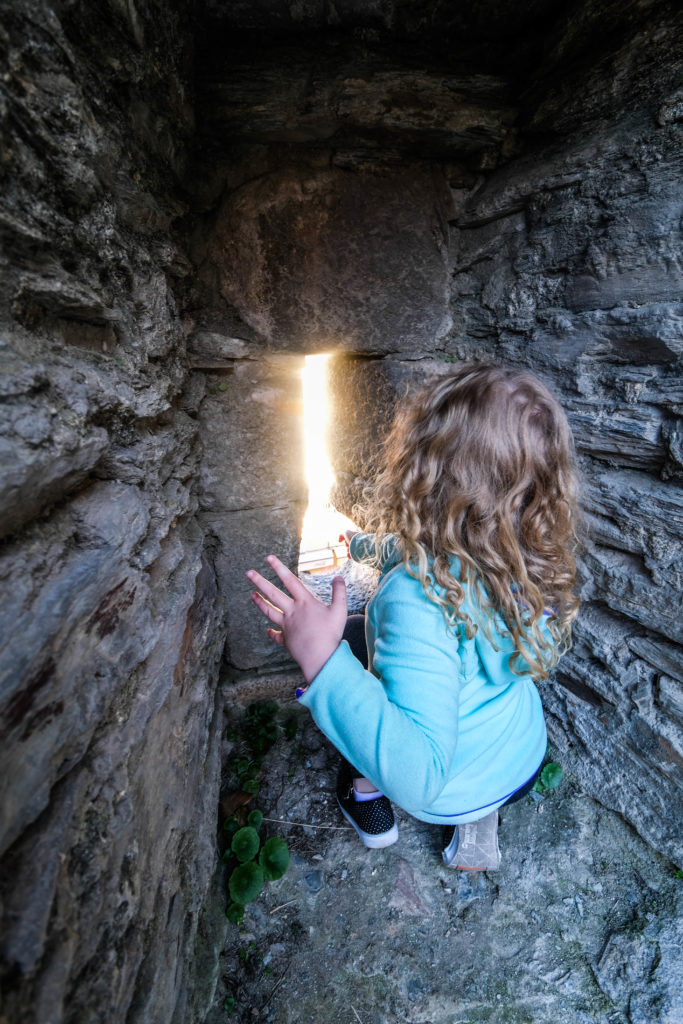 This other little girl that we kept meeting while walking around gave Norah this rock. So Norah was super excited and called it her "lucky rock"
We did find this creepy tv face pointed up to us narrating in angry Spanish when we went into the basement level of one of the rooms and looked over the edge. ha I think I can gather from the Templar clothes, the sword in the case and the creepy storytelling, they were discussing the mysterious missing sword of Jaques de Molay- the leader of the Templar Knights who was burnt at the stake by the King of France (as discussed a couple days ago). Legend has it that the sword is somewhere near or around this castle since de Molay walked the Camino de Santiago and fought here at the castle.
They had replicas of period outfits which I thought was cool. Check out this guy's shoes! ha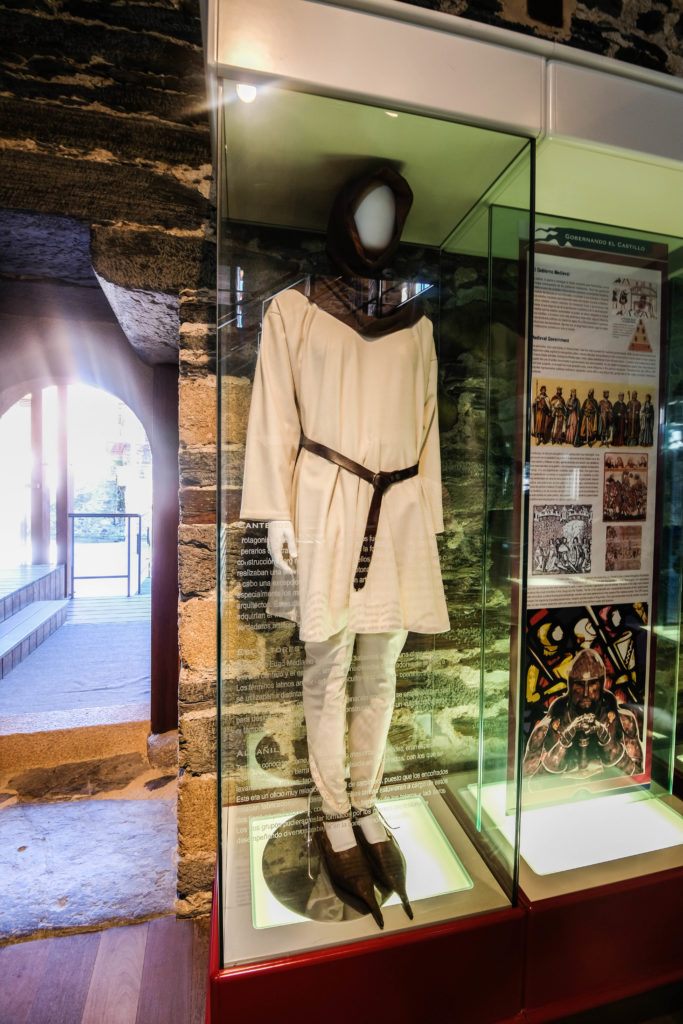 After the castle, we went out to the countryside to our rural tourism hotel- Hotel Via Avis. It was really cool. a 500 year old renovated house turned into a 6 room hotel. The couple that ran it was so sweet. We really liked it and could not recommend it more.
He recommended we go to dinner at this little family place in town that involved us driving down a gravel road… but we found out later that they closed on Wednesdays. So he recommended a second place… then he called to verify they were open.. nope. ha So..in the end he recommended a place in the "big city" of Astorga 15 minutes away. Serrano's. We were looking forward to a big plate of Spanish pork and sausages like is customary in the area, but the owner said this place was known for mushrooms and partridge… so it was the best we could do. ha It was wednesday after all. How dare we try to eat out on a wednesday in this area? ha
We were one of 3 tables in the place and the 1st to arrive. The waiter recommended a starter called El Cicero, which was basically Iberian ham with duck liver and olive oil. So good.
There was no kids menu and we hadn't eaten much all day (keep in mind it's already 9pm because #spain.) so, Norah ordered the Salmon. She was very excited to order "El Salmón" on her own. ha
I had the patridge because the hotel owner recommended it. It was very good and had a rich mushroom sauce.
Kegan had a deer loin with creamed potatoes.
We took a look at the dessert menu and I got what the waiter recommended-La Leche Frita. It was basically a mushy creme brulee. but it was good.
Kegan got some sort of "queso" dessert… which was like a cheesecake.
The chef came by to see how we liked our meal and gave Norah this pretty flower. The chef spoke great English. the wait staff did not. Where was he the last hour??? ha BUT… that's OK, anymore in Spanish I feel pretty comfortable when we travel and can usually do just fine conversationally.
The waiter decided to pour us two glasses of what appeared to be port to go with our desserts. In the end I asked him what it was- he said it was a "wine typical of the region" called Limonata. A red wine, with lemon and orange juices and spices mulled together. It was VERY good. I'll have to try to remember this for another visit to the area.
We drove back to our hotel at 11pm and crashed. 🙂 Last day tomorrow! and some amazing steak.