Decided to combine both of our days around Porto into one post because Day 7 alone just wasn't that interesting. I did end up with some wicked hives and this amazing swollen lip in the morning though… ha This has been an ongoing thing for like 6 months… it's some sort of histamine reaction. Aged cheese, cured meats, wine… you know… basically anything I eat! All cause some sort of histamine reaction… Maybe one day I'll pinpoint the cause.
We had to drive to Porto from the mountains, and it was rainy and gross outside…. so we swapped our Day 7 and 8 plans..and decided to head to the northern coast of the city of Porto to Matosinhos, which is famous for it's amazing seafood restaurants where they grill the seafood right outside on the sidewalks and bring it right in to you in the seating area. Plates and plates of amazing seafood went by and i wanted to order everything…
We ordered a starter or roasted grilled peppers, like blistered whole peppers, but a communication problem gave us a "pepper salad" or cold pepper slices in olive oil. They were OK. ha
I ordered the mussels for a starter and the waiter said "no, our clams are much better. I bring you clams." Ok… clams it is.
I ordered the grilled octopus…because I apparently have an obsession this week. Seriously, I have eaten like 3 whole octopi on my own.. haha
Kegan got a grilled salmon steak and it was to die for. I could eat that every day of my life.
Norah didn't want any food, but she did want Pingu ice cream.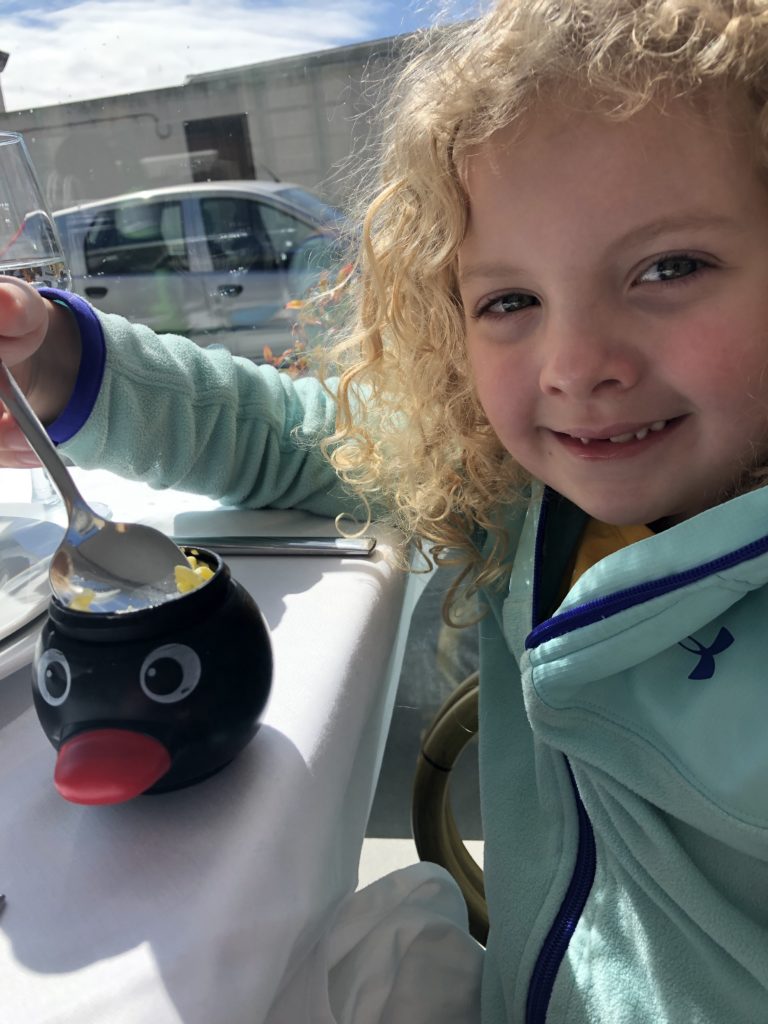 After lunch, we headed over to the Crown Plaza Porto hotel where we would be staying. Norah got comfy. ha
There was a McDonald's just down the street, so Kegan walked down and got the kid a Happy Meal. Life was grand.
Portuguese McDonald's have dessert options for kids… and one of them is a stick of pineapple. I wish this was an option in the US! I'd order it for myself!
We were lazy all evening. This was our day of rest on vacation. We were going to go to the port houses down on the river… we thought about going to dinner…. but then we decided to just watch a movie, grab some bread and gazpacho from the grocery store across the street and eat the leftovers from lunch the day before.
Norah was pretty peeved as us that: 1. We didn't dress her in green for St Patrick's Day and 2. We weren't partying or seeing a parade. So we compromised and said we'd make Saturday when we got home "fake Patrick's Day" and we'd wear green at home and have fun.
We slept well and had our breakfast at the hotel and grabbed the world's fastest Uber from the hotel. (he literally had to be sitting outside. he showed up in under 30 seconds) and I had him strategically drop us at the top of the hill of old town Porto at the Ingreja do Carmo. A lot of the churches are closed on Mondays, so we could only see the outside…which was fine, I just wanted to see the stone work and the blue tiles.
We walked across the street to the Clerigos church and Tower- a symbol of Porto since the 1760s.
The inside style was very Baroque.
We didn't walk all the way up to the top of the tower. I wasn't that interested in the panoramic view for the stairs involved…and I was afraid Norah wouldn't be able to make it up such big stone steps to the top without us carrying her… an even worse proposal than just walking it alone! ha So we exited on back out to the street.
Porto has streetcars like Lisbon, too… although it didn't seem like as many and they weren't very full.
Next, we were supposed to visit the Livraria Lello – an amazingly ornate bookstore that is said to have inspired JK Rowling to write Harry Potter. But if you look… that is the LINE. To go into a bookstore. To take a photo of its interior. I thought about it… but I just cant 'tourist' that much.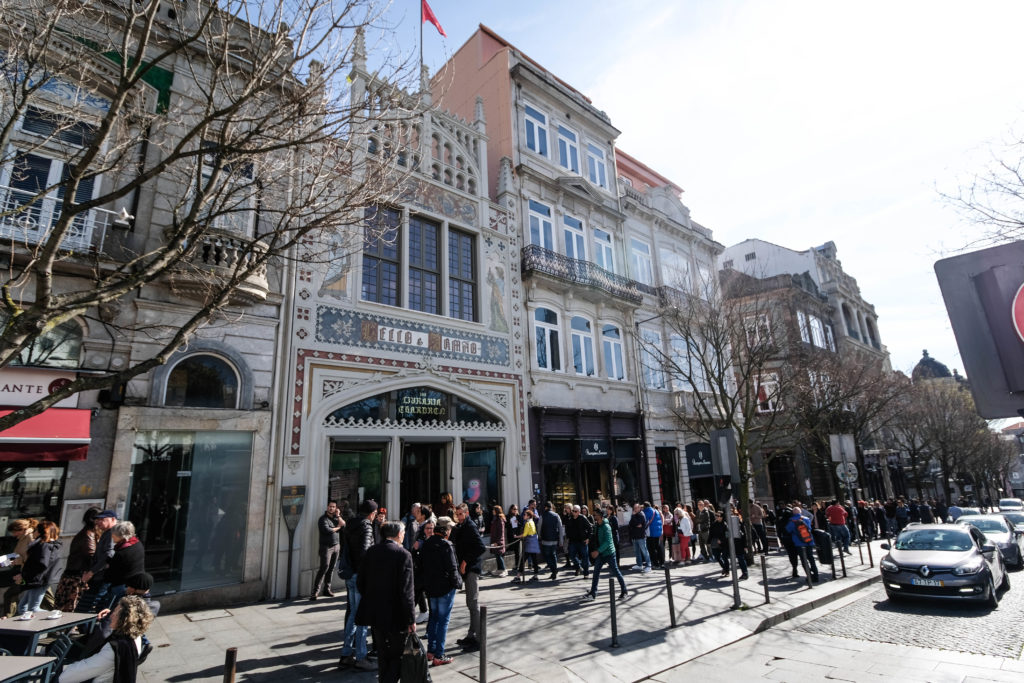 Here, you can see the inside from the internet, too like us! ha
With 2 extra hours in our day now, we headed to the Praça da Liberdade- one the city's main squares. Here we found an ATM we needed.. and the world's fanciest McDonalds.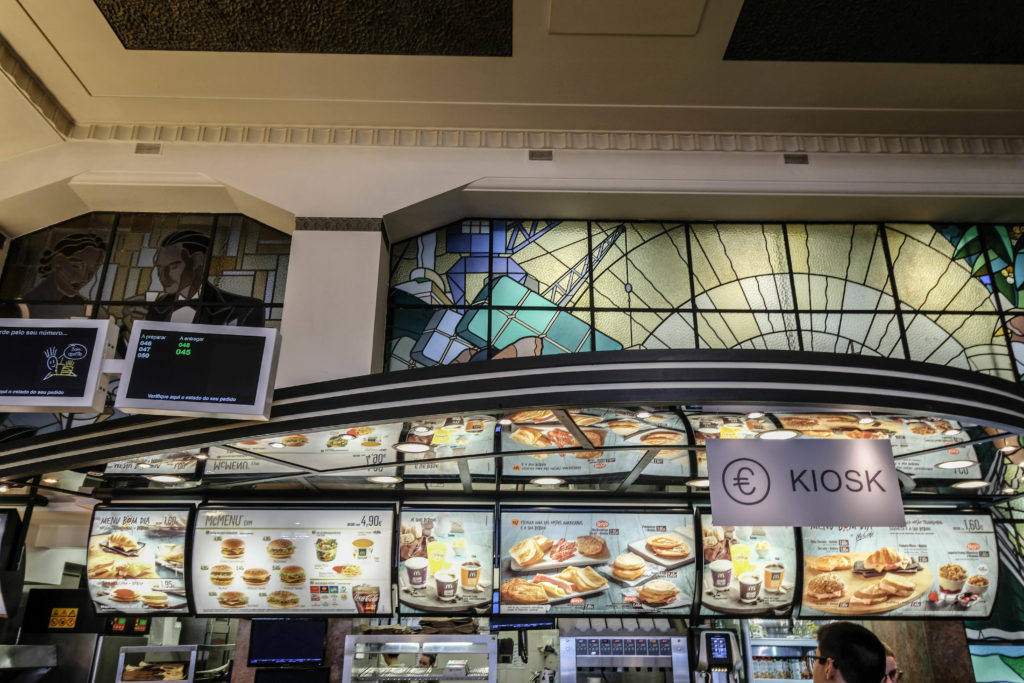 Norah had an 11am Happy meal. again. and the day was made.
There was a guy hanging around the square with a falcon. Turns out he runs an Animal Exhibit out of town..so he comes here to advertise.. and he said the falcon keeps the pigeons out of the square. hmm.
We walked on to the Ingreja Paroquial de Santo Ildefonso, another Baroque church with azulejo tiles that was closed on Mondays. It's fairly unremarkable except that it was heavily damaged in the Siege of Porto in 1833. Remember the child Queen Maria II and her father Pedro IV that came from Brazil back to Portugal when King Miguel stole her throne? Yep… when Pedro came back- that was the Siege of Porto…and we now know how that ended…with his daughter back on the throne.
We made our way towards Cafe Santiago… where I had read was the best place to try a Francesinha sandwich- an icon of the city.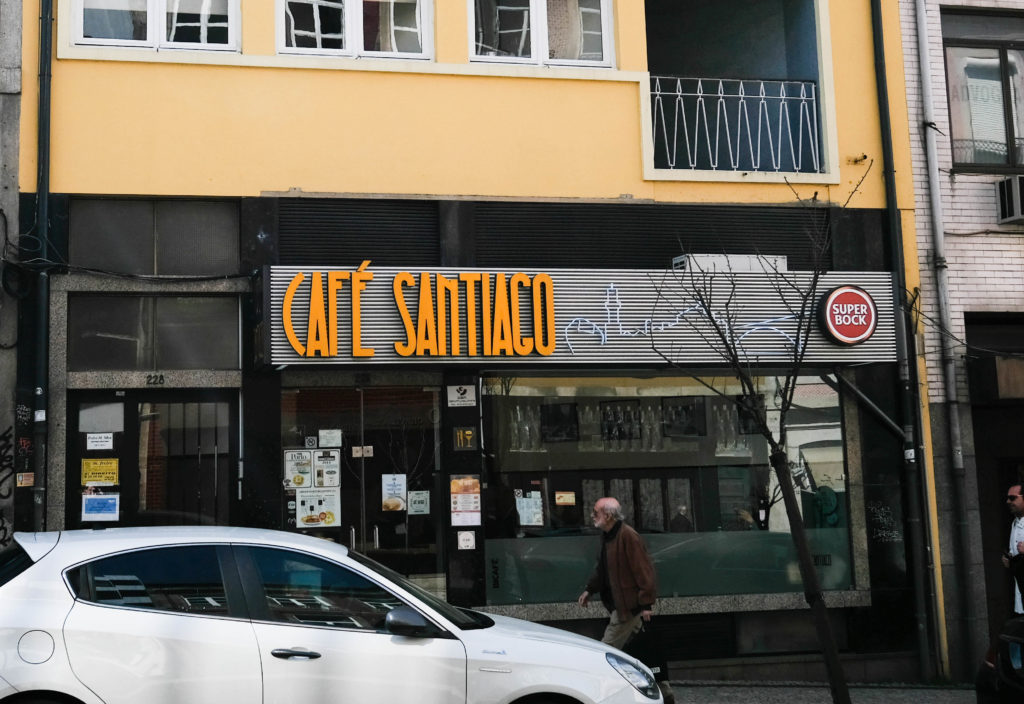 This sandwich is delish. Bread, various meats such as steak, sausage, bacon, etc… covered in a layer of melted cheese, with a fried egg, drowned in a special secret sauce that varies from restaurant to restaurant. We opted for the classic and split it since we figured we'd be having port wine pairings in the afternoon.
Our next destination was Sao Bento train station. What a beautiful building! Such old charm. It seemed like it needed to be in a movie. Very clean, bright, beautiful tile murals on the walls…I really enjoyed it.
This one is of Prince Henry the Navigator representing his victory in the Battle of Cuenta (in Morrocco- I mentioned this in the last post randomly!) One of the first battles that would lead to expansion and exploration for the Portuguese in the early 1400s.
Another showed King Joao I riding through Portugal after the victory over the Castilians that cemented the Kingdom of Portugal. (also mentioned in my Batalha Monastery post)
We were headed down towards the waterfront and saw the Porto Cathedral. The views from the back were fantastic. Norah really loved the street musician playing back there and wanted to give him money. Kegan dug around for some small coins and Norah thought he needed a 2 euro coin, too… haha So he got 3-4 euro from us today. ha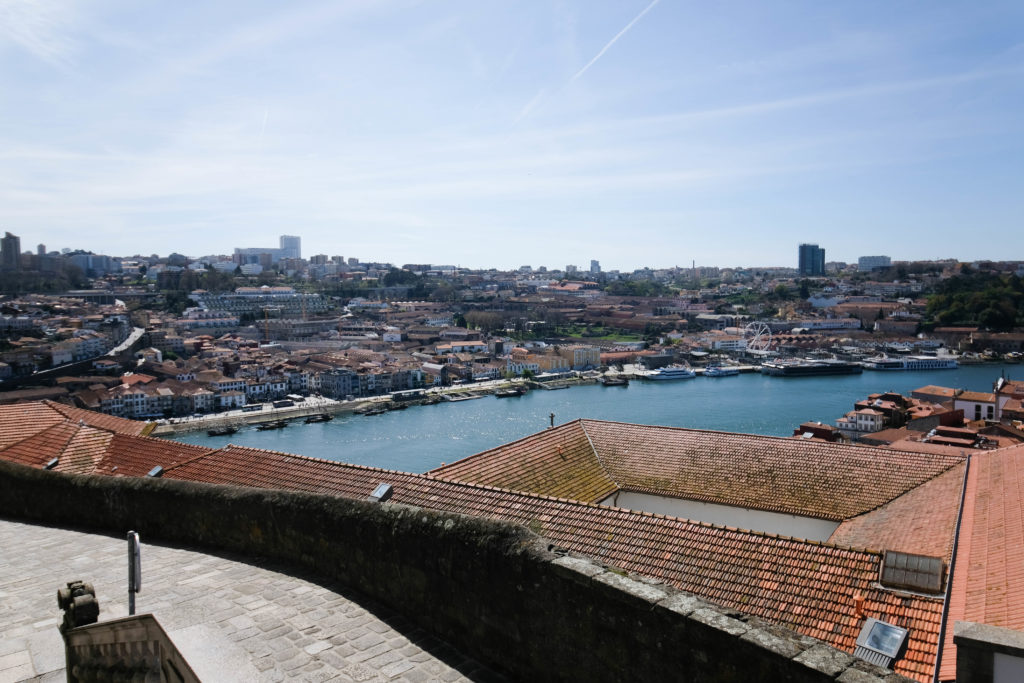 We walked across the Dom Luis bridge to cross into Vila Nova de Gaia, the city across the river from Porto.
There was a guy selling drawings and I really liked one, so for $10- I decided to bring it home with me.
They have a telefundo (cable car) that runs from the top at the bridge down to the waterfront where the port houses are… so we took it.
There was waterfront playground so Norah played. Obviously made many friends. Within 10 seconds, she's holding hands with a little girl who doesn't speak English and they are frollicking into the playground. ha
We later found this Pringles vending machine. Which, I admit, was a funny sight. This kid loves her Pringles. ha
We stumbled on this art installation called Half Rabbit that I had seen pictures of online, but had no idea where it was. So that was neat!
Our first port house was Quinta dos Corvos. A random selection.. just one I hadn't heard of. We didn't want to try ports we could easily buy in the US like Sandeman's or Taylor's or Graham's. This one was a great find though, because they had a 20 year aged white port wine, that I had never heard of… but we're carting 2 bottles home because it was SO darn good. Buttery, caramelly… great.
After we purchased the wine there, he said "would you like to try a very rare 40 year old white port??" uh… yes. of course. lol
So, he literally left the tasting room, walked us down the street and around the corner to another place called Augusto's to try to the 40 year old port. We liked it… but not as well as the 20 yr. So we made a good buy 🙂
Our next tasting was at another small producer: Vasques De Carvalho where we had a Dry white young port, a 20 year white port (still not as good as the first… so still a great purchase! ) a Ruby port and a 20 year Tawny port. The tawny was very good, but not outstanding enough to bring home…and that much port REALLY needed some sort of food accompaniment!
Our final tasting was at Offley. I saw online they had a cheese and chocolate pairing with the ports… and we really needed something to go with this much fortified wine! (I am very surprised the smaller places didn't have tasting plates or anything to purchase with the wines… seems like a major missed opportunity. The larger places all had tapas plates and paired foods…so there must be a reason. Licensing, purity of Port wine tradition.. who knows. but I'm a lightweight and I needed bread with my port! ha)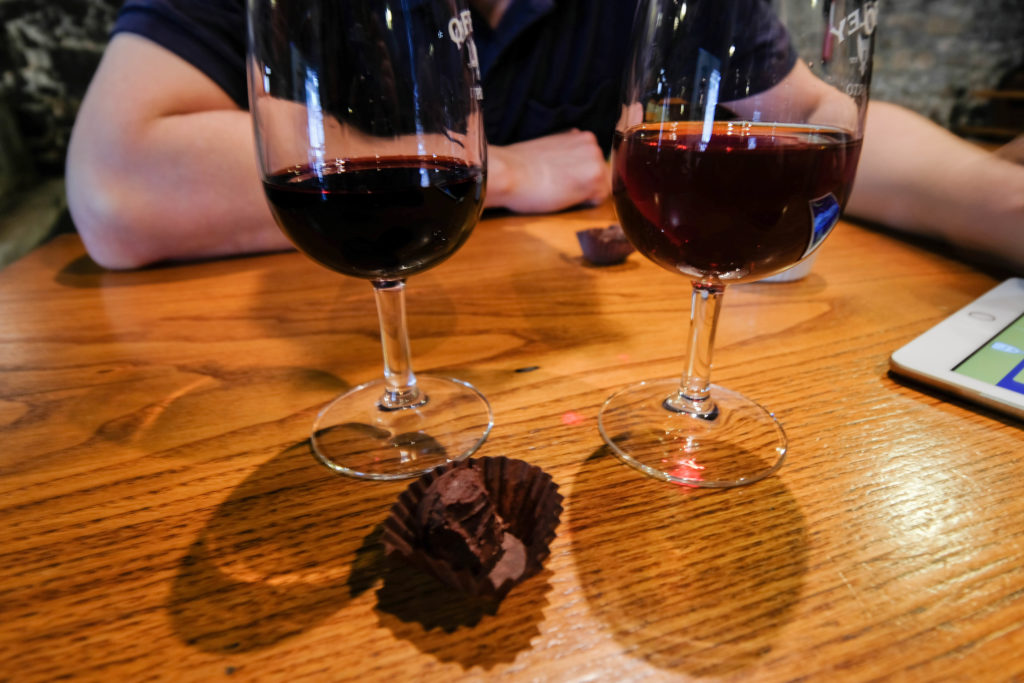 The cheese plate came with a fig jam that we both agreed was excellent. We'll have to look for something like that to buy. It complemented both the fresh cheese and the spicy port. it was a perfect combo. We got crackers, too- but Norah basically ate all of those. She had to smell all of our ports before we drank them. That's how to kept herself involved. ha
The rest of our evening was uneventful again. An Uber back to our hotel. A stop at the grocery story and more meat and cheese and gazpacho in our hotel room. I opted for sushi from the grocery deli instead of cured meats tonight to hopefully get rid of these hives I've now had for 3 days. We watched Die Hard on TV with Portuguese subtitles until 11:15pm when I had a business call with a potential new client. Tomorrow we leave Porto and visit Guimaraes, Braga, Ponte de Lima and end at a spa hotel with a restaurant. Just 3 more full days before we head back home.