This quick weekend trip was just to get in some random sites in Kentucky, including Big Bone Lick State Park (hilarious name ha), Abe Lincoln's Boyhood home and Mammoth Caves. However, the weather had other plans for us and it was cut short due to a huge wind storm and flooding all over the Midwest.
Friday started out fun with high winds and flash flooding so bad that Norah's school emailed and asked everyone to come get their kids as soon as possible so that the teachers could get home because multiple roads were flooded around Columbus. We even had to go "the back way" to get her from school because our highway was flooded. But, we grabbed her and headed towards Florence, KY for Friday night just because it's a decent suburban area close to Big Bone Lick for the morning but would give us some fun things to do Friday night.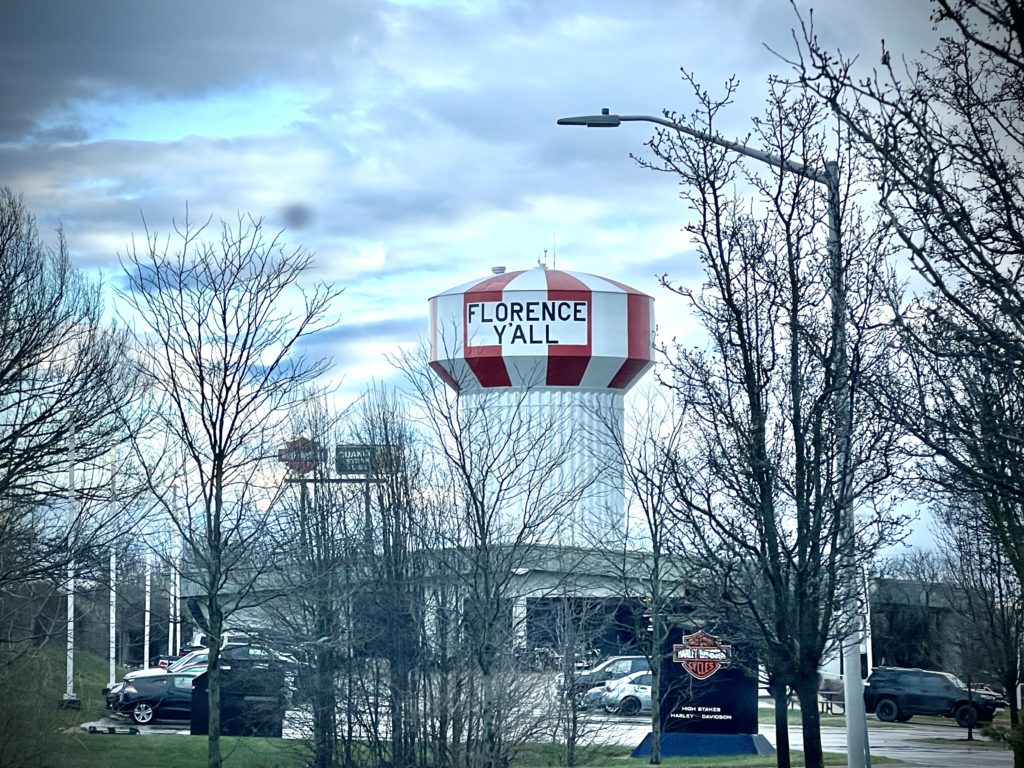 When planning what to eat in Florence, nothing was jumping out as a need-to-try… and just the other day Norah said "I've never been to Olive Garden, can we PLEASE go sometime??? They have all you can eat breadsticks!" Haha
Hilarious to me that she thinks she's missing out. Haha So… we blew her mind when we told her that tonight was her lucky night- Olive Garden! Ha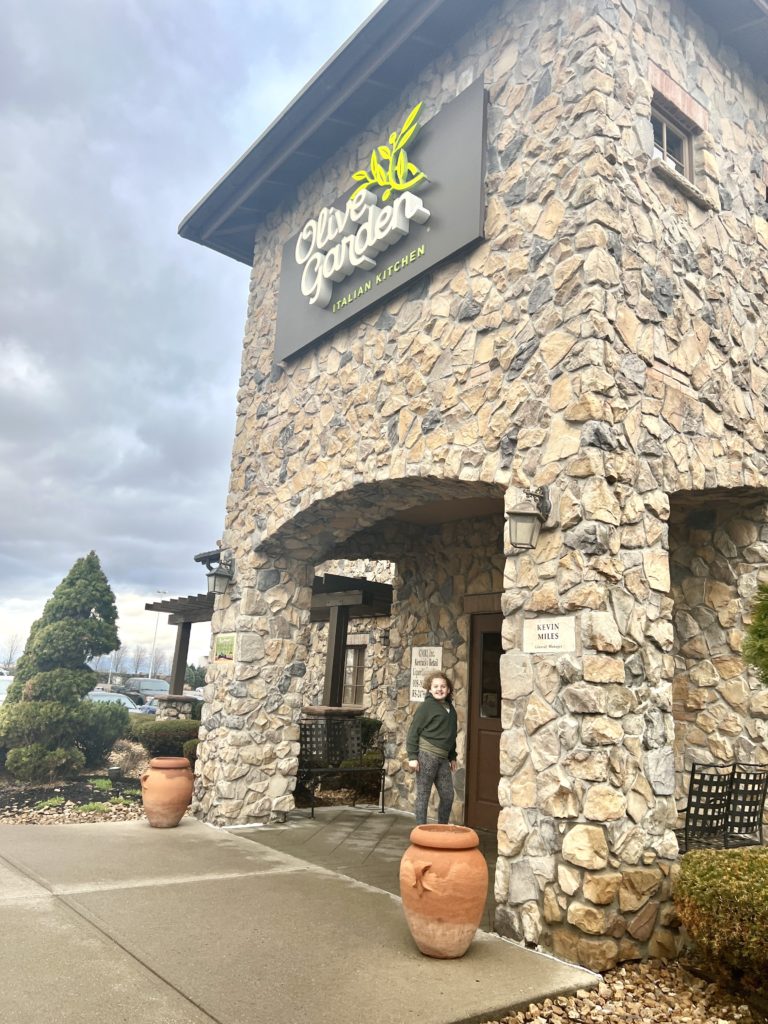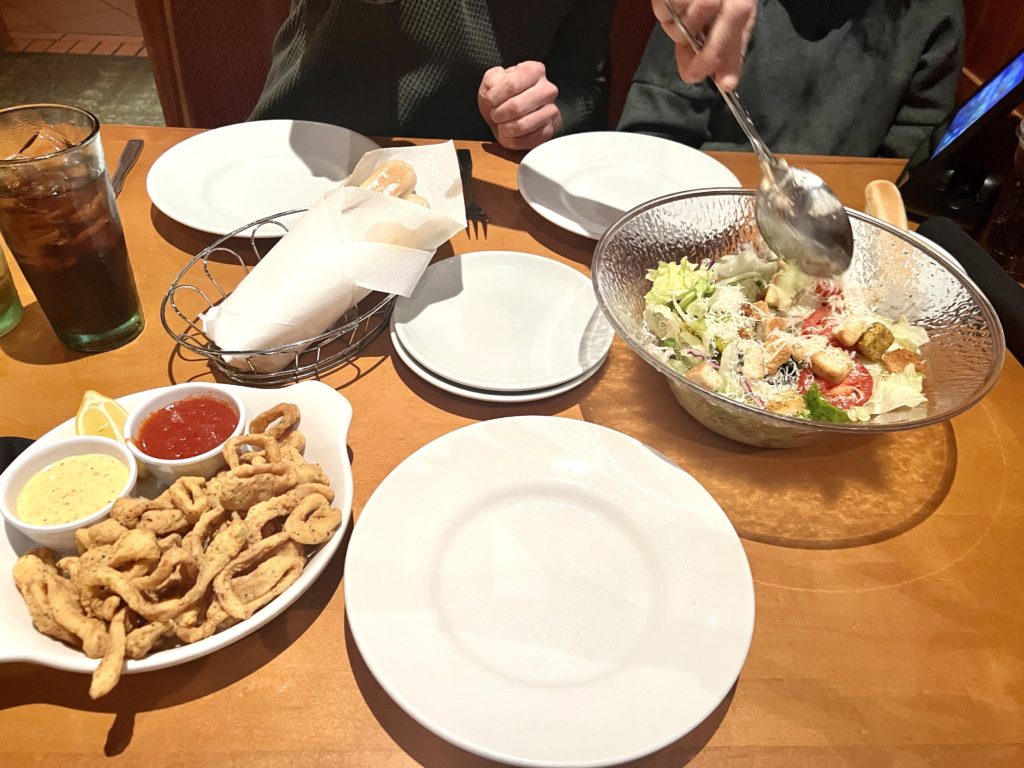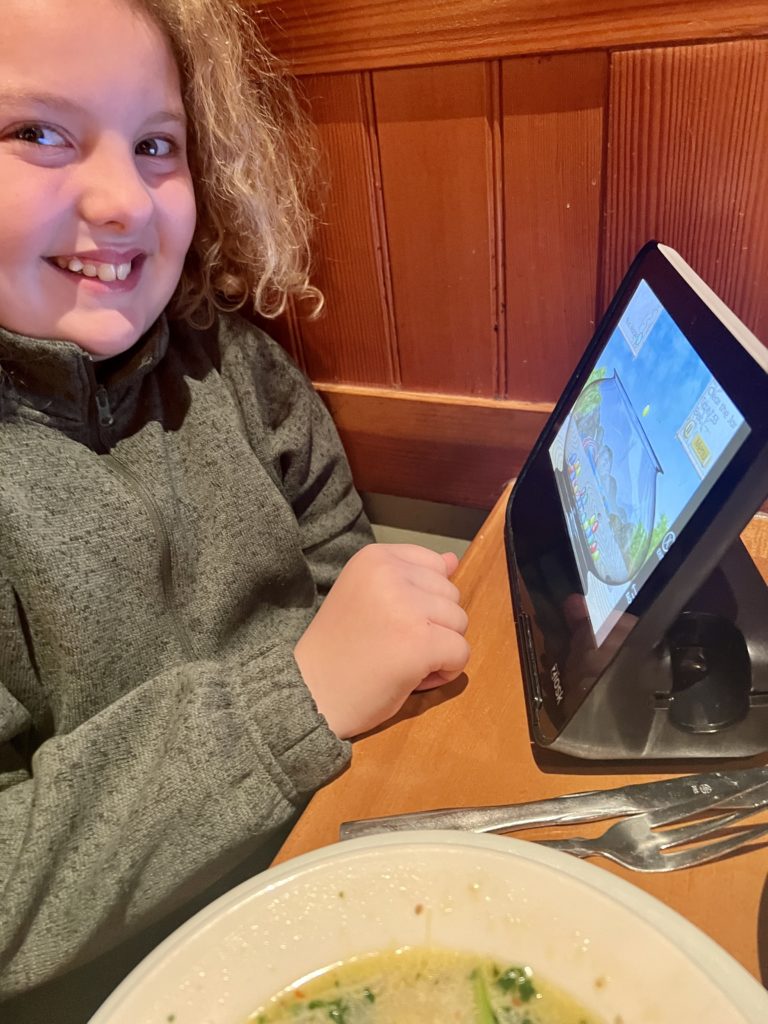 All was going well. Got my Alfredo dipping sauce for my breadsticks… found out they took the one thing off the menu that I liked (the braised beef tortoloni). Ordered some calimari…
…and then…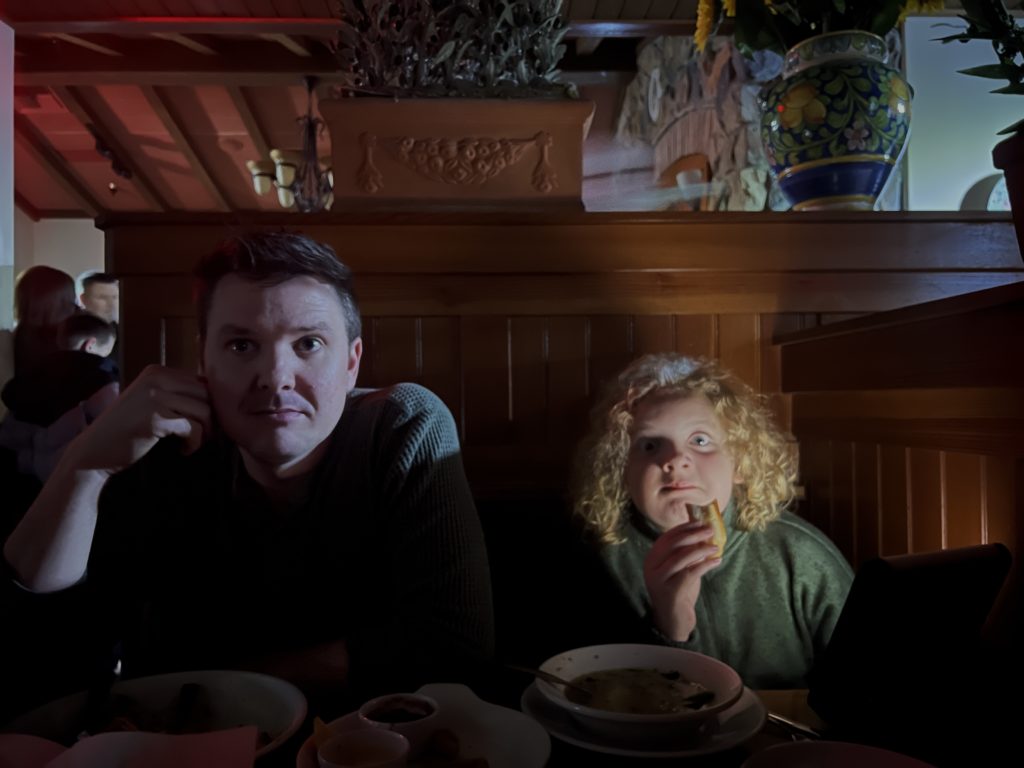 Luckily our food was already out, so we just paid cash to the waitress and we were good. Ha half of Florence was out of power all evening, stoplights were pitch black on a black street- so that was fun to navigate in a town I've never been in before. Ha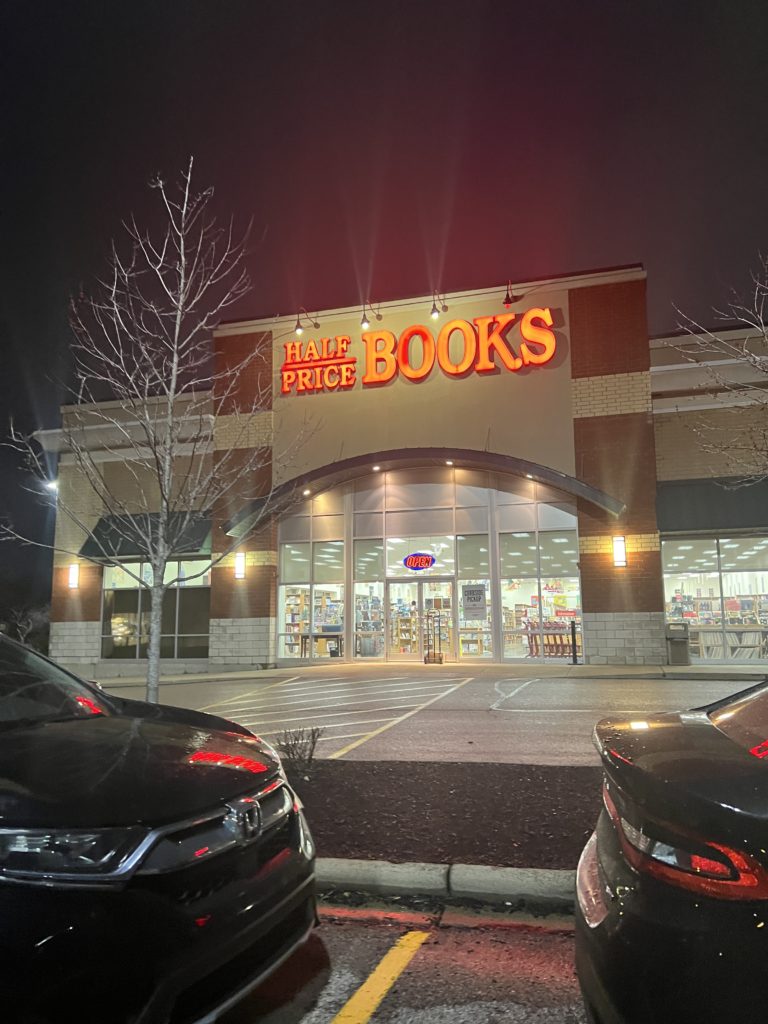 We booked an Escape room in Florence for 9:30p but they called us around 8 and said their power was out… but they had one room that could be done without power but it was only available at 10:15… so we moved to that one.
It was our first room we didn't escape! It was called The Shipwreck- and I have to say I want to put an asterisk on not escaping haha the power being out meant their comm system wasn't working and the game master didn't give us any clues, even when we asked so we ended up spending the last 10 minutes in the room trying to get the last lock open and she didn't hear us asking questions and we just thought she was being rude and purposely not answering us. Like we thought the lock wasn't opening so Kegan said "I'm starting at zero and doing blah blah" and she said "I believe in you- you got this!" So we continued doing the same thing assuming it was right. Turns out it wasn't lol oh well.
We went back to our hotel slightly annoyed, but there are lessons to be learned in failure as well, so a good opportunity for Norah who was about ready to cry over it. ha
Saturday, I had planned to go grab quick breakfast for everyone from a restaurant called First Watch. Its a chain but we've never been there-so I got online and made an order for pickup. For 3 people with coffee and juice and meals- was going to be $130! I was like, ok…I'm not super budget conscious… but I just CANNOT pay $130 for breakfast I still have to drive and get. So… we had White Castle breakfast instead! haha It's not exciting… but- let me tell you- if you aren't woke to the Castle for breakfast- they have the best cripsy golden hashbrowns of any fast food restaurant and they flat-top fry real eggs on their sliders. Also, you can get sausage or bacon instead of the hamburger patties…and they even have a chicken and waffle sandwich you can add egg and cheese to. Highly recommend for cheap fast food breakfast….and their coffee has even won awards. I still think its terrible watery drip coffee- but others seem to like it. ha
I had also advanced ordered some cool doughnuts online to eat as snacks Saturday or Sunday for breakfast from a place called Peace, Love and Little Doughnuts.
Our first destination was Big Bone Lick state park. Because of the history of the site, I had really been wanting to fit a visit in. This is literally the site of the birth of American Palentologic study. It gets its name from so many maps dating from the 1700s of European explorers mapping out the French claimed "La Louisiane" territory where "big bones found at the salt lick" or "elephant bones found here" were marked. Map after map shortened and it became the "big bone lick".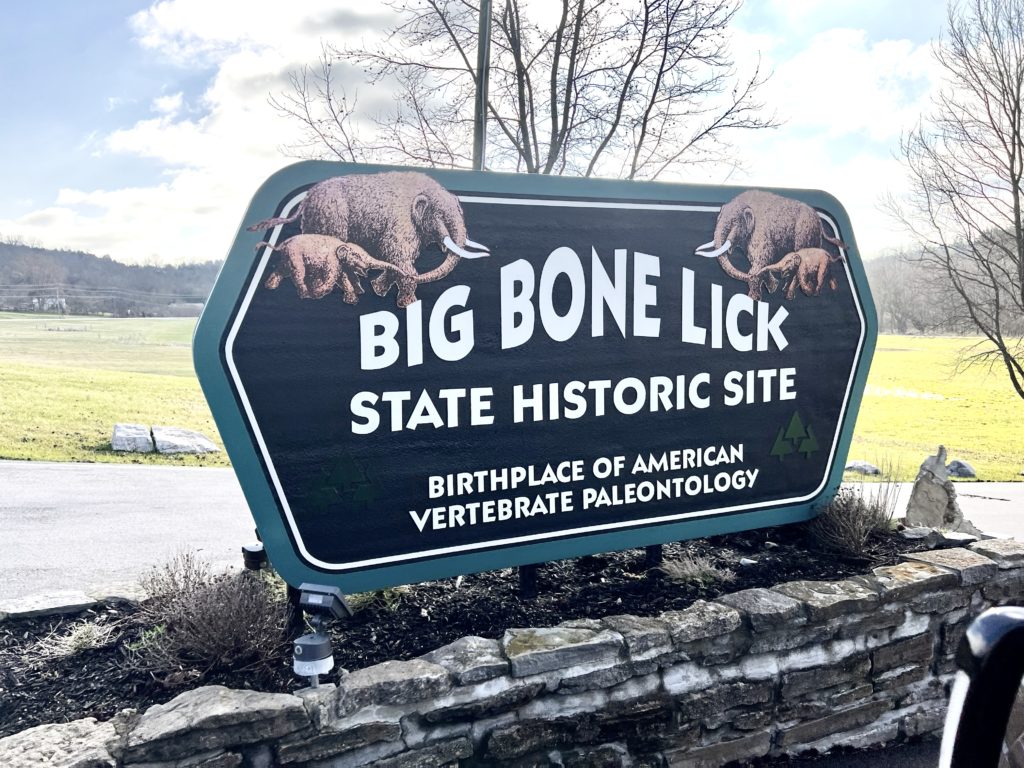 The Shawnee and Delaware tribes of the area knew this site very well and used the springs in this area for collecting salt and for hunting larger game that came to the spring to drink. Lewis and Clarke stopped here to collect and send back mammoth bones to Thomas Jefferson who was very interested in the site. So, Big Bone Lick was in essence the first funded paleontological excavation in North America. You can still see some bones from the excavation at Jefferson's home in Monticello. Benjamin Franklin actually put forth the first documented discussions of the possibility of climate change after reviewing the "elephant" fossils from Big Bone Lick. Basically thinking that if elephants only live in warm climates.. but we had them here long ago… then maybe it was warmer here long ago and it has progressively gotten colder…
Back in the Pleistocene period/epoch (in the Cenozoic Era) or "ice age" about 12,000 years ago, mammoths, mastadon, ice age bison, giant ground sloths (my favorite) and elk-moose all lived in the area and would come here to the salt deposits around the sulphur spring to drink. The land around was very marshy and the animals would get stuck and die or be killed by early Clovis people… or other larger animals.
So…pretty cool right??? I want to see the fossil beds! I want to see the spring! Oh… it looks like they have a herd of bison ranging! I wonder what cool skeletons they will have on display??
Yeah… none of that. ha We were soooo disappointed. Fossil beds have all been dug and destroyed, nothing to see at all left- not even marked on a park map at this point… the medicinal salt springs that even had hotels and spas in the area are gone and no longer there. They had cases along the walls of one room with some small bones, as well as some arrowheads and other artifacts of early life. They did have a 1,000 lb skull of a mastodon, so I guess they had 1 big cool fossil. Outside, they set up a fake diorama of painted animals getting stuck in a bog so you could visualize the concept, but it was just cheesy. ha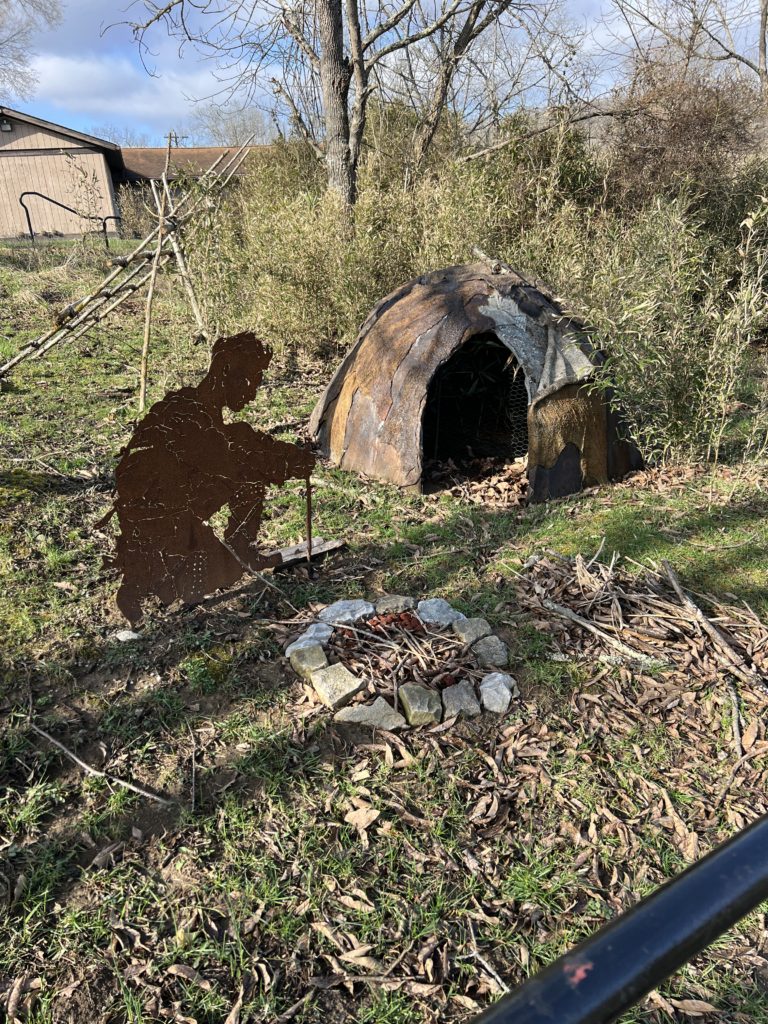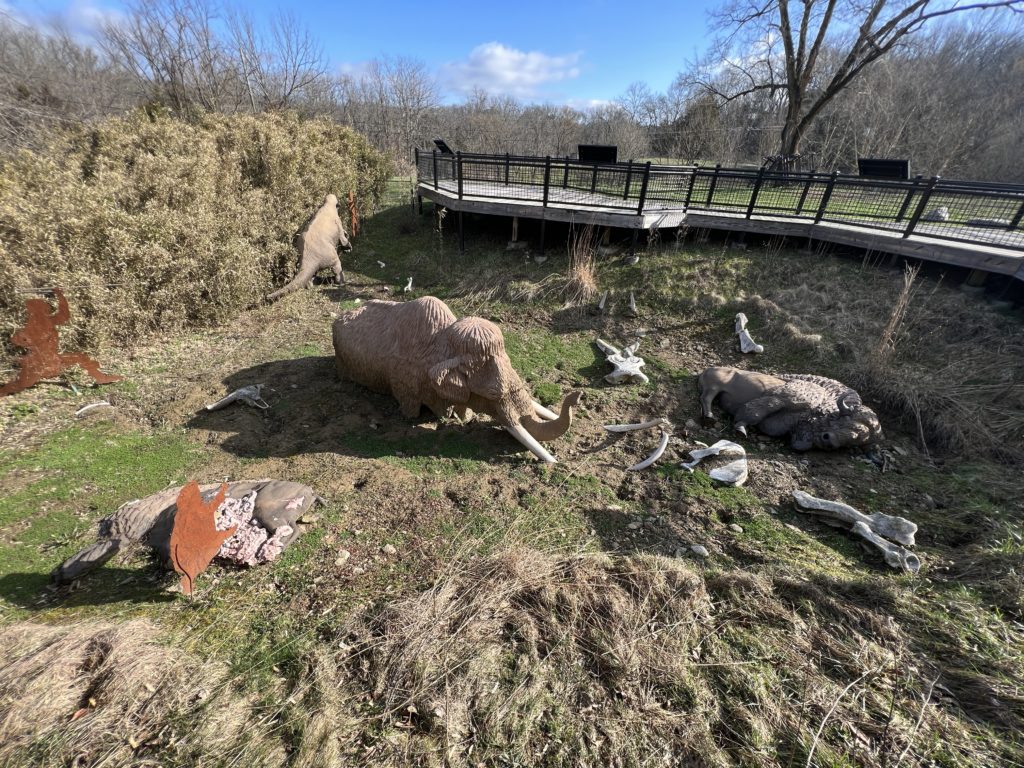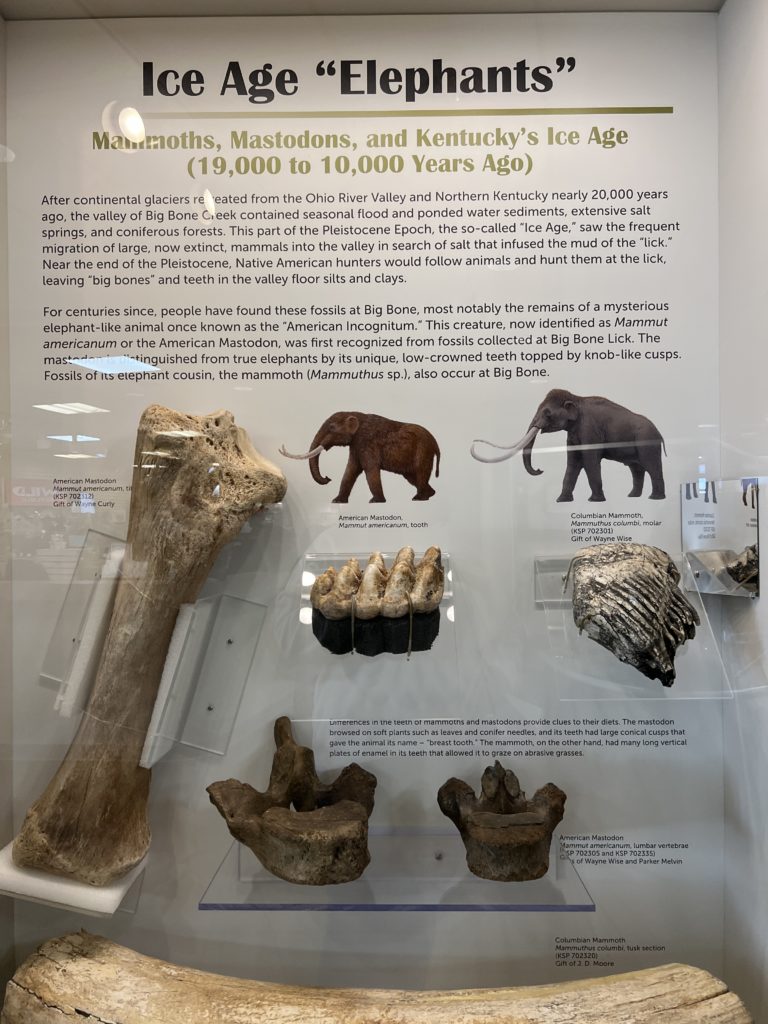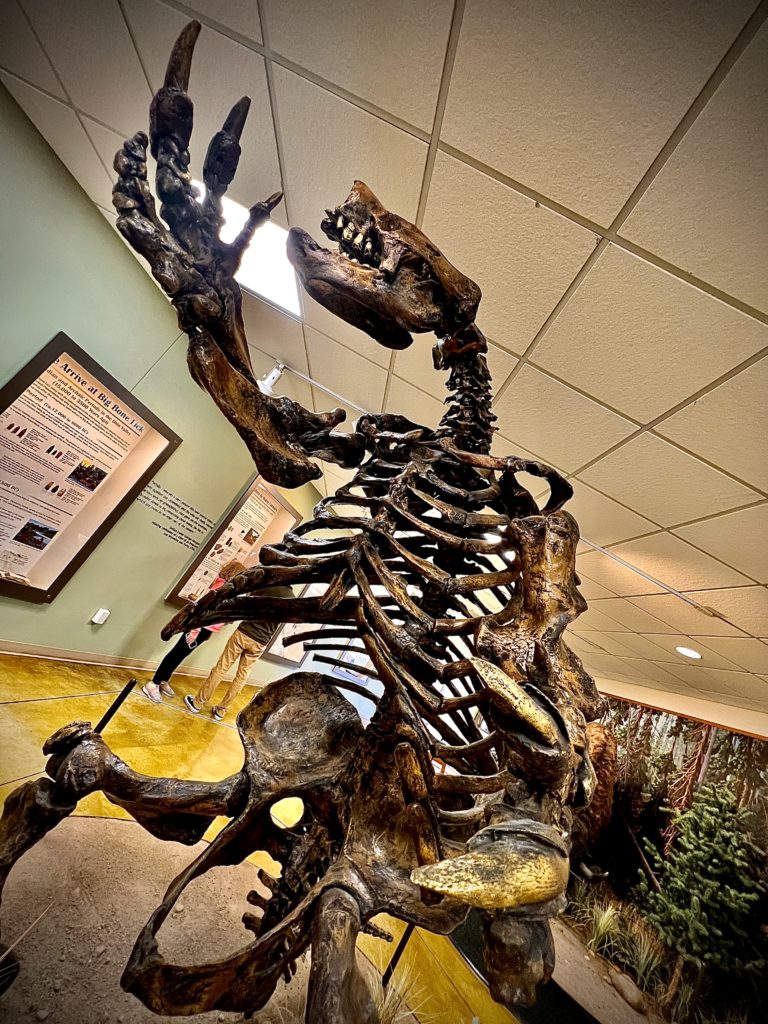 So, after our 15 minutes or so in the building, we decided to hike back to the bison area, even though it was really muddy and puddles of water on the trail and even a downed tree we had to climb over from the storms the night before….because -herd of bison, right???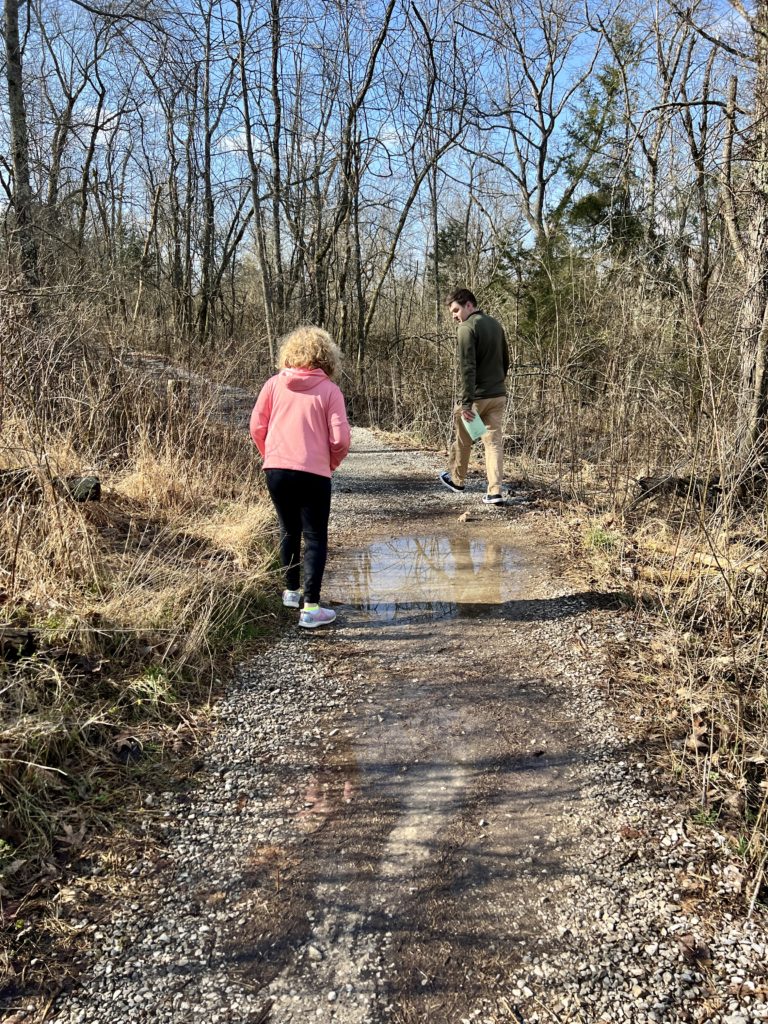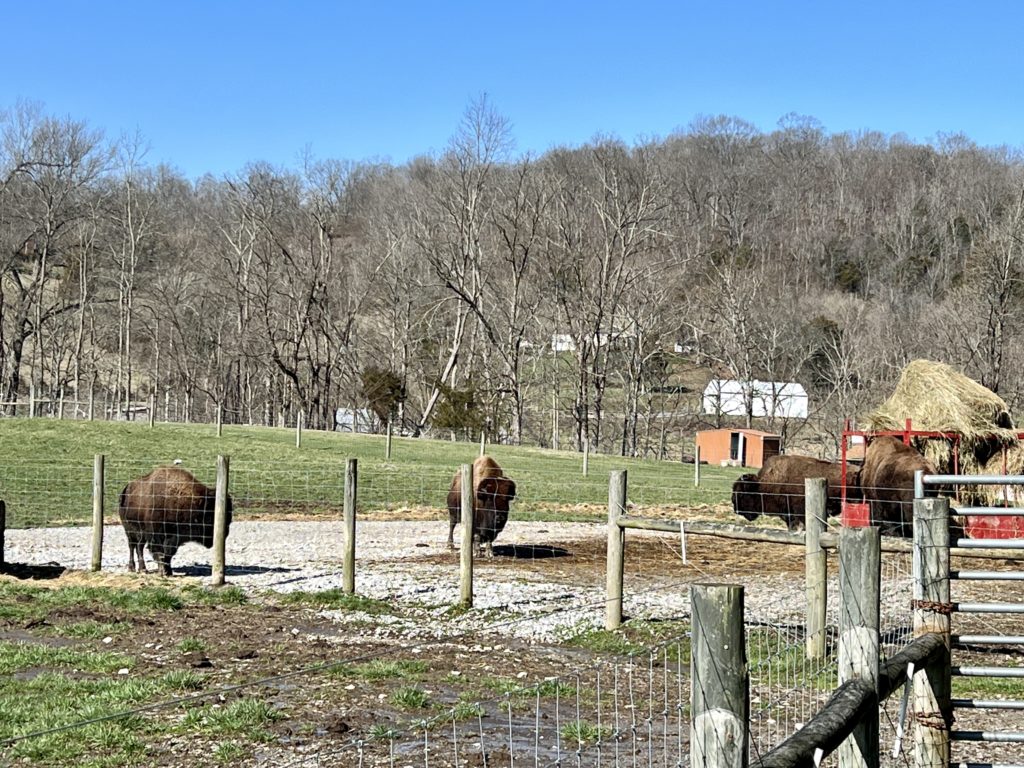 I feel like a jerk sometimes and that my expectations must just be way too high… but like- come on. ha My standing theory is that most things in Indiana/Kentucky are just markers for what USED to be here. "Yeah, we don't have anything cool now- but back 100 years ago, this place was special!" ha Sorry, I don't need to visit to see a fake diorama and fake plastic skeletons and walk a flat 1/2 mile trail to where a spring USED to be.
Anyway… more time for more activities today! So, we headed towards the Louisville area to some other sites I had marked. Since we had more time than I was expecting now, we went over to Fort Knox to see the Bullion Depository and visit the General Patton museum of Leadership.
We got there… and the gate was closed to the parking lot of the museum, written CLOSED on the gate. No explanation… even though they said open online.
But we did get to show Norah the Bullion Depository and explain all the crazy security it is thought that they have there, as well as explaining why people say "tighter than Ft Knox" or "more gold than Ft. Knox".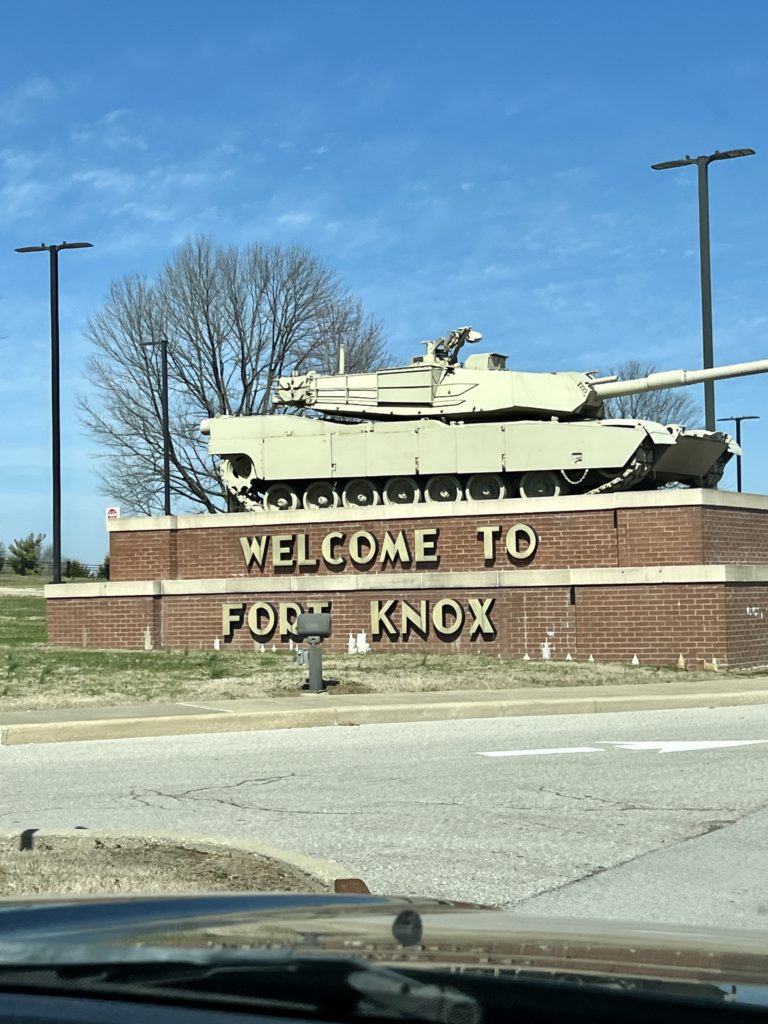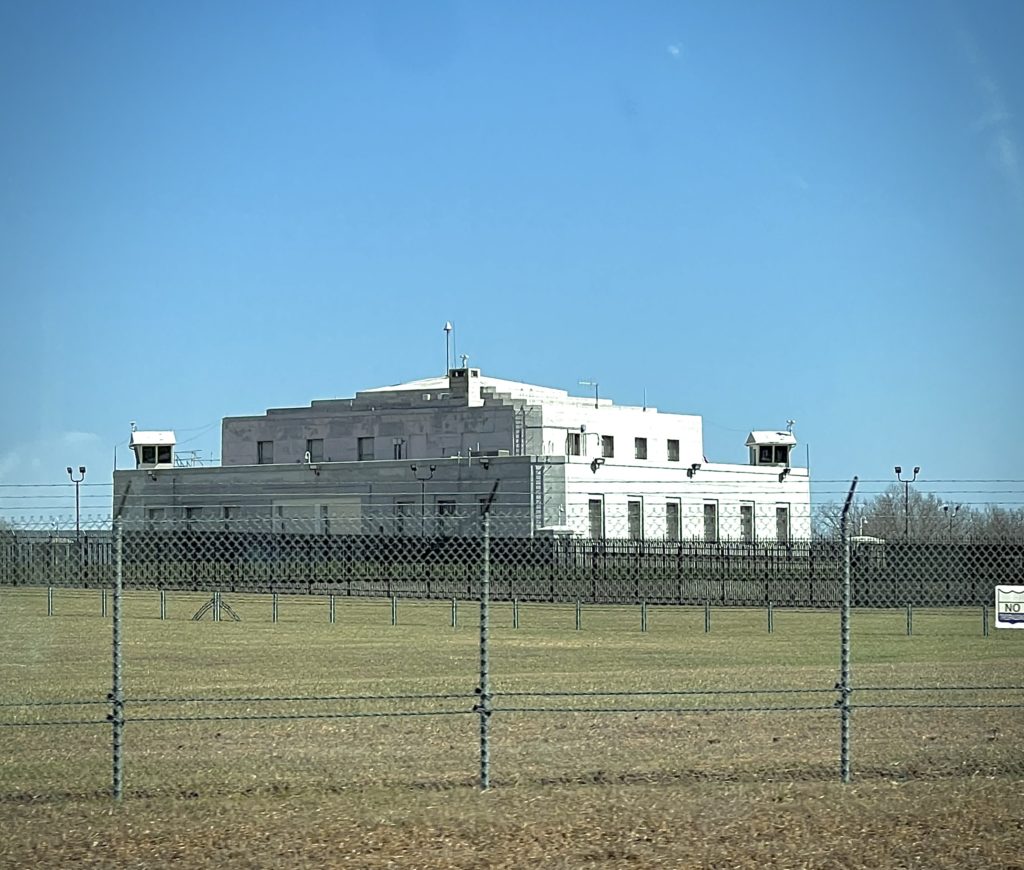 Ft Knox has housed over half of the US Treasury's gold reserve since 1937 when it was decided it was better to house precious reserves away from coastal areas for more protection. Ft Knox even held the original copies of the Declaration of Independence and the Constitution during World War II.
But overall, nothing to visit or see since you cant go in the bullion depository and the museum was closed. We stopped in the visitor center (which is really just a visitor checkpoint for civilians entering the actual base of Ft Knox.) and the security guard there even confirmed there was nothing for us. So.. onward.
We were only 20 minutes or so from Bernheim State Forest, so we thought we'd go see the giant forest trolls. Pull up to the entrance…. CLOSED.
A forest. Is closed. ha Online I did check afterwards and it did say on their website that they would be closed Saturday and Sunday for storm clean up. I just didn't think I needed to check that woods would be open. ha
Ok… well Jim Beam is just a mile away- lets at least go there, see the grounds, go to the gift shop…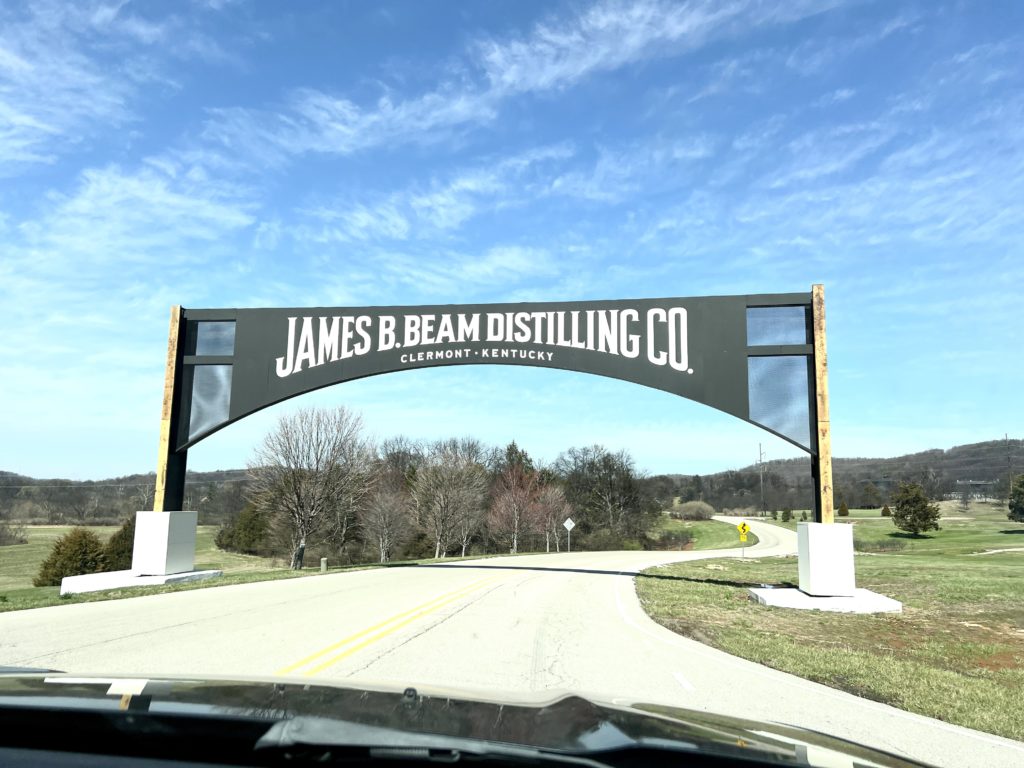 Security guard out front tells us that the gift shop is closed and no tours today because they still don't have power. Well, OK then. This day might just be a bust!
The area did have some high winds… leaving Jim Beam we saw a silo tipped over on a barn.
Alright, so one last stop I had marked on the map on our way south to Mammoth Caves for Sunday tours… Hodgenville, Kentucky- the birthplace of Abraham Lincoln.
So we drove to town thinking that we likely wouldn't be able to do that either.. but much to our surprise the small Lincoln Museum downtown said OPEN!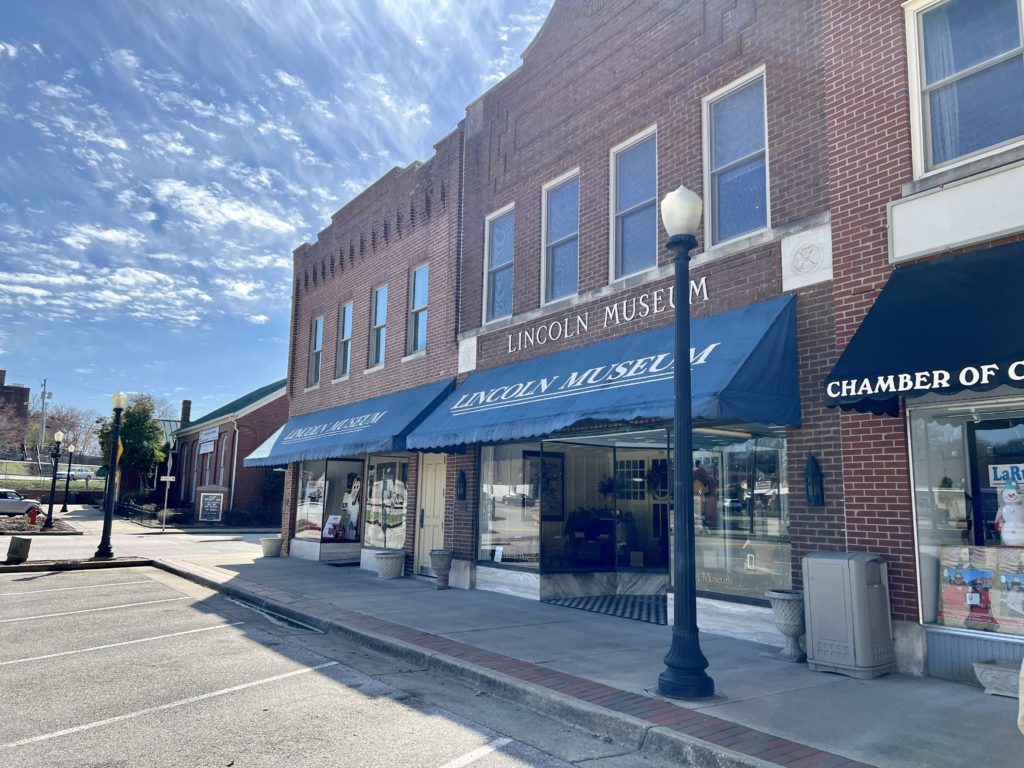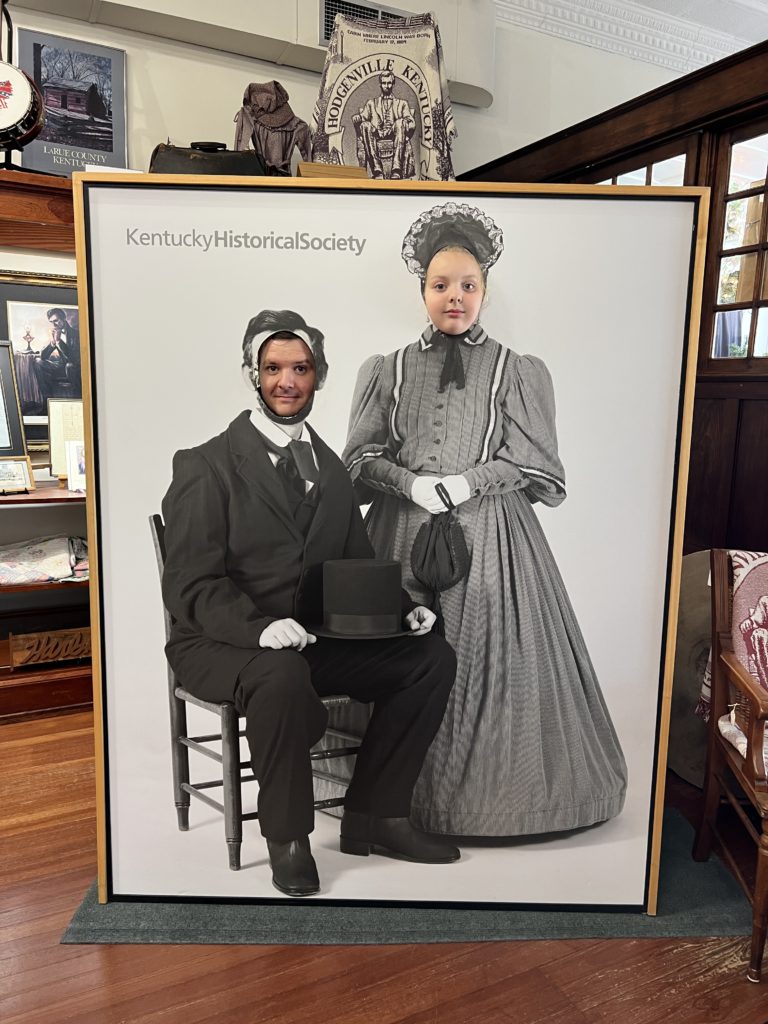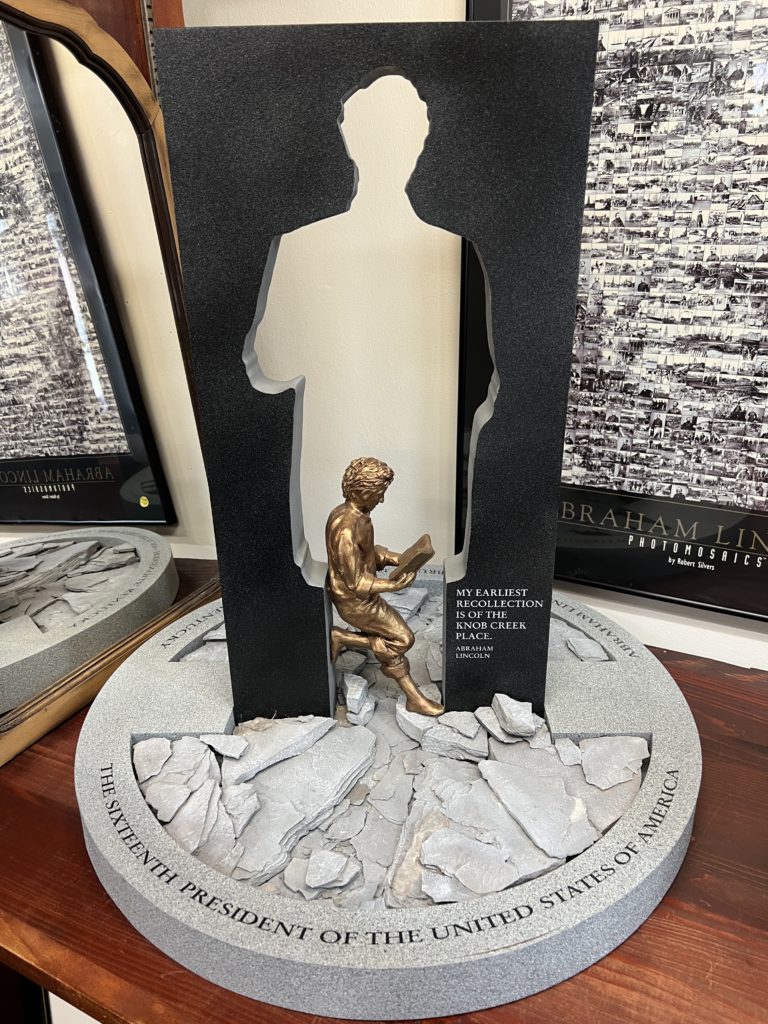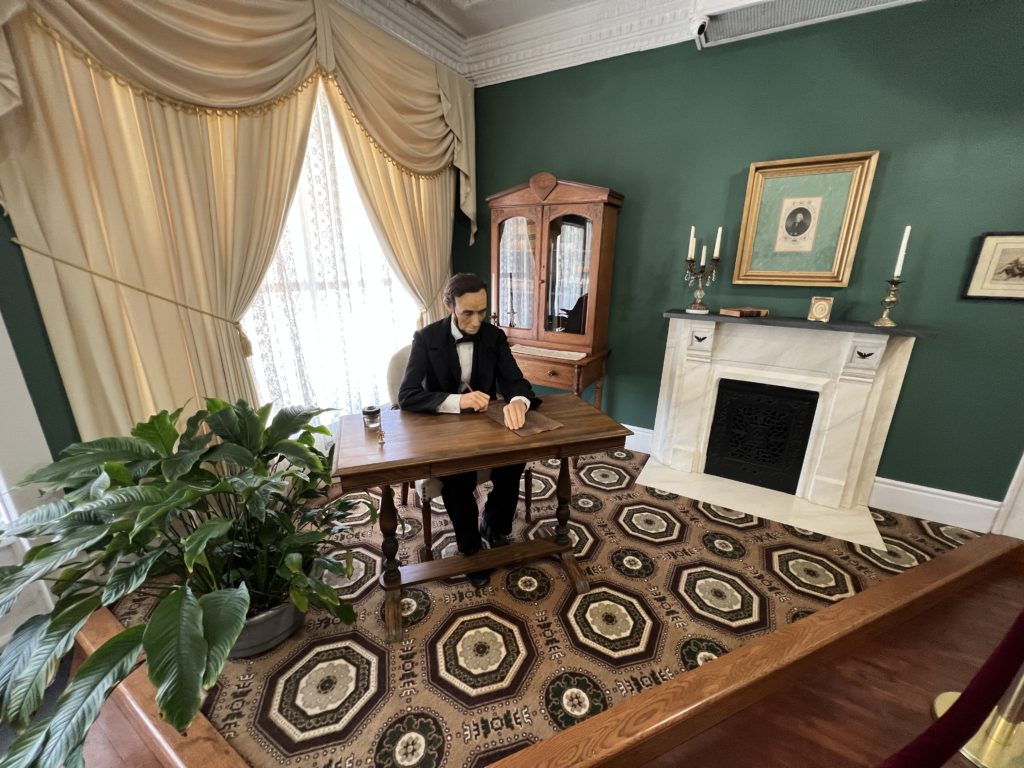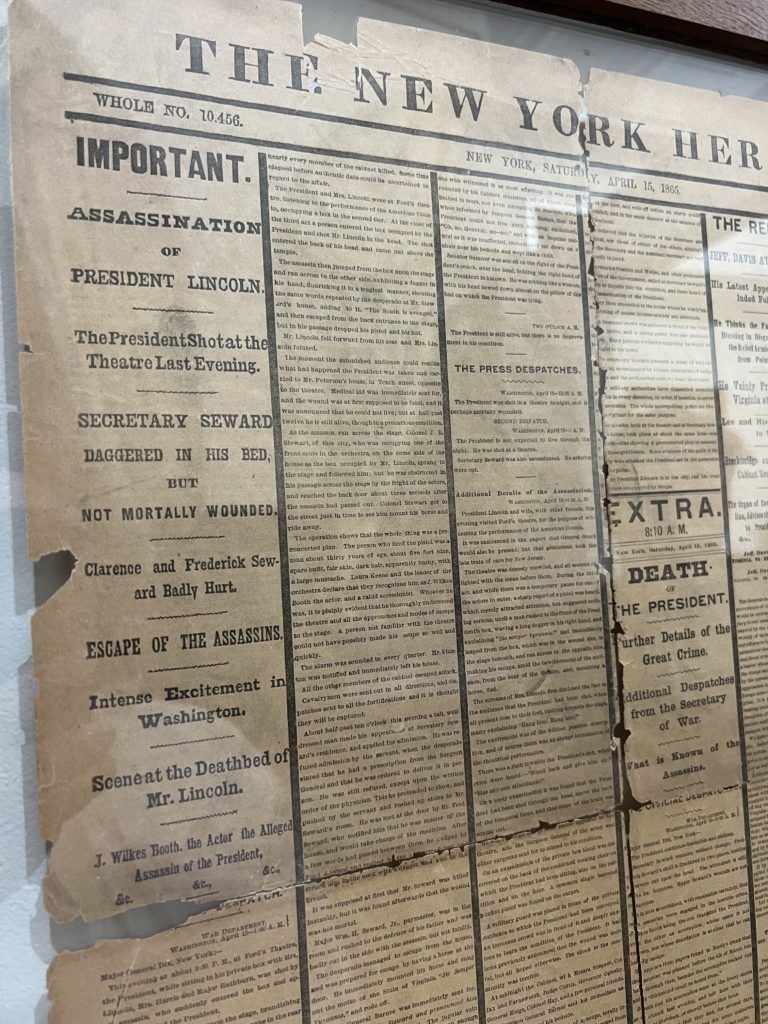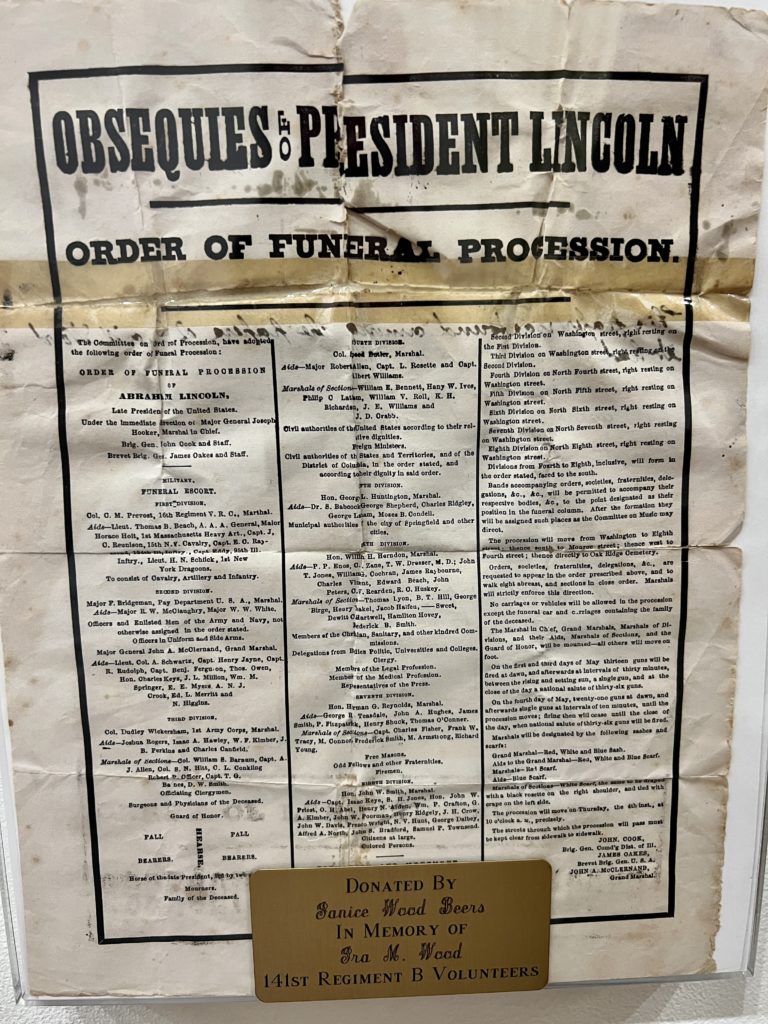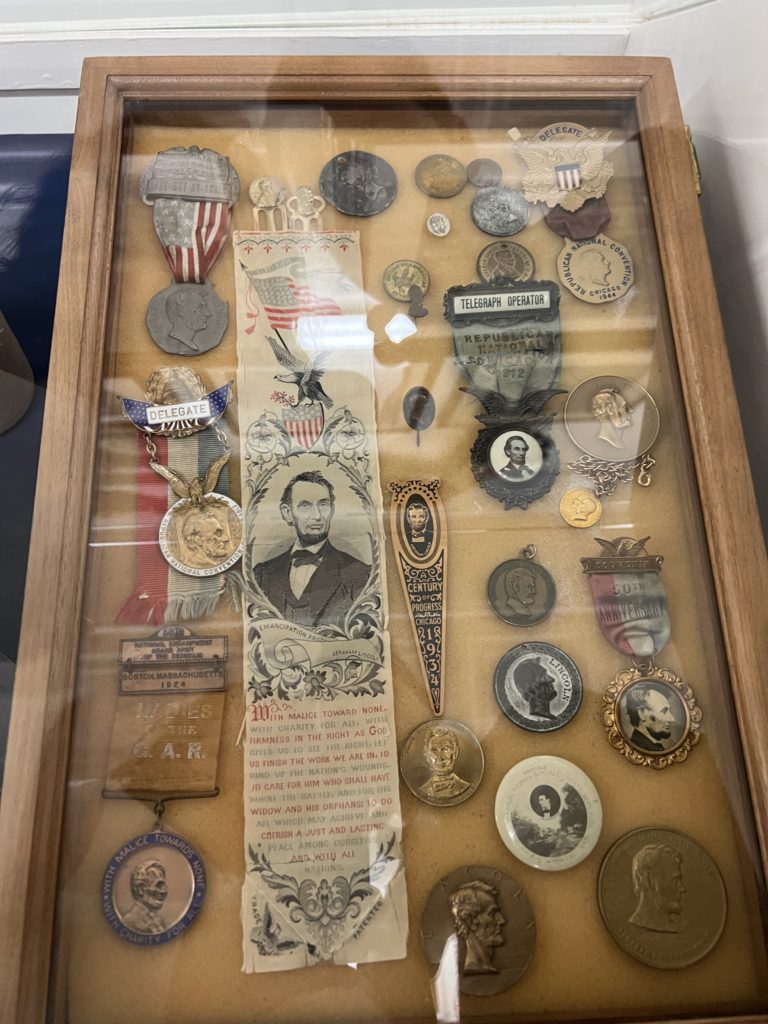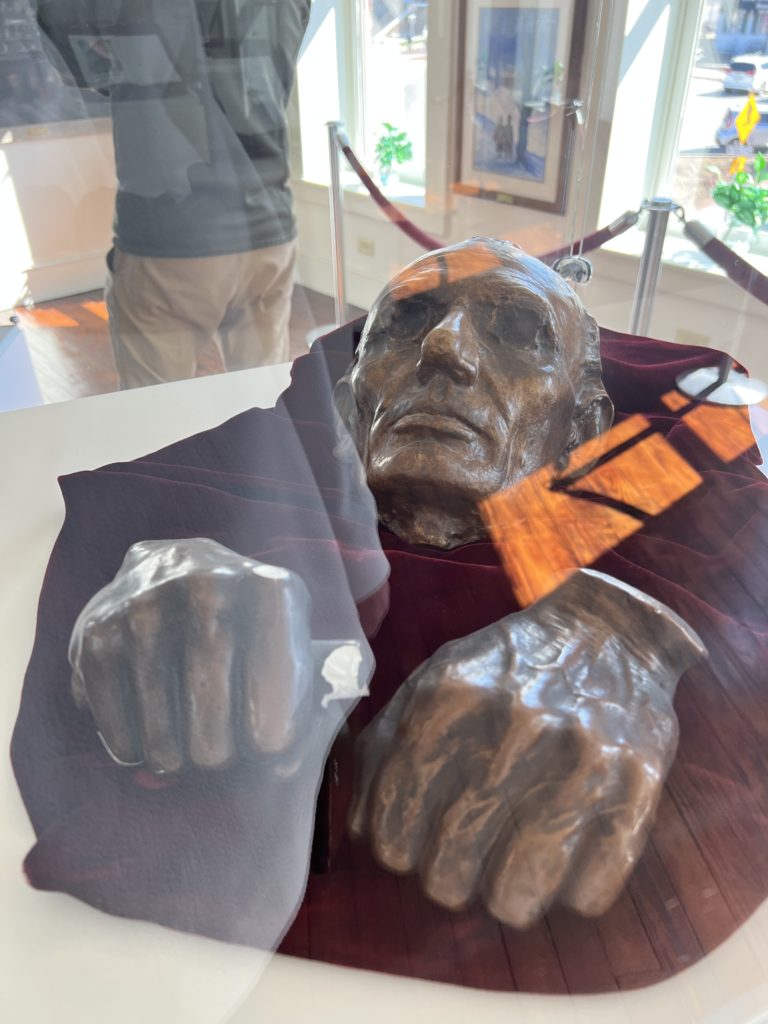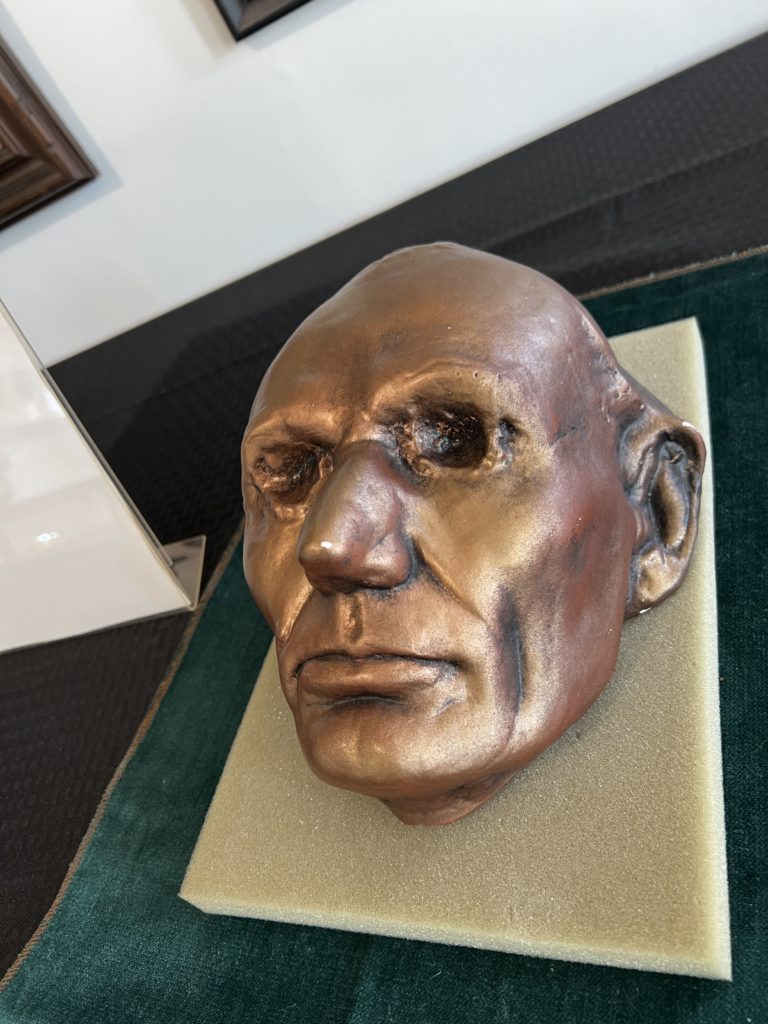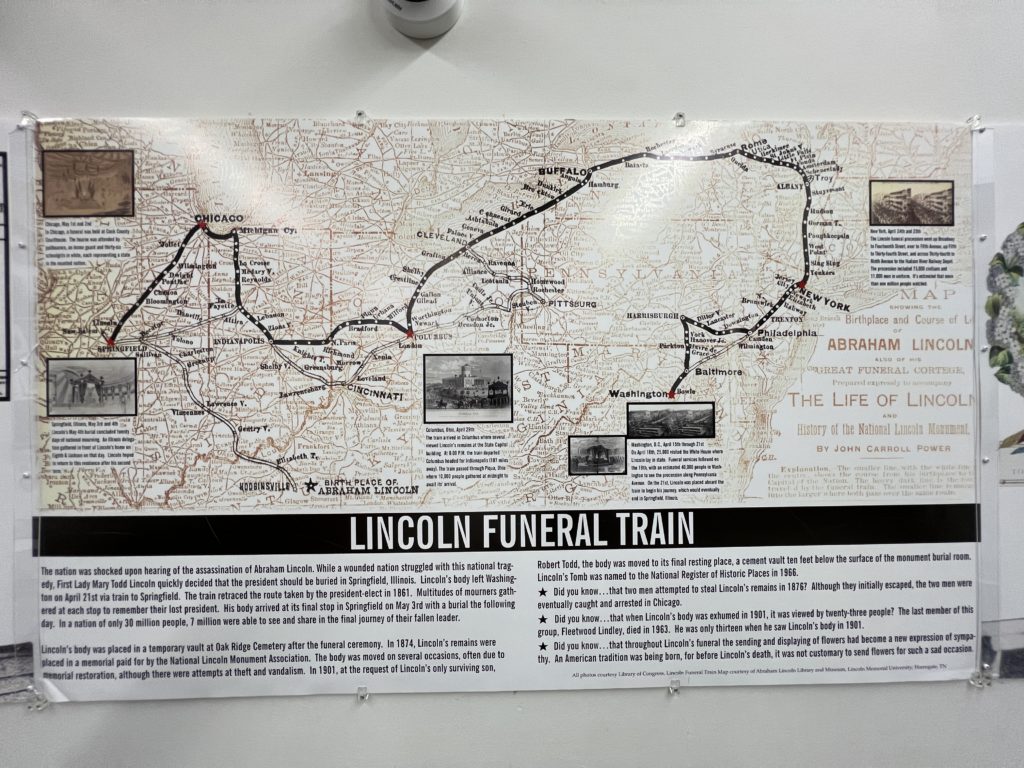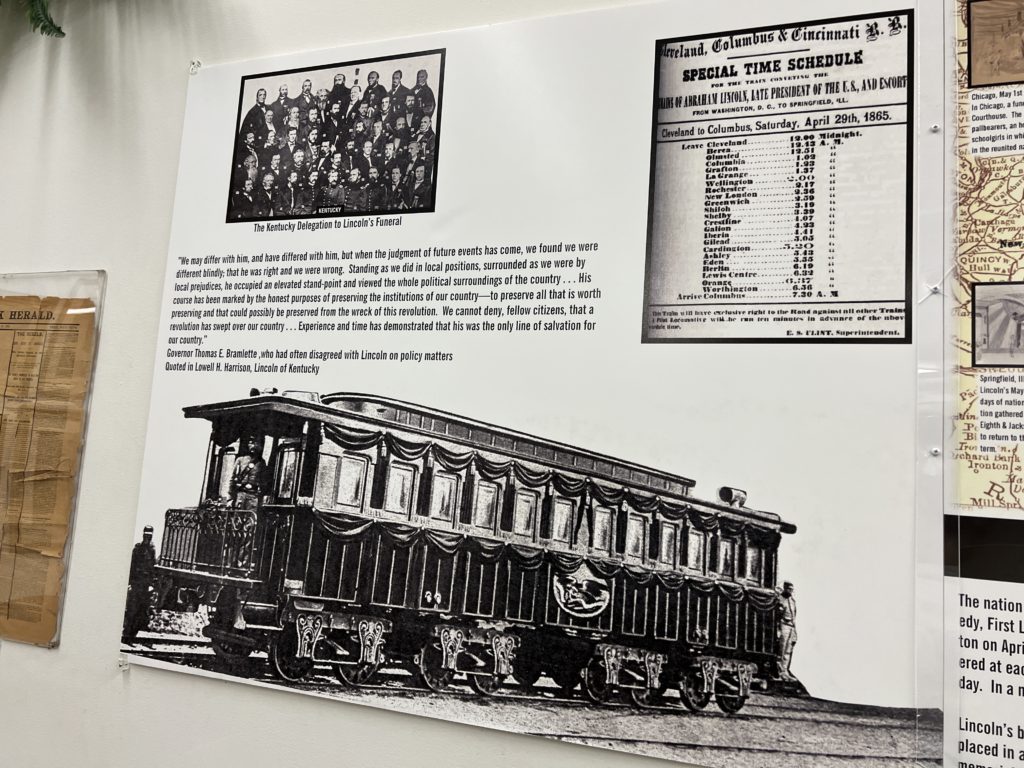 Out in the square there was a traffic roundabout with multiple statues and granite stones with inscriptions dedicated to the life of Lincoln.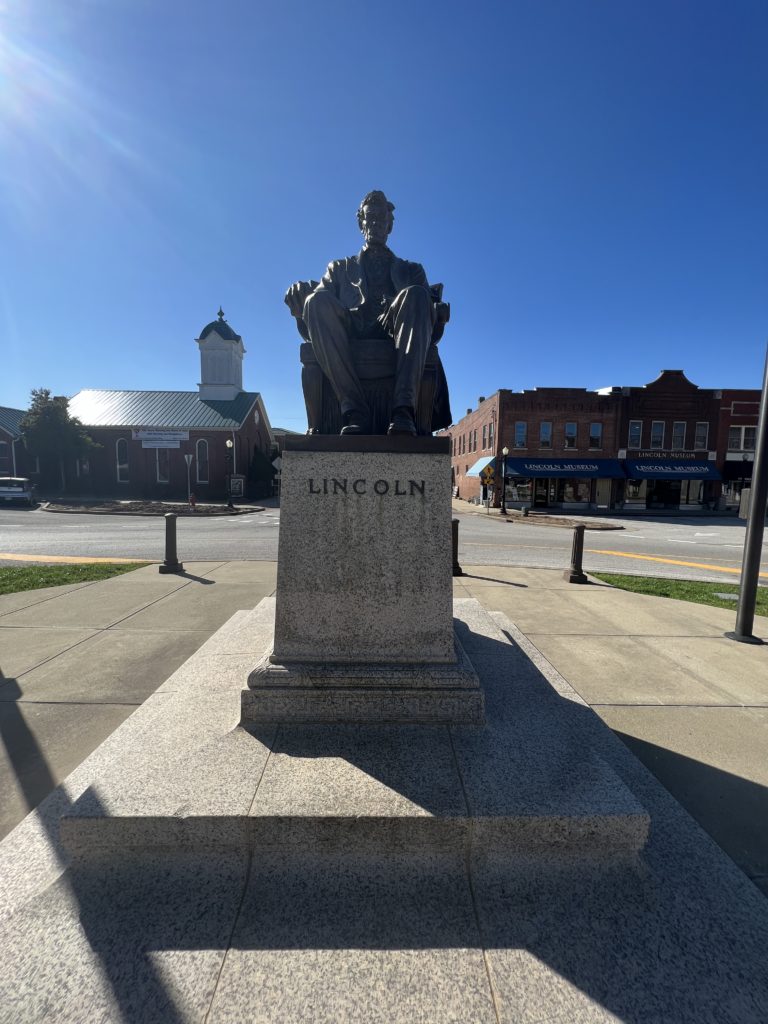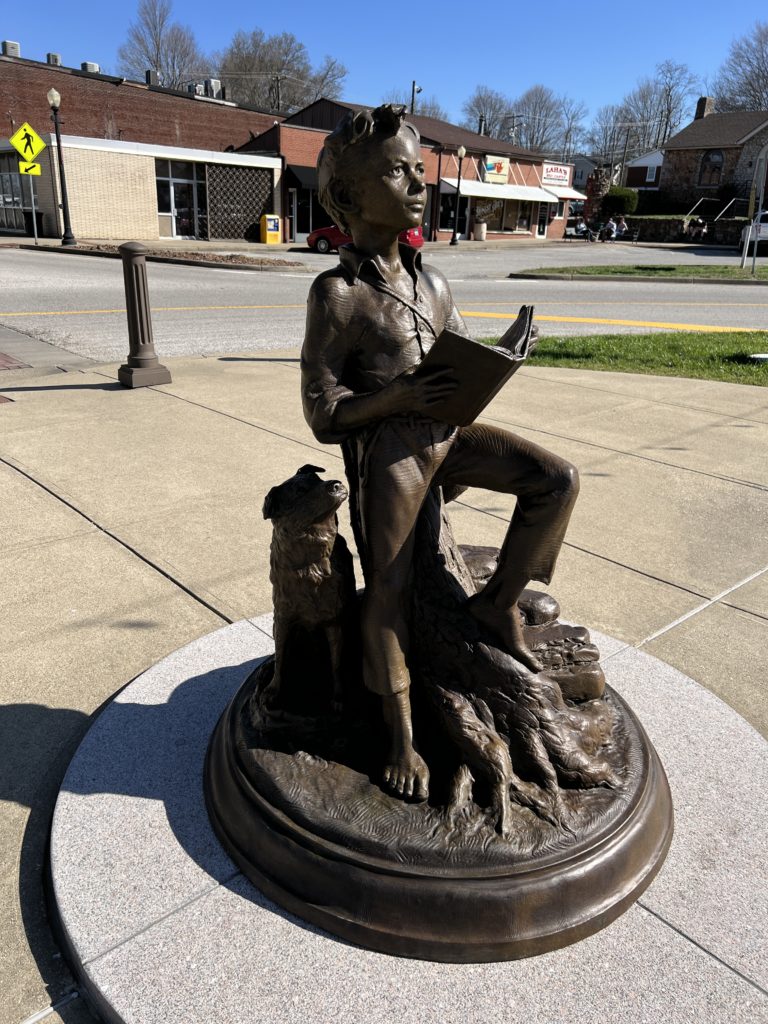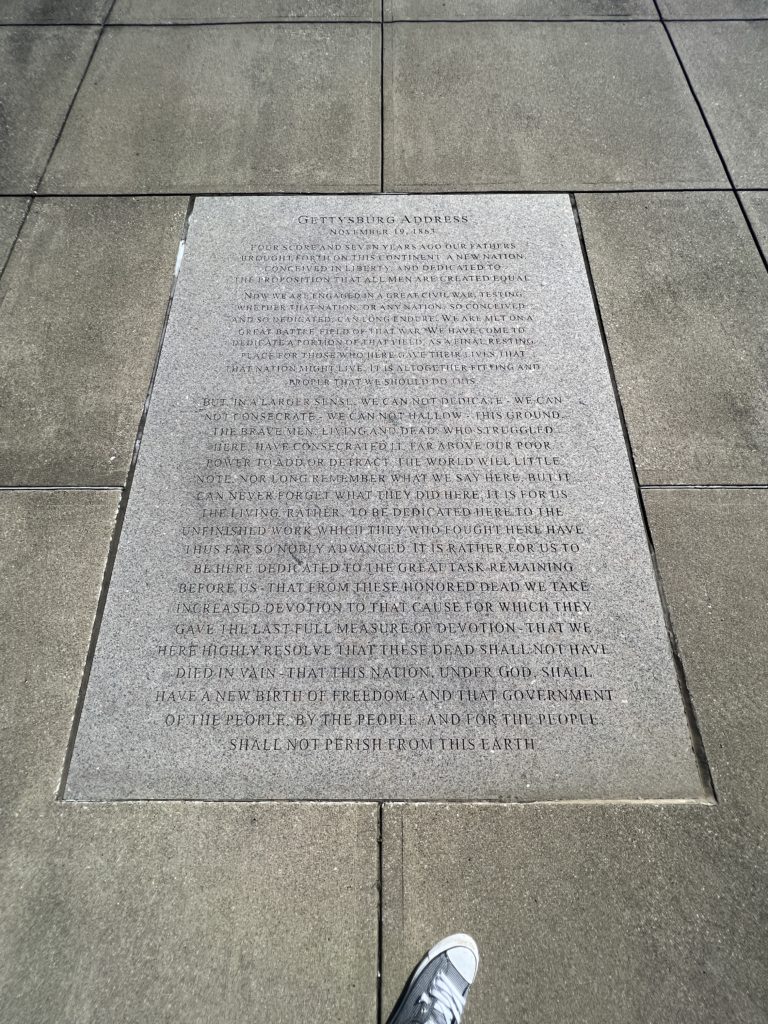 We hit up the local coffee shop before heading out of the town. Sampling sugary doughnuts while you are eating your feelings that everything is closed will make you very sleepy when it wears off. ha
The Main Street there retains such classic charm.. a drug store on the national register of historic places, original granite building fronts with mosaic nameplates of the original purveyors. Super cool.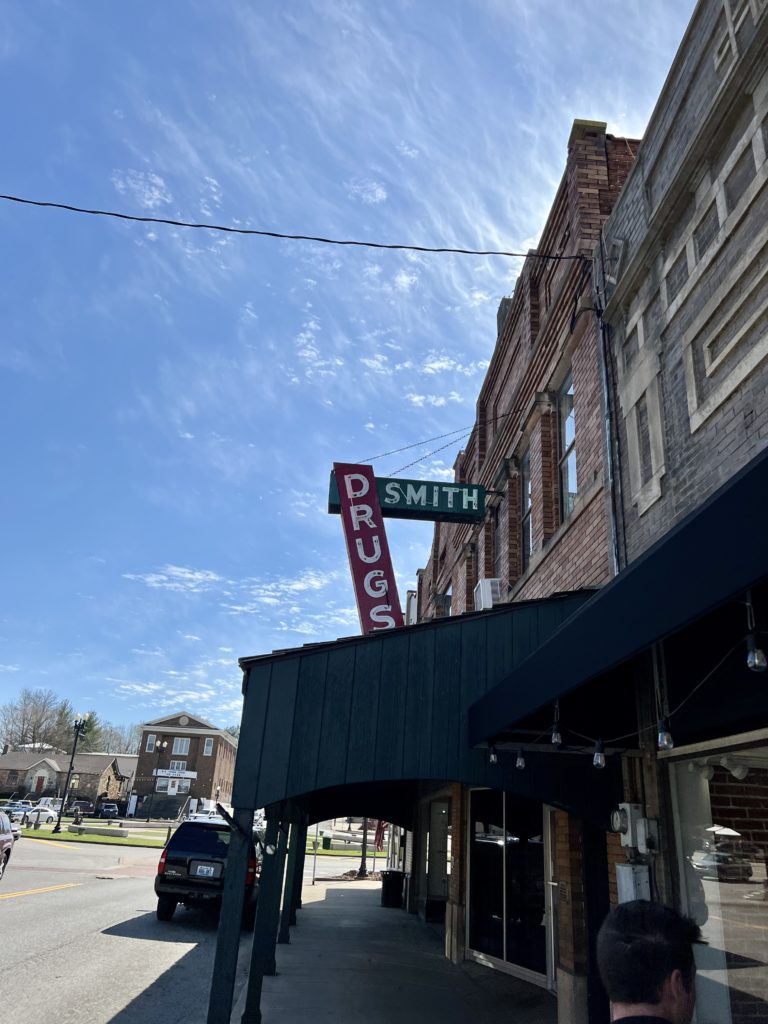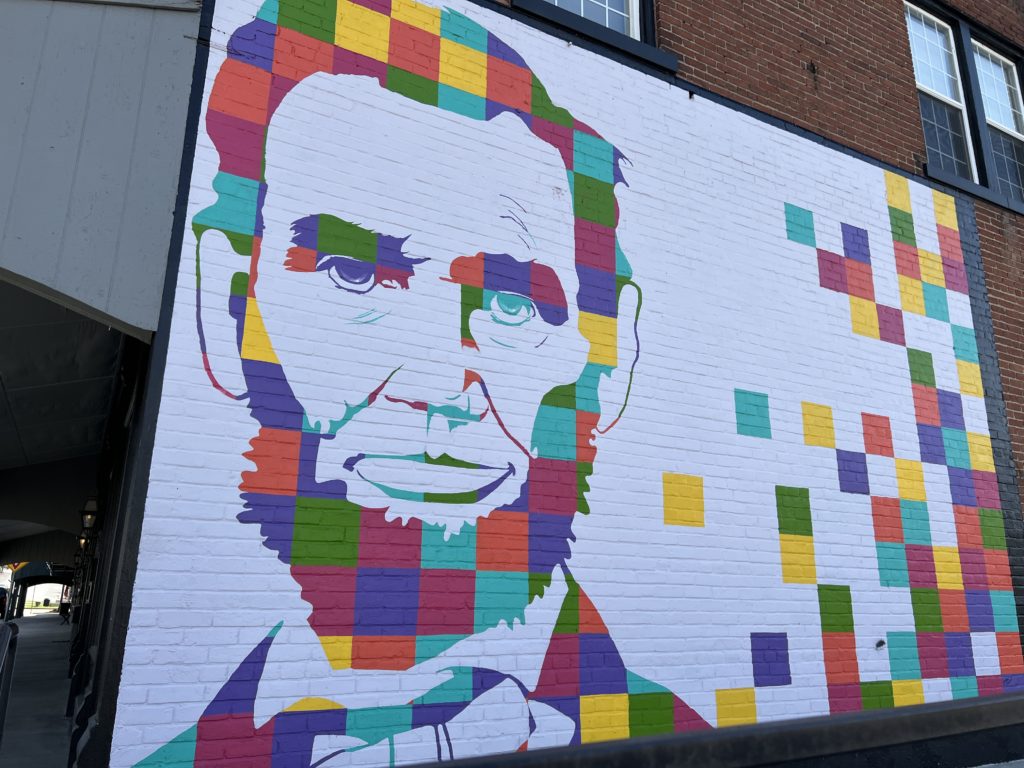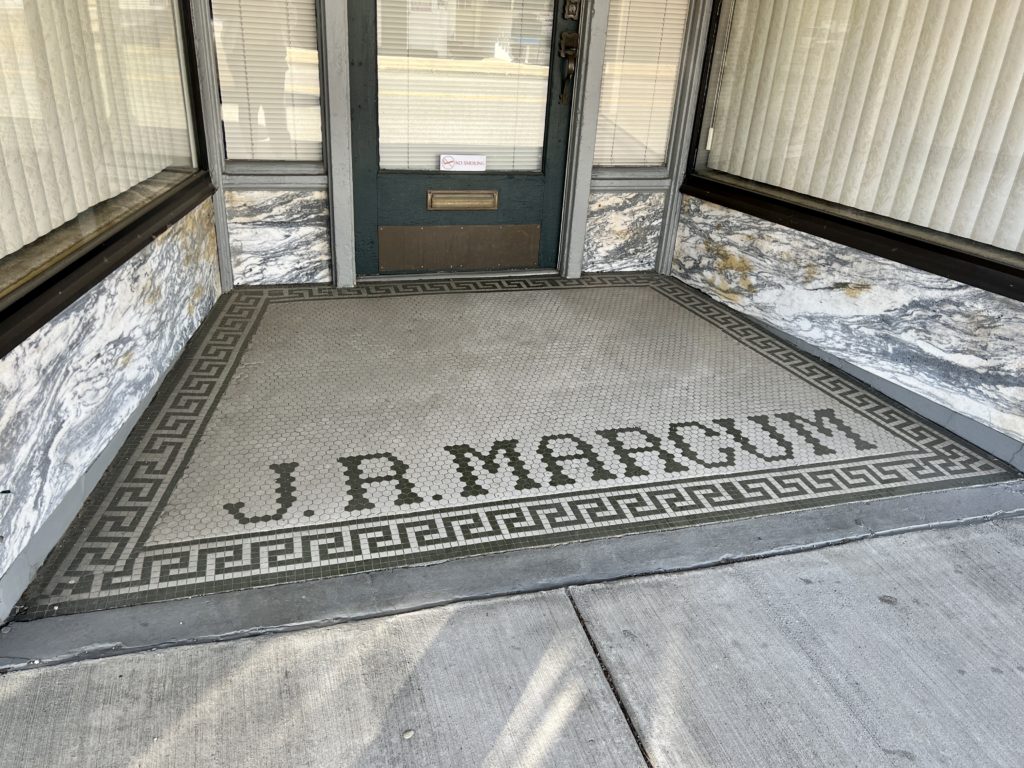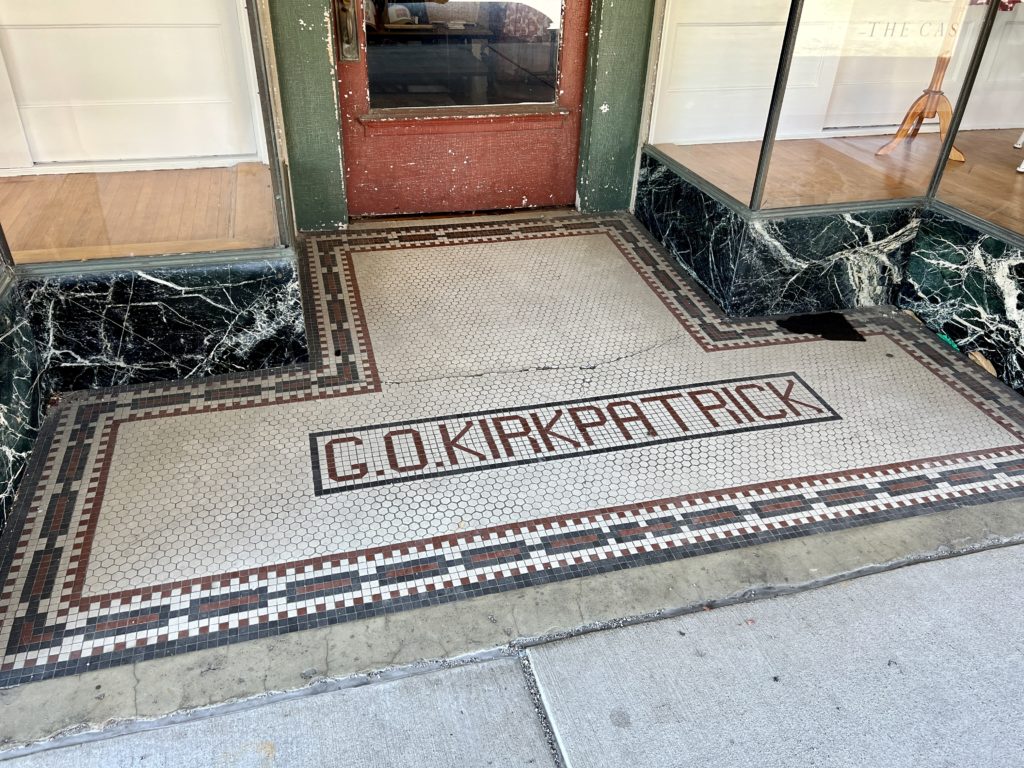 Vibe Coffee is a gem of a place in Hodgenville. I got a very good matcha latte and Kegan got his standard 50,000 shots of espresso with a drop of cream. ha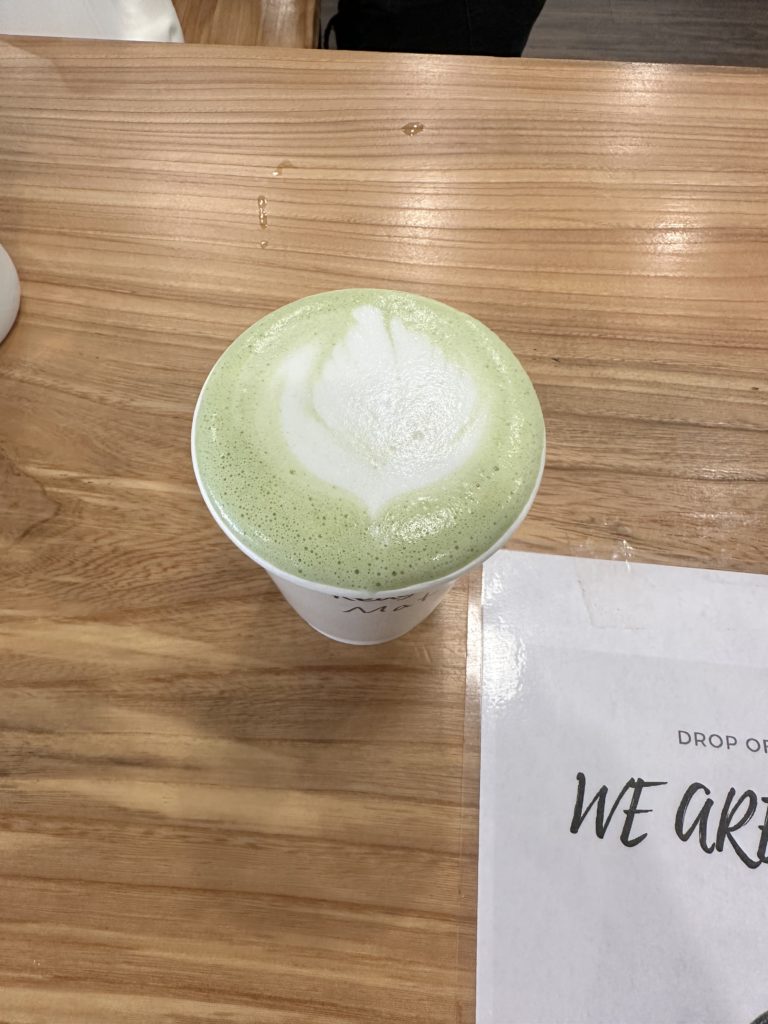 After our museum visit we headed towards the National Historic Park that has a monument built to house his "cabin birthplace". It's not the original cabin. It's even listed online as the "symbolic cabin" because the real cabin was dismantled before 1865. But in this case, the "fake" recreation seems fitting to show the humble beginnings of one of the great presidents.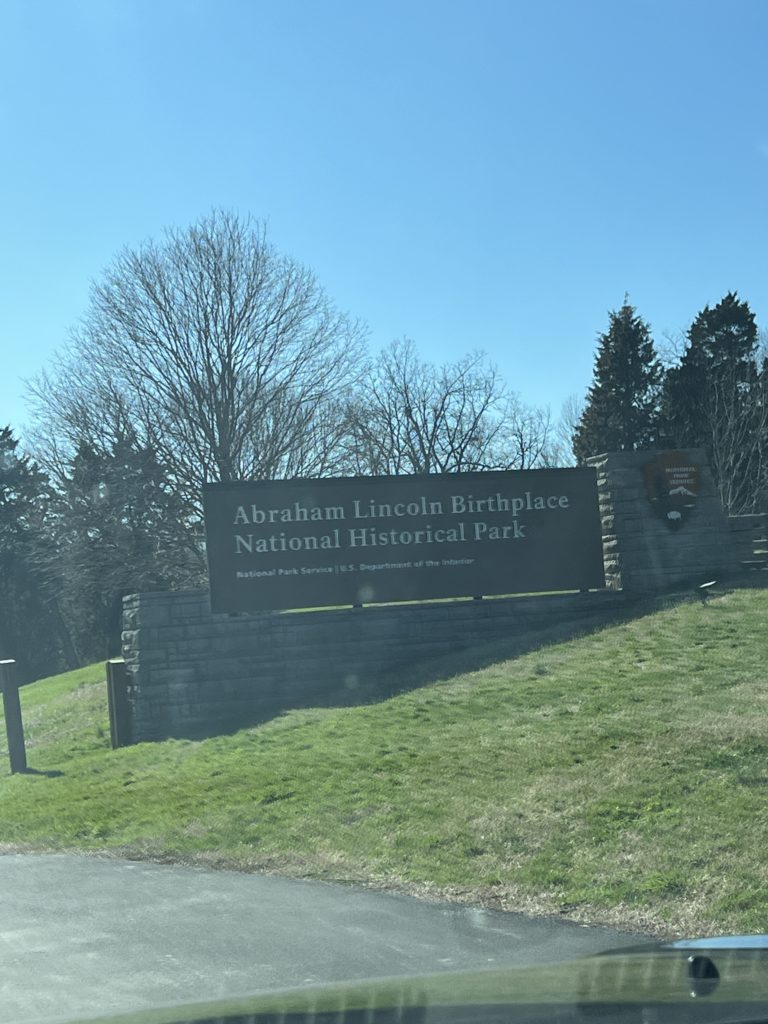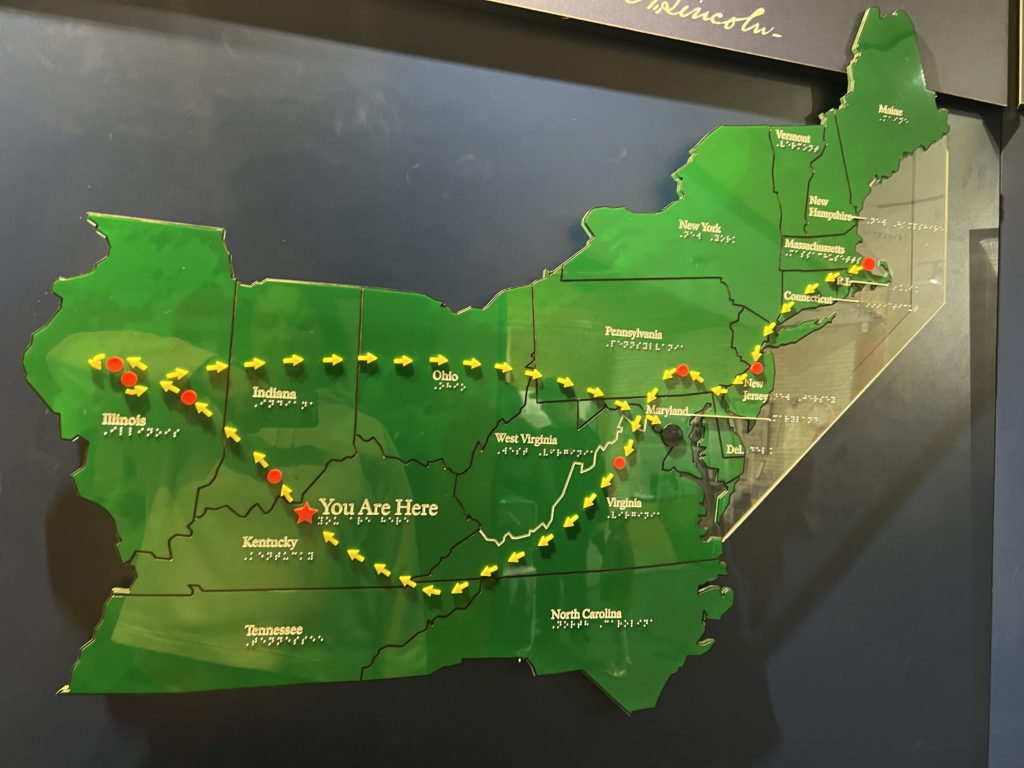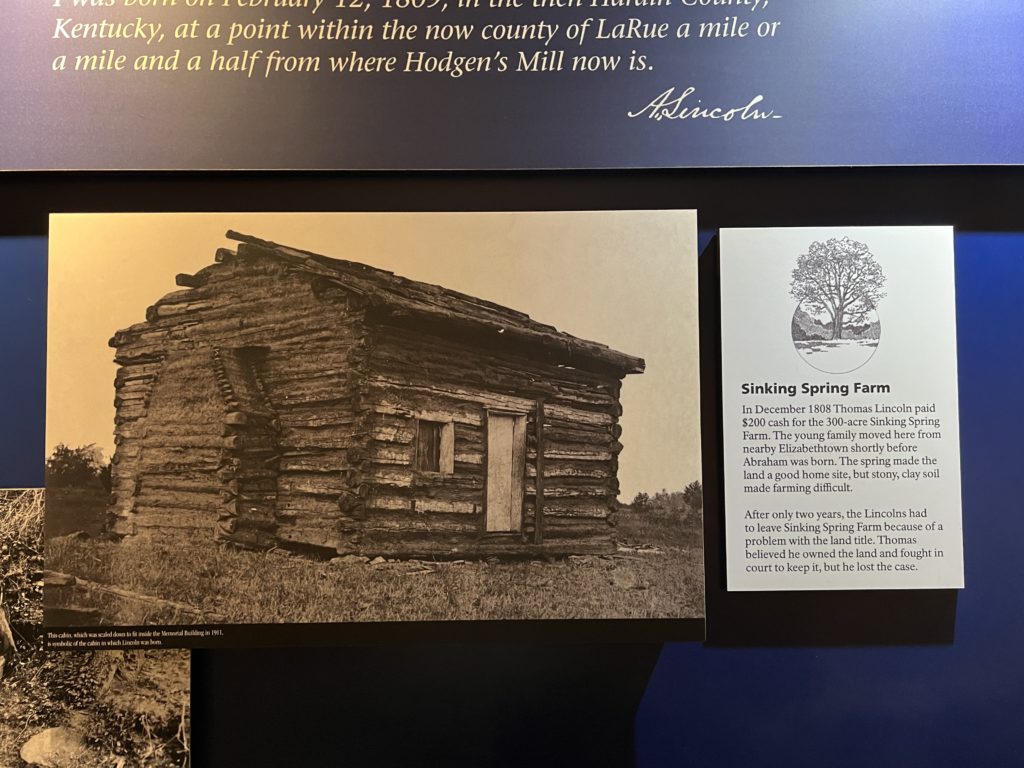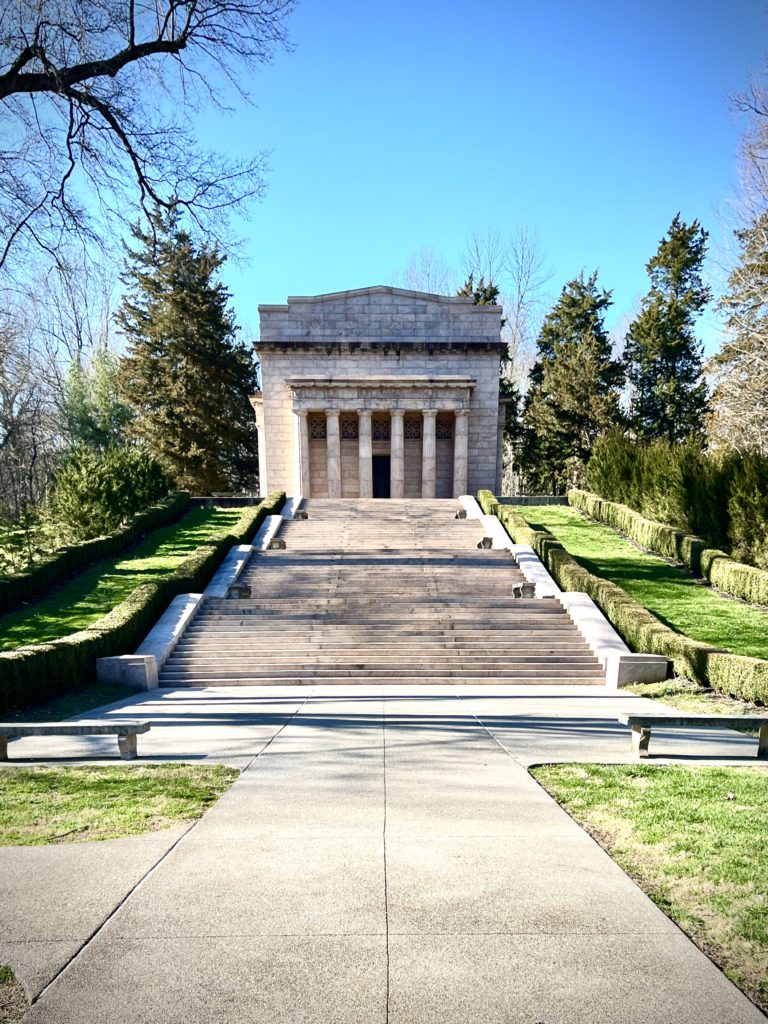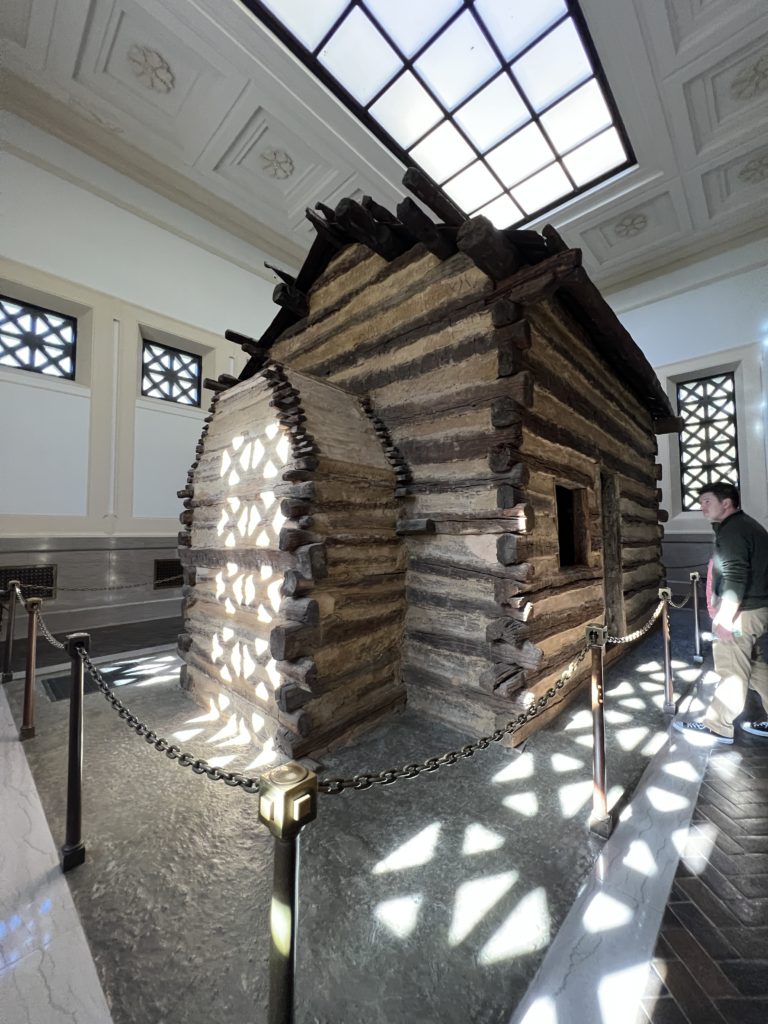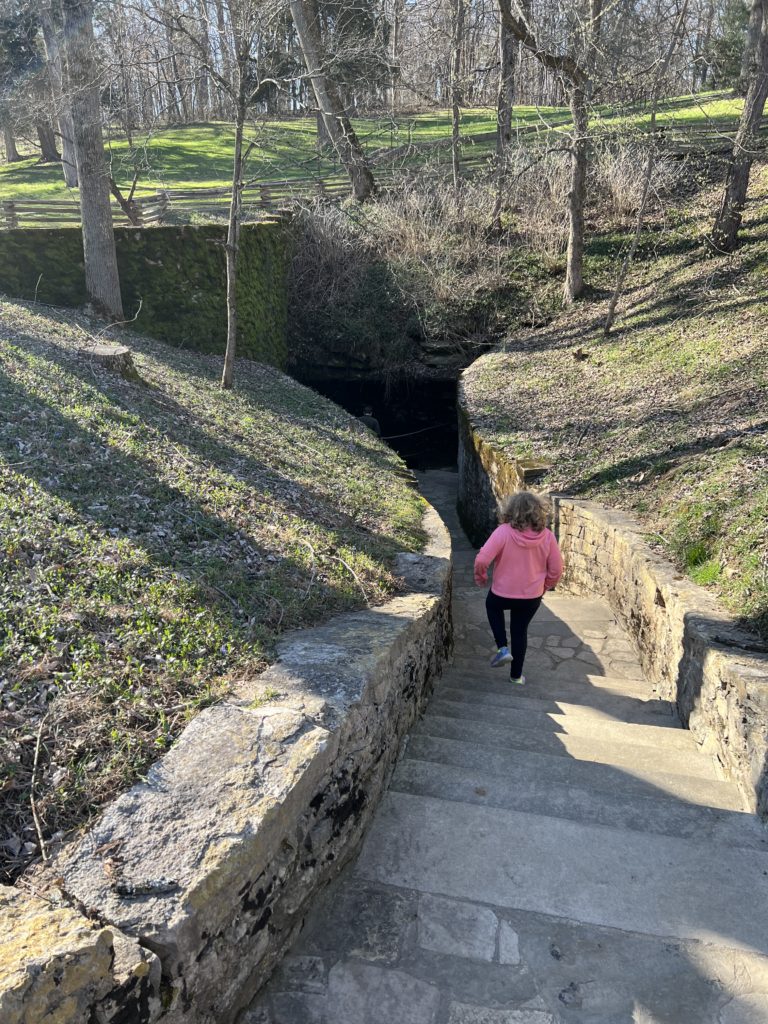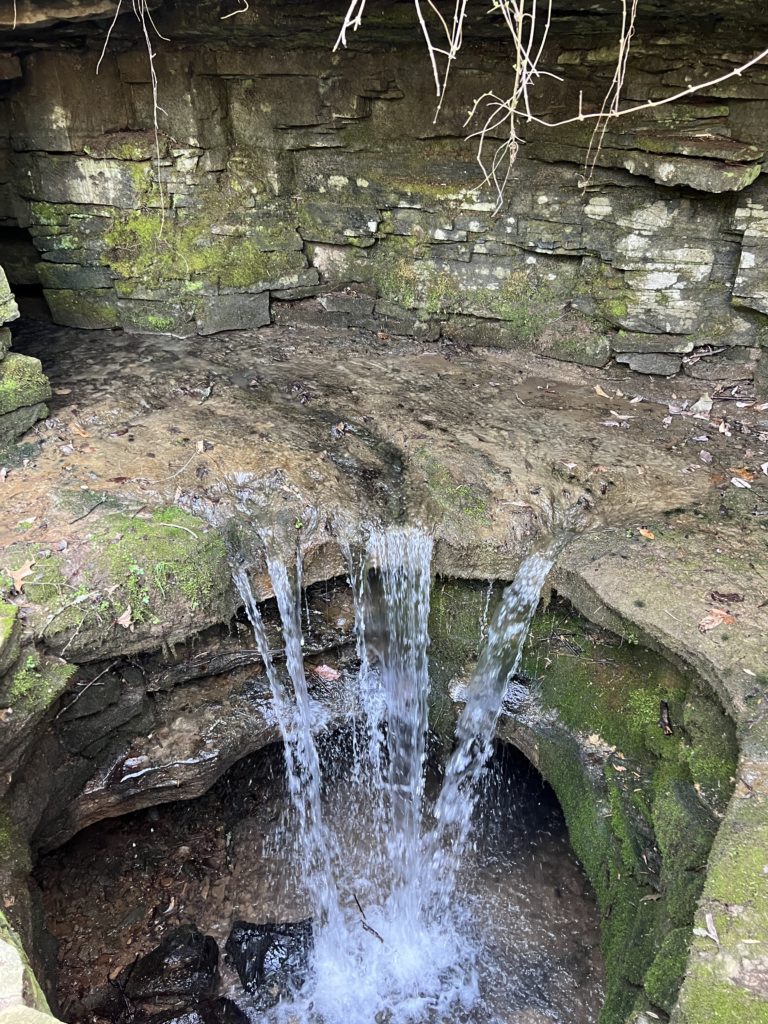 About this time, I got an email that my hotel reservation in Horse Cave, KY for tonight had been cancelled. No attempt to help me find another hotel- just cancelled at 4pm. So… I called the hotel and they had power… lady answered the phone and everything. "They just weren't sure yet if they were gonna have guests tonight"… which seemed like a likely excuse to cancel a points reservation they weren't making any money off of anyway because we may have been the only guests that hadn't cancelled because again, I hadn't thought to check the Mammoth Cave website because….its a cave… and we literally booked a 9am lantern tour. Why in the world would that be closed??
But… it was. Checking the website it said all tours were cancelled for Sunday…so we made the decision to just go back home. No sense driving all around the state to just find closed signs… So, we decided to find some good dinner in Louisville before heading home because our own power at home was still out if our Ring cameras could be believed… so we weren't in any huge hurry to get there.
We decided on Vietnam Kitchen- a fantastic authentic Vietnamese restaurant that has been a Louisville landmark for years. We love this place, but they are closed on Sundays and it seems every time we are in the area, it's Sunday.
So, we stopped in and had some amazing food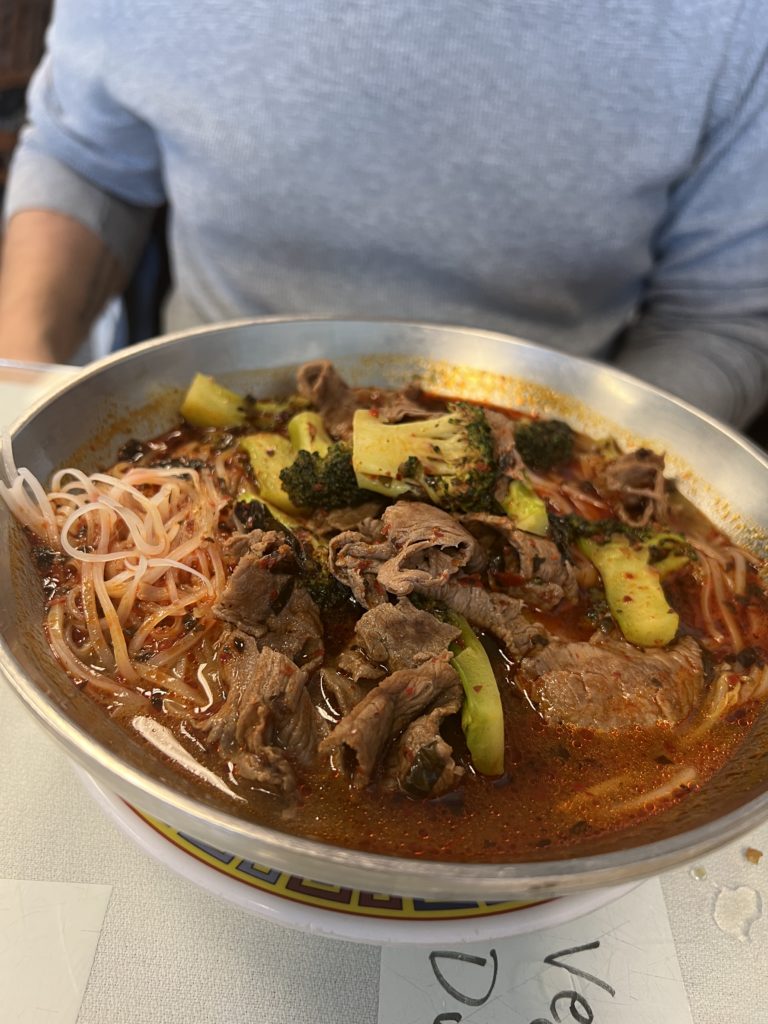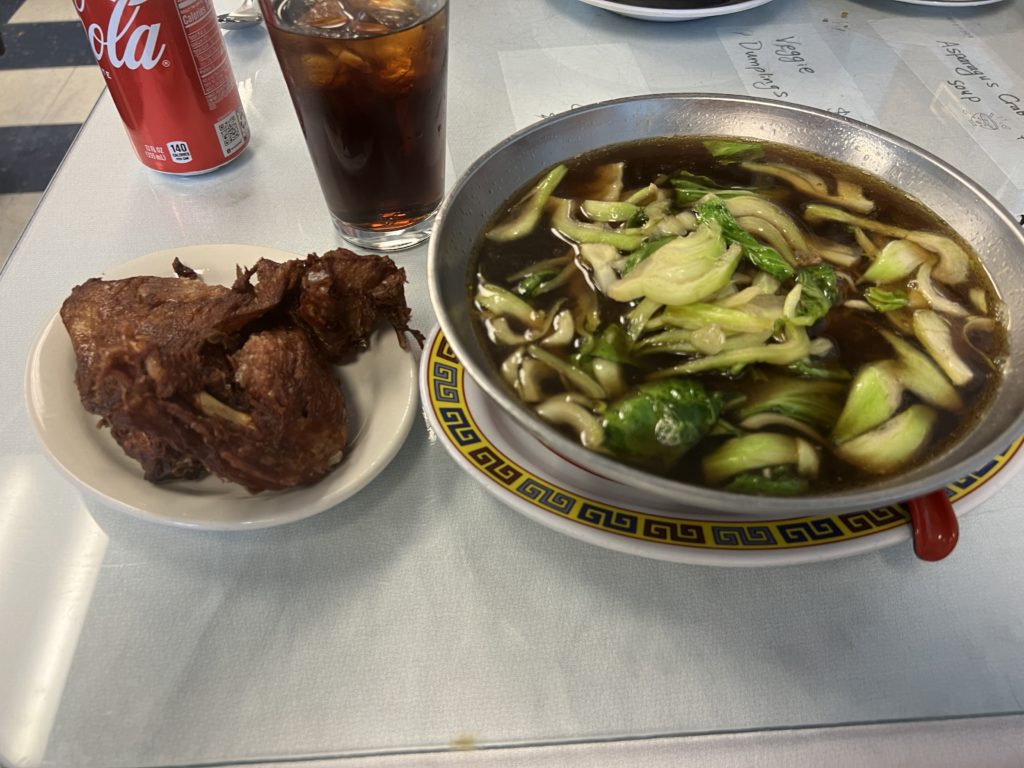 Overall, not the weekend we planned… but a fun time none the less. Next adventure will be a weekend to Iowa and Illinois over Easter after our Spring Break week in New Orleans readying the house a bit more for the full move in May!