Wow. What a full day. I feel like we just did most people's whole vacation today after an overnight flight in which Norah slept a whopping 2 hours. Which translated to us each getting about an hour each.

Kegan felt terrible all day. I think I felt fine because there are a lot of nights with work that I only get 2-3 hours. I've acclimated. Lol
We hit Rome around 9am local time and we were in our rental car headed to our hotel for tonight by 10:30am.
Norah discovered a "playground" with her laser vision by baggage claim so we had to take a 10 minute detour for that.

Security was extra "military" today in Rome in light of the Paris attacks yesterday. Full gear and machine guns on display almost everywhere there was a crowd.
Once we checked in we walked to Piazza Spagna via the Medici Palace. More about those Medici once we get to Florence.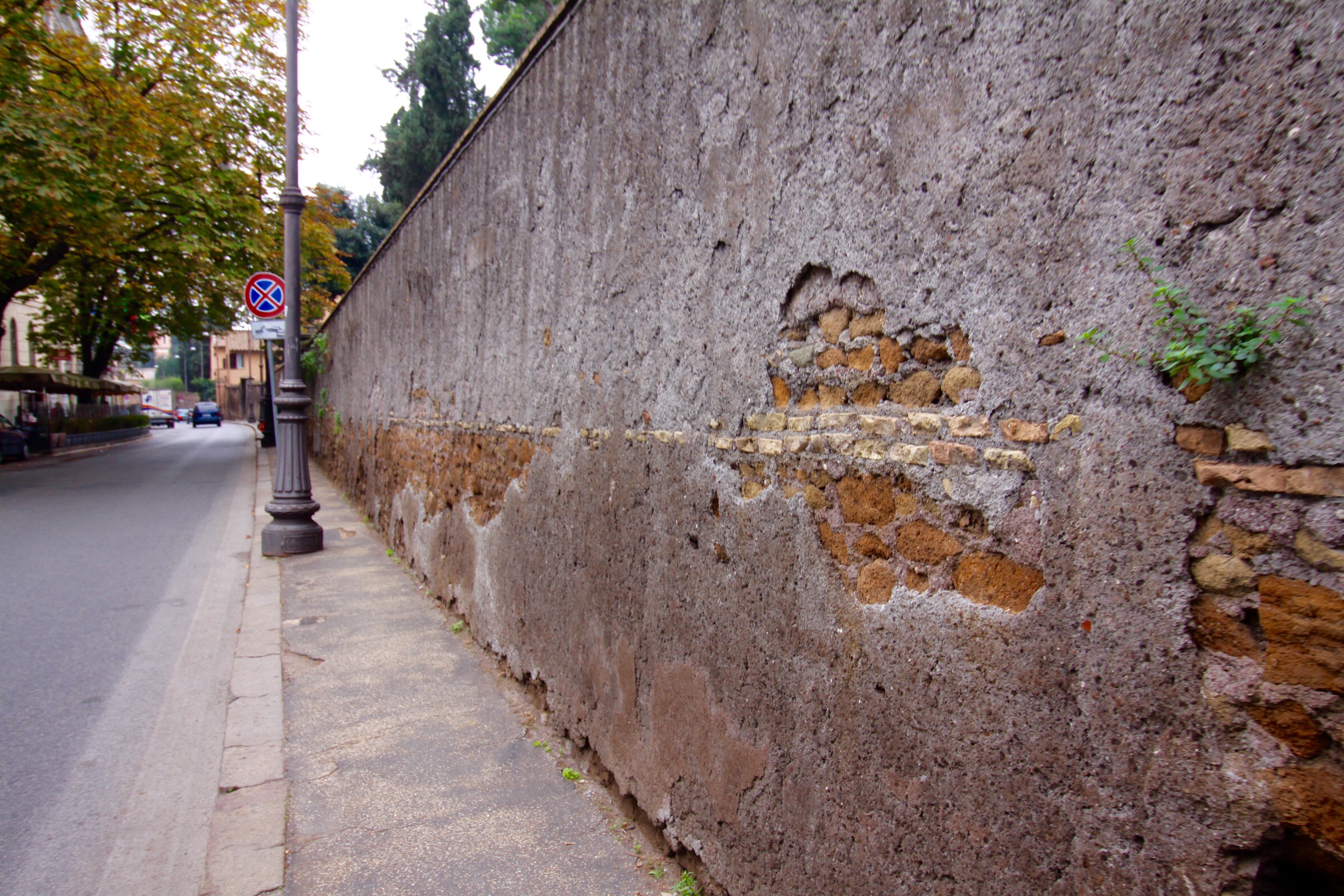 Norah's love for water extends to fountains and we always have to play in any water feature we encounter. This could be fun in a country with as many per capita fountains as people. I swear if she dances naked in a fountain in Italy, you guys will be the first to know.

There are citrus trees just growing alongside the road full of fruit. I wanted to pick an orange… But I refrained. I'm guessing prison outside the US is no joke…
Did you know that Rome has more obelisks than any other city in the world?? Yeah, neither did I until I researched the history behind this one. 🙂 Apparently this a copy of some great obelisk made by Ramses II is 400 BC or so and brought to Rome after the defeat of Mac Anthony and Cleopatra around 10BC. But we didn't see that one. We saw this one and thought it was that one. Haha This one was made for some private collector back in the 1500s when they decided to re-erect the original during the Renaissance. It says that the Roman workers who made the copy accidentally transcribed some of the hieroglyphics upside down or transposed since they were looking at the hieroglyphics while it was on the ground horizontally, taking notes and carving later.
M The famous Spanish steps are closed for renovations.(In fact, a lot of sites had scaffolding up right now…must be the "construction season" of Rome)
The Piazza do Spagna, where a lot of the designer shopping is centralized. Versace, Prada, Valentino, ya know…the stuff no one can really afford.
Awesome doors. Note the military present on the side. They were pretty prevalent today…and I was okay with that.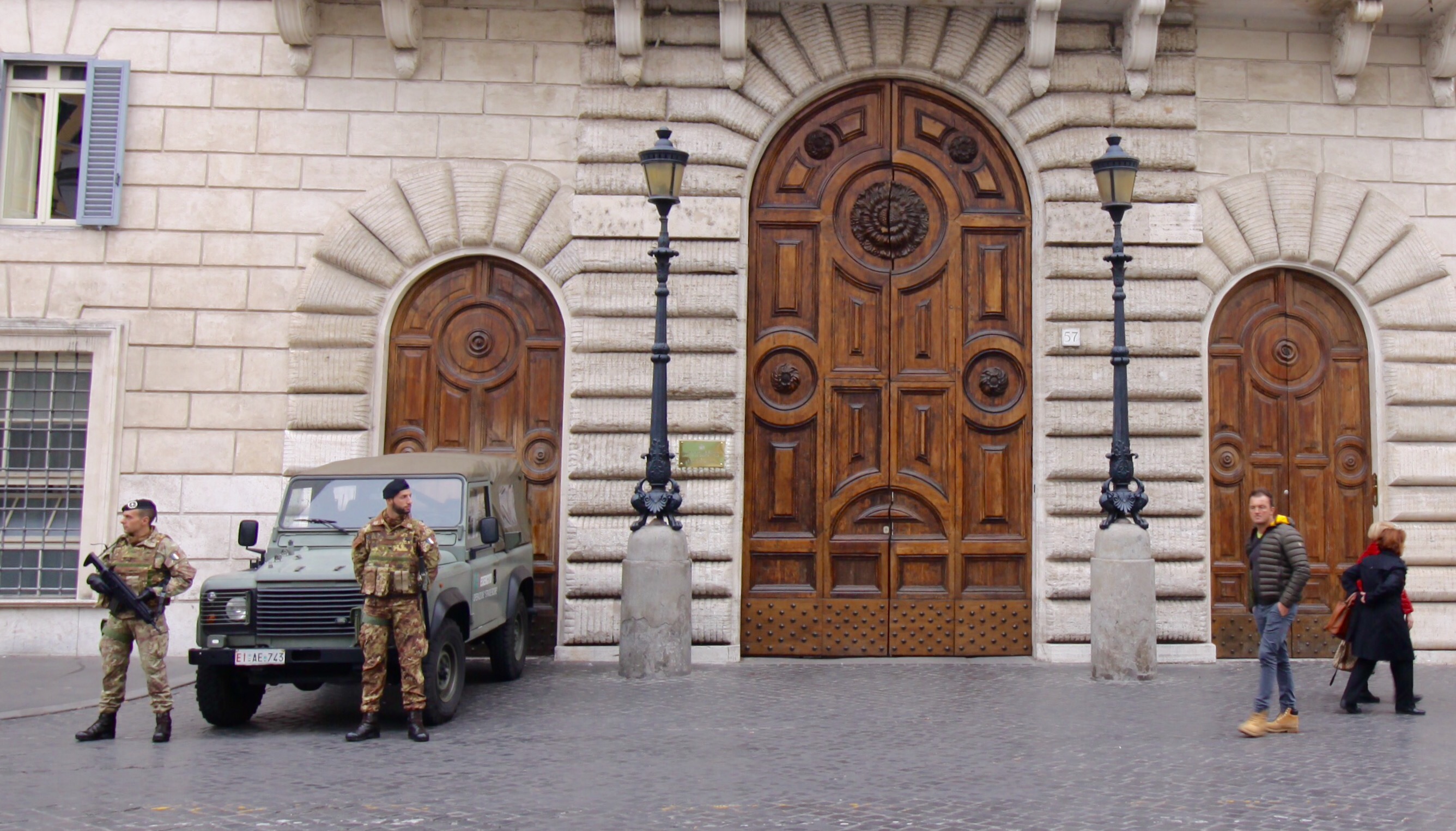 A
A street vendor roasting chestnuts. It was tempting….


We ended up with doppio espressos and pressed sandwiches for lunch which were amazing.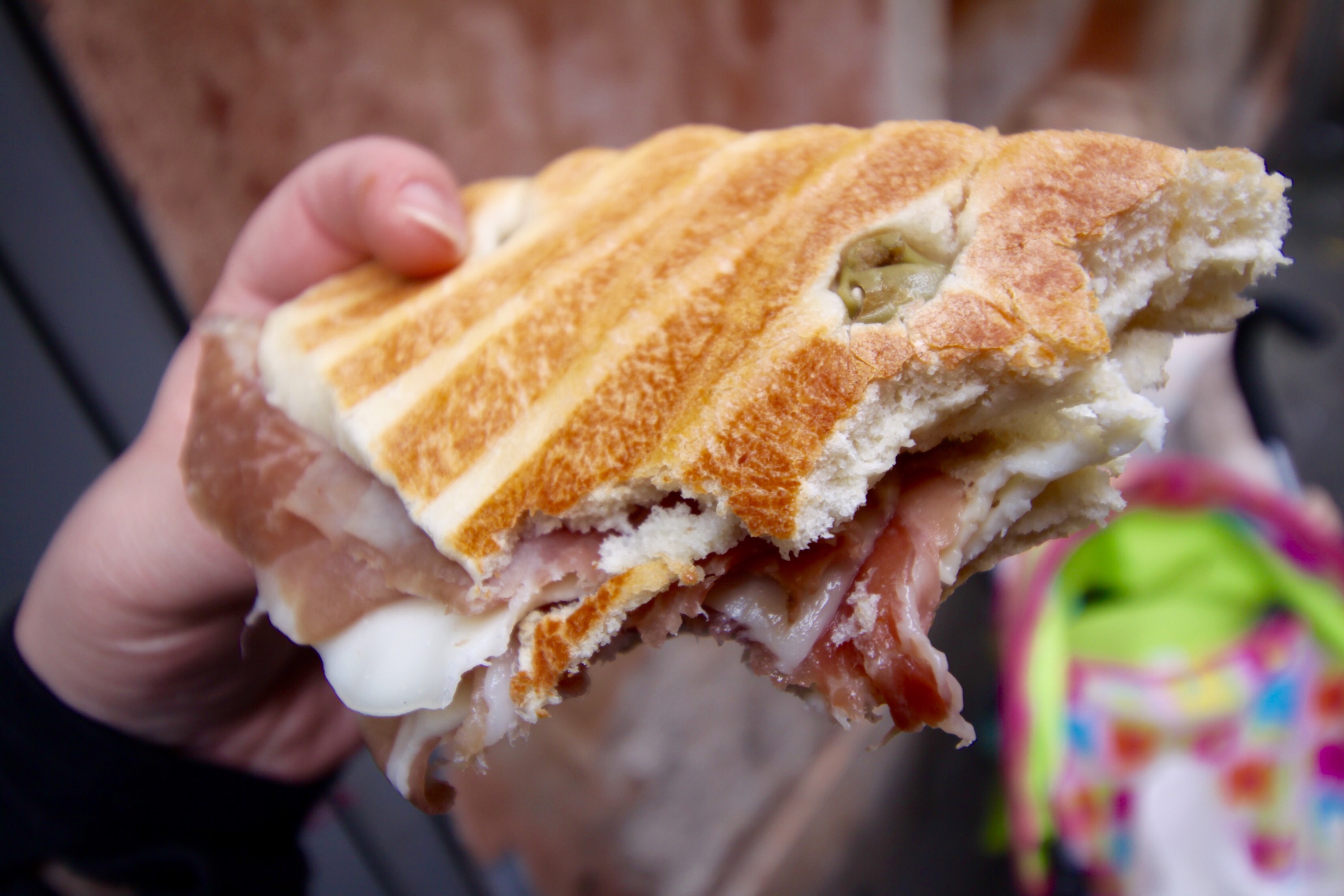 The Latin inscription on the side of the Santa Maria in Trivio church from like 600AD. It's the oldest church in Rome although most of what you see was redone in the late 1500s
The Trevi Fountain. The fountain where the water from the ancient aqueduct ended in Rome; the Aqua Virgo. The water then fed in to the ancient Baths of Agrippa and worked for over 400 years. The acquisition was rebuilt as the Aqua Vergine and now ends in this fountain. This photo really doesn't do it justice if you've never seen it. This is with my extremely wide angle lens…and still barely fit in the frame. Each of those figures is probably 10-15 feet tall . Massive marble sculptures. Gorgeous up close. But so.many.people….I can't imagine coming here in the middle of the summer in tourist season.


This was probably my favorite thing today. Why this isn't more famous and in a museum somewhere….I don't know. The Marcus Aurelius column.
The column was finished in the year 193AD. 1800 years ago!! (Restored in the 1500s). Took over 15 years to make. It tells the stories of the "Danubian" wars in a spiral relief across 27 blocks of Carrera marble. Unbelievable carvings of war and victories… Just amazing. Apparently in the Middle Ages people used to climb to the top as a challenge. It got so popular that they started auctioning off the rights annually to sell tickets at the site for people who came to climb it. Seeing it in person….no.way.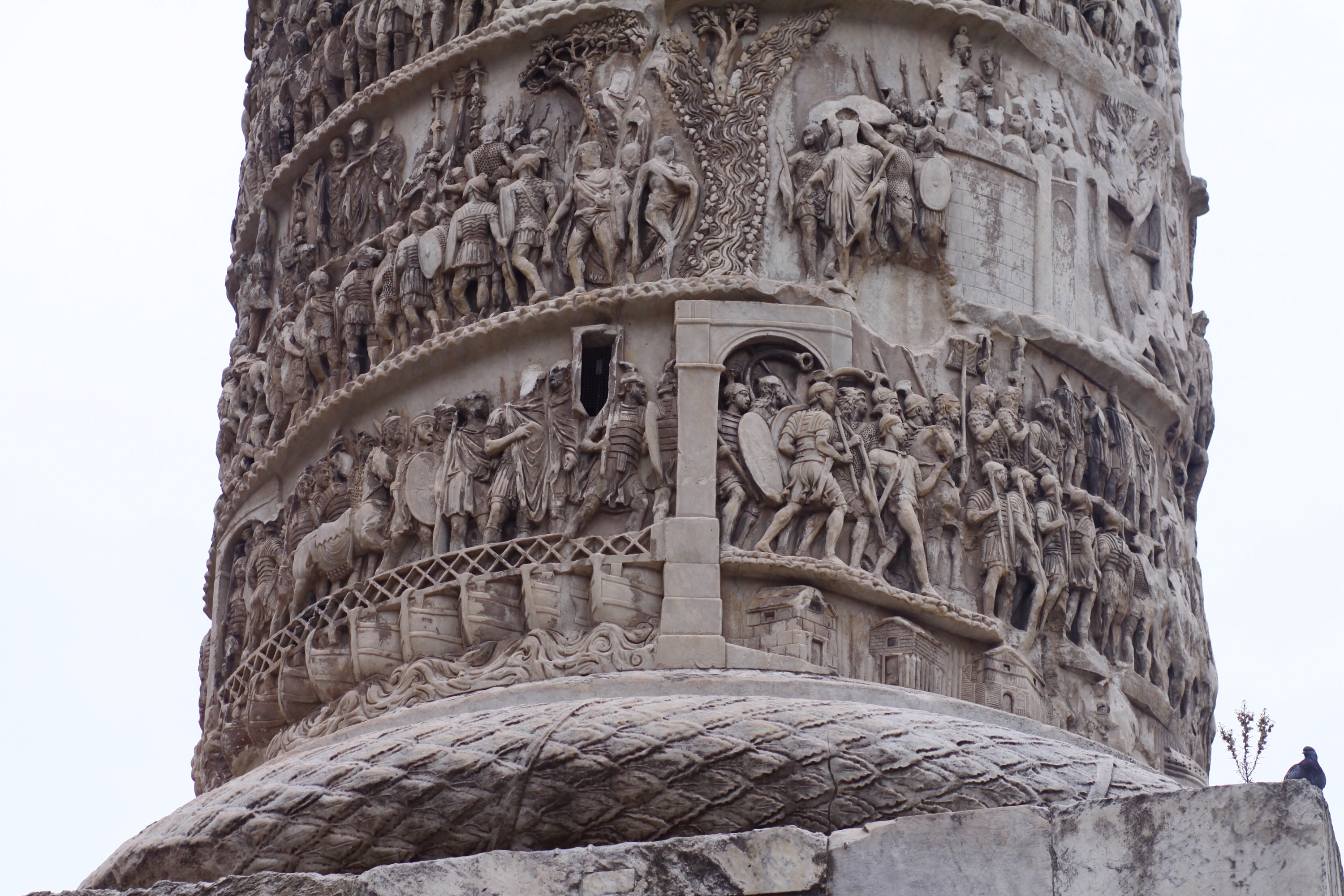 The holes are actually windows to the hollow interior spiral staircase that leads up to top viewing platform.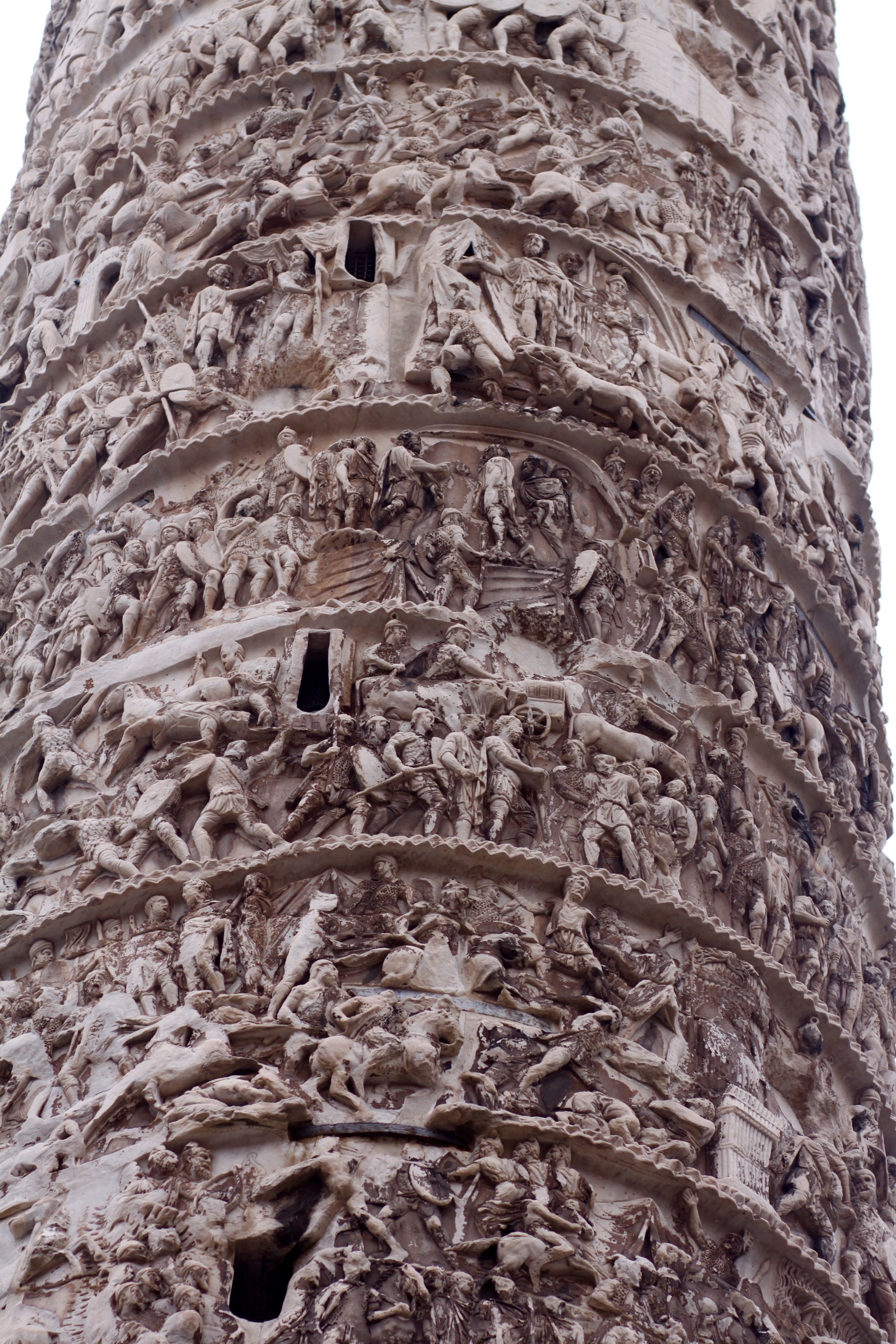 A bird that also enjoyed the column.
A girl. Watching the bird.
Such old streets. You can just feel history with roads like these. (My feet could feel history, too. Haha They are seriously sore this morning from just walking over uneven stones for miles yesterday)
Temple of Hadrian built after his death by his son Antonius Pius in 145AD. Only the columns now remain and have been built into the building behind. Such a cool way to preserve ancient history!
The side of the Panteon as we walked up.


The front from the Plaza Nuvona.
"M.AGRIPPA.L.F.COSTERVTIVM.FECIT"is the enscription in the front.
M[arcus] AGRIPPA L[ucii] F[ilius] CO[n]S[ul] TERTIUM FECIT
Meaning
"Marcus Agrippa, son of Lucius, made this building when consul for the third time."
However, it's not entirely true. The original Pantheon Agrippa built was destroyed and only the front facade remains. This Patheon was built by Septimis Servius and his son Marcus Aurelius Antoninus in 200AD
Amazing metal doors two stories tall.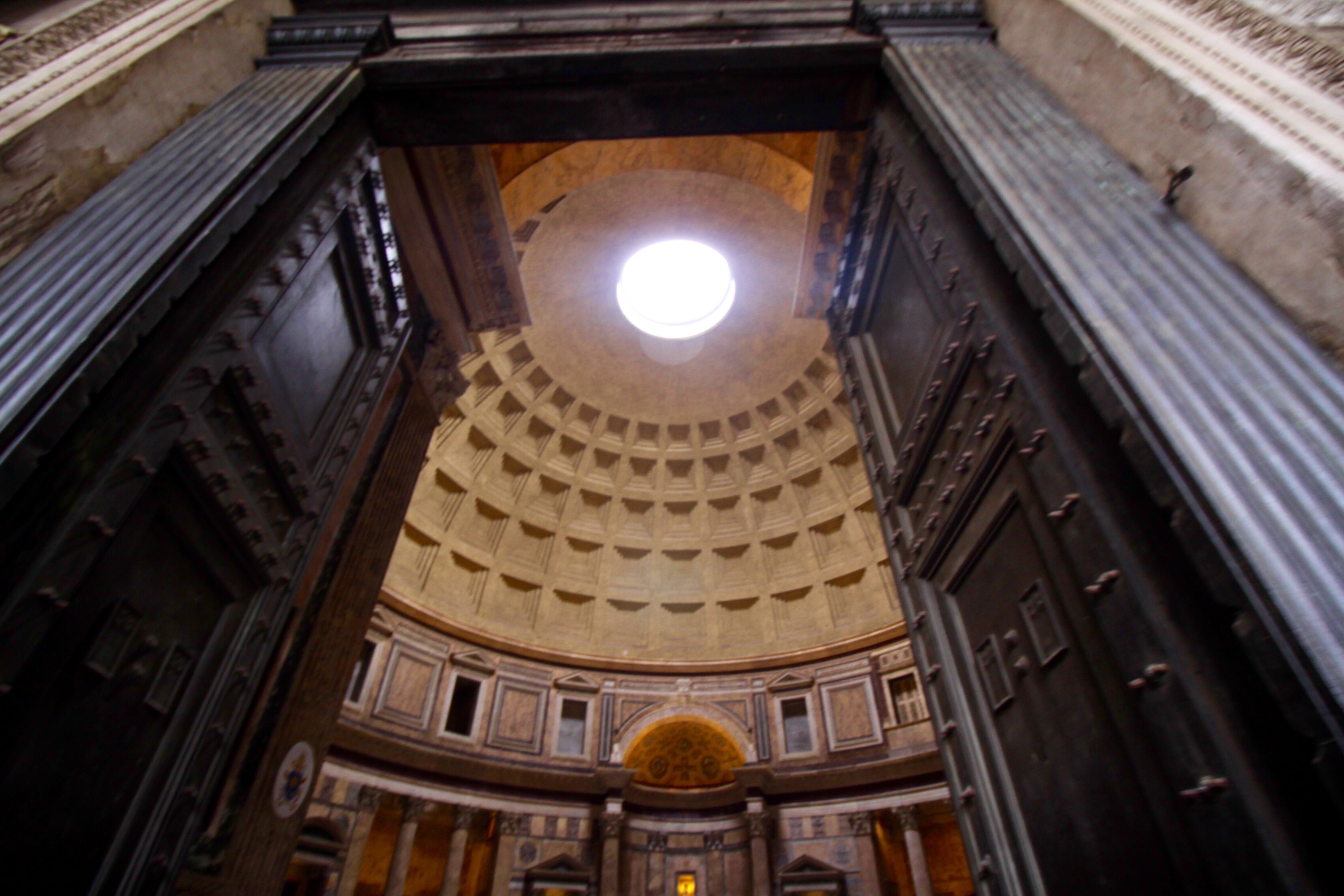 The Panteon holds the record for the largest unreinforced concrete dome in the world

A perfectly circular, dome shaped ceiling with an opening in the high center. To this day, when it rains it rains right inside in the middle and down a drain.
Norah NEEDED a picture with the elephant. There is a monument at every corner. I have no idea what this one is. Ha
Then she needed to take my picture while I'm trying to be nice and get my camera ban before she drops it. Haha

I have no idea what this is but was just very cool on the side of a building
The Altare do Patria (Alter of the Fatherland)
The ancient excavated ruins were very cool to see in person versus a textbook.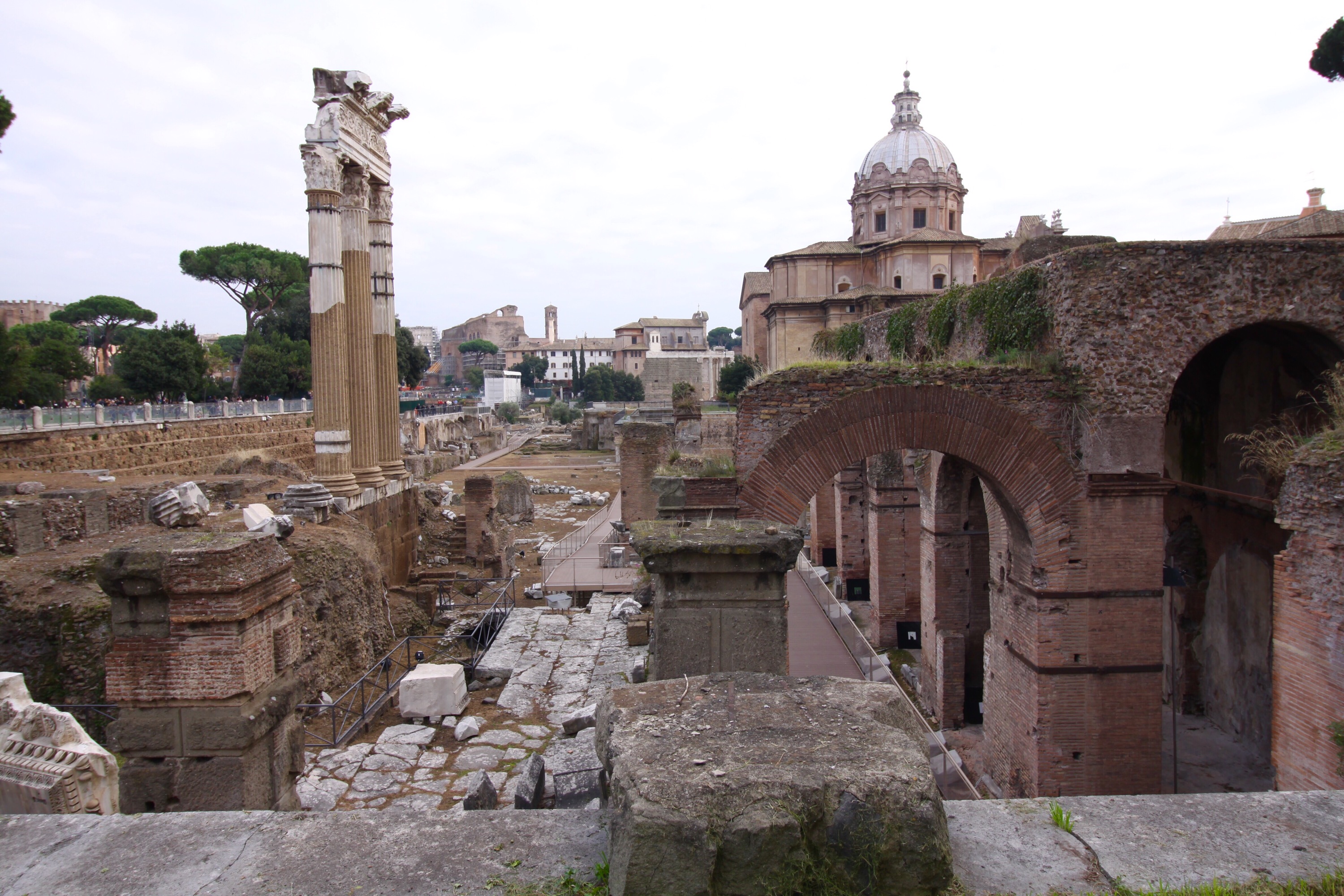 The Colliseum was even more massive than I had envisioned. What an amazing feat of engineering.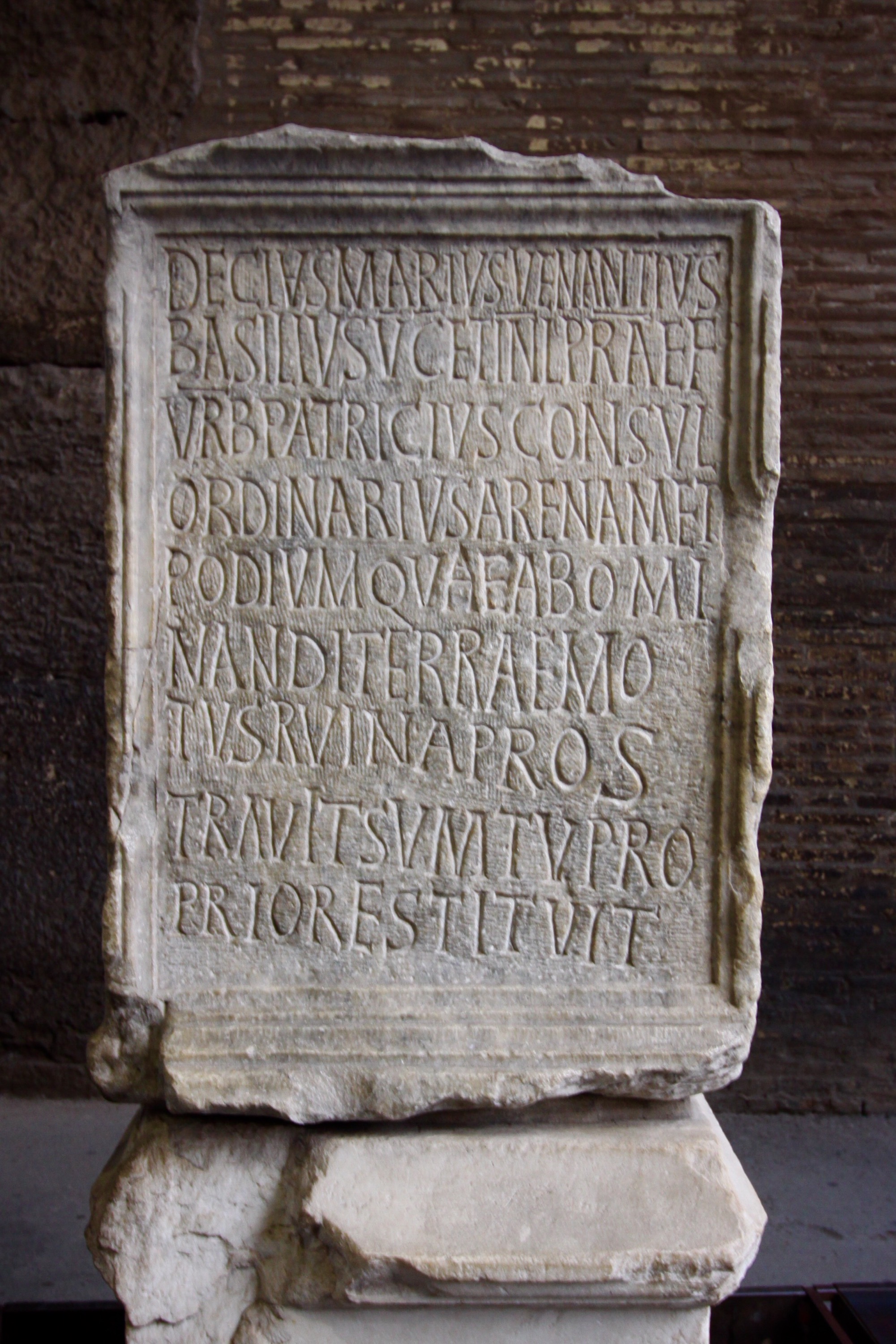 Norah made it to dinner after a nap through the Colliseum. Just barely. Girlie was sleepy. Haha


W
We went to sleep very shortly after dinner and had some much needed sleep. Tomorrow is Siena and Pisa with some stops along the way.