Hello! It's been a while! About the longest we've went between trips in years. Almost a full year since we went to Poland and Czech Republic. This trip is mostly Portugal with a little bit of Spain thrown in because the tickets Chicago to Madrid were sooo much cheaper than Indy to Lisbon.
Flying into Madrid was nice because there was one city we wanted to see on our last trip to Spain but couldn't squeeze it in: Toledo. So, this gave us a perfect first day. We figured since our flight was 6pm-1am our "home time"… we'd likely be wrecked because we wouldn't sleep on the plane… and we were right. Norah slept some… laid out across us. ha
We arrived and got our car with little fanfare…and we were off on the hour drive to Toledo. When we arrived, the parking lot I had picked and 2 others we passed were totally full… so that was annoying. We did find a garage which ended up being better anyway, but my whole planned out walking tour was wrecked. ha We grabbed a quick 45 minute nap in the parking garage and then drug our zombie child through the city. ha
We ended up parking near this amazing escalator that the city installed a few years ago. Since Toledo is an old fortified wall city, it was naturally built on top of the highest point around protected by a river on two sides as well. Great for protection, not so great for moving around in modern life from the rest of the world below. This multi level escalator took us from right outside our parking garage, right up to the old city…. and with all of the hills that were still part of the walk, we were very thankful!
The first stop we made was the Convento de Santo Domingo El Antiguo.
We were a little early, so had to wait around 10 minutes for the nuns to open the door. The big "to see" here is the first painting in Spain of El Greco, a famous painter from the Spanish Renaissance. He painted and sculpted many famous works that are all around Spain. But this "Resurrection" painting was his first and his lead tomb under the floor could be seen through a cracked glass viewing window in the floor. The very stern nun was giving me side-eye…so I tried to take quick no-flash photos, but they didn't turn out. ha Very blurry. Here's an internet photo.
He's known for really long and drawn out figures, white pale skin… and my personal favorite piece of trivia about El Greco is that when he saw Michaelangelo's Sistine Chapel- he said something along the lines of "I met Michaelangelo. He was a good guy. But the guy can't paint." hahaha
We walked around the winding streets of Toledo taking in the architecture and very VERY old buildings. Some of these buildings have been standing since the 1100s. Toledo is known as the city of 3 cultures because unlike most of the word where Arabs, Christians and Jews have battled each of other for total dominance of a city, Toledo is a rare find in that there were Arabs, Jews and Christians all living together in different sectors of the city.
One awesome example of architecture that remains in is the Siragoga de Santa Maria La Blanca. Built in 1180-it's the oldest synagogue in Europe. It was by Islamic architects, for Jewish use, sanctioned to be built in a Christian kingdom. Now, all of that warm fuzzy feeling to then ruin it.. In the late 1300s, a priest incited a massacre of the Jews in the city of Toledo killing almost all of them, stole the synagogue and called it a church and the Catholic Church today still owns it, much to Jewish displeasure…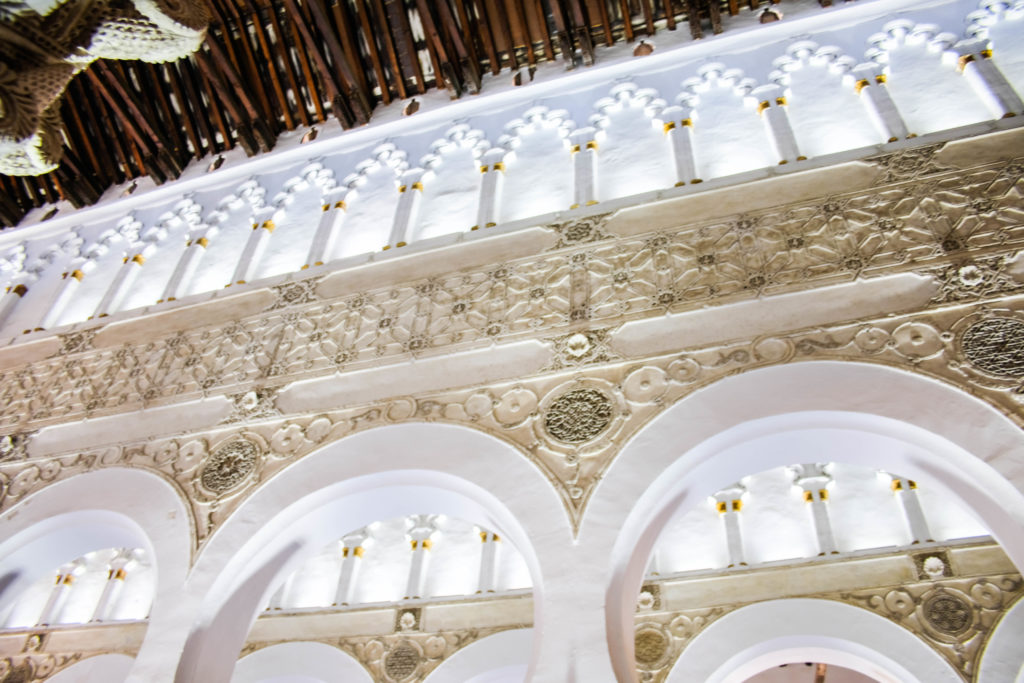 We also saw the Cathedral, the Capilla de San Pedro
We walked through Plaza Zocodorer.. which disappointingly these days was just concrete blocks and a Burger King and McDonalds logo highlighted on one end. Theis plaza used to be the meat market. Animals were brought through ere for auction, slaughter,etc and it has a long history as a market. Also, they burned a few people here in the Inquisition. Today, it's just tour guide companies and chain food. Sort of sad. Bring back the burning!
Just off the plaza we did find a statue of my friend Cervantes- the author of Don Quixote.
For lunch we ate at Taberna El Botero..which was FANTASTIC… but for the record, a poor decision to sit down to a quiet warm slow paced lunch on zero sleep. Norah basically fell asleep in her plate of food and we were both struggling to keep our eyes open by the end. We shared the croquettes- each one was different. One was squid ink, another salted codfish, another tomato… all were fantastic. Also, we had a blood sausage samosa starter and a plate of steak slices (which I forgot to photograph. #foodieprobs)
We napped a quick nap in the parking garage again and headed out for the 2.5 hour drive to our hotel for the evening. We stopped just outside of town to get a great panoramic view of the city of Toledo.

We stayed in Old Town Caceres, Spain at a nice little boutique hotel. Next door was the restaurant Jose Marquez, which had Galician Beef- a specialty of dry aged beef- usually of an older cow-sometimes even 10 year old cows! grilled with salt only, served rare with french fries and and grilled blistered hot peppers. Also, my favorite thing in Spain is gazpacho… and so we both got a glass of gazpacho along with sharing the Galician steak. Norah ordered Calamari…and then proceeded to eat 1 ring.
Girlie was sleepy. haha she was being very good so we had said she could get ice cream for dessert….but she even agreed to just eat ice cream tomorrow if she could go to sleep a little quicker. haha
All in all, a bit of a short day…but knocked another city off of our to-see list. Tomorrow we'll see the old Roman ruin towns of Merida and Evora and end in Lisbon..so lots of walking, lots of driving to get over to the coast!