We left Los Alamos this morning heading for Puya Cliffs Monument to the East of us, only to arrive to a big visitor center that said "WE ARE OPEN" (and the website said they were open) only to find out the gift shop was open but the actual cliffs and tours have been closed for over a year from COVID. So…while I understand… that felt a little crappy because we drove a bit to go there and they could have been a little more forthcoming.
We turned around and headed in the opposite direction to Bandelier National Monument, a part of the Pajarito Plateau that was the ancestral site of Puebloan Indians. It was our first chance to use our National Parks Annual Pass!
There is evidence of human activity in the area from 11,000 years ago, but these preserved petroglyphs and cave dwellings date from around 1150 to 1600. We started out at the Frijoles Canyon overlook and you could really feel how vast the canyon was.
We stopped at the visitor center which had some really good models of the area in its prime.
We did the Main Loop Trail which is where the majority of the sites were marked.
This rock with all of the porous looking holes is actually called Tuff. It's a thick layer of compressed volcanic ash from an ancient volcano. This soft rock made it easier to carve out dwellings and cave houses. Although I'm sure it was still a crazy undertaking with just the tools they had available.
The model of the structure above as it would have looked when the area was occupied.
We were able to climb up the rock and climb ladders into the little cave dwellings to explore.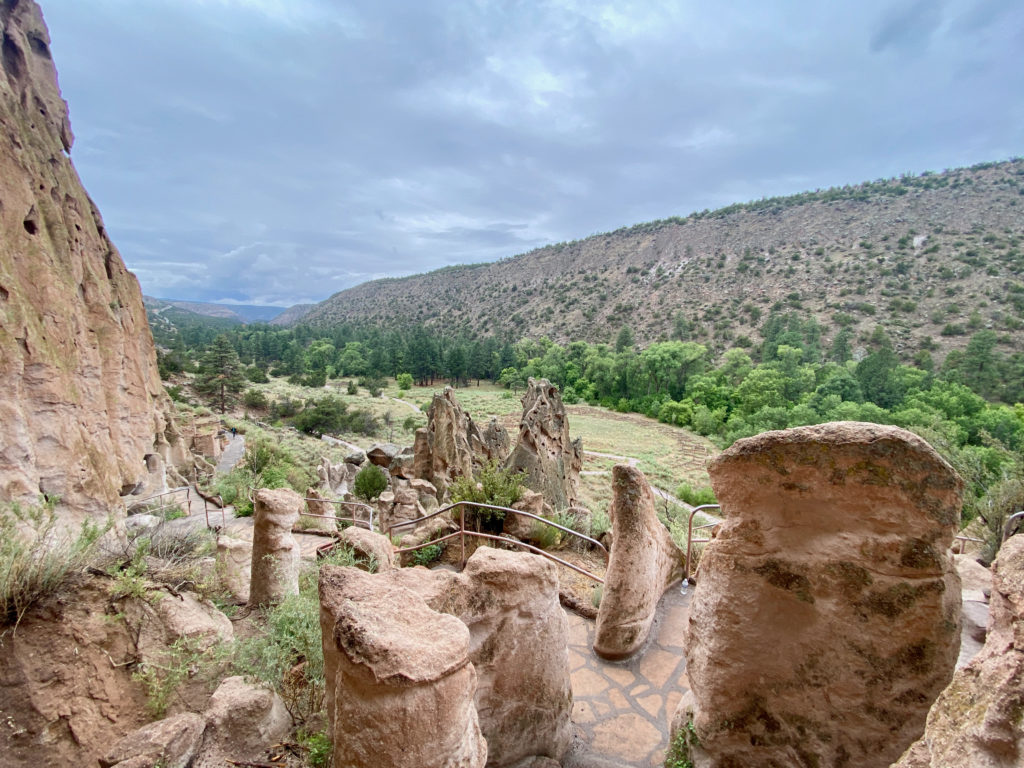 After exploring Bandelier for a while and walking the Nature Trail back to the visitor center, it was time to head over the mountain pass to go to the west side of New Mexico into Navajo land.
At one point the road said "unmaintained mountain road ahead, no semis or large trucks" and we were nervous. ha Turns out it was fine! It was dirt…but wide and fairly smooth. It honestly looked exactly like rural Norway when we were driving from Sweden out towards waterfalls. I expected to see Moose but all I got were deer.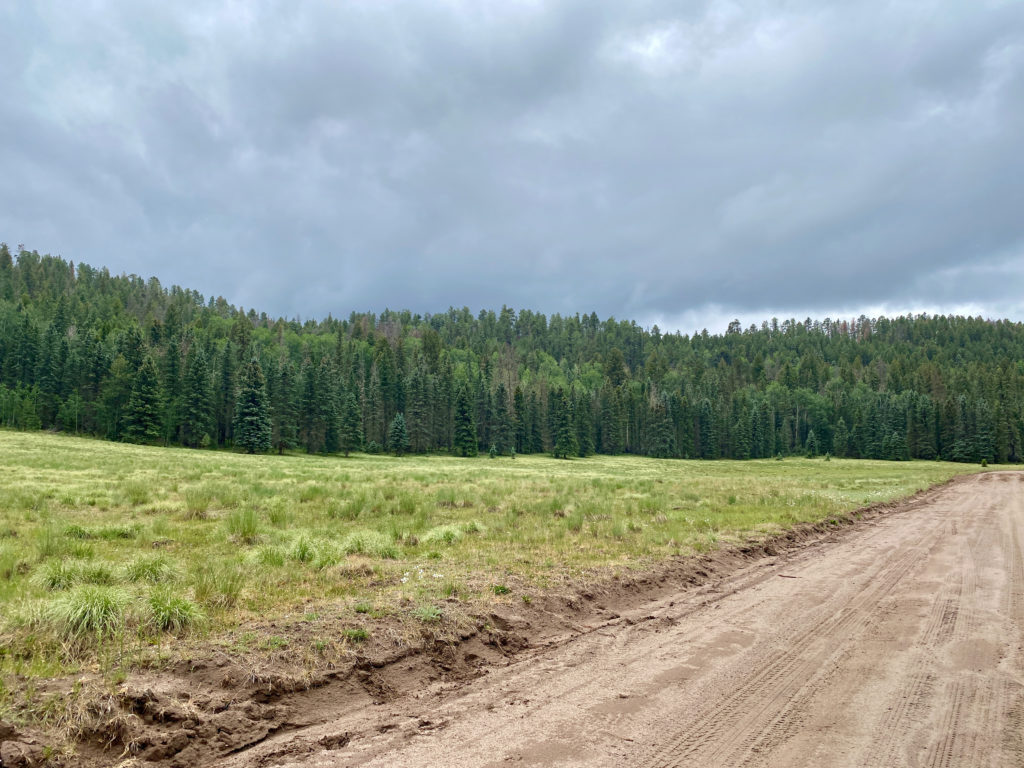 The other side of the mountain looked much more "new mexico" with the striated rock beds and flat mesas.
Those mesas and plateaus gave way to flat plains for quite a way.
We drove another 1.5 hours through navajo nation off-reservation trust land on a terrible TERRIBLE dirt washed out road for about 15 miles to reach Chaco Culture Center, Another ancestral Native American site of ruins. We have a hilarious video of us bouncing all over the car capturing the craziness of the drive, but I cant upload it here. ha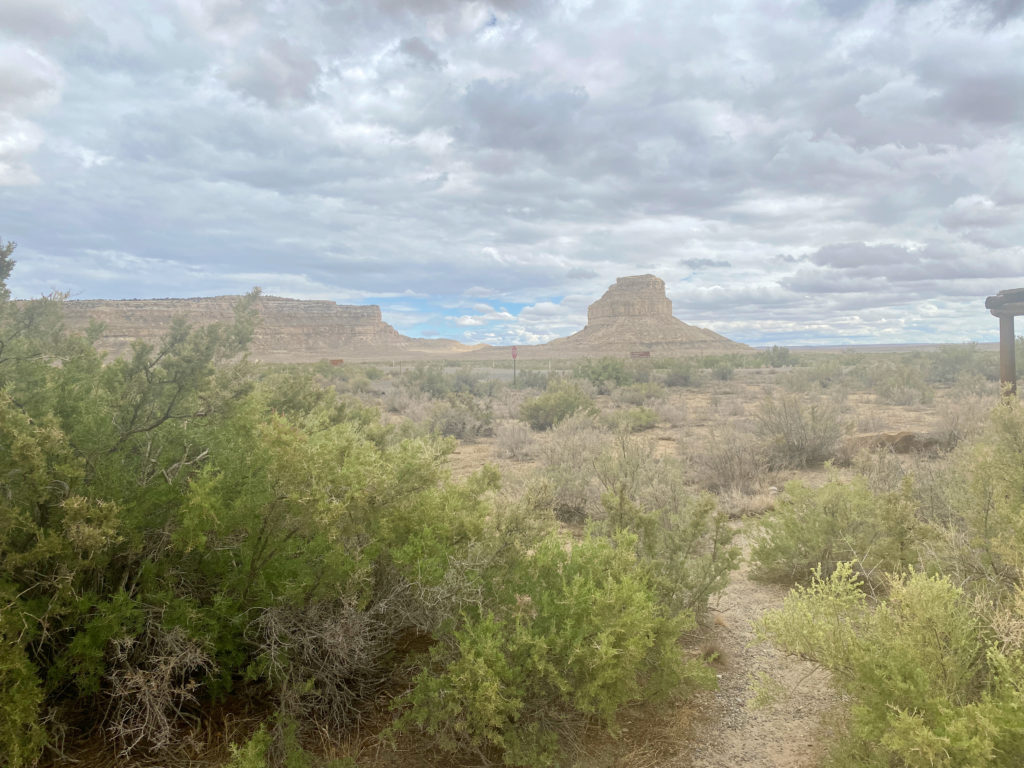 This area, from around 950 to 1100, was a very advanced and huge community of Puebloan Indians. No other structures this large would be built anywhere in North America until the 1800s. They have found cocoa bean residue in pots indicating vast trade routes and networks as cacao beans cant grow in this area of New Mexico. They also found macaw and parrot skulls which would have only come from South America.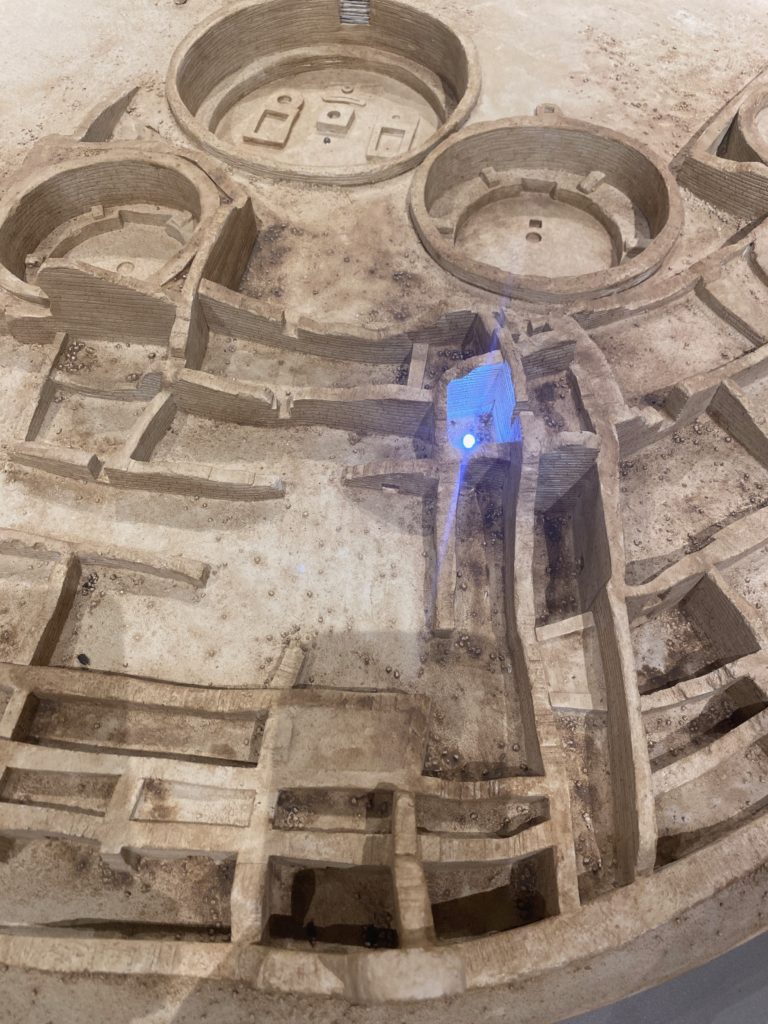 They found over 50,000 pieces of turquoise in just that one lit up square room!
This culture was very tied to astronomy and the moon. They had spirals carved into rocks that hit exactly on the minimum and maximum of the suns trajectory over a 9 year cycle. They set up their long walls of the buildings exactly along moon track lines across the sky. Crazy the amount of knowledge acquired over time that would have been needed to lay this sort of thing out. It would have taken at least 18.5 years alone just to witness and document one full minimum and maximum of the moon cycle.. so obviously multiples of those were witnessed over generations to know that they repeated!
The ruins are in a 9 mile loop that you can drive and park nearer the sites. We walked between 2 of the biggest ruins along what is called the Petroglyph trail.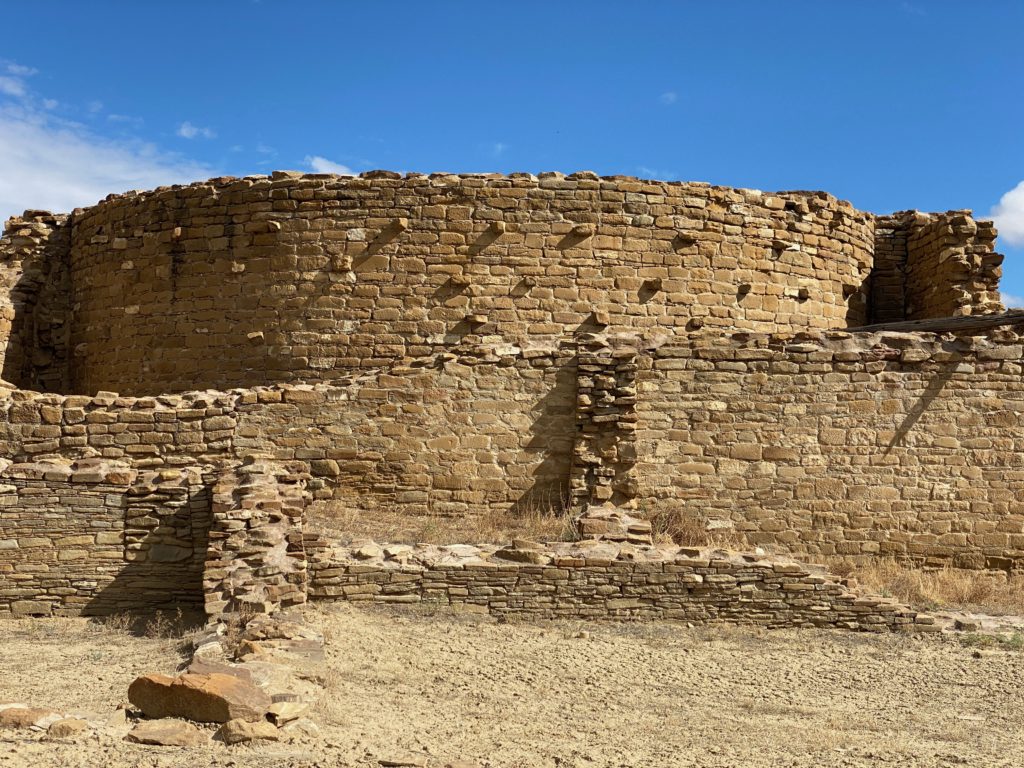 We had a nice time out walking in the sun and some warmth for the first time in 3 days. It has been so rainy and gloomy almost everywhere until we hit the west side of the mountain. I very much enjoyed it.
We were saved by the trusty Honda Pilot and her built-in 2014 GPS system as none of us had signal and our phones wouldn't tell us which road to take towards Arizona!
I had planned to visit Window Rock, the capital of Navajo Nation, eat at a Navajo Diné restaurant and see the navajo museum, but unfortunately everything on Navajo land is still closed to non-residents. They have been going back and forth for a couple weeks here…so I still had hopes we could visit… but it looks like we are missing the opening by a couple weeks. So, on to Gallup, New Mexico for the night. We were arriving around 8:30pm and a lot of places close then, so we ended up with Mediterranean food again at a place called Oasis Restaurant. Lamb kabob and a combo plate.
Tomorrow we will cross into Arizona and end our night at the Grand Canyon. Let's see what we can find open 🙂