We headed out of Casper first thing today towards Independence Rock. A prominent marker from the Oregon Trail days. Over 500,000 people followed this eventually worn path westward over 15-20 years as part of our territorial westward expansion. This rock got its name because wagon groups would leave Missouri in the early spring, they would hope to reach this rock by Independence Day so that they could make it over the mountain passes before the snowfalls began in the fall.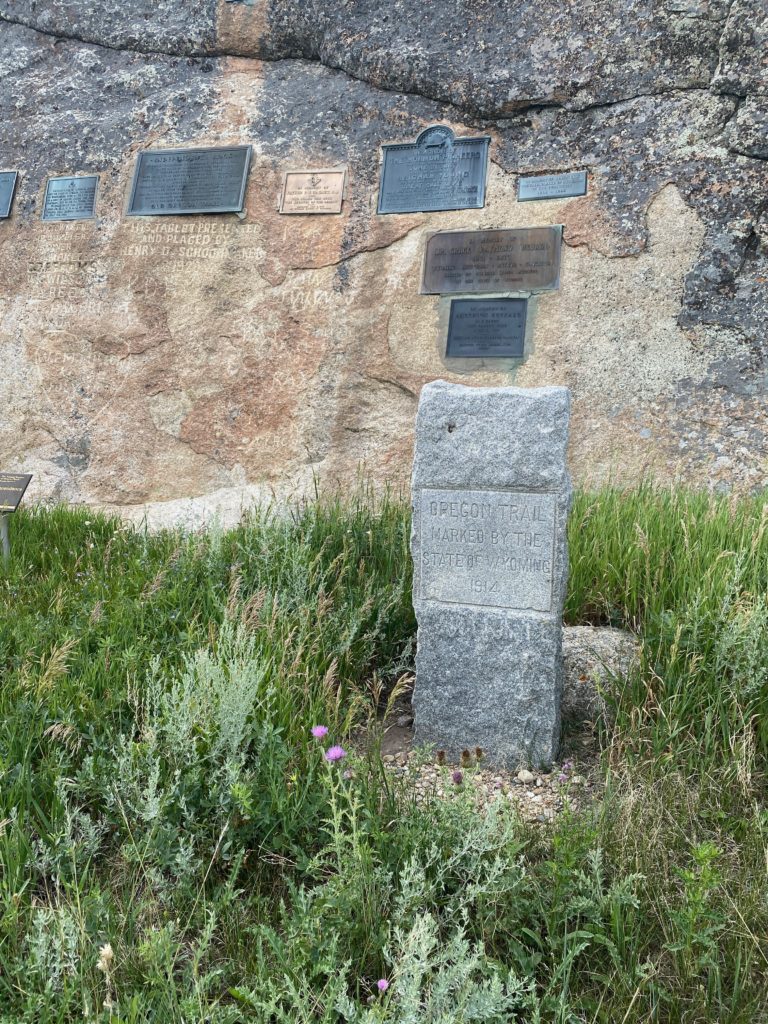 We passed through Sinclair, Wyoming (like Sinclair gas stations with the green dinosaur mascot) and their oil refinery was basically the extent of the town.
Our next town was a cute little old town called Medicine Bow. Medicine Bow is a tiny little town of 284 people with a big history. It largely exists because the first transcontinental railroad ran through this area in the 1860s. In the 1890's they found a very complete dinosaur skeleton of "Dippy" here. It's currently in Pittsburgh at the Carnegie Museum of Natural History.
Medicine Bow, though, is most famous perhaps for being the setting of the novel The Virginian by Owen Wister, which was the first REAL novel ever written about the west outside of dime novel stories. Written in 1902, it came before any Zane Gray or Louis L'Amour novels and it has been remade into a Broadway play, silent film, Gary Cooper Film, Bill Pullman film…and even a tv series recently.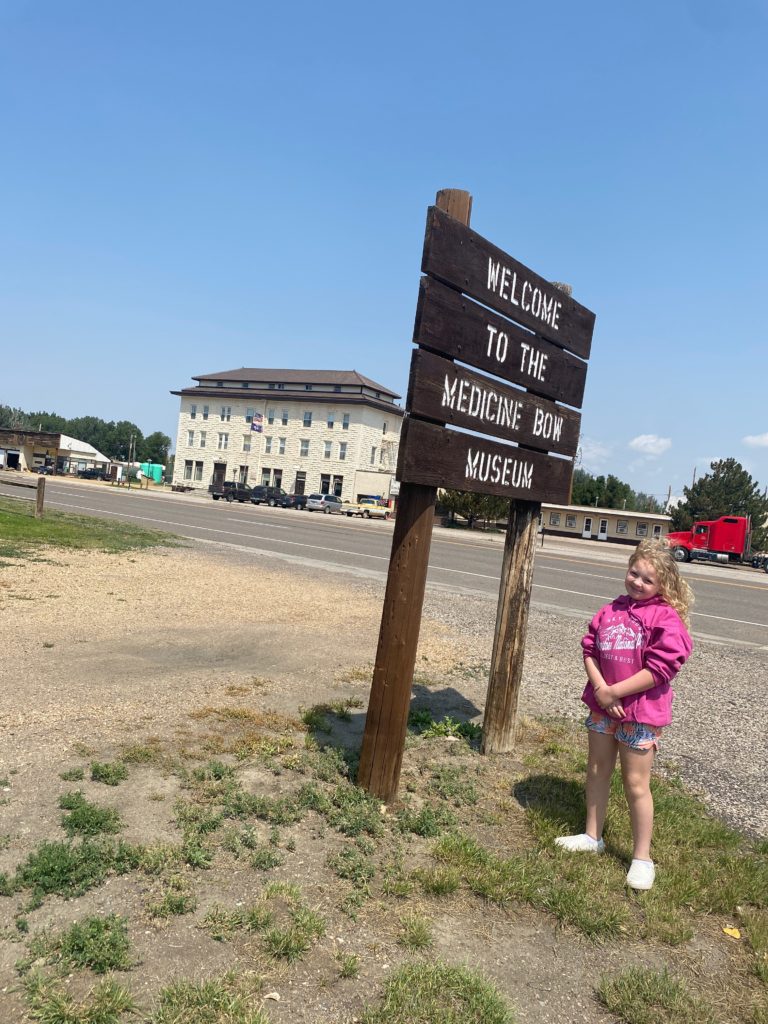 The only real thing the explore right there was the Medicine Bow Museum, so we headed inside.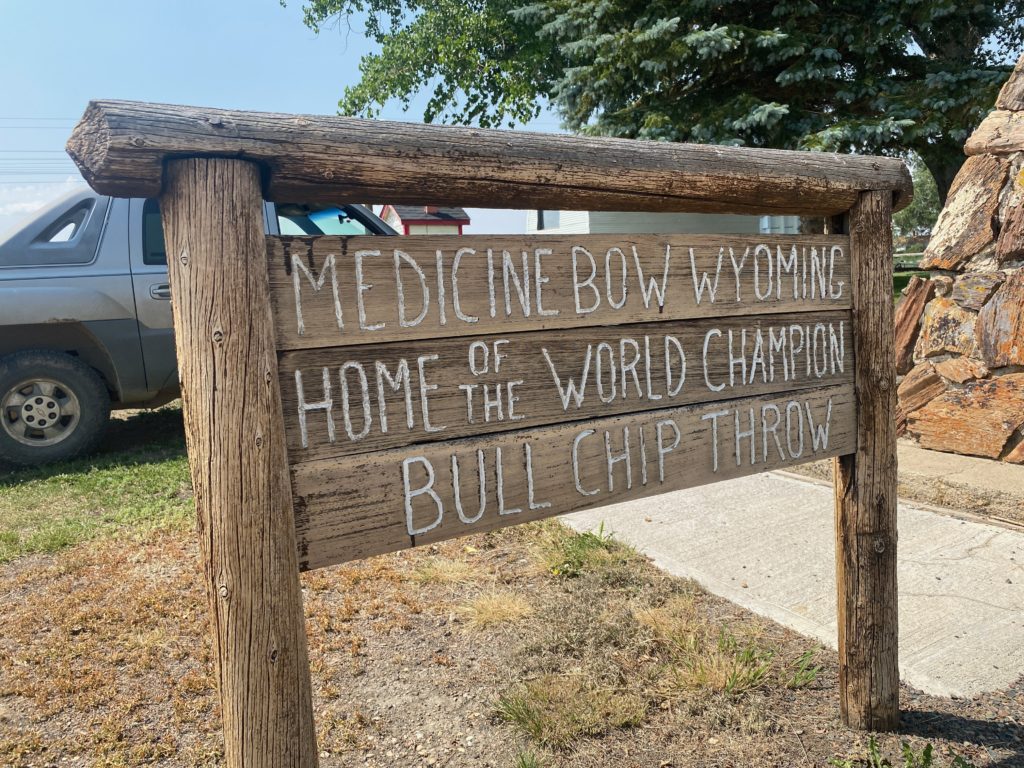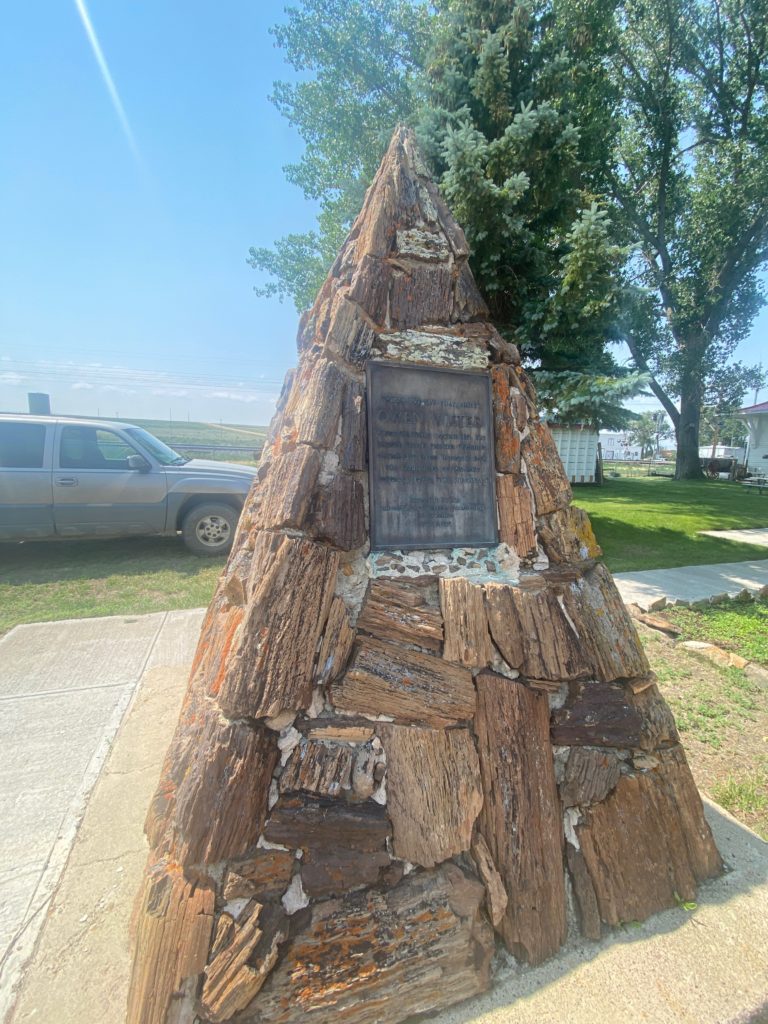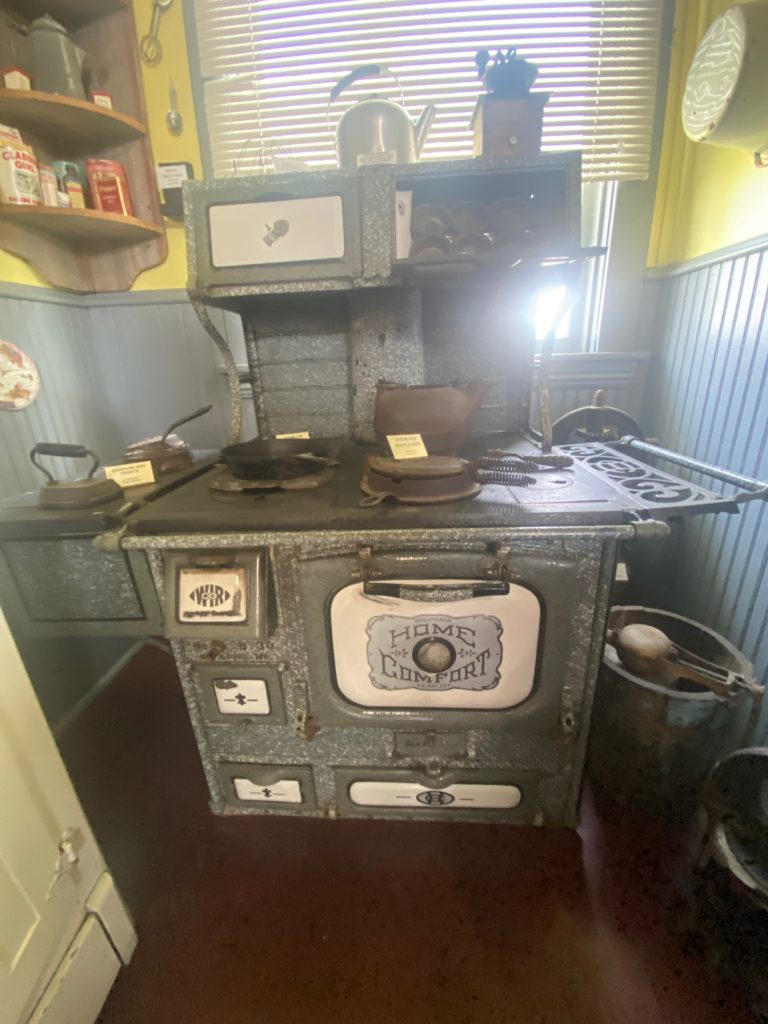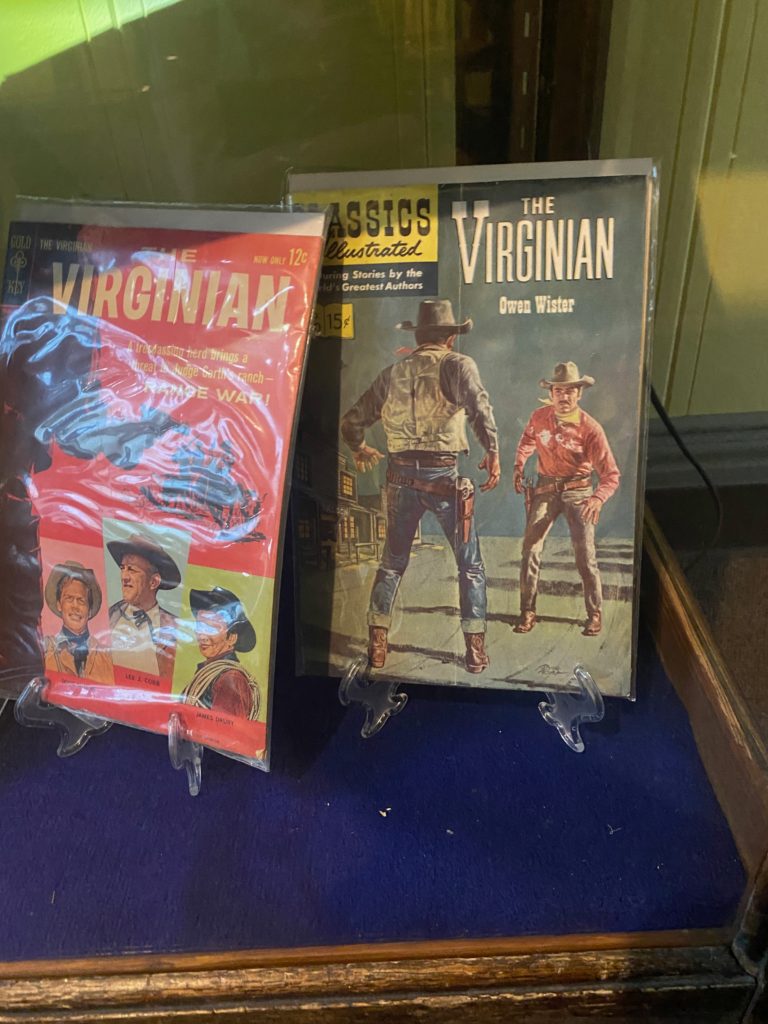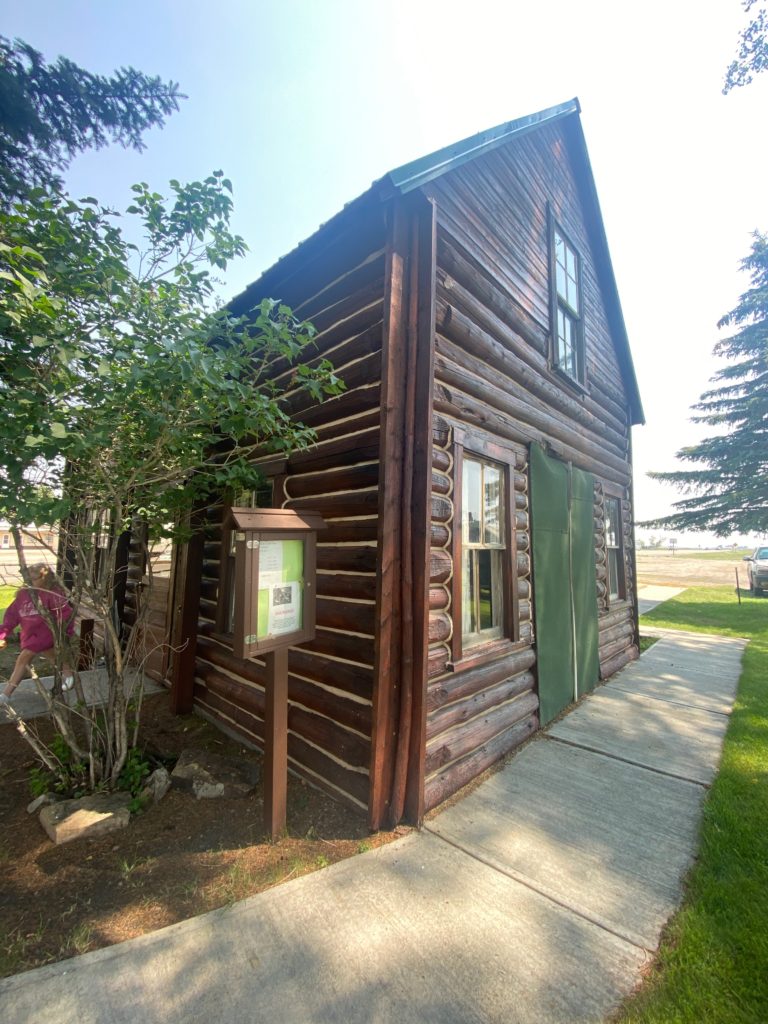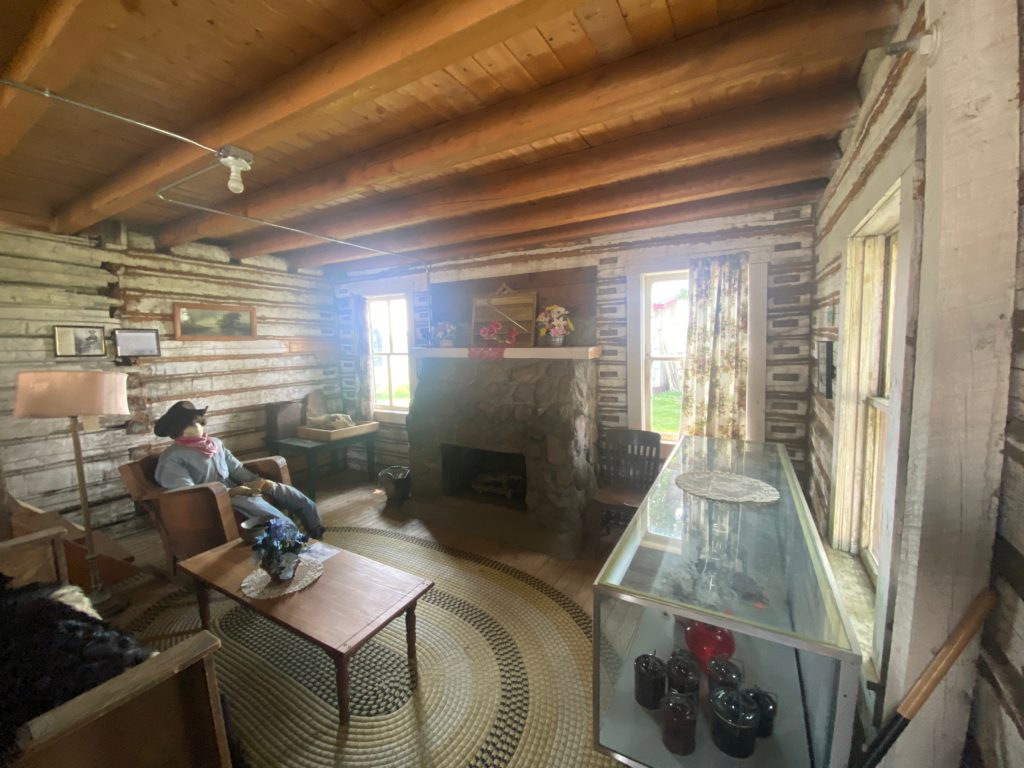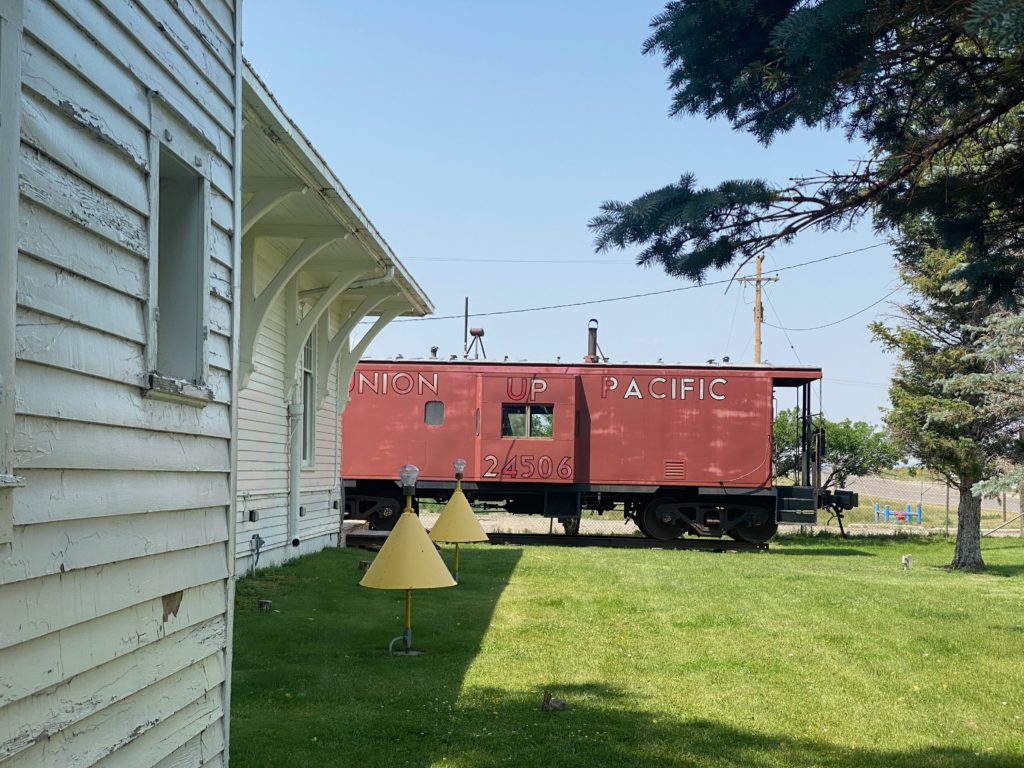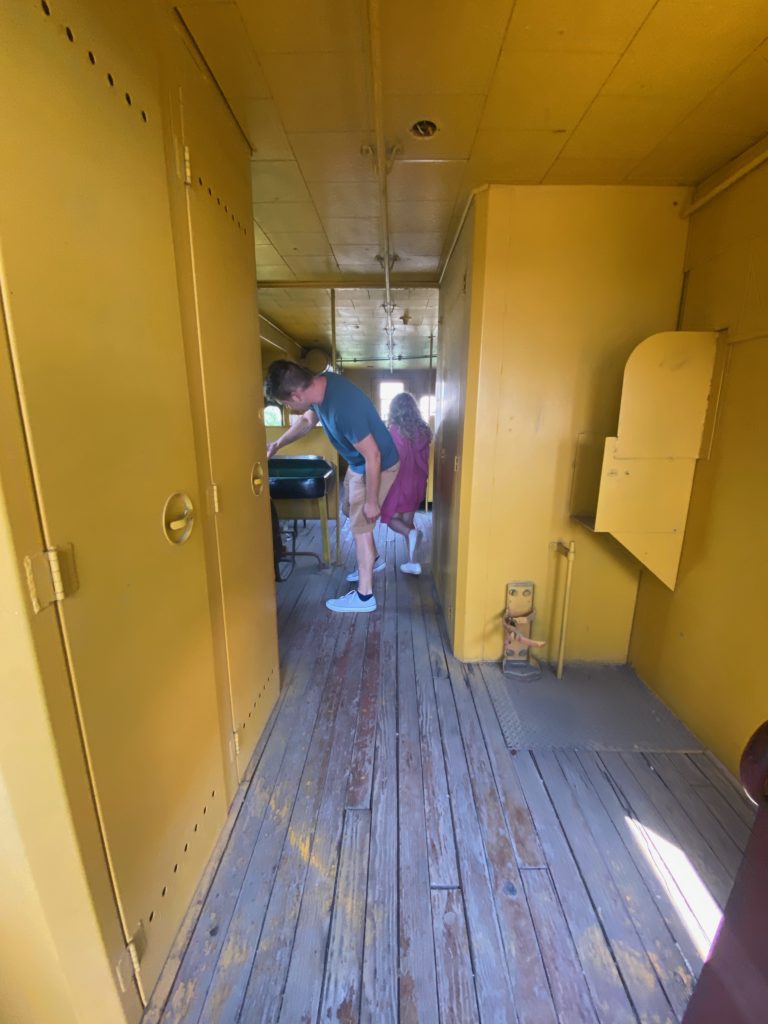 Just outside of Medicine Bow we came upon Como Bluff and Fossil Cabin.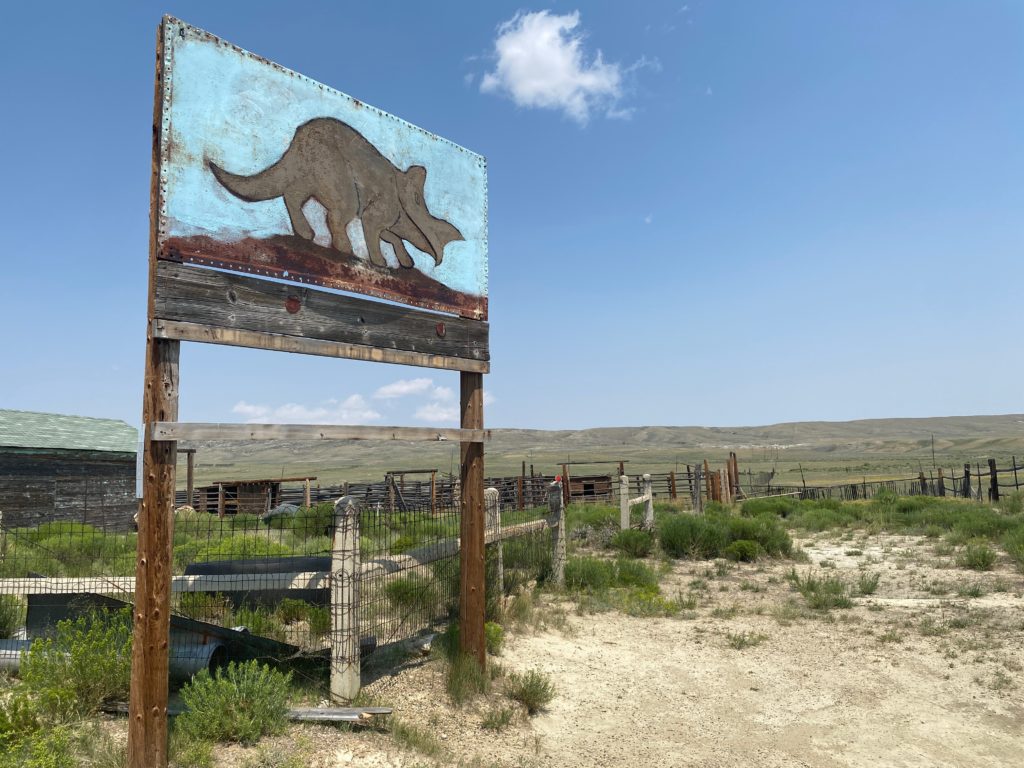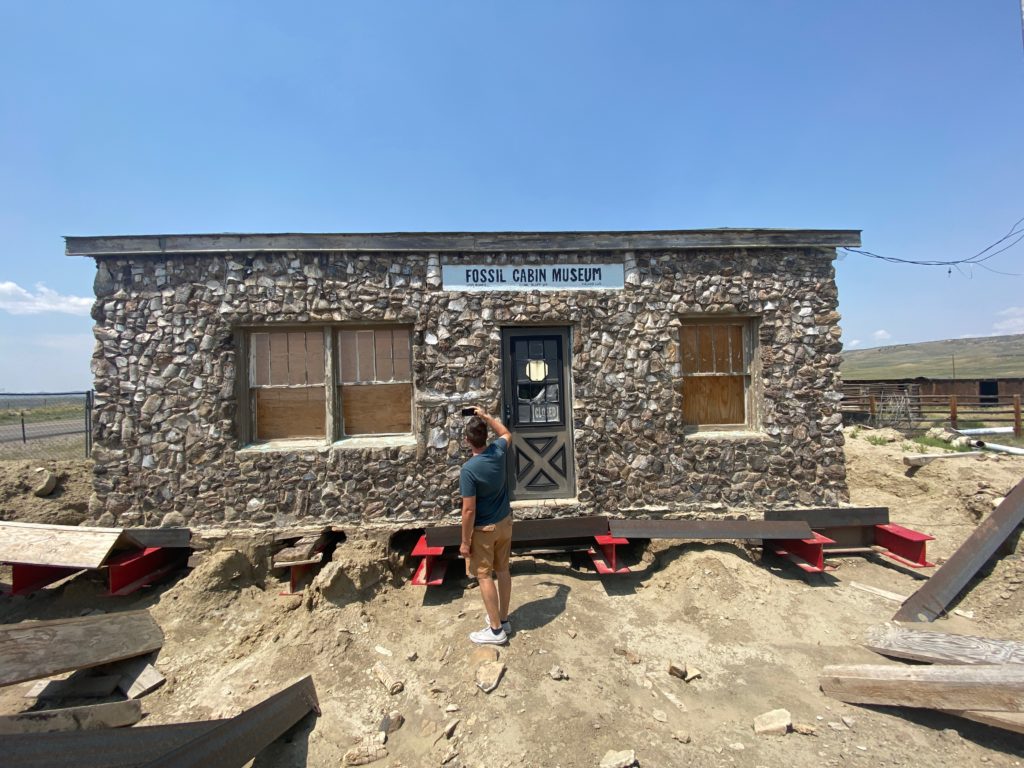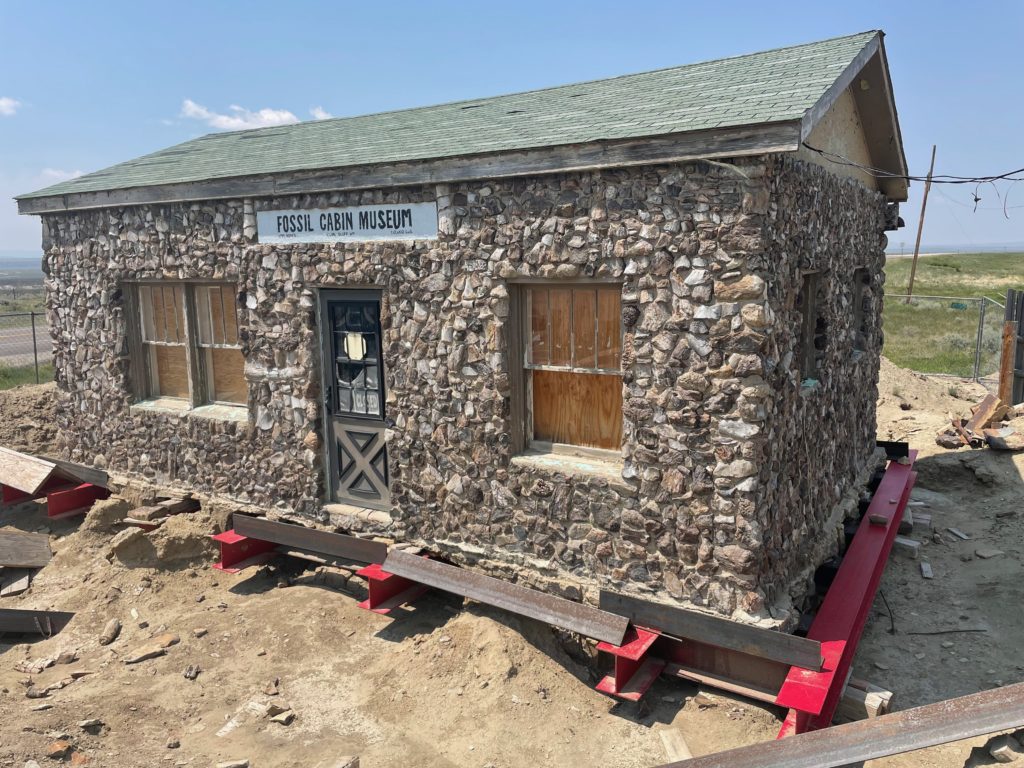 We continued on down the road into Laramie and ate at O'Dwyer's Irish Pub. It was OK food but had a cool rotunda they served food in.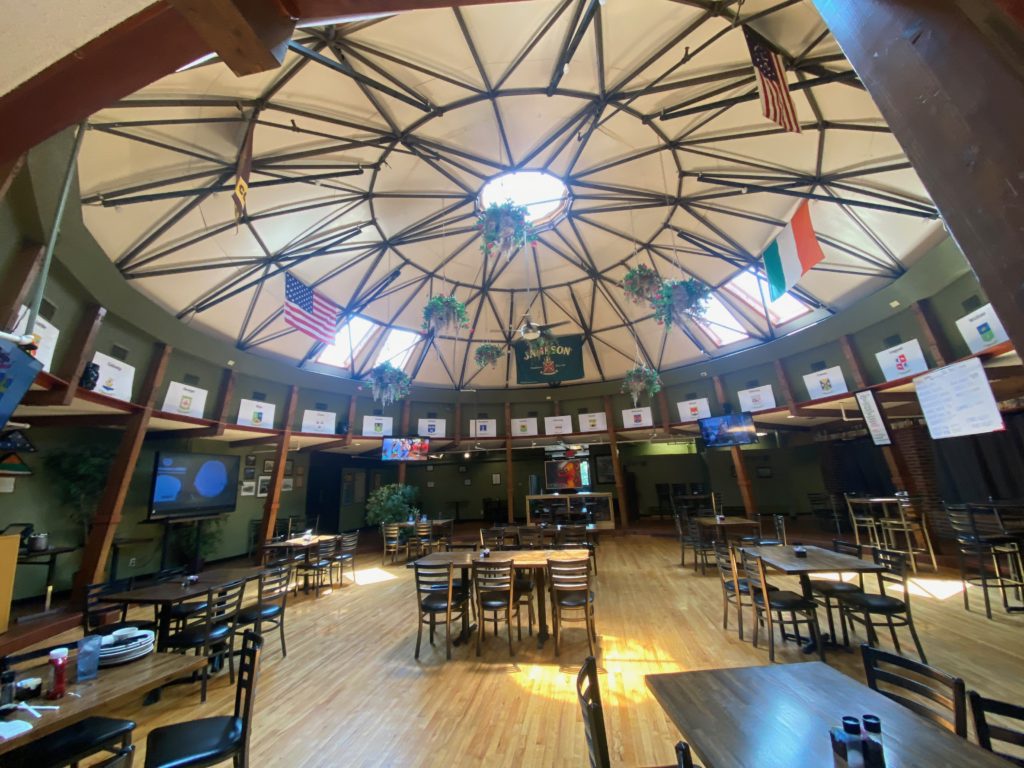 On down the highway, we passed this odd giant Lincoln Head. It was made to commemorate the Lincoln Highway but it just looks like Christopher Pike stuck in his futuristic wheelchair from the original Star Trek episode The Menagerie. ha
Just a couple miles from there is the Tree in the Rock. A famous landmark since the 1860s. As they were planning and laying out the transcontinental railroad in the area, they found this tree- a limber pine- "growing out of a rock" and decided to route the railroad around it…as trees don't really grow in this area. Really, there are none around for miles, which I didn't even notice until the sign at the tree talked about it.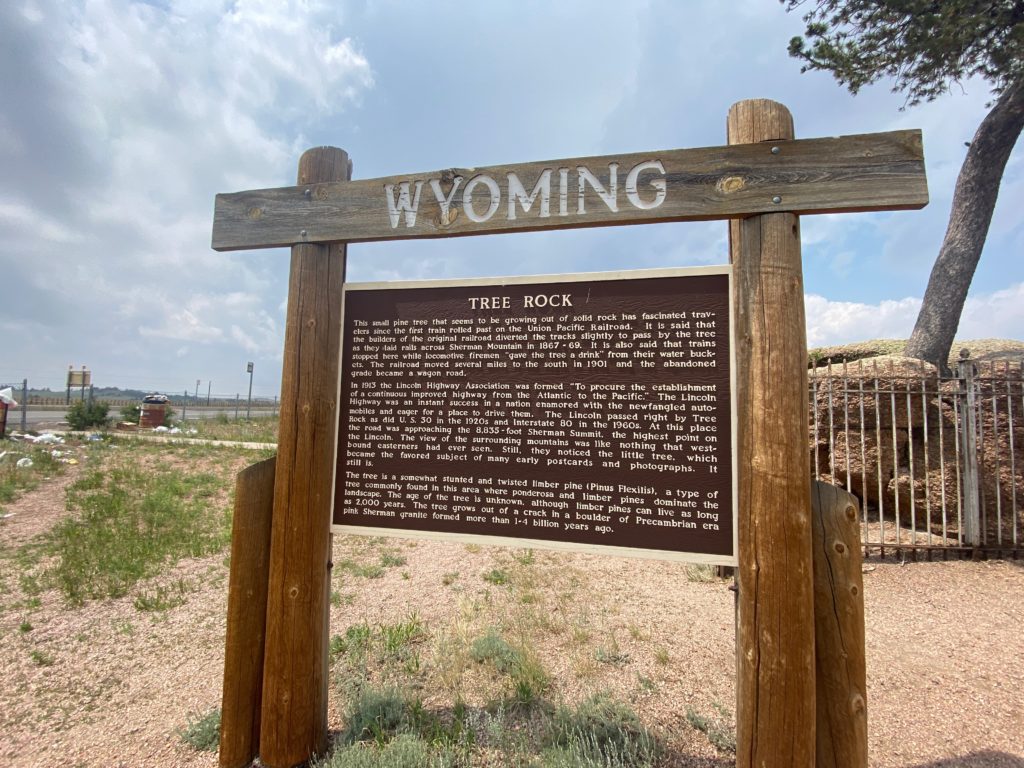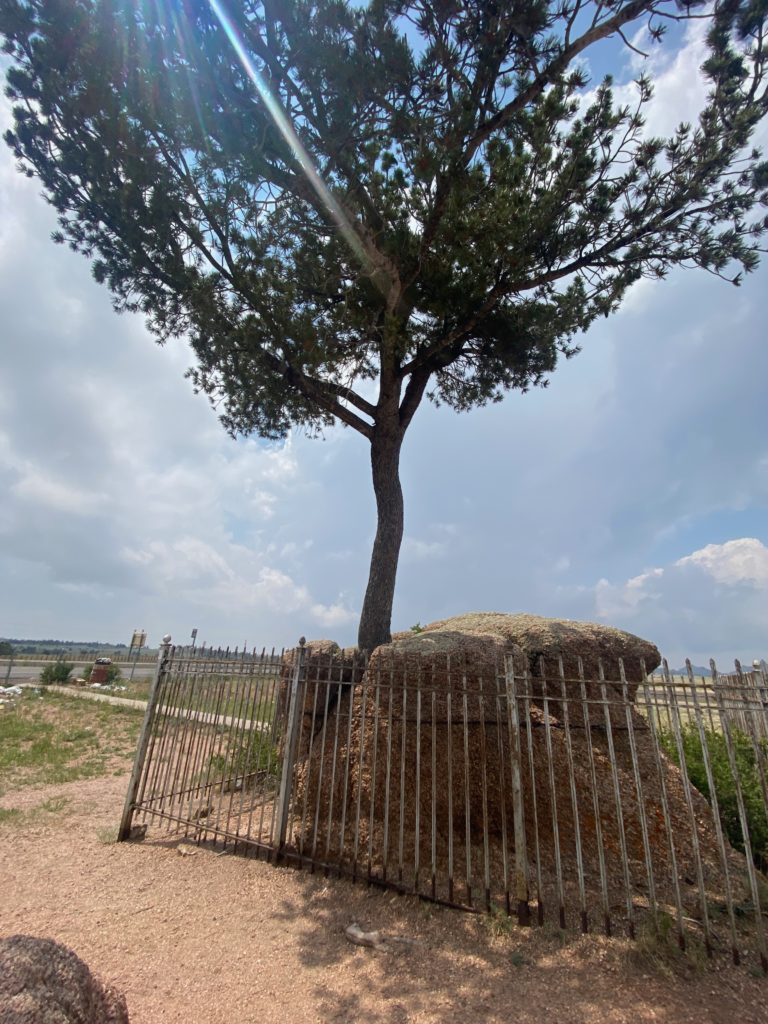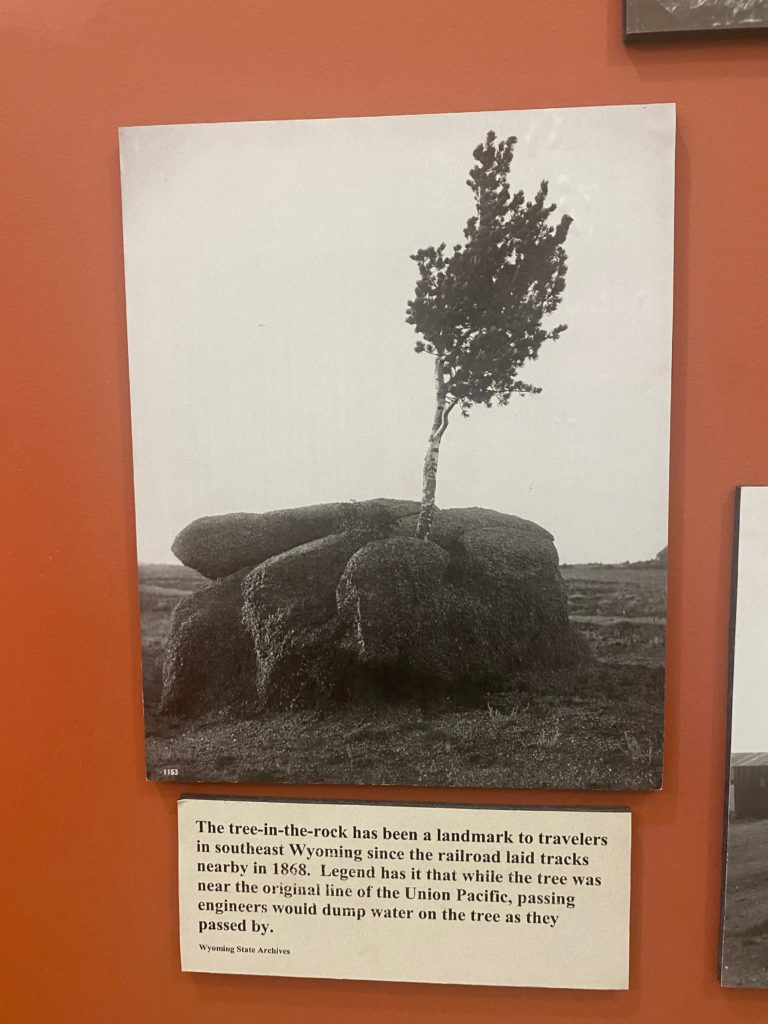 Our last little stop off along the way was to see the Ames Pyramid, now looking pretty lonely in the middle of nowhere, but it has quite a history. You see, the Ames brothers were pretty much opportunistic jerks.
In gold rush times, they went to California with a wagon load of shovels and made their fortune on selling overpriced tools to 49ers seeking gold. Then, they used that money to buy railroad contracts to lay railroad track… established themselves as railroad barons… and then proceeded to defraud taxpayers out of 50 million dollars by inflating costs and services so extensively that it became a national scandal because- I forgot to mention- Oakes Ames was a state representative and could approve the railroad budgets and contracts. The scandal was known as the Credit Mobilier Scandal and was the biggest national news of the time in the 1870s. Although, not much has changed for white collar and financial crime from then to now- their punishment for this embezzlement and deceit? Public censure. ha
So….anyway- the pyramid. Right after the scandal unfolded, both of the brothers ended up dying. Ten years or so after their deaths and the scandal was a distant memory, the Union Pacific railroad tried to restore some honor to their overlords. They constructed this pyramid along the railway at the highest point of the transcontinental railroad.. and at a point they would stop to change engines- so it gave the passengers something to go walk and do while the engine maintenance occurred.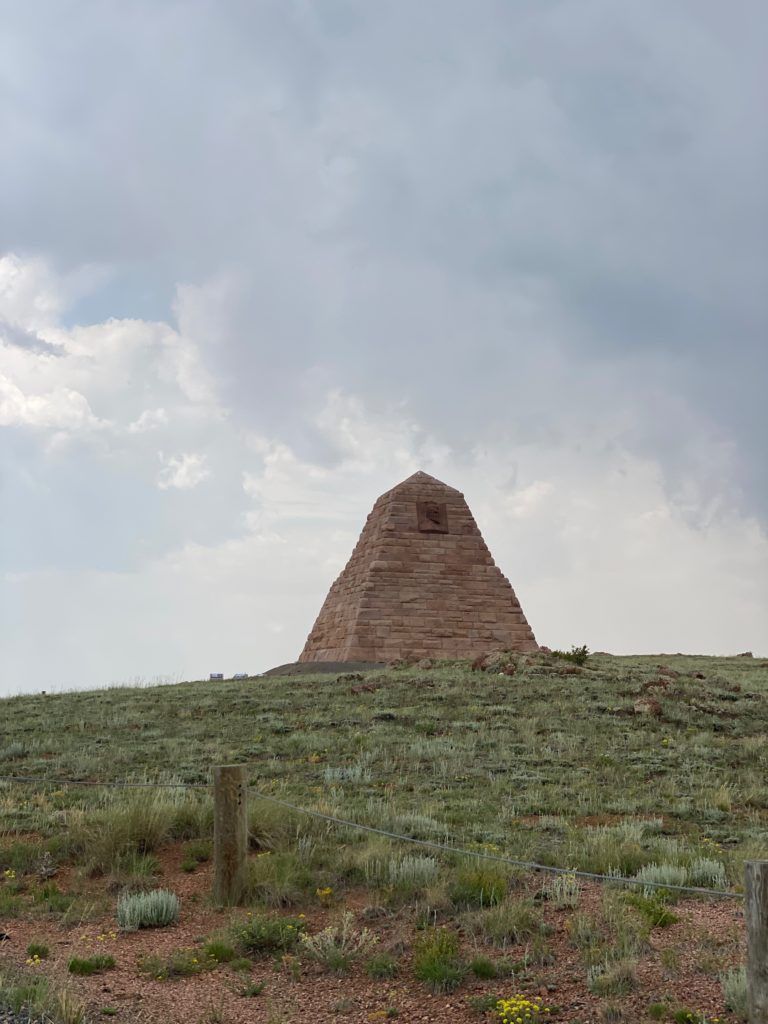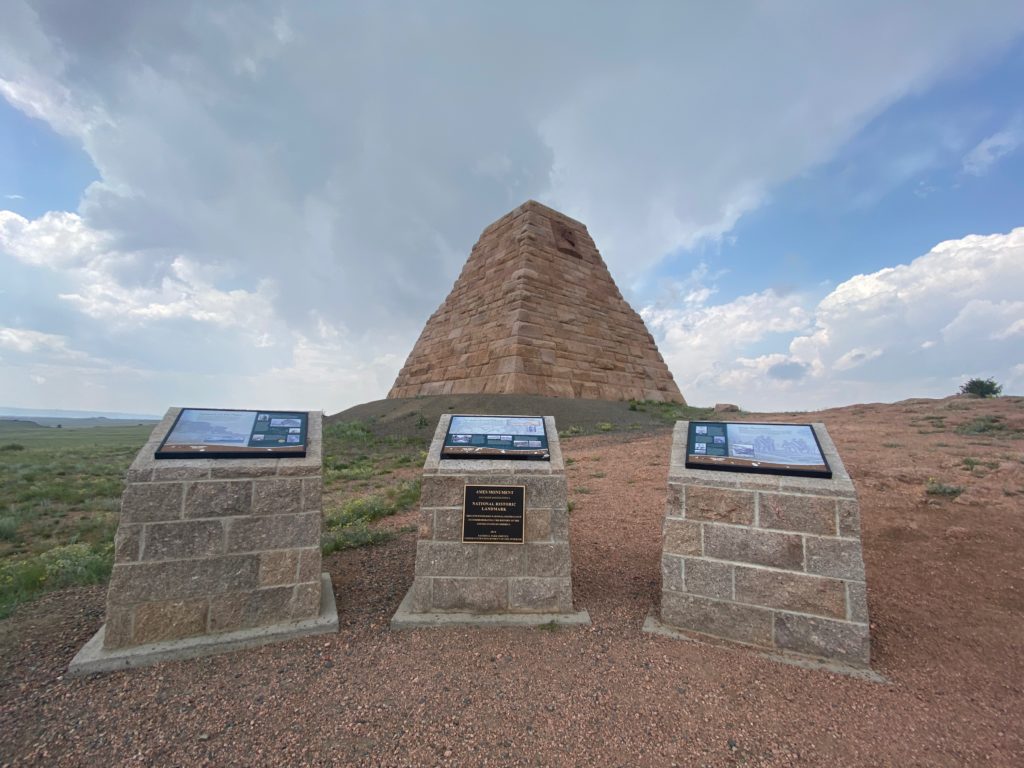 Then the railroad rerouted. Then the highway rerouted… and now, its just a dirt /gravel path back to this giant pink Sherman granite pyramid in honor of two slimy old "businessmen" who got caught thinking they were smarter than everyone else. Rings a few bells for a some folks I know today. ha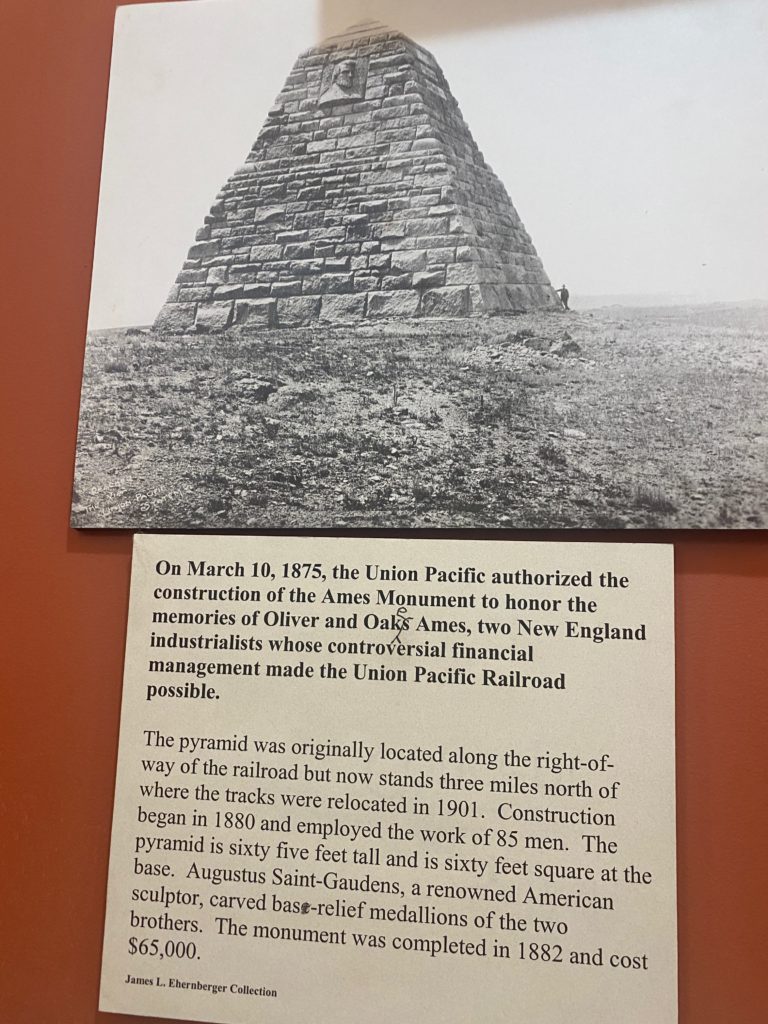 Most of the rest of our drive was just the rolling hills of Wyoming all the way to Cheyenne.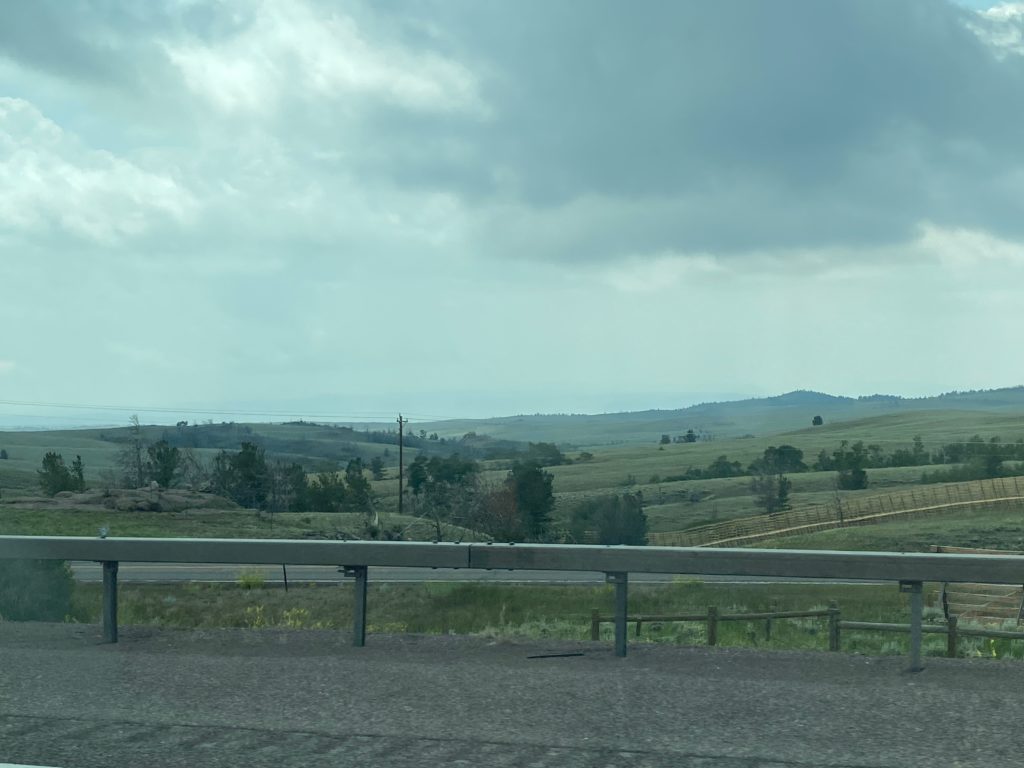 We arrived to Cheyenne earlier than we expected, so we started trying to fit in the museums that I had thought we might miss.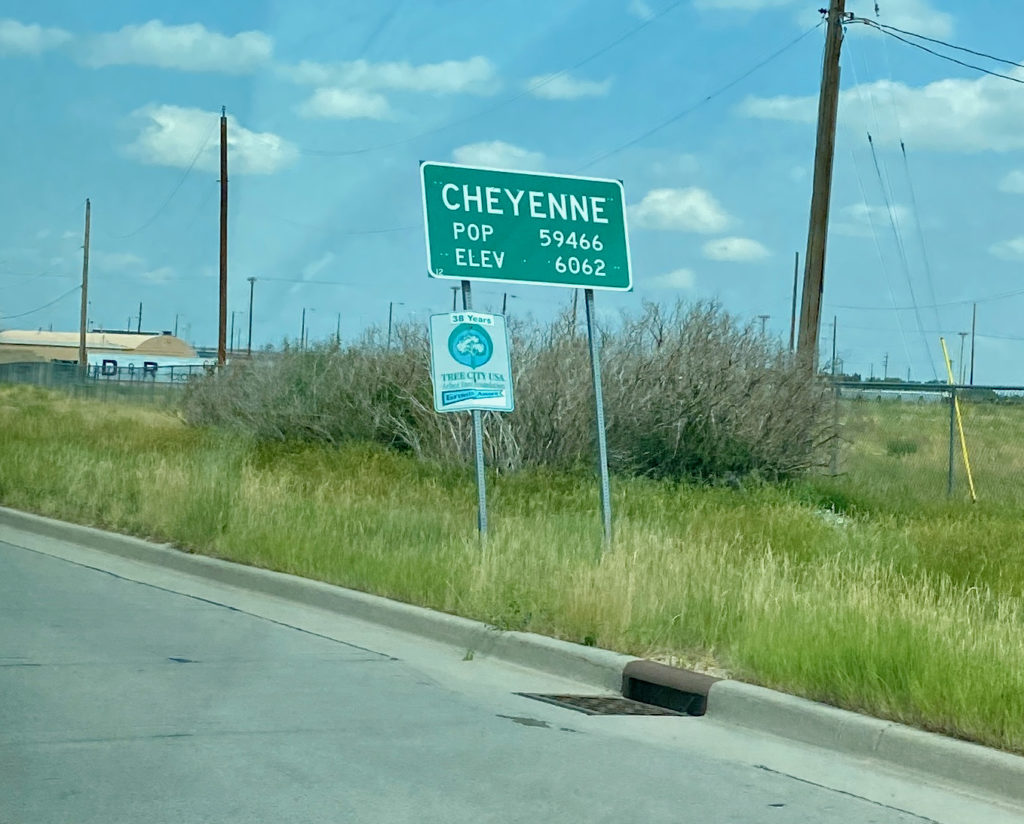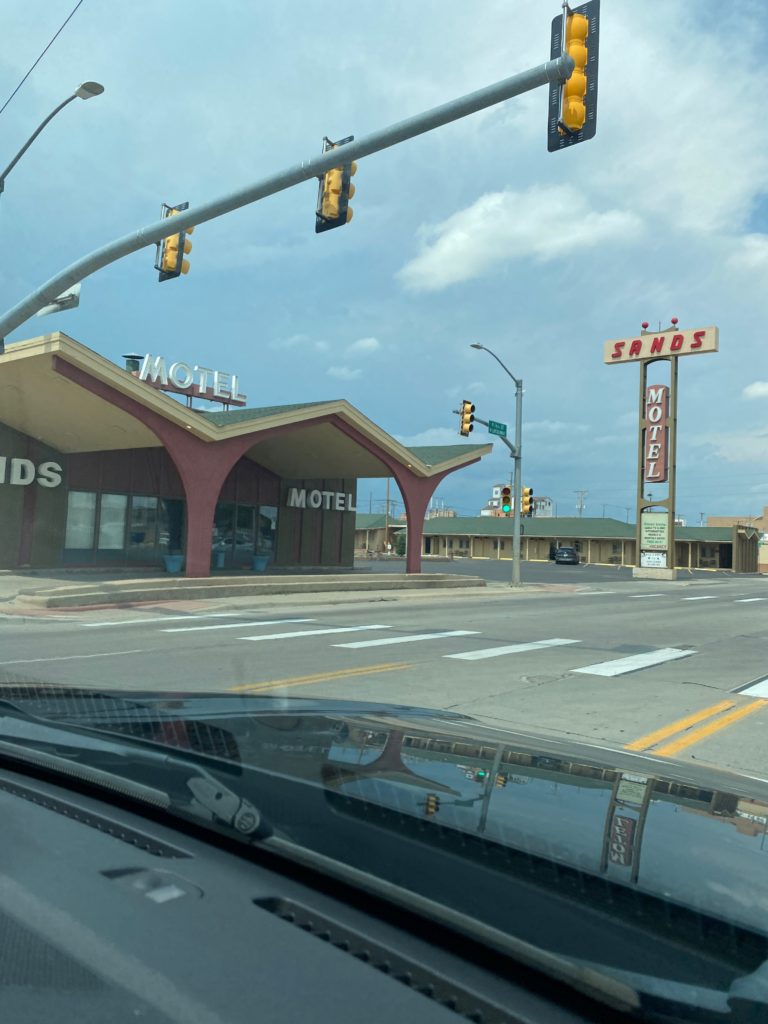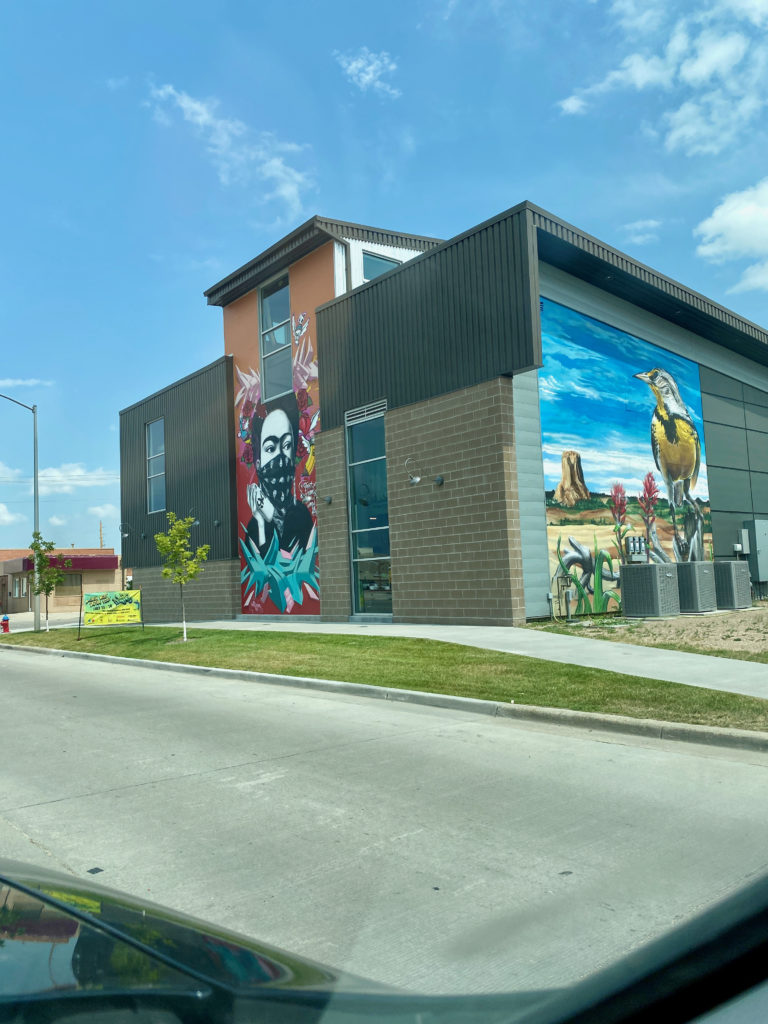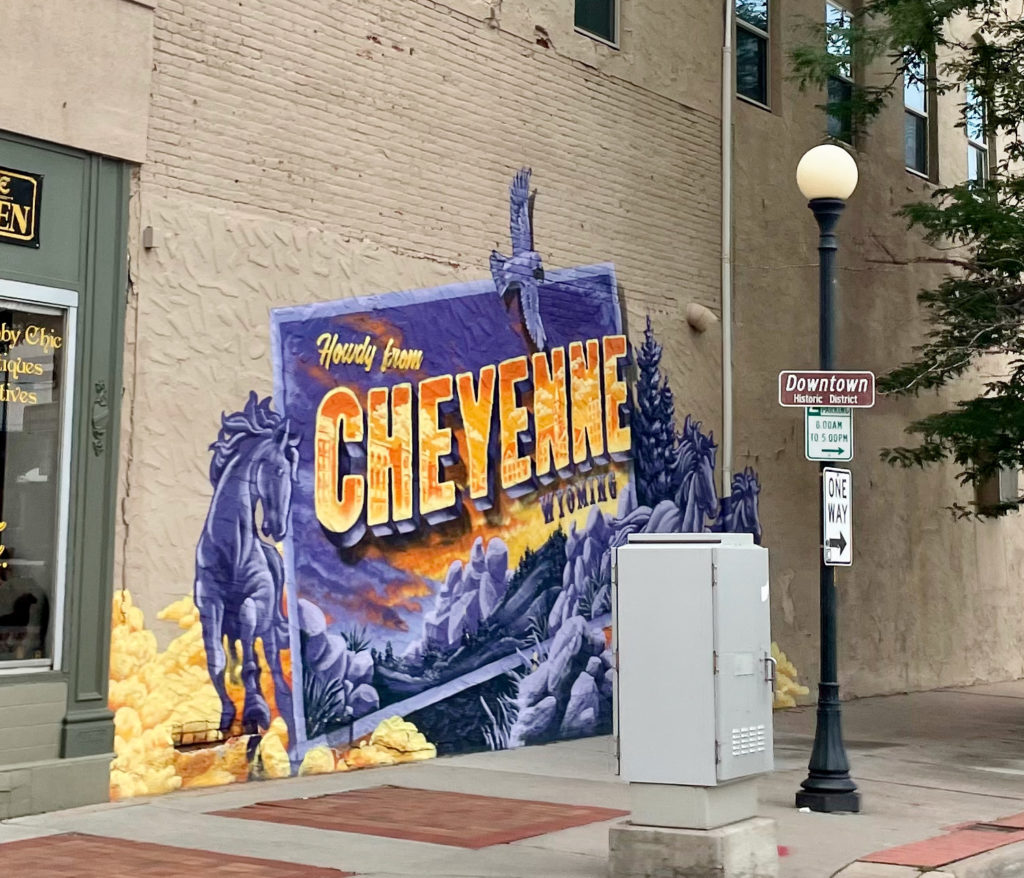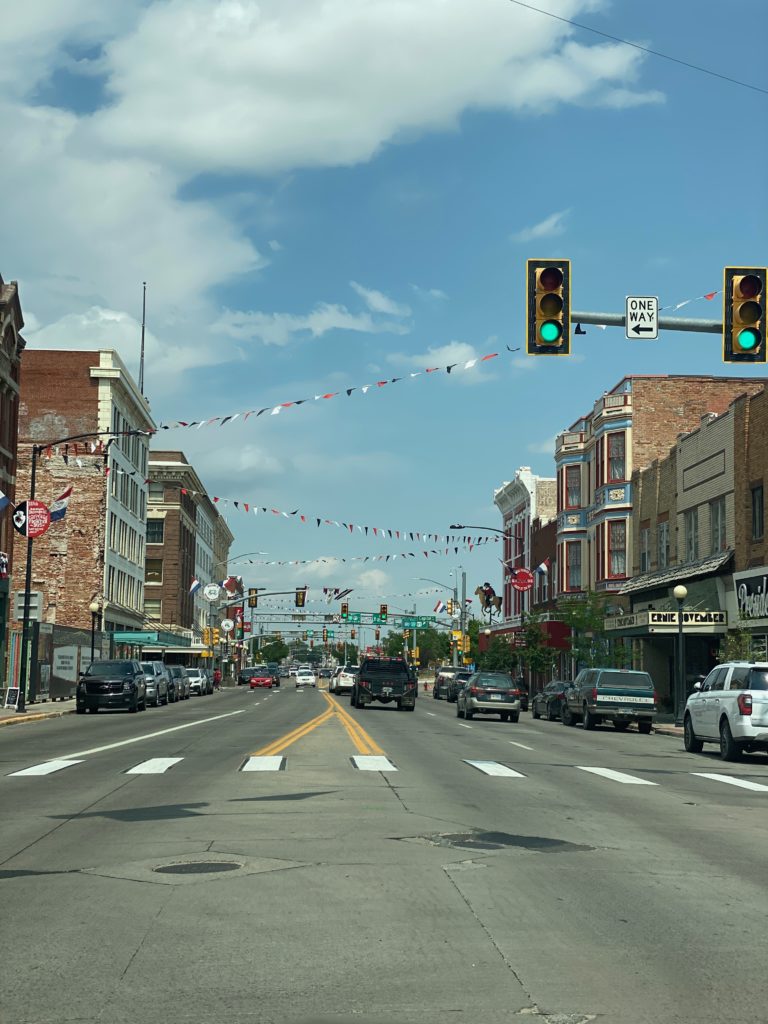 The first museum was the Nelson Museum of the West and another friend of mine was just here last week and posted online it was a "can't miss" so we didn't! The lady working was normally the cleaning lady she said, but she made my day because she flat out asked my mother if she was 60 yet for the senior discount and ruined her day. hahaha (kidding. but she wasn't happy about it)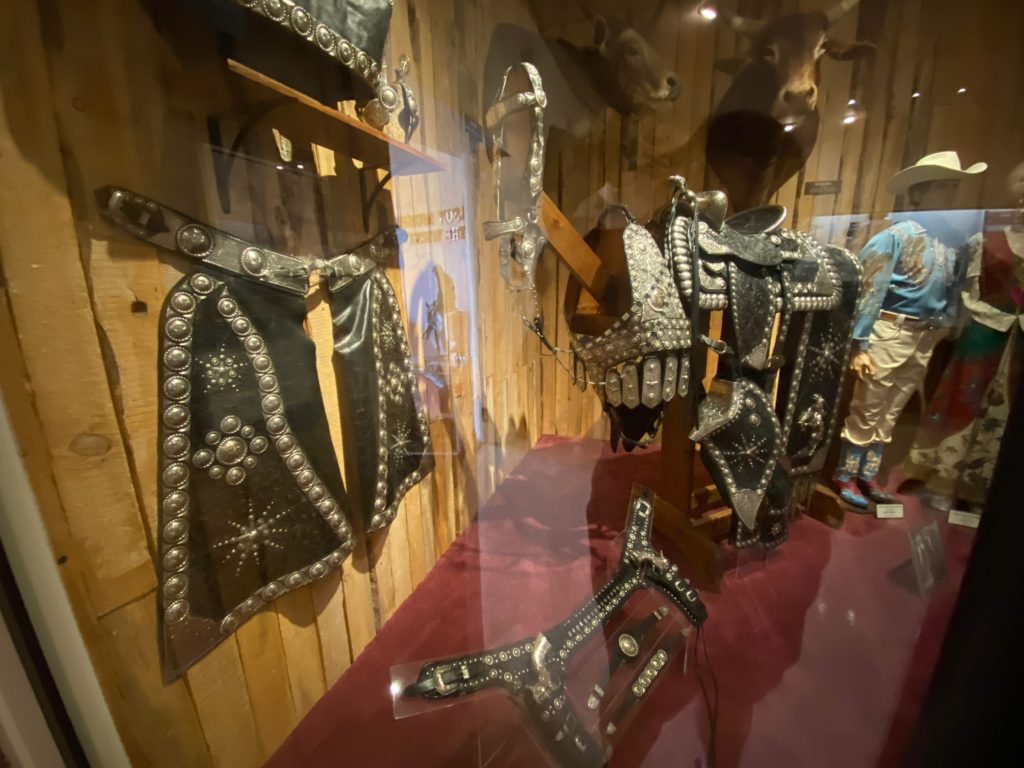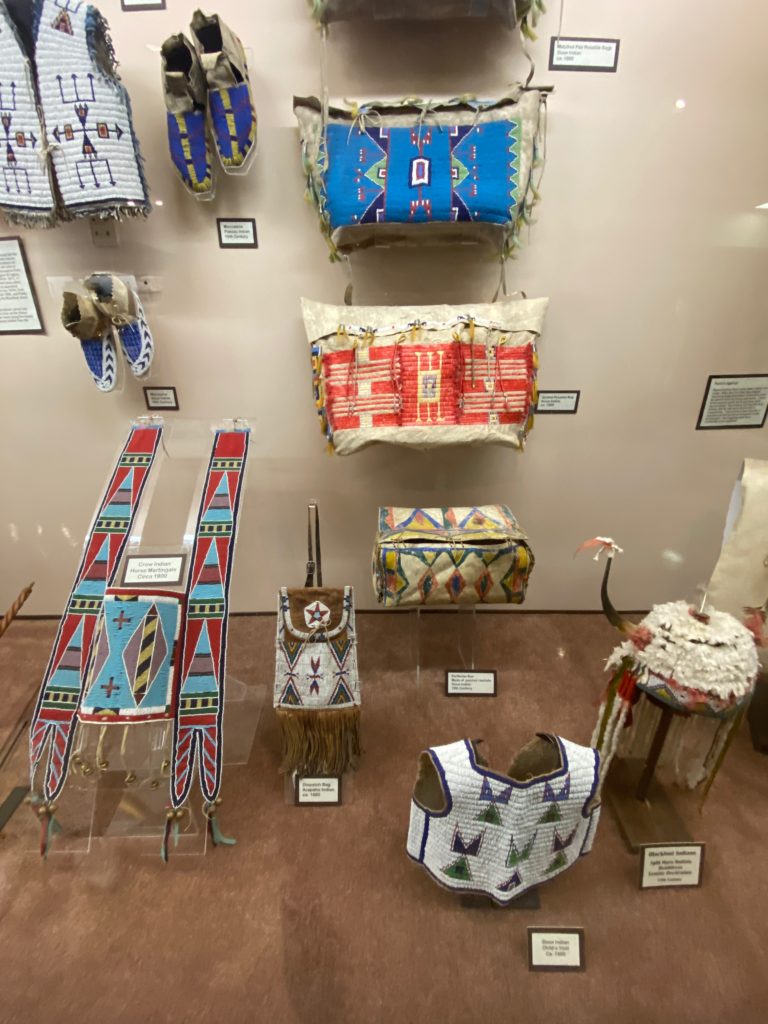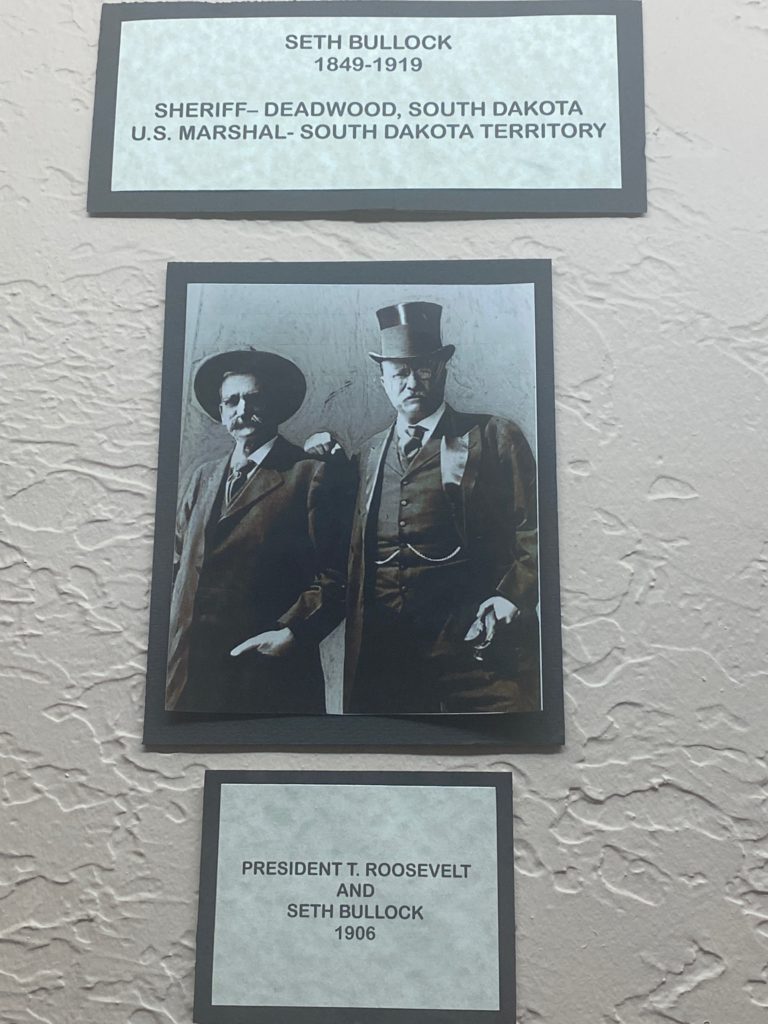 Next museum. in town- the Frontier Day's Rodeo Museum
This basically just told the history of Frontier Days and the rodeo. They had exhibits highlighting Lane Frost- one of the best bull riders of all time- who died tragically young on the arena floor at the Cheyenne Frontier Days Rodeo in 1989 after catching a bull horn to the ribcage and severing an artery.
There was an exhibit highlighting Chris Ledoux and his bareback bronco riding and his country music career. I believe Chris Ledoux grew up in the area and I know he rode at Frontier Days in the 1970s before winning the bareback national championship in 1976. Even if you don't know Chris LeDoux, you know Garth Brooks – "A worn out tape of Chris LeDoux, lonely women and bad booze, seem to be the only friends I've left at all" – Much Too Young (To Feel This Damn Old)
Lots of old stagecoaches to explore from early frontier pioneer to the latest in style and comfort leading right up the the automobile.
Last museum stop, with less than one hour before they closed (everything in town seemed to close at 5pm) was the Cheyenne Train Depot and Museum. I was surprisingly impressed with this one!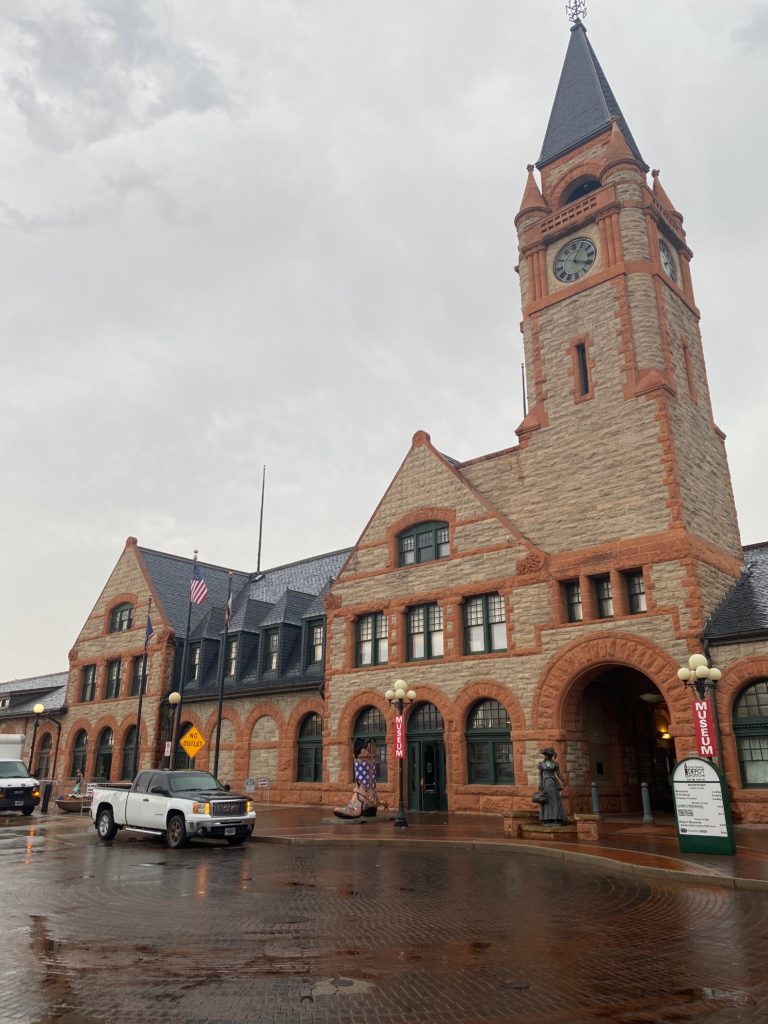 When we arrived to the museum it was 4:10 so she told us if we hurried upstairs, we could see the guys running the toy train. I was like "whatever…its a toy train"…but we went because Norah thought it sounded fun. Holy Moly! It was the KING of all toy trains. This thing took up the entire upstairs of a museum. Some guy built this all from scratch over 20 years. Scale models of toys, geographic features, cast train cars himself, made trees. It was MIND BLOWING.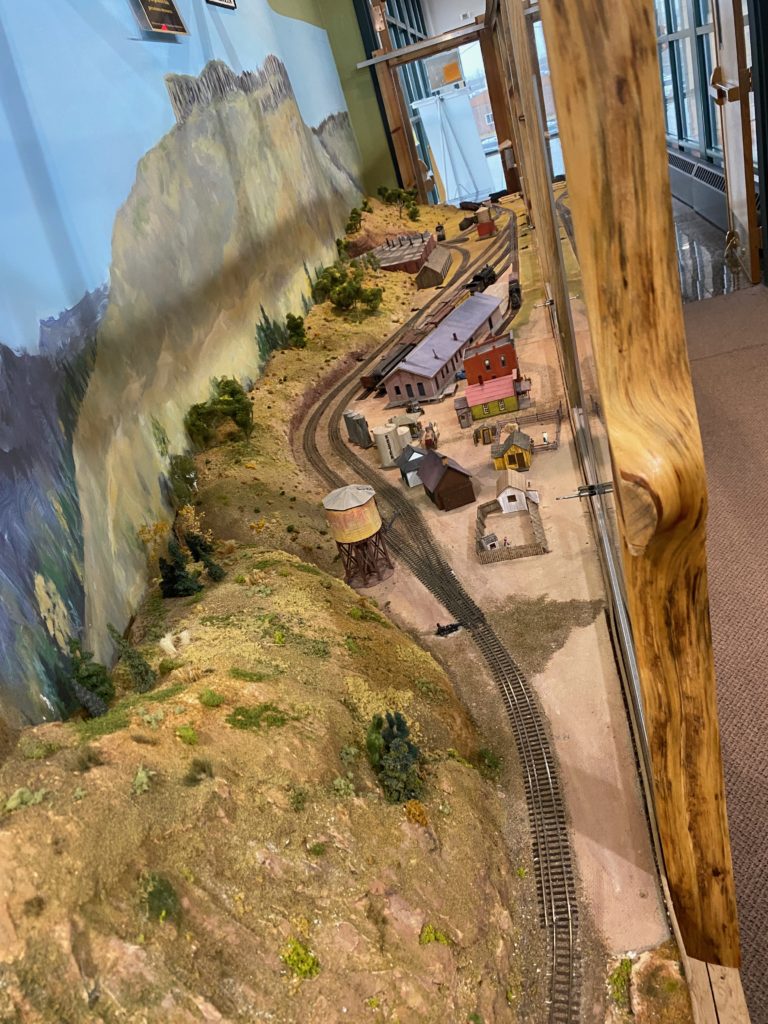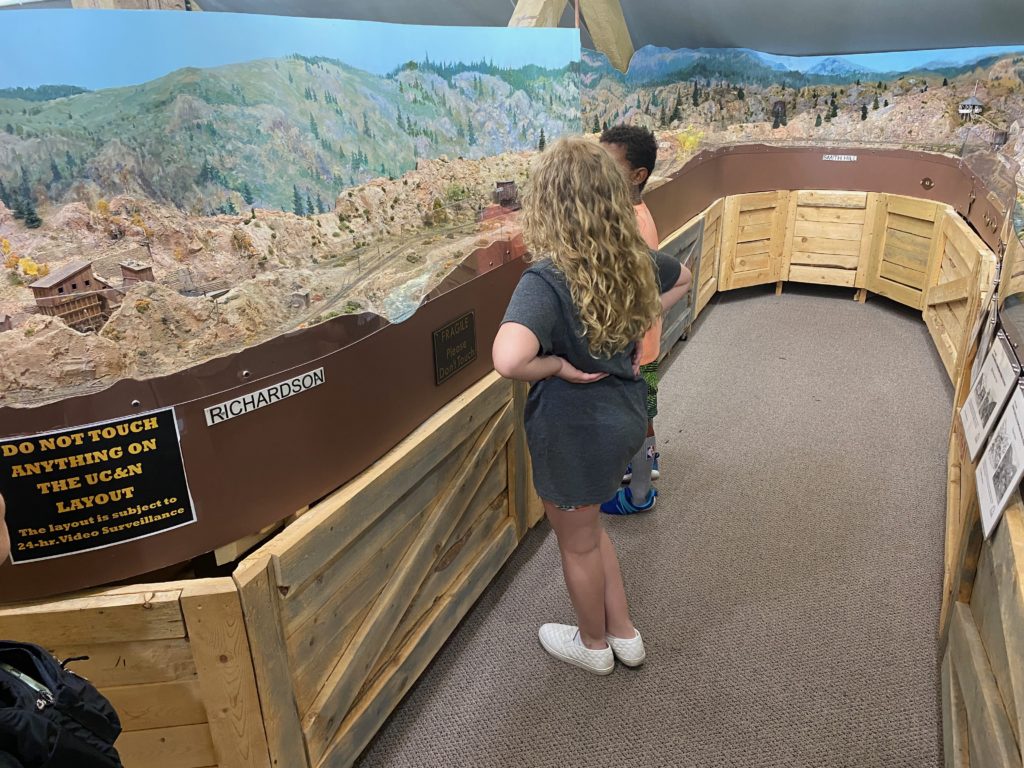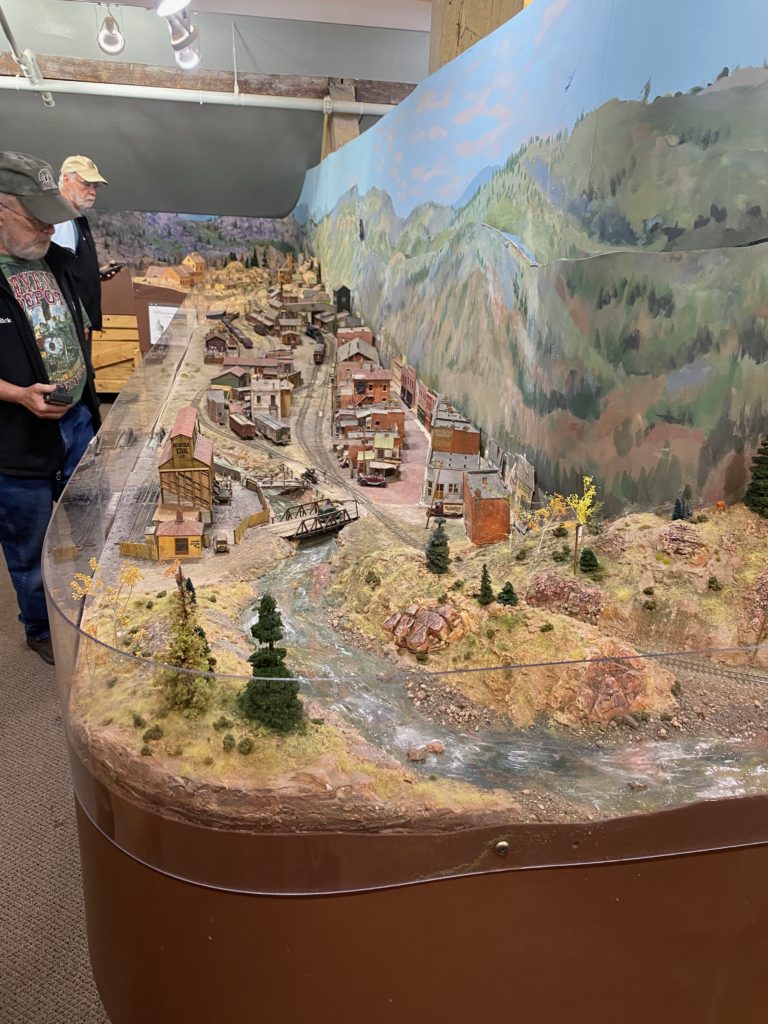 The guy had this thing built inside a trailer and he hauled it every time he moved. They crane lifted the sections in through the upper windows to get them inside the depot museum. Just unbelievable dedication and craftsmanship.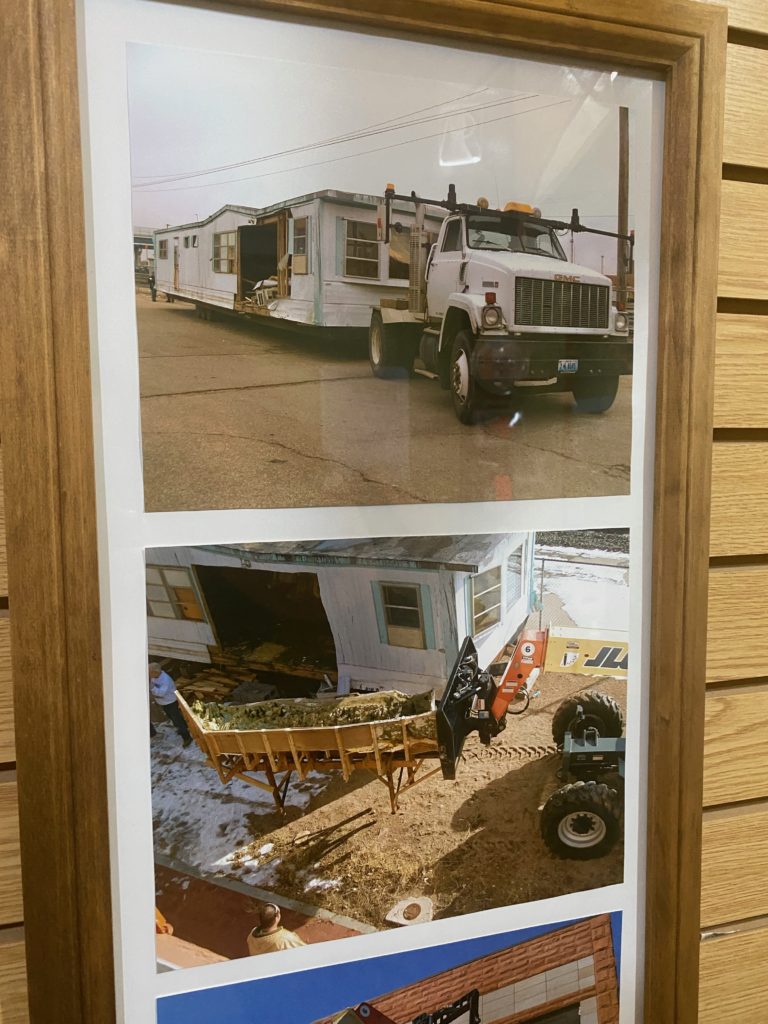 After the toy train blew my mind, we headed back to the beginning of the museum to actually see the history. It was a great display of Union Pacific memorabilia, dishes, information… but a lot of historical photos I liked from the Cheyenne area, too.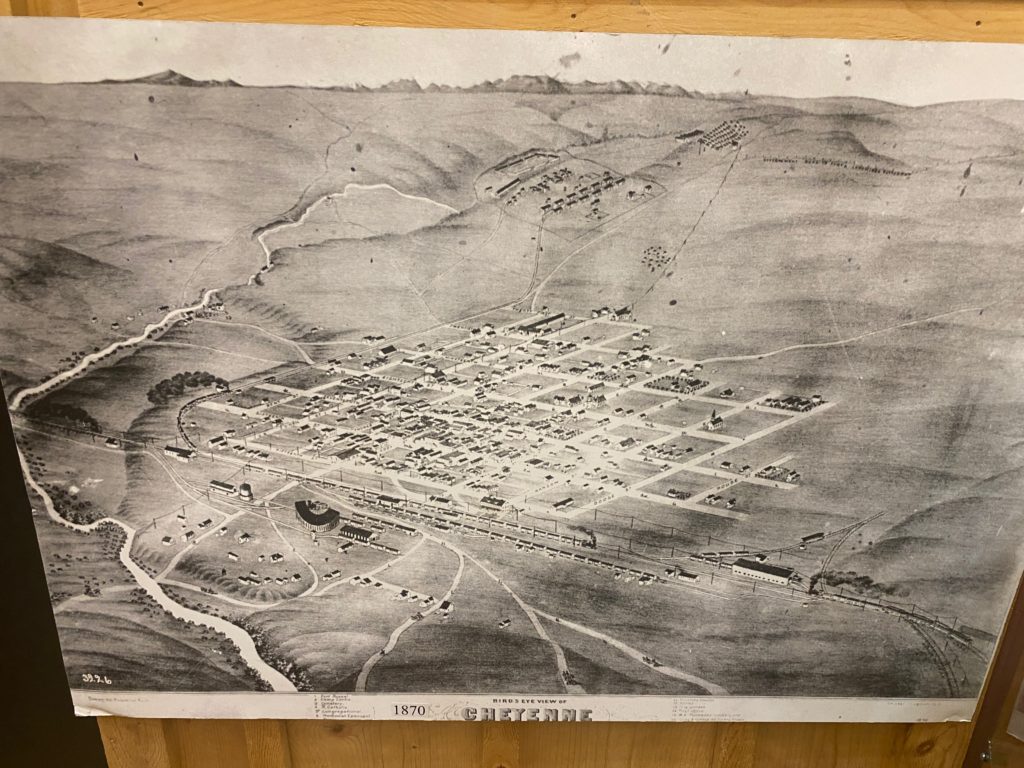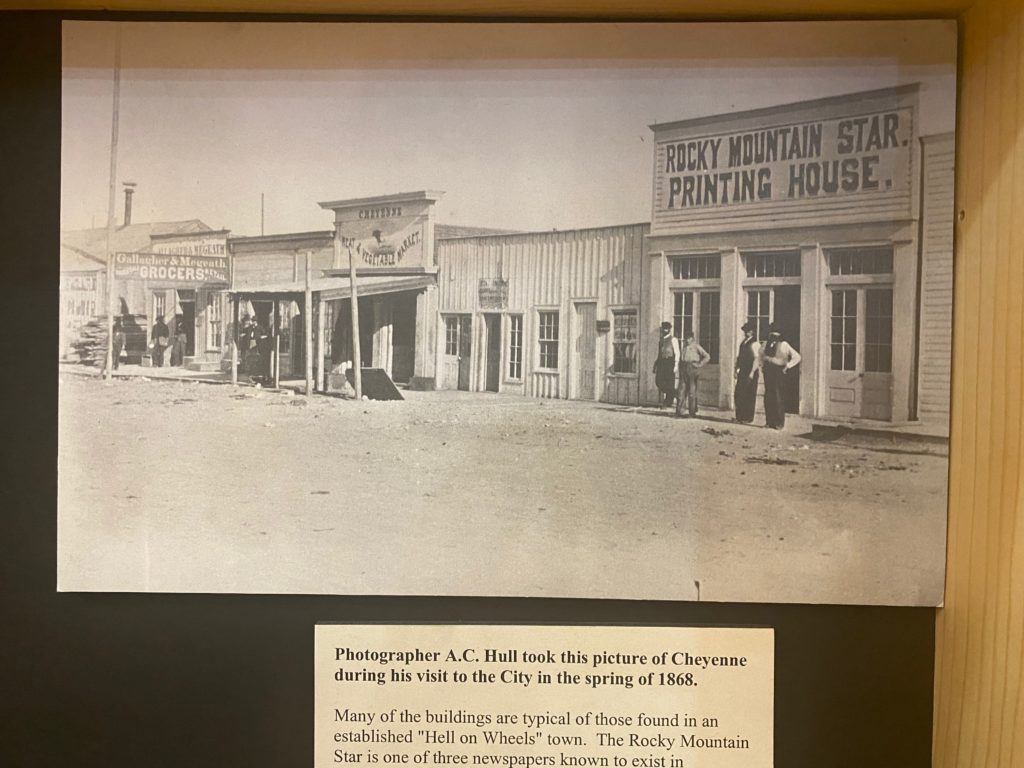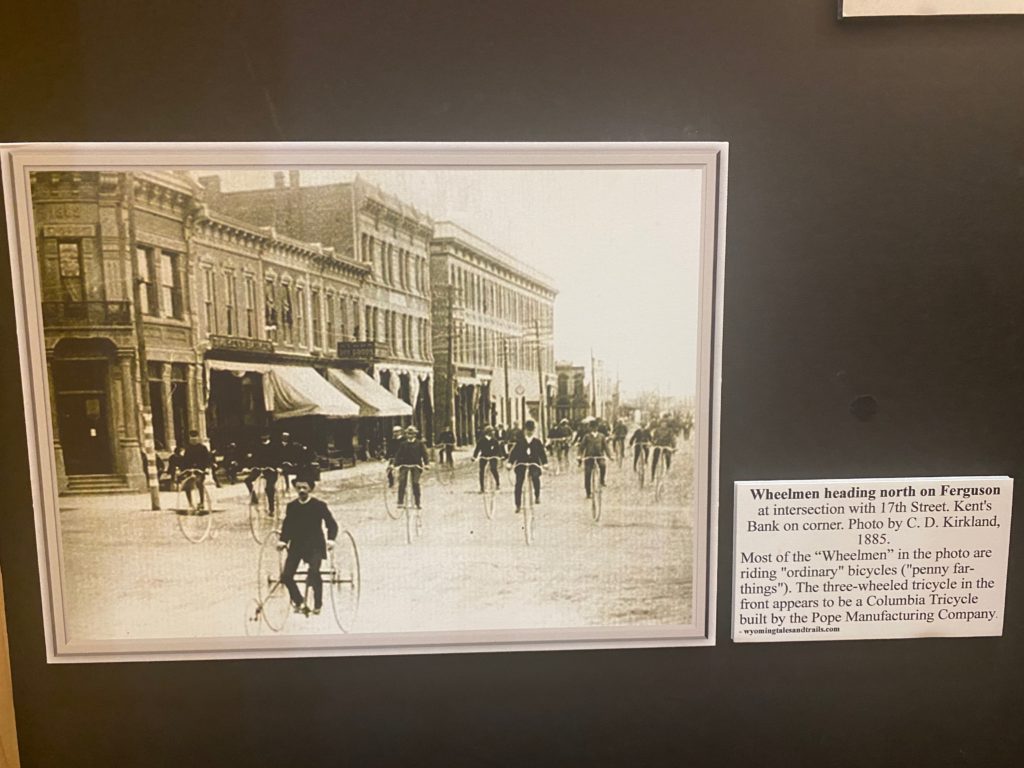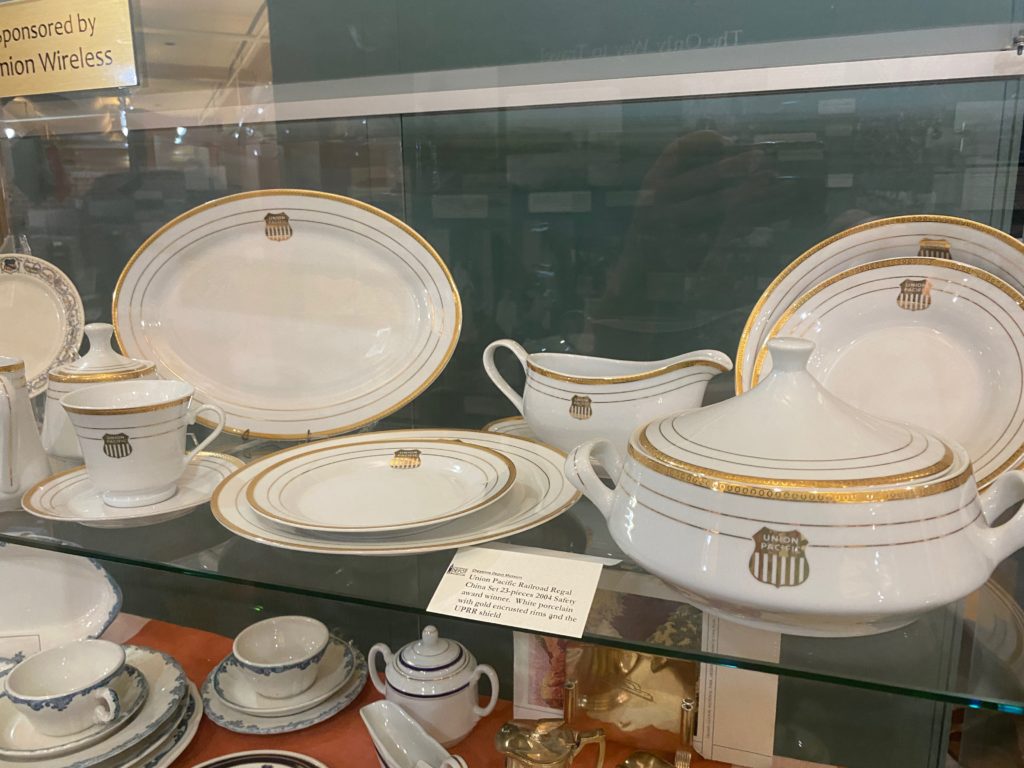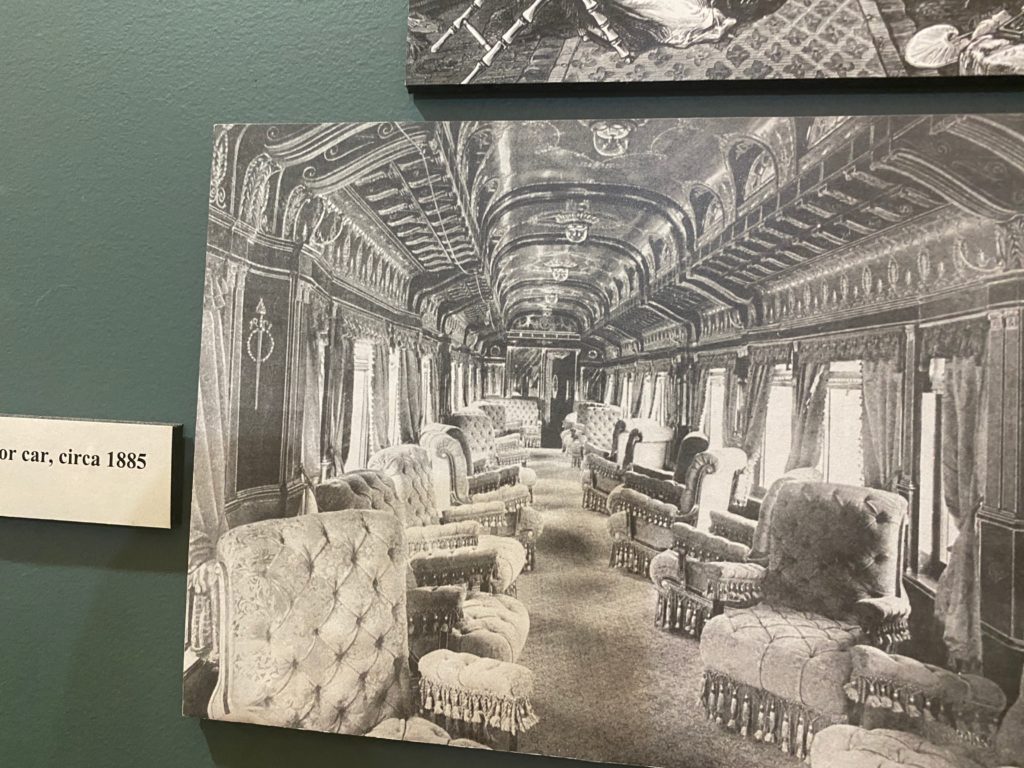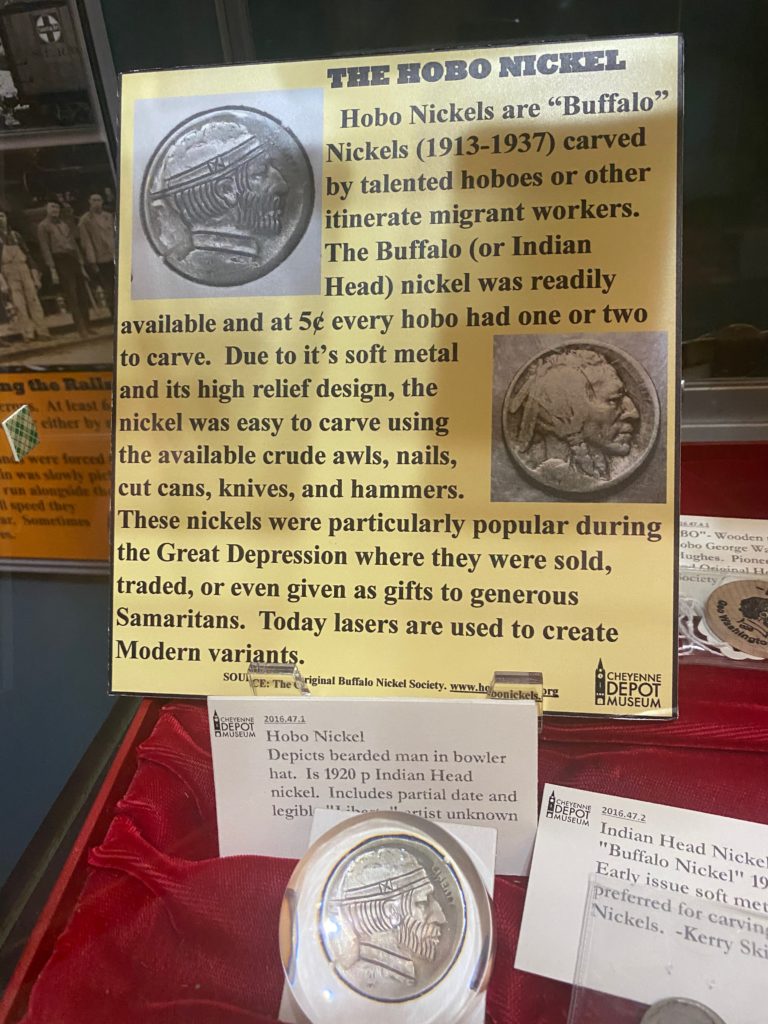 After the museums had closed, Norah had her online Spanish class, so we dumped her and my mother at our hotel and Kegan and I went seeking fuel and alcohol. ha He was looking for a particular "Summer" pack of beer and we had an hour or so until dinner. We successfully found both.
For dinner, we had Durbar Indian and Nepalese Bistro. Really good Indian food. I had lamb tikka masala and some grilled tandoori meats, Norah had chicken tikka, Donna had dal mahkani and Kegan had Lamb Rogan Josh.. and we shared and tried some Nepalese momo- which are dumplings.
We drove back into a storm that looked scary to our Candlewood Suites in Cheyenne. Gross hotel. Not well cleaned, smelled like fried fish, rotting lettuce and stale cigarette smoke…someone else's comb still in the bathroom, the pull out couch bed had hair and junk all over it under the cushions. Carpeted halls had carpet peeling up every few feet. Bleh…It may have been free, but it still was gross. I'm an idiot and apparently only booked a one bedroom for the night-so that stuck Norah and my mother on a sofa bed..and no other rooms available for the night. Good job, Erin.