Hey everyone! Its officially Fall Break today and we are headed out for a fun trip to New York!
In true McKinney vacation fashion, I have our itinerary jam packed to see as much as we can in our week there. And also, in true McKinney vacation fashion, we've already had tons of fun travel issues. ha
This is another "free" vacation. We are booked for 8 nights at the Holiday Inn Times Square in Midtown. I had been keeping airline points active for a few years trying to find a destination we were going to that I could actually use American points but struggled since about 2018. There are always 2+stops or terrible flight times, etc… Finally in 2020, I was prepared to let them expire and just lose the points…and Covid allowed them to be extended again! And so in the depths of the Covid New York lockdown, I was able to use the points to book 3 round trip tickets non-stop from Cincinnati. So all was well until 2 days ago when American cancelled our flight to LaGaurdia. Stuck us on a flight to Washington, DC that had a 20 minute layover and a connection that required going through security or a bus to get to the next flight. Not happening. ha Then…they had the audacity to overbook the flight to DC and asked if anyone would like to move to another flight. Well, none of the alternates they offered online worked for us. So, I called them because I saw that Indianapolis still had a nonstop to LaGuardia open for Saturday morning. 2 hour wait to speak with someone. (It's 10pm) Ok, mark my place in line for a callback. I get a callback around midnight, the lady is super quick and seems on it! I tell her I'd like to switch to the Indy flight, she says sure- let me check with our booking line to make sure I can do that for you. Puts me on hold. For an hour. and. 10. minutes….before I finally gave up, hung up, called the line again and got back in the queue. Now only a 30 minute wait! ha They call me back-now 1:45am or something silly, I explain to the lady from my sleepy stupor that the connection is BS and we'll never make it and I'd like to change to Indy and she starts arguing with me that there is no way I'd have to go through TSA again on a domestic flight (which I agree is REALLY weird and I wouldn't have believed either… except I looked on the airport's own website under "connecting flight info" where they expressly state I'd have to go back through security. ha AND… I looked on Reddit to see if anyone was asking about minimum connection times. I'm definitely not crazy. about this subject anyway. ha. So, after that, she was very helpful and rebooked us on the Indy flight (which was good, because when I went through the motions to purchase the tickets to check the information it showed they would cost me $4100 to book that flight!)
So, had to cancel the Cincy hotel, cancel the Cincy dinner reservations (which was very disappointing for Norah because I had picked out a place that had Belgian Waffle desserts and she was pumped), then make an Indy hotel reservation…but here we are in Indy, flying out on a 7:30am flight to NYC!
For dinner tonight, we kept it pretty simple since I didn't have any time to make reservations anywhere too fancy. We had a really good time at Homey Hot Pot with cousins a few weeks ago, so we went there again. It's at 38th St and Lafayette Road and they have a huge buffet of raw seafood, meat and vegetables that you bring back to your table and cook in a soup broth that is boiling on a burner built into your table.
I got the spicy broth and as you can tell from the photo, I had already made a mess when I dropped a piece of beef with broth all over it on the table and into my water glass. haha You cant take me anywhere.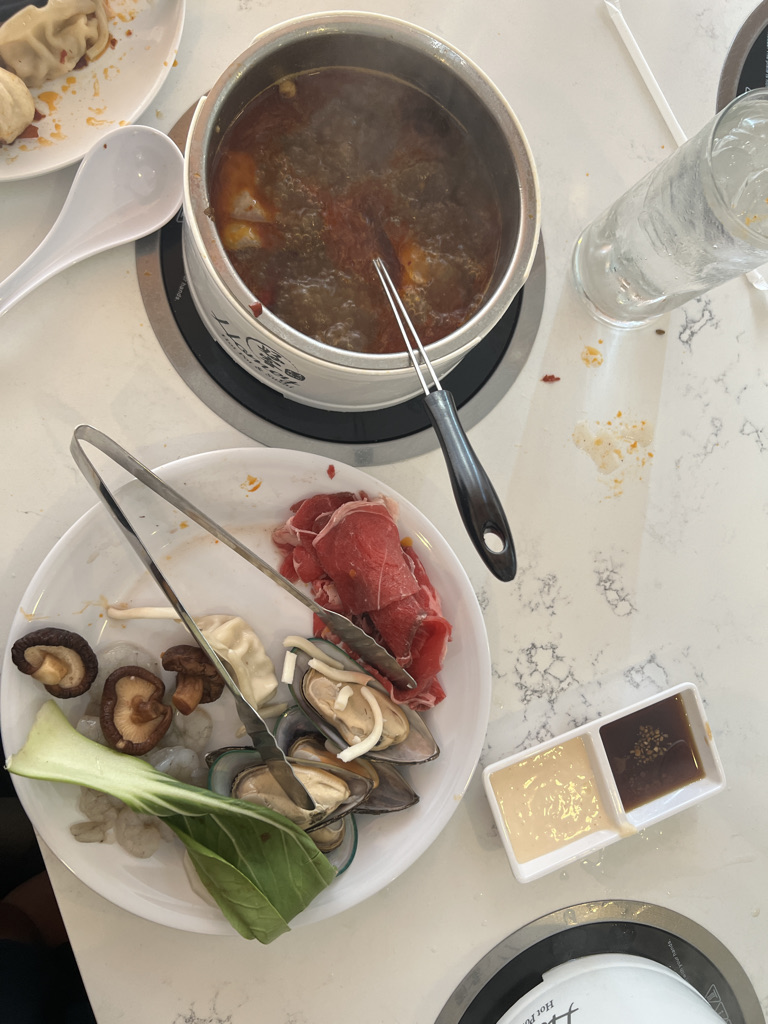 After dinner, we got to our hotel, I realized I forgot to pack socks for Norah. Whoops, so out to the store I went for socks. ha Hopefully that's all I find I forgot!
Our basic itinerary looks like:
Saturday- Midtown- Penn Station, Rockefeller Center, St Patrick's Cathedral, Grand Central, New York Public Library, Bryant Park, Times Square, etc.
Sunday- Hudson River cruise to see the Statue of Liberty and Ellis Island as well as some famous bridges and sites, then lower Manhattan/Wall Street, ending in Chinatown
Monday – Chelsea, Greenwich Village, Tribeca, NYU, FlatIron District, Central Park
Tuesday – Metropolitan Museum of Art and seeing Wicked on Broadway
Wednesday – American Natural History Museum, Harlem, North Manhattan,
Thursday – Queens/Flushing for some World's Fair and historic sites as well as some great ethnic food, Roosevelt Island
Friday – Train upstate and driving around small towns- seeing a friend/coworker for lunch in Woodstock
Saturday – Brooklyn and DUMBO, meeting a friend from high school for some coffee or ice cream (depending on the weather) and maybe visiting Coney Island in the afternoon/evening
Sunday we head back home early morning and we'll see if we are exhausted of the city or ready to make a move to New York! ha
Notably missing from the itinerary- Staten Island, Long Island, The Bronx and Jersey… not enough time to fit it all in. Guess we'll just have to come back again 🙂
I'll try to post every day, but my posts may be delayed because Saturday and Sunday are pretty loaded! It may take me until Monday night to get caught up 🙂
Here is the Google Map of my planning. Green is an interesting site or restaurant I have marked from research …and the blue dots are things we are booked to do on this trip. We are going to be busy 🙂 But I'm pumped.