Today was a sight seeing day…and ended up being a pretty light one. I'm usually really good about timing how long things take and how much space we need for each item on the itinerary, but I keep over estimating everything here and we end up with a lot of downtime in the middle of things. But that's OK… it might be nice to not be totally exhausted after a vacation for once. ha We checked out of our hotel and headed to the National World War II Museum. We arrived via Lee Circle- named after the monument in the center in honor of Robert E. Lee. As you can see… the statue has been removed and is now just an empty pedestal. It was one of 4 monuments removed in 2017 by vote of the city council that were dedicated to confederate slaveholders.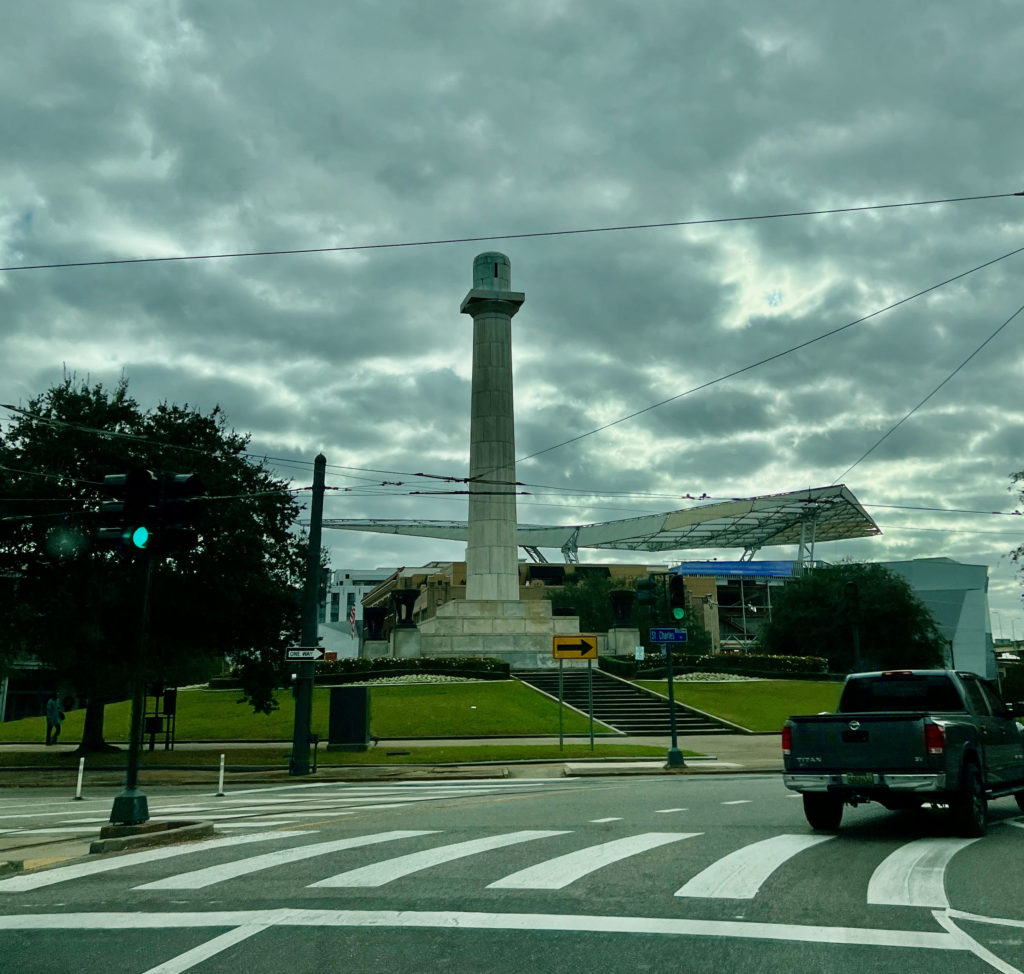 I definitely see the "you cant erase history" side of the argument…. but in a city that is 60% African American… I think I have to agree that if 60% of the city sees these monuments in a negative light and as a sign of an oppressive past, what is the benefit?…. interesting to actually see the empty circle standing as a sign of changing times.
We arrived to the museum…and it was a bit bigger than I anticipated.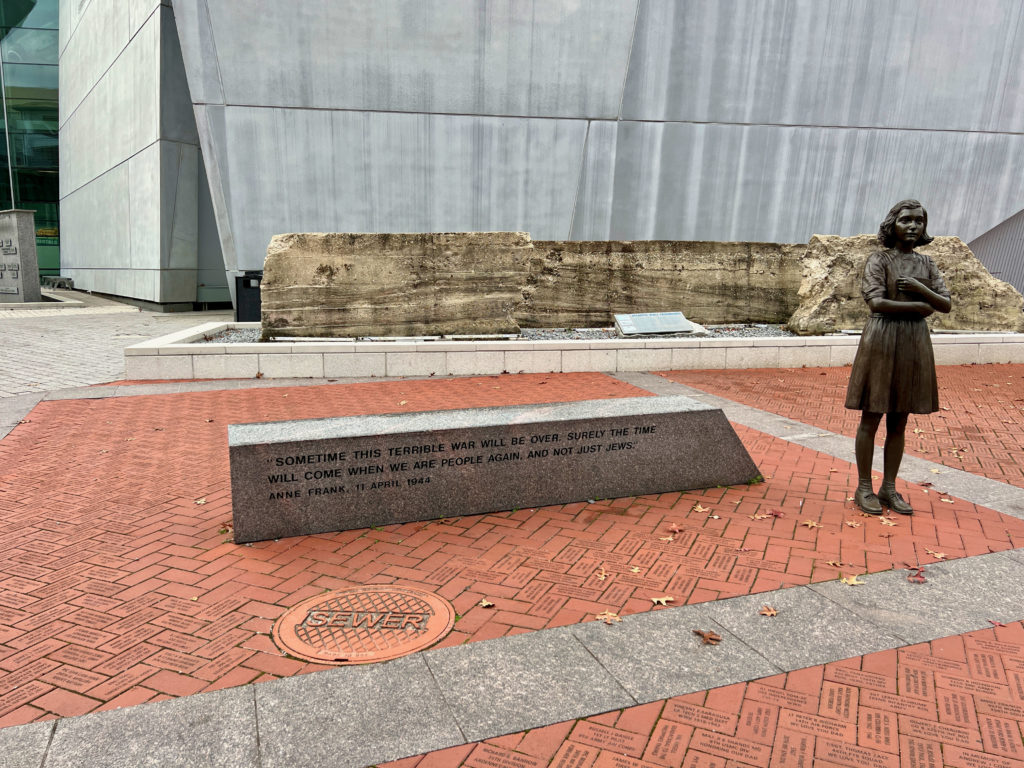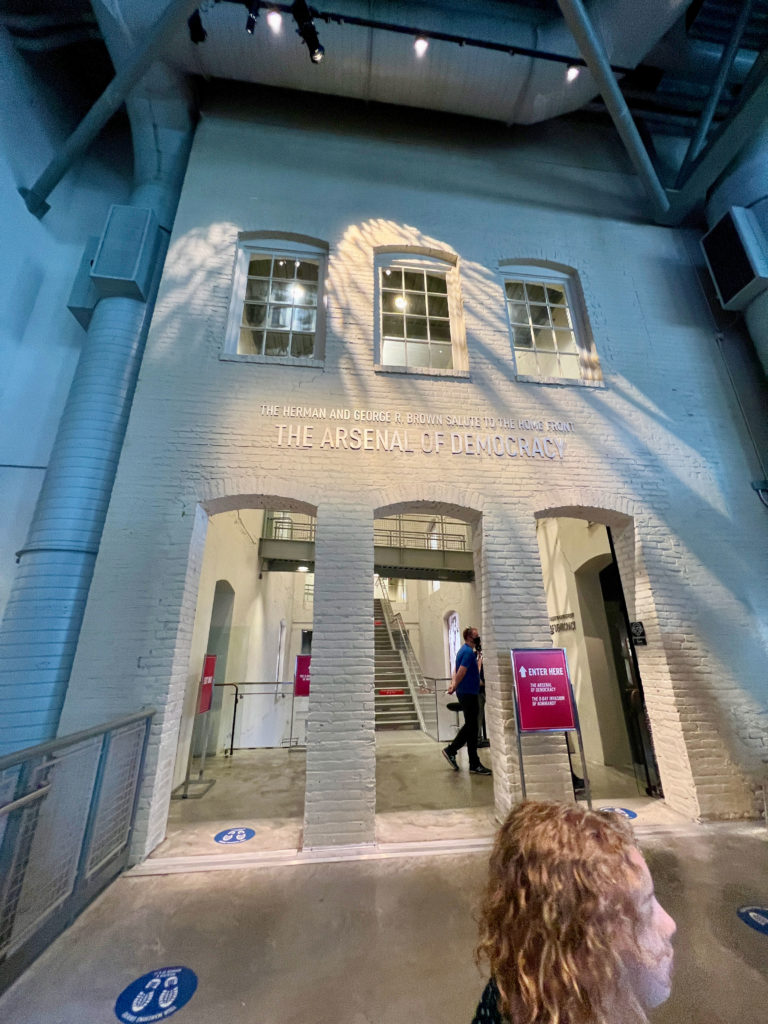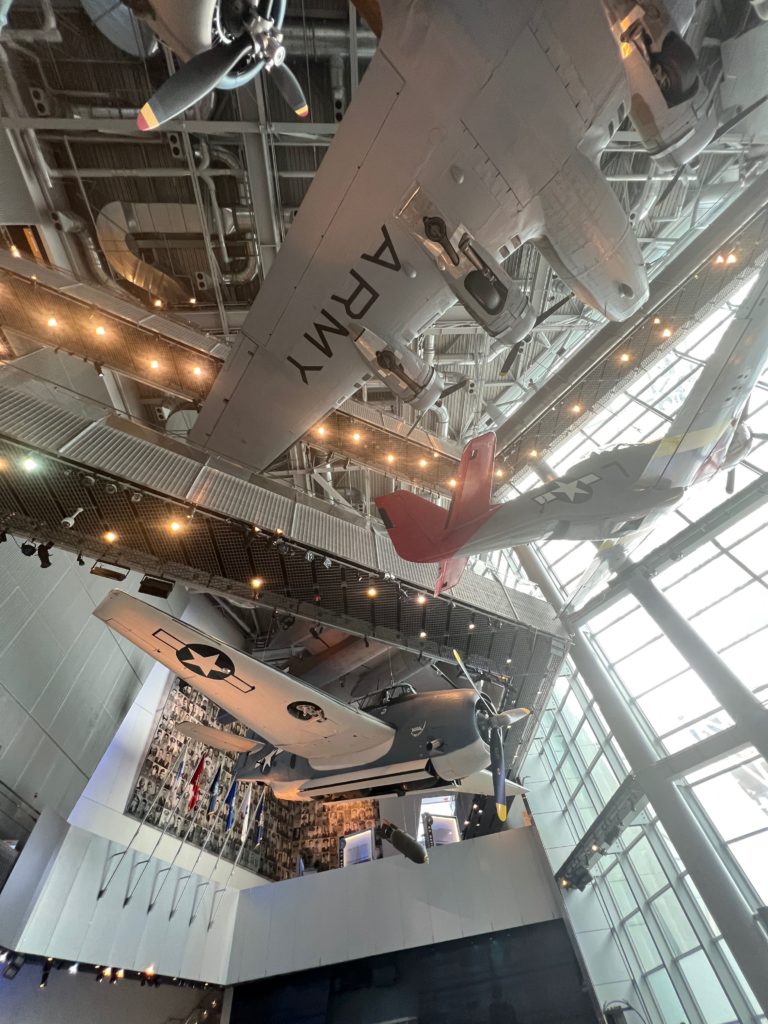 My only complaint…. and you know by now, I usually have to have ONE. lol Is that even though it is the NATIONAL World War II museum, so one would expect a very American-centric view… it was painfully so. There was almost zero mention of Russian assistance in terms of causing the split of German forces that made it possible for D-Day to succeed…and Russia lost 20 million people in this war. To minimize their contributions and almost leave them out of the story completely just felt wrong. The museum acknowledged the internment camps of Japanese Americans- but almost became a propaganda film about how good they were treated while there. Our trip this summer to the Topaz Museum which focused on the camp from the perspective of interred Japanese Americans painted a very different story of burning furniture to stay warm in the winter and the total loss of personal property and businesses that were never addressed after their release.
My reason for being annoyed about it is not to downplay the American role in the War. We really did "save the day". We sacrificed, we banded together- we worked through a lot of American issues at home (women in the workforce, minorities allowed in factory jobs., etc) to create a fighting force and equip our military in a way we could have only imagined prior. (I think in the museum they stated that prior to the war, America's military strength was ranked 19th, behind Romania. That's hard to believe with today's military budget and innovations). But to gloss over the real facts and put that sacrifice into perspective in the grand scheme adds to a characteristic I tend to be annoyed by in America. Our schools and media teach our children that we alone are good enough, we alone save the world and that its our American exceptionalism that makes the difference…and I think that adds to the "us vs them" mentality of seeing ourselves as different from every other country in the world. And I know it benefits our government that we think that way…and it has its benefits for us as a country that Americans believe we collectively have this in common in terms of "sticking together" through crisis. But…just a personal pet peeve. I like the facts and only the facts, please. 🙂 We love the glory of the victory, but we tend to forget to give credit to the shoulders we stand on.
Some other random images from the museum that caught my eye…and were new to me or intriguing.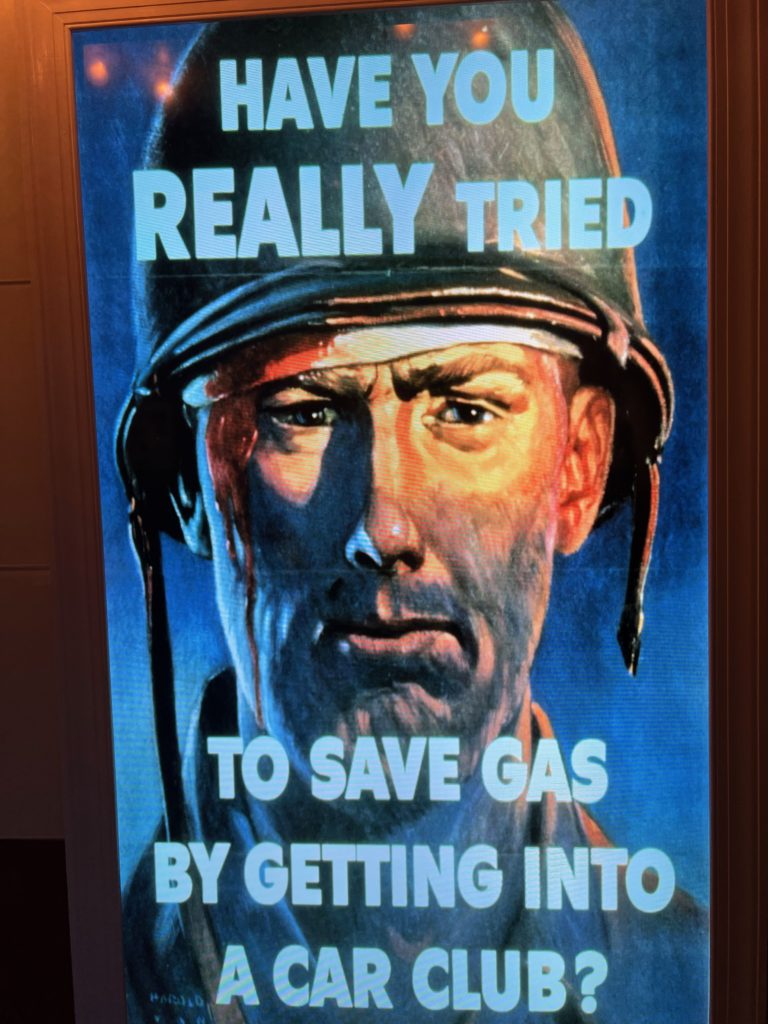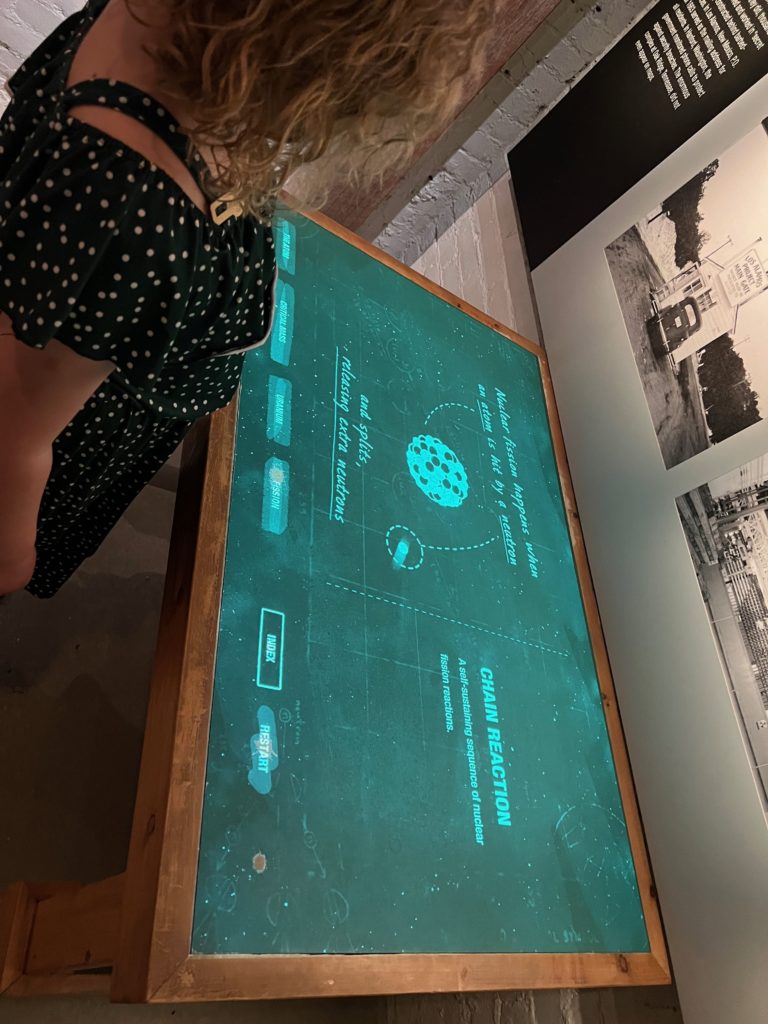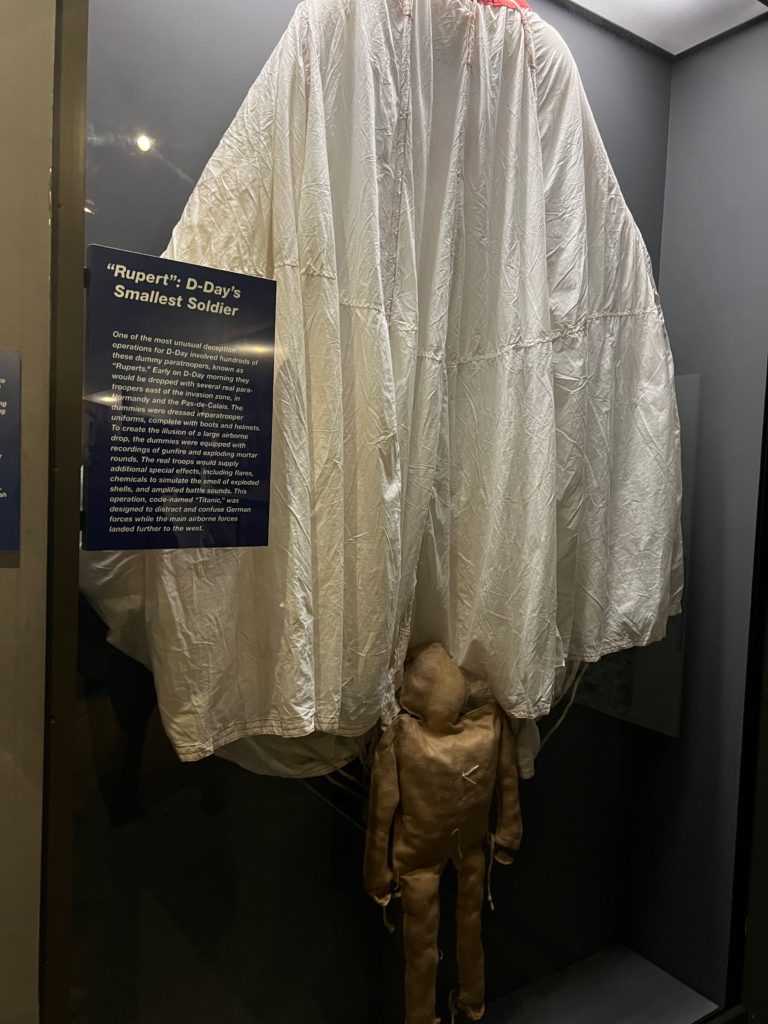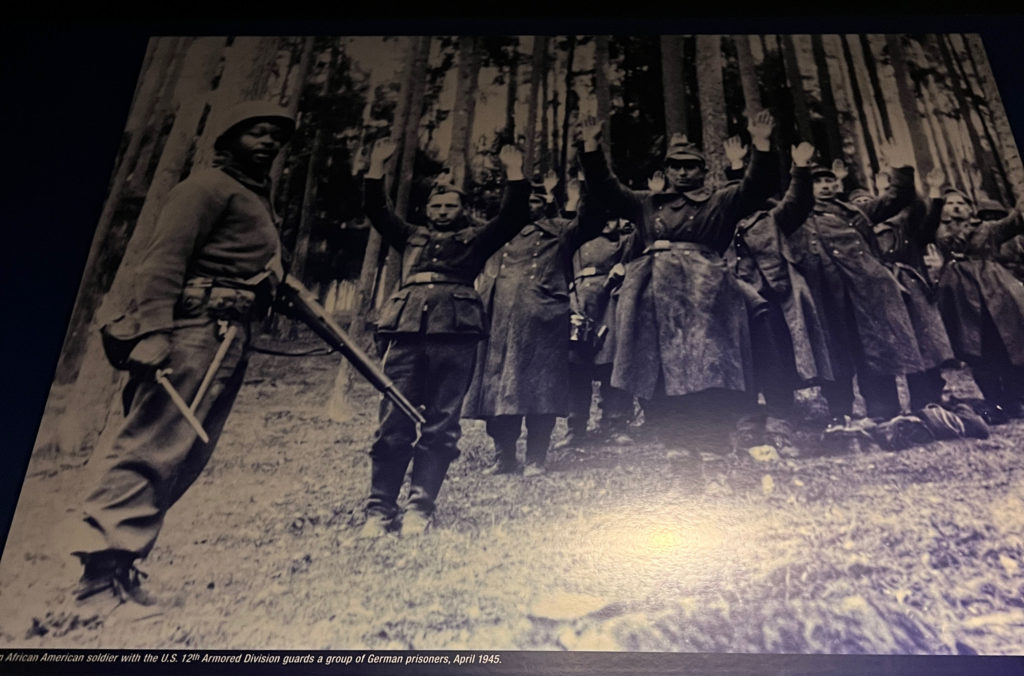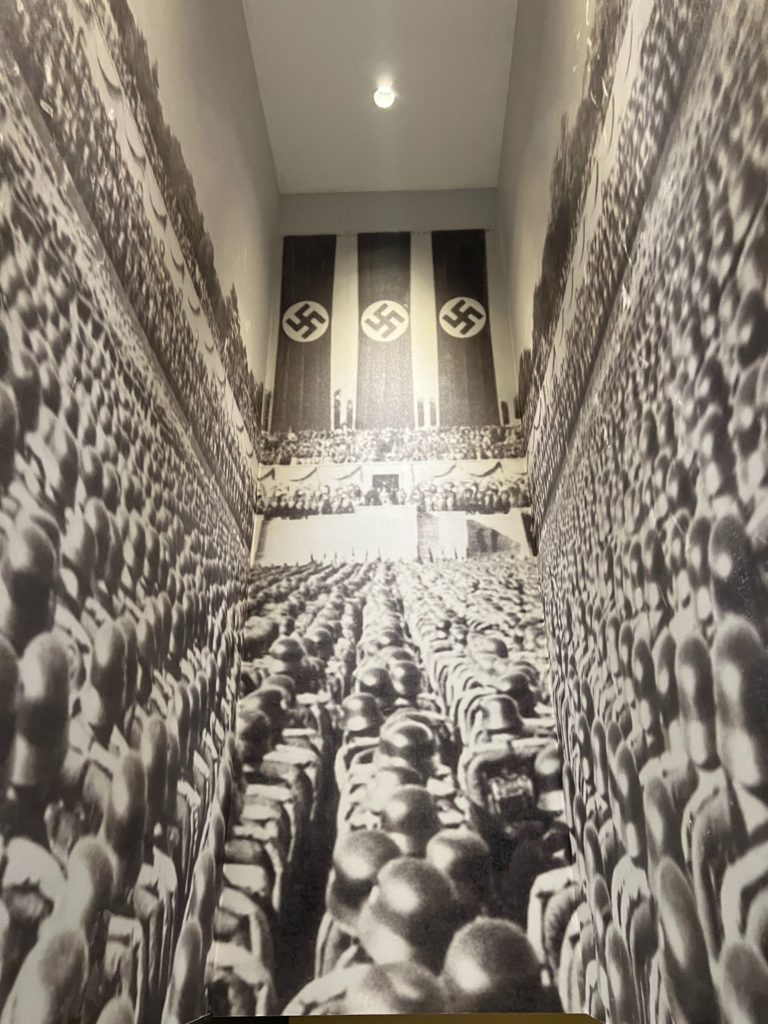 There was also a Victory Theatre with a very good film covering the highlights of the war. I would recommend adding on that with your tickets if you visit.
After we had soaked in about as much World War II as our brains could handle, it was time to lunch. Right down the block was Cochon Resturant and Cochon Butcher. We first tried Butcher…but it was super crowded… and there were just a couple items I had my heart set on… and the full restaurant had those as well… so we chose to go grab a table at the restaurant.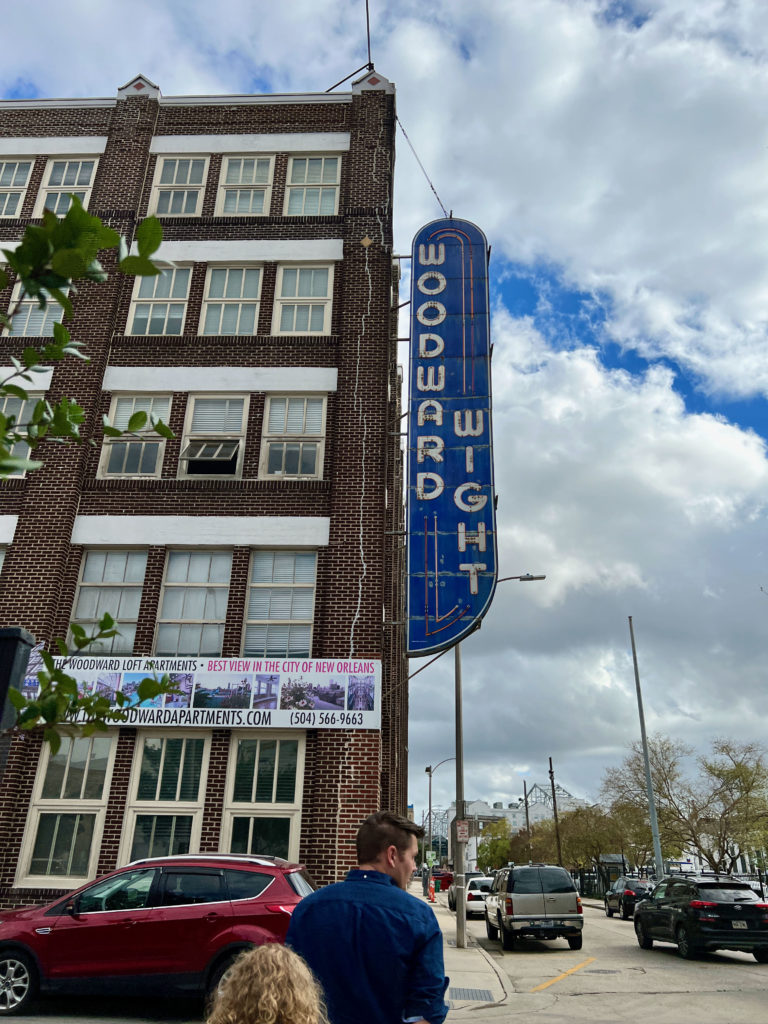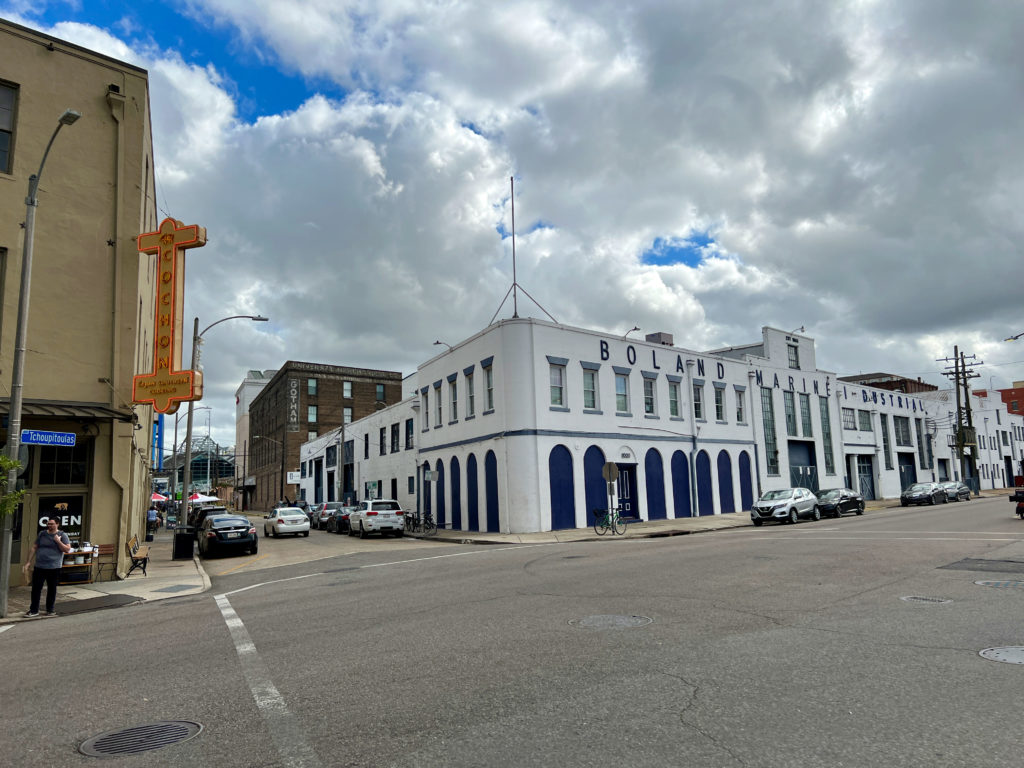 We ordered about every appetizer and boucherie item on the menu and shared them between all 3 of us.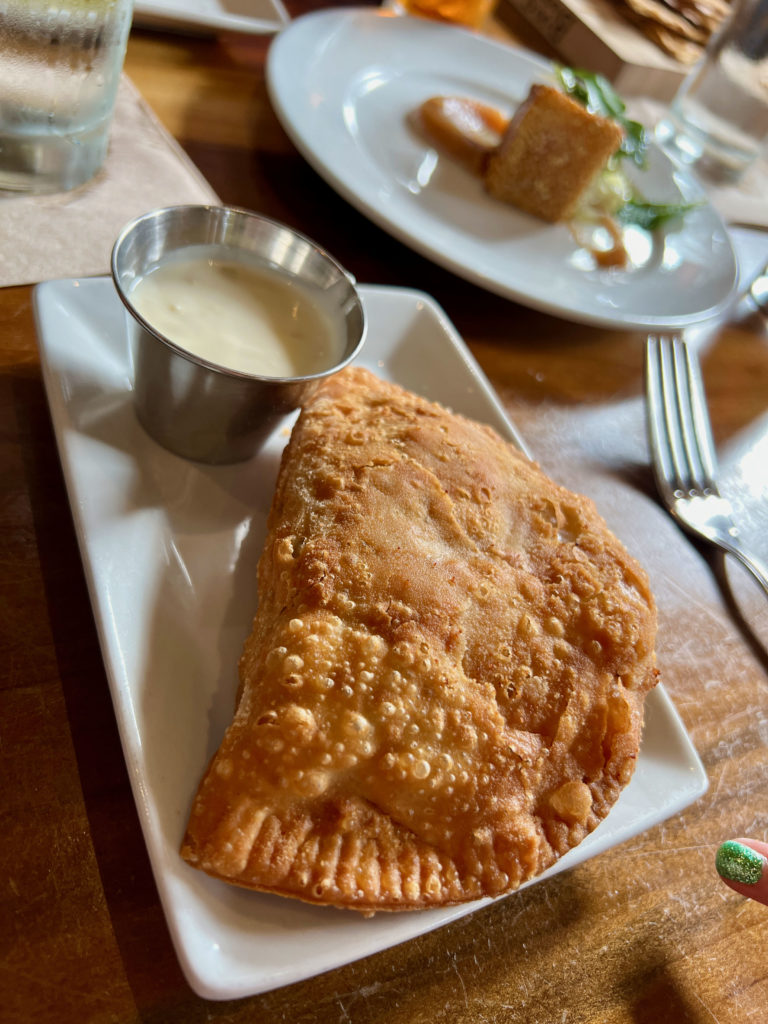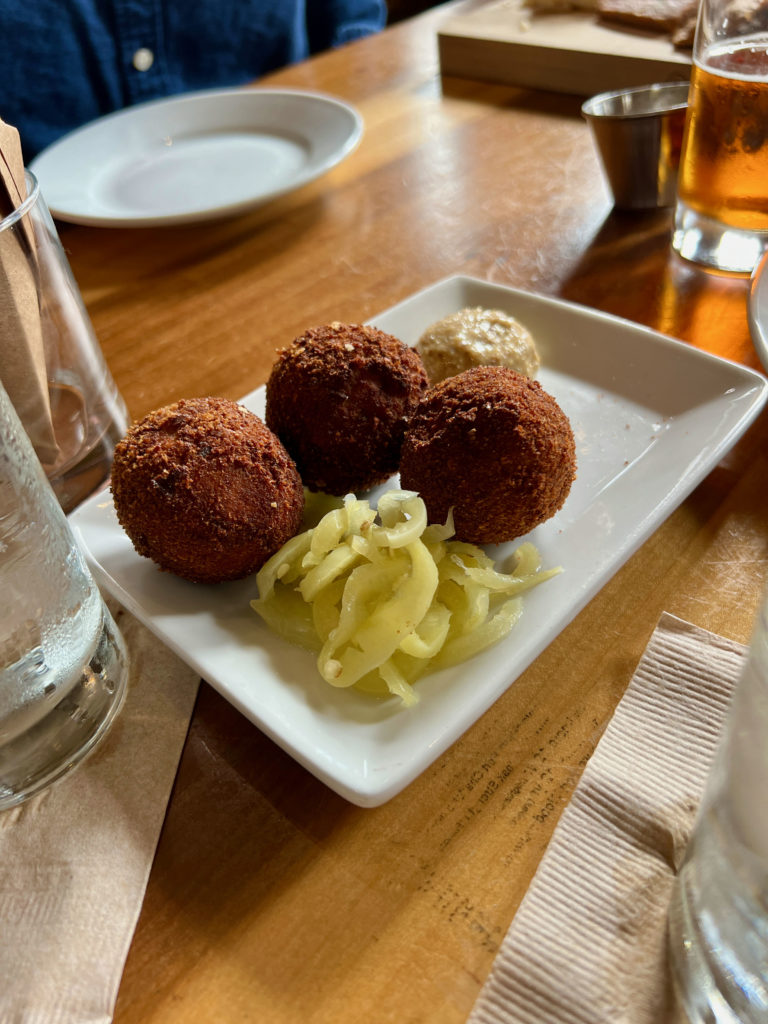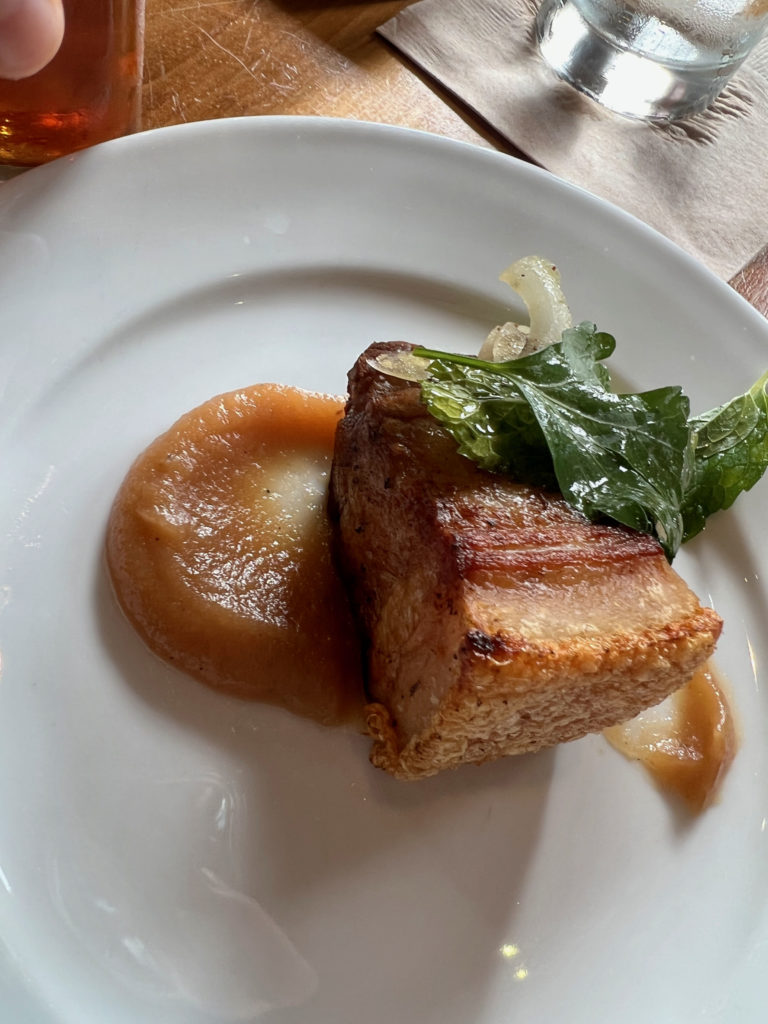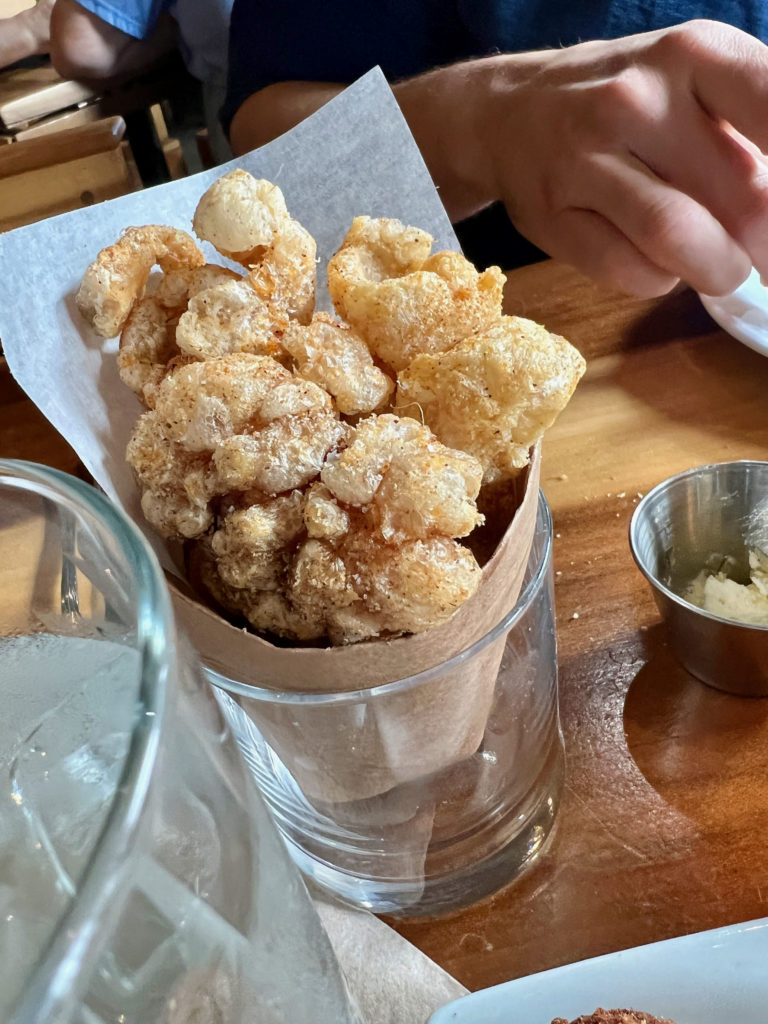 Every dish was amazing. The pork belly had an apple butter base and was garnished with Vietnamese clove and star anise pickled onions and Thai basil. I could not have imagined a better combo together if I tried… amazing.
After lunch walking to our next spot, we still hadn't had coffee yet… so we stopped in Provisions, a coffee shop at the Hilton.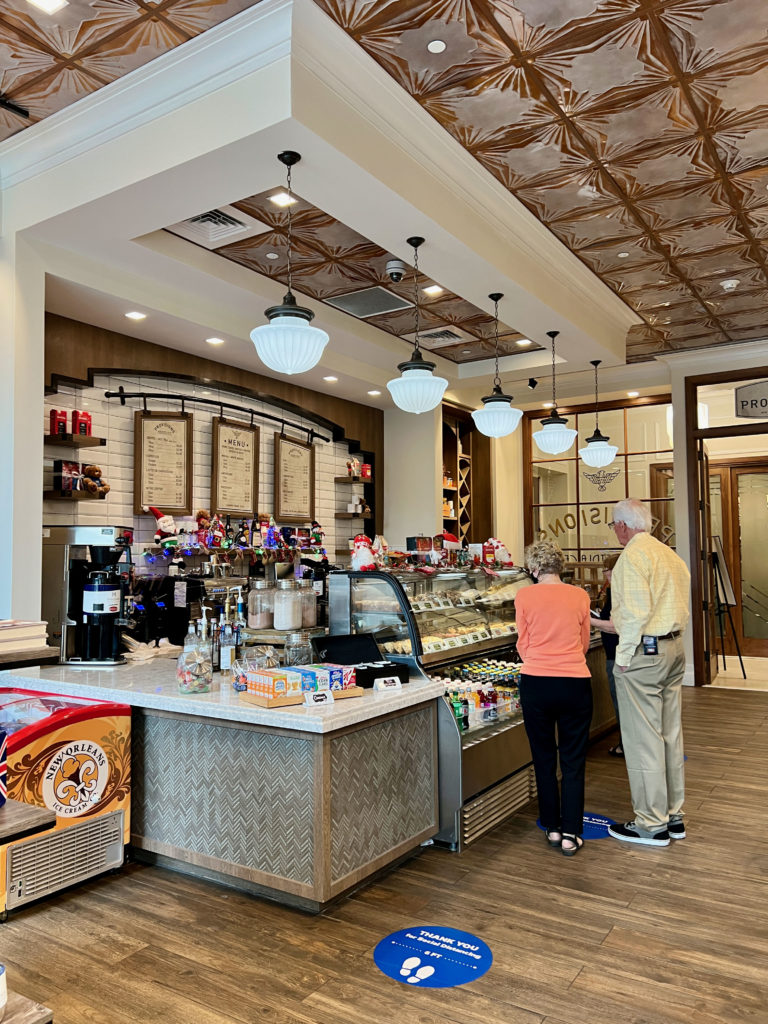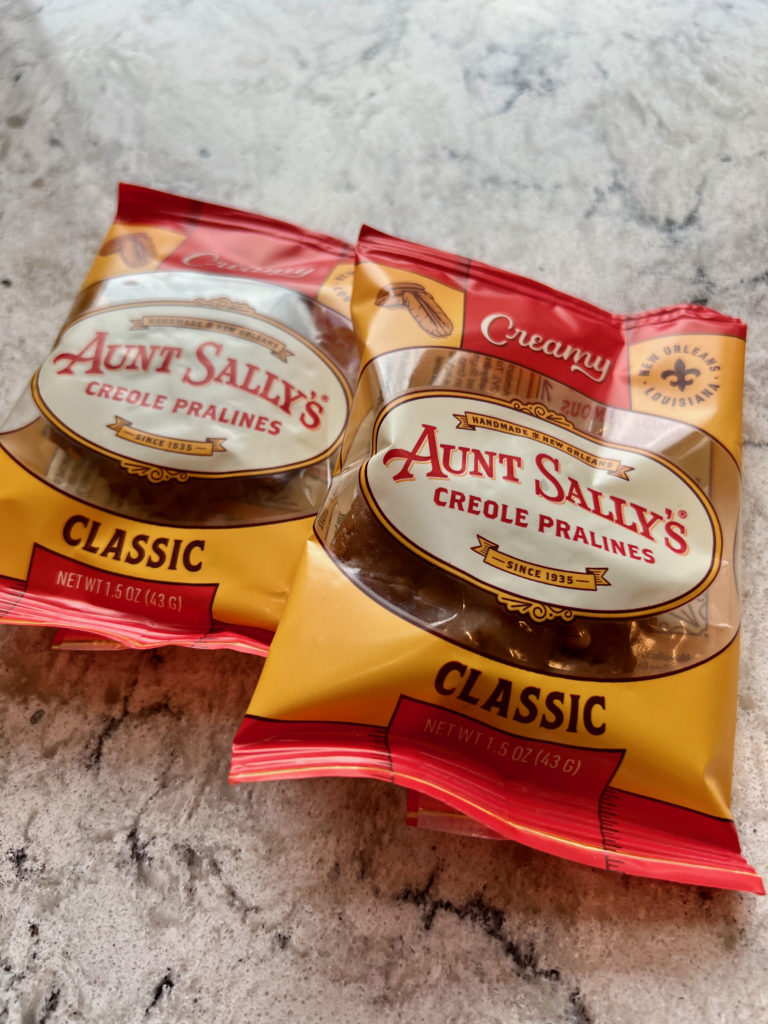 They had Aunt Sally's pralines at the counter… which is where we had planned to walk next…so it saved me a 4 block trip. We had to sample the local dessert. It was what we expected. Caramelized sugar, melted over nuts. Nuts a bit chewy, sugar a bit grainy… but tasting very homemade and very nostalgic of good old southern confections.
We walked on to the Ogden Museum of Southern Art.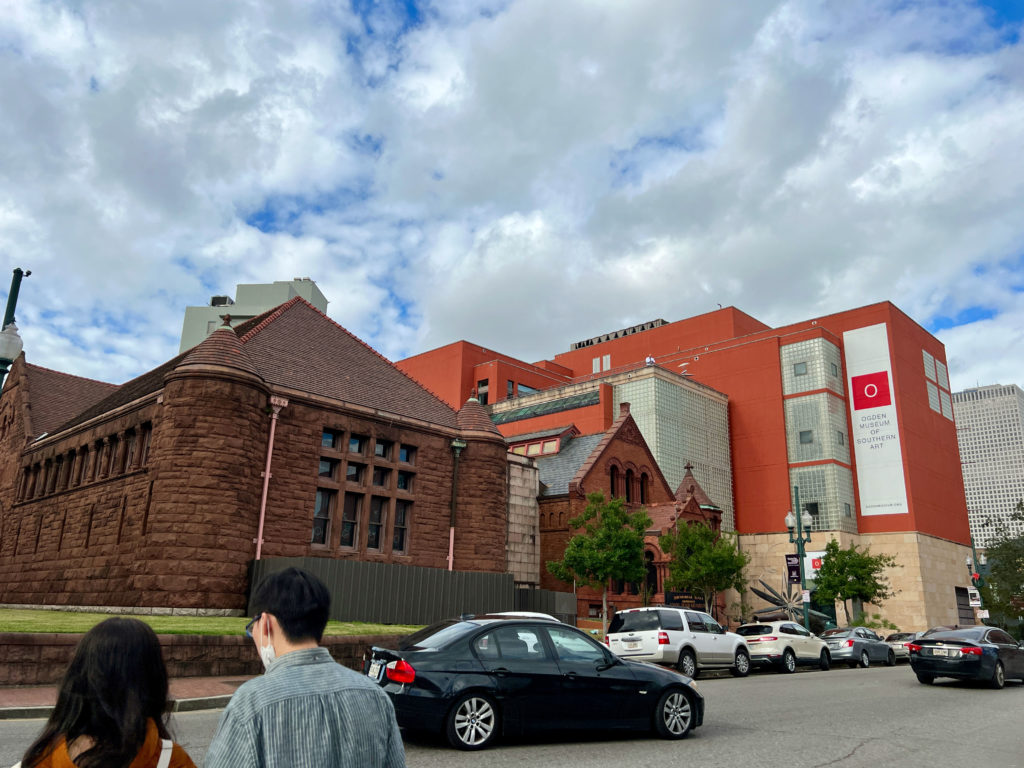 On our way we passed the Louisiana Civil War museum- the oldest museum in Louisiana, its been here and open since 1890…(about the same time that Robert E Lee statue went up in the circle.) They were closed today…so no tour through… just the outside of the cool building.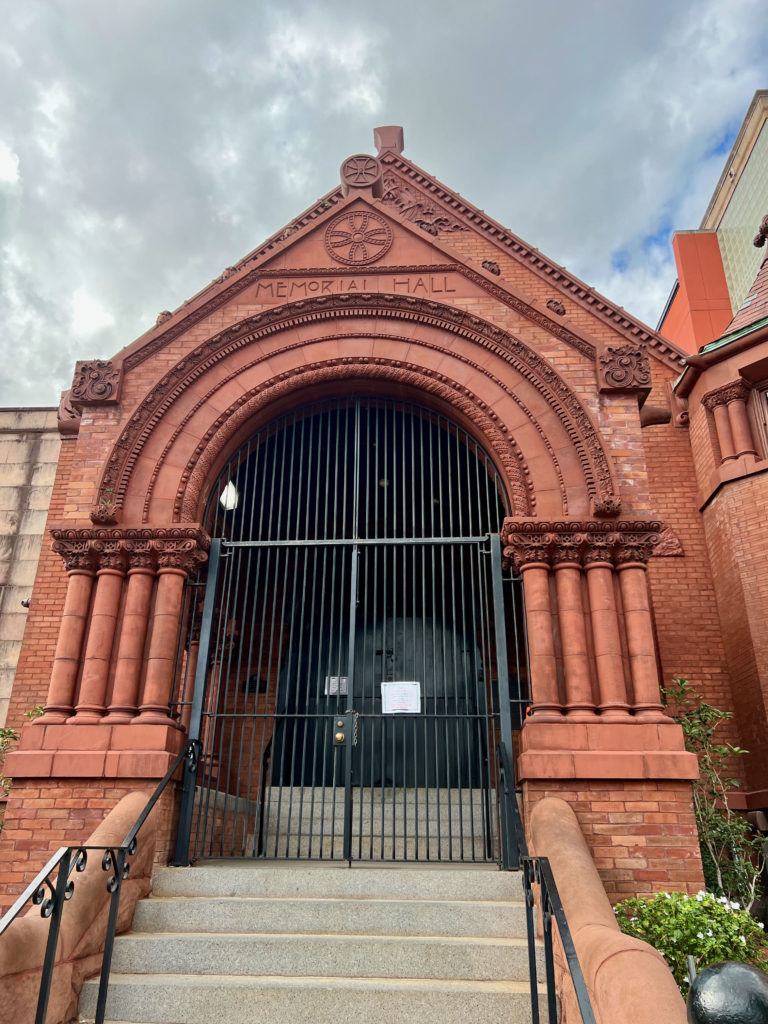 The inside rear portion of the Ogden museum was separate from the tower… and I honestly think we took a wrong turn and ended up on the empty 2nd floor with this amazing and empty rotunda room.
We went back down the curved wooden staircase and took the elevator like I think we were supposed to and we ended up in the 2nd floor exhibits as we expected. lol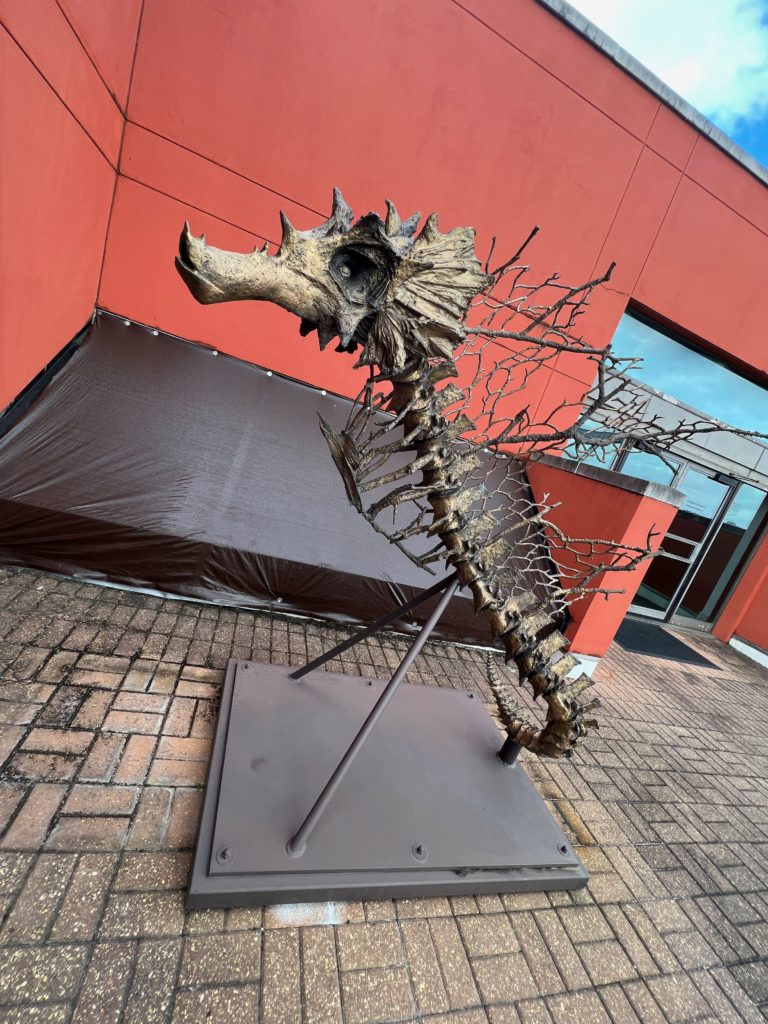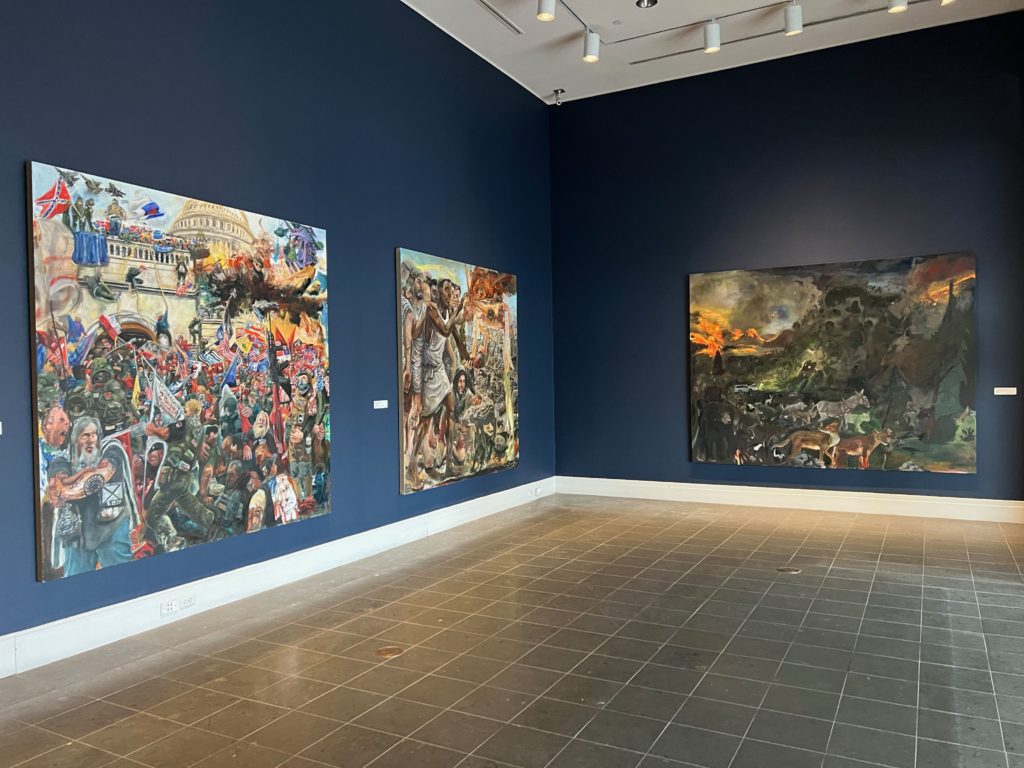 My favorite exhibit of the museum was a collection of photographs and exhibits by an artist named RaMell Ross, who is actually a black man from Rhode Island- who has spent the last 7 years immersing himself in the southern Alabama black experience. I learned he had a documentary nominated for an Oscar and an Emmy in 2018 about his experience in the South called Hale County This Morning, This Evening…I'm going to have to check that out soon.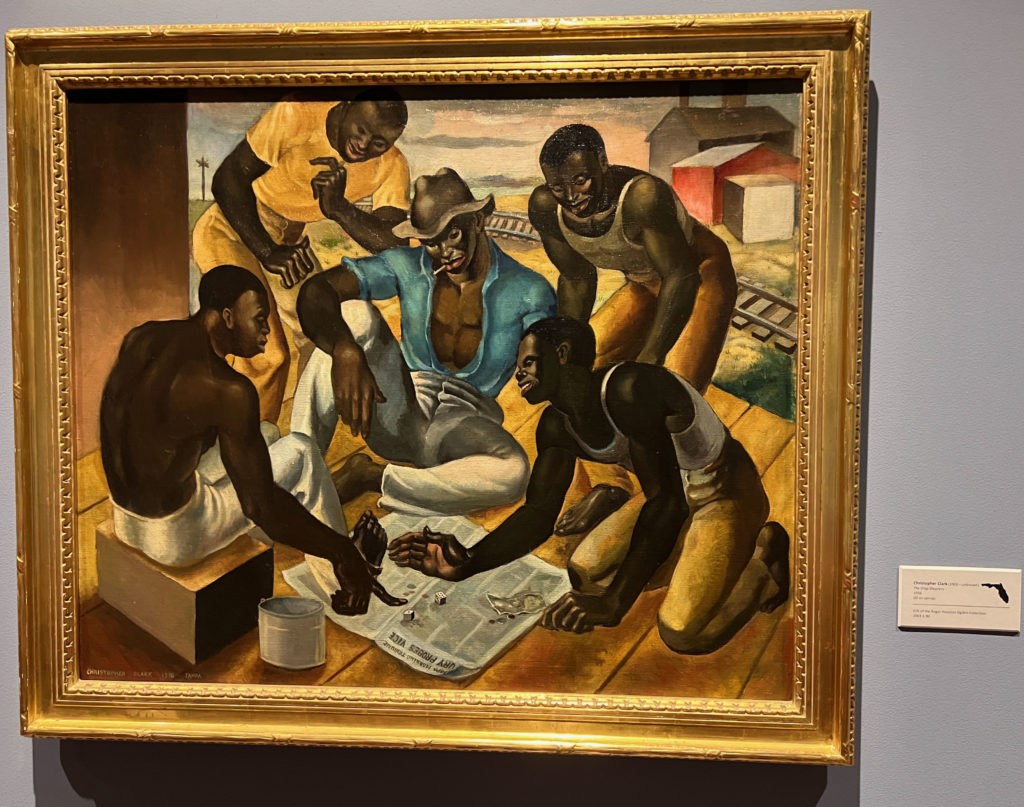 After the Museum of Southern Art we debated on going to the Southern Food and Beverage museum… but we were sort of museum'd out for the day. The World War II museum was a LOT… so we just decided to do a drive-by of Lafayette Cemetery #2 out in the Garden District. We can't actually enter any of the Lafayette Cemeteries. They have been closed by the archdiocese since Covid began… which makes me giggle a little. Are we going to give the dead people Covid? lol I'm sure it has to do with the fact that there is way less upkeep and damage to the old vaults without tourists parading through and ruining everything. Our impromptu tour guide(more on that next post! ha) told us someone walked off with a skull into Congo Square and he had to call the police. People are crazy. lol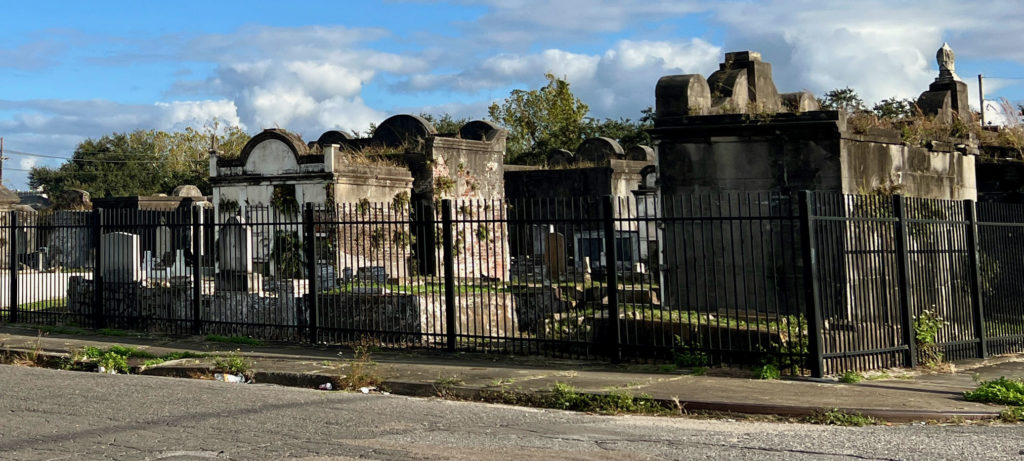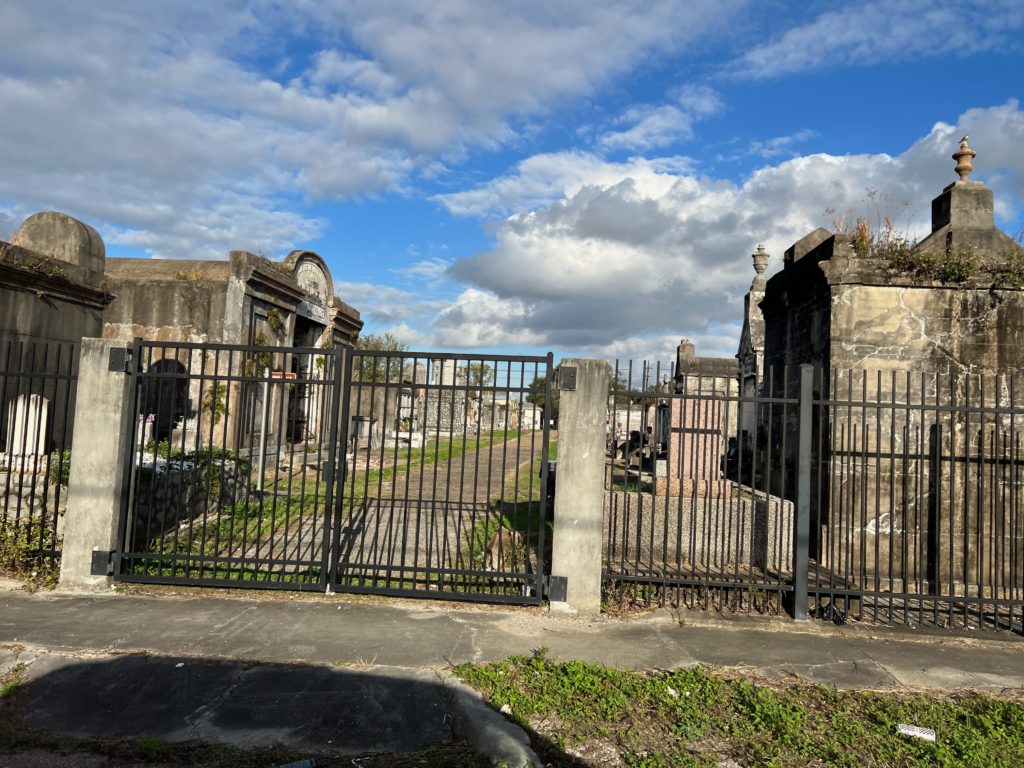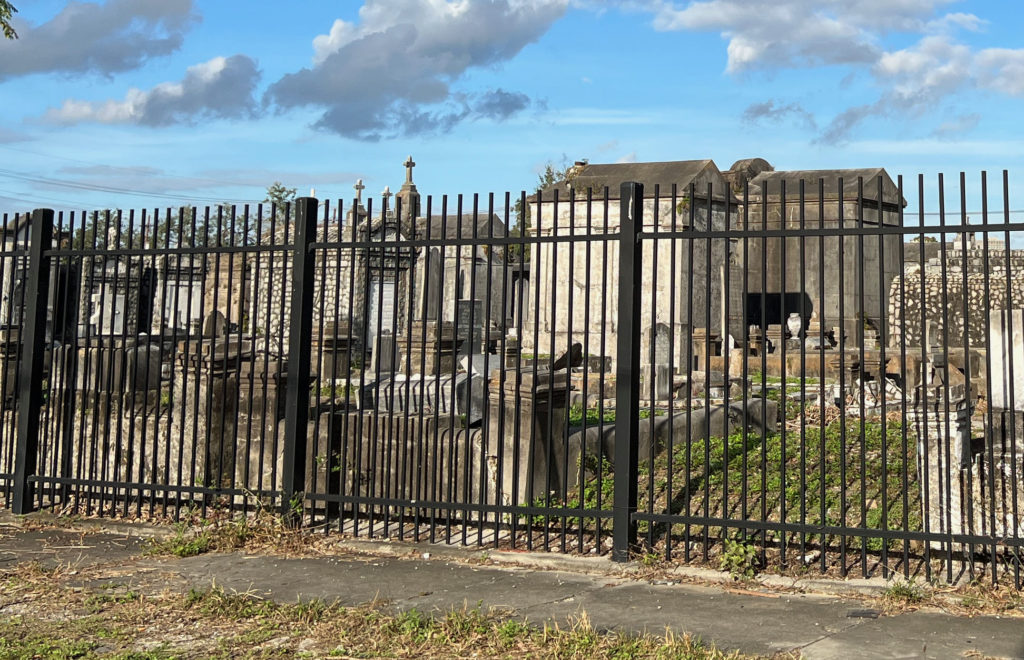 We checked into our new hotel for the rest of the trip- the Kimpton Hotel Fontenot. We booked it using points… and free points are insanely better than paying ridiculous amounts of money for fancy hotels. ha In hindsight, we should have just booked here the whole time. The bed is more comfy, the room is cleaner and they actually changed the air filter in the room and I'm not stuffy the whole time. ha (I'm such a crotchety old lady, aren't I?)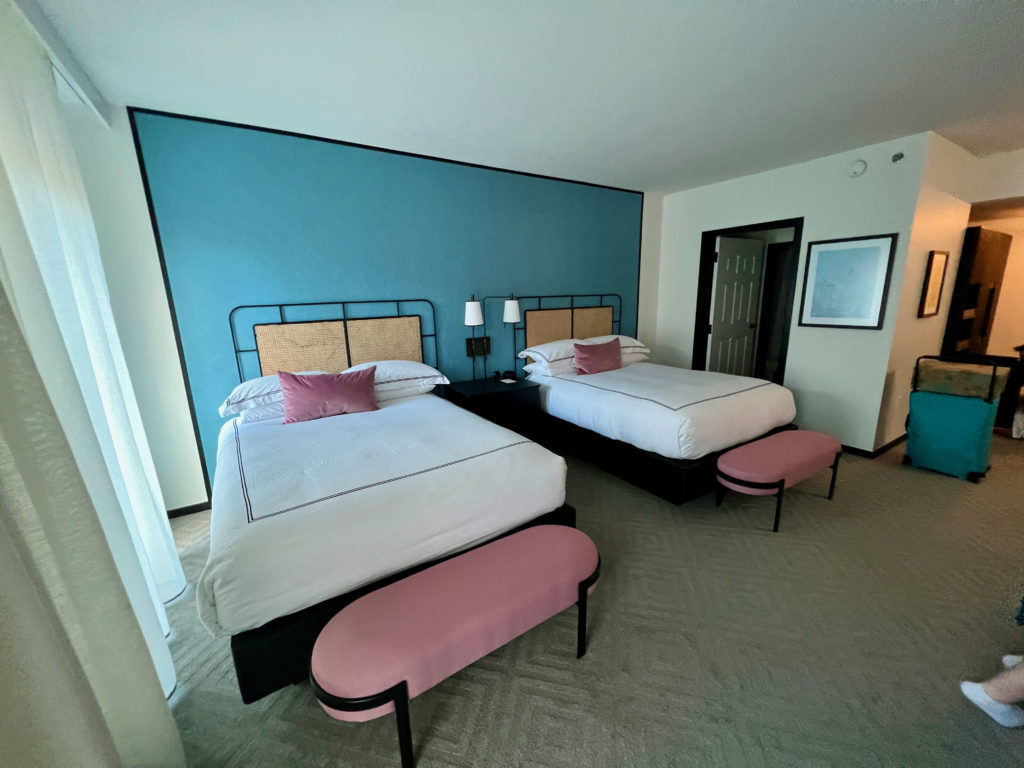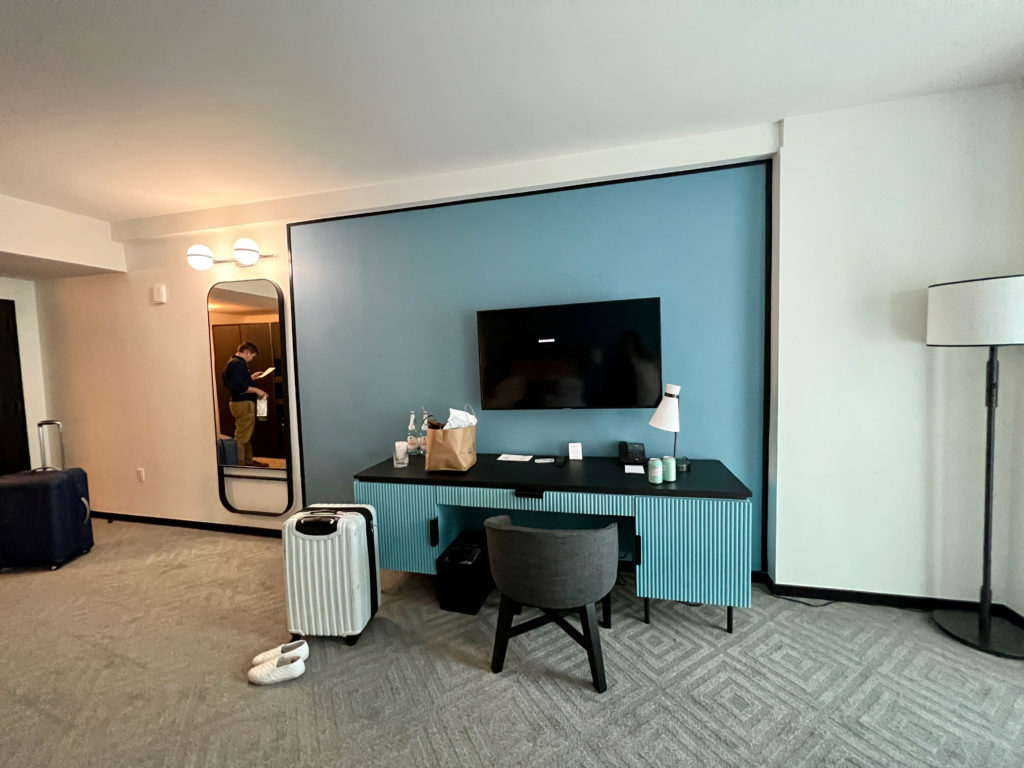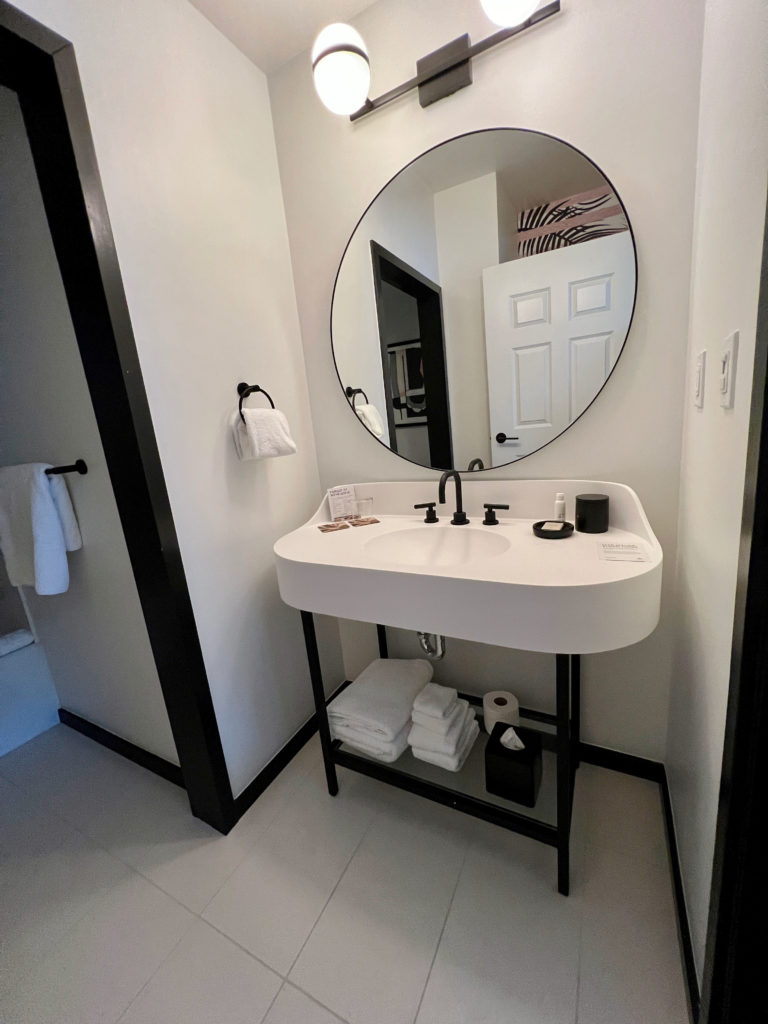 We just decided to hang out in the room for a couple hours until time to go to our dinner reservations and another escape room. We had to call maintenance because our tub was missing a stopper and the drain was really slow already… so he took 30 minutes to clean out the drain, then said the stopper was broken, thats why it was out… so he went back to find another stopper. Came back, couldn't get that one to work, came back again and started chiseling at cement or something inside the drain pipe… hahaha… and eventually we heard a "ah! I got you…" hahaha and he had finally conquered the broken drain stopper. So now Norah can take a bath- the highlight of her hotel experiences because we haven't had a bathtub now for 3 years… lol (ahem…Kegan…)
Our reservations tonight are at Commander's Palace- a famous and formal restaurant in the Garden district that has been serving dinner since 1893. The Brennan family took over in the 1970s… and they hired a young pup from Massachusetts at 23 years old to run the kitchen in the 1980s… someone you may have heard of now…but was a nobody with no Creole or Cajun experience and very little restaurant experience- Emeril Lagasse. Ella Brennan basically groomed Emeril into a great chef and of course, his aptitude and dedication took him where he is today… but you do have to give props to the lady that made it all possible.
If you want to read more from Ella Brennan on Lagasse, you can click here for an article: https://www.bonappetit.com/entertaining-style/article/emeril-commanders-palace-ella-brennan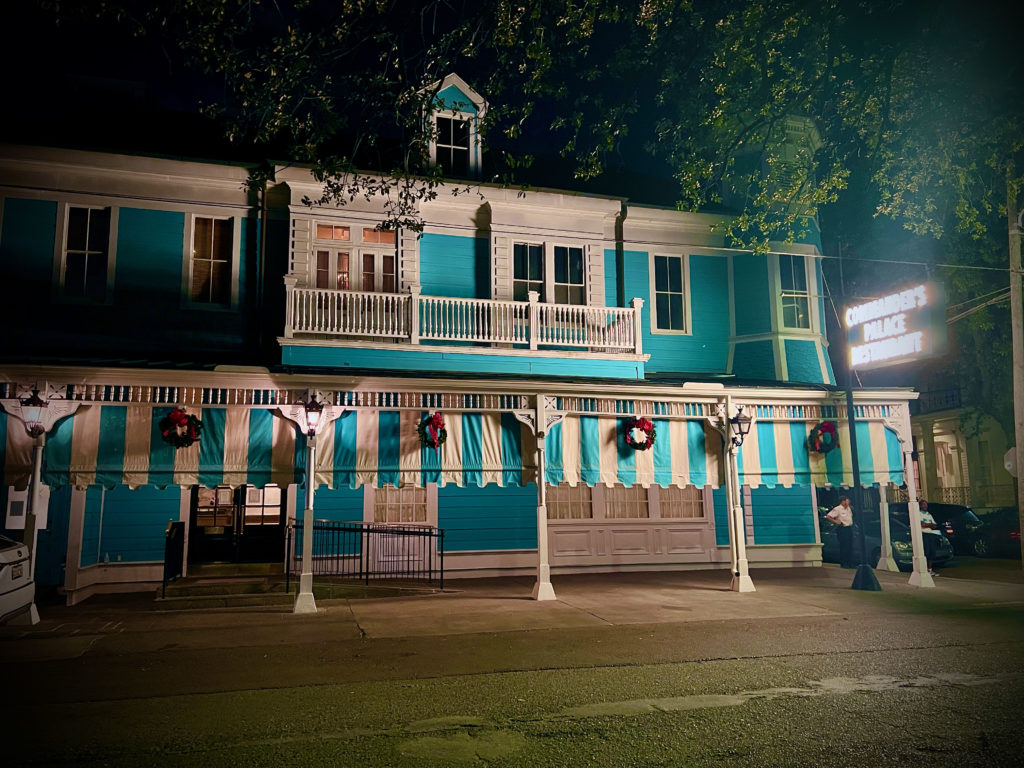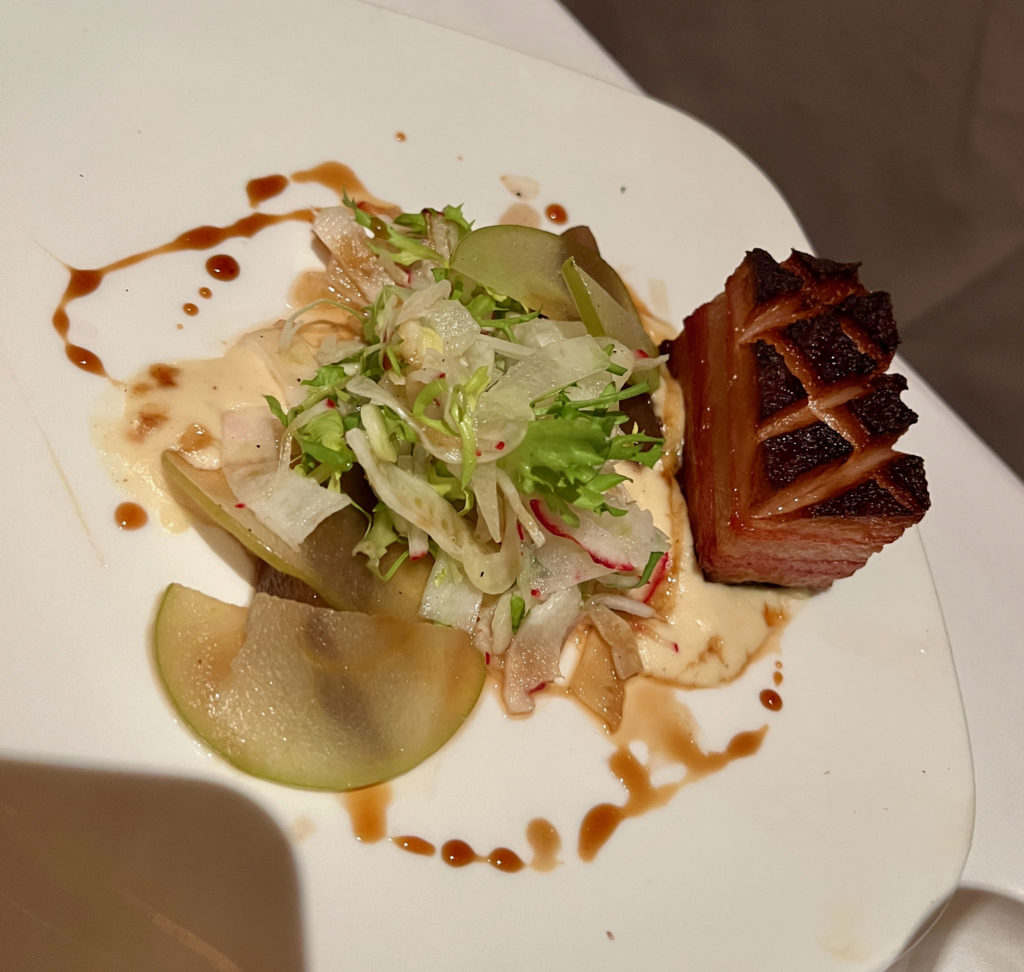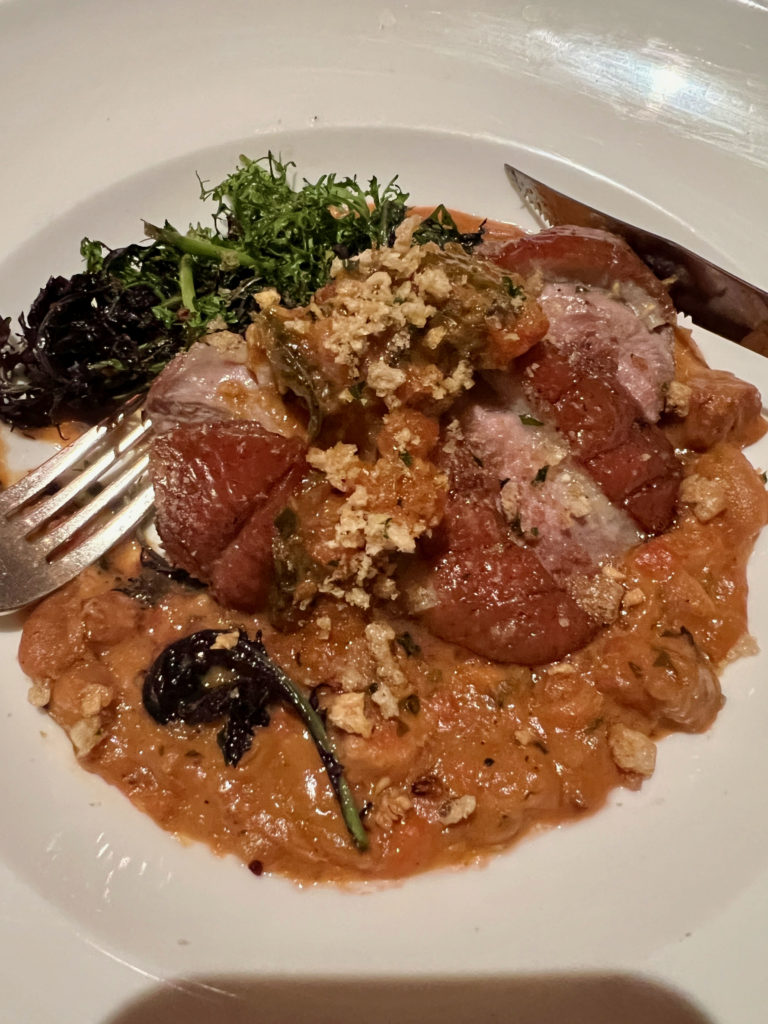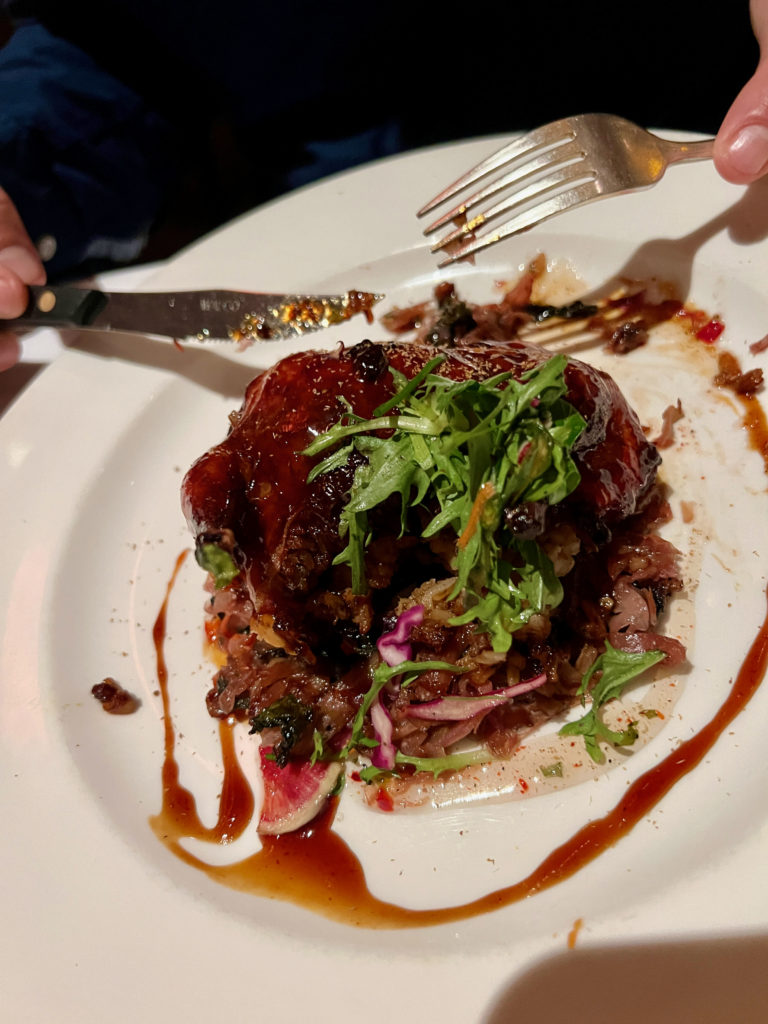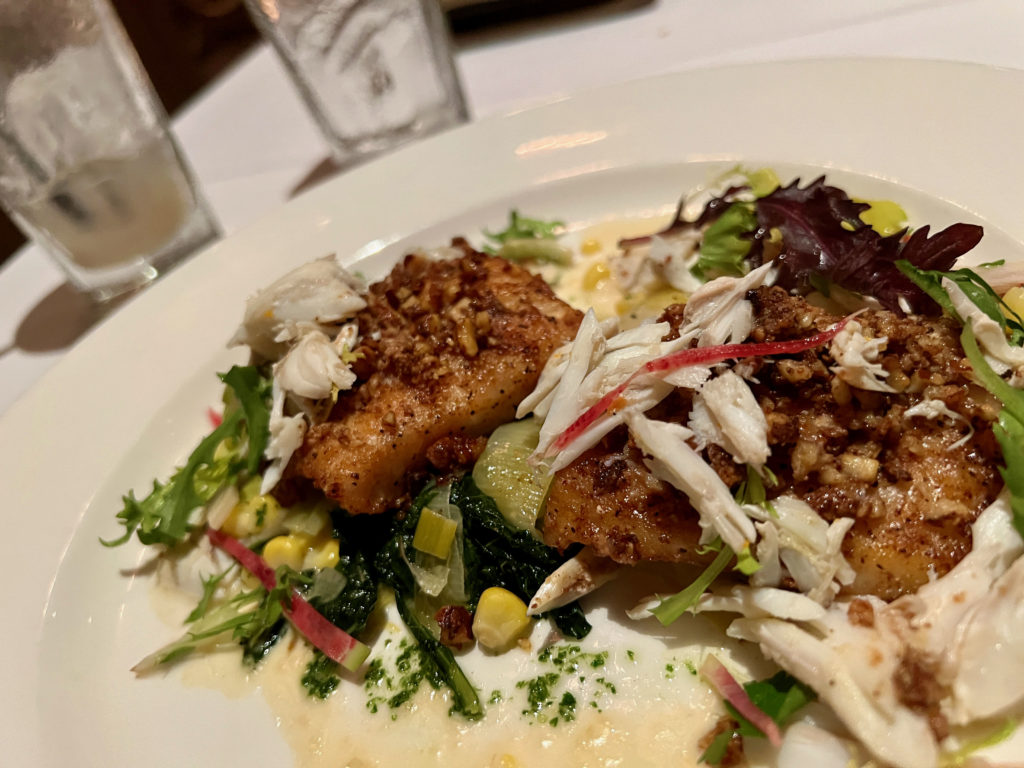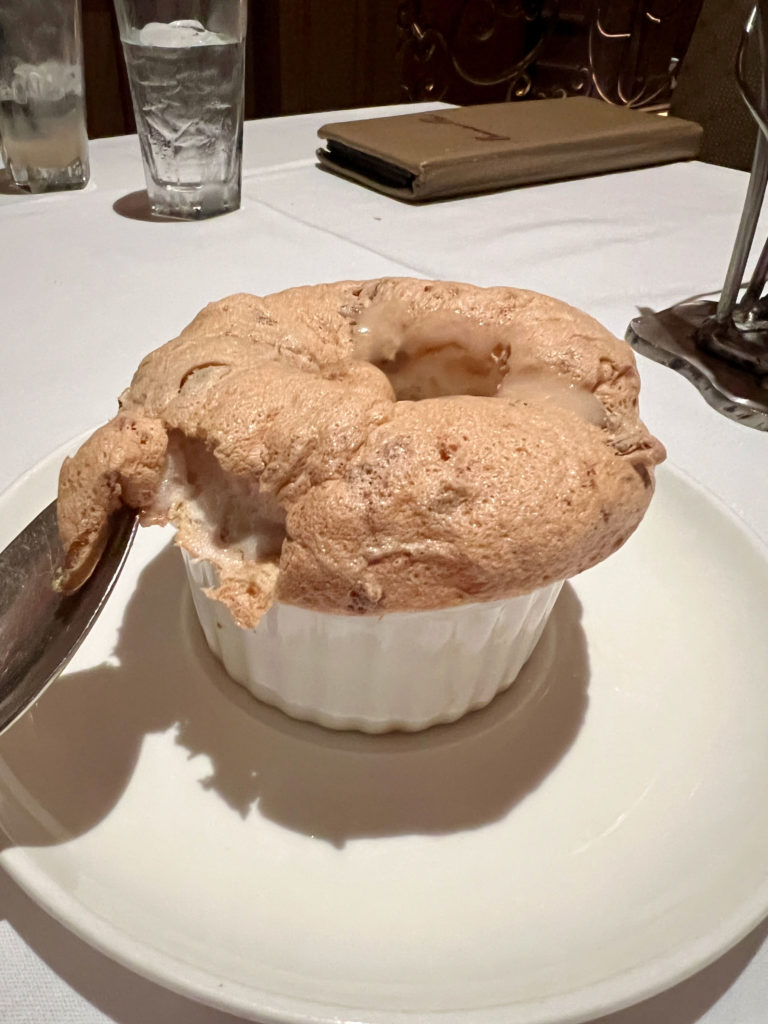 Dinner took a LONG time… we sat down at 6:40… and we had to ask them to hurry up the check at 8:30 because we had a 9 pm escape room reservation.
Overall, I see the allure. I have never had friendlier service and on-point food delivery, drinks full constantly. (They even swapped out our water glasses for fresh ice water glasses after they sat for a while…which made me laugh. It is still cold water. ha) They were super nice… I'm pretty sure the co-proprietor of the restaurant chain came around to our table to ask how the meal was. They require a collared shirt, closed toe shoes, no jeans, jacket recommended… so it definitely feels very nice. It was very good food- but it was overly salty…and just not as good as Shaya… or even Cochon if I'm being honest. Definitely a good meal, but for the cost, the exclusiveness, the legacy of the great chefs that have ran the kitchen there… I felt a bit let down.
We took a quick Uber back to Escape My Room for a 2nd room – The Mardi Gras Study. This time, Ms. Delaporte was trying to find a family heirloom she hid with a letter to her daughter to know she was safe to come home after we found the REAL murderer in the Jazz Parlor room.
We escaped this room in under 30 minutes. A record, according to our game master…so he brought in an "extra puzzle box for us to see if we could work out in the remaining 30 minutes.
We didn't think we were going to make it, but we worked our way through all 4-5 of those locks and puzzles with 4 minutes remaining. Our game master "Laszlo" said the entire staff was sitting and watching us, shocked we were figuring it out that quickly. ha I think they just like Norah.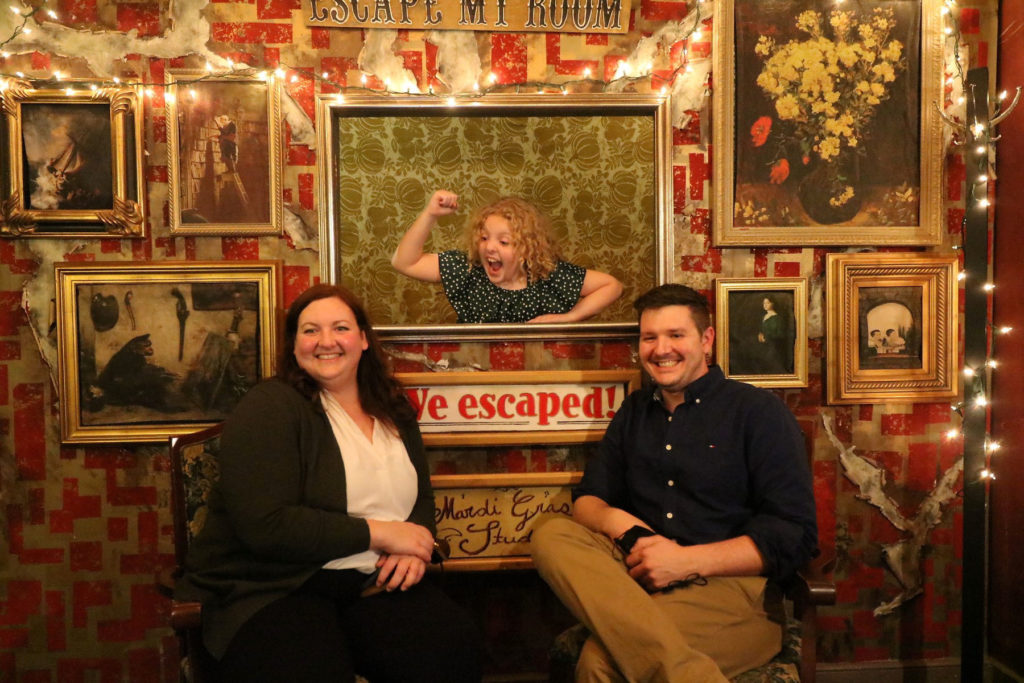 So after we are finished, we are talking to our British game master Laszlo and talking to him about Norah's perfect pitch and music grasp (not to reveal anything specific-but one task in a room has you pressing a chord on the piano to unlock a secret hatch) and Norah just says "oh! no problem-i got it" and just glances at the sheet and strikes the chord. Where the rest of us have to actually follow all the instructions that are written around to try to get the right keys pressed together haha – he tells us she's incredible… and then he asks her if she sees things when she hears music- (sort of like her piano teacher asked her if she sees colors when she plays notes)- apparently thats a very big thing among musicians- called synesthesia. Turns out he has that! He says he sees colors from voices, notes, music, etc… he says we should really look at getting her music theory lessons, he recommends a couple schools in the area that have great advanced studies programs.. we tell him we are just starting to explore where to live for the next 7 years or so, so we can hopefully find great opportunities for education for Norah. This starts a long discussion where he says "ok, since you guys are kind of our favorites around here… I'm gonna drop the act." He loses his British accent, turns out he's a local jazz musician from Ohio, via Lawrence, Indiana… he has tons of music connections, he knows teachers, instructors, professors… we connect on Facebook. We might be doing some remote music theory lessons with him as he has 3 music degrees and tours with Kool and the Gang and other bands. It's strange the connections you can randomly make. He did message me the name of the top school in the suburban area I said I had looked at around New Orleans as a potential option…if we weren't turned off to the city after a week here. At first glance…it looks really great. But looks really competitive… I'm not making any life decisions this week. ha Just putting it in my back pocket though. 🙂
Tomorrow we walk all through Treme, eat dinner at Antoine's and have another escape room. Until next time!