As they say in New Orleans, "laissez les bon temps rouler" or "let the good times roll!"
We are off to the Bayou state this week for a week of exploring and Christmas and New Year's celebrations.
We have a lot packed in, per the usual…and basically eating our way through New Orleans with reservations made at some great restaurants most nights.
We start out with 3 days of Christmas explosion with lights, festivals, teddy bear tea, Christmas brunch and a Christmas fest at the convention center so hopefully Norah still feels like she's making some great Christmas memories. The kid is also currently obsessed with Escape Rooms, so I booked like 4 different rooms for her this trip. She'll be pumped…we're going to be exhausted. Ha.
We drove down straight from Indiana to Picayune, Mississippi yesterday to be ready to start our first full day of sights today. About a 10.5 hour drive that took us 12 due to some traffic but overall not bad.
Nothing to note from the drive other than we picked out this amazing looking Cajun seafood crab boil food truck in Hattiesburg only to find out when we went to order that they changed their hours for December to be closed on Wednesdays. Booo. We're going to try to hit it New Year's day on our way home but they may be closed then too…
So, we got some okay Greek food and went to our hotel for the evening and were asleep before 10pm! Early for us.
Today, we started our day at the southern gem known as Waffle House. Norah had always had a strange affinity for Waffle House…ever since she was little, you'd think we're taking her to Disney World. It's hilarious.
She actually got a waffle this trip, with chocolate chips. She said it was good, but she only ate two bites. Who knows… ha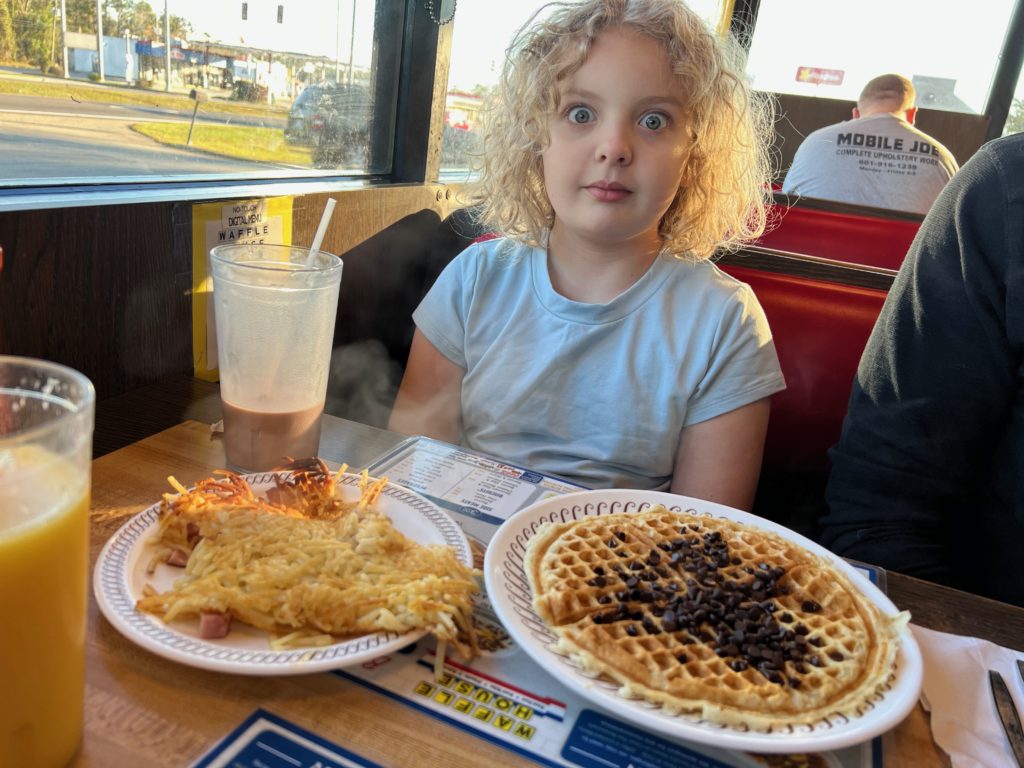 After breakfast we headed towards the INFINITY Science Center which is part of the NASA Stennis Space Center, NASA's rocket testing launch center. They were scheduled to launch a rocket with the beginnings of the space telescope today, but it got delayed until at least Dec 25th… we tried to drive towards the launchpad to catch a glimpse… but we had to turn around due to gates and multiple signs telling us we needed to turn around 🙂 so…back to the visitor center for us. ha
They opened at 9 and we arrived a few minutes prior to that and hung out. We were the only guests in the whole museum for a while, so that was cool. It was a smaller, but neat, science exhibit geared towards kids- with random science based exhibits- hurricanes, flooding, carnivorous plants, small animal exhibits, a wave simulator, and the entire second floor was space related items.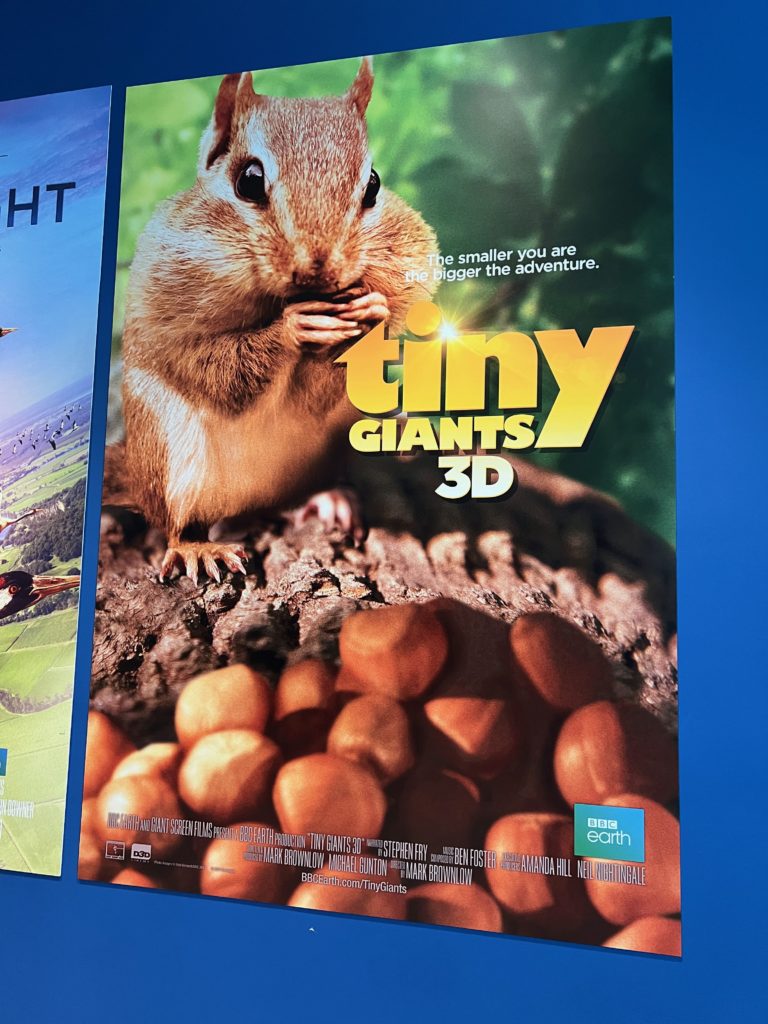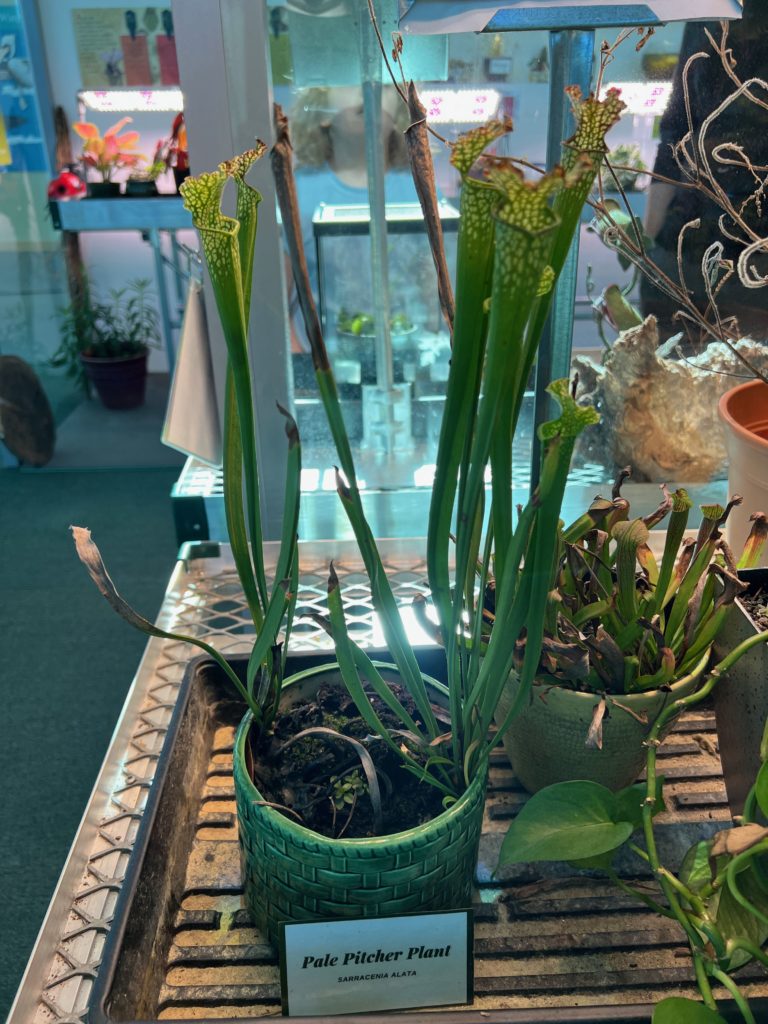 Neil Armstrong's training suit, Fred Haise's (who is a local from Biloxi) suit, the Apollo 4 Command module- the first Apollo command module shot into space and returned to Earth. It was unmanned, but this tested the heat shielding and made sure the module would hold humans for re-entry. It paved the way for Apollo 7- the first manned Apollo command module flight to space.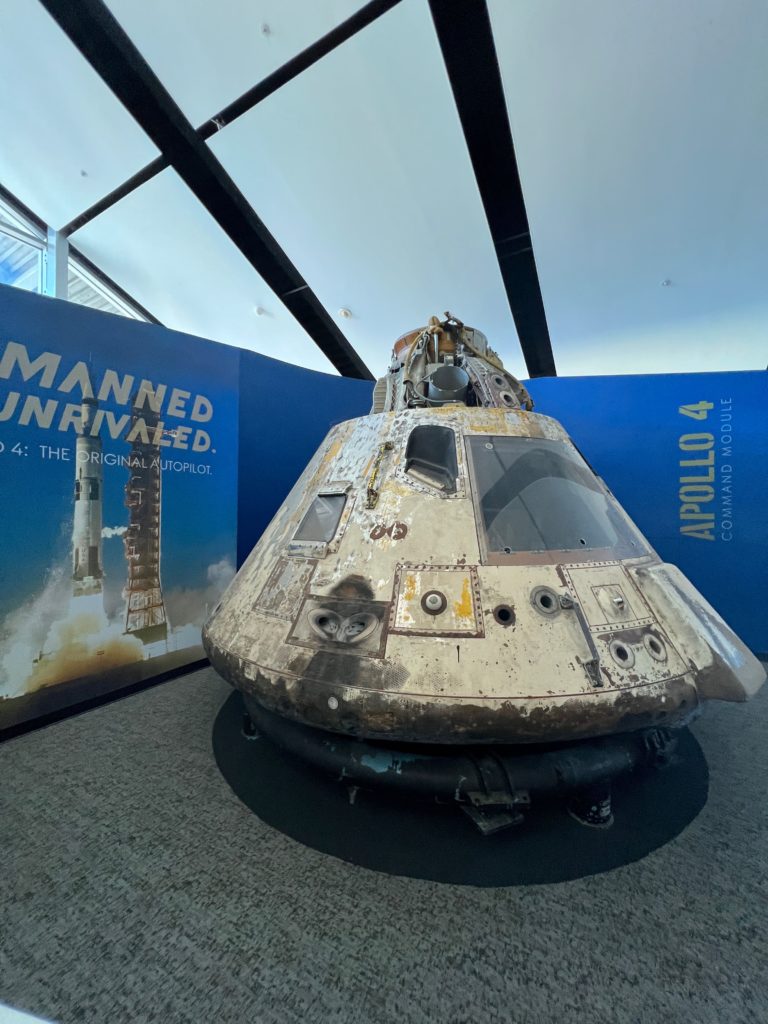 Outside they had a Lunar Module and a F-1 Engine or "stage 1" burners from a Saturn V rocket- the Wernher von Braun (ex-Nazi) designed rockets that were the largest and heaviest, largest payload rockets we ever launched. Apollo 18 and Apollo 19 were scrapped because of the Vietnam War and costs… so we think this was a part of one of those unlaunched rockets.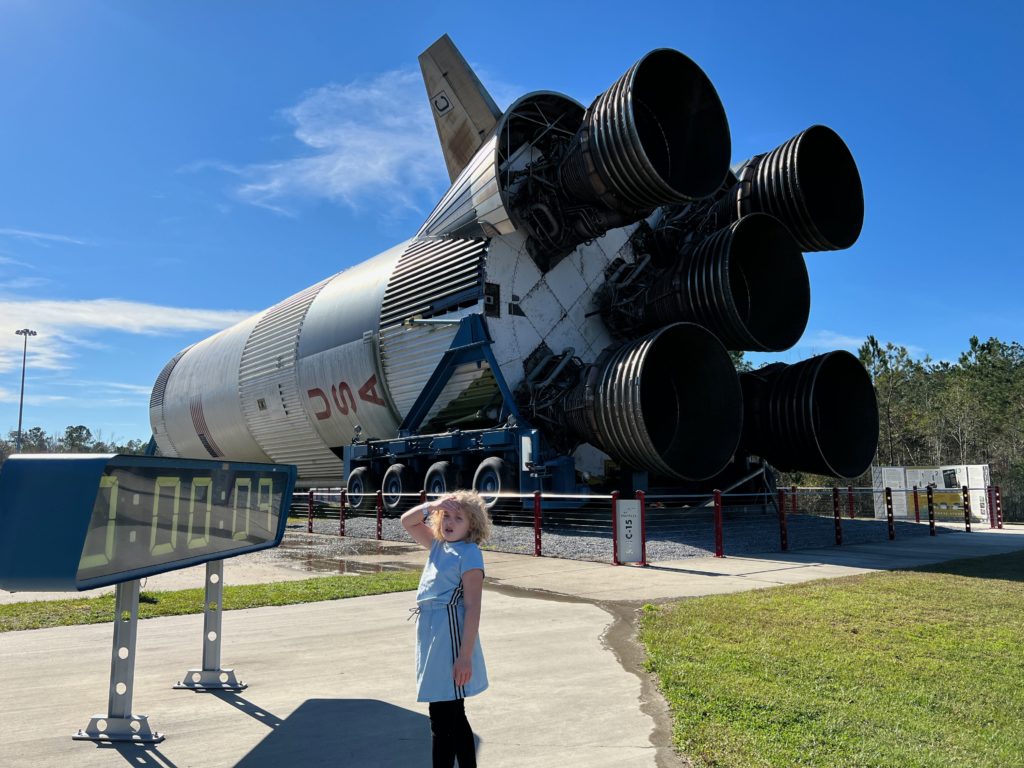 We grabbed a couple of souvenirs from the gift shop, the coolest being a mission patch from Apollo 13- the mission Fred Haise was on, we thought that was fitting since he was the local star astronaut.
After leaving the science center, we crossed over the water into Louisiana.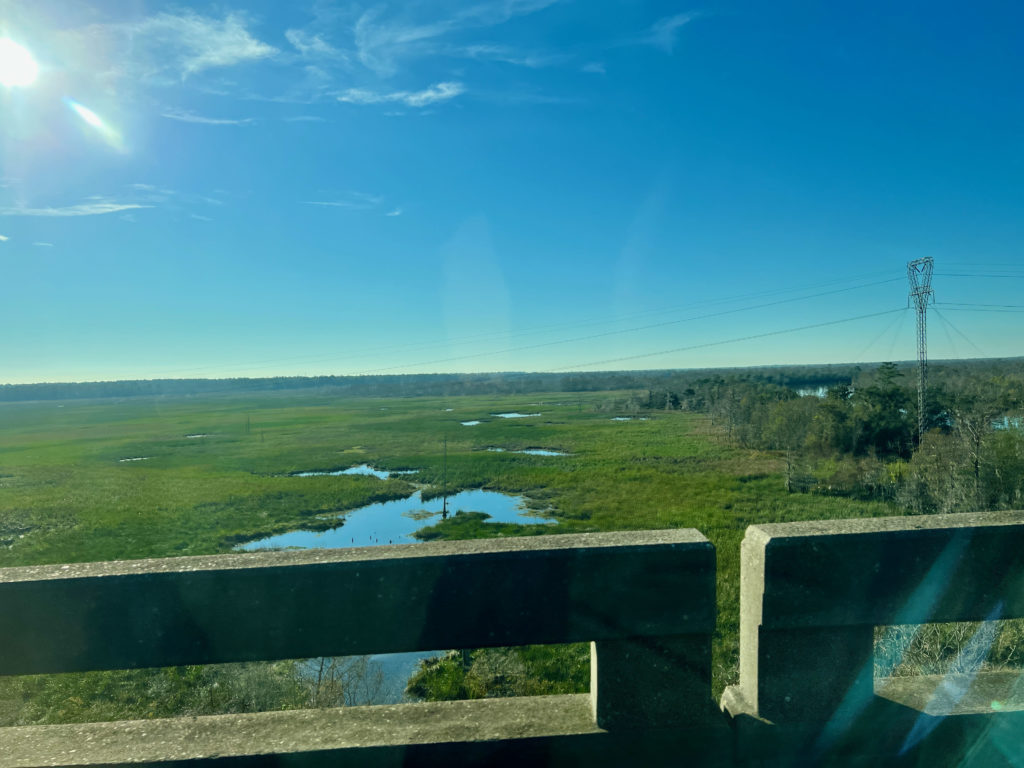 Stopping by the Fort Pike historic site, but its closed to the public… we could see it from the highway, we couldn't get any photos. It was part of the post- War of 1812 fortifications James Monroe ordered to better protect the Gulf coast, ports and Mississippi. Apparently its been closed since 2015 due to budget constraints in the state park system.
Next was a quick drive-by of something called the Fisherman's Castle on the Irish Bayou. I have no idea what this is…but its pretty funny to see a tiny castle as a fishing house on the water. It apparently was built in 1981 for the World's Fair and has withstood all the hurricanes since.
Our lunch destination was a place called Dong Phuong Restaurant and Bakery.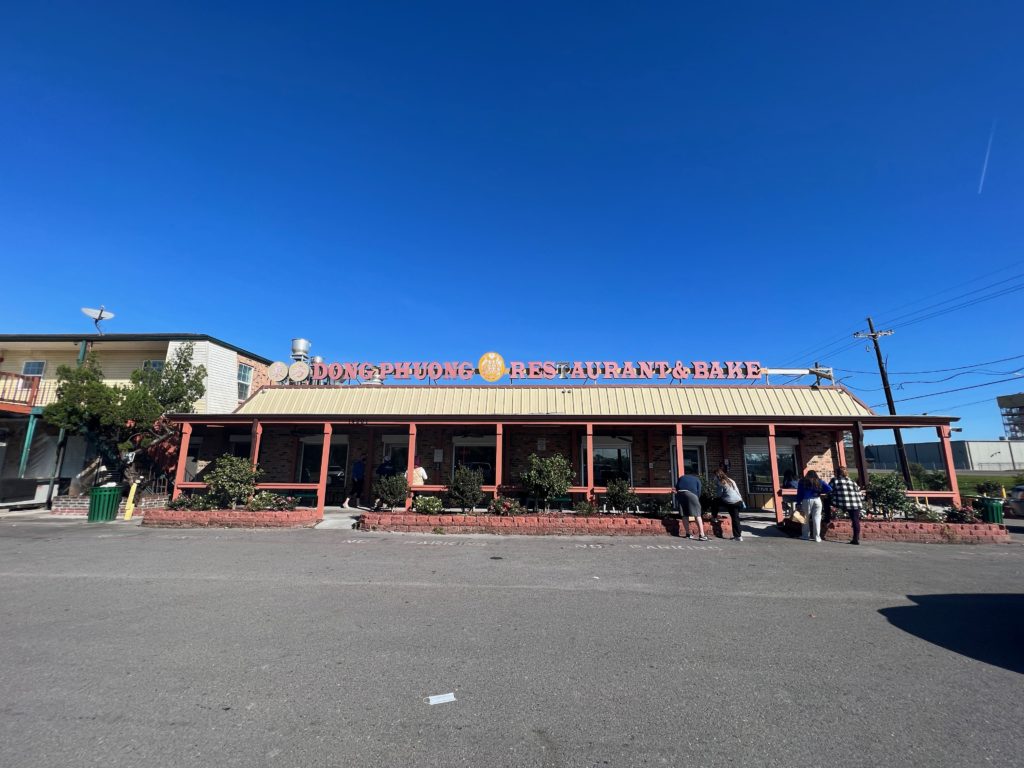 New Orleans has a huge Vietnamese population… and therefore tons of great Vietnamese options. We had spring rolls, egg rolls, Kegan had the traditional Pho, but I got adventurous and tried something that was a spicy fishcake and pork soup with udon type noodles. It was fantastic. The Pho was very very good… but honestly, I don't think anything can top the richness and flavor of PhoShiki in Columbus, IN. It is legit the best Pho broth in the world. I'm convinced.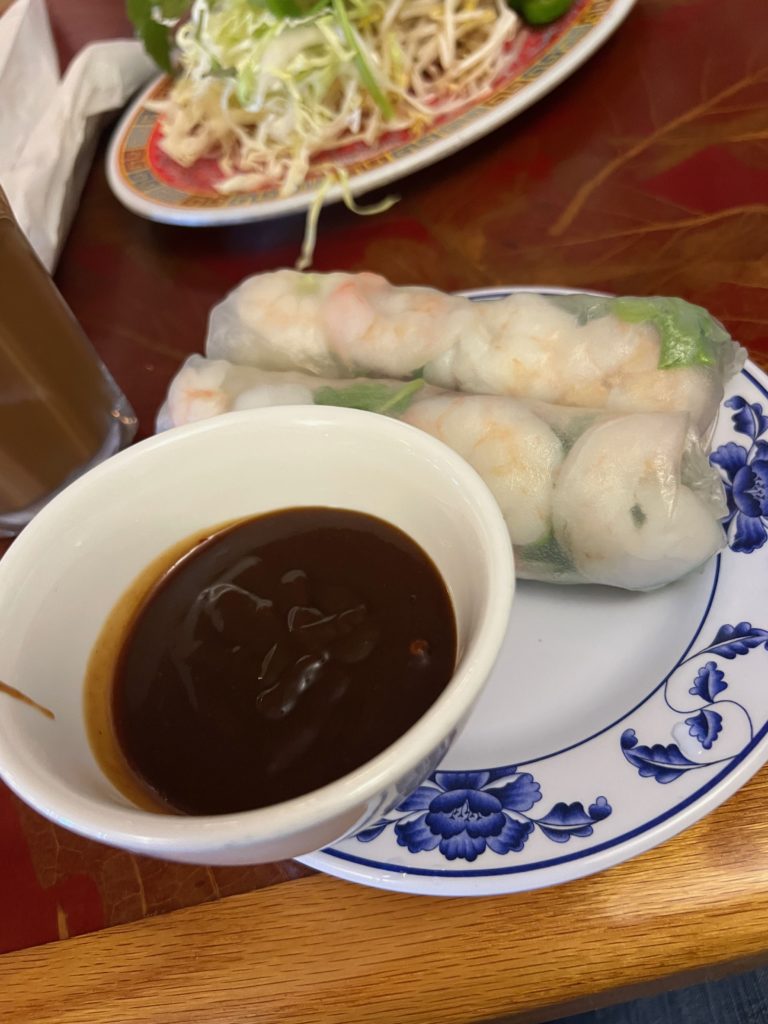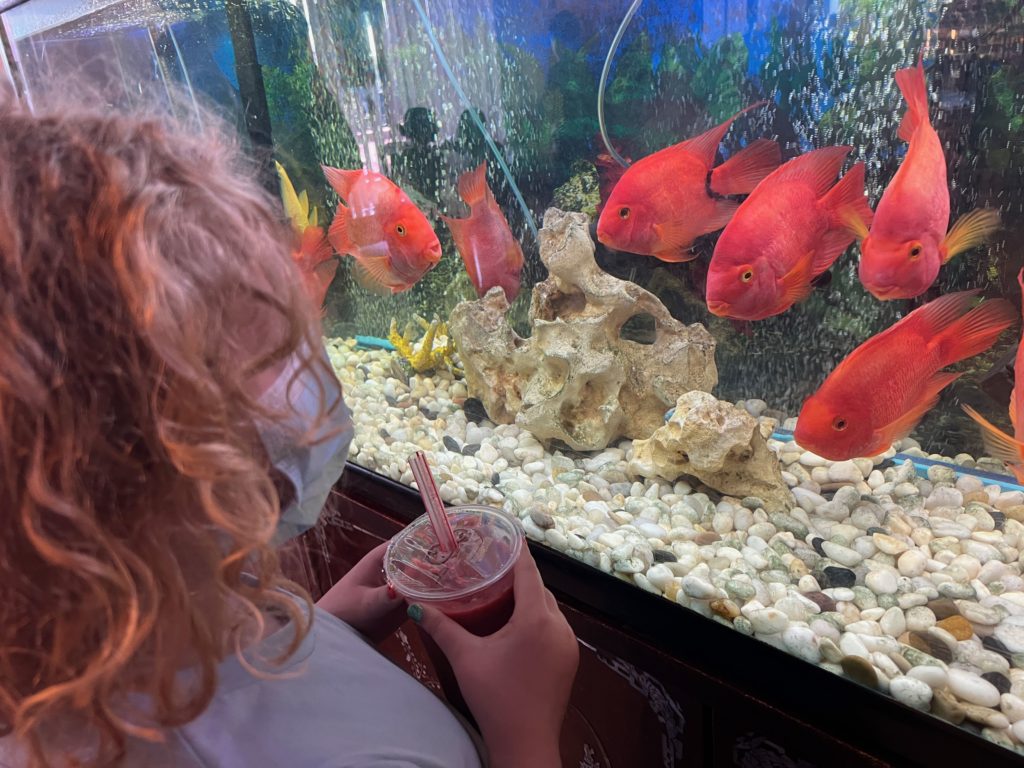 We popped into the bakery portion after eating to grab some breakfast items and just to see what they had, really.. they had tons of items, like King Cake- a mardi gras traditional cake- along with meat pies, crawfish pies, lots of refrigerated cream rolls and other cakes and buns… but since we had to leave everything in the car for a few more hours and didn't know if our super fancy hotel would have a fridge… we just went with some shelf stable items.
We next drove by the old city airport- its currently the business airport. Very cool Art Deco building.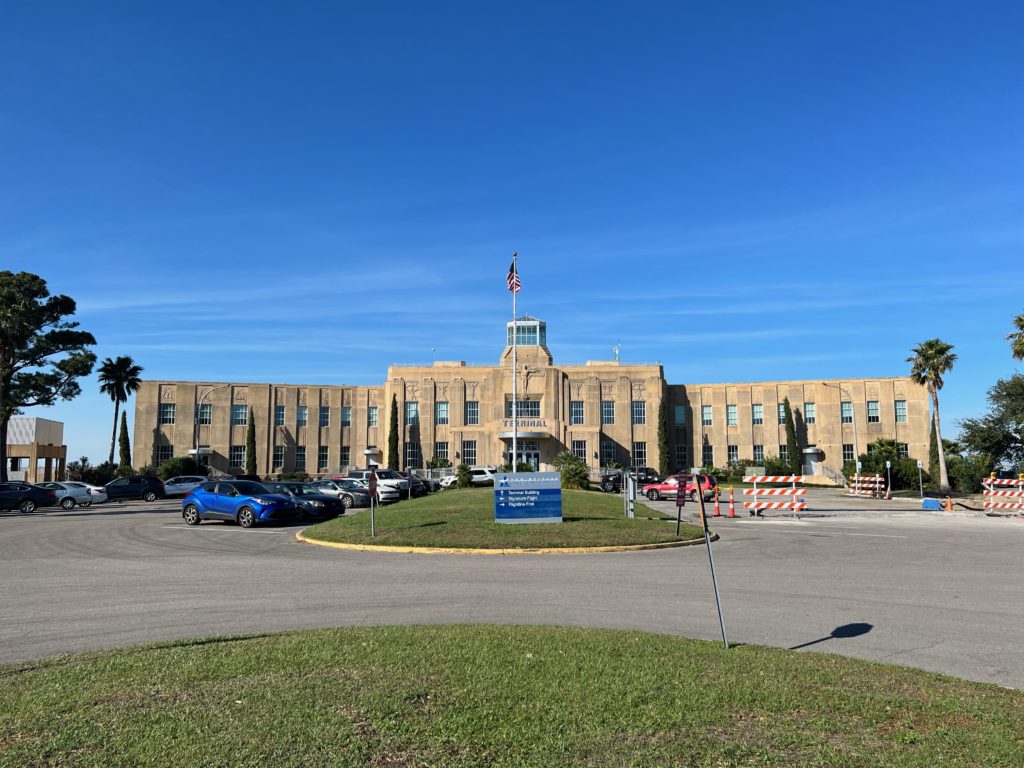 We drove on in towards New Orleans through Gentilly and to the Metairie area.
We stopped along the edge of Lake Pontchartrain along a seawalk area and Norah just HAD to take her shoes off and get into the water. Such as water baby. We told her to be careful becuase if either of us had to jump in that brown water to get her, no one was going to be having fun. ha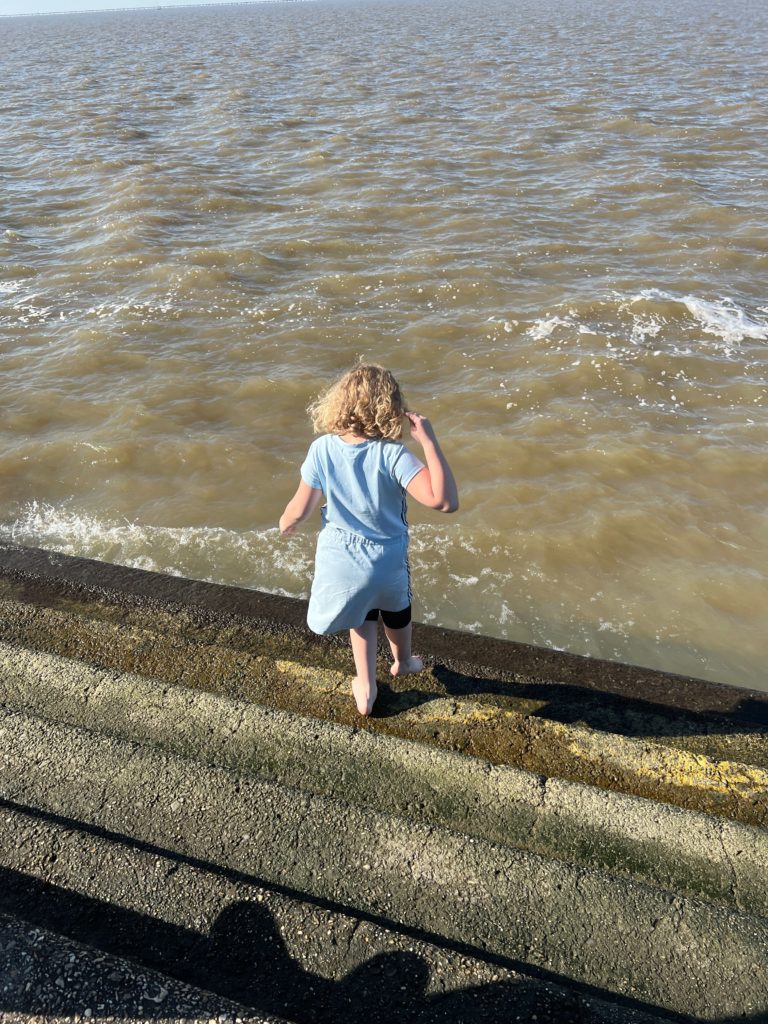 Across the street was the Mardi Gras fountain- a fountain dedicated to all the Krewes of the Mardi Gras Festival. Krewes are basically clubs that have formed in the city over the years, that perform philanthropy and community service throughout the year, but also build parade floats and toss trinkets and giveaways to parade watchers from them. The Krewe of Rex started it all back in 1872, just after the Civil War, a group of businessman got together and formed a group ahead of a visit from a Russian Grand Duke as a way to organize events and entertainment. The Mardi Gras colors we now know as purple, green and yellow are the Rex krewe colors. The gold "doubloon" coins tossed to the crowds originated with this krewe, too.
There are tons of formal krewes these days, most dating from the 1920s or 1940s… its pretty cool. Some krewes select a monarch or lead each year, like Rex crowns a "King Rex" from its members, a way to recognize a member that has been especially involved or giving over the last year. Some krewes crown celebrities as their lead for the parade and its usually a surprise not revealed until Mardi Gras day. The Krewe of Bacchus crowns a celebrity every year. Past kings included Drew Brees, Hulk Hogan, Andy Garcia, Will Ferrell.
After getting back in the water again for "nostalgia later in life" as Norah put it, we headed into Metairie area- the suburban soccer mom shopping mall capital two days before christmas- likely the last and biggest traffic jam day of the year. and boy was it busy. I didnt account for all the Mercedes and Porsches out shopping when I planned my itinerary.
But, we made it to Vivi bubble tea to kill some time before our reservation at Club Carré Metairie for an escape room. Super cute place with tons of drink options. Kegan got the standard thai milk tea with black boba (or chewy tapioca pearls)- Norah got a strawberry fruit tea – her go to- with Yogurt popping boba… something we had never seen before and she was adventurous enough to try it out. I got a Kumquat Lemon Jelly Tea which at the half sweetness I ordered was really sour but really good.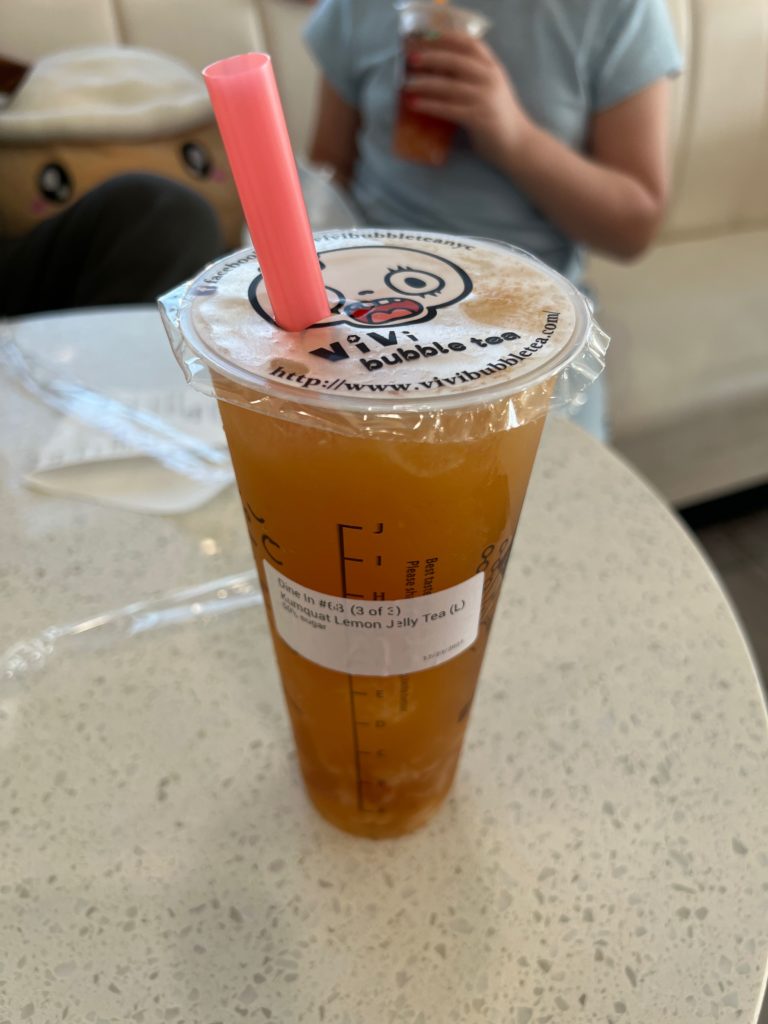 We still had an hour until our escape room reservations, so I decided to squeeze in a drive by of the Metairie cemetery. New Orleans is famous for its above ground crypts instead of underground burials. Obviously because the water table is so high. They used to try to add stones inside the coffins or on top to try to weigh it down. That didn't work. They tried drilling holes in the coffins to keep them underground in a flood, but that didn't either. So, eventually they followed the Spanish tradition of using the above ground vaults. Something I didn't realize until reading about this, the vaults are sometimes for whole families, not just individuals. They have a rule that if the person has been dead for over two years and another family member dies, the first family member coffin can be removed and the bones placed in a bag at the rear of the vault. Then, the newly deceased person put into a coffin in the space. If it's within two years, the cemeteries usually have a holding vault they can be kept in until the time has passed to "swap" the bodies. What a strange custom! Very interesting.
We sat in heavy traffic again back to the escape room spot, but made it in time. I know its not normal traffic levels because that was the first question we got when we got inside was "how did you do in all that christmas shopping traffic today?" ha
Our Escape room today was The Naughty List at a place called Clue Carré in Metairie (pronounced MET-a-ree all run together like we do in Indiana or Kentucky.) It was a Christmas themed escape room where you have 60 minutes to try to break into Santa's office and erase your names off of the naughty list before Santa returns. It was very cute… and Norah had a blast. She even solved some of the riddles and opened some locks. The girl that was watching over us said "oh my god. she's so smart! I couldn't believe the things she was getting in there!" Yep. Same girl. Same. ha
We did escape- with 20 whole minutes to spare! Safe to say we rocked that one and we are no longer on Santa's naughty list (so we thought!- more on THAT later…).
After that, we headed downtown to check into our hotel. Also, a total zoo. Apparently when you book a hotel for its well known Christmas deocrated lobby and its christmas themed events, everyone else in New Orleans is gathered for those same events 🙂 We spent a bit in traffic and then a while winding our way up the parking garage across the street before heading into the madhouse of a hotel lobby. My digital key still hadn't arrived on my phone, so I had to find the front desk and speak to them. They told me it was because I had only booked checking in Dec 24th! Queue the panic. lol
However, I was able to show my confirmation email, my print outs, my apps, etc- all showing Dec 23rd. Whew, I didn't screw it up! ha It took a while and a manager and all that, but they did get us in for the evening and all is well.
The room isn't really anything too fancy but it's nice enough and it does have a hot water kettle, a Nespresso machine and some nice toiletry items…but overall first impression- not worth the cost. But #memories and all that 🙂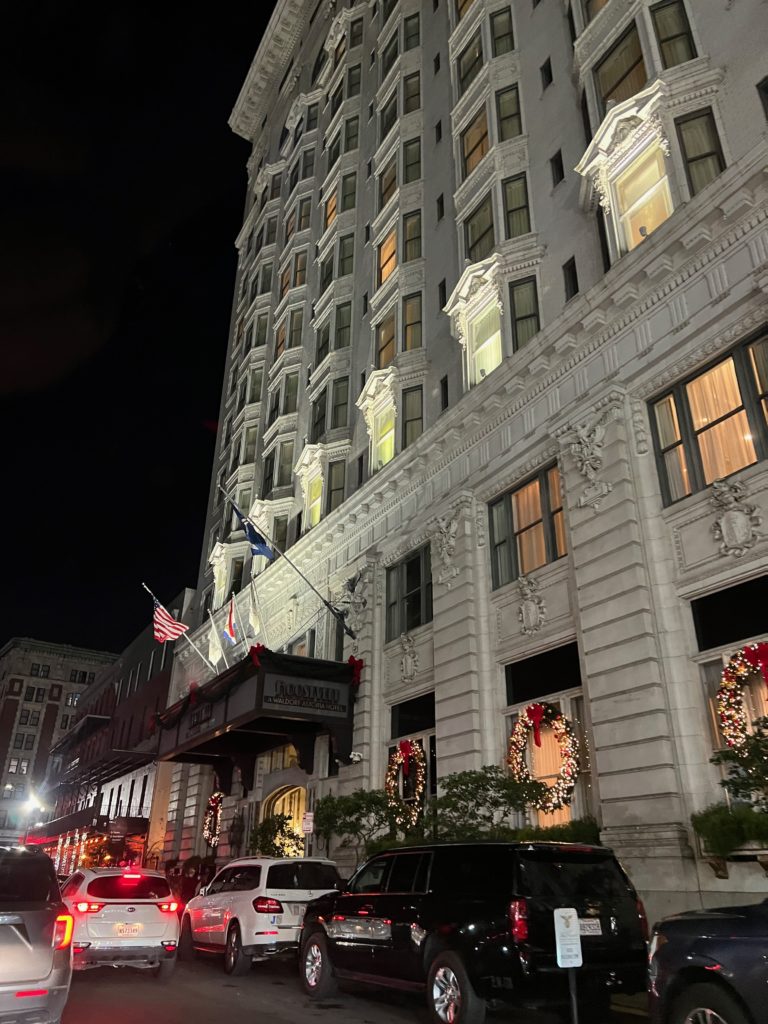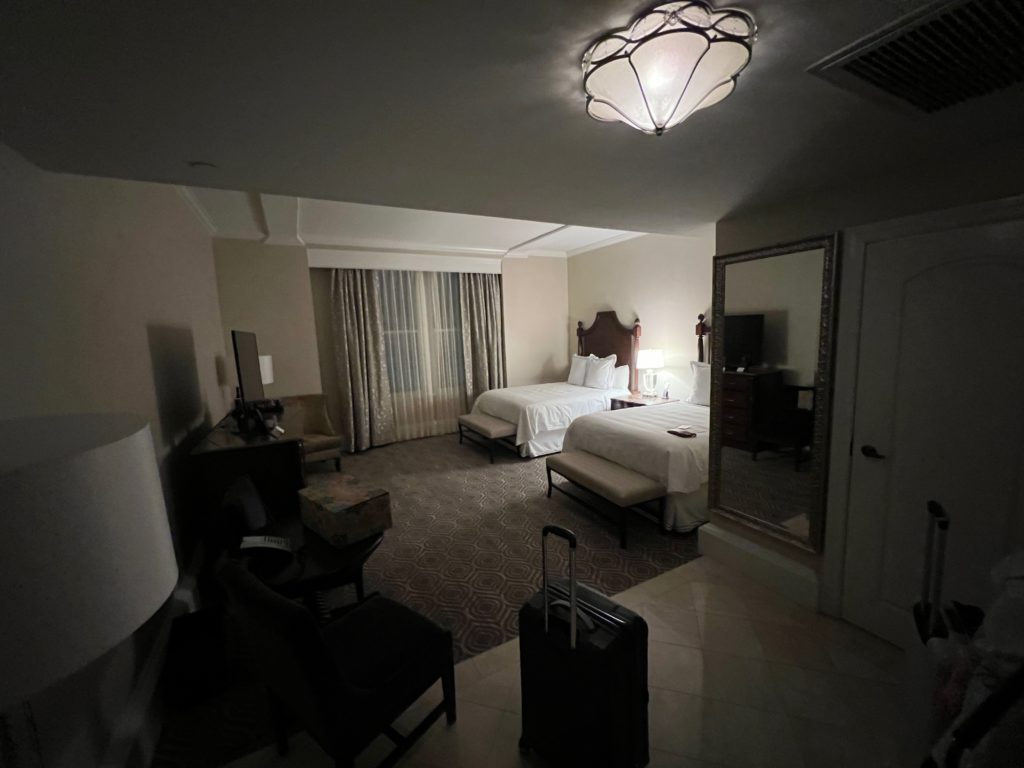 All of that took up our dinner time though prior to our drive through light show and festival I had timed entry for, so we made a last minute switch from a sit down place near the lights event, to carry out fried seafood baskets from the Fiery Crab right next to our hotel. No photos available because we ate and drove in the dark to our event, but Kegan got a shrimp po'boy sandwich, I got fried oysters and cajun fries- oysters were really pretty good! and Norah went conservative with chicken tenders and fries. ha
The drive through lights were an event called Celebration at the Oaks, which is all through City Park which has been blocked off. They had a lot of fun NOLA themed light displays that we laughed at and enjoyed.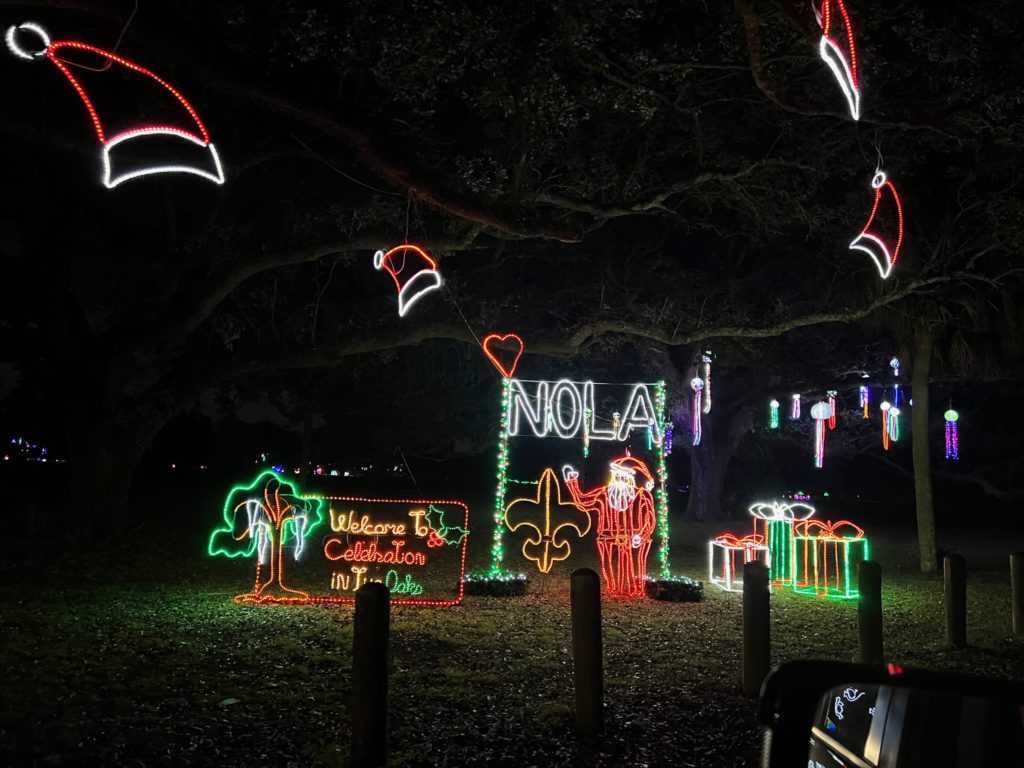 The best was as we neared the end, we saw the real Santa Claus waving to kids as we passed… but then it showed his list on a big monitor… Norah was on the good list, but Kegan and I were still on the naughty list! How rude!
Norah was hilarious.. "but…how did he know our names.." and Kegan would just say "Christmas Magic" and then she'd wait a second…"but really.. how did our names get up there??" It was killing her that she couldn't put it together haha Eventually we had to tell her that when we bought tickets, they asked our names and then when we arrived they scanned our QR code and then stuck an RFID card in our dash and then when we got near Santa, it was read off the reader hanging down out of a tree we drove under. Then she felt better… but Kegan was disappointed she wasn't just happy with "christmas magic" ha
After the lights, there was an option to add on the Carousel Gardens festival. It was more like an old timey amusement park with some rides and tons of lights along really cute brick paths. They had free hot chocolate stands and cute Christmas music streaming everywhere.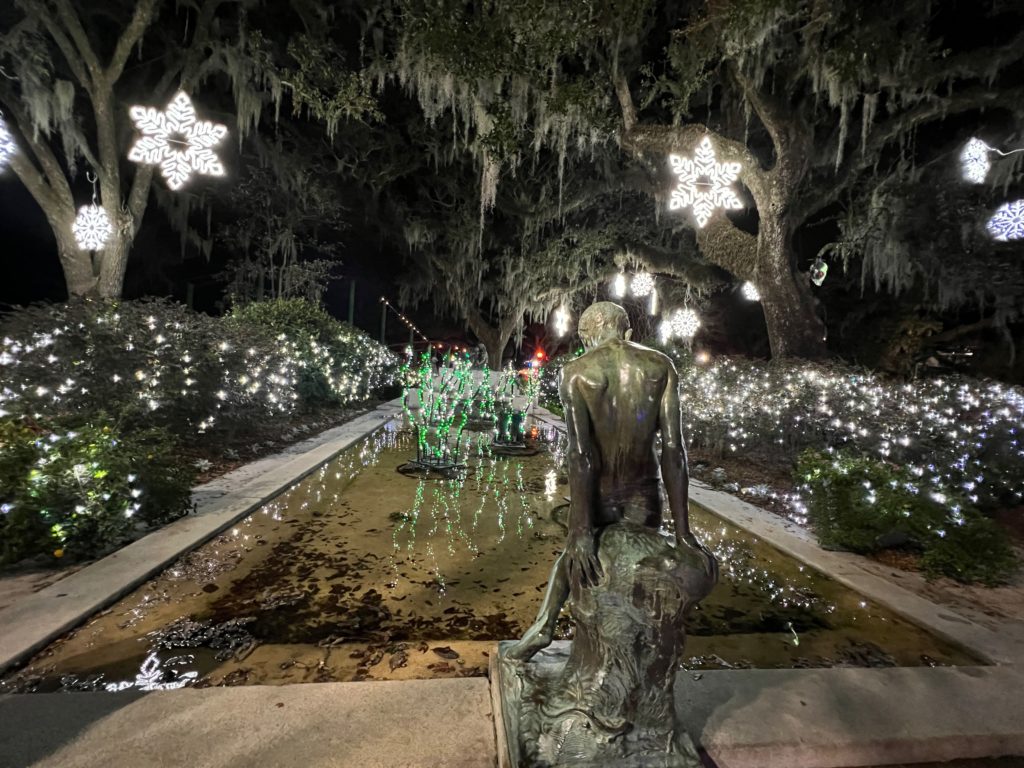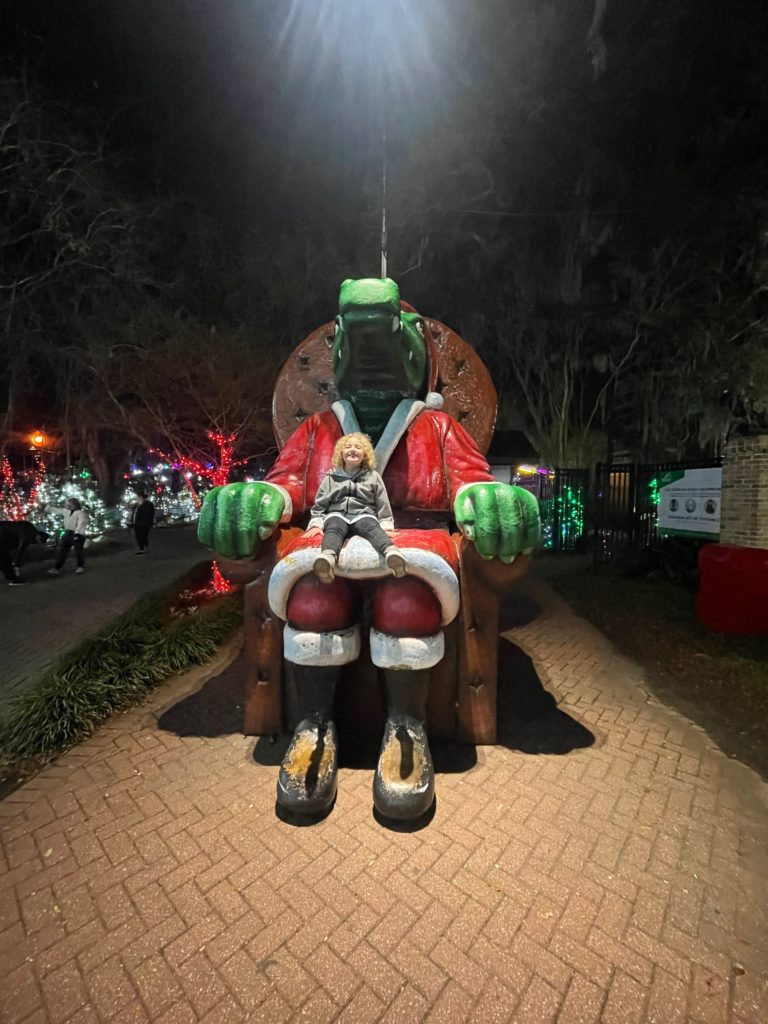 The highlight though was that as we're waiting in line for a photo of Norah on a giant Christmas alligator, Kegan looks over and says "hey that guy just proposed to that girl".. he saw him get down on one knee. I was totally oblivious and would have never noticed any of it… I thought, oh, how cool! but then was like, Oh man! I should take a few pictures for them! I hustled over and tried to capture as much as I could since he was already up off one knee… then tried to hang around long enough to not totally interrupt their moment to be able to get their number to text them the photos if they wanted them. Well, now we're Facebook friends and I get to see how their love story plays out 🙂 She was a sweetie and was totally shocked a stranger would capture that moment for them. ha I text Scotty Perry- the awesome photographer friend of mine and asked him if he could do some fast editing to try to make my crappy iPhone photos look a little more magical… he of course hopped right on it and sent me back brighter better versions than the photos I took to share with them. People are great sometimes.
Norah rode rides. She loved the Wacky House- just a little kid funhouse with a slide at the end, but she also rode the carousel, the bumper cars… and even got out of her comfort zone and rode the swings! I was impressed. Then asked to ride them again because she loved them. The swings were always one of my favorite rides as a kid too.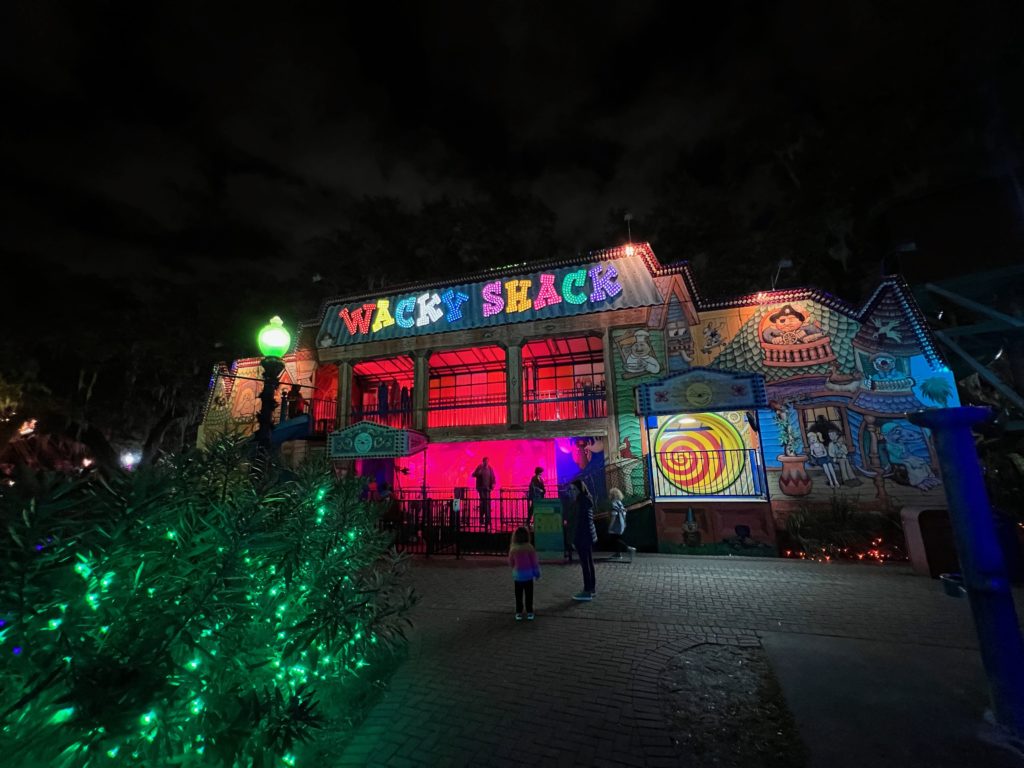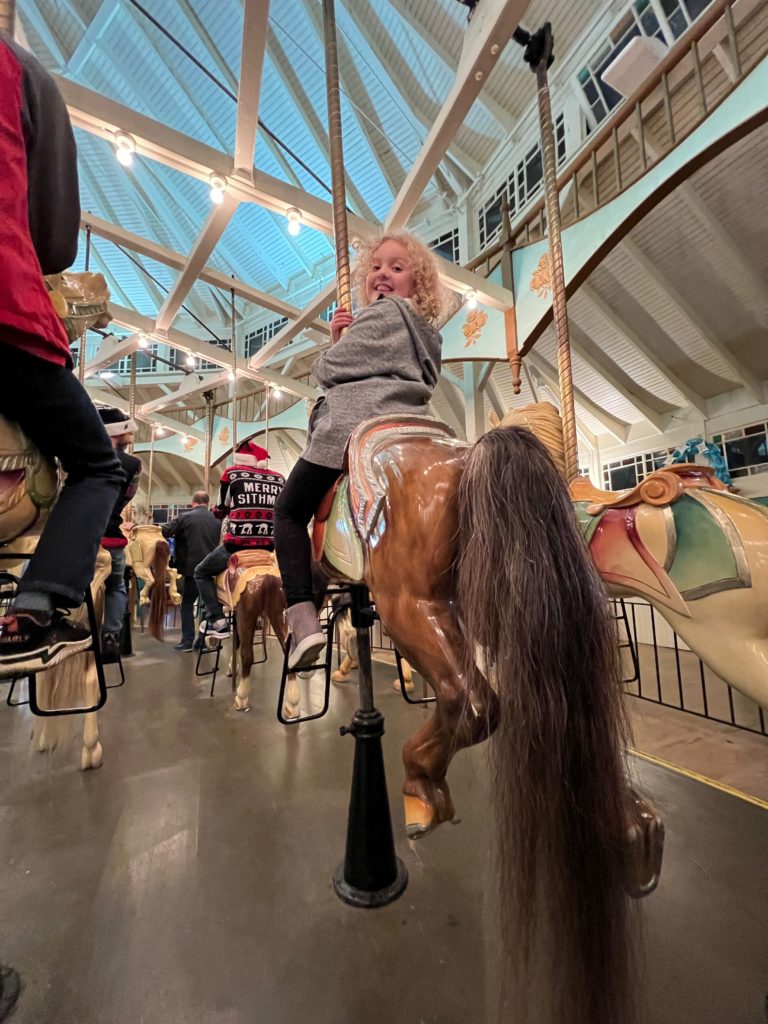 We drove back downtown to the Roosevelt hotel and this time decided to just valet the car until the 26th. ha the extra $10/day was worth not fighting with the parking garage again. ha
Tomorrow we have the Teddy Bear Tea in the morning, we visit the Aquarium, have another escape room booked and dinner at a nice downtown restaurant called Luke's. We may ride the St Charles street car to see the houses and lights all along that famous street…or we'll come back to the hotel and watch a Christmas movie to finish out our Christmas Eve….. we'll see how we feel!