Overall, short story: Copenhagen is a really nice city with a lot to see and do. It was the busiest and most 'New York"-y of all the Scandinavian cities we've seen… but that also meant a good mix of history, culture, food, art and architecture.
We had 1 short evening, 3 full days, and one morning at the end total…and even though we had a couple long days of exploring…it felt like the right amount of time to feel like we had seen the highlights of the city…and according to my steps app, we walked 20 miles! ha
Now, the Play by play:
The first evening was uneventful. We arrived on a RyanAir flight…which means it's like a mile from the real airport haha. Every RyanAir flight, I feel like they built a special terminal with a half mile hike just to deter you from booking the cheap airline.
Just like most cities in Europe, there is an awesome public transit that will run you straight from the airport to the center of the city in under 15 minutes. We purchased Copenhagen Cards for the trip because we had 4 days here and this city's pass actually sounded like a really good deal. Free transport on all of the metro, buses and trains in the city and like 70+museums and places with free admission. In hindsight-it was awesome. So convenient. We did canal tours, museums, rode the metro, took buses around town and never had to spend a dime.
We arrived a few hours ahead of Juliana and her family, so we got our room at The Square hotel. Fairly small…especially for the price- but it's Scandinavia and it's RIGHT downtown…so I have just resigned myself to the fact that everything is double price here.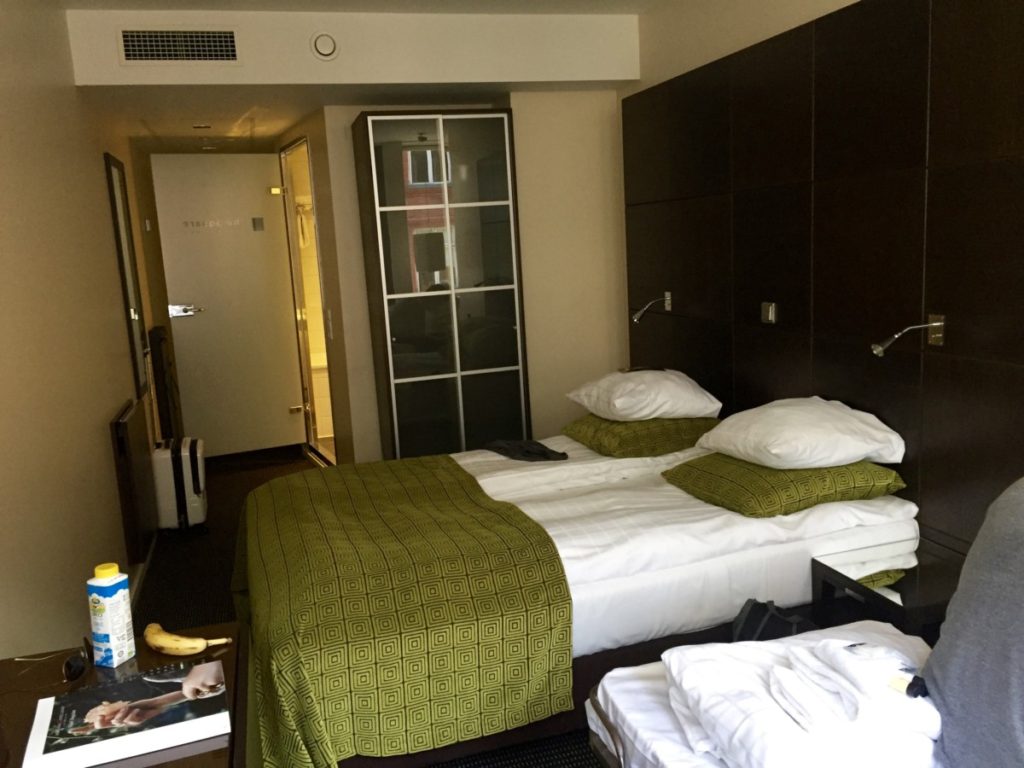 We found a close restaurant: Axelborg Bodega, a Danish comfort food restaurant and pub. For being in a touristy location, it was quite good. Norah said it was "too fancy" but when asked why, she said it was because our waiter had a mustache. lol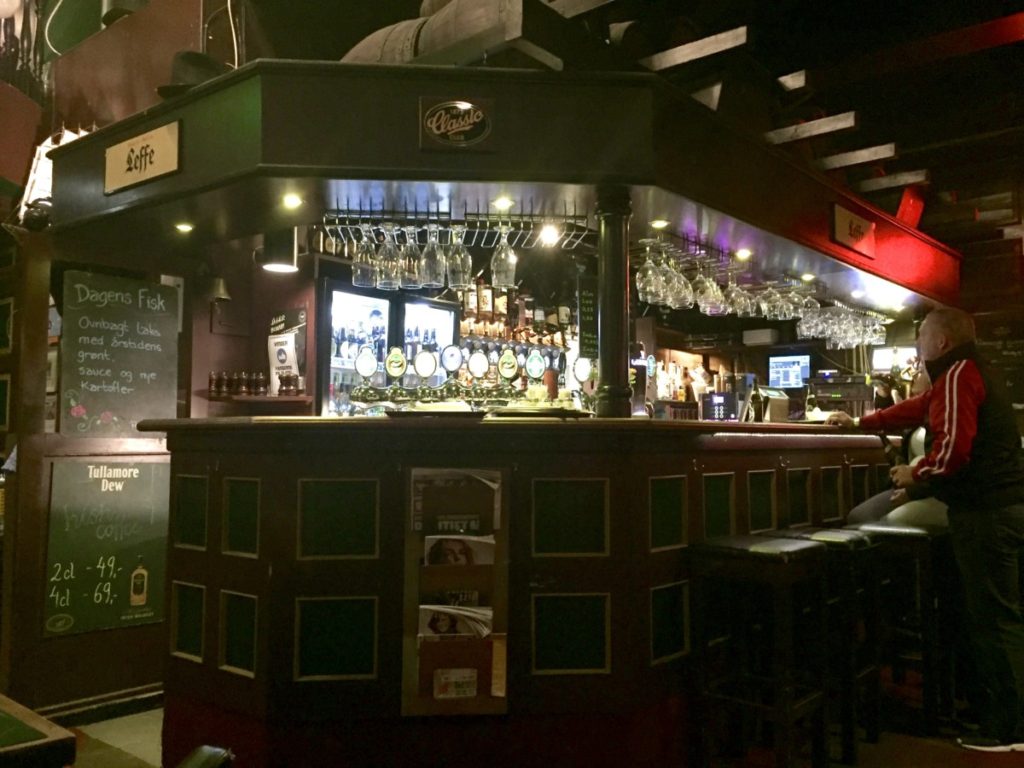 A Hoegaarden on draft in a giant glass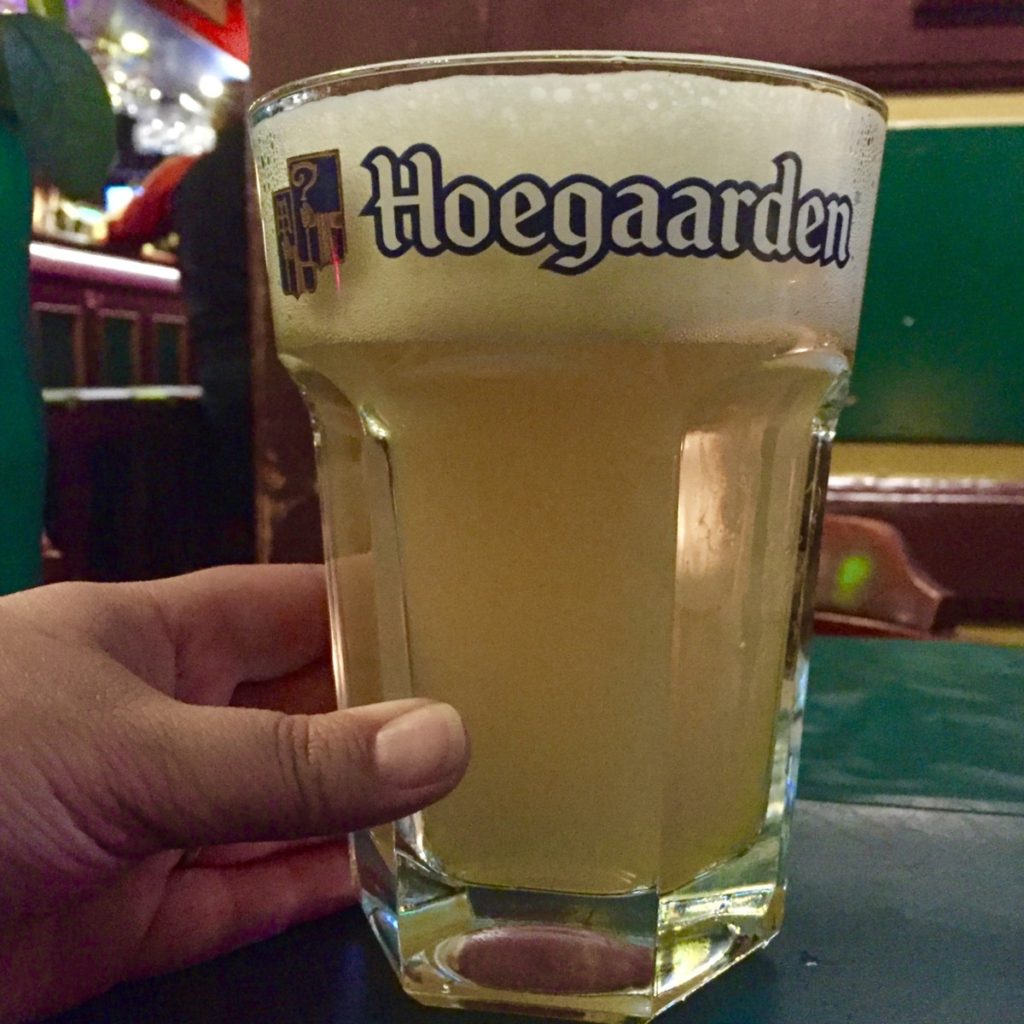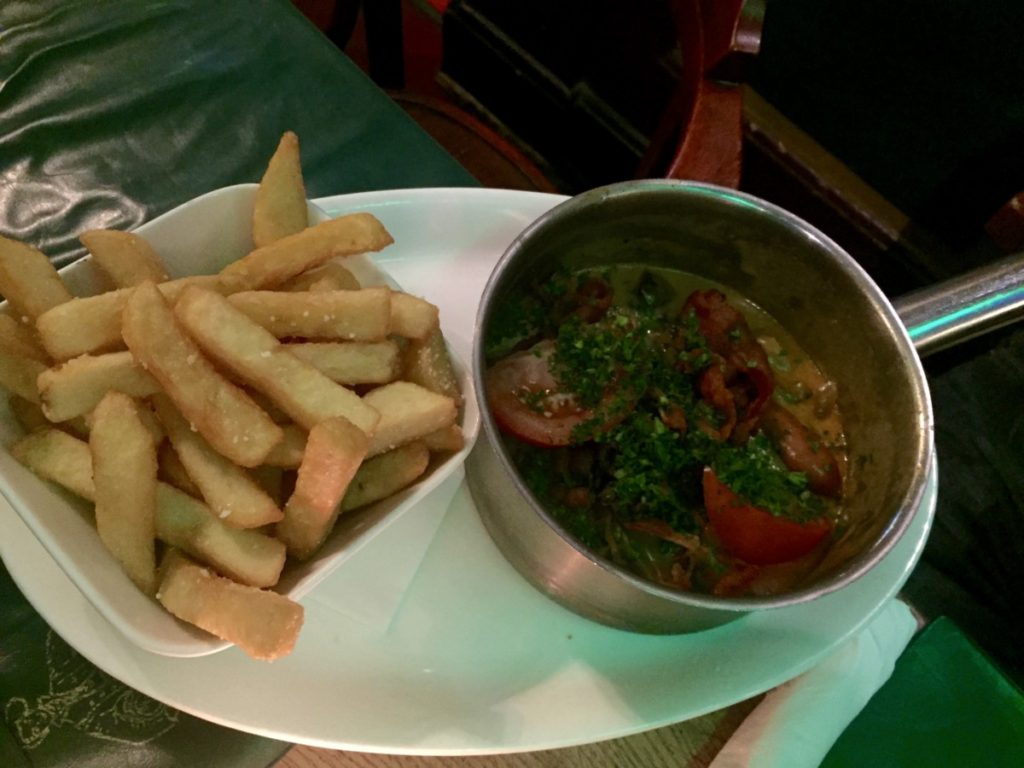 Once Juliana and Ryan and their two little ones arrived, we just hung out with them for a couple hours and let the kids play around before heading to bed.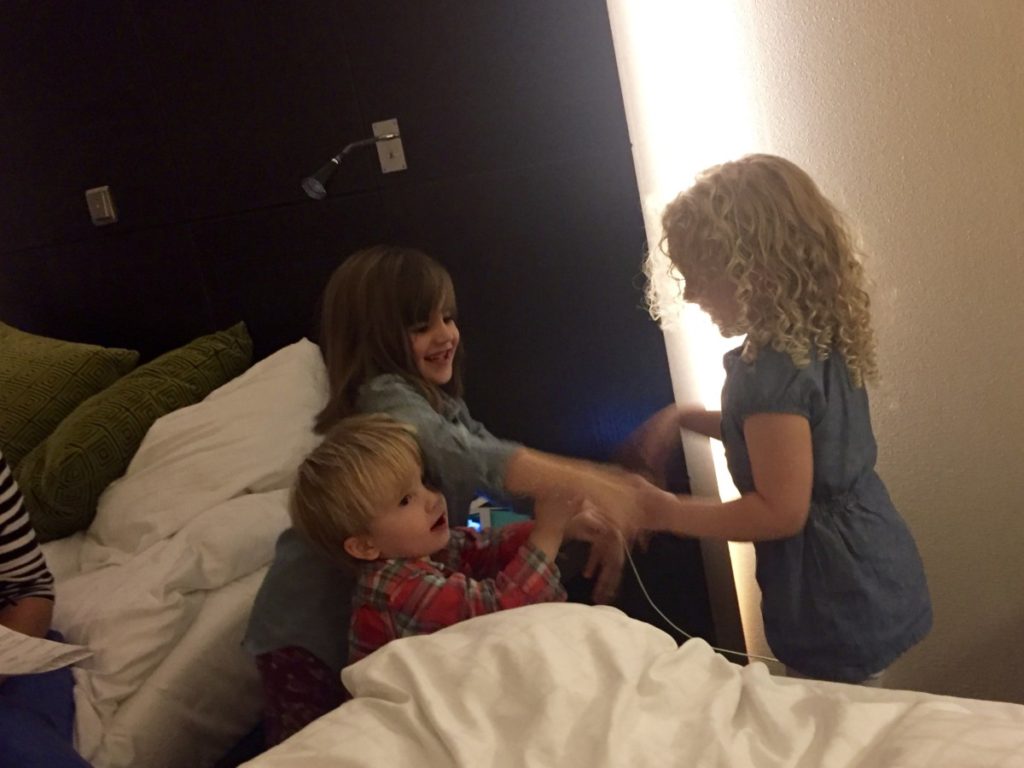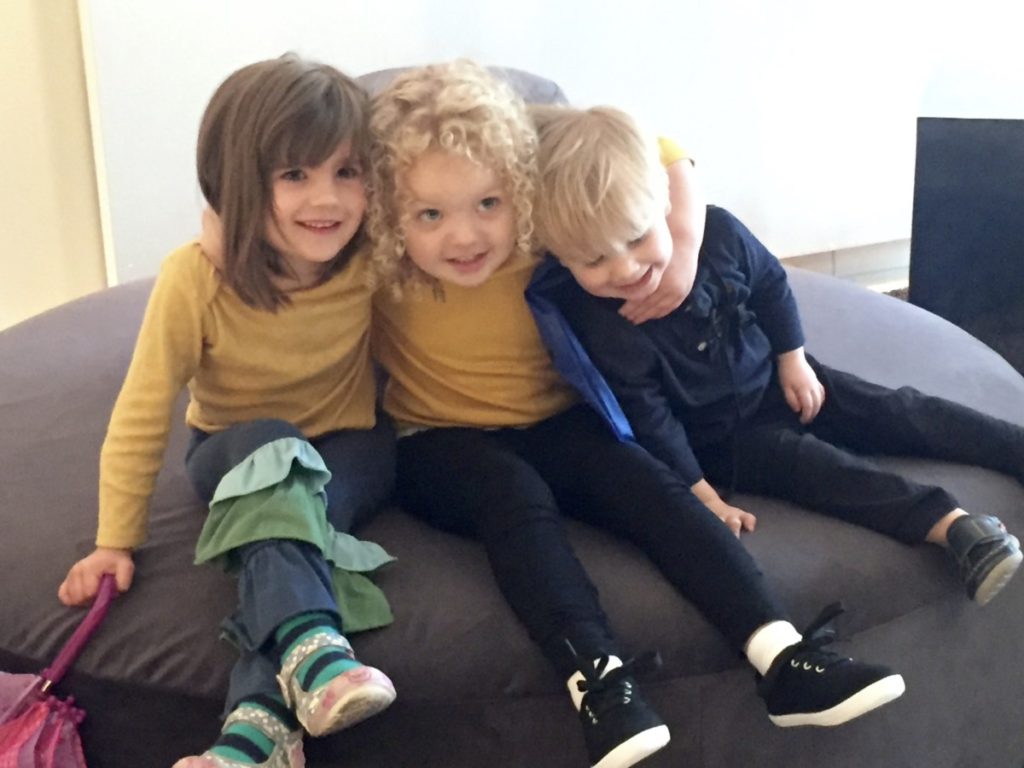 Full day 1
We ate breakfast at the hotel- a very small Swedish style spread… but not a lot of stuff. It was charged to the room so I didn't pay attention at the time… but it was $60 for the 3 of us! For the equivalent of a continental US breakfast. wowza. So…we didn't eat there anymore. lol
We started off on our walking tour of the day seeing so many sights and buildings…The most famous part of Copenhagen probably is Tivoli Gardens. It closes two weeks a year. Guess which two weeks…yep. this is one of them. haha so we just saw the gates. and a lot of construction.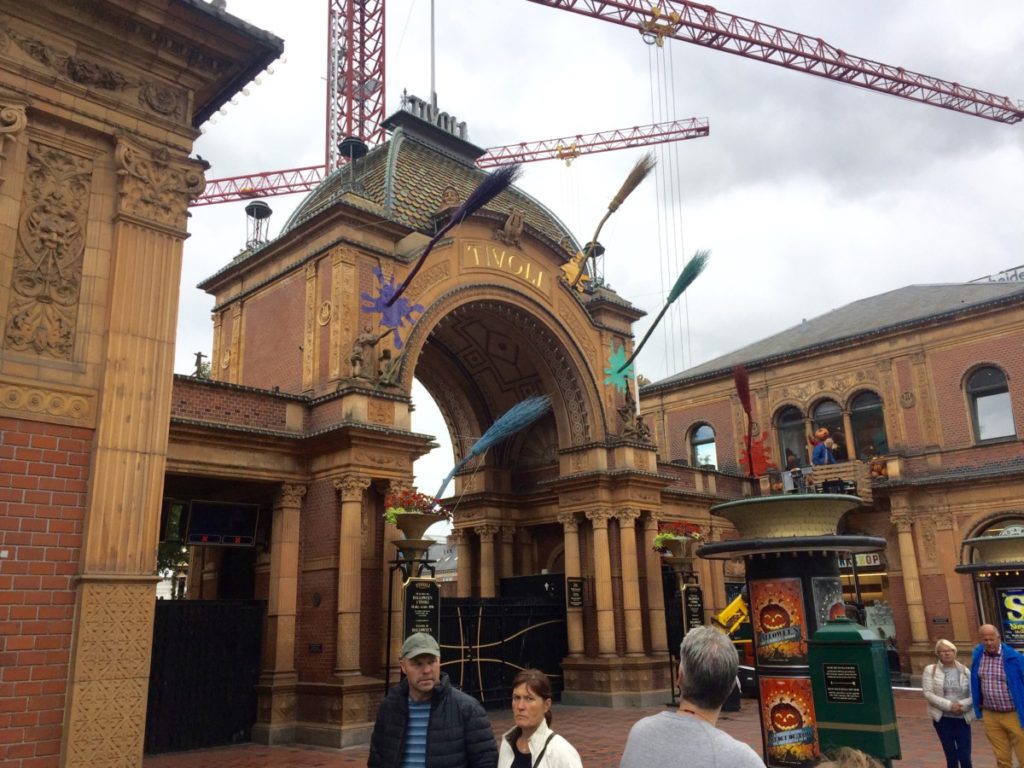 We walked across to City Hall Square.
This dragon fountain of a Dragon fighting a bull was pretty cool. It's been here about 100 years… it looks good for its age I think 🙂 On down we passed some cool doors, a crab on the cornerstone and Dragons on the doors.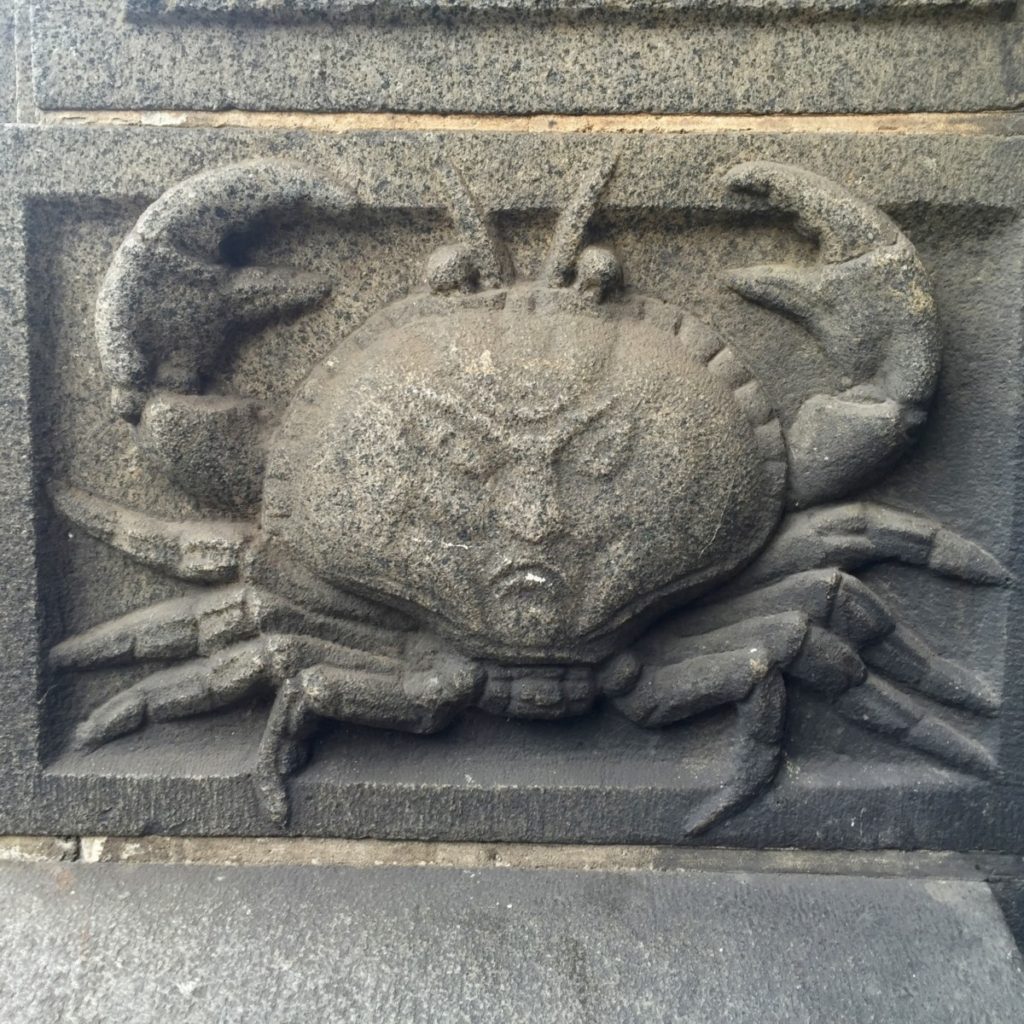 We took a Canal ferry tour.
Of course, the Asian people loved Norah. Taking her picture before she even got on the boat.
They were selling Carlsberg beers on the ferry platform- so when you can drink in public, you do… lol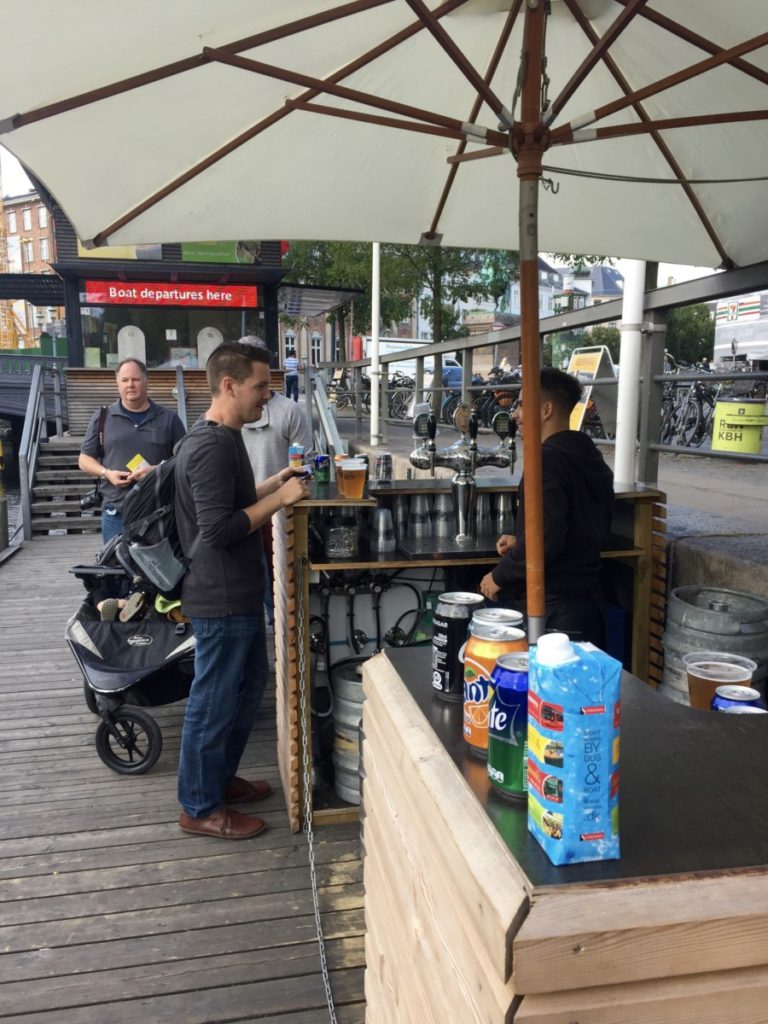 the tour went past a lot of the famous sights of Copenhagen including Nyhavn with its picturesque street of colorful buildings and old boats.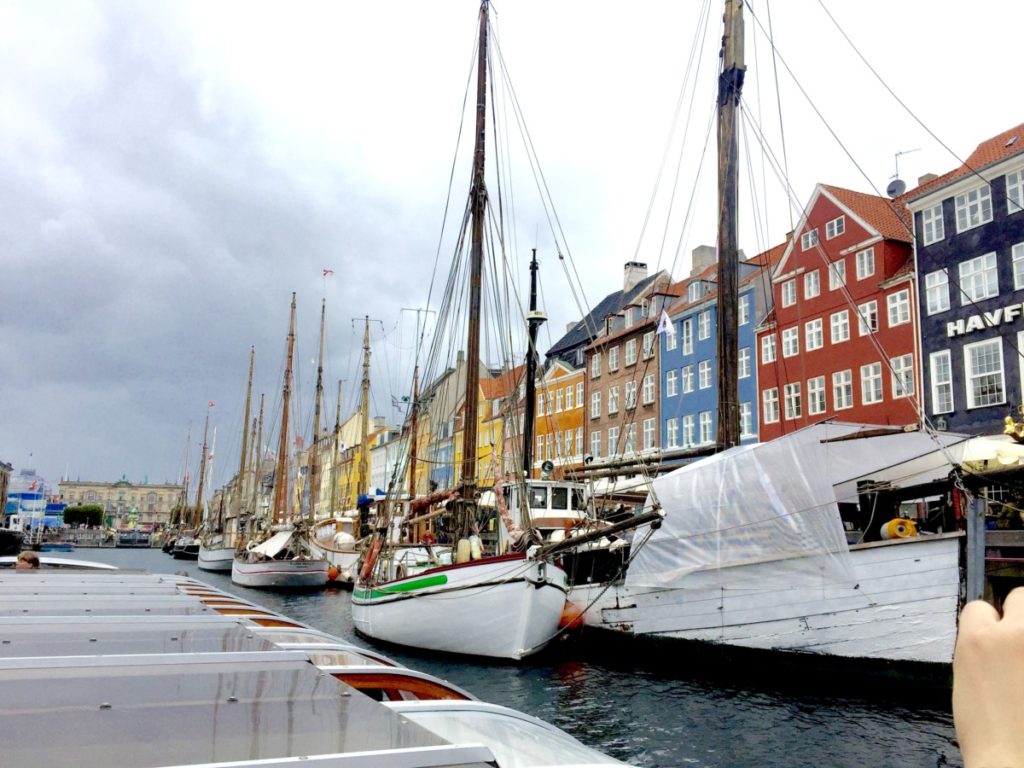 The Korean guy across from Norah gave her candy. This child is going to learn a hard reality that adults don't just give you things and think you're amazing once you grow up 🙂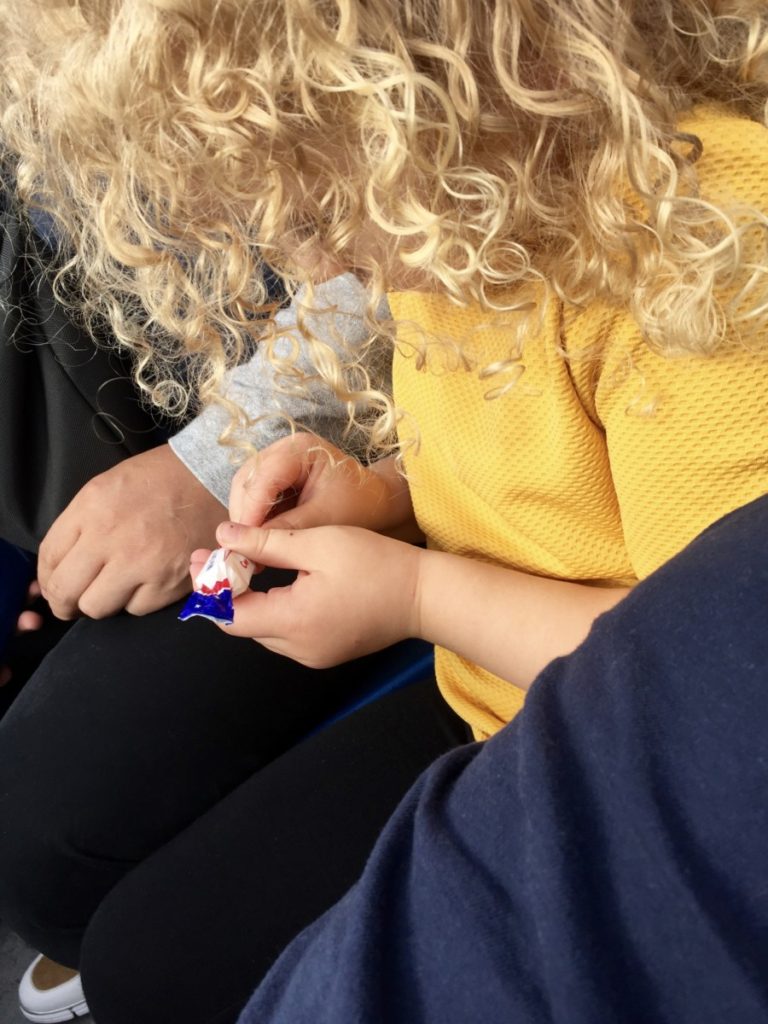 Once we finished our canal tour we kept walking through the city. Past Holmen Church, an "as close to original" church as you can find in Copenhagen. Finished in the early 1600s, it was largely unaffected by city attacks and the two major fires that ravaged Copenhagen in the 1700s. The current queen of Denmark, Queen Margrethe II, was married in this church in 1967. She's an interesting lady…. She's a painter…an illustrator. Most famously, she did the illustrations and translation of the Danish version of the Lord of the Rings. She speaks 6 languages, she has designed costumes for theatre and ballet and she's an absolute chain smoker. ha I'd hang out with her. She has no real political power…and has even publicly stated that she will abstain from all voting to ensure no partisanship. She is also the first female ruler of Denmark, as the law was amended to allow her to ascend the throne after her father as he had no sons. Sounds like she is a great ambassador for her country but I admittedly don't know a lot of details about her.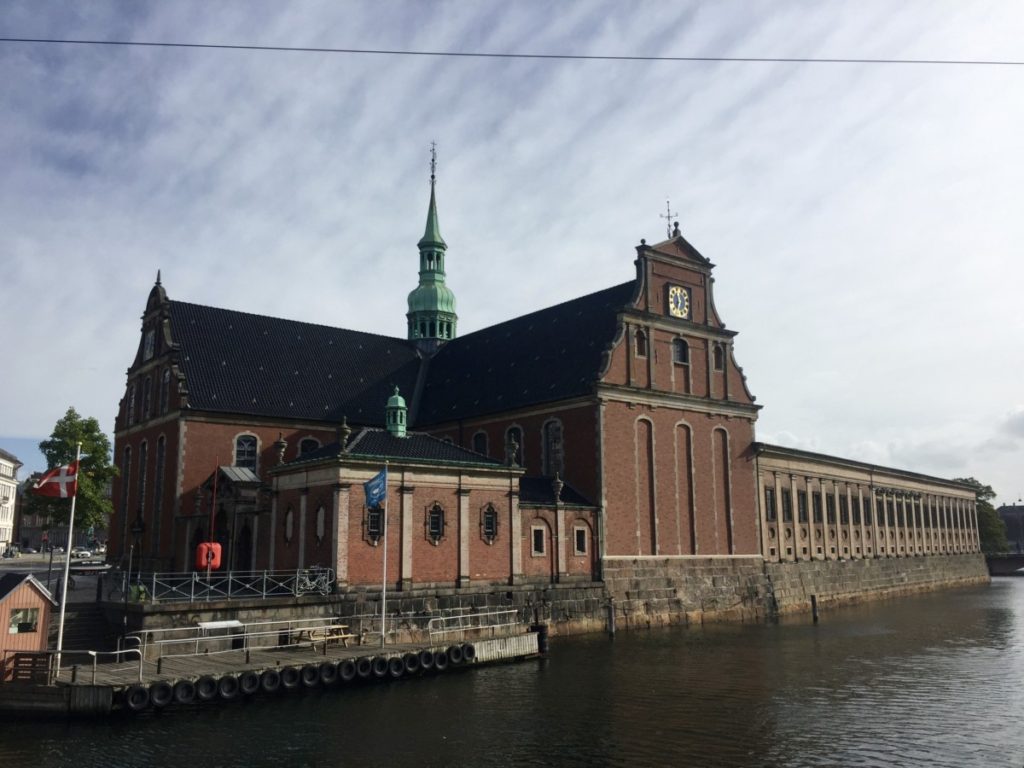 Also, in the same area across the bridge is the old Stock Exchange from the 1600s with an amazing dragon spire on top. It's hard to see, but that spire is 4 dragons, spiraling up to the top. It's now just a boring Chamber of Commerce building, but it's an awesome example of 1600's "Danish Renaissance" architecture.
After a little walk, we found a Joe & the Juice and had a quick recharge. Lucca (aka "Yew-ca" as he says ..most adorable little boy ever.) tried helping the girls with their puzzle which they weren't big fans of. ha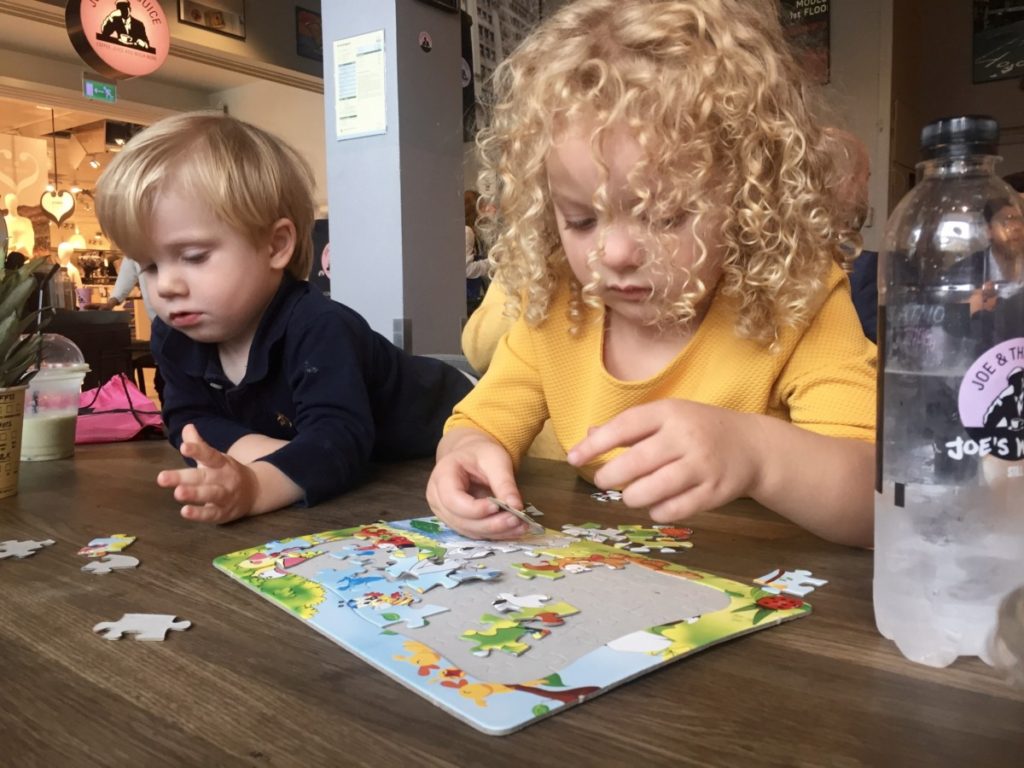 We found trampolines in the middle of the street so we jumped on them. They do make you happier!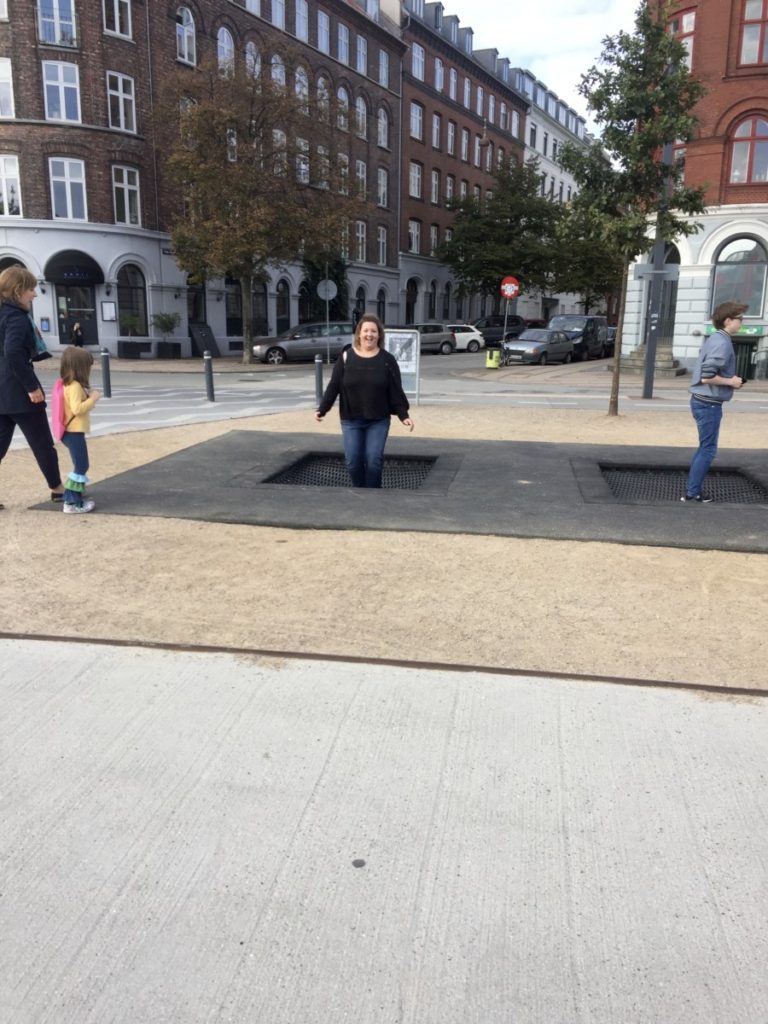 Denmark is widely considered the happiest country in the world. I would be careful to not confuse happy with smily and "midwest" friendly- as most folks we met were just doing their own thing…but truly happy with their life? The Danes got it going on. They have free healthcare, free child care, free preschool, a year of maternity leave (3 months of that at 100% pay!), paternity leave, the highest level of volunteerism in the world, almost 90% of their population voted in their last election due to the perception of fair and uncorrupt leaders. (compared to under 40% in the US and the train wreck we're looking at in politics.) Also, 50% of the population in Copenhagen bikes to work and for travel. Literally- if felt like EVERYONE had a bike. This picture was taken out our hotel window. This isn't the Tour de France… this is just a side street downtown on a normal Tuesday. Insane. Bikes have their own real traffic lanes and their own signals. It was incredible to see that kind of infrastructure.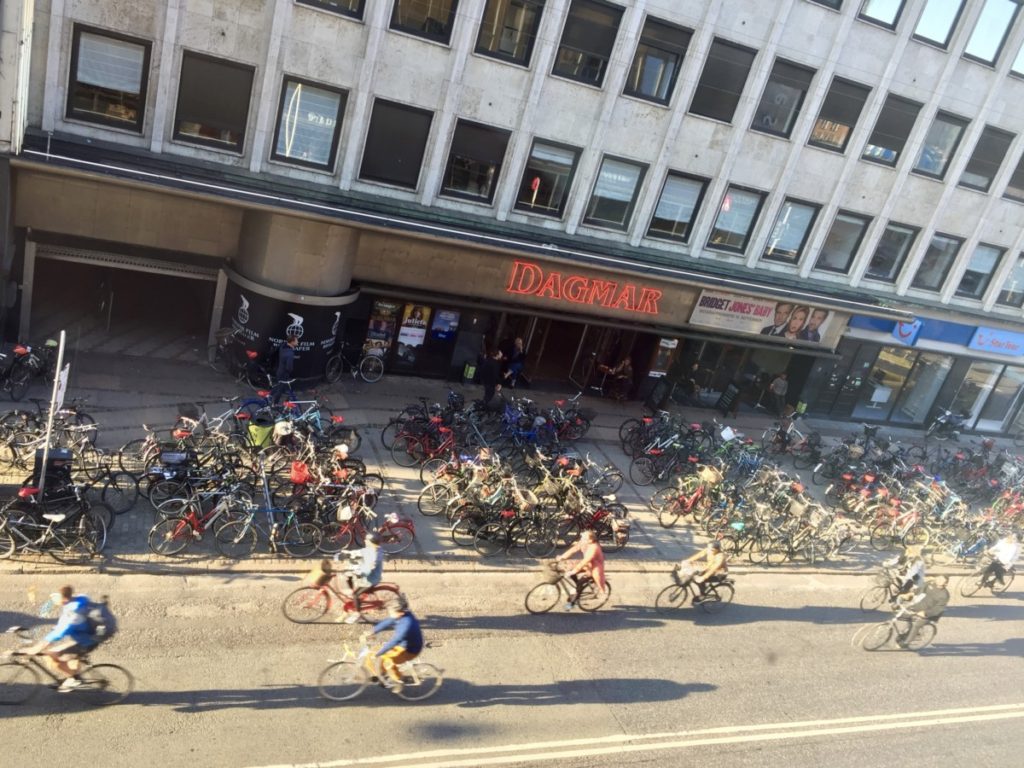 We made our way over to Paper Island, famous for its Street Food scene. I could have eaten here every meal! Foodie paradise. Stall after stall of everything you could think of. I ordered two meals basically because I couldn't make a choice and I thought I'd never be back! ha (breaking news: we went back haha)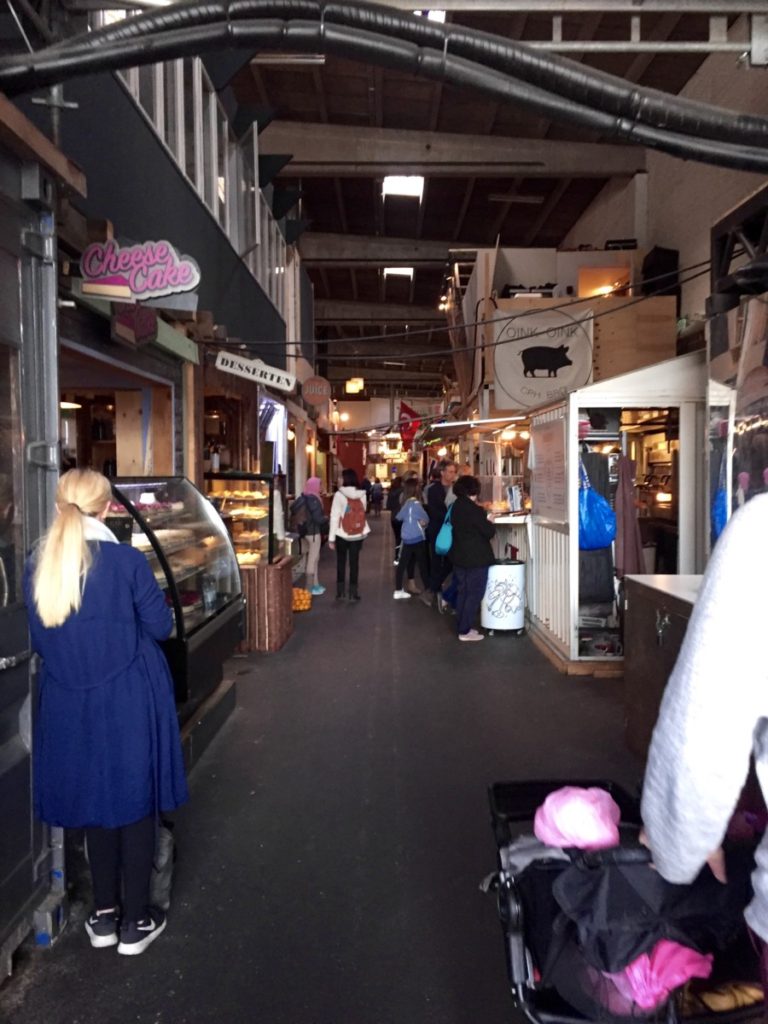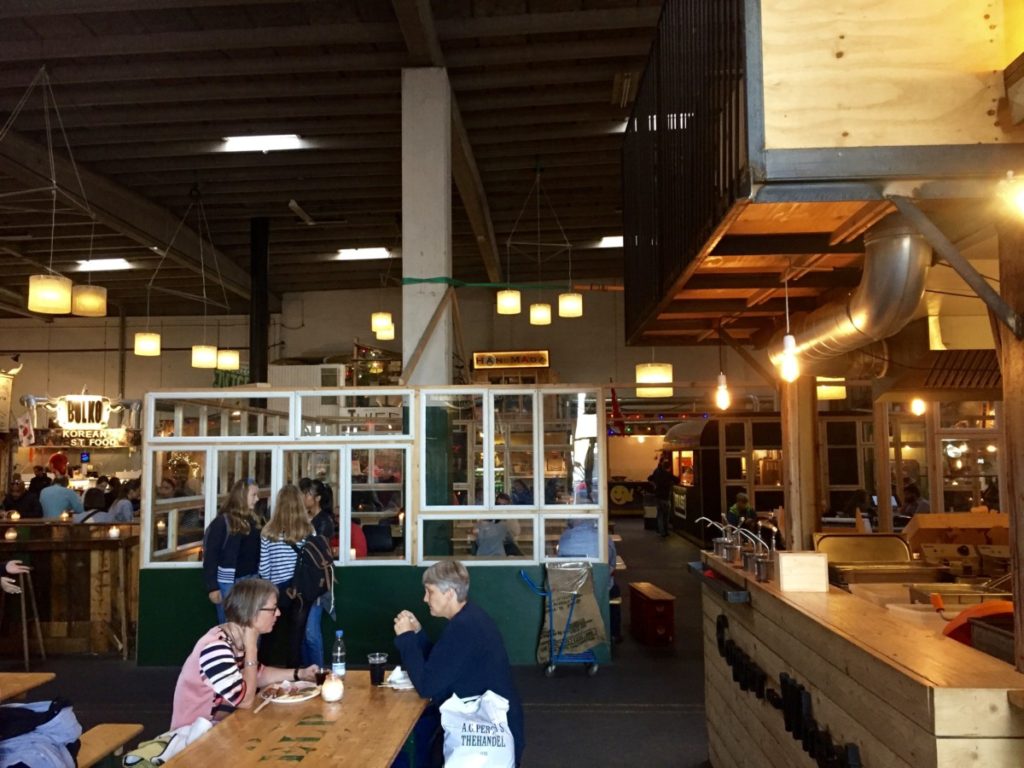 I got this Brioche bun pulled Duck burger… omg. i have no words.
and also this terikyaki rare flanksteak with tempura green beans. so worth it. even if i couldn't breathe. 
Kegan went for the meats, choosing a Brazilian churrasco style street meat stand. 
We walked on down to Nyhavn to explore the canal a bit by foot instead of boat and pose for the quintessential pictures.
We next walked through the "Freetown of Christiania" but photography is banned, so we didn't chance it and take any pictures. Christiania is a real life hippie commune thats been functioning for over 40 years. It is a self-proclaimed autonomous state…and there is even a sign when enter that says "you are now leaving the European Union". The police used to warn against entering because they didn't have access to everything inside… but I think that was before last month's events. To understand "last month's events", some history is needed. The commune started in the early 70s when some hippies, as a way to protest the military and government's abandoned lands, decided to squat on some seaside property that the military had recently stopped patrolling. This quickly became a full blown movement… and the Danish government actually met resistance from citizens who wanted these hippies to be able to stay as part of a giant social experiment.
The one aspect that has seen the most controversy is the open drug trade that was basically allowed up until 2001. You could go down "Pusher Street" through stands made of plywood and pick your drugs. The police knew what it was, but it was allowed as it kept the drug trade out of the rest of the city. A conservative government came to power in 2001 and all of that changed. No longer was it ignored… but it was still the known place for softer drugs like cannabis and hash, although not so open and in your face. Just a few months ago a tourist was beat up for photographing some of the stands on Pusher street. But…all of this came to an end on Sept 1. On August 30, police tried to stop a guy leaving pusher street with a box of money (proceeds from a day's worth of cannabis sales) when he pulled a gun and shot 3 police officers, one of which died. This was the first police officer to die in Denmark since 1995. It was a big deal. They found the guy… but this was the last straw for residents of Christiania who saw this as their Achilles' heel for public approval of their lifestyle and commune and they bulldozed down all of the stalls along pusher street themselves the next morning and really started taking a stand against drug sales in their area. So… now it was just a peaceful walk through a spray-painted hippie land… and it was hard to see what the allure of the whole thing really was… I'll admit, I really wanted to see Pusher Street, but it turns out I was just a month too late.
After leaving Christiania and "returning to the EU," we passed  The Church of Our Savior, famous for its 400 step external staircase to the top. I really wanted to climb it but a mix of walking through the city all day and not wasting more of everybody's time plus Kegan probably having to carry Norah made me decide it was a bad idea. Ha Next trip, Copenhagen….Next trip.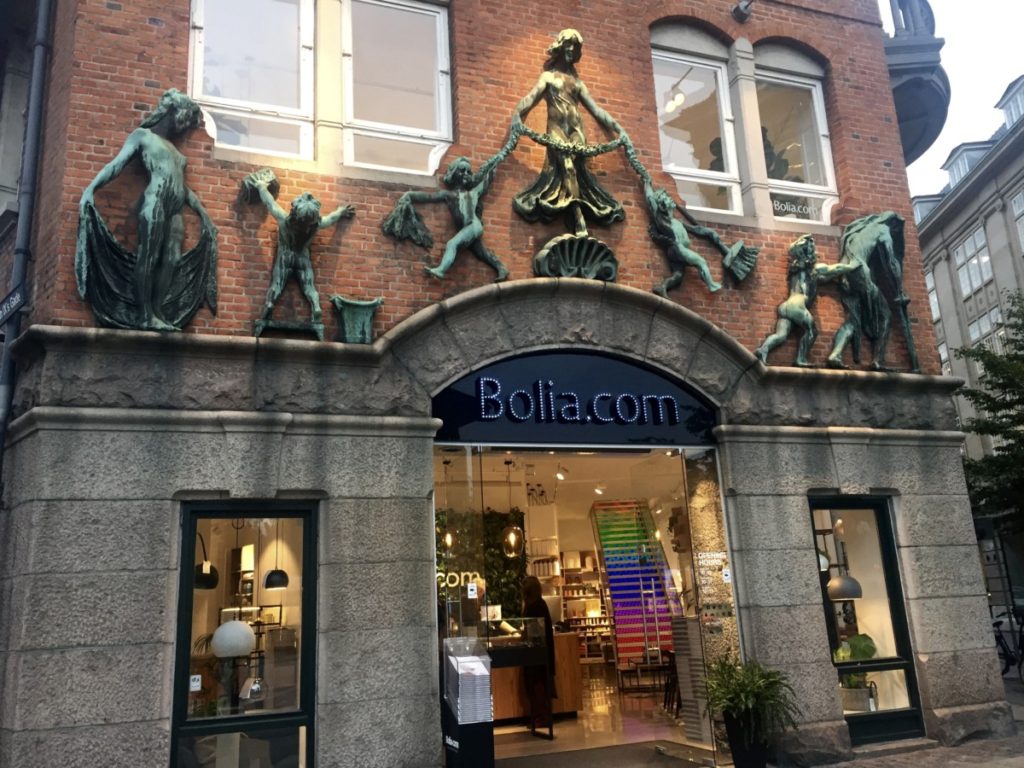 On our last leg, we passed The Round Tower. It was built as an astronomical observatory attached to the church and has access to a library in the same building. What makes this so unique, is the fact that there are no stairs in the tower. Instead, the inside in a giant ramp that winds around to the top. It was designed wide enough so that a horse and carriage could ride inside to the library to move books in and out. We didn't go inside… but another one I'll save for next time. 
We made it back to the hotel having walked about 7 miles! We could have had one more interesting experience, there was some sort of intake center for the Church of Scientology right outside of our hotel. 
As fun as that could have been we decided to just laugh at them from the outside. Am I the only one who feels like Scientology is some sort of inside joke I'm too nerdy to understand?
We hung out in the lobby for a while and then headed to our rooms for a bit. We got Indian takeaway from the restaurant downstairs that we found to be quite good but Juliana and Ryan didn't really care for it.
Day 2
We started our morning walking the opposite direction from yesterday passing the Planetarium on our way to the Carlsberg Brewery
************
Yes, you are seeing correctly below. That is a swastika on an elephant. Carlsberg used elephants and swastikas on their beers since the late 1800s…but discontinued the use of the symbol after the Nazi's obviously ruined it's use in the 1940s. However, the original elephant gates from 1901 still surprisingly remain.
I caught this awesome rare photo while we were there. There are almost no other people visible -which by itself was rare- but then this horse drawn carriage came strutting up the street! and then made a U turn right before the gates and….all I had was an iPhone. lol I did the best I could. Figures. I'm still happy with it and think this might be one of my "framers" from our travels. 
We continued on through a park looking for The Cisterns. I had read that it was hidden underground through a little glass triangle entrance. We found it and it was awesome.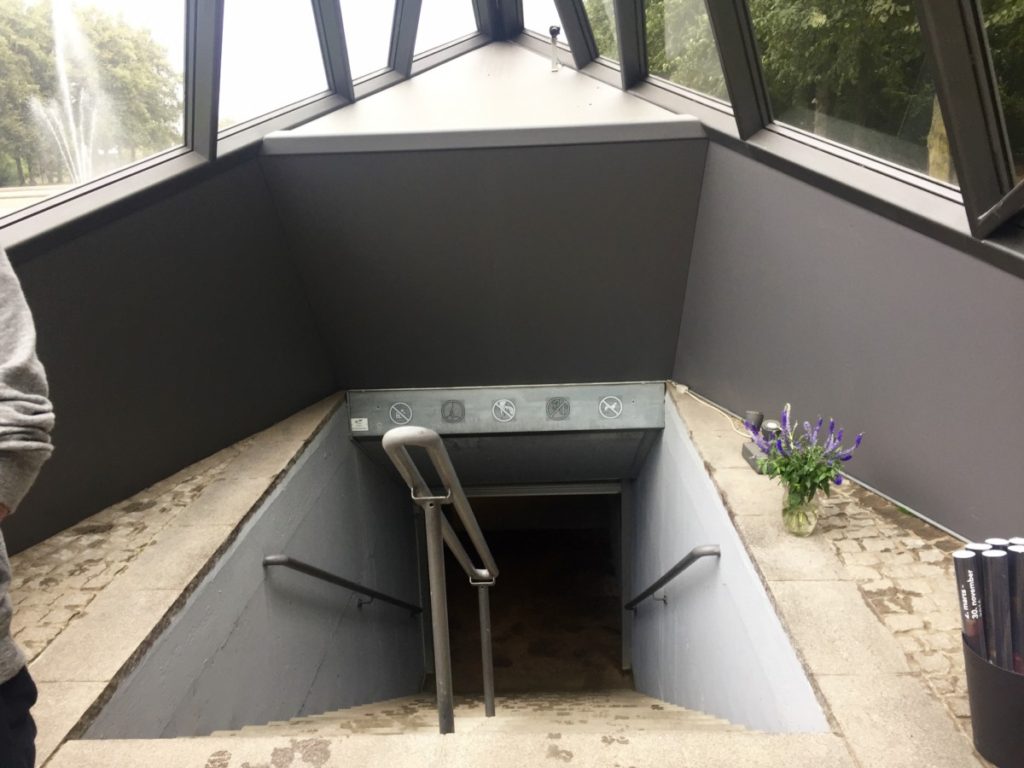 This used to be a giant tank that held 16 million liters of water in the 1800s, when the city's drinking water wasn't the cleanest. Now it's empty and sort of haunting. They have a featured artist right now that has created a haunting low soundtrack and some projected animations throughout the cisterns to give it a very surreal and artistic feel. If no one has used this yet in a horror film, they should.  This is a MUST visit if you go. I will go back anytime we are close to see another artist's rendition of this underground space.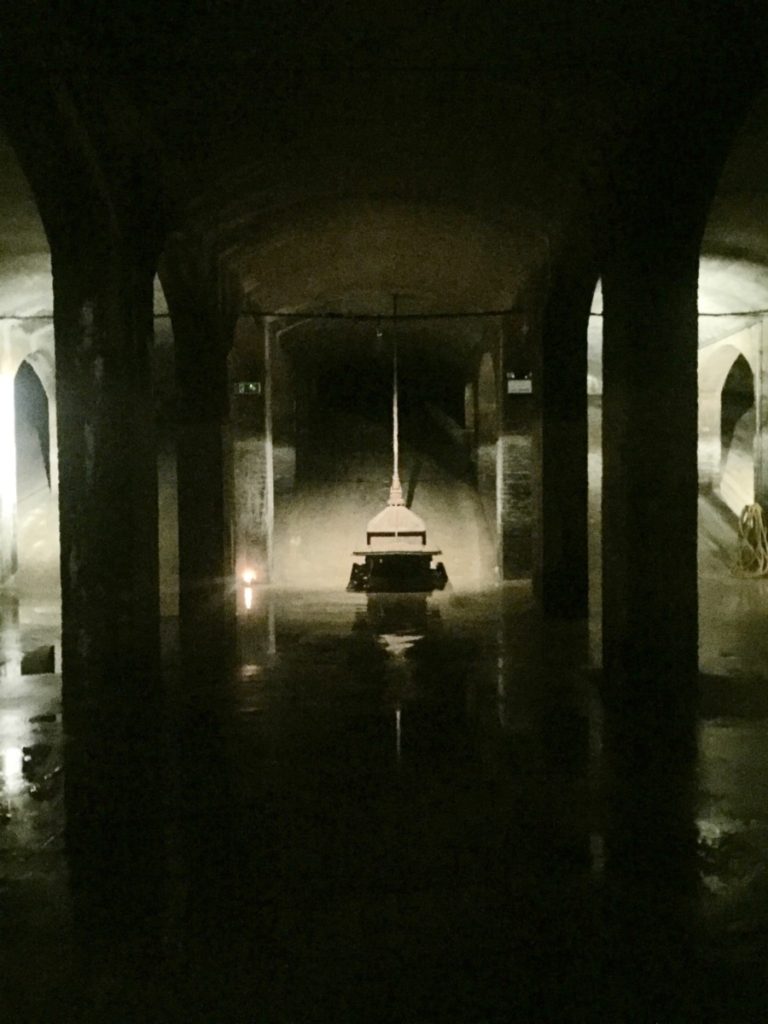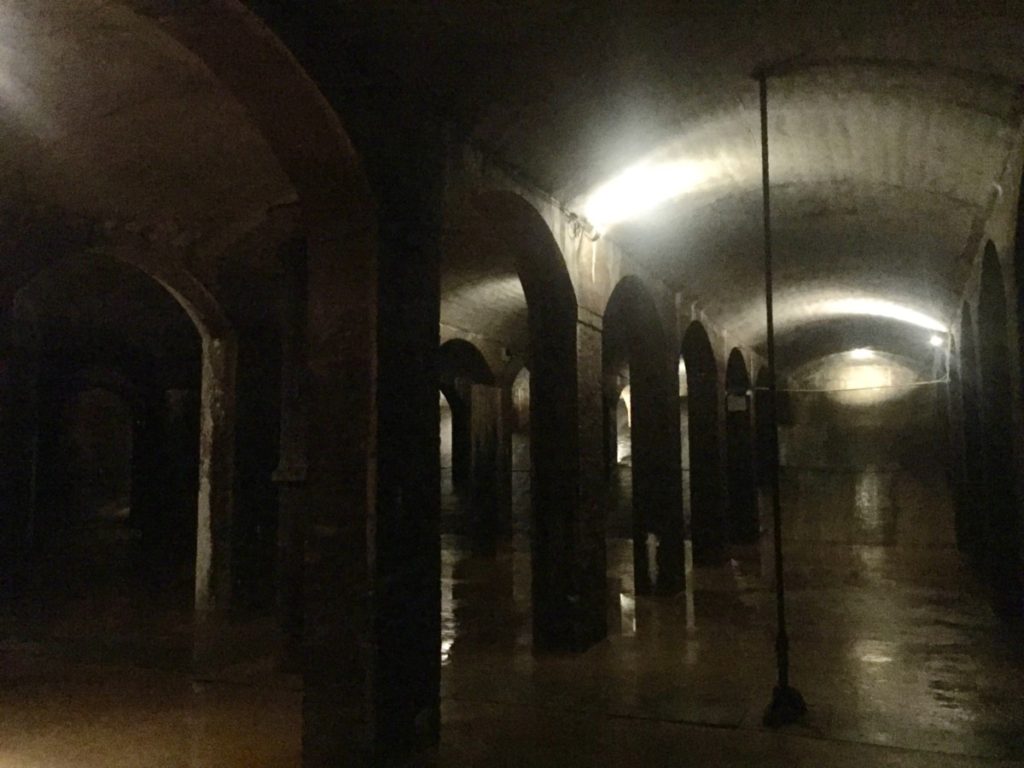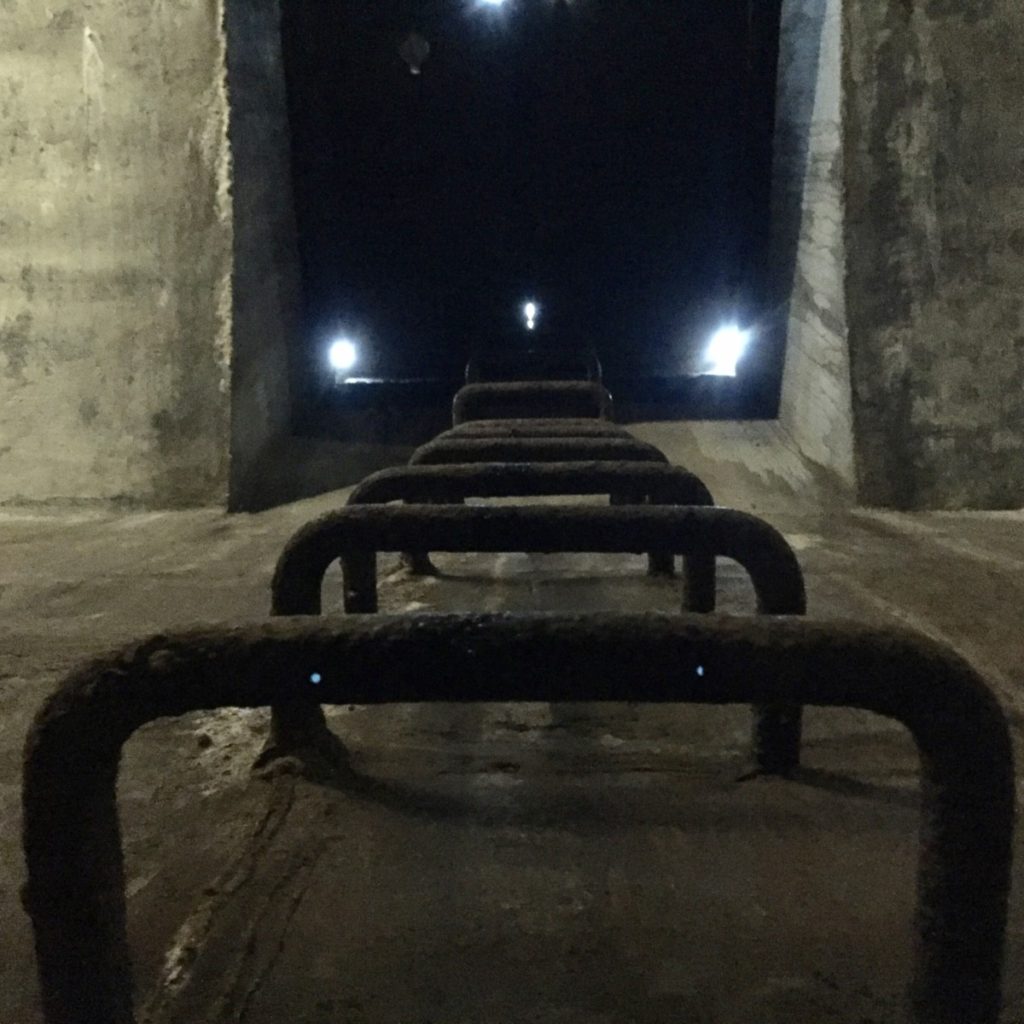 After The Cistern we parted ways with The Wilsons. They had to head back to catch their flight and we were off further away from the hotel in the Nørrebro neighborhood. After finding all of the restaurants I had researched closed for lunch, we found a pizza joint. I asked the guy what the best pizza was, he said chicken pesto… so we got that. I cant complain. In a city where Indian takeout cost us close to $80, an $18 pizza with water and fries that was pretty good felt like I stole it. haha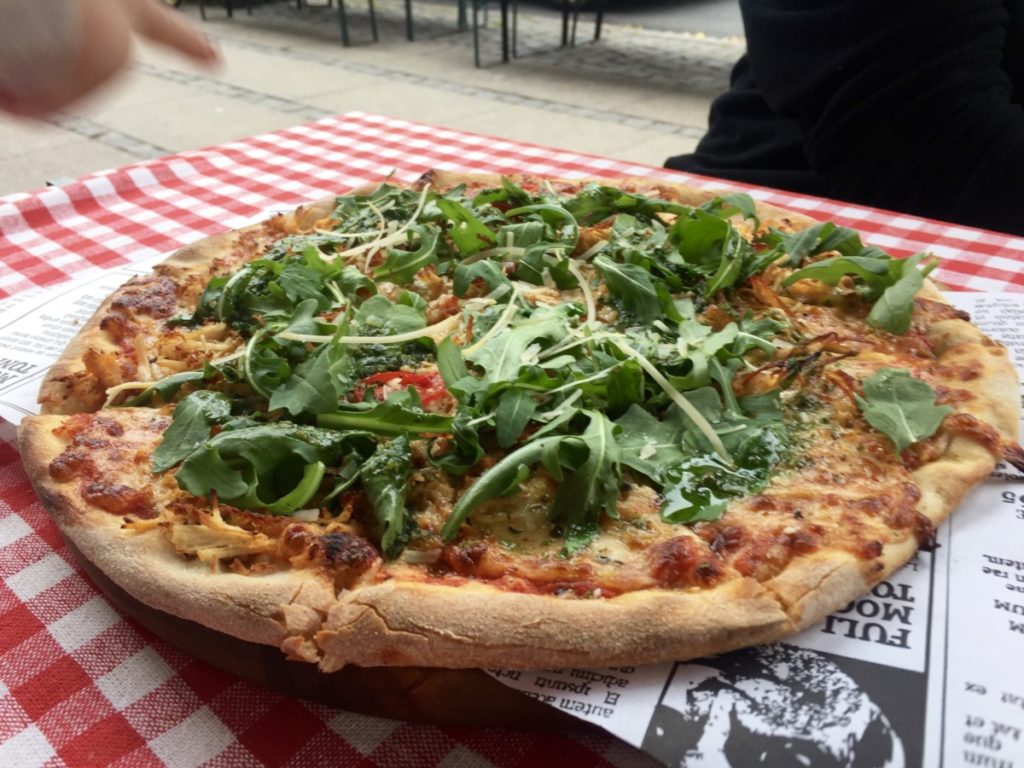 I wish we had little cute plant shops in the US and Ireland like they do across Scandinavia. I would buy sooo may plants. and kill them all.. and then probably buy more, because they're adorable.
After pizza comes beer as we found this great Brewery pub with 40 taps of outstanding craft beer and sours. And since it was raining and iOS 10 killed my battery life, I needed a charger.
We found a good bakery that is famous for their Kanelburrer (cinnamon buns) so we got some for breakfast in the morning.
We also picked up a sampler box of chocolates from Ro Chokolade which has the reputation for being the best chocolates in Copenhagen. They were good but I don't know that I'd need to rebuy them again.
We took the bus back down towards our hotel, and ended up with some terrible kebab meat from a place near the hotel.
Day 3
We grabbed pastries and coffee downstairs outside our hotel . I got a chocolate orange latte which I figured would end up being entirely too sweet (thinking of a Starbucks type American drink) but it was actually really good and just an essence of orange and chocolate in it.
We took a bus way up to the north side of the city during commuter hours which meant we were crammed in and I was beginning to question my idea to try to use only public transportation this trip. Haha but it was short lived and the bus dropped us off right outside of the church that we were traveling to see. This is Grundtvig's Church-the largest Lutheran cathedral in the world and the most Scandinavian church in the world. 6 million yellow bricks. 20 years to complete. And we couldn't go inside.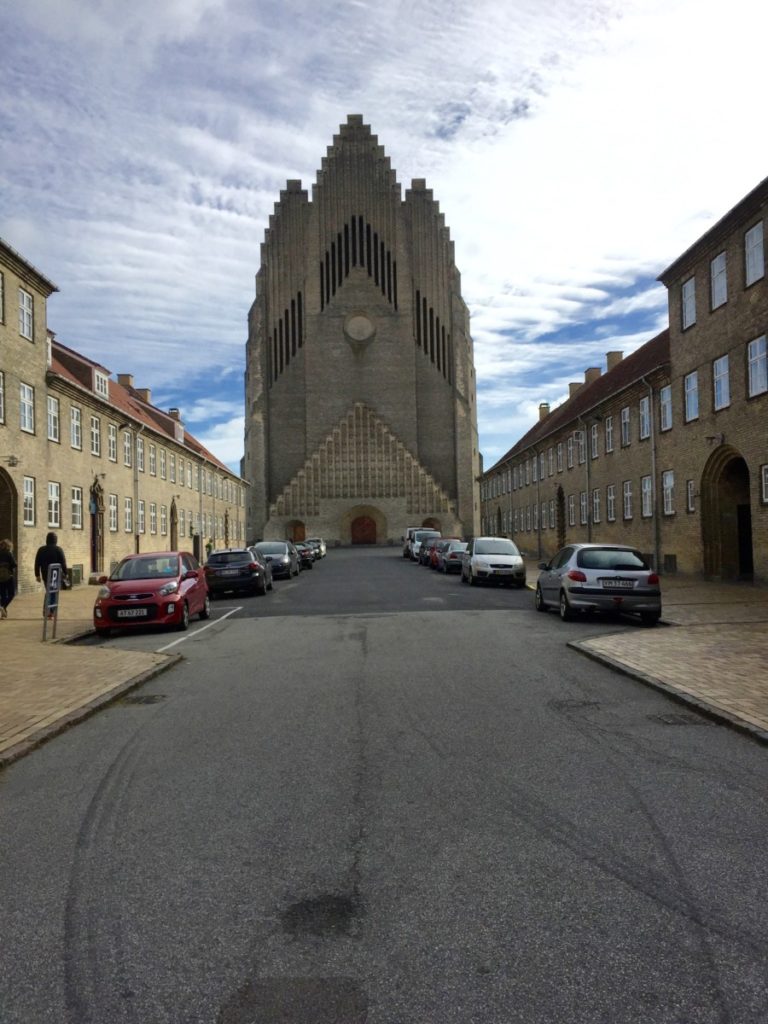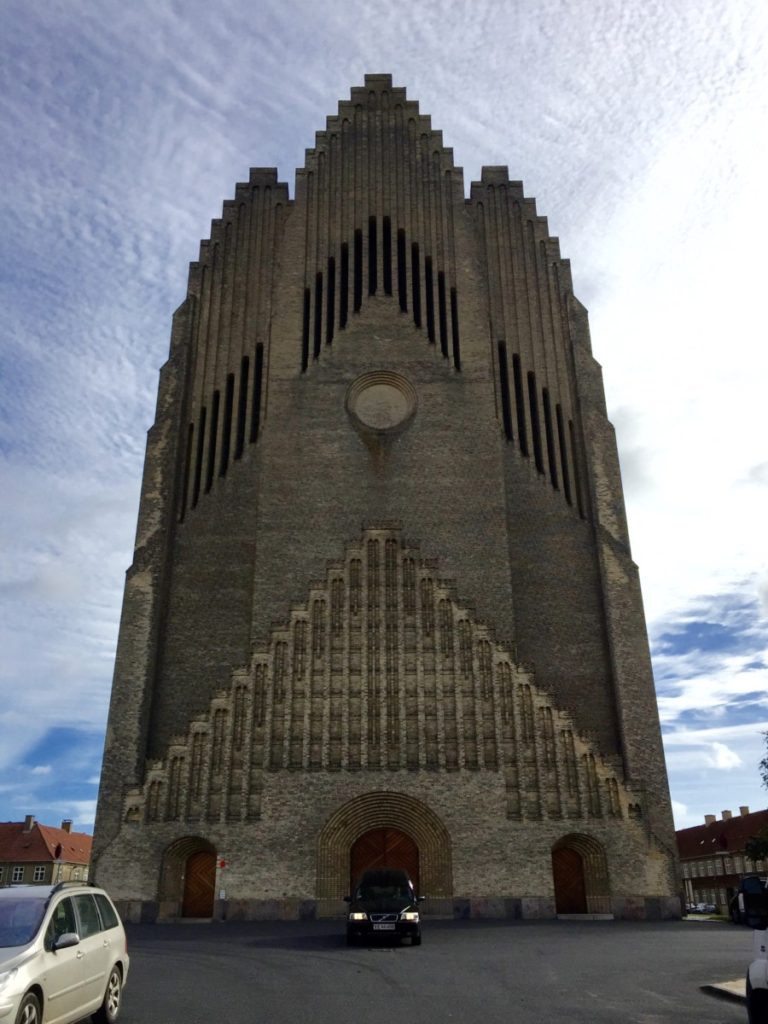 They were having a funeral that morning… so I just had to Google pictures for Kegan and show him what he was missing. So… I guess I'll do the same for you guys. ha
Simplistic beauty. So Scandinavian.
We disappointedly walked towards the Zoologic museum…their Natural History Museum… but the disappointment was short lived, because we LOVED this museum. It's a can't miss in the city, too. I won't go through everything… and trust me, I have about 200 more photos I didn't include here. I'll just leave some photos with a few notes below.
They treated the museum like an art exhibition, which actual art intermingled, like this glass spider art. I'd hate to meet the real life version of this guy!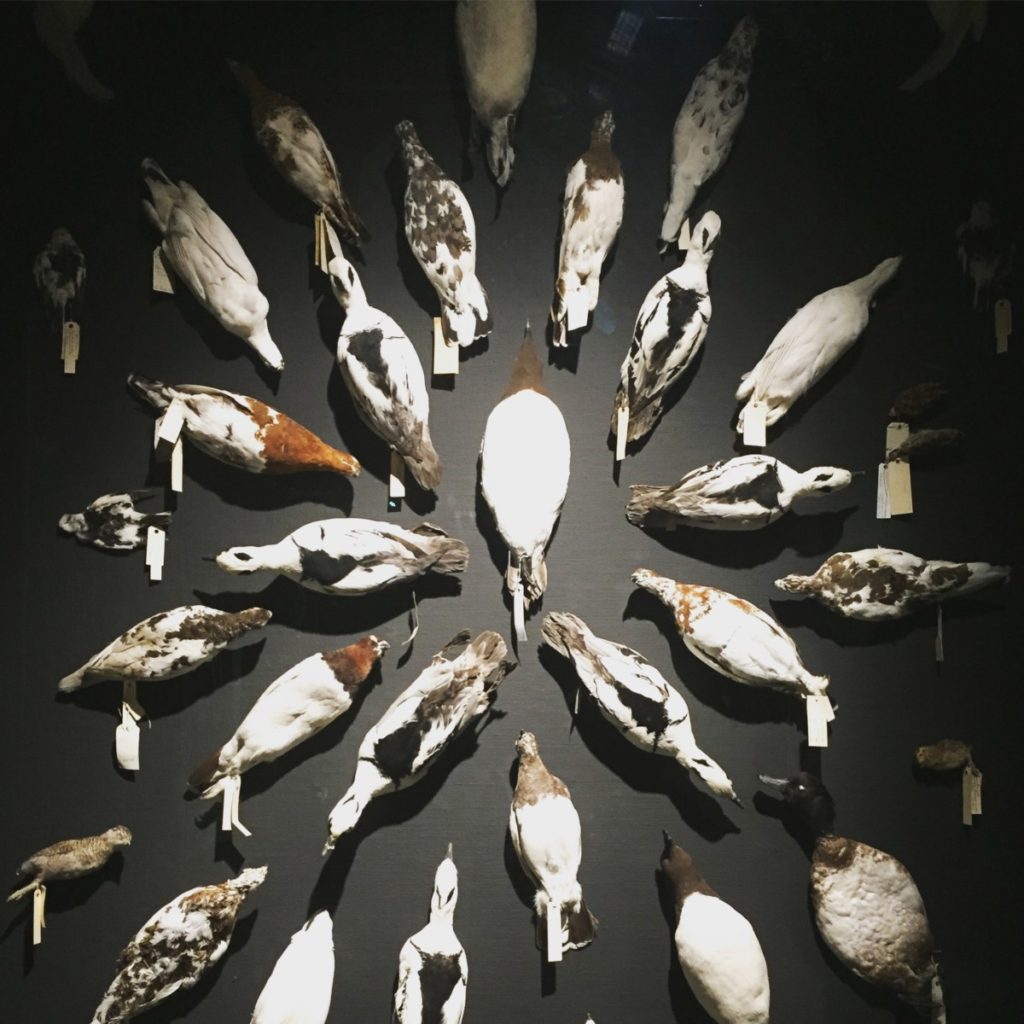 They have the beer that started it all on display. Neat sidestory: Laboratory scientists for Carlsberg were able to extract original yeast cells from this bottle. The yeast is considered to be the first pure cultivated bottom-fermenting yeasts to be used in industrial beer production which didn't cause the beer to spoil. Therefore, this beer is the father of the modern lager. And they remade THIS beer. But so far, only 30 bottles in the world. It's a 140th anniversary tribute.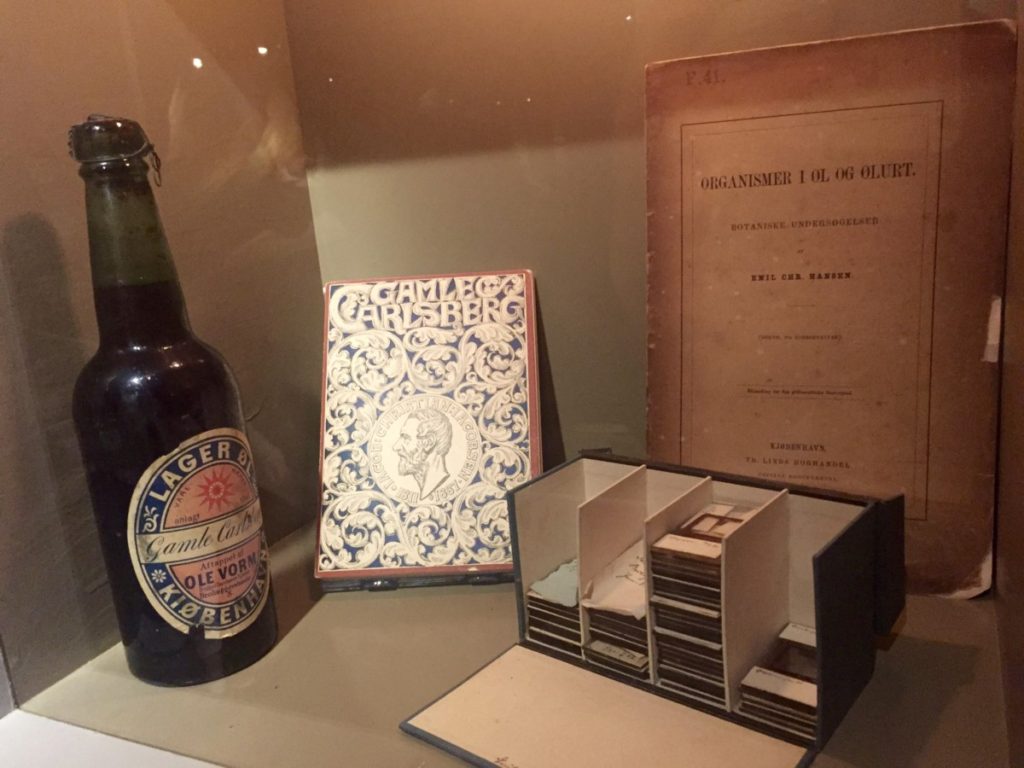 A preserved "football fish" or angler fish. I felt like he was mocking me…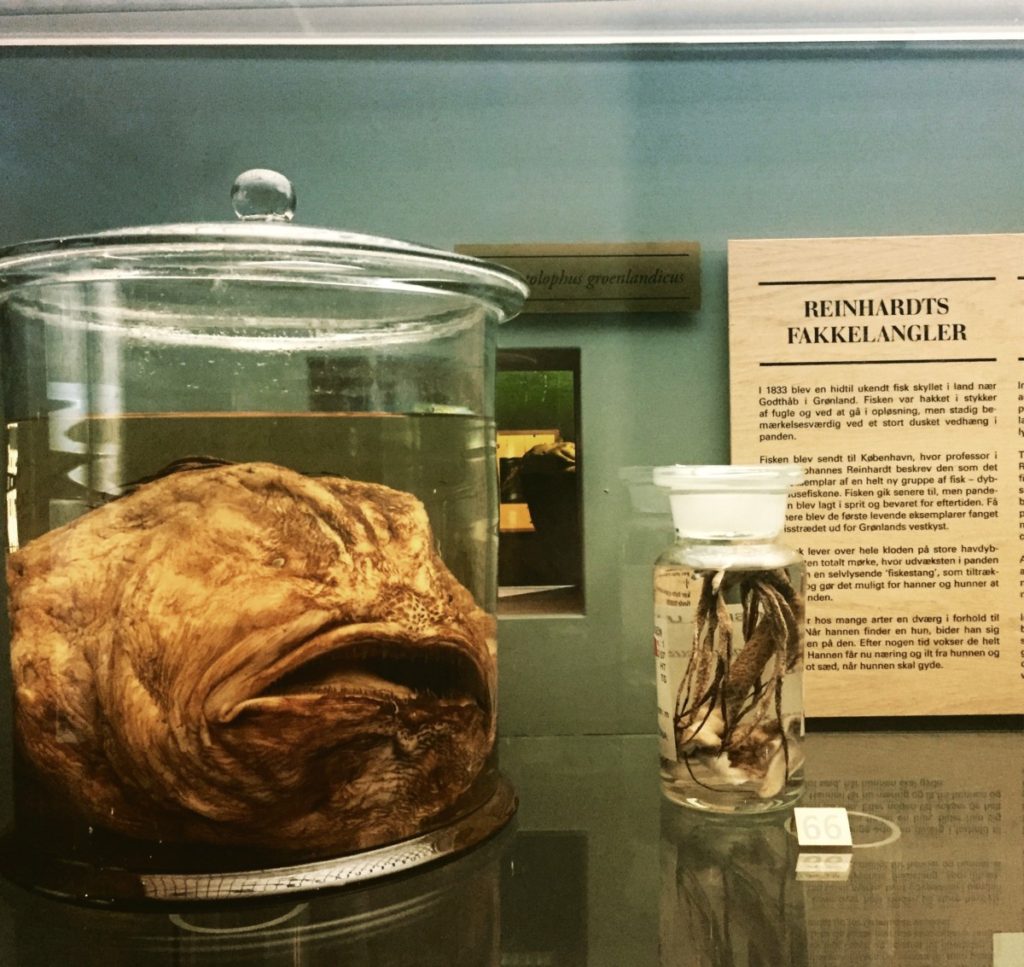 My little OCD child… it was totally bugging her that some of the stools were on their side… so she had to go through and fix every single one of them. She wanted to line them all up but we drew the line there. lol
A hand drawn and colored book from the 1400s on plants and trees. In my lifetime, I hope I can own one hand written book. That would be like a #lifegoal. haha
A Dodo bird skull. One of only 2 known in the world. So cool.
A 2 tusked Narwhal. The long tusk is actually a tooth… and 1 in 500 males has two tusks. A double unicorn of the sea.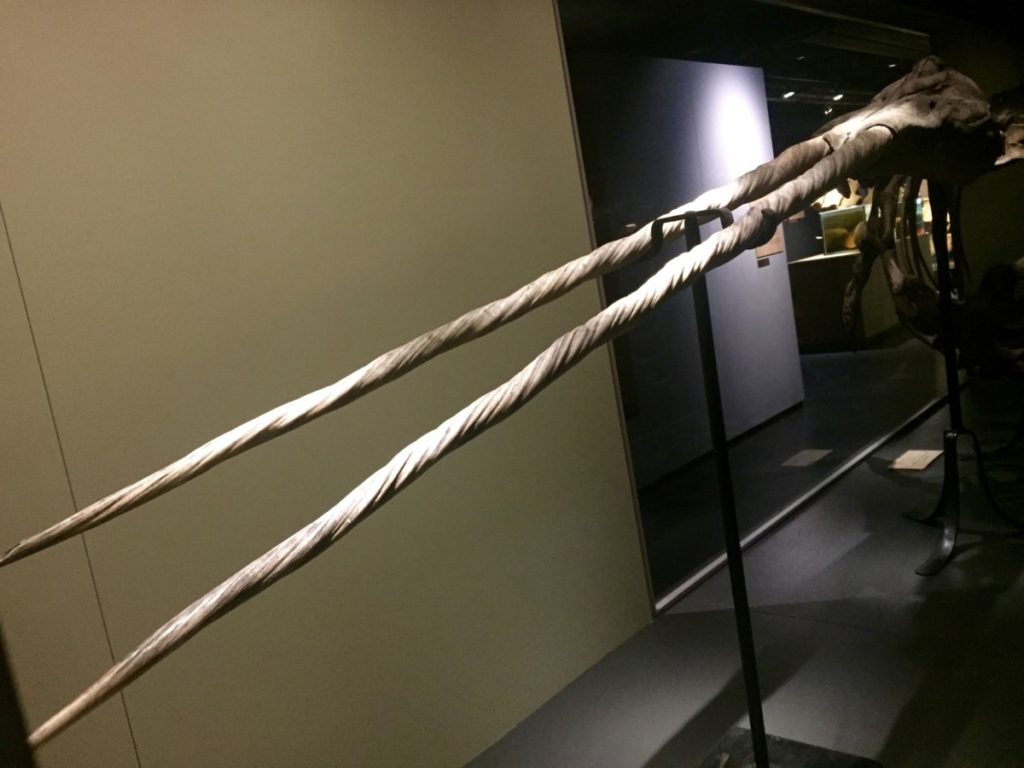 The taxidermy animals were out of this world… and you could pet them! I had no idea beaver fur was so soft. I want a beaver skin blanket now. lol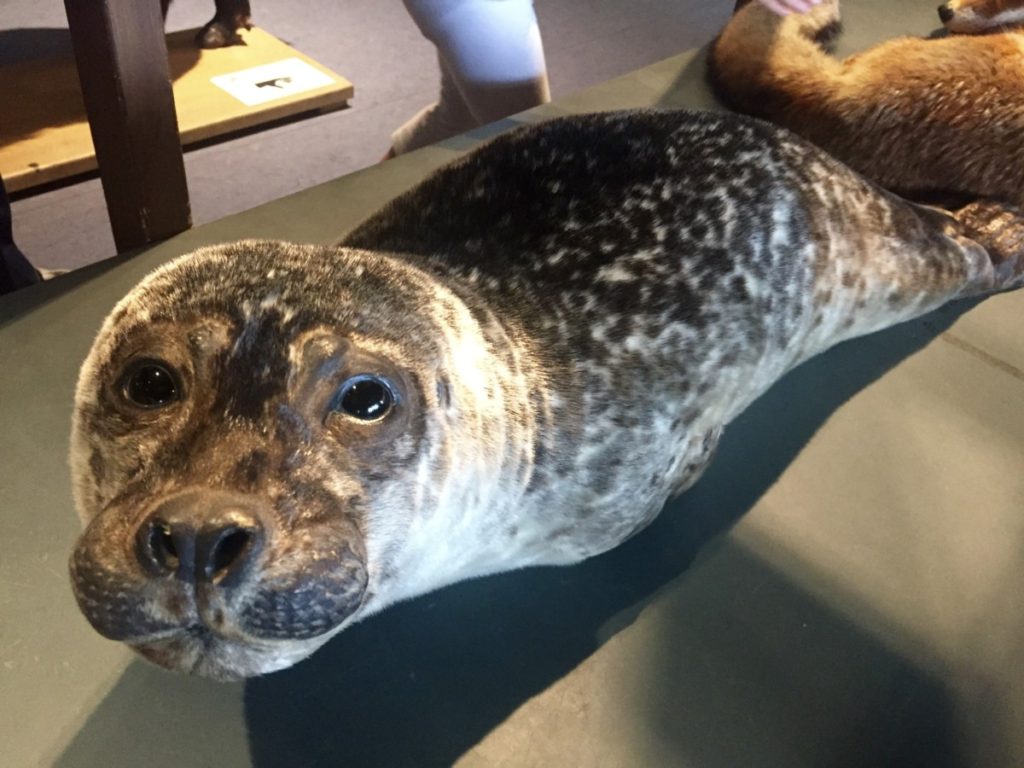 They had a wall of preserved "oddities" if you will. Enough that i could make a fine Halloween collage. haha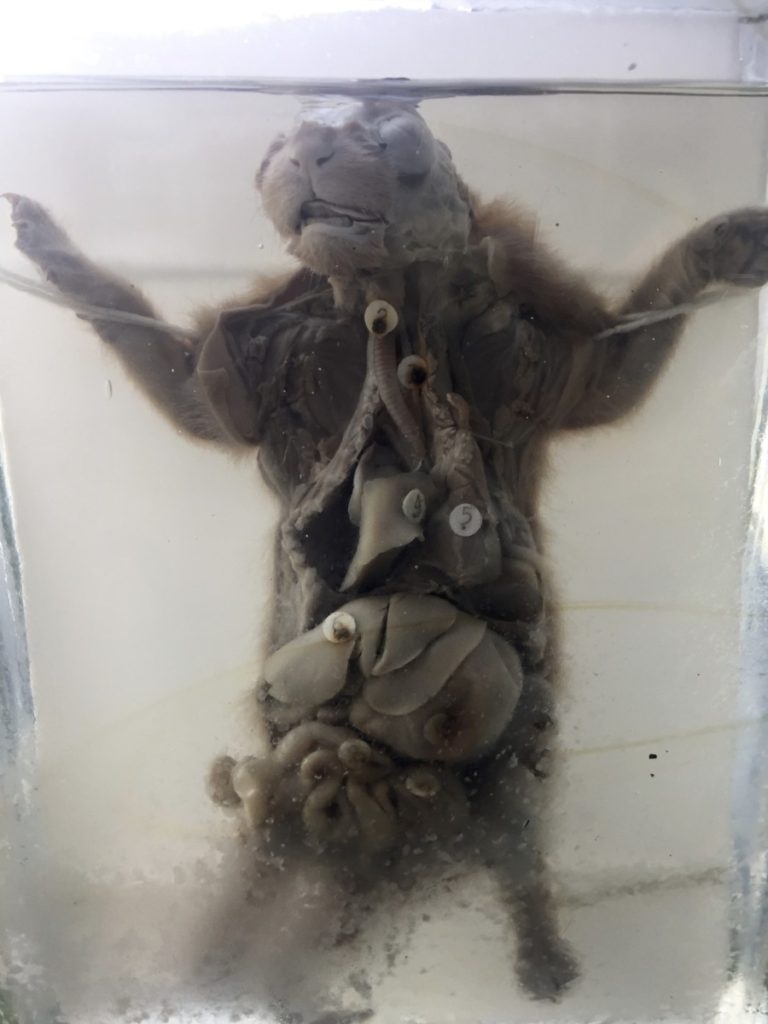 We even got to visit the lab and see the scientists working on piecing together a whale skeleton that was found washed ashore in February of this year. They said they have been soaking the bones in giant vats of water at super warm temperatures to speed up decomposition and also leach out the oil from the bones. The smell was really strong but it was so cool to see. Kegan got to talking to the scientists who were trying to figure out why we were spending our vacation at the Zoologisk museum. haha I just said "he's a geologist" and immediately we were all best friends. Discussed Wyoming, geology, moving to Ireland… it was fun.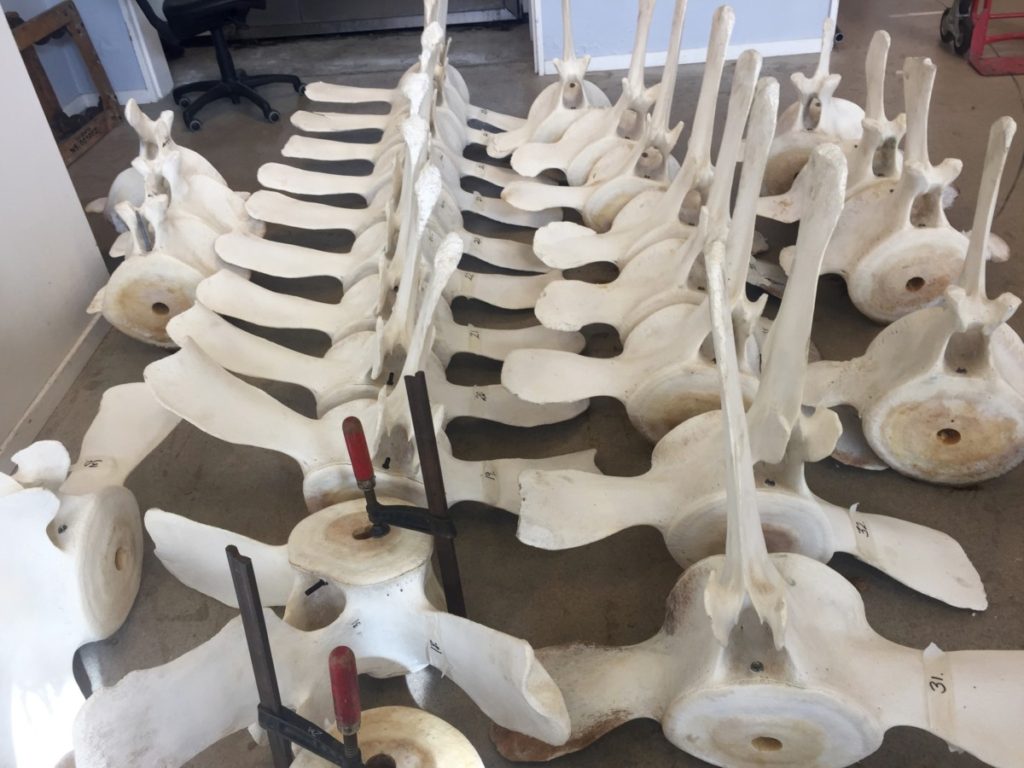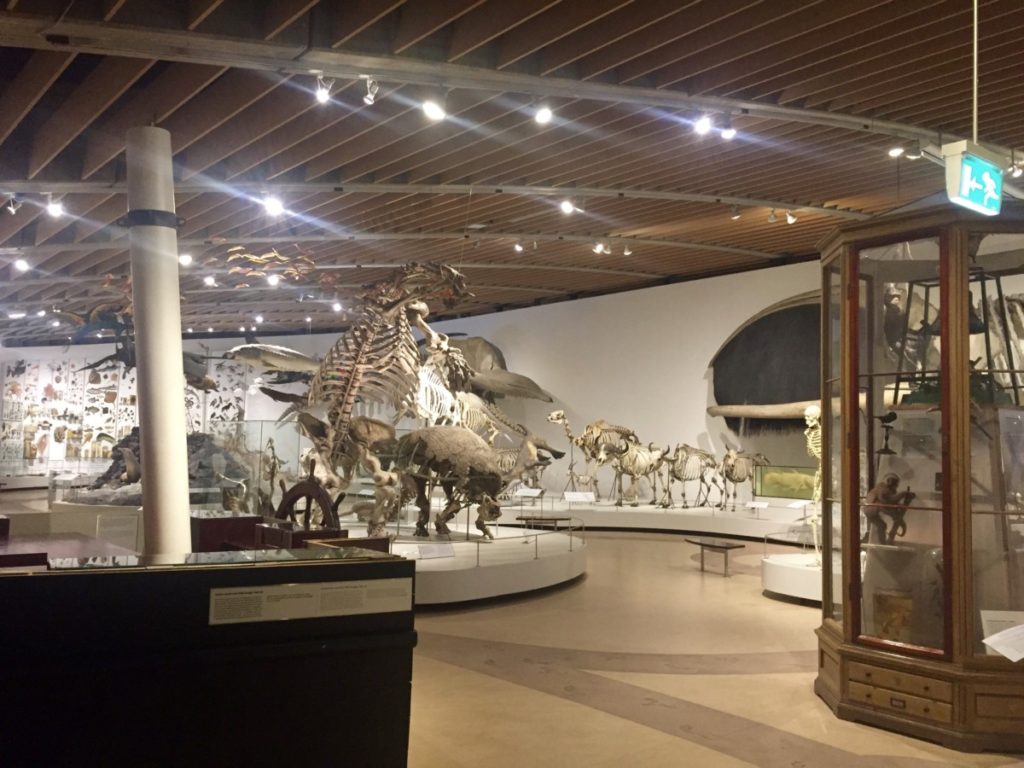 I definitely learned something at the museum. 3 words that now strike fear into me: Giant. Ground. Sloth.  Holy mother of Jesus. Haha I didn't know that was a thing until now. Apparently those cute little 3 toed tree sloths had a meaner older brother who would grew to be 14 feet tall and had leg bones the size of dinosaur's.
They have found skeletons as old as 2 million years old but also as young as 8,000 years ago!!! These aren't some ancient dinosaur- these guys were roaming the Earth with humans! They think humans might have actually wiped them out in the end by hunting them. This makes me want to go all Jurassic Park and find Giant Sloth DNA in the bones and release them again to attack humans. We're like WAY overdue for a good plague anyway. What better way to go than by Giant Ground Sloth? How have no sci-fi or horror movies ever been made about my friend the Ground Sloth? I'm thinking we film one where we are trapped in the Cisterns with a Giant Sloth chasing us.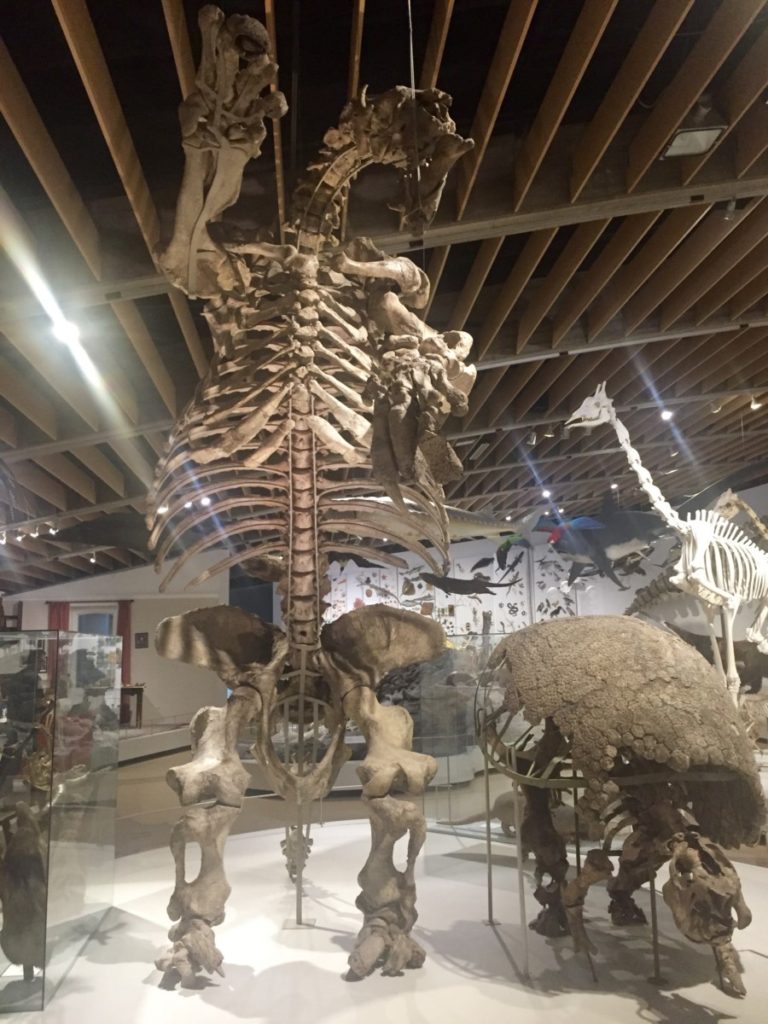 After a stellar museum trip-seriously probably one of my favorite museum trips ever- we were set on the path to Himmeriget. Yesterday's beer tap post on Instagram prompted my friend Kyle-a fellow beer snob- to tell me about a special Cantillon beer brewed only for Denmark that we should try to get our hands on. For you non beer snobs, Cantillion is like the White Whale of all beers in the US. If you do manage to find it, you're looking at $70+ a bottle and some major bragging rights. So…. imagine if there is a special edition Cantillon that they only sell at one bar in one country….yeah. We won at beer today.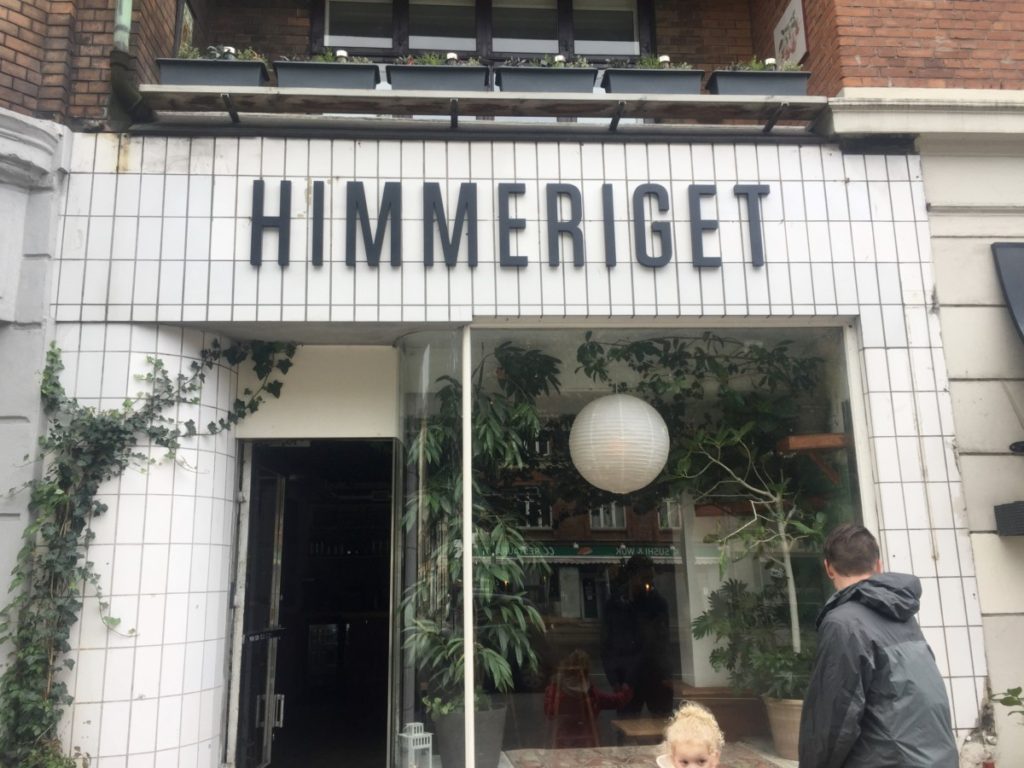 Not only did we have the 2015 Cantillon Blåbær Lambic, we also had the 2014 Rosé de Gambrinus, the 2015 Gueuze and an Oude Gueuze from another relatively rare brewery 3 Fonteinen.
Then because our child is awesome and took a nap while we drank.. (Seriously. Child of the year award) we also tried the 2015 Crooked Stave Nightmare on Brett Raspberry on draft and it was the best beer either Kegan or I had ever had.
Up until we had that one at the end, the Cantillon Rosé De Gambrinus was my favorite but it had to take a backseat.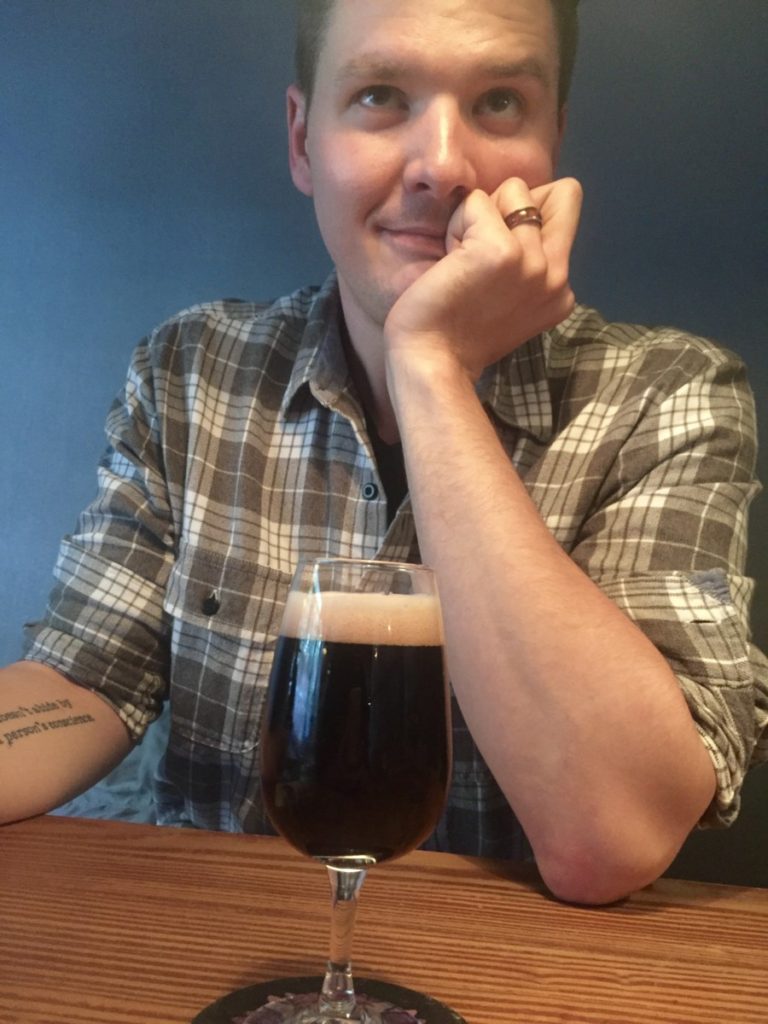 We managed to get ourselves back downtown by bus and met some soccer hooligans from Manchester on our way back to the food truck place that just loved Norah.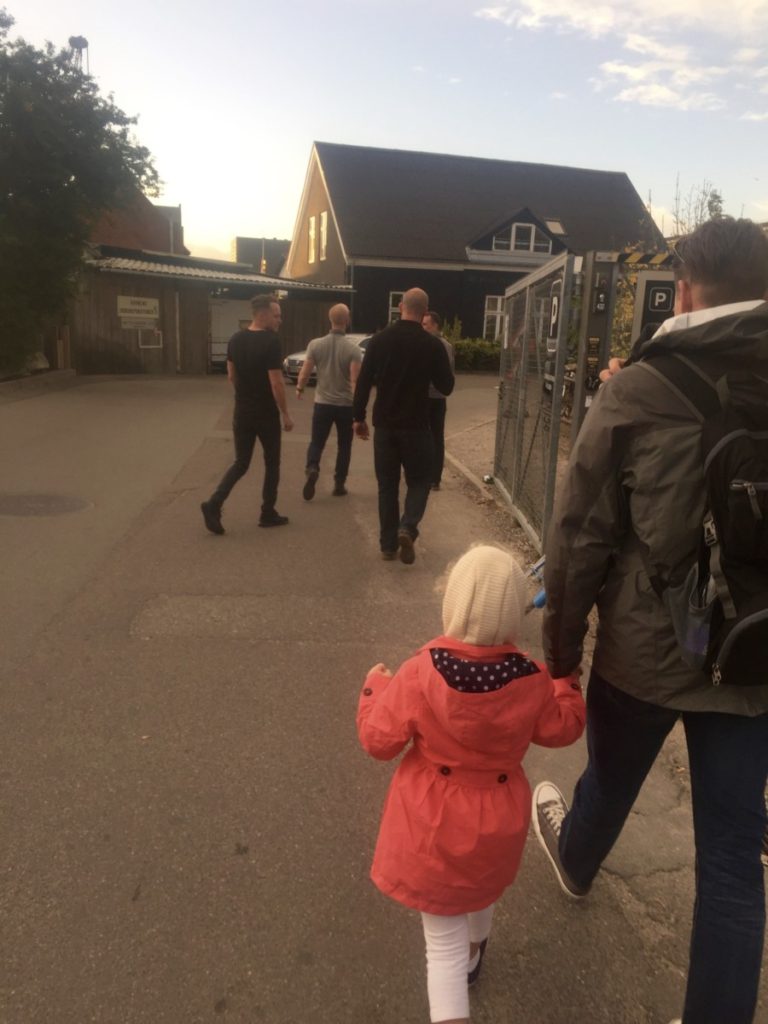 Norah had homemade carbonara pasta
I had Crispy Duck from the chinese place and Kegan had fried chicken which he forgot to photograph. haha
We walked the almost 2 miles back to the hotel and took a different route than we had previously gone, so we saw some other cool stuff- but only having my iPhone, it was too dark to photograph anything very well. You'll have to settle for these.
Overall, we had a great trip. Amazing sights, clean city, tons to do, great infrastructure. I think we will definitely be back at some point in the future. If for no other reason than the Cisterns and to climb that round tower and church spire! 🙂
Lindsey and Kaleb arrive in 2 days and I'll try to post some highlights from Ireland, especially if it's somewhere new I haven't already blogged previously. Also, I'll do a post for our 2 day trip to France- both Normandy and Paris city.