Before we left the hotel (which had memory foam beds! hallelujah! haha) we let Norah go for a quick swim. Swimming has been-by far- the highlight of her trip.
Kegan tried to get rid of his Irish farmer's tan.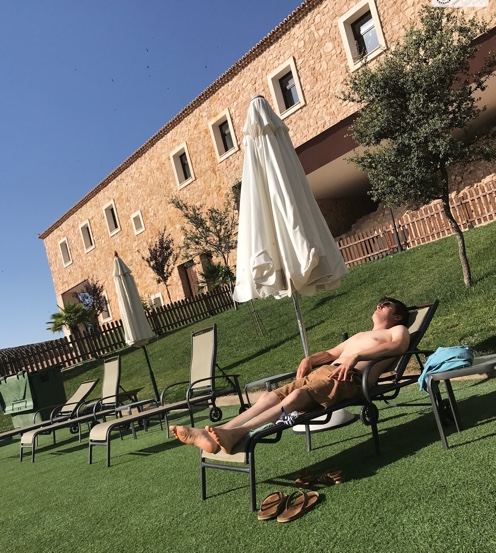 You can see the Belmonte castle from the hotel pool
This castle is in such good shape because it was never finished and therefore never attacked or used as a stronghold. Construction began in the late 1400s. That's the exterior walls and the enhanced curtain wall you can see on the exterior.
The interior, however, wasn't finished until the 1800's, by Napoleon's nephew-Napoleon III and his wife. Hence the brick and arches on the interior.
While we were there, a knight was showing a group of kids how to fight with swords like a knight. Can you imagine giving a kid on a US field trip a real sword and letting him swing it at somebody? People would lose their minds. haha
The ceilings of the rooms and hallways were so intricate… they were amazing.
Norah learned about medieval toilets. haha
As we headed out of town, I saw these guys riding out on their conquest. If you aren't familiar with Don Quixote, or you've forgotten the excerpts we were forced to read in school, a perfectly normal Spanish gentleman, in a fit of madness decides he is a knight and names himself Don Quixote and decides to ride off to right various wrongs in the world. Sancho Panza, his squire, accompanies Don Quixote and spends most of the book saving the crazy knight, taking punishment and beatings for Don Quixote's antics or playing the straight character to Don Quixote's funny man. They fight windmills he thinks are giants, gets himself in heaps of trouble and eventually dies but not before recovering his sanity and denouncing all of his former acts of chivalry. Honestly, I have NO IDEA why this is considered a great book… haha but some of the themes are amusing.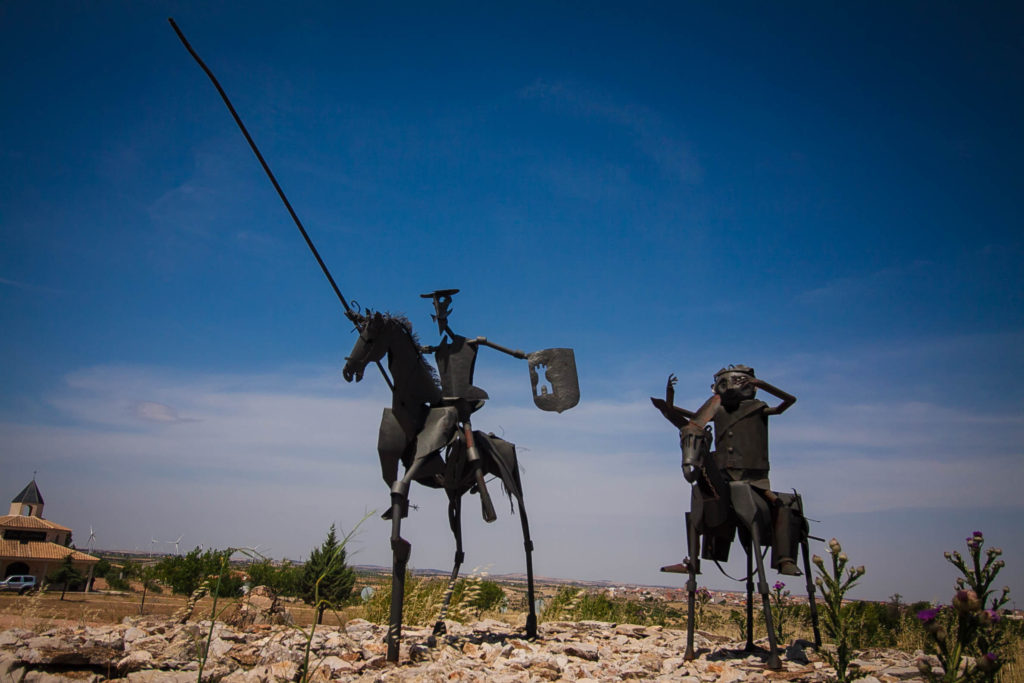 We saw someone who was having a much worse day than we were. lol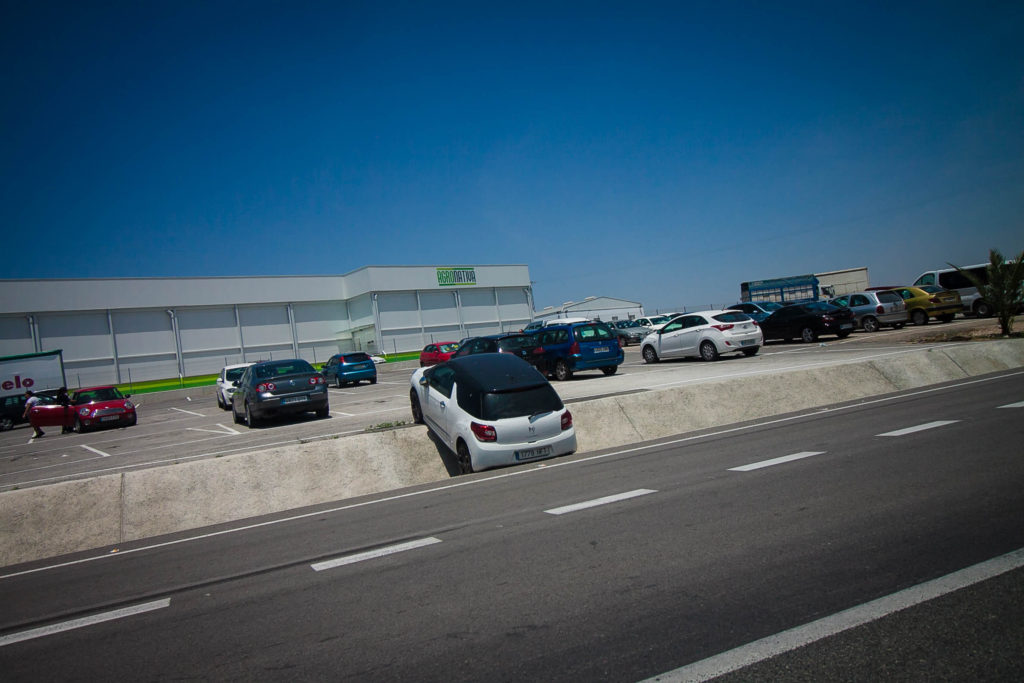 We climbed another mountain near a giant river canyon to get to El Santuario Nuestra Señora de la Esperanza, a church carved in the rock face of a mountain, built where a natural cave had formed. The story is that there was a picture in the rock of the Virgin… but when they tried to cut it out and move it into town, it became super heavy for its size, telling the people that it wanted to stay here in it's grotto to be worshipped. So, they built her a church. It was such a beautiful area, but HOT…I think it was 100 degrees and sunny. No complaints. haha I haven't seen REAL sun in over a year until this week- so I'm soaking it up.
Norah has this new thing for posing with statues, mimicking them. This is "sad face donation box boy". lol
Hey look, I went on vacation, too! 🙂
We ate at the restaurant on the property and it was soooo surprisingly good.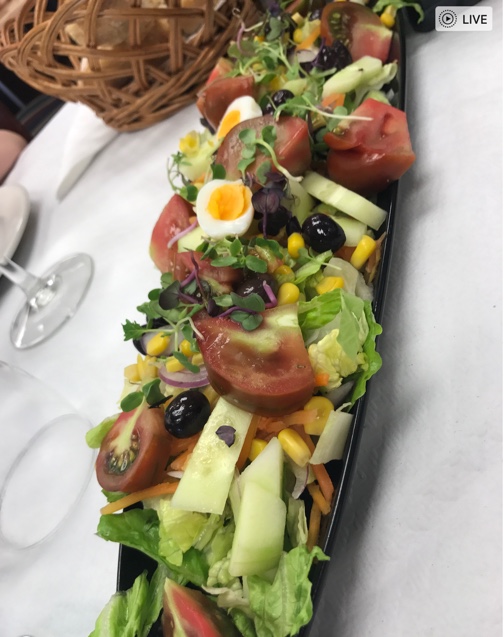 Andalusian Gazpacho has been something we've ordered everywhere we can. SO AMAZING. who knew cold tomato soup could be so addicting. I can't wait for all of my tomatoes to be going nuts so we can start making this daily at home.
Kegan ordered the grilled rabbit… because… well, he could. It literally came out as a whole rabbit. Liver, kidneys, legs, tenderloin… it was crazy. But it was fantastic. Needless to say, after all of this food, we didn't eat dinner tonight.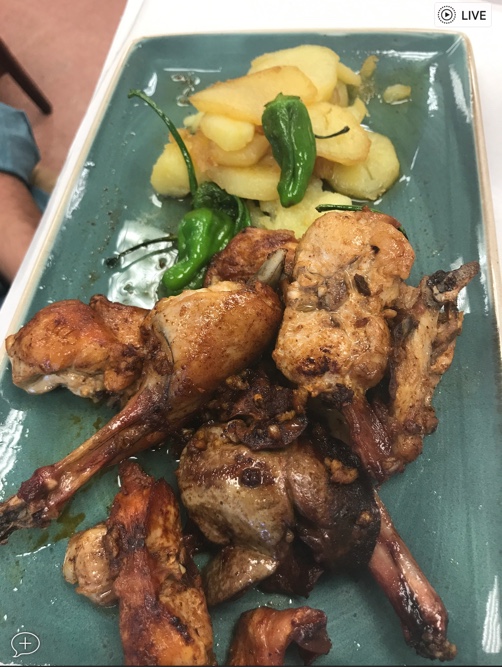 We headed southwest again, reaching the middle of nowhere, where we were scheduled for a night of "rustic tourism". haha We booked a cave for the evening.
These caves have been around over 1000 years… Caves dug by hand in the rocks for homes. Around 400 years ago, people started making multi-room homes, some of which go 6 or 7 stories up into the mountain side…. and in the last 100 years, people have started building common amenities into the homes such as electricity, plumbing and big windowed fronts. This is the type we rented, a full house set in the base of the hillside.
All 6 or 7 of the cave houses are set around a common pool and patio area. Such a beautiful and peaceful view. It would be the best family or friends retreat to rent them all and hang out in the common areas. So… if anyone's up for that, just let me know. 🙂
Day 10
Started the morning out with a swim before heading out.
The guy who runs the cave houses also has a museum and other more primitive cave houses you can visit. He's got a great thing going there and you can tell he has invested a lot into the property. I asked him how long he had owned it and if I understood him correctly, his wife's aunt won the lottery years ago and bought thousands of acres in the area. She gave the land with the caves there to her niece (his wife) 20 years or so ago and he has paid for and done all of the restoration works on the houses and added the museum components. Very neat place.
Norah got to use a pick axe on the cave wall to carve some more. She thought that was super impressive.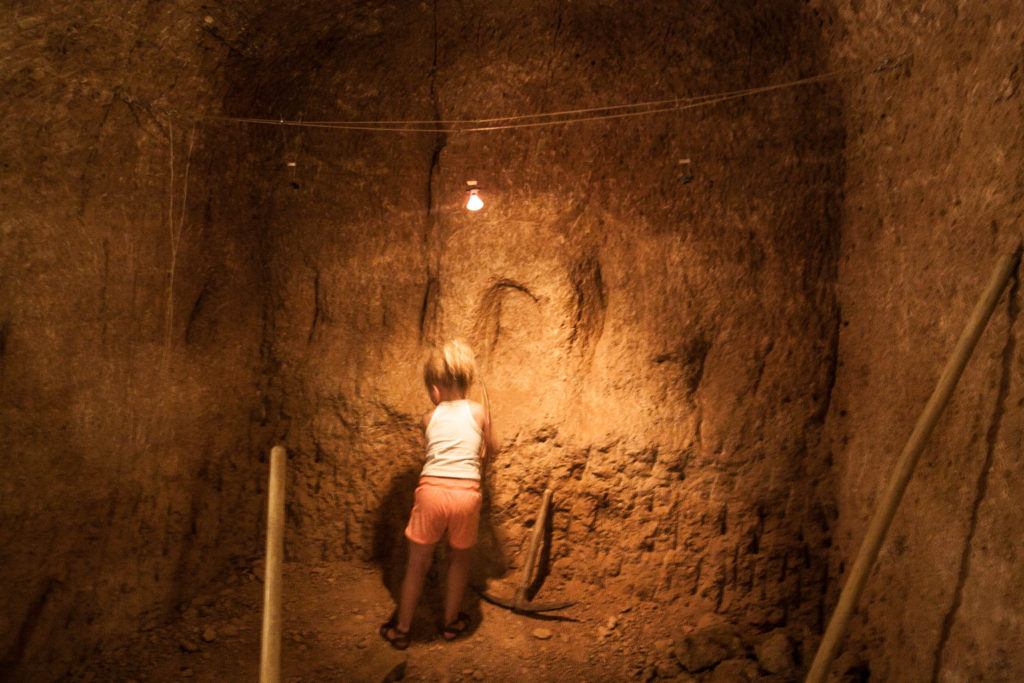 We didn't have breakfast and it was 1pm…so we were hungry. I started using google maps to try and locate a decent restaurant along the way for a decent sit-down lunch. We hit the jackpot.
Olives to start, gazpacho we ordered, because we have decided gazpacho is life this week. haha
But the star of the hour… the T-bone. This wasn't just dumb luck. I had seen Google images of this T-bone before we got here, so I asked the waiter to be sure that the "T-bone" was what I was seeing online. He confirmed, so we ordered. He says "that is for two people.." so we said OK… but highly doubted him and figured he was thinking a light lunch…. but no, he was definitely right.
As soon as we ordered, we heard the bandsaw fire up in the back… which is ALWAYS a good sign in a restaurant. Out came this 2.5 inch t-bone cut of meat, lightly seared on the outside, totally rare all the way through, coated in a coarse pyramid salt and sliced into thin strips still attached to the bone.
Then they brought out a second sizzling hot cast iron plate that they rubbed a hunk of beef fat on to grease it. You take your strips of rare amazing beef and fry them yourself to your liking. AMAZING!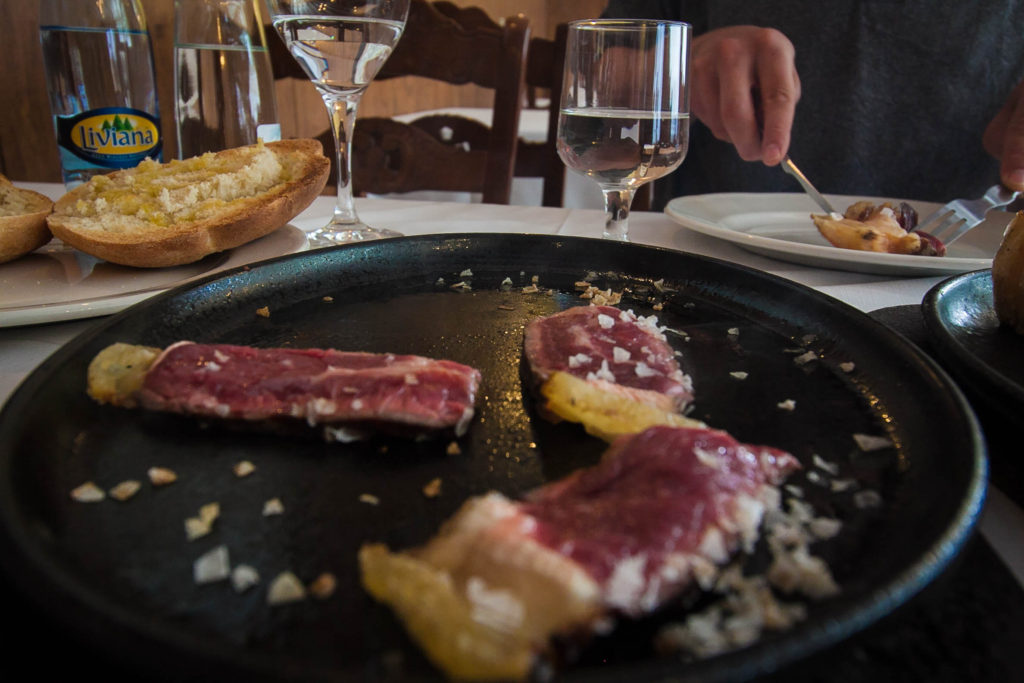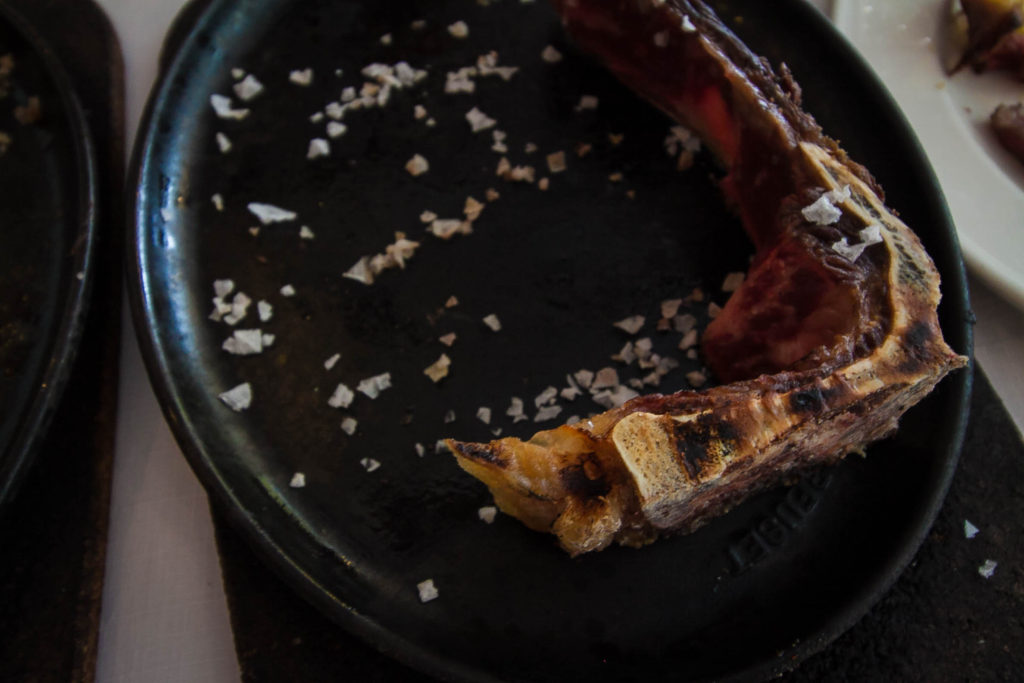 We found out the reason the beef was so good is because Spain has different laws about their beef. In the UK, US and most other EU countries- the steer are killed and butchered at no more than 4 years old. In Spain, they can butcher beef as old as 17 years old… in fact, Spain buys 3-4 year old milk cows from other EU countries and then lets them retire to pasture for 5-6 more years before butchering. Turns out cows get old and fat just like we get old and fat… and the aged beef has much better marbling and a beefier flavor.
As one website we looked at put it "We've been eating Channing Tatum but we need to start appreciating Gérard DePardieu." haha I now appreciate it. If Kegan ever gets his restaurant, this will be a specialty item available to order in advance.
We then headed towards Alicante since our flight out in the morning is from this airport. We wanted to hit a few local wineries today…but everything we passed was closed! So the wine tour was a bust.
We then decided it was time to head to our hotel… only to discover I never booked one! haha We promised Norah some pool time so I was in a frantic search to find one with a pool. Which you would think wouldn't be hard, but being 10 minutes from the beach, finding a hotel with parking AND a pool was almost impossible. Finally located one and arrived. Turns out they had a "spa pool"…which turns out is a hot tub. that already had 4 other people in it when we arrived. So that was a bust. Overall, the hotel is terrible. haha we got Norah a hamburger tonight that was literally raw inside. Not a great way to end the Spain trip, but just trying to keep all of the other fantastic parts of the trip fresh in my mind to ignore how bad this evening has been 🙂 We head out in the morning so I'll post one more time as a wrap-up/hindsight post for my thoughts so far on Spain.