We left Barcelona area after stopping at a bakery for breakfast, headed out to the mountains for a lengthy drive.  I wanted to get a good snapshot of Spain this trip, just getting the major highlights of all the various areas. We originally planned for 3 weeks, but that was before I started a remote support position full time and before I had tons of summer gardening/work to do in Ireland…so we decided to shorten it to 11 days. That meant cutting out a lot of lazy beach days and seeing the very south of Spain. But, I wanted to at least see it a little bit… so we bypassed some city days to drive down the coast to the Grenada area.
Next trip to the area will be Portugal and the the Southwestern corner of Spain.
Our drive took us near the town of Siurana, so we drove the winding mountain road to go to the very top of a mountain to see what we could see.
We continued on down south through the Prades Mountains, winding along and climbing more mountain roads.
We hit the area of Valencia along the interstate and it was a way bigger metro area than I thought it was… tons of coastal towns that have grown together.. sorta like Tijuana, San Diego, LA and on up… just cityscape for a hundred miles.
We ended in the La Mancha area in a tiny town called Belmonte. I literally found this hotel last night before going to sleep. We had originally planned to go all the way to Grenada and see the Alhambra Palace… but I underestimated the distances between towns in Spain…and apparently tickets to the Alhambra Palace sell out weeks in advance. So… we changed our plans. Since our hotel in Barcelona didn't have good wifi, didn't have parking, didn't have air conditioning and had PLENTY of honking horns and scooters outside our open windows all night…not to mention terrible mattresses… I was kinda sick of "slummin' it" and wanted a nice hotel for the night. We DEFINITELY got our money's worth in Belmonte.
Don Quixote could of had a heck of a time fighting today's windmills.
The famous historic windmills of La Mancha
La Collegiata church in the town.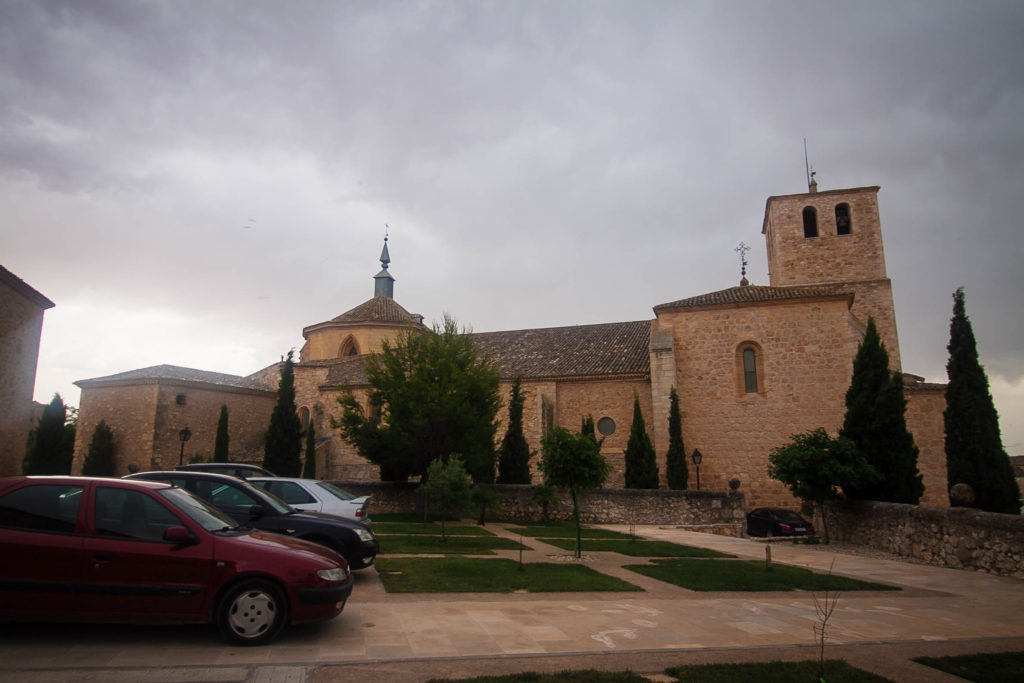 The hotel was an very old monastery that was in ruins when they completed this full renovation project on it.
My only complaint was that we had to have 3 twin beds. ha Norah thought it was hilarious and wanted to have the middle bed between us both.
They even have open areas where you can view the ruins under the hotel.
We had fantastic dinner in the hotel restaurant including pâté, shrimp and mango salad, tuna tataki, and sow cheeks.
Tomorrow is more driving and nature, ending with sleeping in a CAVE!