To start of day, our brewery hotel had a cute little breakfast plate for us and a fancy espresso machine with fresh made cloudy apple juice.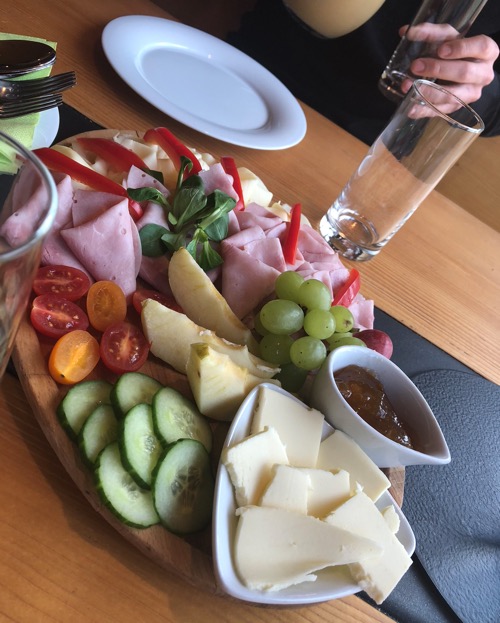 We drove the couple of hours to Prague and first headed to the outskirts to see an art installation called The London Booster. It is a 1958 Double Decker London Bus that has been turned into a beefy athlete complete with a nice round rear end. ha He does pushups every day at 3pm… but when we were there, the engineer was inside crawling around, so I'm not sure if he's still doing pushups or not.
It was designed by artist Cerny for the 2012 London Olympics but after the Olympics, it has lived here in an industrial office park.  It was just weird enough, I had to see it. 
Both of my children played on the playground next to the Booster. ha until the sprinklers came on… then we booked it out of there.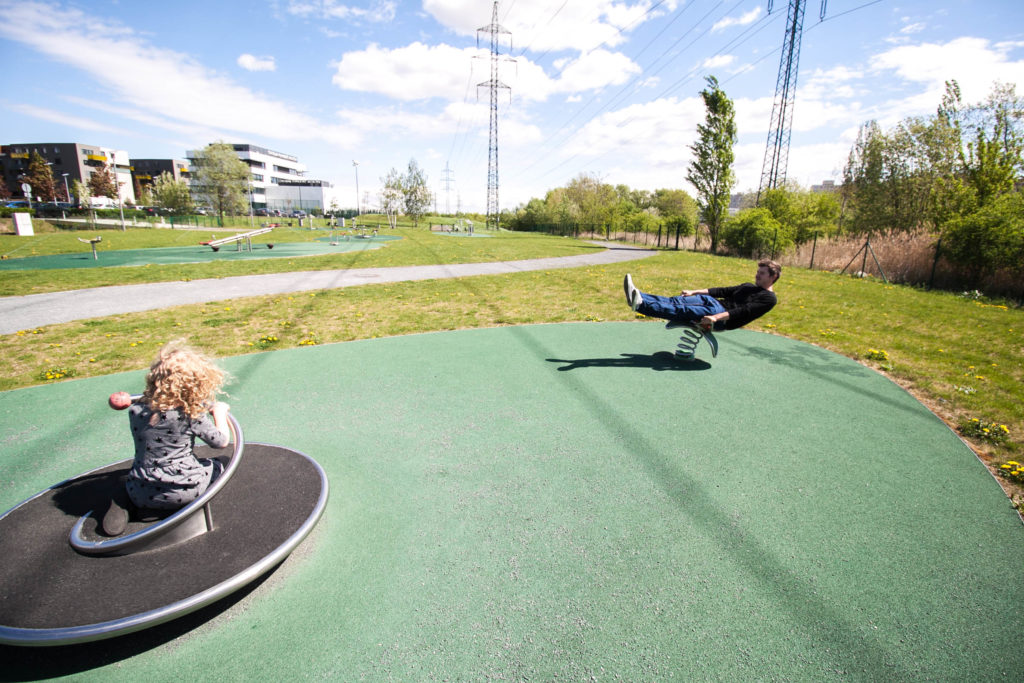 We made our way downtown to the old town to meet the people with our apartment key because they had asked if we could meet them earlier than we had agreed.
We got to the apartment an hour before the meeting time and then the girl ended up running late, so we were parked near this old boat ramp to the river and Norah wanted to go chase bubbles that this gypsy man was peddling. Having no real idea of the Czech conversion rate at the time.. Kegan handed me some coins so Norah could drop them in his cup… turns out I paid the guy like $6 for his bubbles. haha Hey, she enjoyed herself. He even let her use the sticks and make the bubbles… it was cute.
Our apartment we rented was better than expected. Furnished with Ikea- as to be expected in a rental in Europe… but it had a prime location, lots of light, comfy beds and pillows, a full kitchen (which we didnt touch)…for less than $200 a night..so not CHEAP…but for what it was and WHERE it was… I would highly recommend this place.
It even had a private courtyard that you could pull your car into. So we parked our car here and didn't touch it until we left Prague. It was perfect.
The view of the Charles Bridge from the boat ramp at our apartment. Built in the 1300s, its a very old stone bridge. It's mostly new parts these days- mutliple floods over the centuries have caused it to be washed away. Since the 1960's it's been a pedestrian bridge only, with lots of renaissance style statues decorating it along the way.
We started out on a walk for the afternoon. We were staying just next door to the Franz Kafka museum, so we headed that way to see the art installation in the courtyard.
Here we have 2 men micturating on the Czech Republic. Affectionately titled "Piss", you can text a message to a certain telephone number and the men will write out the message with their streams.  Again, art is weird.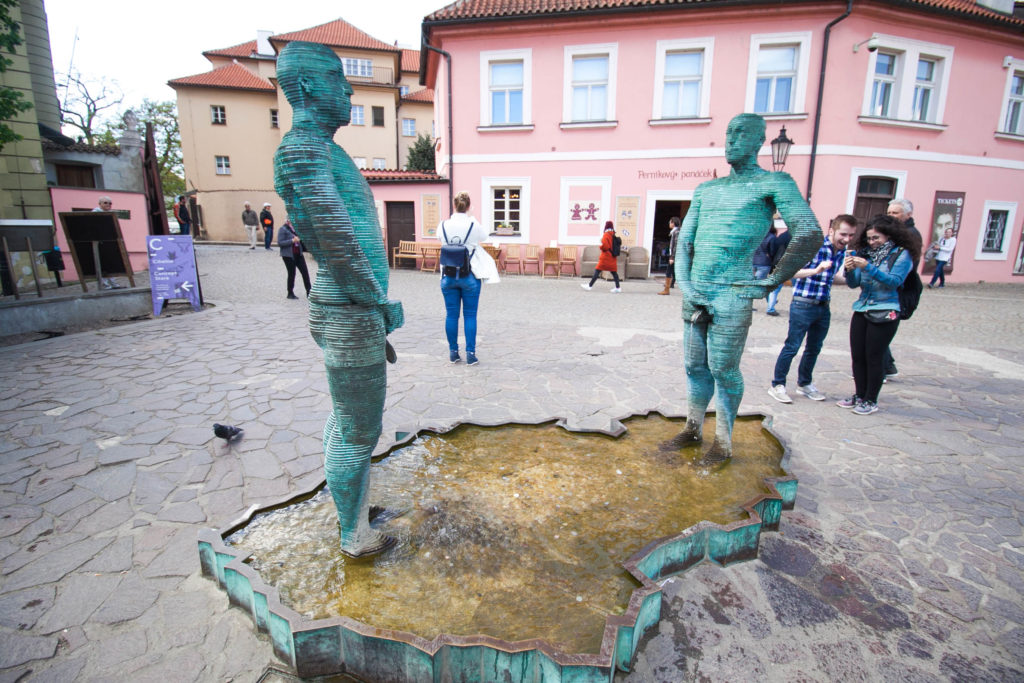 We didn't go into the museum because honestly- neither of us know that much about Franz Kafka. I have never read Metamorphosis- his most famous book… and seeing a bunch of manuscripts, poems and first editions of books I know nothing about wasn't a super interesting proposition. ha If you've read Kafka, or can give me some insight- please do!
Right next door is the narrowest street in Prague. Definitely a little tourist spot, everytime we left or returned to the apartment, there were people standing and taking pictures. It's not truly a street. we went down the little path and it just ends at a restaurant…
We continued on exploring and made it to the Lennon Wall; a graffiti wall dedicated to The Beatles. Since the 1990s, students and others have come here to write song lyrics, peaceful protest, etc… standing against Comunist oppression. The wall is actually owned by The Military Order of Malta – a Catholic knight order-that allows the graffiti to continue. When we were there, there were some college kids playing and singing 'Imagine' and a couple people putting some fresh art up.
Prague was a gorgeous city… amazing architecture and style on every street. Most of the buildings are 4 or 5 stories tall… very clean and well kept. I really enjoyed this city. It felt like what Paris is supposed to feel like… only Paris just smelled like pee and was covered in litter in most places.
We were hungry and we saw a cart serving the traditional Czech dessert Trdelnik. Sort of like an elephant ear that is baked around a rotating cone. It was very good. Eating it plain is traditional.. most places serve it warm with soft serve ice cream and chocolate sauce on it.
We continued on towards a park at the base of Petrin Hill to see the Memorial to the Victims of Communism.
A metal strip runs through the center of the memorial… displaying statistics on the number of people affected by Communism.
205,486 arrested
170,938 forced into exile
4,500 died in prison
327 shot trying to escape
248 executed
This is also the site of The Hunger Wall- a medieval defensive wall built to guard the Prague Castle from attack. The construction occurred during a famine in 1361, so it is said that the project was more to keep the poor of the city with work and food during a hard year… and it's also said that the Emperor Charles IV worked on the wall himself for hours a day to help with its construction. A king who can get his hands dirty. You don't hear that much throughout history.
Next we visited St. Nicholas Church. It's a fantastic Baroque cathedral built in the 1700s. A prominent Count donated his entire estate for the construction of the church.
During the Communist years, the State Security used the top of this tower because they could keep an eye on the American Embassy from here.
I must have missed getting a photo of the organ, but it has over 4000 pipes and was played by Mozart himself!
From there we started up the hill to the castle.
Looking back from a bend was a really great representation of old town Prague. It really was a gorgeous city.
We arrived at the castle, but it was too late in the afternoon to go inside and tour. We were just able to walk around the outside.
There are guards out front that do a changing of the guard ceremony every day…but not while we were there.
You can see the Petrin lookout tower on the hill. It's a similar look to the Eiffel Tower in Paris. It was inspired by some Czech tourists who visited Paris for the World's Fair in the late 1800s and came back and raised money for the construction of their own tower.
Views for days.
Shows just how large of a city Prague is. Look out in the distance at the newer part of the city with skyscaper buildings.
Dinner was across the street from our apartment in a beer garden. Norah quickly started in on the pretzels that were on each table.
I had duck liver pate for my starter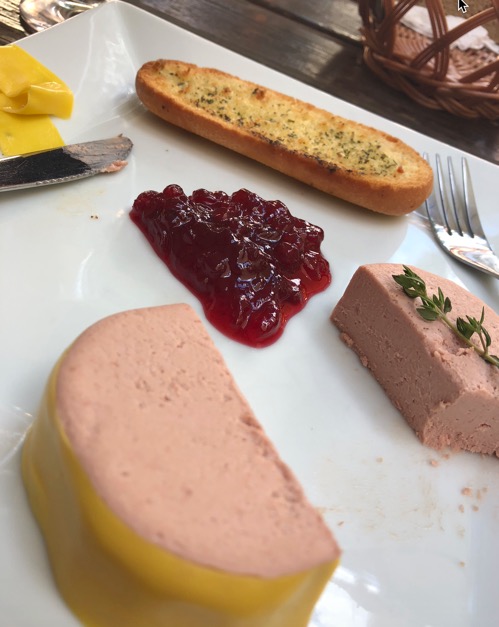 Kegan ordered the beer cheese plate. Which I assumed was a cheese made with beer… but came out with a shot of beer and some FUNKY cheese. When in Czechia I guess. ha
I had traditional dumplings with smoked meat, saukerkraut and a pickled purple cabbage.
Kegan got the pork knee, a local traditional food they are known for here. and it was great. It was just something we should have shared. Huge amount of meat.
I ran over to a little gingerbread shop across from the restaurant and grabbed some dessert. I think Norah was a tad excited. haha
We waddled back across the street to our apartment and called it a night.
We woke up Day 2 in Prague and stepped outside our courtyard door to see this huge hustle and bustle of old US Army jeeps and men in American WWII uniforms. We were very confused! ha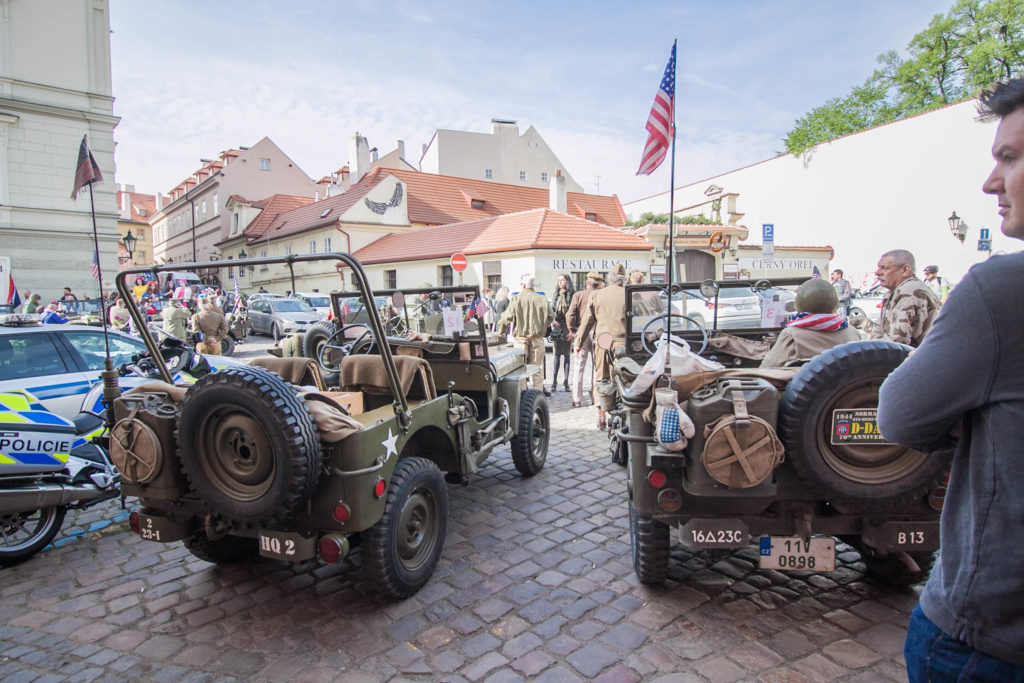 Kegan did some Googling… and they were in town to celebrate the anniversary of the liberation of the Czech Republic, which happened on April 27th, 1945. It just happened to be April 27th! 🙂 Apparently, this was where they were assembling before driving through the downtown streets to re-enact the liberation of 1945.
We found a little bakery and coffee shop called BAKESHOP. Kegan had a cornish pasty- Beef, potatoes, parsnip or rutabaga in a pastry crust with a marinara type sauce. Kegan read that traditionally they had this edge of pastry, because the mine workers would eat these for lunch, made by their wives, but their hands would be so nasty, they would hold it by the edge, eat the whole thing and throw away the crust. Who knew!? Great idea. Basically, a bread handle.
I had a walnut and blue cheese quiche with a salad. Salad for breakfast is weird for me as an American. ha There is nothing like real quiche in Europe though. I get it every time I see it. Once we get our chickens established and I have more eggs than I know what do with, I'm going to start experimenting with making a real quiche.
We wandered through the Vojan Gardens across the street from our apartment. It's said to be the oldest park or green space in Prague. It was originally a monastery garden, then a fruit orchard… it wasn't opened to the public until the 1950s. We had heard they had peacocks.. and they did! Including a white female.
We walked across the Charles Bridge checking out all of the statues along the way.
At the end of the Charles Bridge, stands the Old Town Bridge Tower- one of the only remaining Gothic towers in Europe- built in the 1300s. The Bohemian kings used to cross the Charles Bridge, through this tower arch and on to St. Vitus Cathedral at Prague Castle as part of their coronation ceremony. I ALSO did this same walk. and it was tough. ha Even the kings were in better shape than me apparently. But, as you saw the views over Prague I have above from Prague Castle, you'll see the kind of elevation that trek is!
This cherub was having the Monday-est of Mondays.
Something you'll only see in Europe- naked men and women adorning the front of your downtown office building. ha
We paid to walk through the Old Jewish Quarter of Prague. I feel like we must have missed some things though, because our walk was very short. The men are encouraged to wear a head covering in the cemetery, so Kegan sported his yamaka. He was none too happy about it though.
The cemetery is the biggest Jewish cemetery in Europe- in terms of number of Jewish people buried here anyway. They say 100,000 people are buried in this small cemetery. Most of the headstones mark bodies that are stacked over 12 deep. The cemetery was used from the 1500s to the late 1700s when the king put a stop to burials within the town for hygienic reasons (this was plague time).
They couldn't buy land to expand the cemetery, so they kept bringing more soil in and layering it on top.. eventually some areas being 12 bodies deep. The cemetery is surrounded by retaining walls, holding the dirt in that makes this area so much higher than the surrounding land.
Outside of the Jewish quarter were lots of street vendors. One of them really loved Norah and showed her a marionette that was locally made. (We had already planned to let her pick out a puppet…so it was really perfect.)
Norah picked out "Czech Norah"- a little girl with blonde hair (the only one-the rest were black haired) that was dressed in a traditional Czech outfit.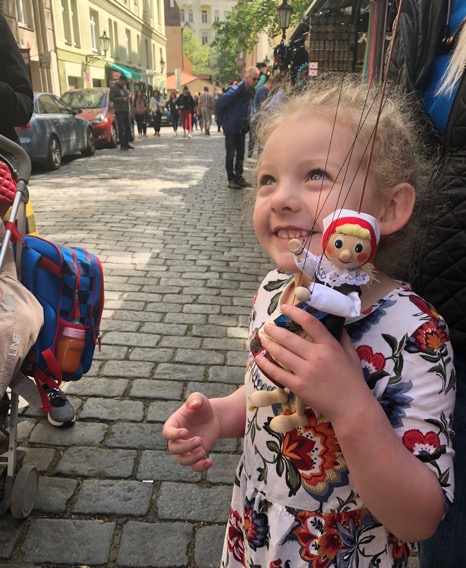 Now… it was time for the main event. The biggest attraction in Prague. The Astronomical Clock!!
Yeah. It was CLOSED. Like CLOSED closed. Boarded up, covered. Bleh. They printed a picture of it on the canvas they covered it with though. That makes it all better (sarcasm.)
So, I was disappointed….because this clock looks soooo amazing. It has statues that chime the hours, apostles that show through windows above the face, moon, sun, star charts… ugggh. Legend has it that the town leaders had the clockmaker blinded so he couldn't make another clock as beautiful in another city! Things sure were different in the 1400s.
Guess I have a reason to go to Prague again… it's supposed to open back up in July 2018. (I'll never convince Kegan to go back to Prague so I can look at a clock. haha)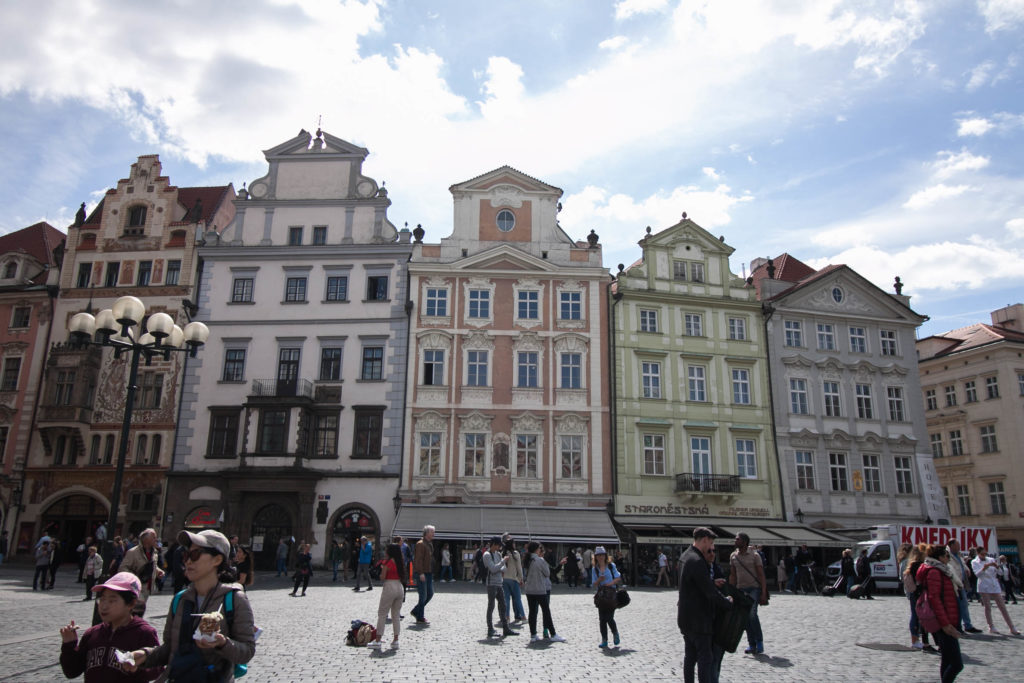 You can see the spires of the 14th century Church of Our Lady before Tyn from the square.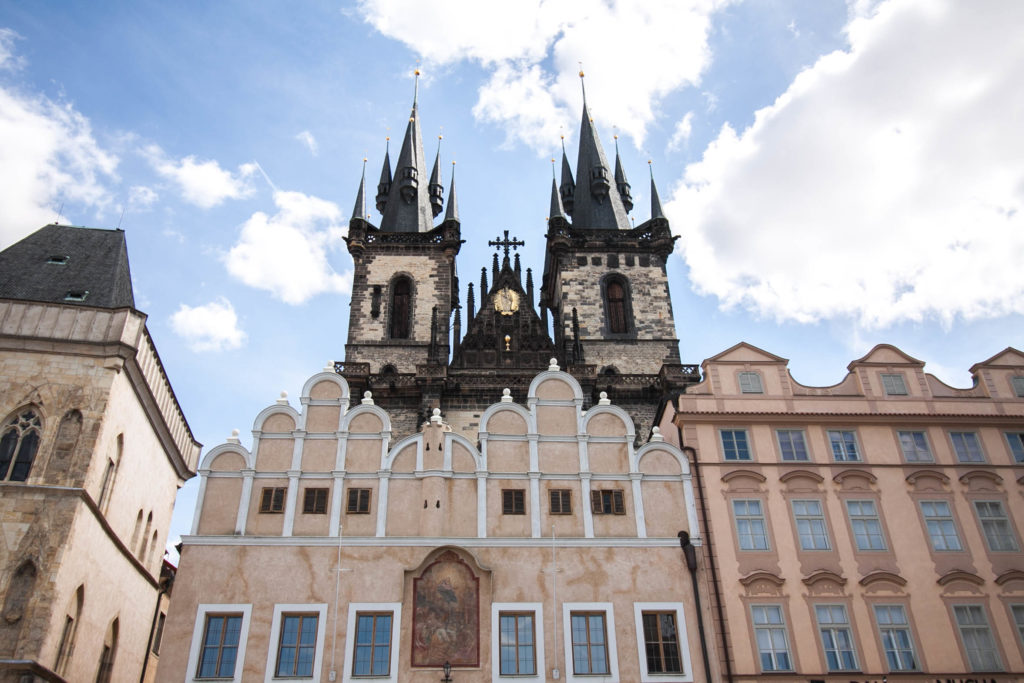 I loved this very Art Nouveau house in the square.
In the middle of this gorgeous square is the Prague Meridian. From the 1600s to 1918, there was a large column that stood in the square. At exactly noon, the shadow of the Marian Column fell where this strip of metal now sits- so they installed this "meridian" to keep the time in Prague. A sundial of sorts. A group of rioters tore the column down in 1918… but the meridian line still stands.
These hotels looked very cool. Maybe when we go back to visit my clock. ha 🙂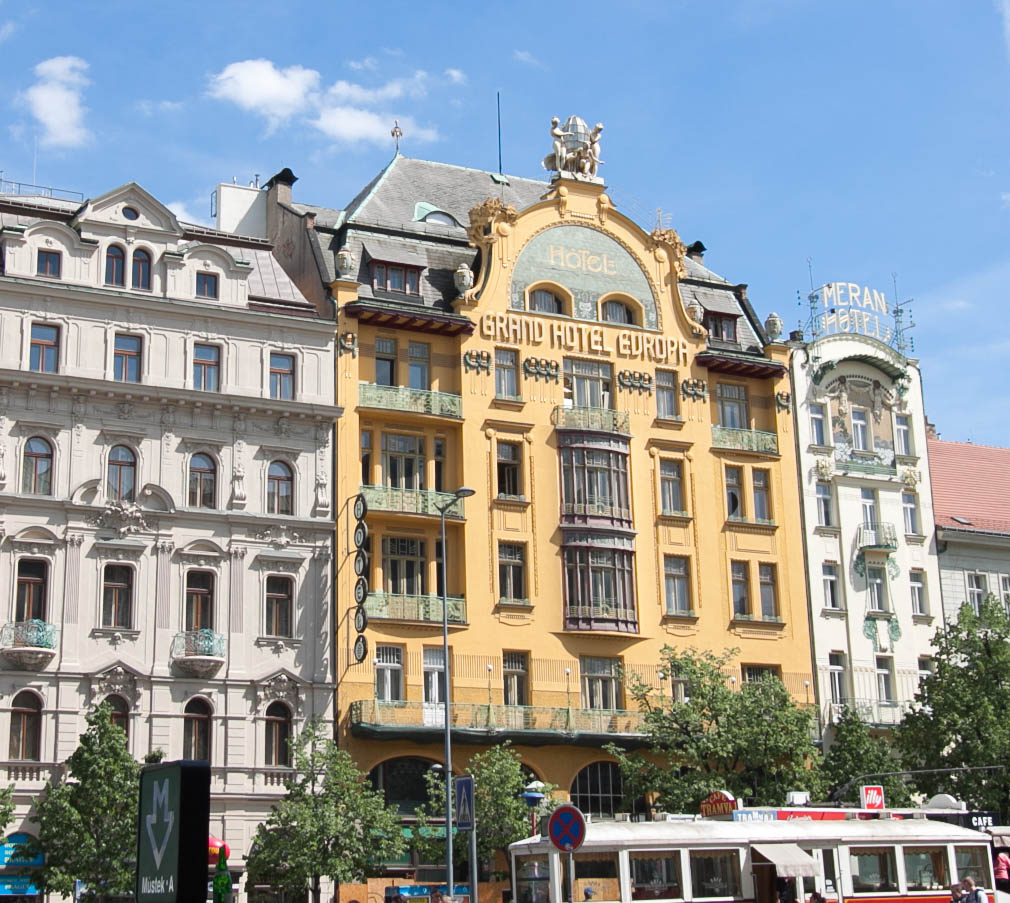 Inside another close building, we found another Cerny art project. King Wenceslas Riding on an Upside Down Dead Horse. Your guess is as good as mine on what it means, but most people think it's a political statue… but he doesnt comment on his work. Art-weird. seeing a trend in Prague? ha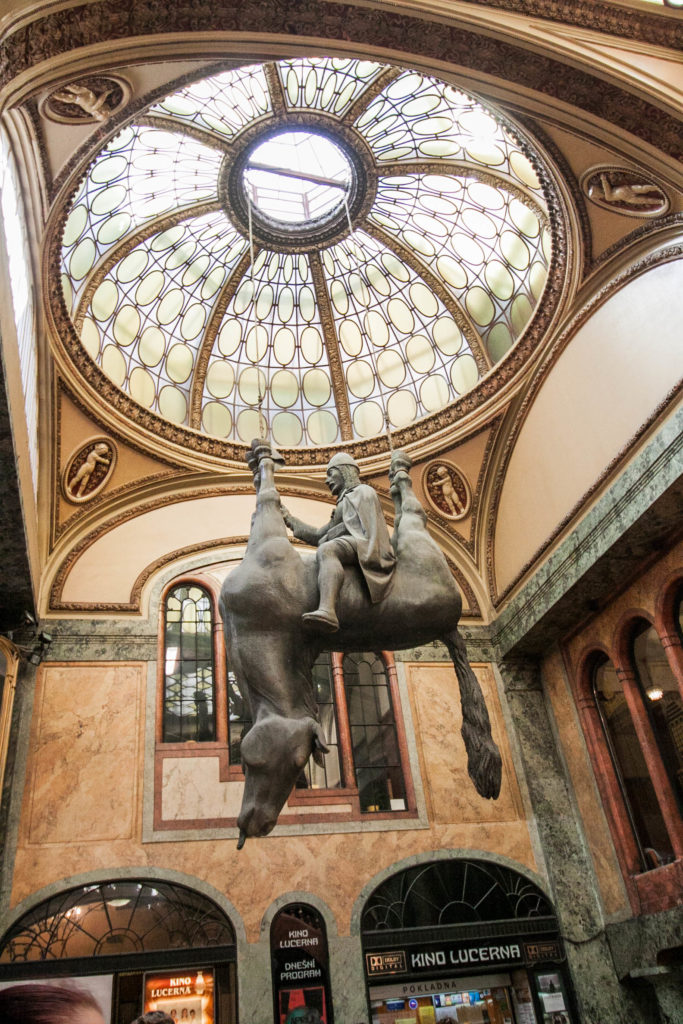 Next up was the Franz Kafka head- a rotating modern fixture that was Norah's favorite part of Prague. ha
We finished our tour by strolling by this figure of Sigmund Freud hanging from a pole outside a window. This is also by the artist Cerny. Freud suffered from tons of phobia during his life, but one was the fear of his own death. Cerny dipicts him in this perpetual struggle in a work titled "Man Hanging Out". Turns out a lot of tourists have seen this and thought this to be an ACTUAL person and a real suicide attempt- prompting many called to emergency services. ha
A unique offering in Prague. The Sex Machines Museum. I would have honestly liked to see it… but maybe with a super analytical 5 year old isn't the best time…. We'll add this one to the 'clock return trip' that will never happen…
Since we had basically covered my entire list and it was only 3pm… I suggested we maybe go to the Prague Beer Museum which seemed to have a large collection of Czech beers on tap as well as some decent looking food.
We sat down at a table and looked over the beer menu. They had a few different 5 and 10 beer flights listed but at the bottom it said "TRY ALL 30!" We discussed briefly our ability to tag team 30 beers in an afternoon while still being able to be responsible for our child in a foreign city…. and ultimately decided that since it was only the equivalent of 7 Irish pints, as long as I drank 1/3 of each beer, we would be good. So it was decided. ha I think the waitress was equal parts impressed and concerned by the time she was bringing out the 3rd flight of ten. I told her Norah drank most of them, so we were fine. ha
All in all, a lot of Czech beers are pilsners… so not really my thing. Better than American light beer, but nothing I'd ever order again. They had a cherry beer that tasted exactly like Robitussin….and overall I really liked about 3 of them.
Kegan got some pretzels with mustard. Norah got a big basket of french fries and I ordered some pickled sausage. Pickled bologna looks so much fancier in Europe. lol
We went back to the apartment for a quick nap because 30 beers is way too much during daylight hours…
We went out to grab dinner around 8:30pm. Went to the closest place to the apartment with a traditional Czech menu. It was greasier and saltier than I would have liked, but I didnt leave much on my plate. ha The first night's restaurant was definitely our favorite.
Kegan had a 3 meat sampler with sausage, pork, beef and potato pancake with bread.
I had a traditional steak with potato pancake and pickles.
We headed out of Prague on Saturday morning, bound for Berlin to catch our Sunday flight. We took a long way around that routed us slightly into Poland instead of straight up through Germany so we could see a couple of other sites that we could make happen on our way.
This one wasn't planned- but cool none the less. Someone created a bar/restaurant out of an old airplane alongside the interstate! ha
We drove through the town of Most- with this ENORMOUS coal power plant. There is a huge lignite coal mine here and has been operating since 1904. During WWII times, they demolished the entire town of Most and relocated all the residents to expand the mine. I'm sure "relocated" is a very nice word for what actually happened…
This particular area is known as The Black Triangle. Up until the 1990s, pollution in this area was so bad, area residents were seeing health effects. Acid rain was killing forests. There is even a documentary about this little 60 km area of land- sort of like a little panhandle of Southwest Poland.. The Black Triangle: The Foothills of the Ore Mountain
We were headed to another WWII sight.. but couldn't pass up the opportunity to see Europe's own Big Butter Jesus. (King of Kings Statue. Touchdown Jesus. Lebanon, Ohio. I75?… google it- it burned down a few years ago haha)
Poland's ridiculous Jesus statue is the tallest statue of Jesus in the world- standing 33 meters tall- the age Jesus was thought to be at his death. I say ridiculous because this thing was over 1.5 million dollars to build. Can you imagine the actual help you could give people for that? sigh. Anyway- it was really a neat statue… and you could see it for miles… I just find something odd about this level of showy Christianity….doesn't seem to fit the doctrine. Maybe someone could enlighten me with a different point of view.
Our last stop of the trip was the Miedzyrzecz Fortified Region – an area that used to be part of Germany, but is part of present day Poland. Before WWII, Hitler knew he was gearing up for war and began fortifying key areas around Germany's borders.  This was similar to the famous Maginot Line on the French border that the French built to defend themselves from an attack from Germany. (Fat lot of good that did, though…. )
This Miedzyrzecz Region was fortified because it was the easiest path for the Soviets to attack Berlin, between two rivers, so the Nazis created HUGE underground chambers, ammo stores, lookouts, anti-tank lines… massive scale fortification in preparation of what was to come.
These little pillbox areas look so tiny on the landscape…but underneath them are tunnels, rooms and other defensive weapons as far as 150 feet down.
After a short look around here, it was time to call it an evening and get to Berlin. I booked a hotel I wouldn't normally book. It was downtown, no parking and old. haha But it had so much character I am so glad I picked it. We had no problem finding parking and the rooms were beautiful.
The hotel was built on 6 floors, with just a few rooms each. When you got off the elevator, you have to enter into this foyer, then on to one of the rooms.
The elevator was an old style Berlin Elevator with the metal gated doors and counterweight, all open between the floors. It was the highlight of the hotel for sure. The girl at the front desk was quick to point out that they 'had the best one in Berlin'.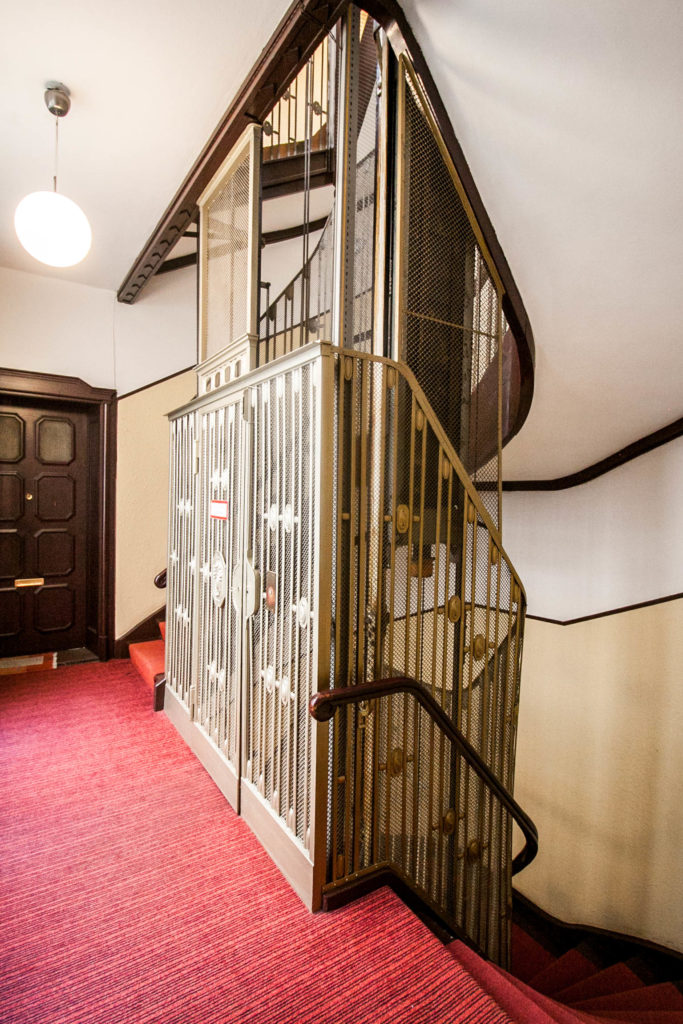 From here we headed to the airport to get back home to be with family since we had learned Kegan's grandmother had passed.
We hope to get back to Europe in July this year but no idea where yet. Thanks for following our adventures 🙂