Today, we woke up so hungry we could eat a horse! (No, literally… we ate horse.) ha
Turns out they sell horse meat in Spain… and when we stopped to get gas and food, of course we couldn't pass up the opportunity to try it. I was really not sure about it…but was actually really good…. but super greasy. I probably won't miss ever having it again…
I always love trying all the new snacks.. these chocolate balls tasted like a fluffy version of a cheap ice cream cone, dipped it a very weak chocolate, then rolled in corn nuts. haha but they worked! I would eat these again.
We started out today headed towards the northwest coast for the cities of A Coruña and Ferrol, but our AirBnb host called me and said that the father of the person who was supposed to pass us the keys died this morning. She assured us we could still pick up the keys, that she just wouldn't be able to come and show us the place… but she wasn't very clear about how or where to get the keys… or exactly where her place was…so we just decided we'd find another place for the night. I called the place we were scheduled to stay the following night to see if we could book an extra earlier night and we could- so we had to adapt the day to fit in the double driving we now had.
Since we were already at our first stop when we found out, we went ahead and hiked up to the top of an overlook point to see Las Medulas, a Roman gold mine. It was a huge operation here, in fact- the largest mine in the entire Roman empire. They fought a gruelling war for over 10 years with the Celts of the area for control over the land. The Romans mined gold here for over 250 years estimating that they mined over 5 million "roman pounds" of gold total. (about 3,750,000 US lbs- a Roman pound or "libra" – hence lb. as an abbreviation today- was only 12 oz vs our 16 oz.). Pliny the Elder documented the mining works that were taking place here in 77AD.
"What happens is far beyond the work of giants. The mountains are bored with corridors and galleries made by lamplight with a duration that is used to measure the shifts. For months, the miners cannot see the sunlight and many of them die inside the tunnels. The cracks made in the entrails of the stone are so dangerous that it would be easier to find purpurine or pearls at the bottom of the sea than make scars in the rock. How dangerous we have made the Earth!"
There were over 60,000 miners working this site at any time. They cut stone aqueducts through the rock to wash the gold, used fire to weaken the stone for breaking it apart and cut into entire hillsides/small mountains as you can still see the remnants of the mining area today- as they left it when they had exhausted the gold. Huge hill climb. All the cool stuff is always on top of the hill.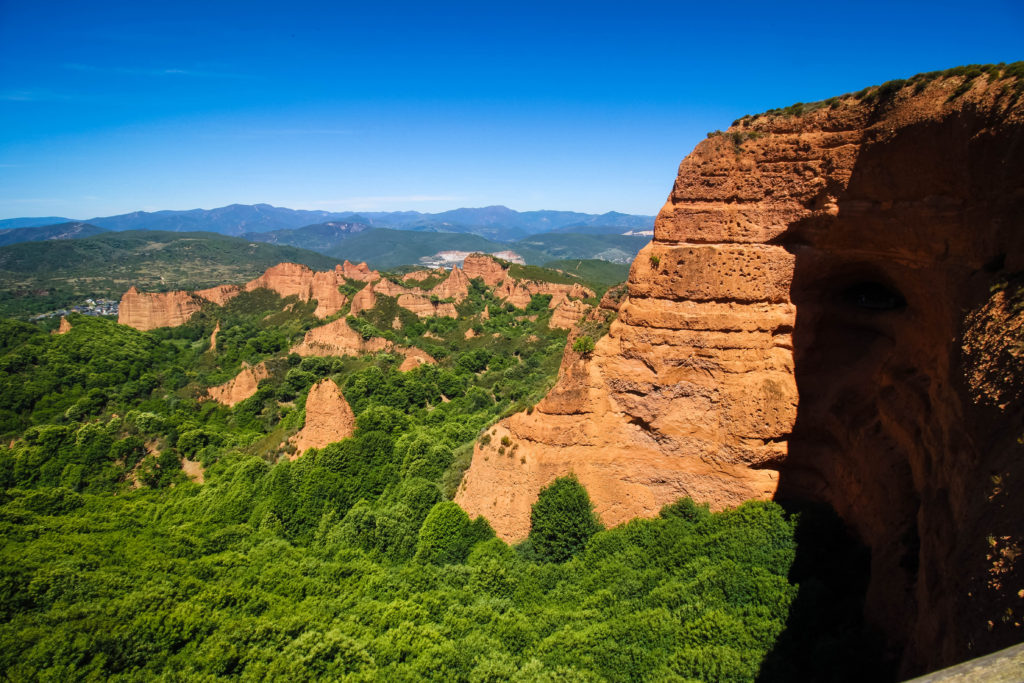 We had a lot of driving to do and it was a beautiful area. Lots of valleys and rolling green hills.
We did stop by and see the Praia de Catedrales, an area on the northern coast known for jagged rocks and very weathered cliffs. It has an amazing little beach that was, of course, full of people. In July and August, you actually have to buy a ticket a couple weeks in advance to go down to the beach because there are so many people that come here. Oh, and Spain beaches… topless isn't a big deal. Unless you're American..then it makes you a little uncomfortable! haha
I think there were probably better rock formations somewhere along the beach that we didn't find, but we had fun getting our feet in the water and seeing the close ones. Norah was obviously in her happy place.
We arrived at our AirBnb around 6:30pm. We have a great view over  a local beach, but high enough up on a hill that it was very private.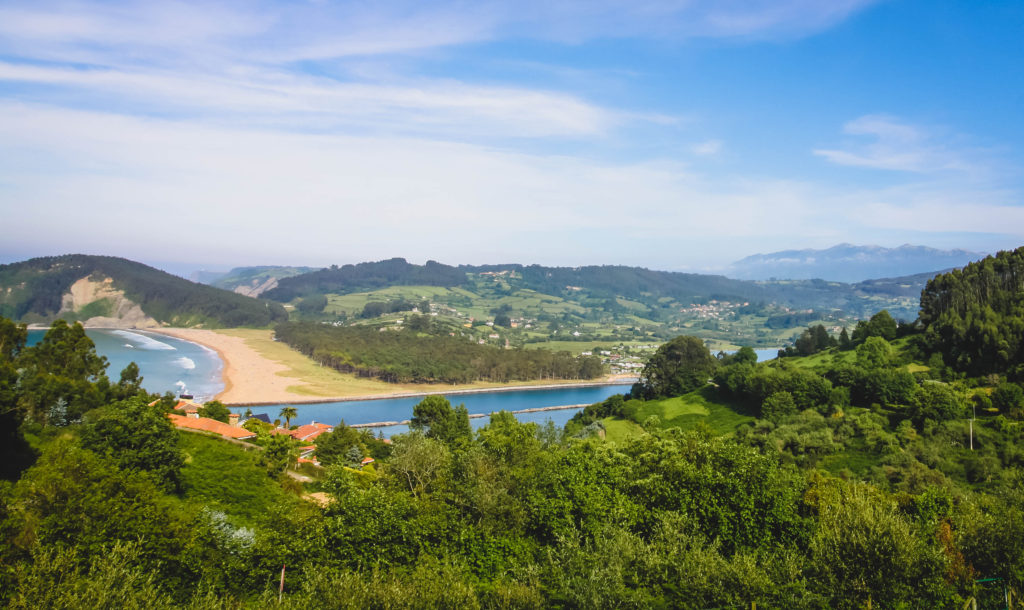 I had planned to go to Restaurante La Playa in the little seaside town of Tazones. I asked the AirBnb host who unlocked the apartment what she recommended just to make sure and she said that was the best restaurant around…where they even go for dinner a lot. They even called ahead for us to make sure we could get a table. My Spanish is decent, but it was still nice to have a local they know call and give you the "green light" at a tiny locals joint. 🙂
The town is like a postcard. A tiny village built in the hillside. Access by foot onto a tiny rocky beach, a boat pier with fishing nets draped over the wall for tomorrow's trip out. Crab pots stacked up along the wall waiting for the next day. We got to the restaurant too early. They don't open until 8pm… which is mind-blowing to me…haha but as we were leaving at 11pm, locals were still coming in for dinner. Just Spanish culture to eat dinner very late.
I think this is one of those corpse flowers… but it didn't have a smell… I really wanted to see what they smelled like!  (and it may not be a corpse flower at all)
We sat outside with 3 other tables of people we would come to know throughout dinner. A group of late 20s guys from Madrid who regularly come up to the area for the weekend. They had been there since lunch drinking so they were loads of fun. ha Most of them actually studied in the US for college, so they were whipping out their drunk English to talk to Norah and to us later. The other couple of tables were a couple of families- one with a little boy Norah's age. He was "almost 5" he told his father with a scowl. haha
His mother and I talked a lot throughout the evening. What we could with my Spanish, anyway. We got by…and used Google translate for a couple words when we weren't getting our point across. ha
They were sweet people. When Norah wouldn't eat any of the shrimp or lobster we ordered, she scooped her up to sit at their table and sat and fed her monkfish and calamari they ordered for their meal. haha (We paid for their plate of calamari… I couldn't handle just letting that happen!)
Everyone was so friendly and sharing seafood that we just HAD to try. I leaned too far off the edge of the bench at the beginning of the night trying to adjust my dress and had a very clumsy awkward fall/save haha and throughout the night, we all laughed as two other people did the same thing!It was obviously a common occurrence with how the benches were made. It was funnier every time. haha Stupid benches. lol
We left with full bellies and a great Spanish experience. Norah gave everyone a kiss on the cheek saying "adios!" …including both tables of people that we were NOT interacting with and were a little freaked out at first..but then of course, immediately thought she was the cutest thing ever.
As we walked down the stairs, the drunken group started singing "Bye bye Ms American Pie, drove my Chevy to the levy…." LOUDLY! haha and kept it going for the entire way we were walking up the street. A priceless experience… but the $100 price tag for a giant platter of seafood, a crab dip, a calamari and a couple of beers and waters was incredible. Definitely already scheming on a long weekend back here again soon with RyanAir flights being so cheap… we could make a low key beach trip back here very reasonably.