Hola from España! We had a great first day in Madrid. We arrived Wednesday night late enough to just get our car and head to the hotel so we were up and at 'em early today to get a full day of sightseeing in by 2pm (still working today and tomorrow- then true vacation for the rest of the trip.)
Found this nice statue of my likeness outside of the airport. The artist is Botero, known for his fat round characters and representations. He's from Columbia, but he has a lot of art in Spain. 5 sculptures alone in Madrid.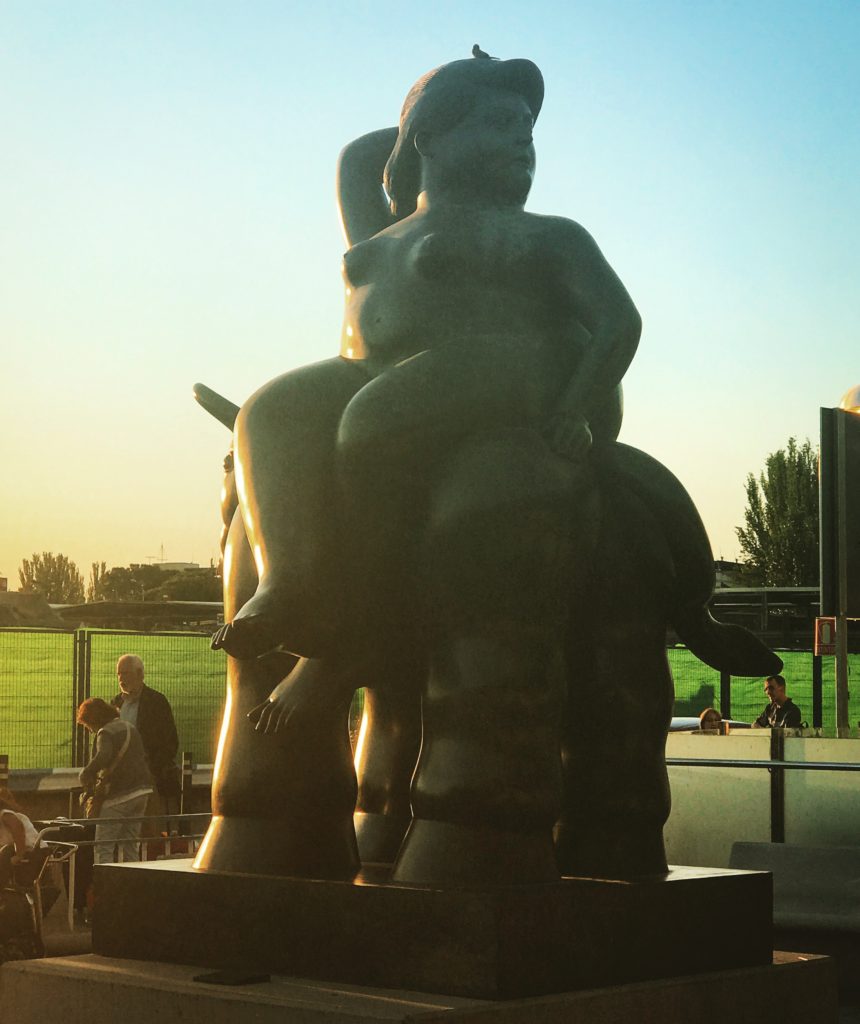 We arrived to our hotel too late for the restaurant but not for room service, so we really kicked off vacation the right way with Spanish specialties brought straight to our room. The central area around Madrid is known for Jamon Iberico… salty cured ham from Iberico black pigs who are fed acorns, cured long and sliced paper thin. So good.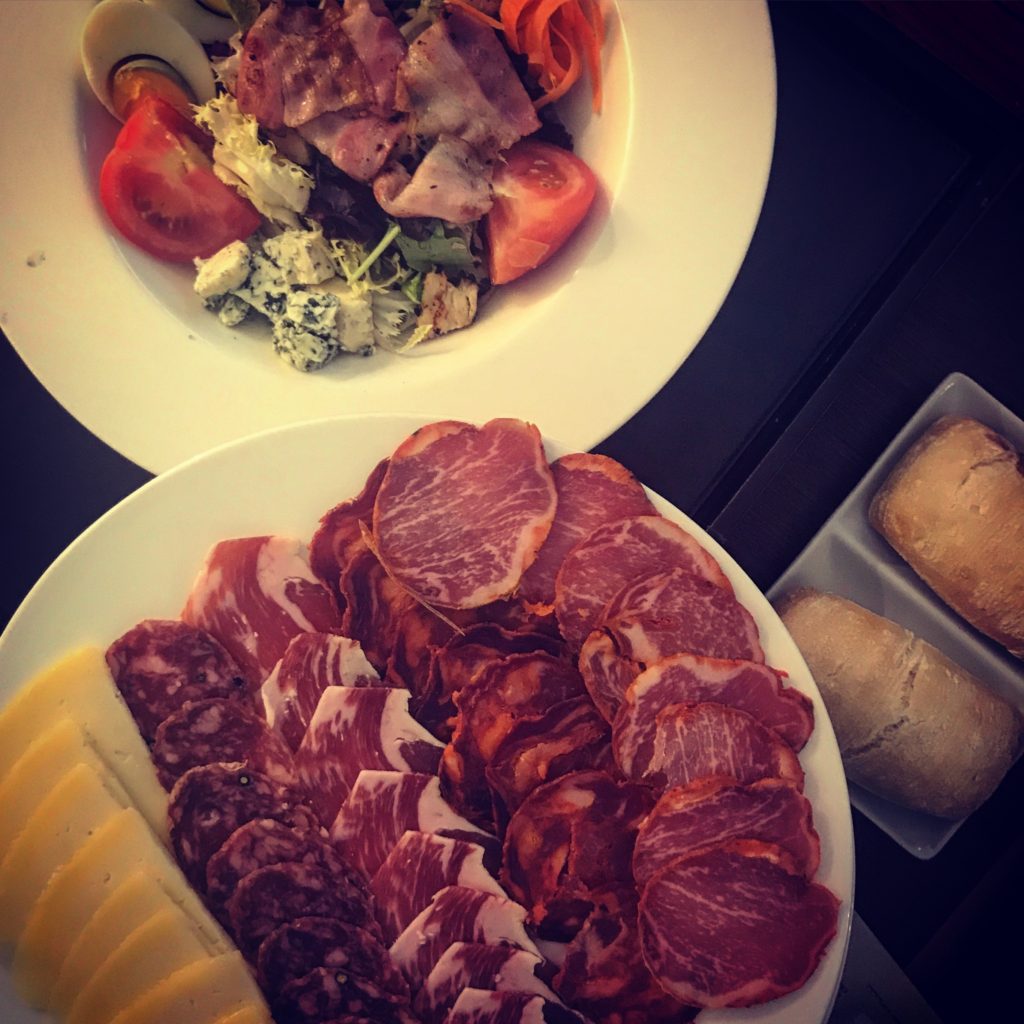 This morning we started out towards El Retiro Park, "the lungs of Madrid"… and I have to say, I underestimated the scale of Madrid…it was over a mile just to the "start" of our day, so we covered a lot of ground.
This statue in the park is said to be the only known public monument to Satan in the world. haha The Fallen Angel represents Lucifer in Milton's Paradise Lost where he fell from the heavens.
We found what appeared to be an outdoor library that ran the length of this street. How COOL is that??
El Retiro is also the home of the Crystal Palace. Built by the royal family in the 1800s to house all of the plants from exotic locales, it is now empty and used for art exhibits. After seeing this, I'm thinking Kegan better get to building because my polytunnel just isn't seeming so cool anymore. 🙂
After that, we found a play park..so we had to let Norah play a little. Even if it was cutting into my "itinerary". ha
We continued on through the park seeing various statues and gardens.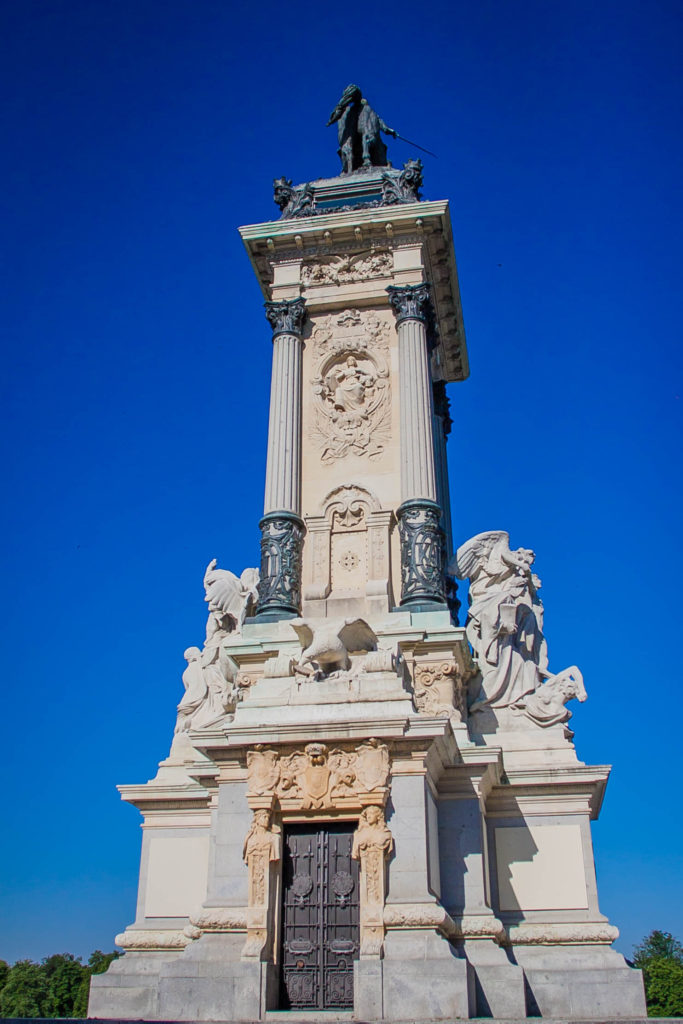 We walked past the Prado Museum, but didn't have time to go inside and tour. Especially with a 4 year old. ha just not in the cards….
We were hot and thirsty by this point. It was almost 100 degrees today…and coming from Ireland for the year were it hasn't broken 75…it was a shocker. I'm now "Karen" according to Starbucks. We've been having fun with that all day calling Norah "Karen". It's really getting her worked up. ha
Found a status of Cervantes (Don Quixote author) along the walk.
This is the famous El Oso y El Madroño statue- the Bear and the Strawberry Tree. The statue is fairly new- within the last 50 years- but the bear and tree have been a symbol for Madrid since at least the 1400s. It is in the Puerta del Sol- an open plaza just FULL of people. Sensory overload for sure.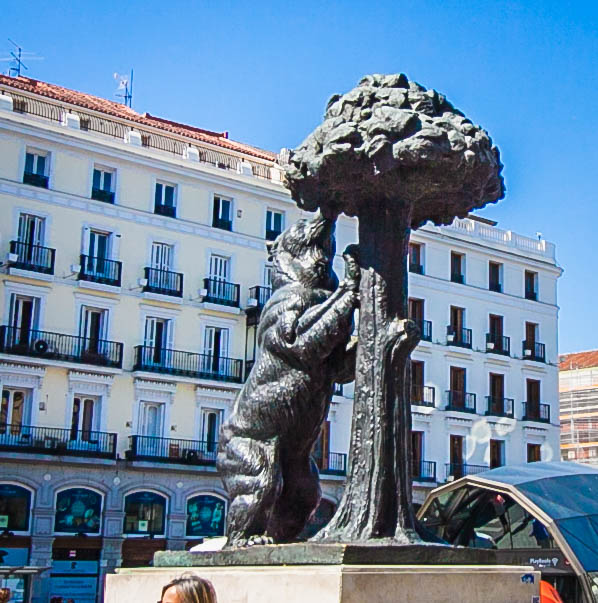 After wandering around, buying some sunscreen and a toothbrush for me (I forgot mine like a travel newb and the hotel freebie wasnt going to cut it for more than a couple brushings ha) we found a gem of a place: San Gine's Chocolateria, famous for churros and chocolate. They don't drink their hot chocolate in Madrid- they use it to dunk their churros!
After than wonderfulness, we marched on to Plaza Mayor, the main plaza of the city. I find it so interesting how the use of public spaces has changed so much over time. Today, people sit around the edges of the plaza, enjoying coffee or wine, lunch, a few shops… but if you were to go back to the late 1400s, this was a major site of the Spanish Inquisition. Every month or so you could have seen a whole group of "heretics" paraded out into this very plaza and burned at the stake.
The Spanish Inquisition was authorized by the pope in the late 1400s, originally just as a way to ensure that Jewish and Islamic converts to Catholicism were adhering to the orthodox principles because they had a tendancy to continue their "old" religious practices after conversion. (Could have had something to do with the fact that all Jews and Arab people were told by law they HAD to convert to Catholicism or leave Spain….). However, the Protestant Reformation- a break from the Catholic church and led by Martin Luther just a few short years later would really run the inquisitors off the rails giving it the reputation throughout history as a bunch of priests telling everyone they weren't doing catholicism right and then burning them alive.
Anyway… We headed on over to the San Miguel Marketplace. So many people… but such a cool place.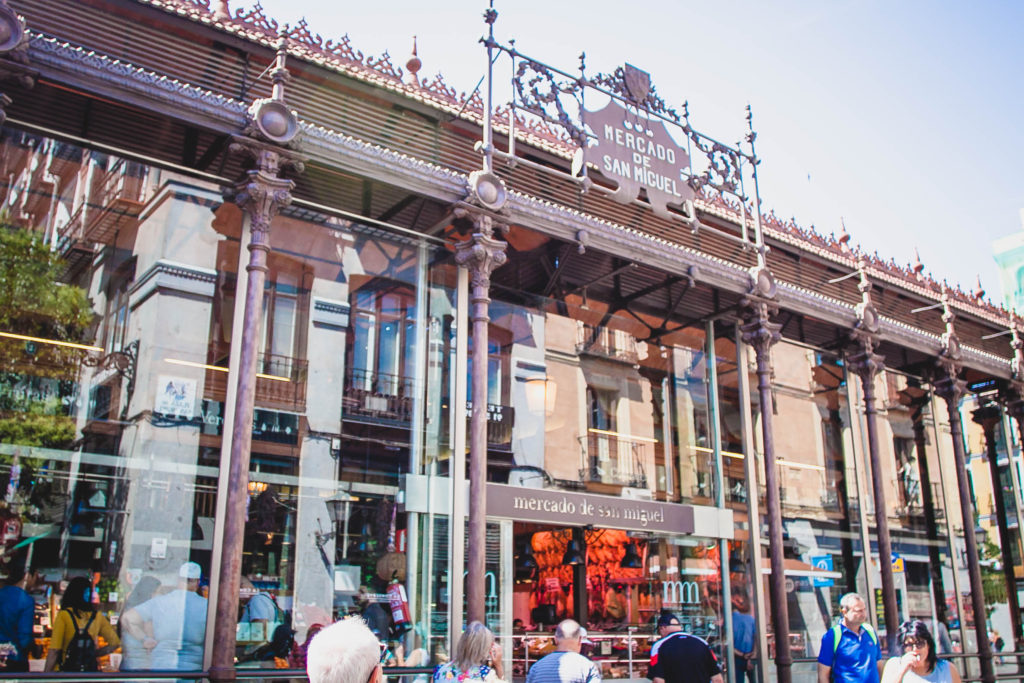 We picked up some fruit- peaches and apples- and some small sausages to hold us over until dinner.
Norah found a Pinocchio that she just had to have her photo with.
That brought us around to the Royal Palace of Madrid. Over 1.4 million square feet. over 3,000 rooms. AND…. the royal family doesn't even live here anymore. ha There was a big line to get in and Norah had reached her maximum. Heck, I had reached my maximum with the heat! haha So… we caught an Uber and headed back across town to the hotel to get kiddo a nap and so I could work. Keeping it real- sometimes you you don't get to do fun things because you are vacationing with a four year old. A very sweet and smart 4 year old, but 4 none the less. 🙂
We did head out across the street for a quick dinner later in the evening. There was a sushi/asian restaurant we went to that really hit the spot. It was an all-you-can-eat sort of scenario where you can order 5 items at a time as many "rounds" as you want. Well, I only did 2 rounds. LOSER ! I'm slacking on my sushi buffet abilities. 🙂
Tomorrow, we head out of Madrid towards Segovia, Avila and end in Salamanca.