This morning we had some breakfast and left Avesta headed for Stockholm. We dropped our car a couple days early at the airport at Marie's advice. We took the Arlanda Express train straight to Central Station and checked in to our hotel that was right beside the station.
After checkin, we went out walking towards old town "Gamla Stan" to check out some sites.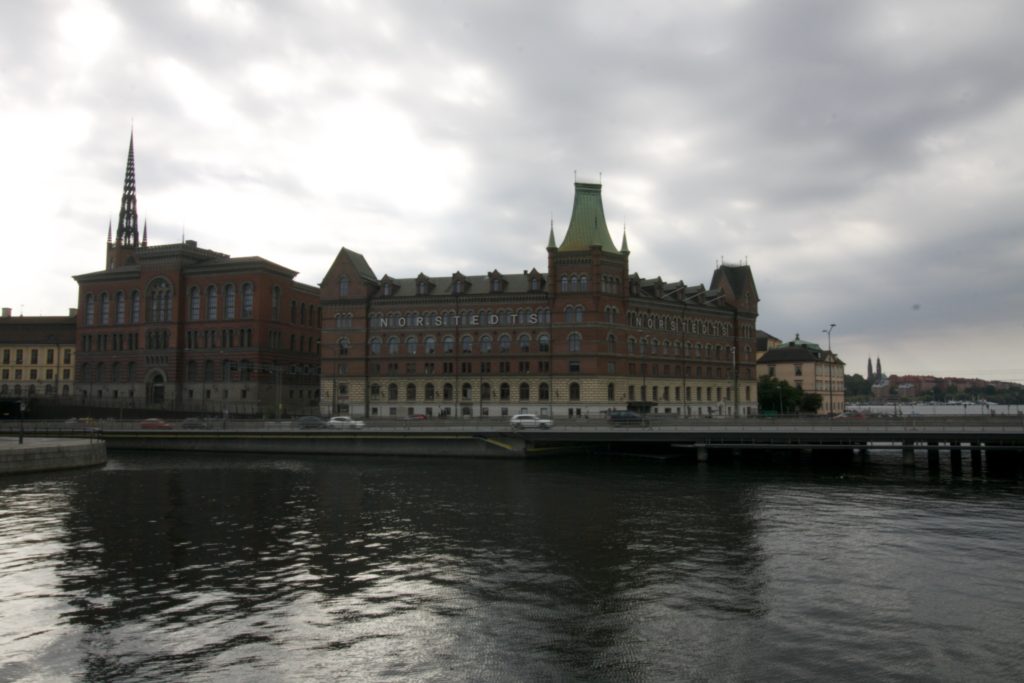 I think this was the Swedish Parliament building…it was very cool sitting in a half circle in the middle of the river. Quite impressive.
Marie tells us as we are standing in front of this building that this is sort of a royal house…and that she has been here for dinners before because her grandmother is still part of a noble family. Wow. I didn't know we were in the presence of Swedish royalty! so… that was pretty cool…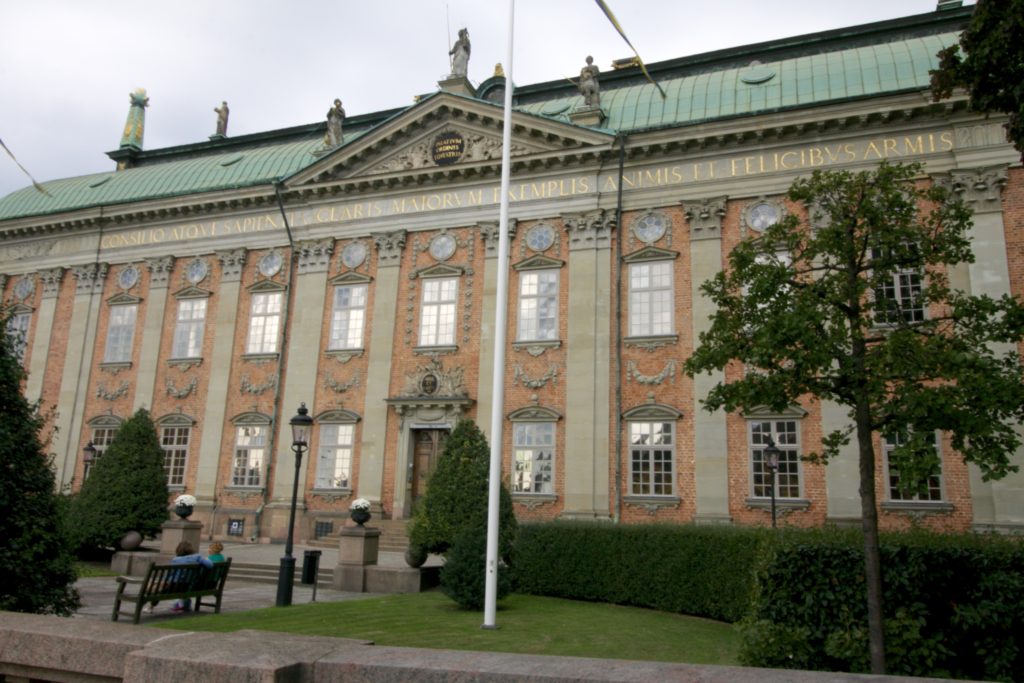 As soon as we crossed the bridge, we saw this Italian restaurant that my friend Juliana recommended. She said it was the best pizza outside of Naples she ever had. So, since we could use some lunch- we checked it out. I can see why it could have been great, but I think they were having a bad day with too many people and not enough help- the people beside us got up and left after 20 minutes with no soup, so it was pretty good…but I cant rave about it 🙂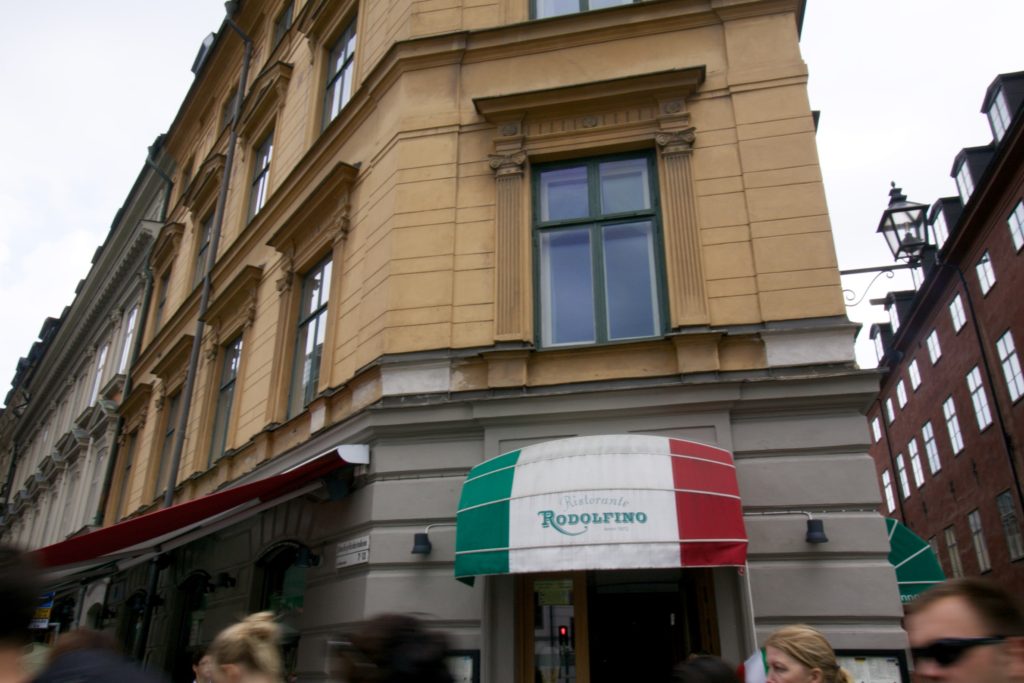 However, funny- I told Juliana we were there on her recommendation- and she tells me that our waitress and her are Facebook friends.. hahaha- so I showed the waitress her Facebook picture and we were instantly friends. ha We even all got a selfie.
We continued on through old town, walking past the old German church
The temporary home of this statue. It is usually a few blocks away, but they are doing construction because that part of town is sinking into the ocean, so they decided this was a good spot for him. The statue is of Charles XIV John, who was a king of Sweden, a king of Norway, a governor of Rome, a general in France…and I'm sure a lot more. He lived in the late 1700s- early 1800s…and fought for Napoleon. He actually became King of Sweden because the real King of Sweden was growing old and childless. Since this guy had made such a name for himself in assisting Napoleon, the Swedes elected him the heir elect of their King, even though Charles XIV John had no idea. The king 'adopted' this grown man so that he could legally ascend the throne. He was actually well liked and really united Sweden. Napoleon totally took advantage of his "friend" being in control of Sweden and basically invaded Sweden as a vantage point for a conflict with Russia. It's said that on his deathbed, he was still proud of defending Sweden against Napoleon and that history saw what side of the conflict he was on. Sounds like he was a fairly decent guy for a military leader. ha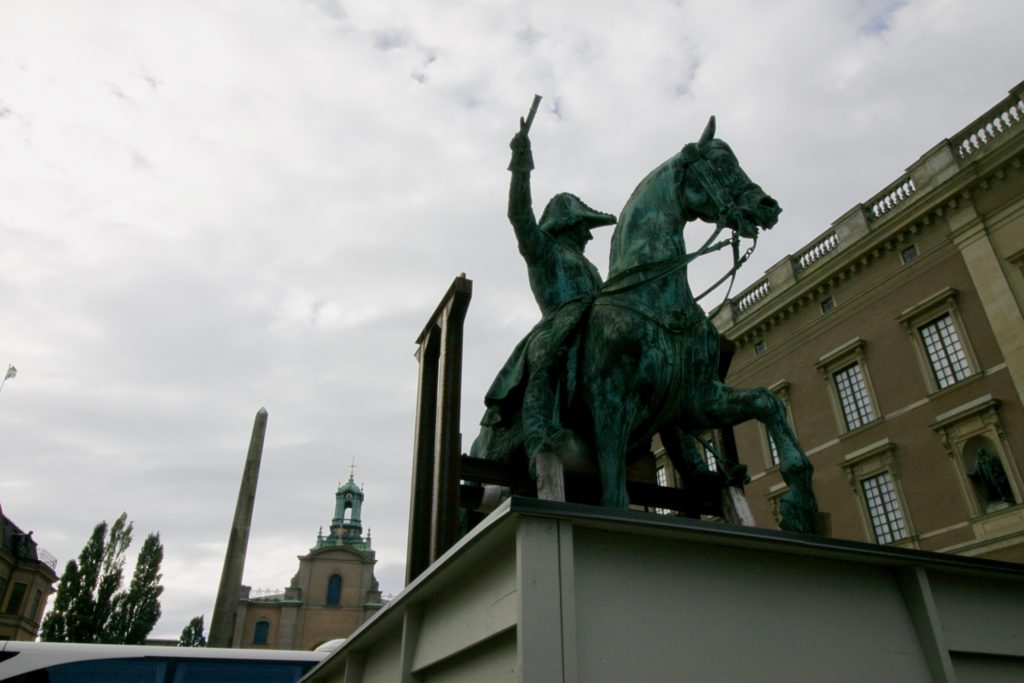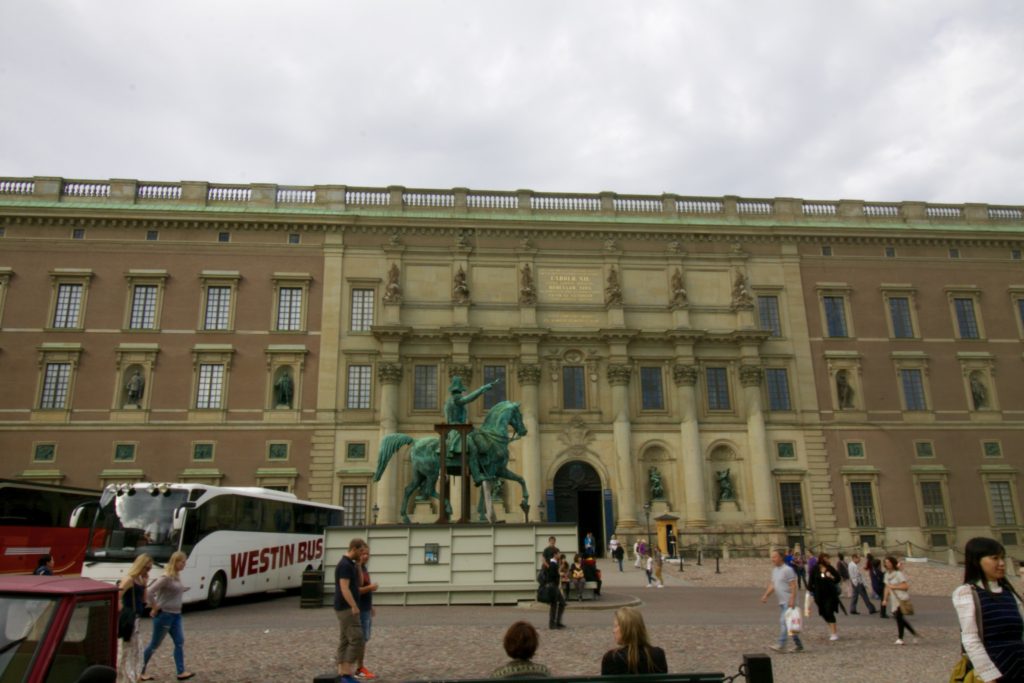 We next arrived at Stortoget- the big public square. I did some research on the buildings… they're cool… but nothing too crazy or fun to talk about surprisingly.
Marie says that back in high school, this cafe was THE cool place to hang out. haha
There's a Cannonball stuck in the corner of this building…
I had to have one of these sock Vikings.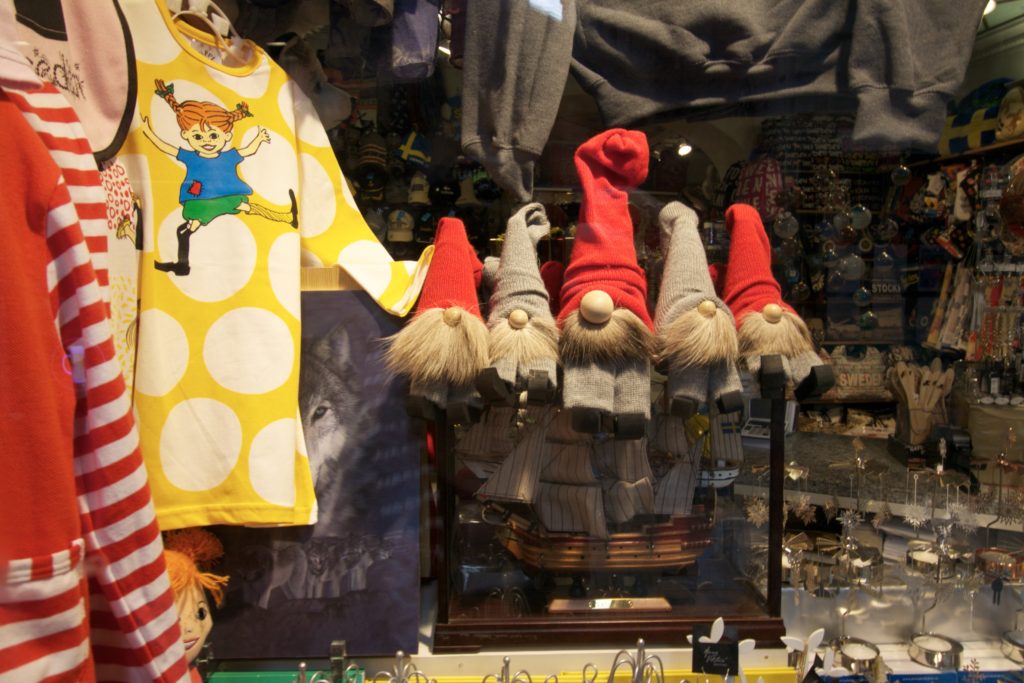 Our last stop was the most narrow alley in Stockholm. Martin Trotzigs Alley. It's only 35 inches wide at it's most narrow point.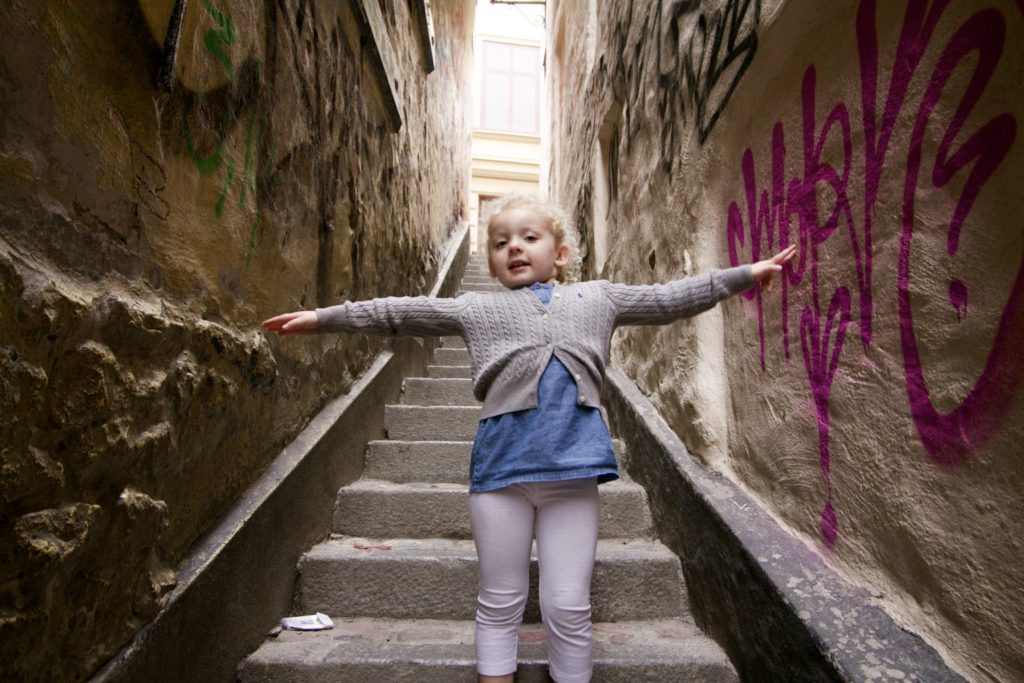 When we got back to the hotel, we checked out the rooftop terrace on our floor. Panoramic views that my wide angle lens doesn't do any justice to… but it was cool.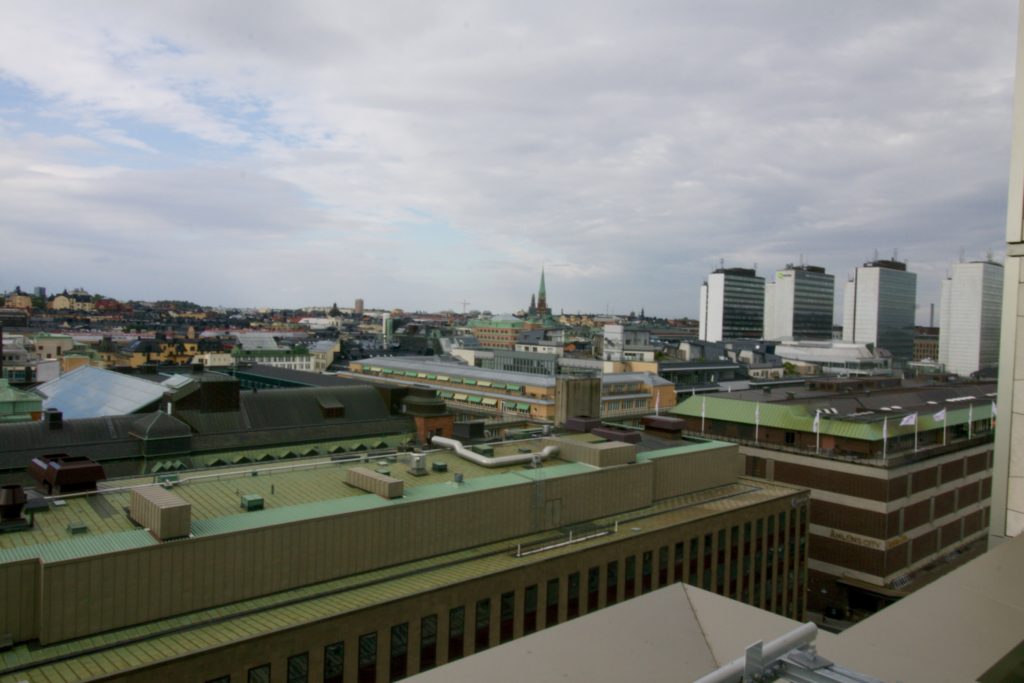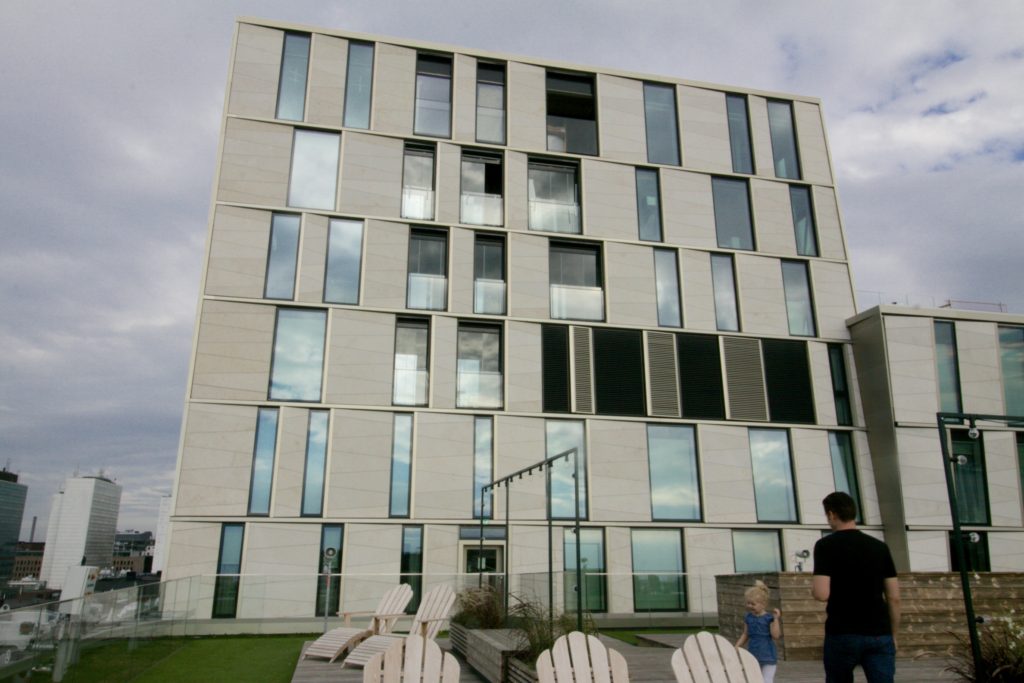 We ate dinner at a little restaurant around the corner called Polpette (meatball in Italian) that was an Italian Swedish fusion restaurant. (I'm not sure what that is haha)
(there is some glitch in this stupid site that is flipping pictures taken on my iPhone…and they dont fix, even when I flip them and look right to me…so I assume most of the following photos will be upside down- sorry….)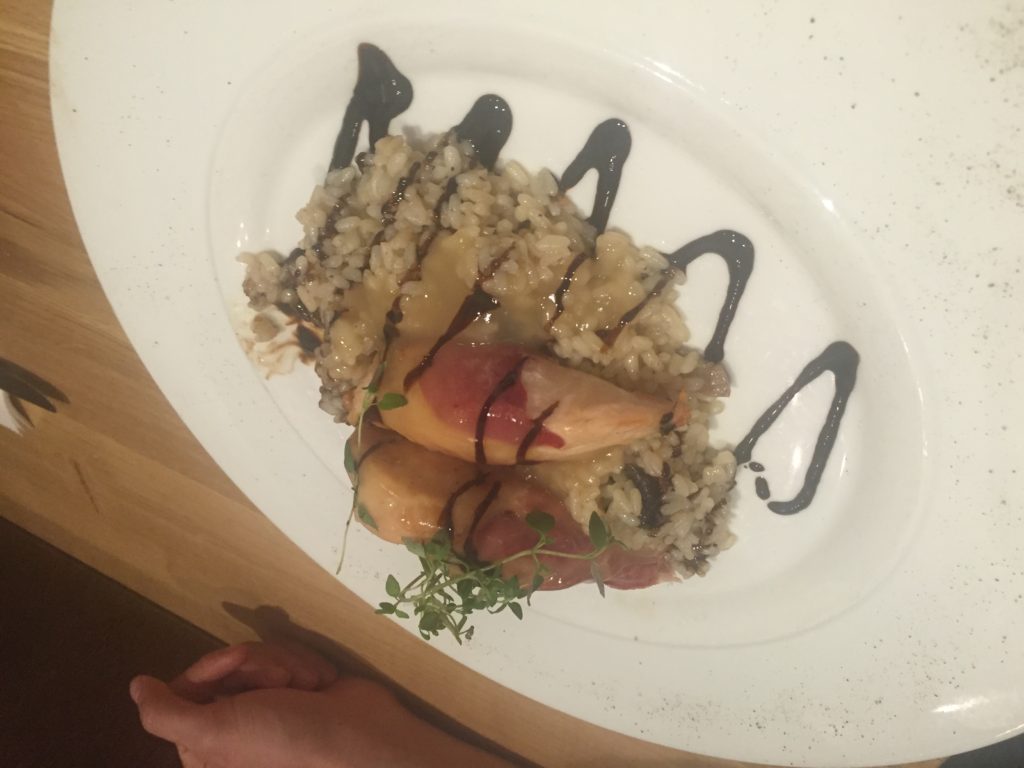 When we went to order our food, Norah said "I want a Donut please!" because we had passed a donut truck on the way into the restaurant that smelled amazing. Our waiter laughed and we continued our dinner. Well, that guy snuck out sometime while we were eating and bought them donuts from the truck outside and surprised them with them once they had eaten their food! That was so sweet! and he did good, because Norah loves M&Ms. haha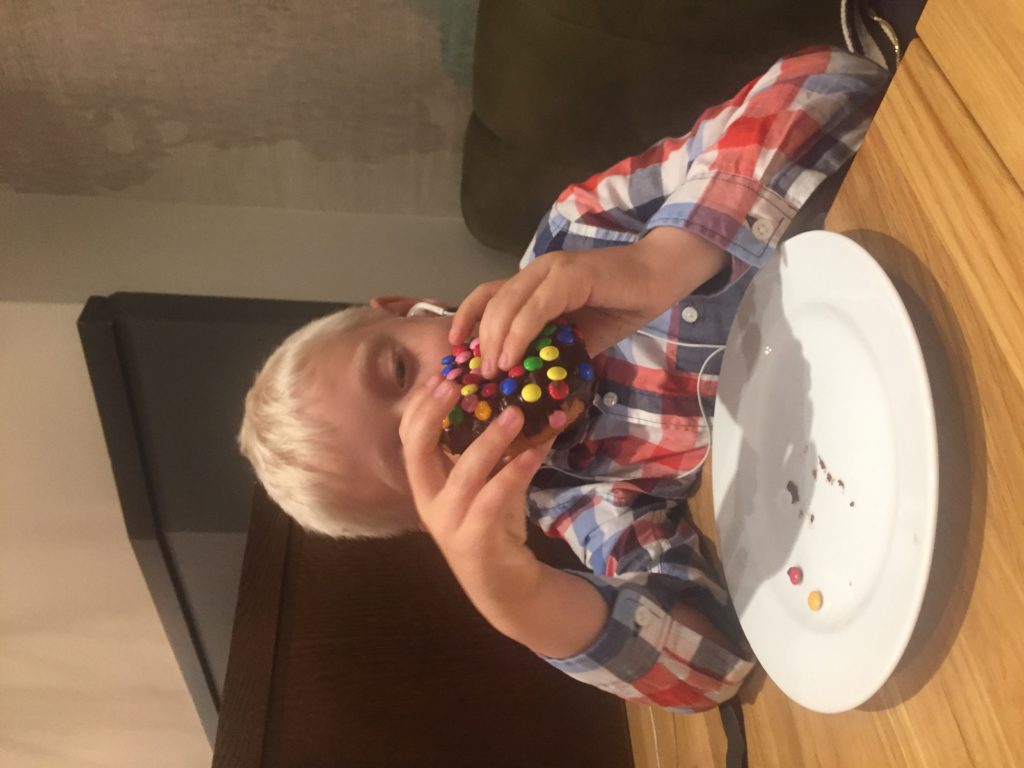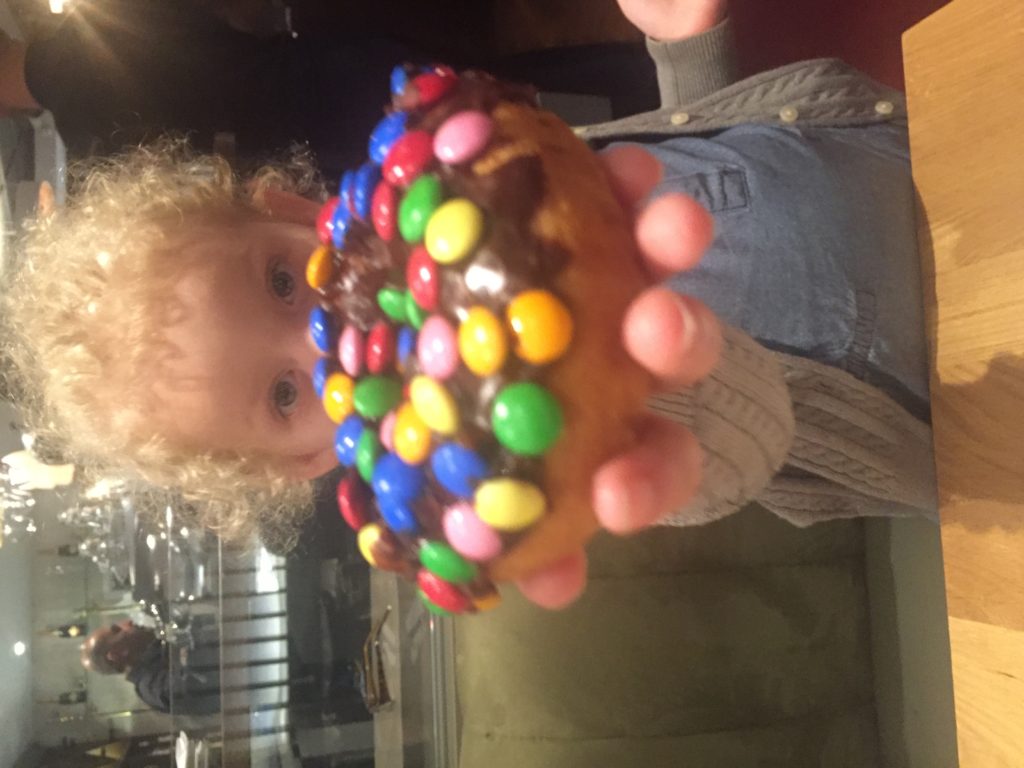 We came back to the hotel, I did a little bit of work, watched James Bond Spectre and we slept.
This morning, we started with the hotel's extensive Swedish breakfast and we took the bus to the Vasa Museum. The Vase ship was a Swedish warship from the 1600s that sank as soon as she started into the harbor on her maiden voyage. oops. people scavenged the bronze and metal back in the day but it was left at the bottom of the ocean until the 1950s when they dug it back up and brought it here where it is an amazing piece of history. This thing is massive.
They think that the original wood carvings were painted like this… would have been a sight.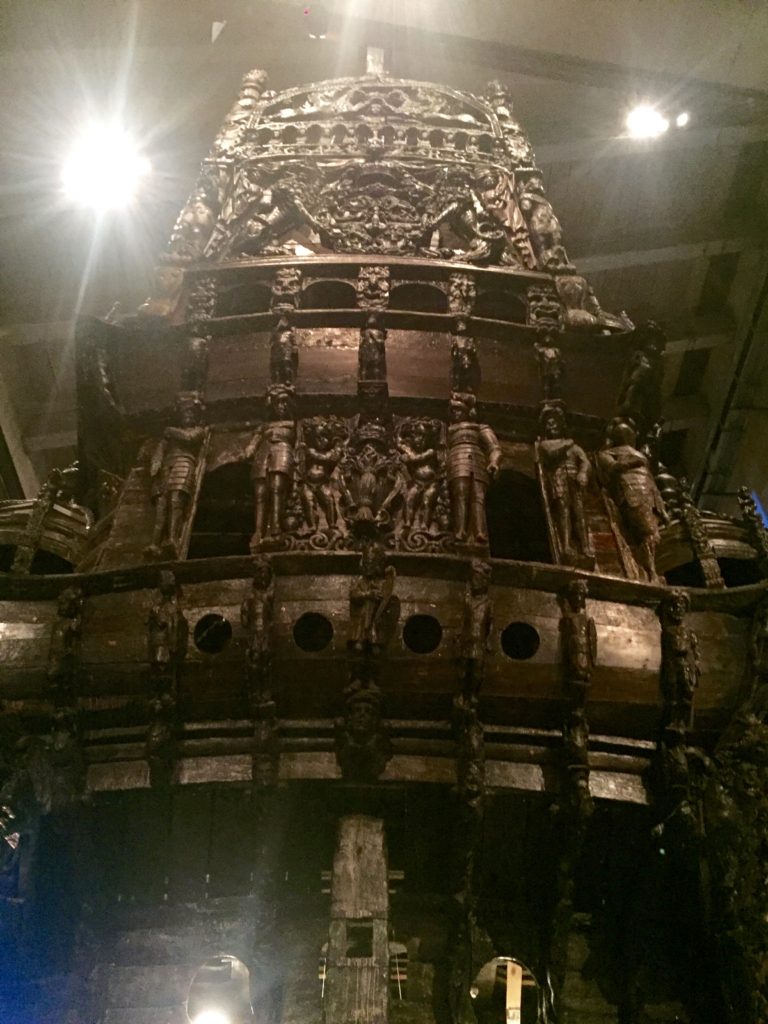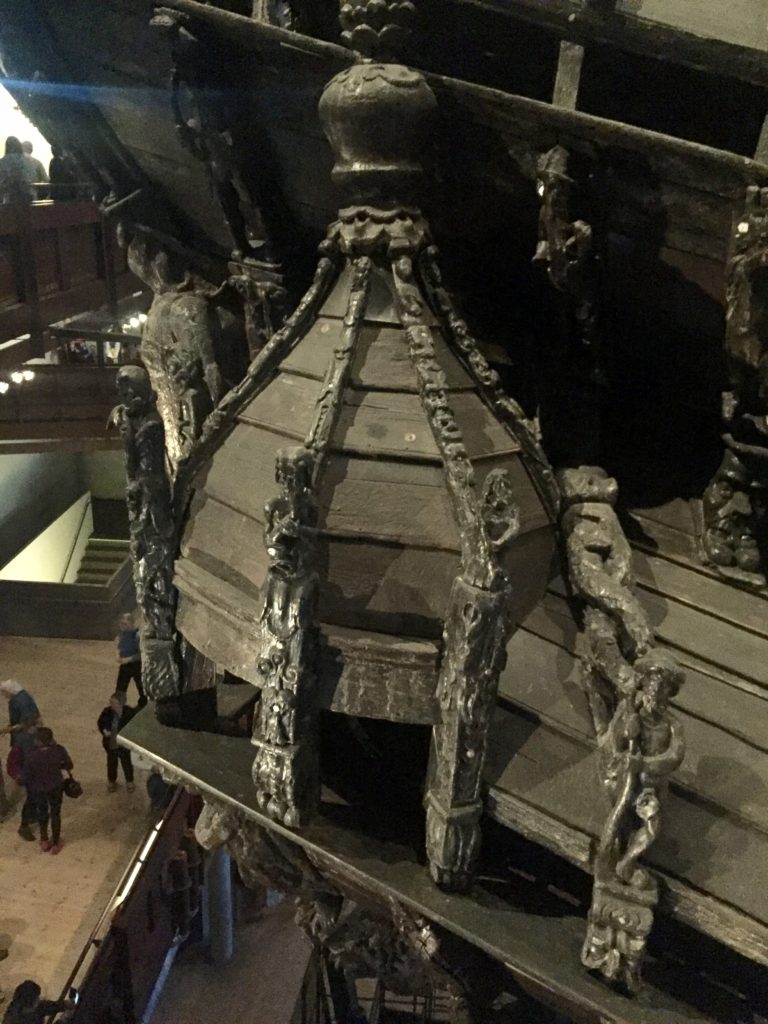 After the Vasa museum, we headed to Junibaken….a children's museum/funhouse for stories by the author that did Pippi Longstocking. But it turns out they are closed on Mondays. So, we thought maybe the aquarium? …nope. Closed on Mondays, too..  So, we went to Skansen.

Skansen is an open air Swedish history museum. It has some animals, cafes, old stores and buildings, and other things.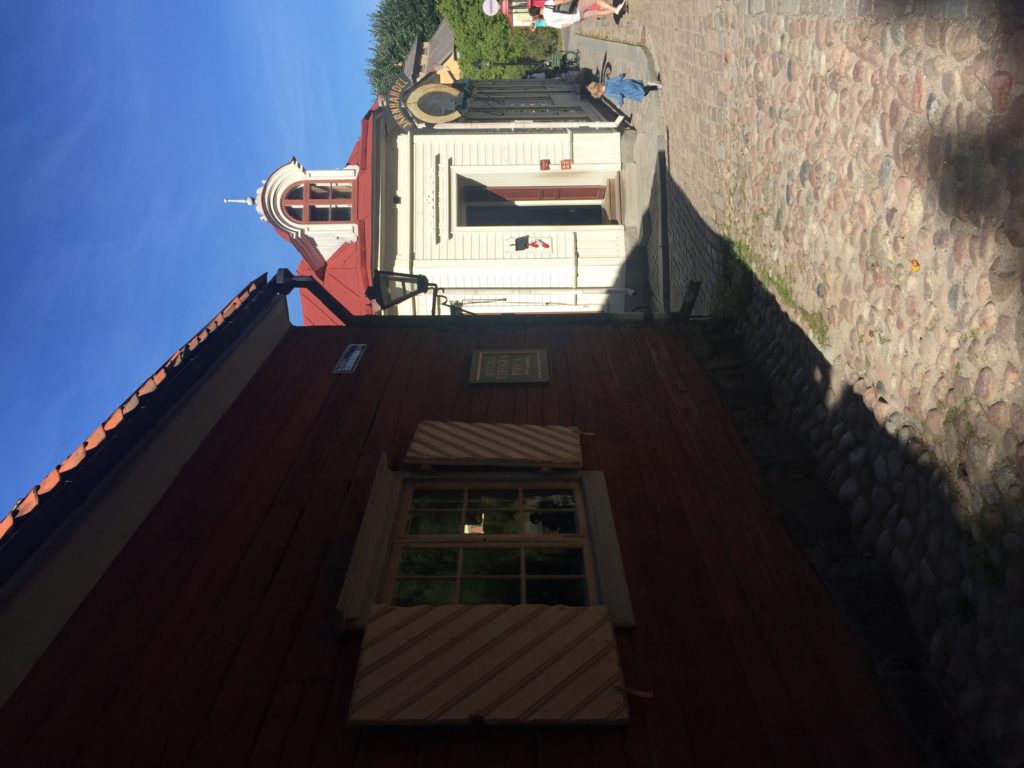 We played some old time games: ring toss, stilts, jump rope, and that game where you roll the metal hoop around.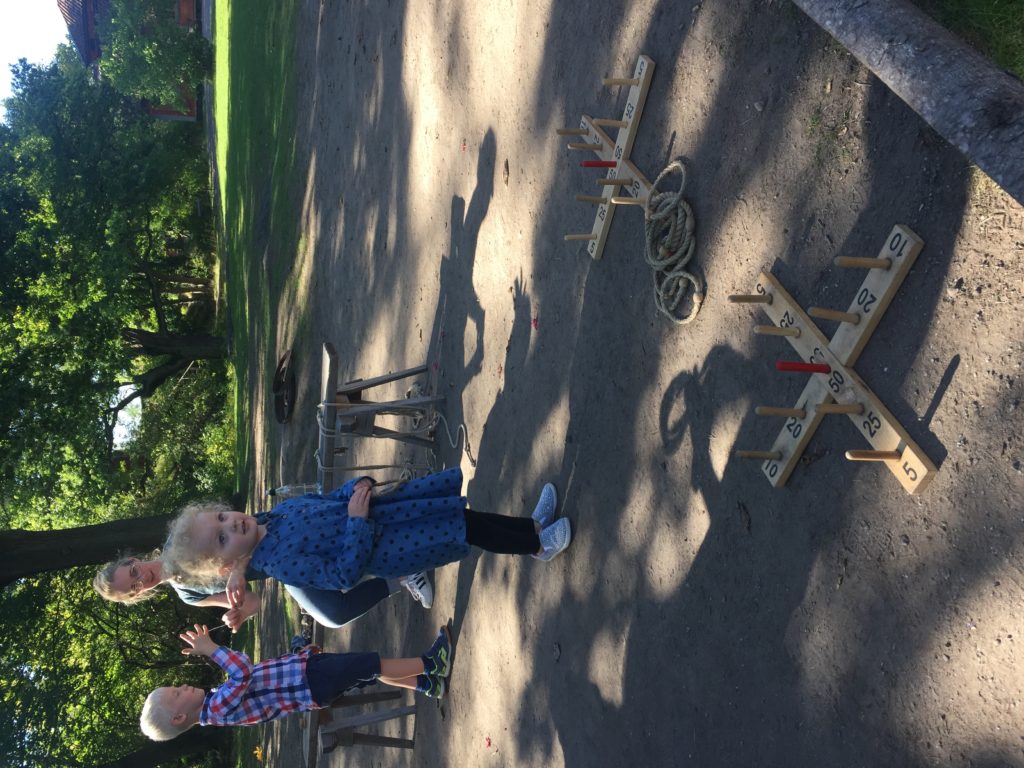 img_5491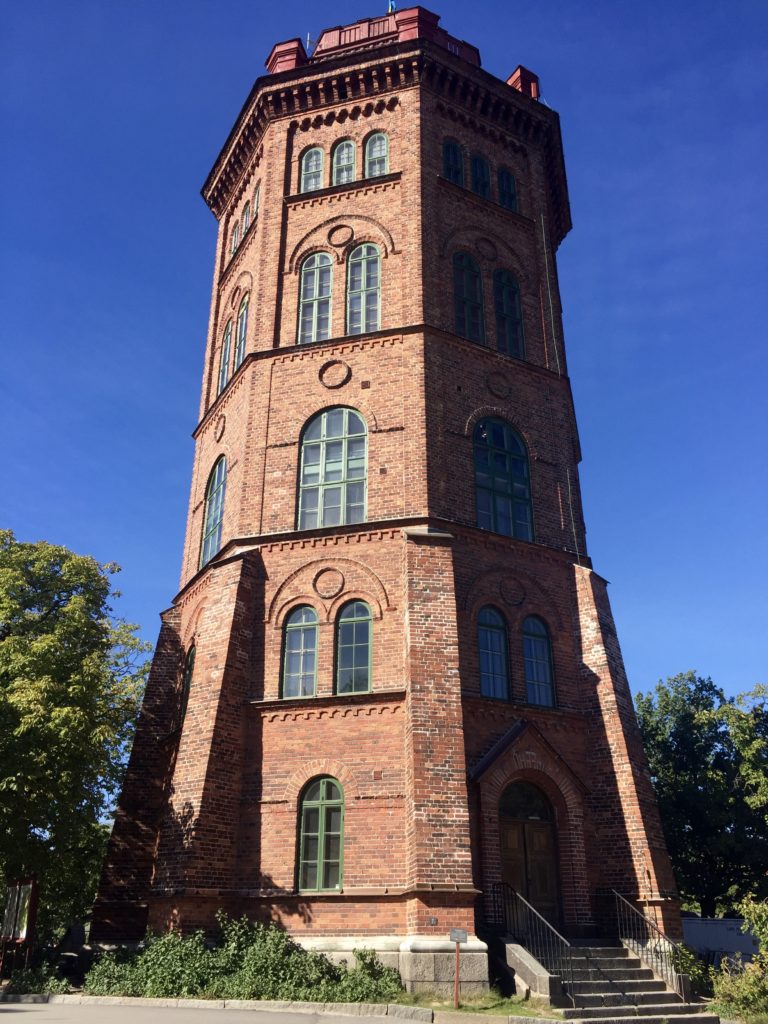 Norah and Axel found the car ride. 
Spent some time on this playground before we headed out.
We were boring for dinner, Norah wanted McDonalds so we had that and some sushi from Sushiyama next door. Both are right beside the hotel. We packed everything up and we'll head out at 6am to head back to Ireland.
We get our short term rental house Tuesday afternoon that we'll stay in while we remodel our house. We got this place for $150/week- and it's within 15 minutes of our house, with a working kitchen, bathrooms and wifi! 🙂 So…it was a no brainer and will make the remodeling go so much faster and easier. I'll try to post a few photos tomorrow or Wednesday of it. We plan rent it through Christmas…. so that gives Kegan a deadline. haha I currently have 1 bathroom planned out, a 2nd bathroom half planned…. and the kitchen cabinet color picked out. I have a BIT of planning to do.
Our first order of business will be to get the container unloaded on Monday the 19th when all of our stuff arrives! woohoo.
Thanks for reading along with our crazy adventures!! 🙂