We started our day out in Germany, just north of Dresden in Coswig at the Historische Spitzgrudmühle hotel. We were actually quite happy with it! Dinner was great, the rooms were clean and large…I would absolutely recommend it.
Fantastic Euro style breakfast with a couple oddities! If I don't know what it is or I've never had it- I am 100% in every time. ha They had these cold meatballs, some sort of pickled fish mayonnaise salad and the fanciest deviled eggs I've ever seen on this cute little plate. Like, caviar and anchovies on a deviled egg. I thought it was fantastic. Kegan thought the salt and fish was too strong…but it was so pretty.
We headed out to make the 3-4 hour drive to Wroclaw, Poland across the Czech countryside knowing it would probably be a light day.
Our first stop was an hour or so in at the Bastei bridge and the Ferdinandstein Vista Point. Mountains cut out by the Elbe River over  million years ago.
Beautiful views…
We continued on into the Czech Republic. When we crossed the border, there was a dilapidated border checkpoint… but it didn't look like it had been in use for quite a few years. That is one thing I love about the EU- the free movement of people and goods.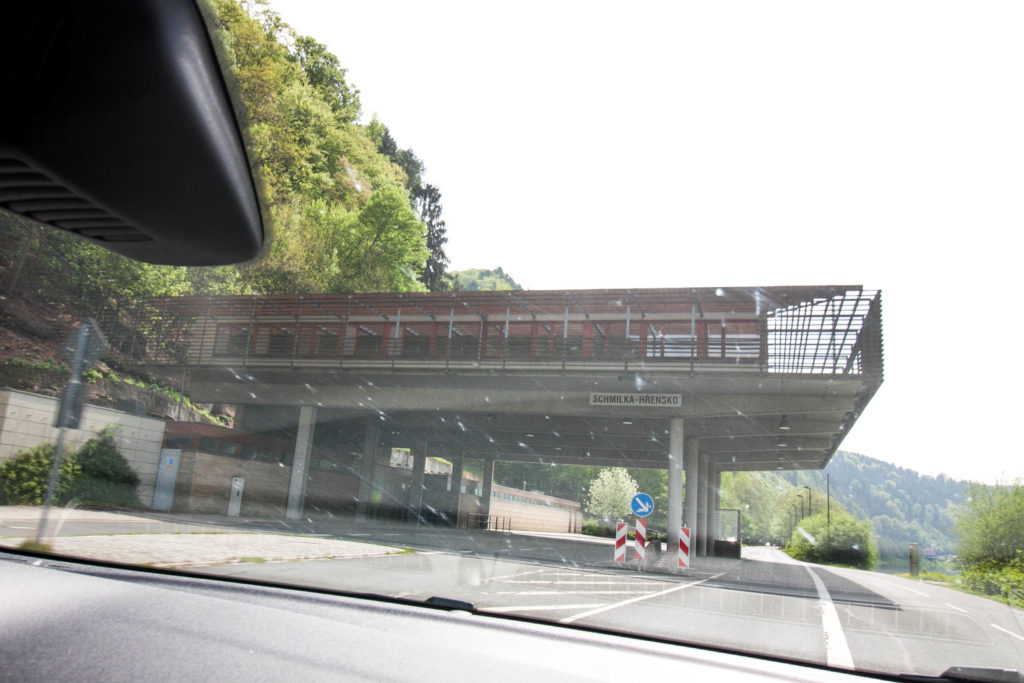 I snapped a few photos as we drove through some small towns and villages along the way.
Since we were mostly in the countryside, lunch was some snacks from a gas station. Fast food just isn't a thing in most of Europe outside of the major cities. You can't just swing through a drive thru and get something quick. A lot of times it's hard to tell if any place is open during the day or in our case here, whether or not we would even be able to communicate to ask if they were serving food. So… some chips and pretzels got us through. haha
Norah found a familiar favorite, so she was good.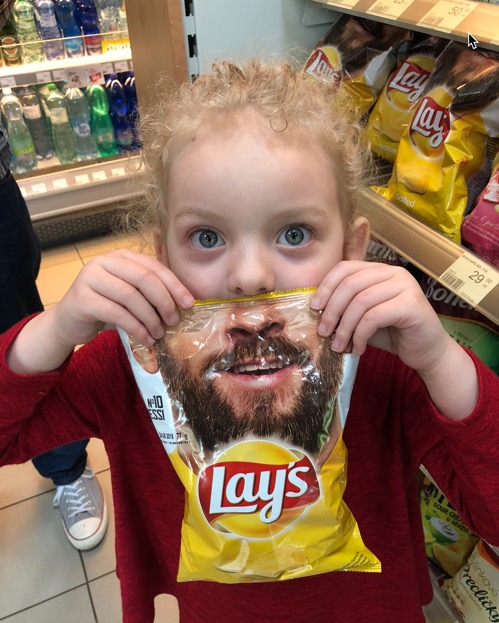 Our next stop was Panska Rock, a basalt formation with hexagonal jointing. Similar to The Giant's Causeway in Northern Ireland… when the geologist hears hexagonal jointing, he gets excited. ha
The girlie enjoyed some climbing time out of the car.
When we went to park in the lot at the rock, we had to to take a ticket… no problem. Typical. Then we realize that the Czech Republic doesn't use Euro. And we just got here. And we have no Czech money. And the parking machine only takes Czech coinage. GGGRRRRRR. I saw a little ice cream shop open across the highway so we walked over there and luckily, right on her window she had the Czech conversion rate of 1 EUR=23 KČ. Phewwww… saved. ha Paid in Euro, change in Koruna. We got iced coffee, a capri sun and Kegan got a pastry of some sort and we were off with some fresh Czech cash to get us out of the parking hostage situation.
We continued on a couple hours to the Teplice Rocks or Adršpach Rocks. Unique super tall weathered rocks alongside a lake. It's a big destination for rock climbers and rock jumpers- some popular adrenaline junkie sport where you try to jump rock to rock.
We admittedly didn't explore the area much. We were slightly behind schedule and the ticket booth seemed closed to the park and lake… so we just explored around the parking lot and continued on. Looking online, I see that there are tons of hiking trails and rocks jutting out of the Earth so you could easily spend a day in this area alone.
Kegan snapped this photo of this wooden road guard that has been scraped down both sides by passing vehicles- it was so narrow in our little car…I can't imagine driving anything bigger through there! The picture didn't really do it justice.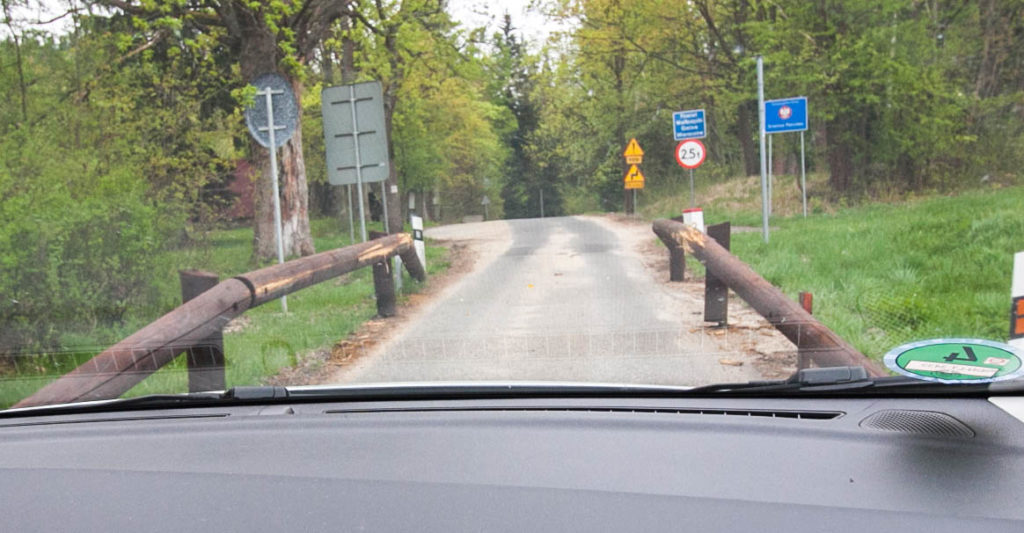 We eventually crossed the border into Poland headed to Wroclaw.
The roads in Poland and the Czech Republic leave a little to be desired. Patches and potholes everywhere. A lot of roads look about like this because apparently it's construction season in Poland, too.
We did spot a familiar site. Ikea is everywhere. ha
We arrived to downtown Wroclaw in the rain and slightly after dark and Norah wasn't in any shape to go sit for any super fancy restaurant, so my tentative plans of dinner on a boat in the inlet went out the window. ha
We were staying at a Radisson Blu hotel (because of the location and the price- 5 star hotel downtown for like $120 equivalent.) We ate at their restaurant, Aquarelle, which was pretty fancy itself for having a Norah in tow, but it was late enough and we sat in the bar area, I just gave her my phone and she was happy.
My starter was a smoked ham, blue cheese, pea and radish salad with quail eggs.
Kegan had freshmade Russian dumplings/Pierogi.
My meal was a pistachio crusted pork loin with veggies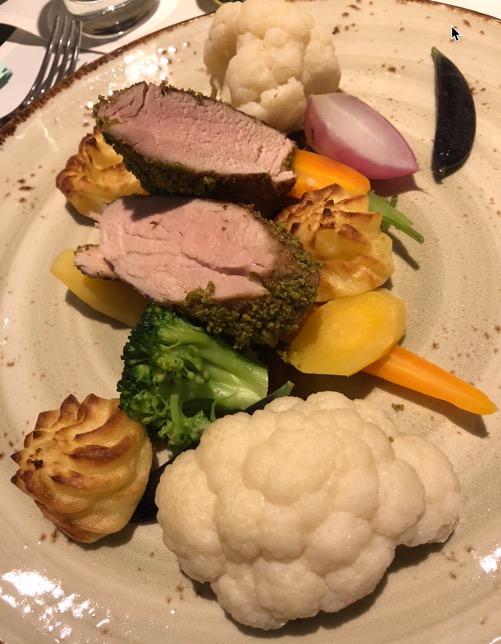 Kegan had a sous vide guinea fowl. He said it looked prettier than it tasted. (He's a tough one to please in a restaurant haha)
Tomorrow we will explore Wroclaw a bit and head back into the Czech republic stopping at some sites we missed on Day 2 and ending at a brewery hotel in the middle of nowhere.