Today was all about Moab, Utah and 2 of the "Mighty 5" of Utah's National Parks.
I had planned this stop for breakfast in Moab for Kegan… a donut shop serving breaded chicken breasts served with glazed doughtnuts for buns at a place called Doughbird.
The problem is, Erin didn't read the fine print. They only serve the doughnut chicken from 11am onward. ha So….doughnuts for breakfast were had!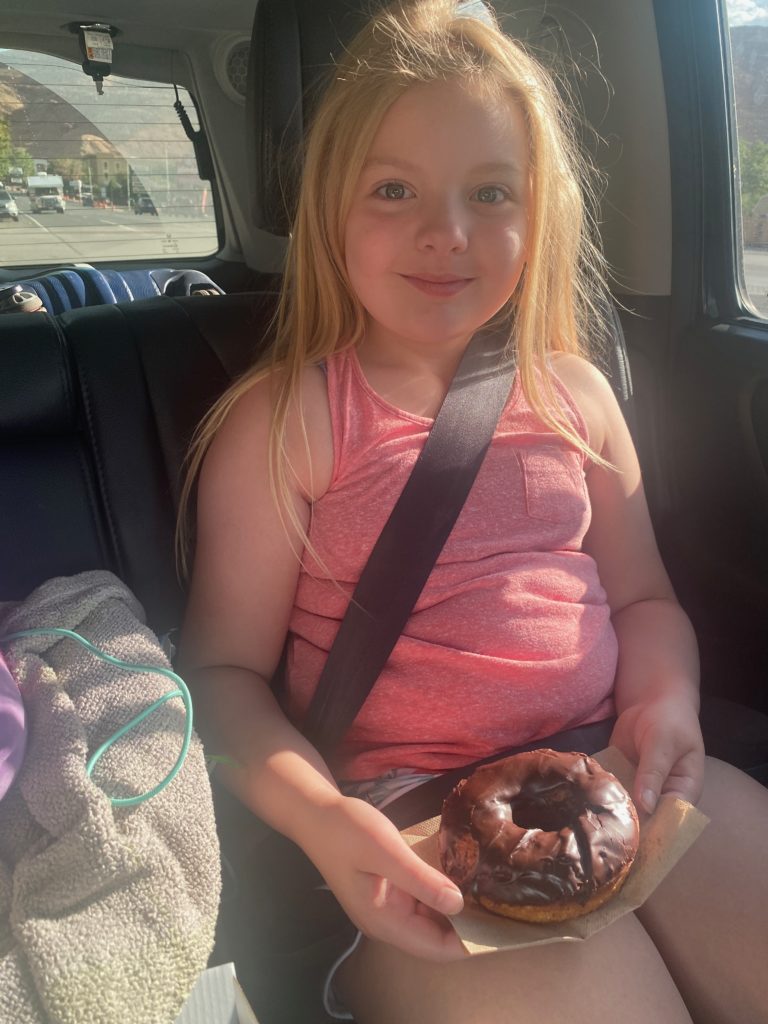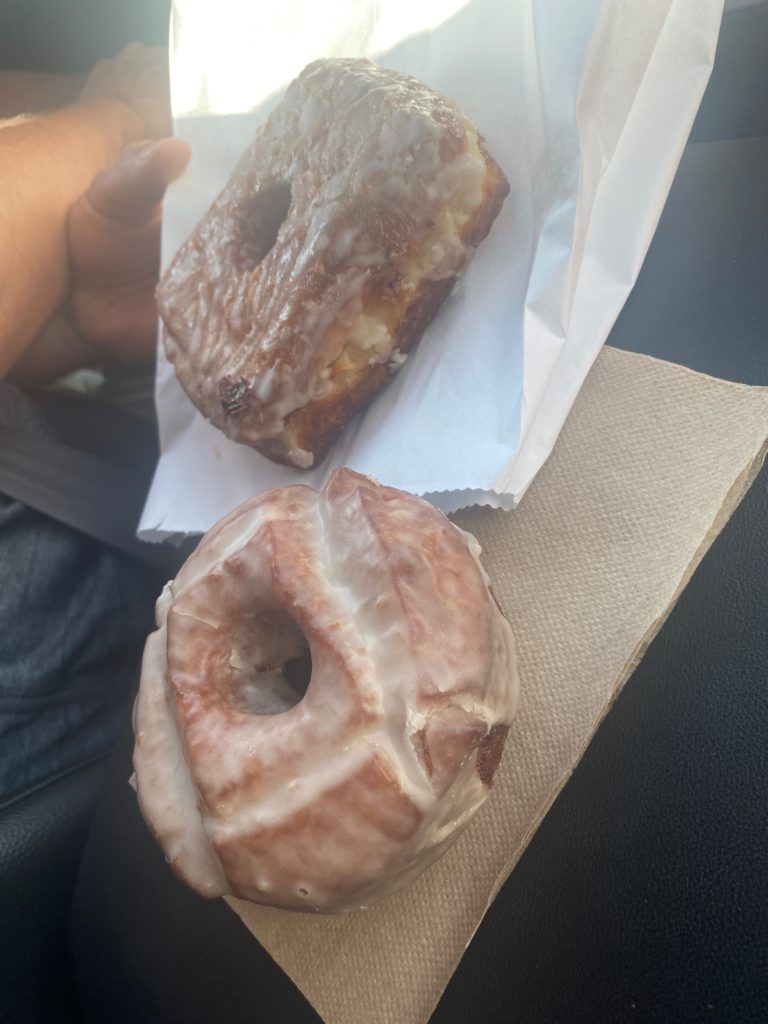 We originally planned to go to Arches all day- multiple National Parks Facebook groups I'm in had said to get to the park early- that after 6am all of the parking spots are gone and that after 8am or so, they are completely shutting the gates and turning all vehicles away for the day due to overcrowding. But then I saw a couple posts saying that they went around 3-4 in the afternoon and got right in and were able to see everything they wanted… so we decided we liked the idea of hiking from 3p-8p better than 5a-9am haha. So… we decided to visit Canyonlands National Park in the morning.
Canyonlands is odd because you cant just enter the park through a gate and see everything. The Colorado and Green Rivers both cut right through the center and merge. There are no bridges spanning the canyon and rivers, so to see some parts of the park, it may be a 2 hour drive to the other entrance.
We took the first entrance nearest Moab first because this was the path to see the "birthing scene" -another famous rock petroglyph.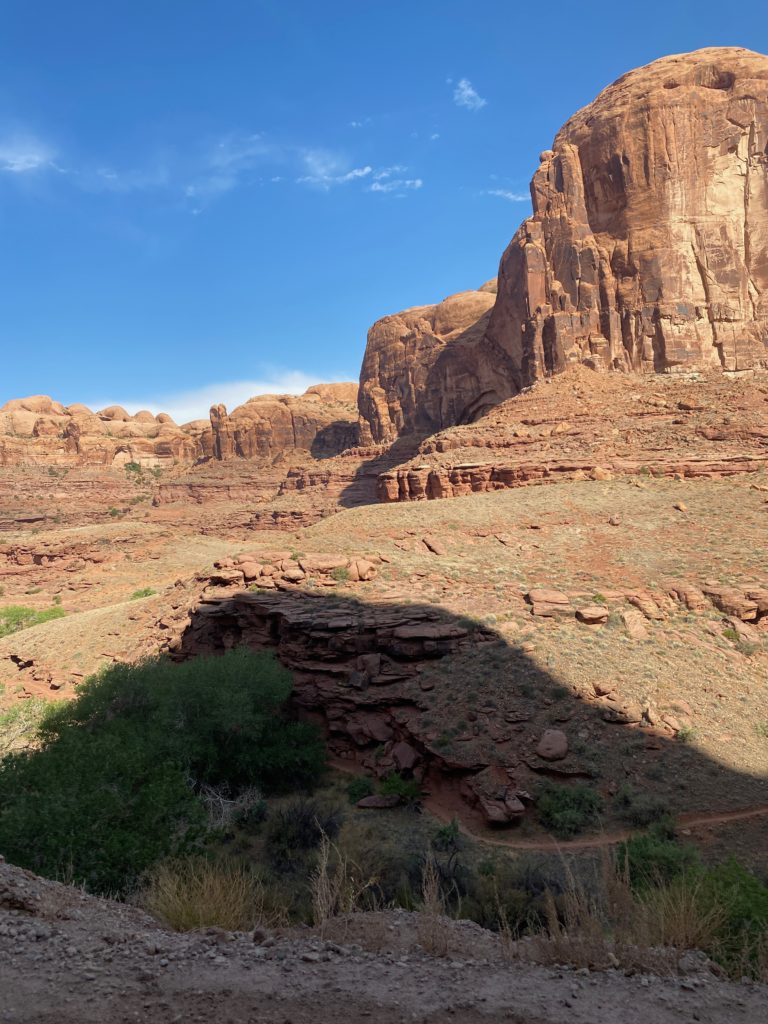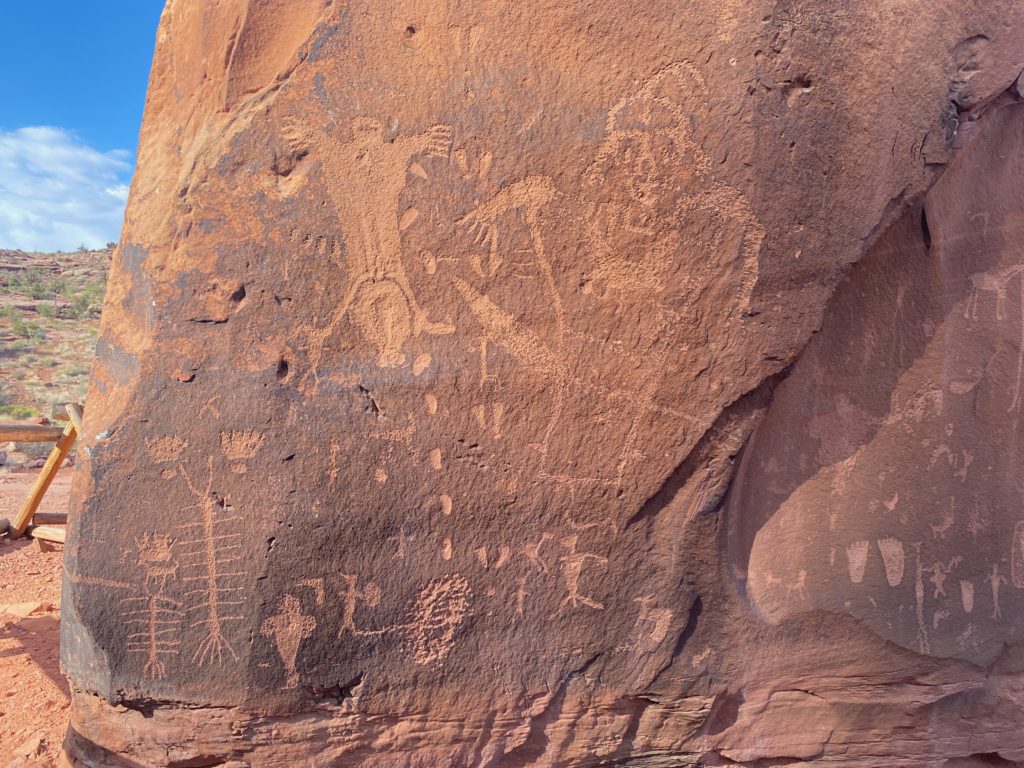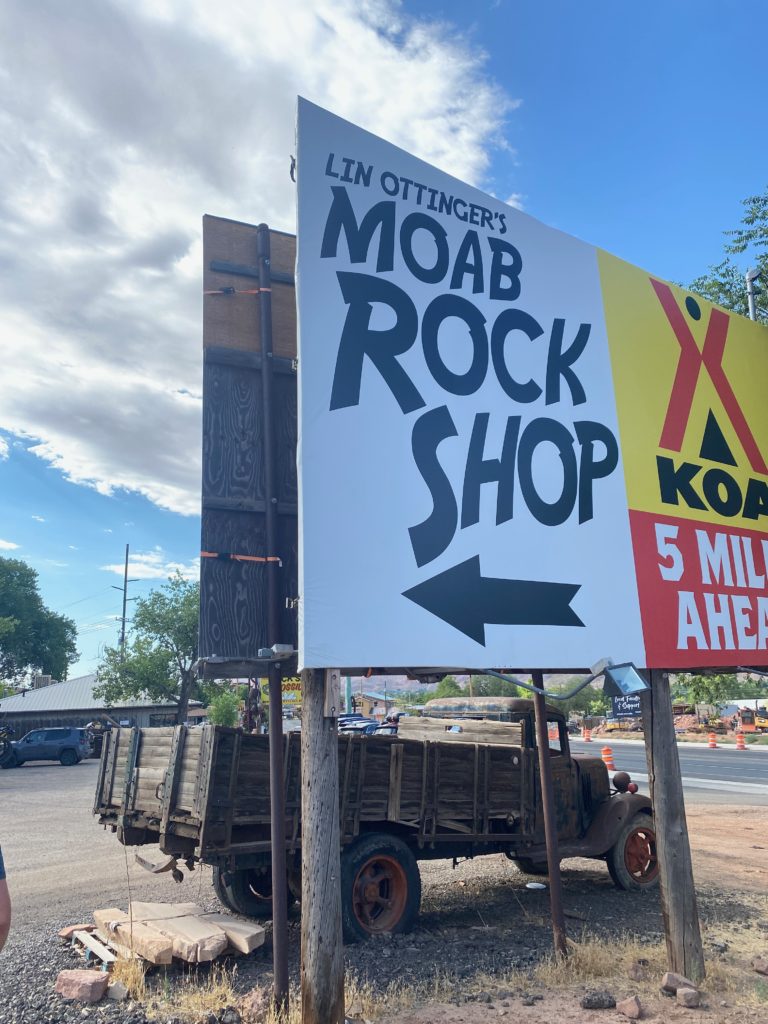 We backtracked through Moab on our way to the 2nd Canyonland's entrance and it was 9:30am-so we could stop in to the Moab Rock Shop! They have some COOL stuff in this rock shop.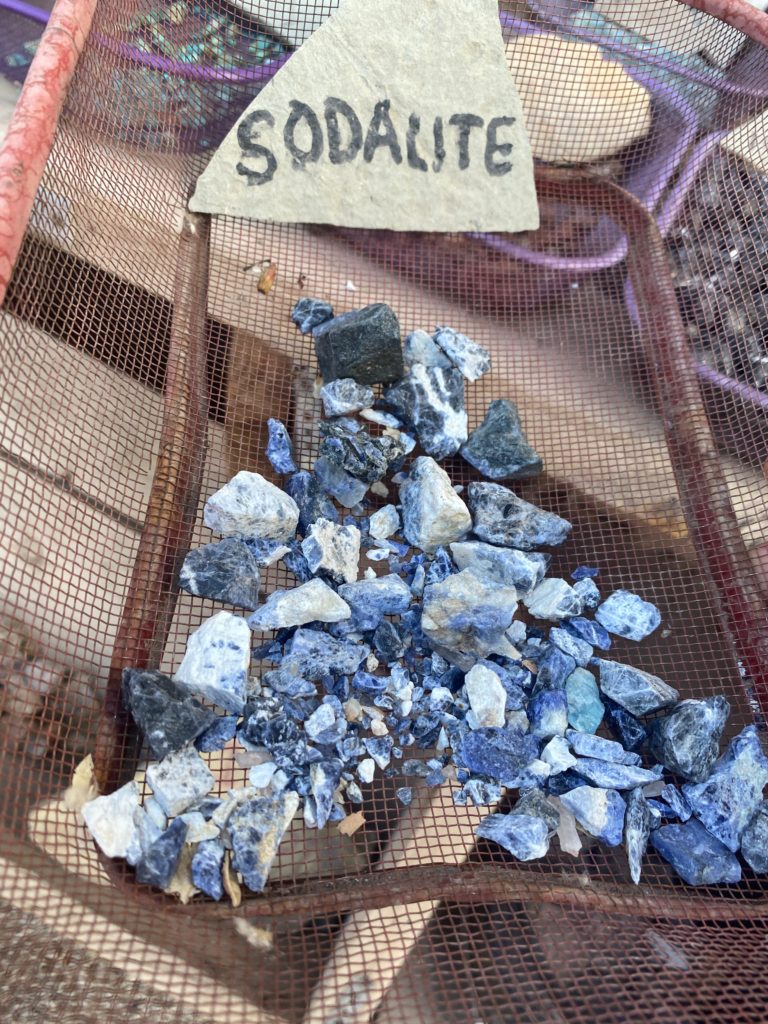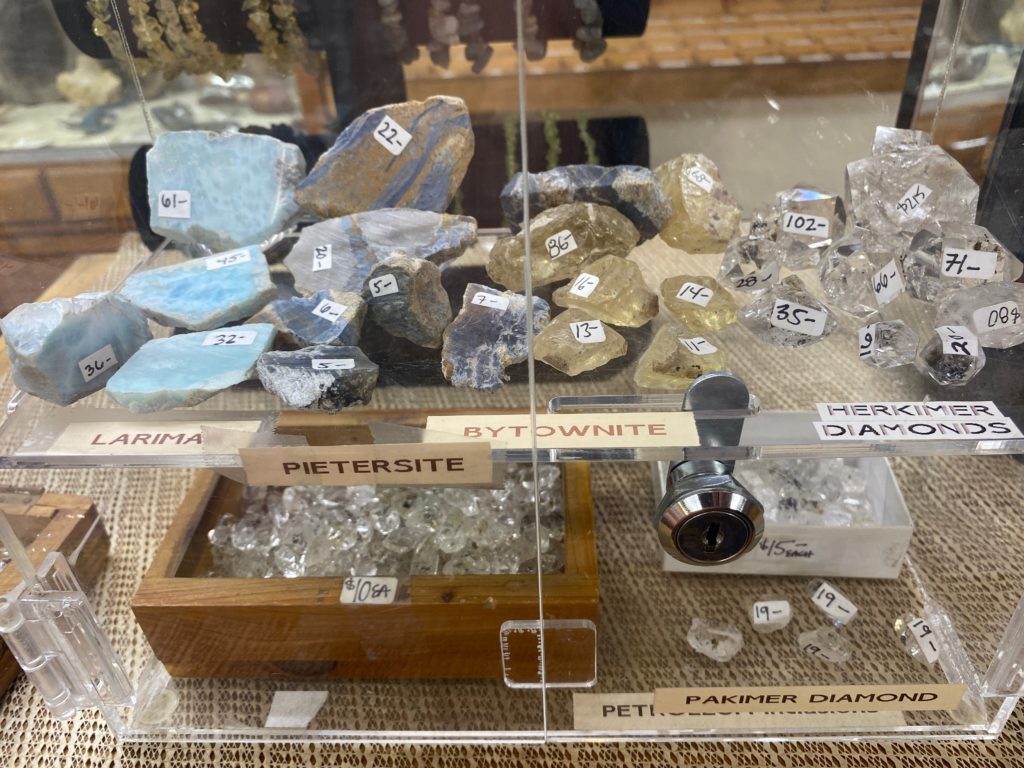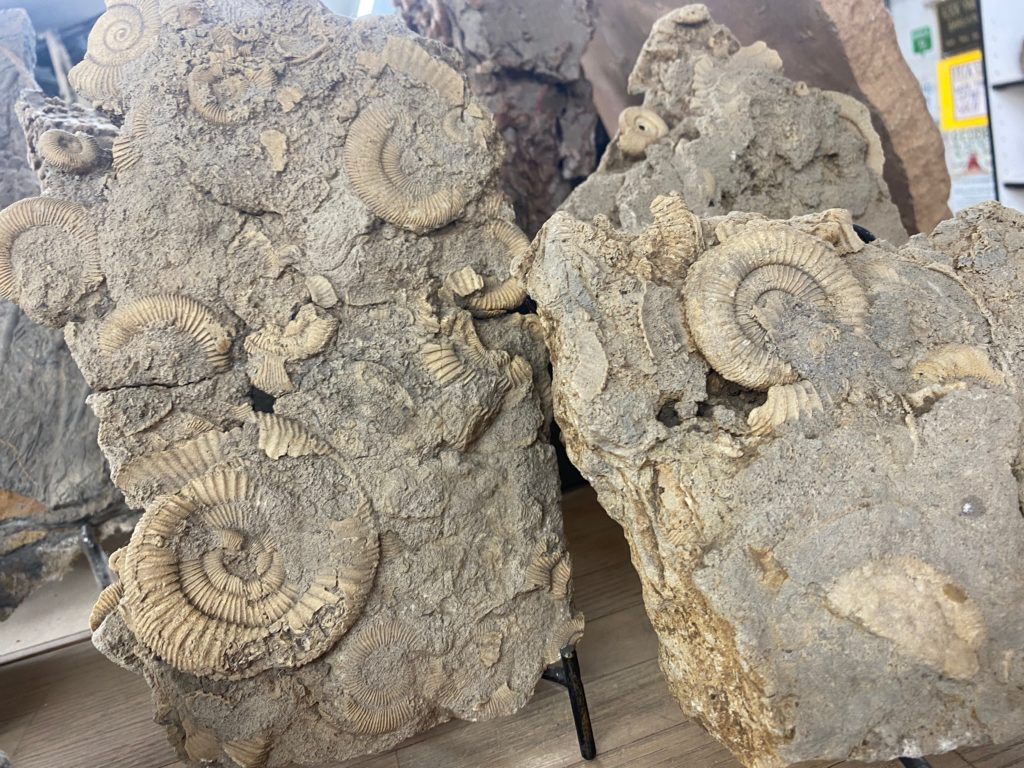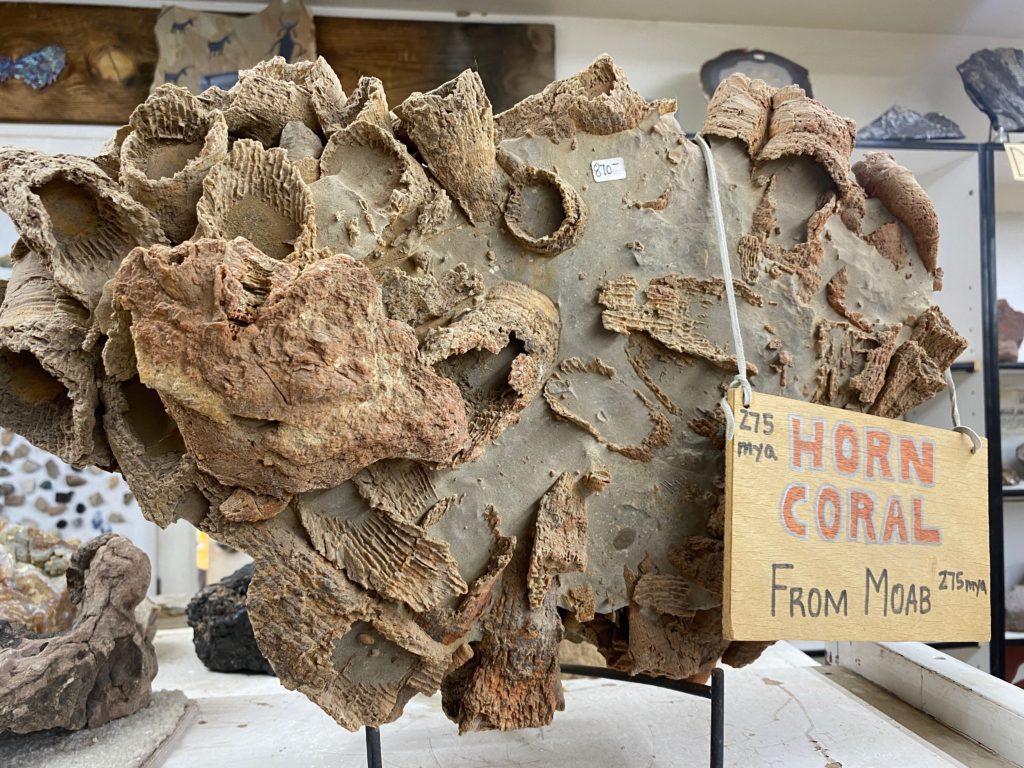 Norah purchased a red coral necklace, a polished Calcite heart and a couple of other small rocks she found interesting.
We continued on to Dead Horse Point State Park, where we literally paid $20 to see a lookout. ha BUT… it was a cool lookout. It supposedly got its name because a bunch of cowboys rounded up wild mustangs onto this section of cliff because there was a narrow 90 foot neck and surrounded by canyon drop off after so they could corral the horses. Supposedly, they selected the horses they wanted, then left the rest to die there with no water. This is just legend as far as I know..but it explains the name.
You could see potash ponds from here as well. Potash is mined from deep underground, pumped up with colorado river water, then held in these bright blue dyed ponds that speed crystallization and evaporation in the desert heat and sun to make fertilizer. They look pretty 🙂
Next we had more time to kill before we could get into Arches because as we went by in the morning the signs outside said "Park full, please turn around"…so we went to a place called Moab Giants that I really didn't know anything about.
If you had small children who were REALLY into dinosaurs, it may have been worth it. But it was a pretty lame excuse for a museum, theatre, aquarium, etc…and it was NOT cheap. I think it was like $130 for all 3 of us…and we were done with everything in 1.5 hours. and when we went to the cafe, which was fairly empty to get Norah some dino nuggets for lunch, they told us it would be 50 minutes for food. ha for frozen dino nuggets. no thanks.
The coolest part was this Paleo Aquarium they had. I assumed it was a real aquarium with some sort of fish that were really old species or something… but it was a VIRTUAL 3D aquarium, but set up like a real walk through aquarium… so that was super fun, but we had some mumbly old man guide that you couldn't understand and about 15 screeching toddlers and children who were old enough to know better. ha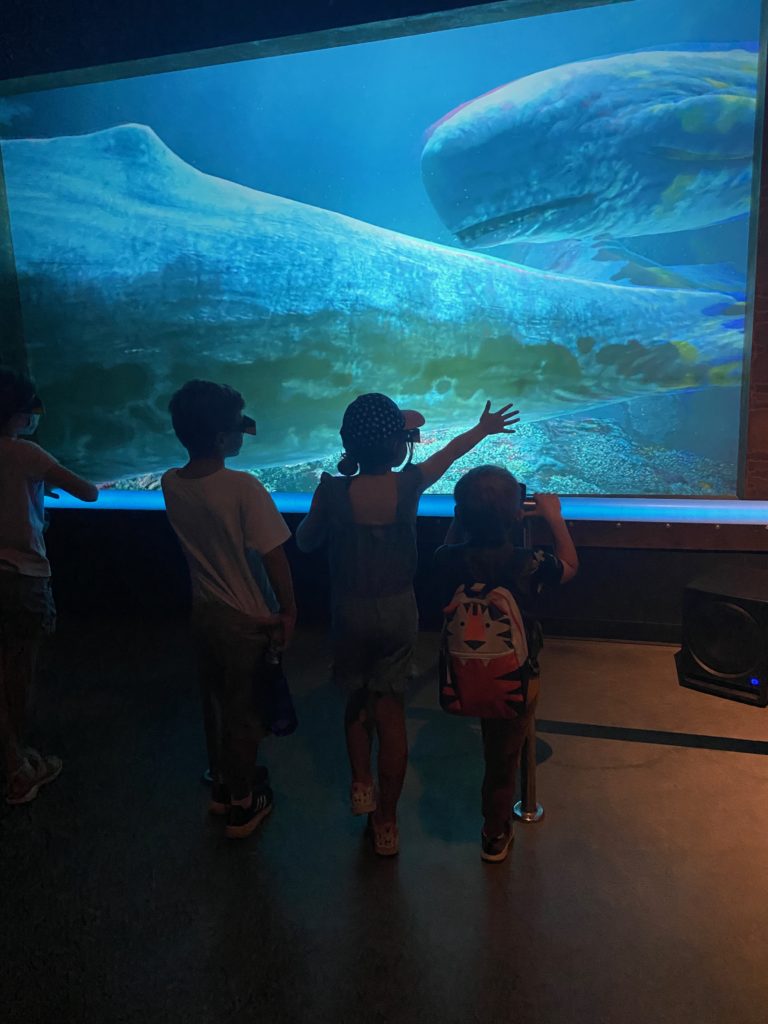 Their museum section was tiny, but it did have some fossil skeletons and a a few good exhibits.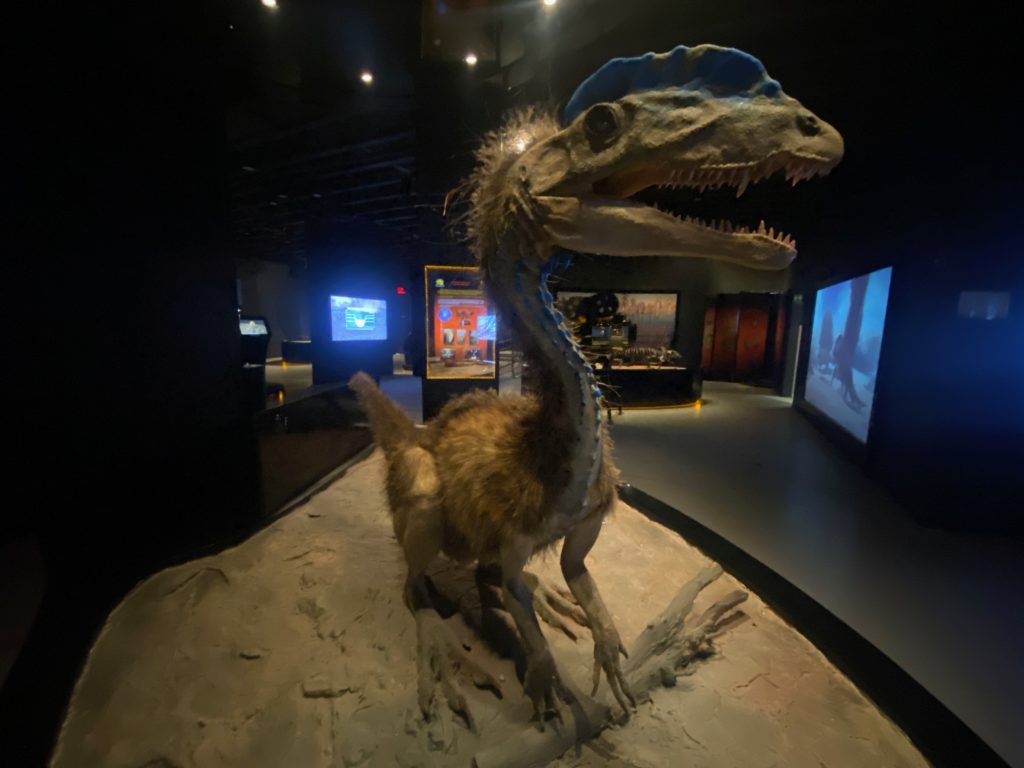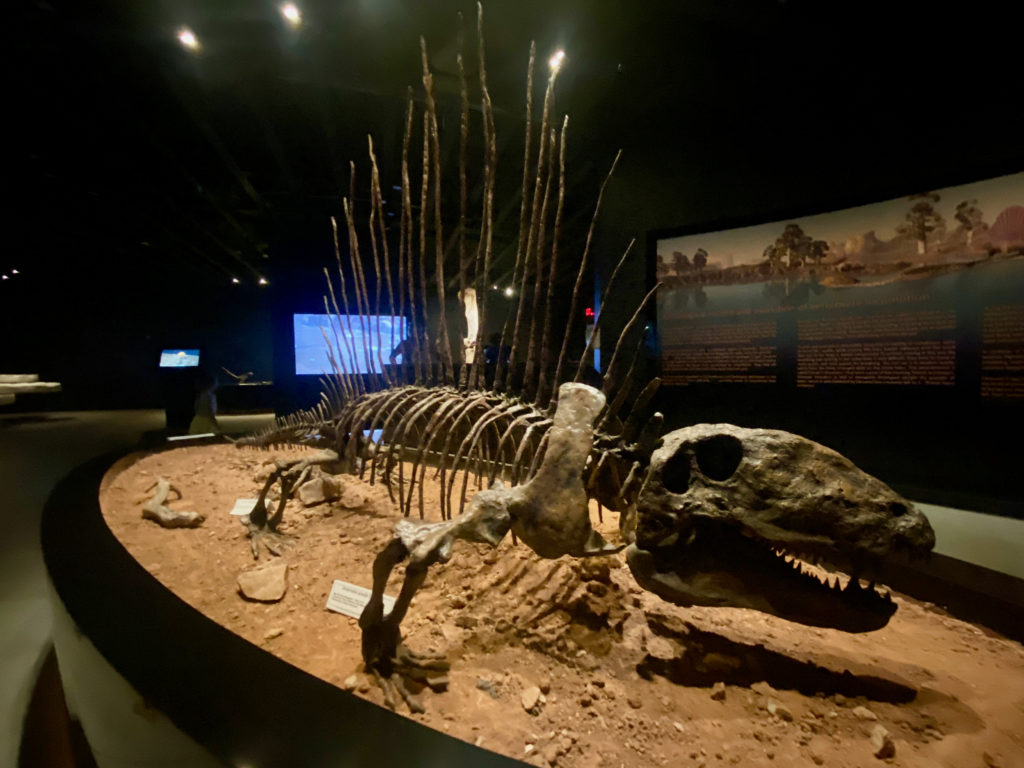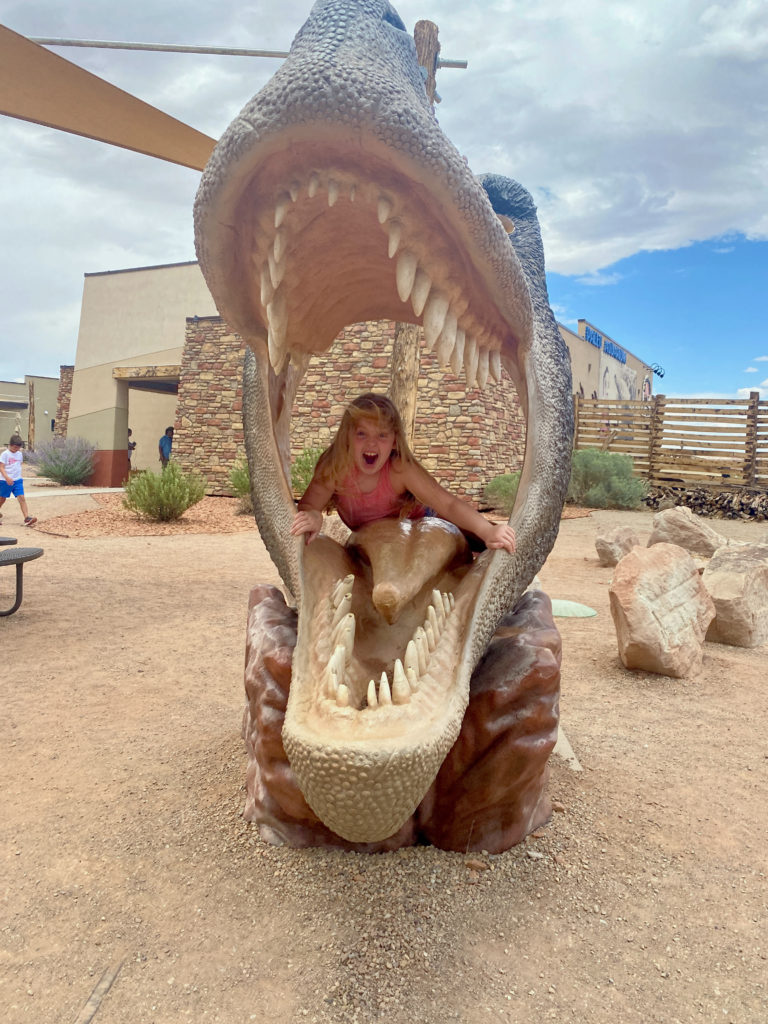 So, overall review was- if you don't have small kids that are dino obsessed, probably not worth it. If you do, probably will be the time of their life. Just order your dino nugget lunch ahead of time 🙂
This took us to 3pm though… so it was time for the main event- ARCHES! I was excited to see these…but turns out other people are WAY more excited about arches of rock than I am. ha I like them, they're cool but some of these visitors are just completely crazy town over these rocks.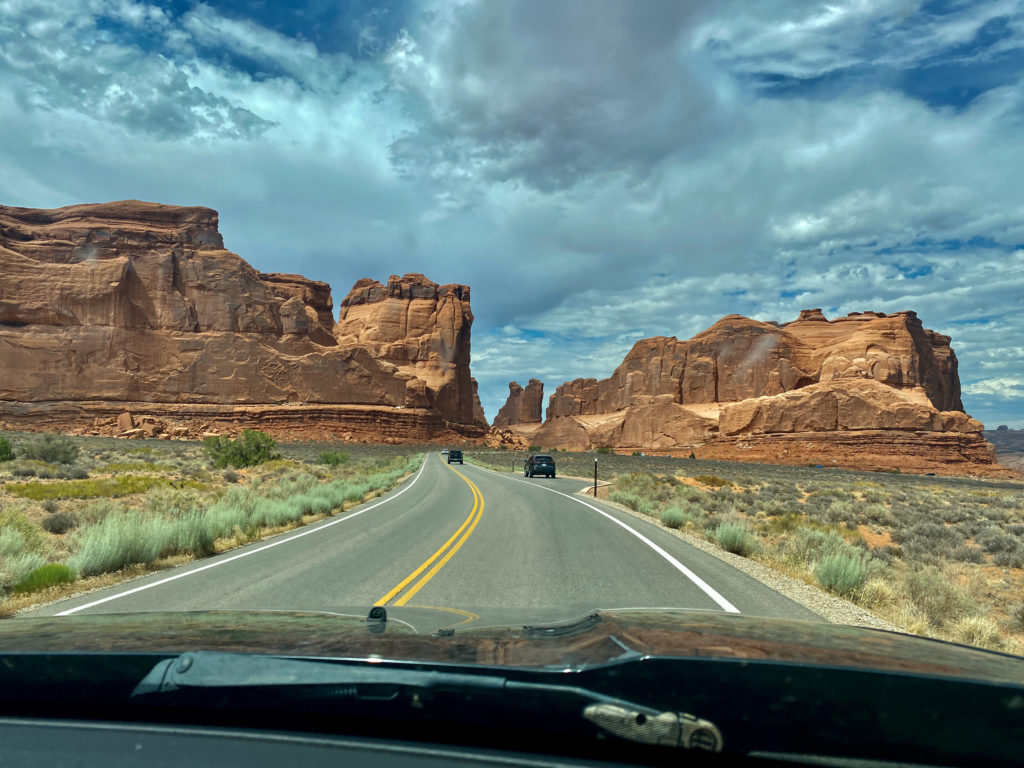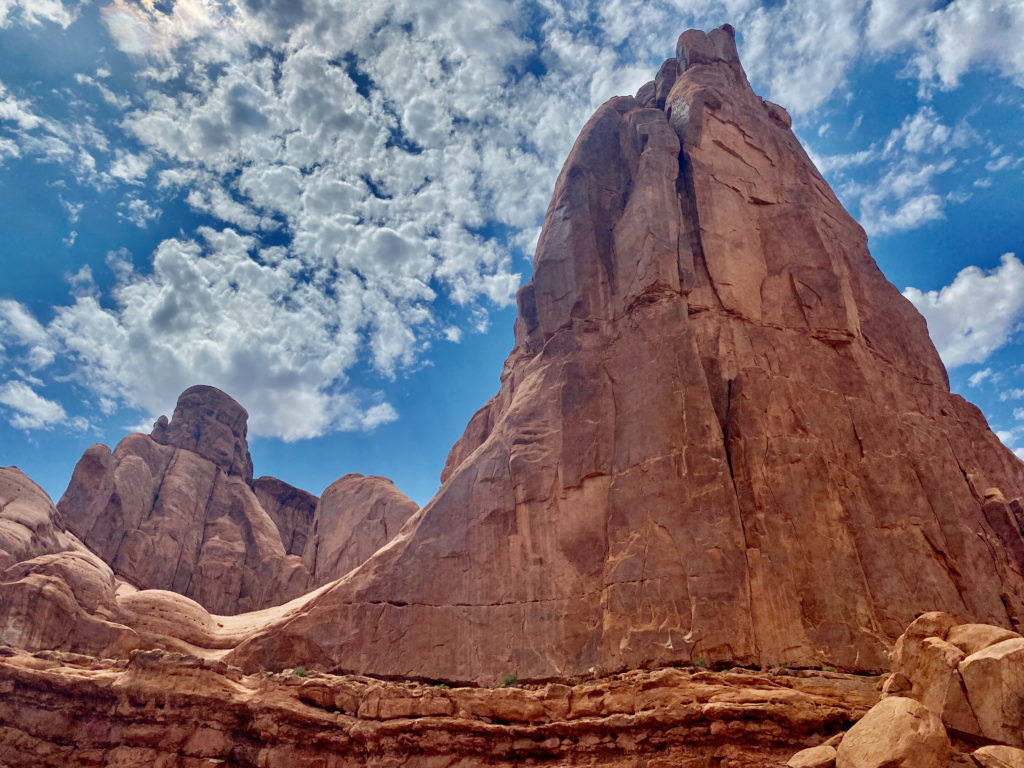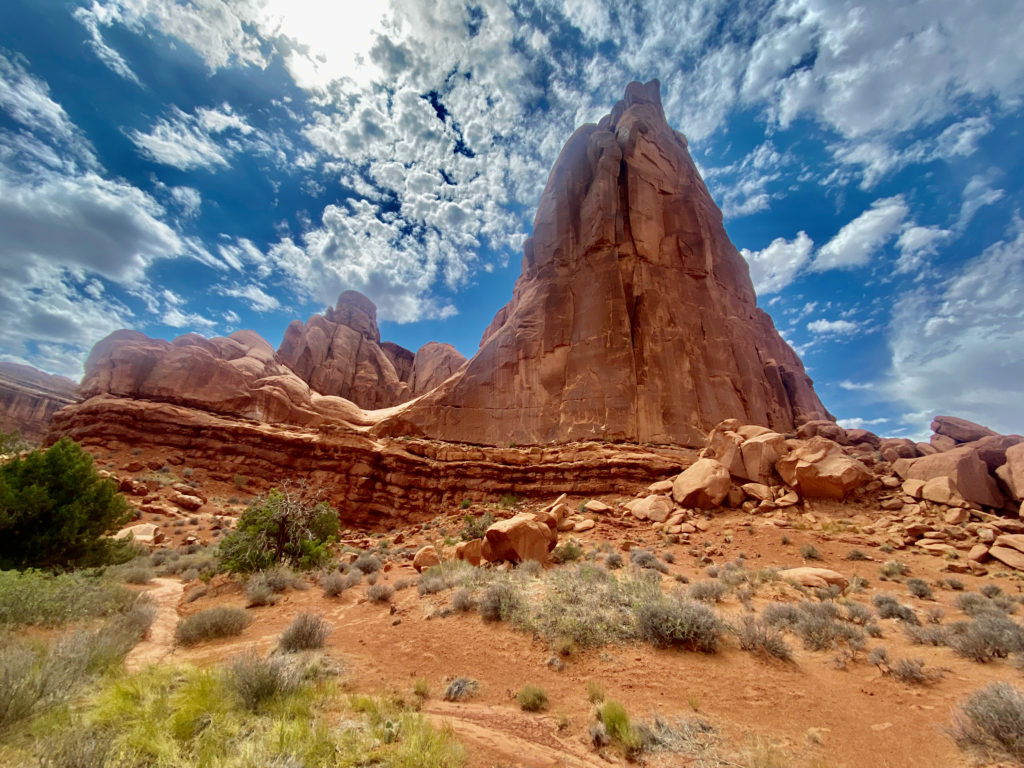 Our first stop was a viewpoint called Park Avenue. Such a cool point.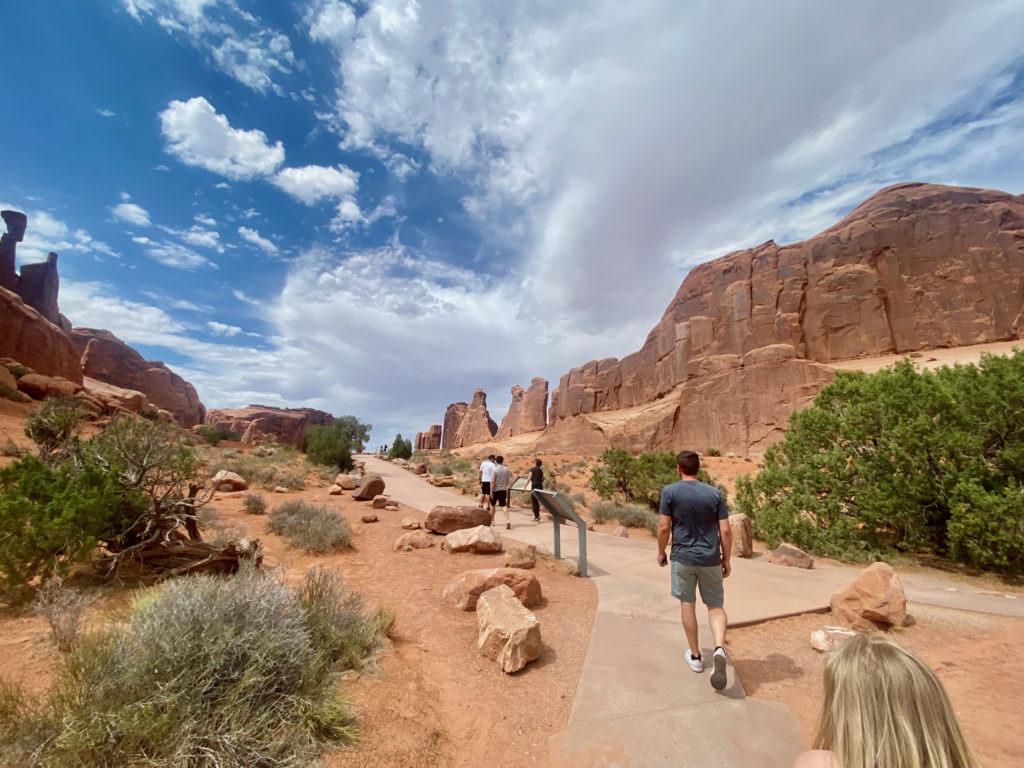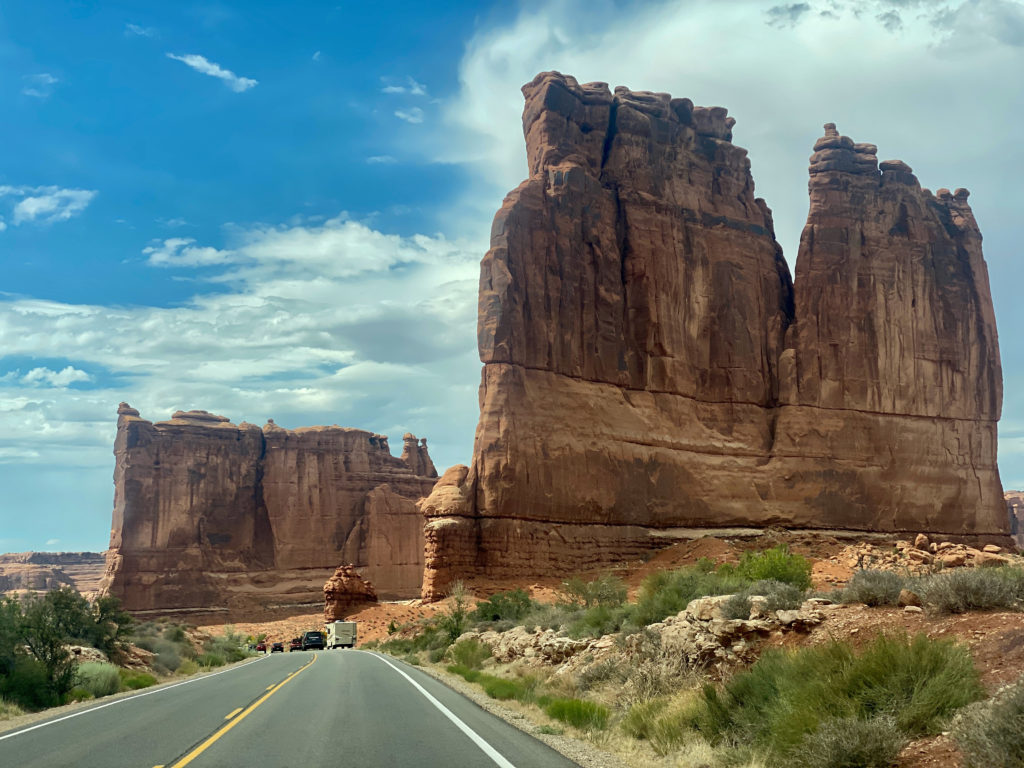 Kegan had been to Arches before- on field camp- in college for his Geology degree. So he said if I was going to do one arch- Double Arch was well worth it for the short walk back to the arches- so that was our first trek. He was right and Norah loved it.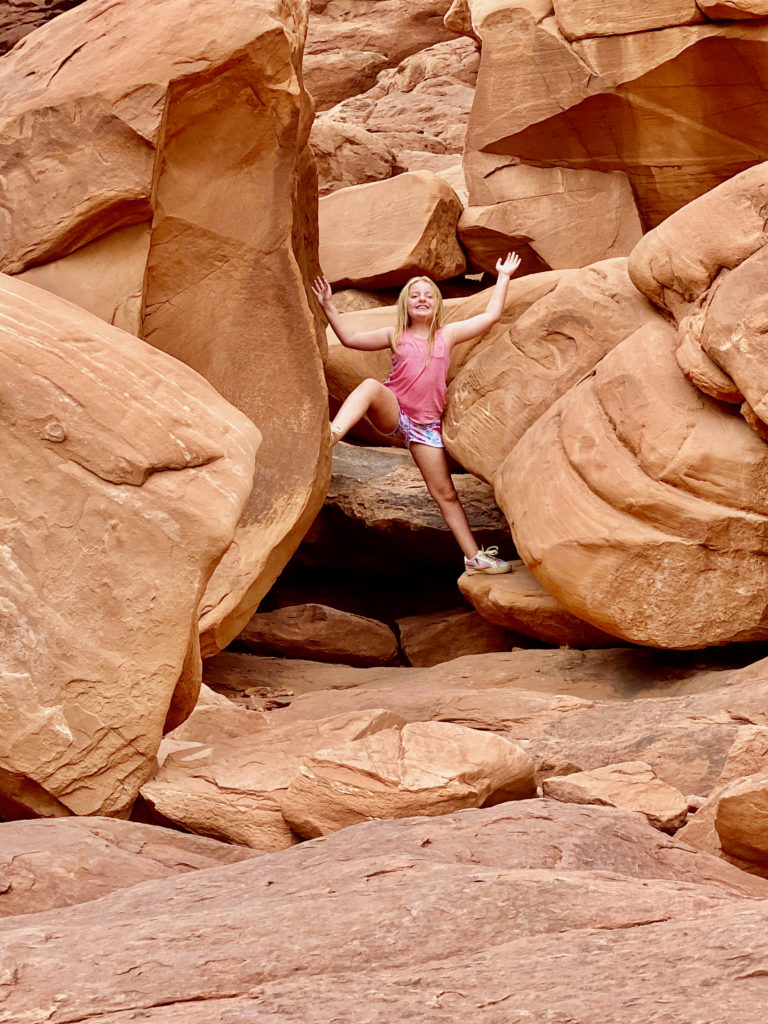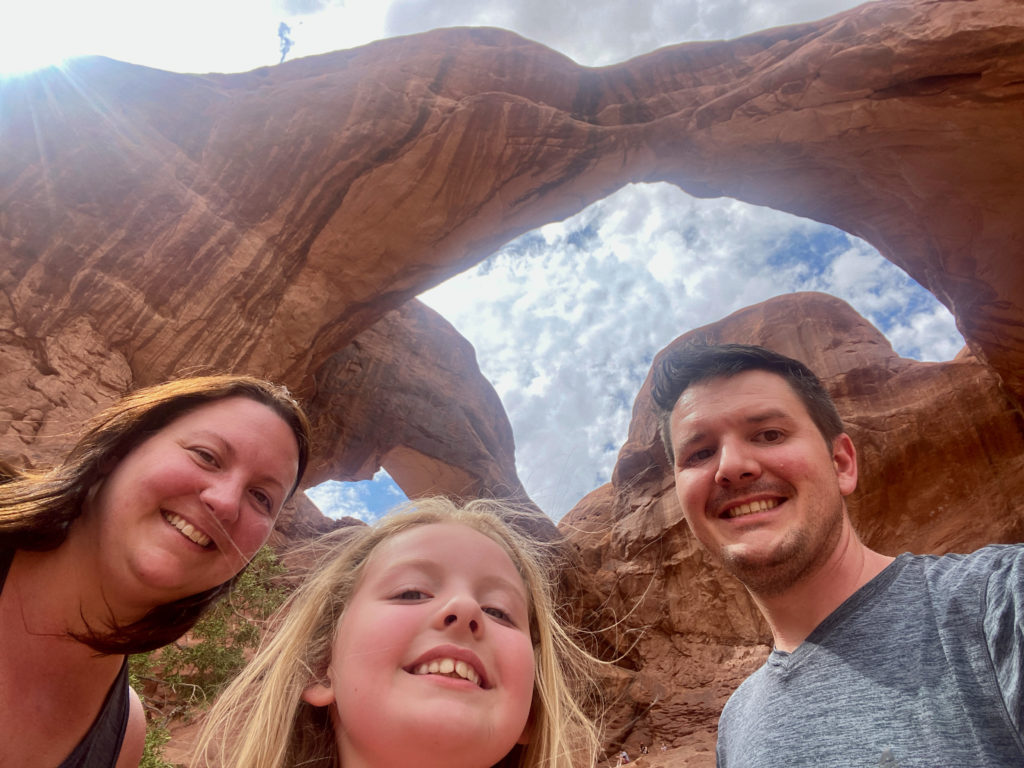 Our final stop was at the backend of the park at Devil's Garden-a 7.8 mile loop of multiple arch trails. We decided to do the 1.8 mile down and back to Landscape Arch which seemed like a good one to see and it was the end of the day and the sun had gone behind some clouds…
So, we filled our water bottles for like the 100th time. Seriously. I think I drank 7 liter bottles full.
We purchased this Stanley cooler for the trip for just this sort of thing… it holds 2.5 gallons and I would highly recommend it for making sure you have enough water during the day for being out in the parks and doing any hiking. We've emptied it a couple days so far. We take it in the hotel every night and fill it up with ice about 2/3 and the rest with water. By the end of the next day it's still cool but all liquid, even sitting in the hot boiling lava car. It might even still have ice if you were in a slightly cooler area.
One of the first sights on this hike was a small slot canyon with a powdery sand floor.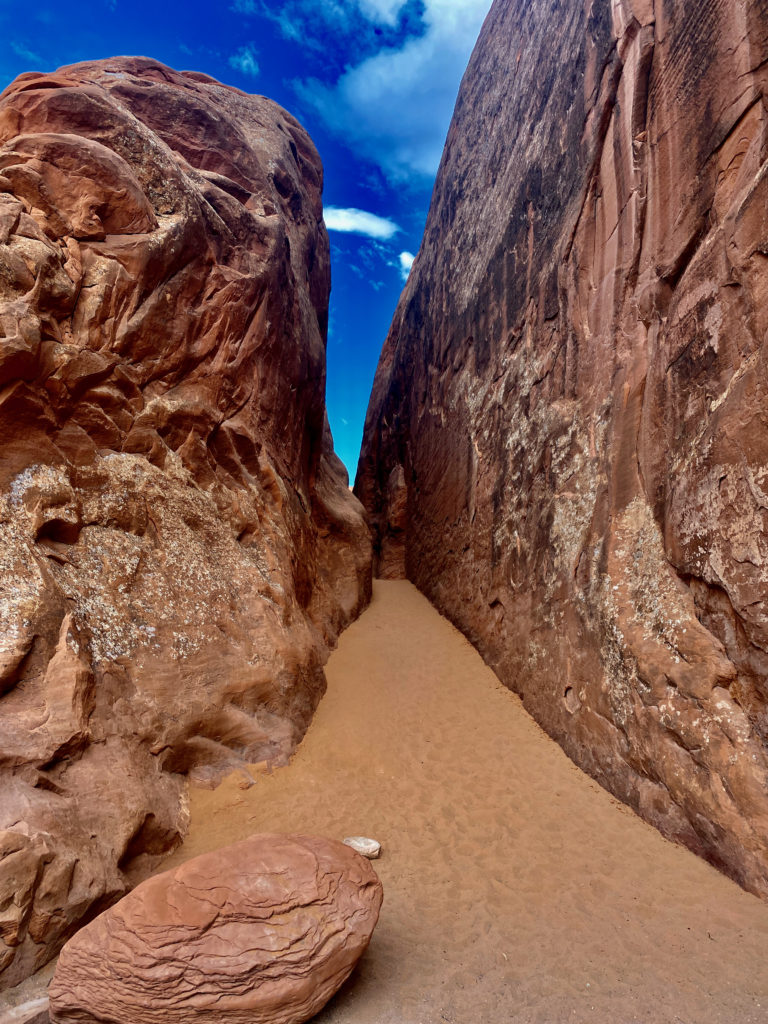 A bit into the trail, there was a cutoff for Pine Arch and Tunnel Arch, which added .8 miles or so to the total. Kegan was mouth-wide-open when I veered off to the arches. hahaha. Couldn't believe I was voluntarily adding more hiking.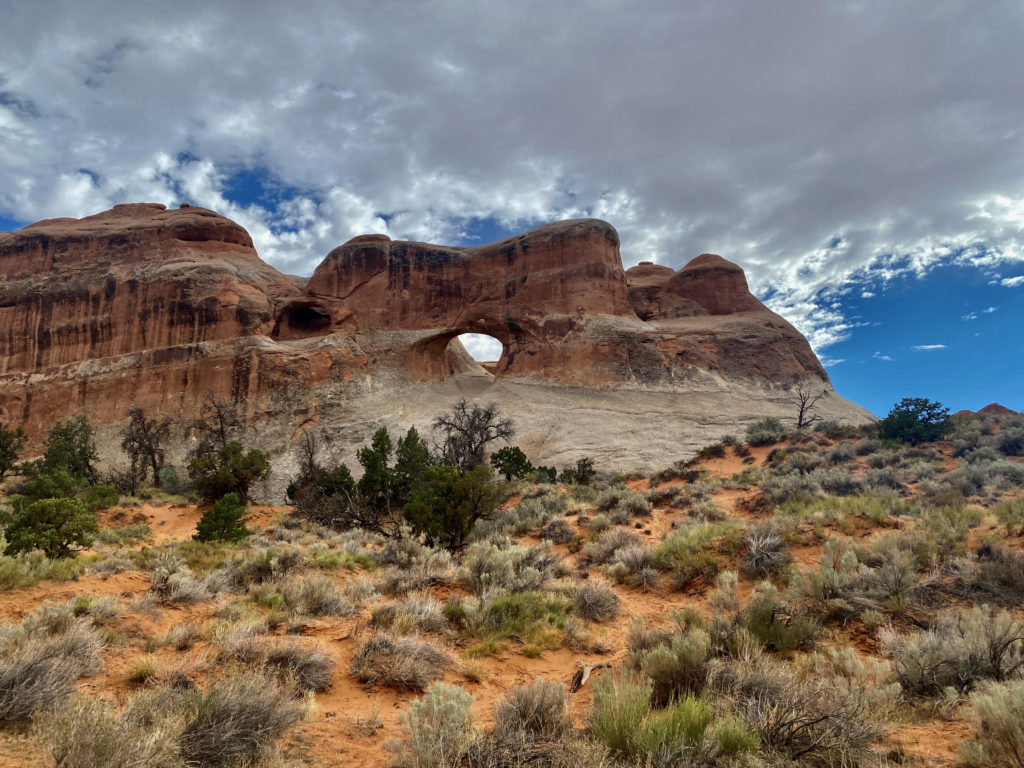 We continued the hike on back and about 2/3 of the way there, the blazing sun popped back out and that sun is brutal! The photo below of landscape arch isn't great… the sun was shining right on my camera, so this is the only proof you get that I hiked it 🙂
We walked back in the hot sun, putting a wet handkerchief on Norah's neck to keep her cool. We didn't expect it to be so hot and sunny the whole way back when we set out… so I was a little concerned about her making it back. She was pretty red and I knew I was hating life, so we shaded her and kept her in rock shadows where we could and Kegan saved some of his water bottle back to keep wetting her down. He's a good daddy 🙂 She did better than I did in the end. ha My hiking day was done. Arches were no longer worth it today and our water jog was empty. Time to pack it in! ha
After leaving Arches, it was just a boring 3 hour drive across Utah to get us closer to Vegas for tomorrow! A fun little 3 day detour from national parks and hiking to lights, sounds, food and ridiculousness. 🙂
We got to Richfield after dark and the town was setting off their July 4th fireworks on July 5th, so Norah watched them from the Walmart parking lot while Kegan ran in for some random supplies. We had salads from Wendy's. Which-by the way, if you haven't tried the Southwest Chicken Salad they have with southwest ranch and a big dollop of guacamole, it was really good!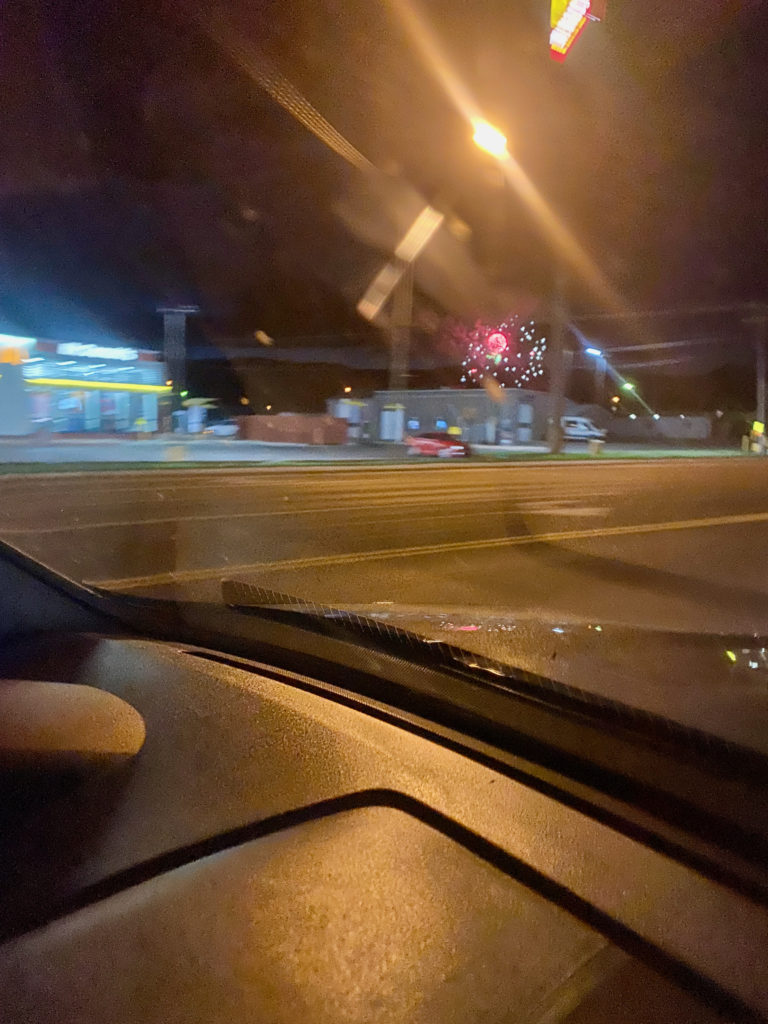 I'm going to wait and combine all 3 days of Vegas into one post, so it may be a couple days before I post again!