Sample Itineraries to help with planning your own travels through Ireland
---
10-day Ireland/Northern Ireland "Hopper" Itinerary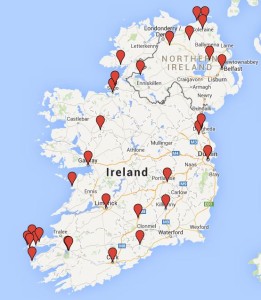 When I've never been somewhere, I want to see as much as I can in my limited amount of time. Ruins, markets, oceans, city, waterfalls, history…blame it on my ADHD personality 🙂 Call this the ultimate ADHD travel package. Maximum experience and constant brain food with the least amount of boring planning needed!
I feel like this is a way to see a little bit of everything and drive the majority of Ireland in a 10 day trip. I know, I know… the travel purists and the holiday relaxers will pull their hair out with this itinerary saying it cant be done…or that you wont be able to enjoy each site. I guess "enjoy" is subjective….but I'll let you in on a little secret… we did it with a 2 year old. If you had more than 10 days- I would suggest adding in a day or two in the Wexford or Waterford areas and more time in a couple major cities like Dublin, Limerick, Cork, Galway or Belfast.
Use this as a guide and adjust to your own personal style. Check out my blog to see our experiences while seeing Ireland on this itinerary.
---