We started our day from our hotel. If you come to St Augustine, don't stay at the Magnuson Hotel if you have other options. We aren't having great hotel luck this trip. Breakfast wasn't even edible, beds were old and hard and they make the habit of leaving the AC completely off when the room isn't rented making it really musty and moldy since its Florida in the summer. Come on. Anyway… We opted for the Hop on Hop off trolley through town because it was HOT today. Id like to blame it on traveling with a three year old… Or with a delicate Irish gal… But it's mostly because of me. Ha but I think everyone was happy by the end because we squeezed two days of sightseeing into one day! Yay free schedule day tomorrow 🙂
Our first stop was the old jail in town. It's been a tourist attraction since the 1950s but was town jail from the 1890s, built by Henry Flagler here outside of the main part of town because he wanted the land the original jail stood on to build his Ponce De Leon hotel that we went by in the afternoon. (More about Henry Flagler and the Ponce De Leon hotel further along.)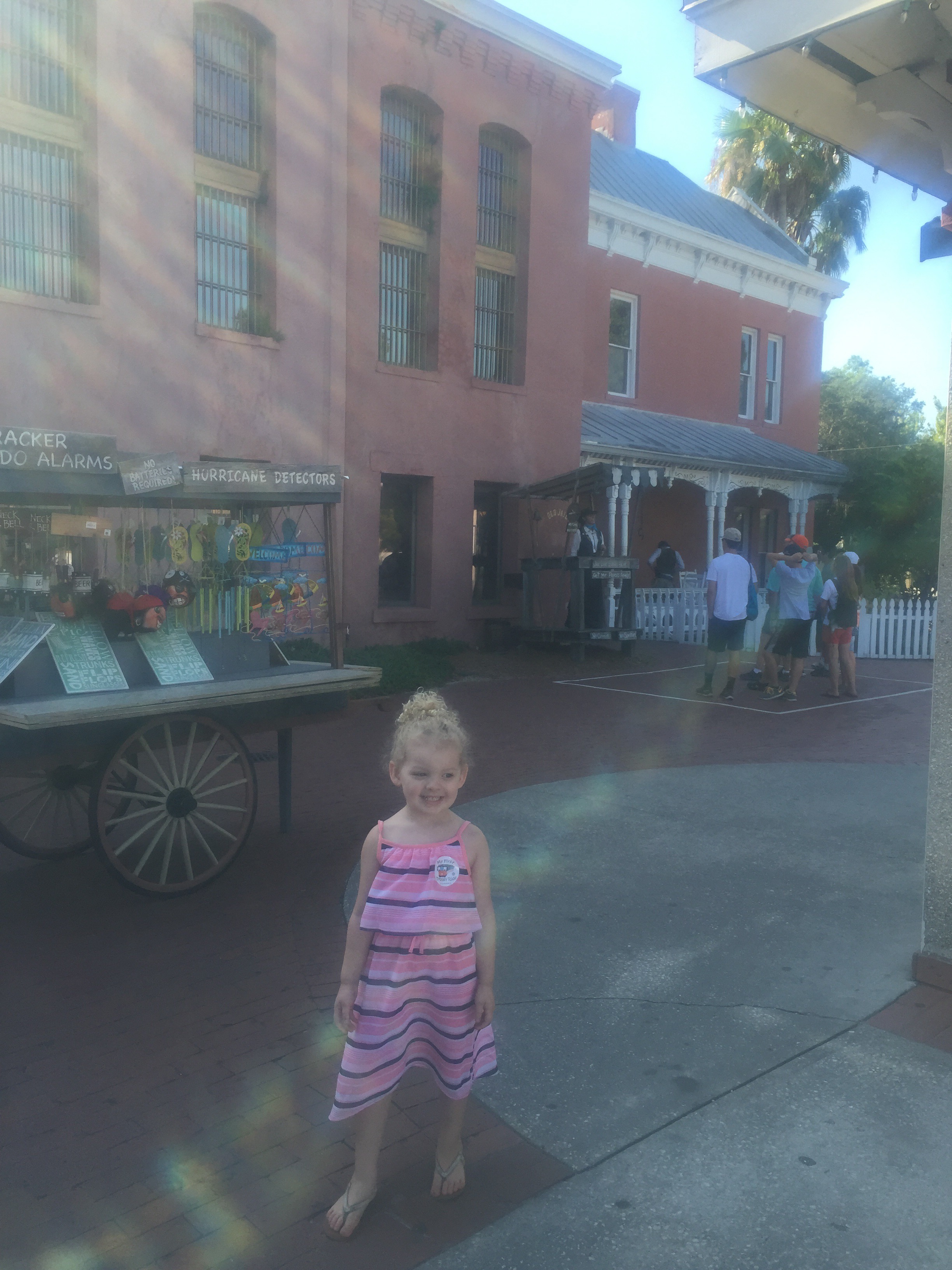 There was a kitchy little gift shop and free town museum we walked through.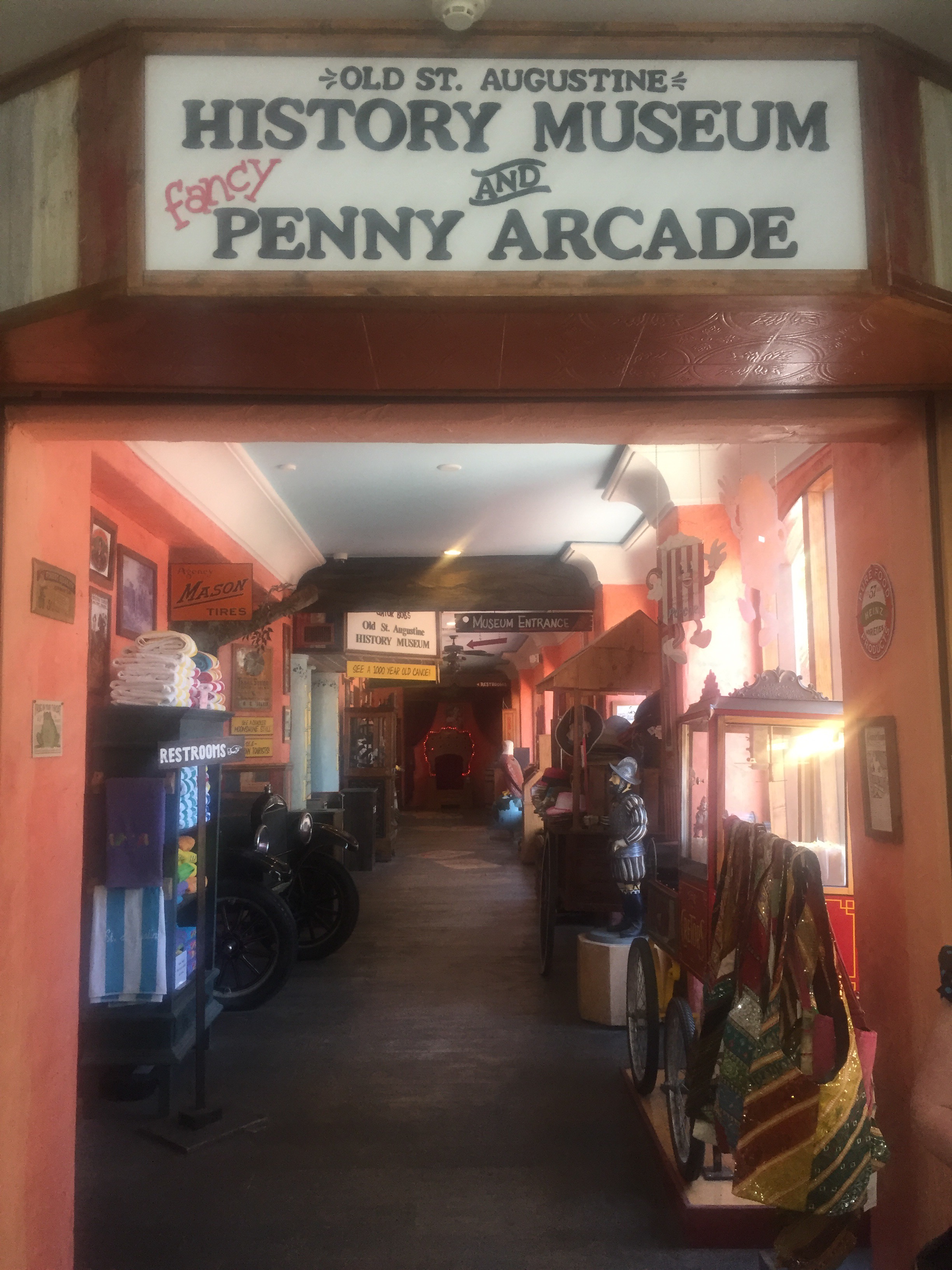 The gallows behind the jail. They said the jail performed 8 executions but I'm not sure if they were all hangings… Or if they were in the electric chair.
We walked out of our way to walk down this beautiful magnolia lined street to find it under construction. Ha Not quite as picturesque with the orange cones all the way down both sides.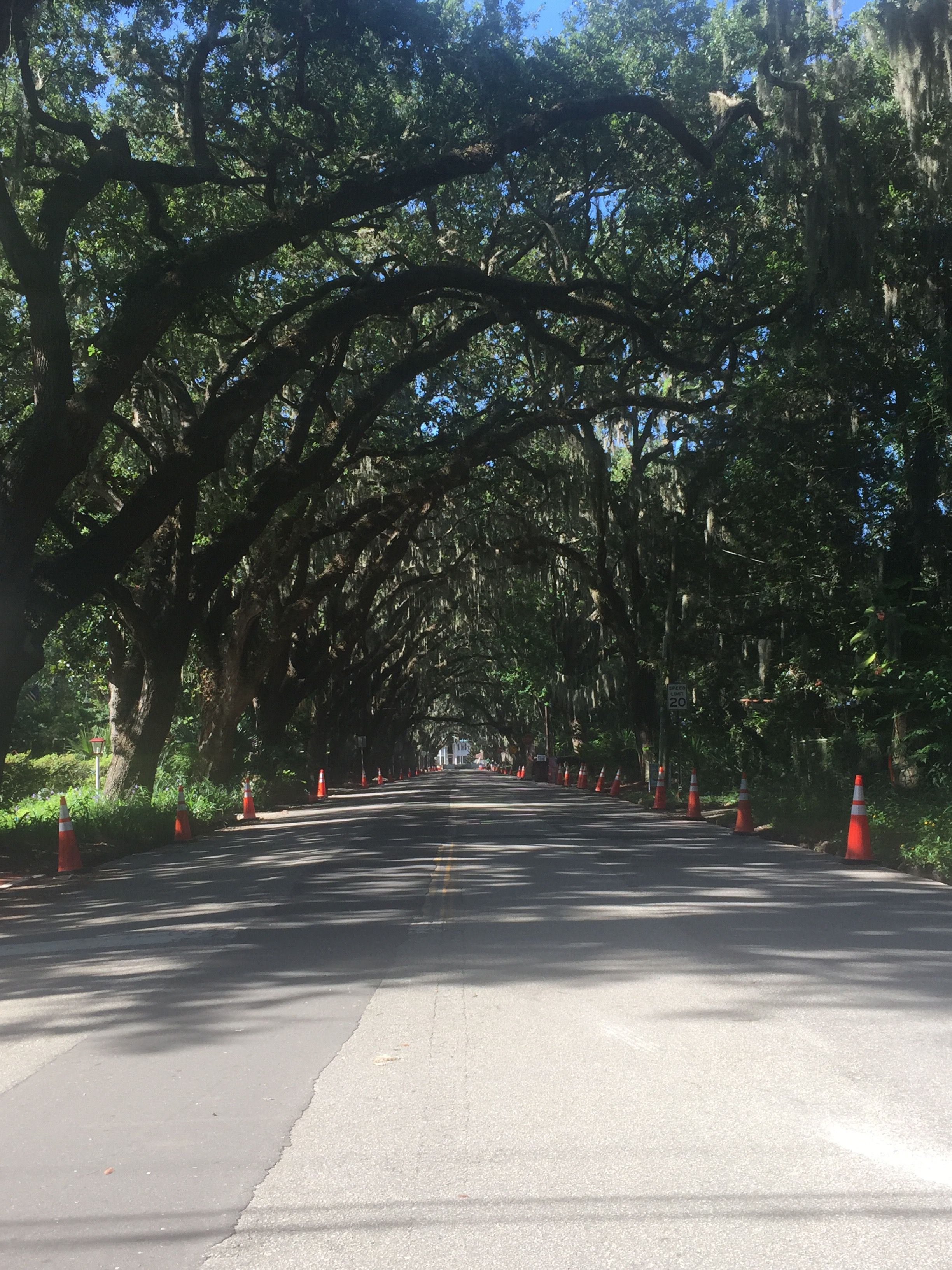 Magnolia Way led us down to the Fountain of Youth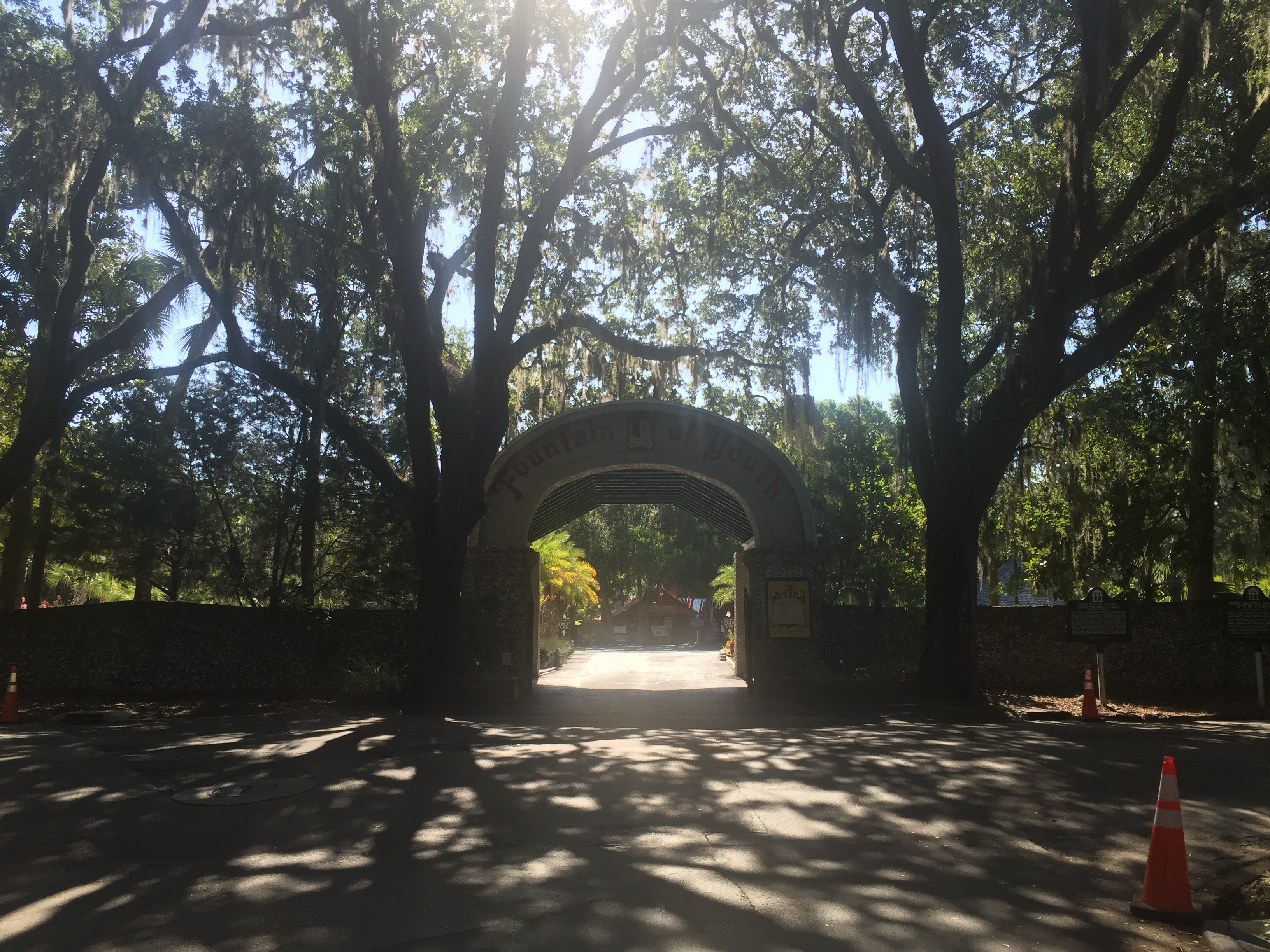 We first visited the Fountain of Juice espresso and juice bar across the street. They had this old school desk And Norah wanted me to give her math problems. Nerd alert.
We paid our admission to the Fountain of Youth. They had some beautiful peacocks on the property including an albino peacock.
Next we came to the famed Fountain. Legend has it, that Juan Ponce De Leon discovered Florida while searching for the Fountain of Youth… Although there is absolutely no fact or record to support this.
Ponce De Leon sailed with Chrisopher Columbus to the New World in 1492 when he "discovered America." He then sailed with another explorer when they returned to Hispaniola.
During that trip he received basically a free conquering pass from King Ferdinand of Spain to explore north of the Indies and claim anything he found and govern it for life in the name of the King for a period of 3 years as a thank you for all of the massacres he helped to carry out.
So, supposedly this spot marks where PDL's crew came ashore- although there is really no record of that either! Haha but either way, somehow some very smart guy started charging people to drink from this fountain/spring.
So, how could you not??
This site is also the site of the oldest mission in the US, this is just a replica, not even in the right spot. Haha again- so typical. Ha
we next got on the trolley and got off at the Old City Gates and walked down the pedestrian St George's street. Again these aren't the real city gates- the originals were wooden. These are replicas. After a major attack by British Governor James Moore in 1702 (I think) and the burning of their town to the ground twice, the people of St Augustine decided they needed a defensive wall . And original stood into the 1800s, but now only a couple rebuilt sections exist made out of "coquina" which is sort of a shell concrete mix. Or fossilized shells according to our tour guide on the trolley. The geologist among us was not happy with that inaccuracy. Haha
We walked past the oldest wooden schoolhouse. Not to be confused with the actual oldest schoolhouse which is somewhere in New York… But of wooden ones, this is the oldest. Seems like a technicality… British burned the city in 1702, tax records show it in 1716- so it was constructed somewhere in that range.
We stopped into Taberno de Caballo at 37 St George's Street. Kegan and I had steak sandwiches and Ciara had a Cuban sandwich.
Next, we stopped by a little stand where a lady was doing silhouettes the old Victorian way by cutting paper by hand from just looking at the subject-the way it would have been done before there were photographs. Norah did a pretty good job sitting still for her.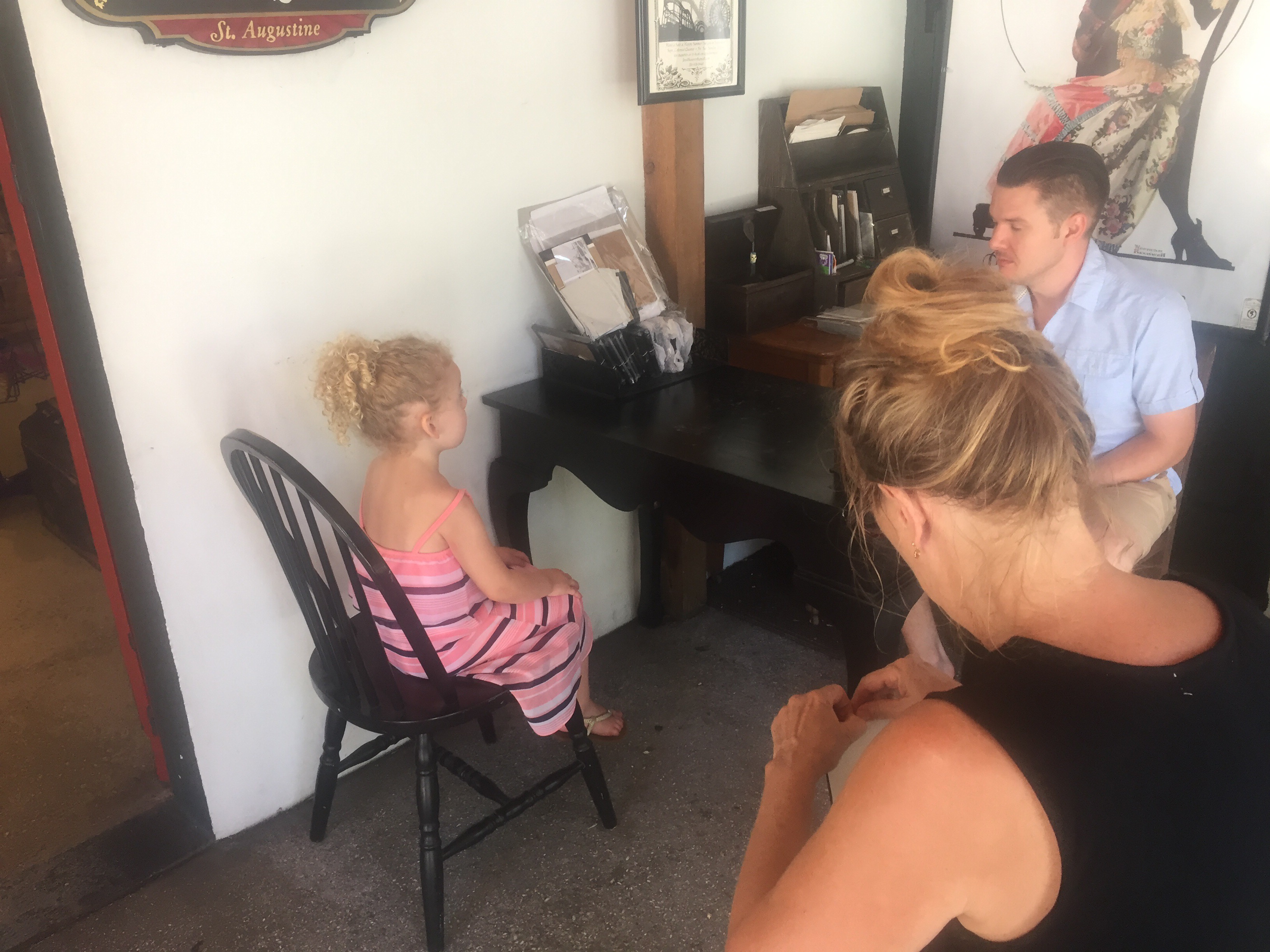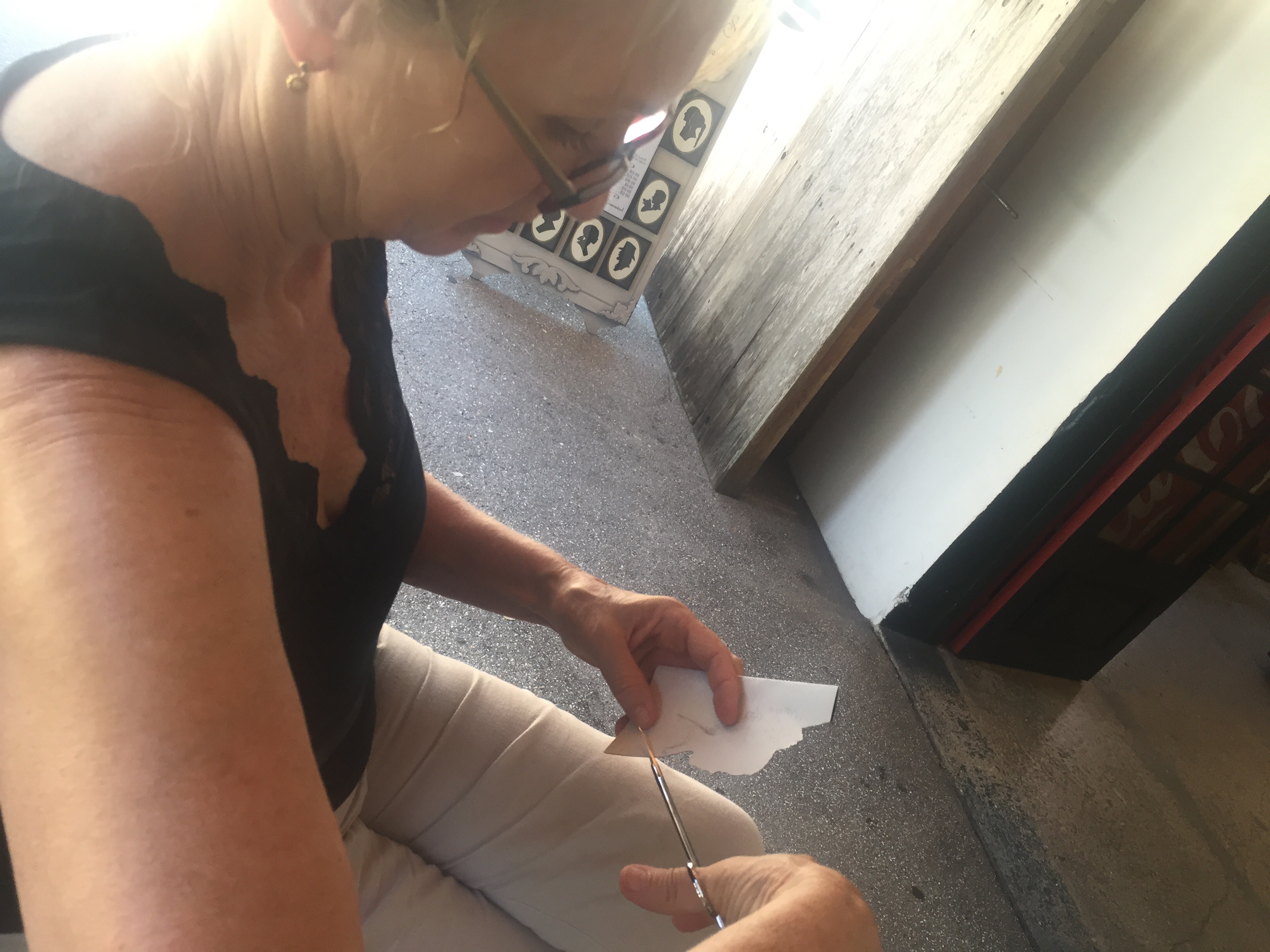 Next we crossed the street to the inpenatrible Castillo de San Marcos. The oldest masonry fort in the US.
During that afore mentioned British attack in 1702, over 1500 townspeople took refuge in this fort, Governer Moore hit the fort for like 50 days with canons to no avail. As he was running out of supplies, they spied the arriving French or additional Spanish ships on the horizon coming to assist St Augustine and in a fit of rage at his defeat, his men retreated, setting everything on fire as they left as one final good British farewell. Due to the defeat, James Moore lost his governorship but still managed to keep killing the Spanish by making a life raiding Spanish mission towns in Florida and slaughtering people.
I'd like to pretend the British were just in the wrong, but like 2 years later the Spanish marched up to Castletown and tried to attack Gov. Moore's town and take it and we're also unsuccessful- so it's all really just one giant chess match.
After the fort, we were waiting on the trolley and spotted The Hyppo, a gourmet Popsicle shop. I had Blackberry Clove, Norah had Banilla Vanana , Ciara had Pina Colada and Kegan had Horchata. They were very nice on a scorcher of a day.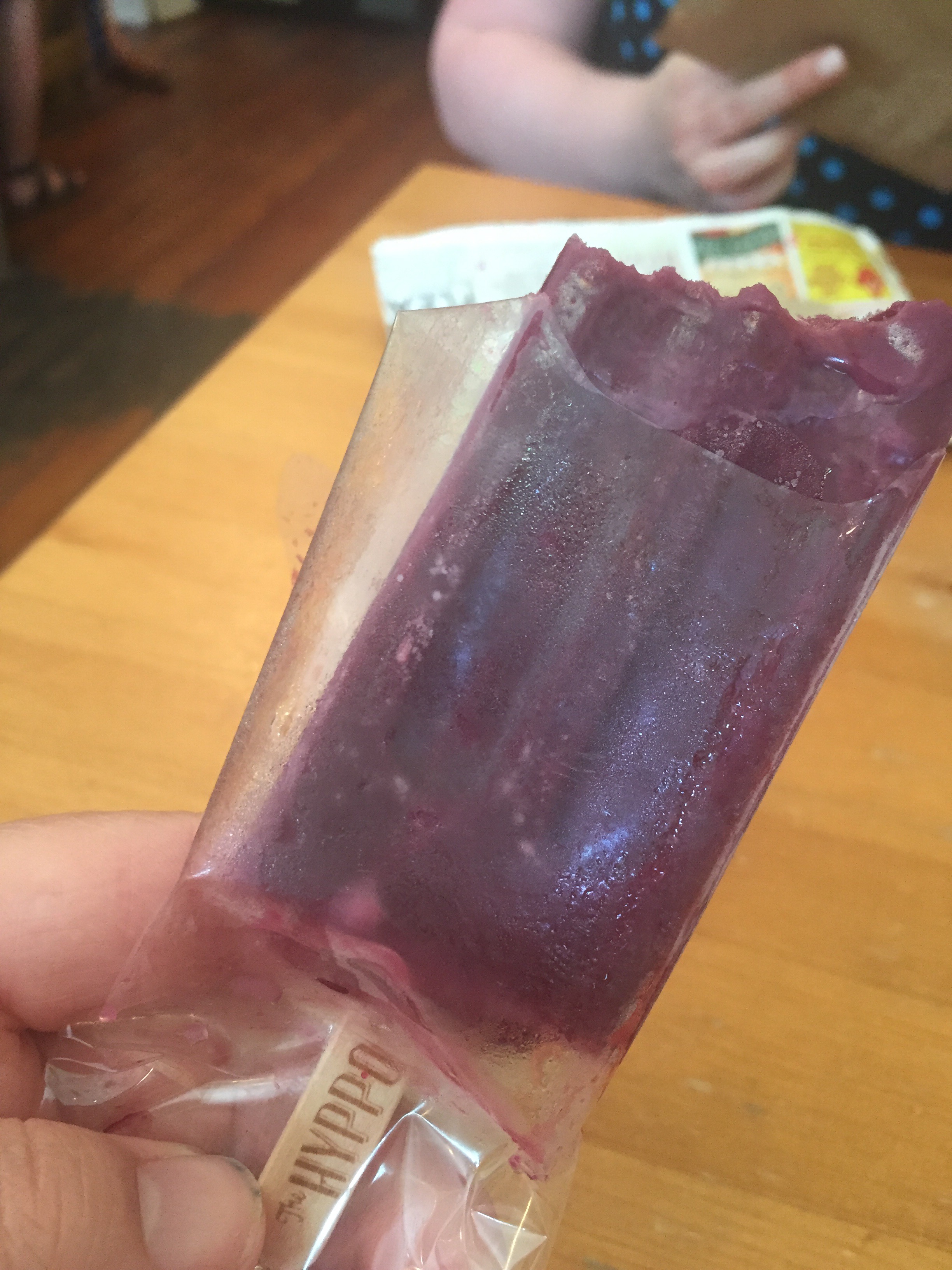 Rode along the trolley towards the south side of town passing a few interesting landmarks.
The Flagler Memorial Presbytarian church which Henry Flagler had built in memory of his daughter who died from childbirth complications. He is buried here as well alongside his first wife.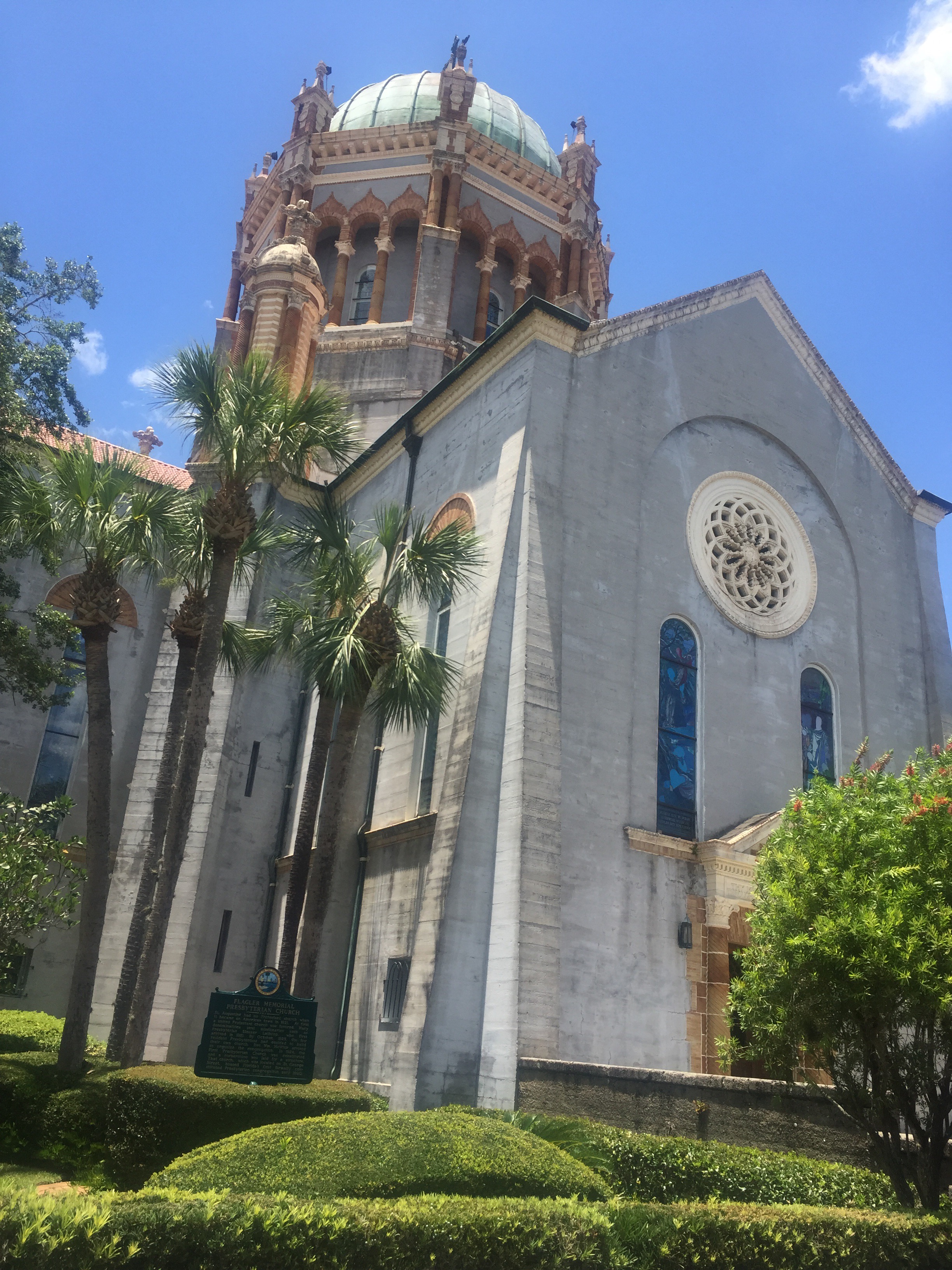 After seeing what Flagler built for the Presbytarians, the Baptists wanted him to build them a church, too- naturally. They asked Henry Flagler, he declined but did make them an offer to give them a parcel a land to build a church on with funds they raised themselves with one condition- it could not have a bell. (He lived just a bit away and didn't want to hear it ha) to this day, the Ancient City Baptist Church has no bell.
We got off the trolley at Villa Zorayda. A very ornate replica of the Alhambra palace in Grenada, Spain. It was built by an eccentric millionaire Franklin Smith from Boston who wanted to use it for his winter home. It was the first building made of the concrete coquina mixture that almost everything after in St Augustine was constructed from as Frankin Smith pioneered this technology. The inside has alabaster walls with exact carved replicas of the walls of the Alhambra palace and amazingly intricate pierced brass lamps from Damascus and other far off places. Not a lot of photos because the lady told me I couldn't photograph inside, but I'm a rebel. Ha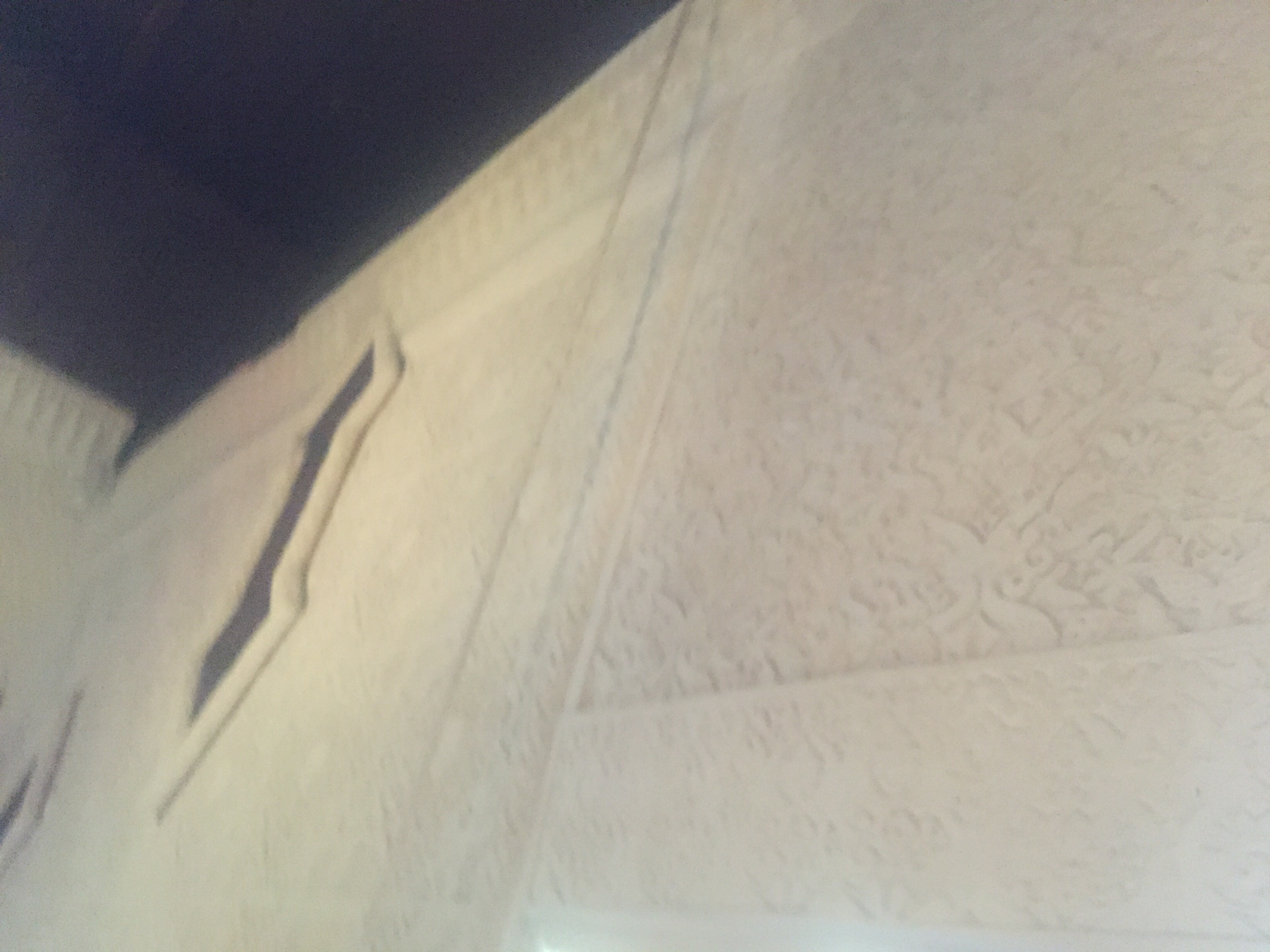 After that, we crossed the street to the Lightner Museum. Originally this building was built by Flagler for extremely wealthy snowbirds as the Hotel Alcazar but it closed in 1932. In 1947, Otto C Lightner bought it to house his enormous collection of Victorian era treasures and handed it over to the State. It is now known as the little Smithsonian. We didn't go inside, just looked around the grounds and checked out Cafe Alcazer which is located at the bottom of a swimming pool.
Where this cafe now stands used to be the largest and deepest indoor swimming pool at over 12 feet deep.
We walked across the street to Flagler college, the former Ponce De Leon hotel. If I understood the tour guide correctly, if you would have been invited by Henry Flagler to his amazing hotel, you would have traveled down the railway for the entire season- December through February and you would have paid $9,000 up front for the season, the equivalent of over $250,000 in today's money.
There were Tiffany Windows all over the building, totalling over $130 million in today's value.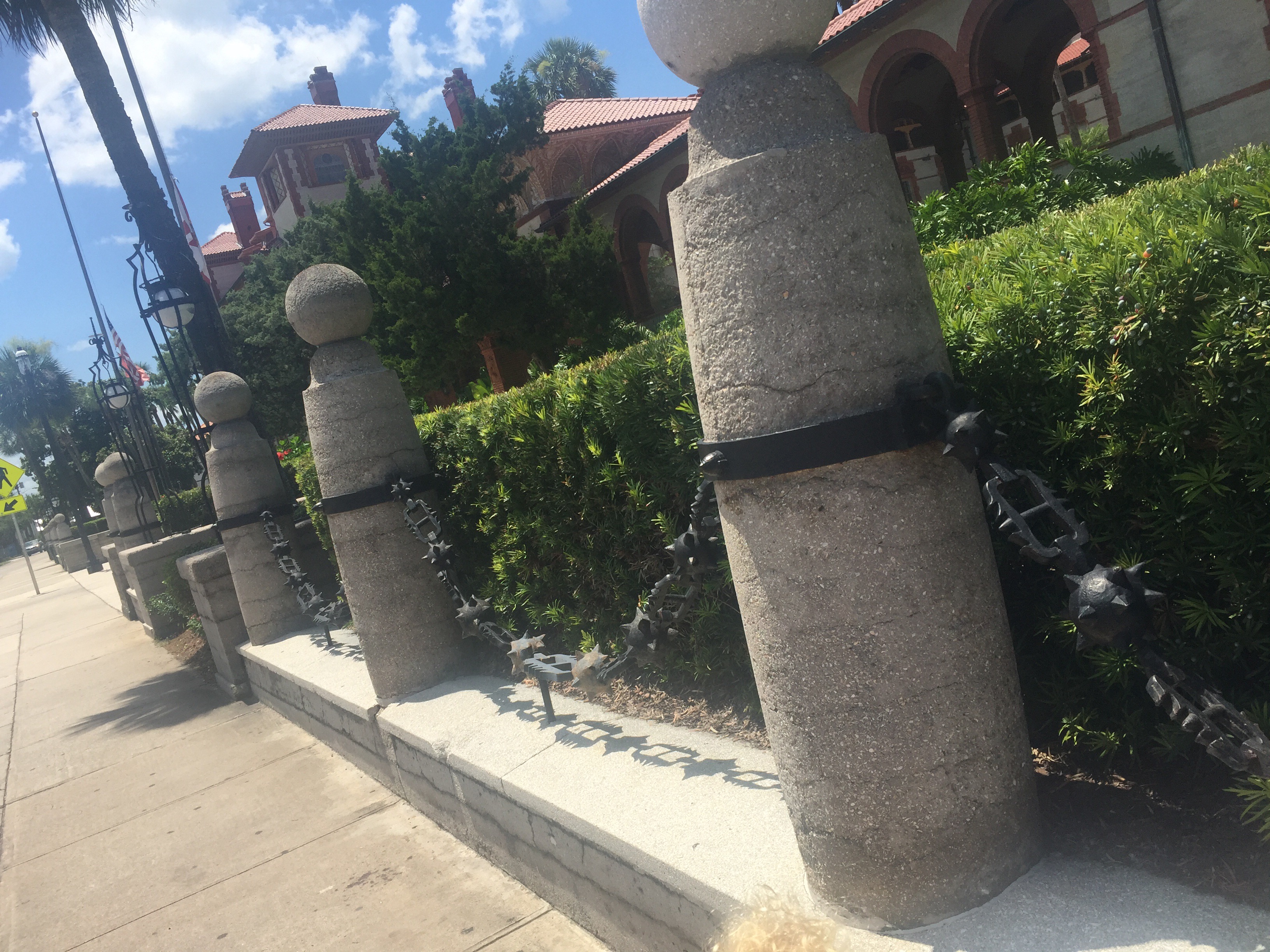 We rode the trolley back towards our hotel and discovered some history I didn't know. Martin Lither King Jr. stayed in this house in the sixties, invited by the lady who lived here. She still lives in this house at 94 years old.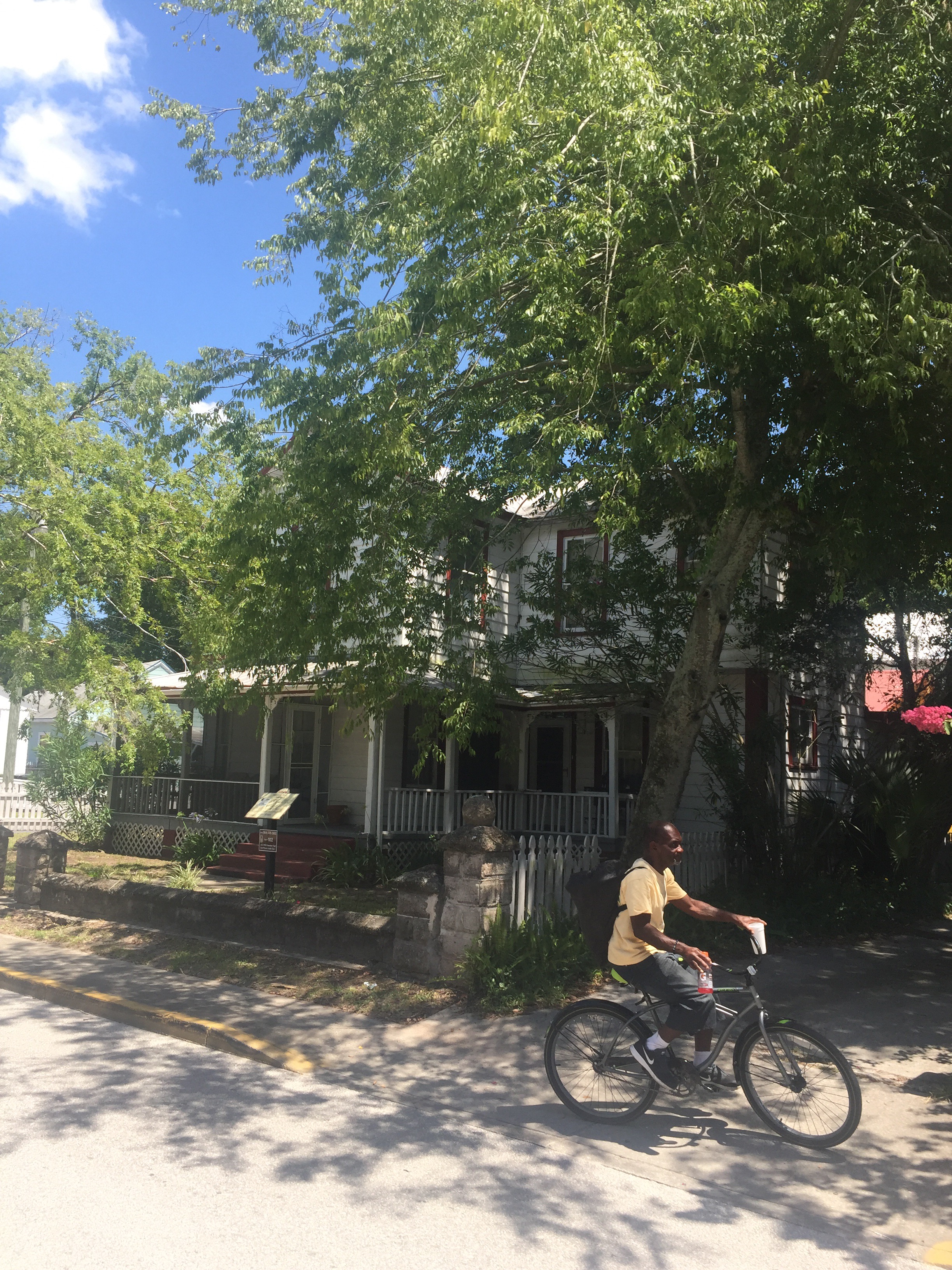 This is THE Woolworth's store made famous for their sit in during the civil rights movement. Some black teens decided to go sit at the white's only counter which pissed off the restaurant staff and the police were called. They arrested around sixteen individuals but the police offered to let the teens go to the parents as long as they would sign a contract to not participate in any more protests until they were 21. Only four families refused to sign and they became known as the St Augustine Four. These poor teens were all sent to correctional facilities and people were outraged. St Augustine has an MLK Boulevard and it's one of only 2 MLK streets in the country that Dr. King actually marched down. The other is in Atlanta.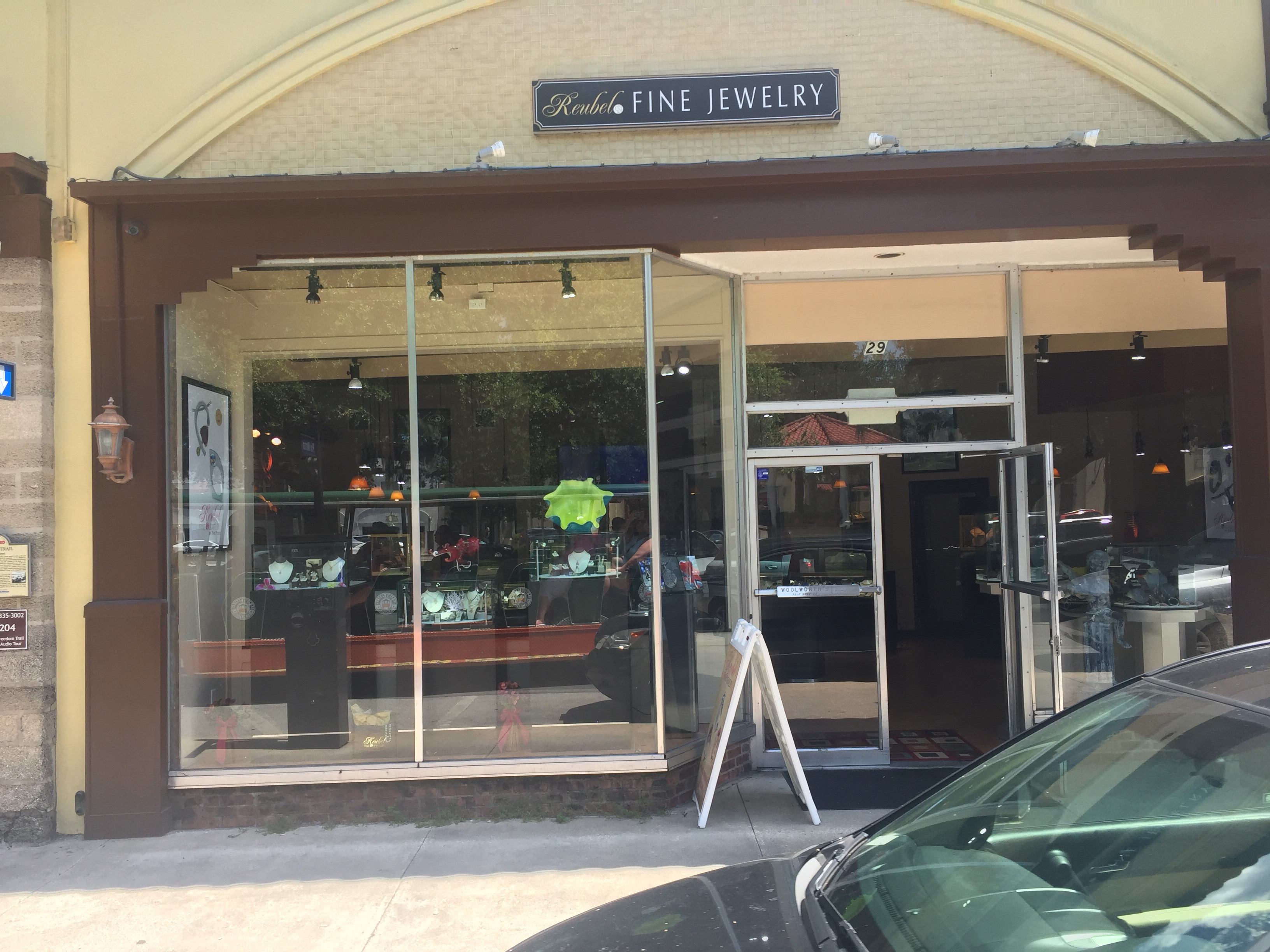 The Whoolworth's is now a Wells Fargo but they've added a fake counter back to to commemorate. The actual counter is now on display at the Smithsonian.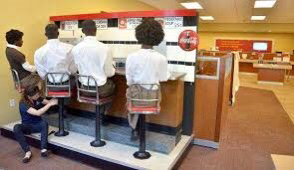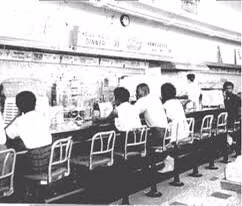 We ended with dinner at Mojo BBQ which was pretty good stuff!