Day 2 started a little a few minutes behind because I hit snooze twice without fully waking up. haha so, we lost a few morning minutes of Gothenburg. ha oh well, we saw a lot in the short time we had anyway. Our hotel had a great Swedish breakfast laid out: yogurts, cereals, cheeses, cured meat slices, anchovies, jams, breads and of course meatballs! I was in heaven. Random cheeses, some cured meats and a slice of dense nutty brown bread with whipped organic butter? Yes please. Every.Day. Norah made her own and it's worth noting the contents for posterity's sake: Vanilla yogurt, Bran flakes, Muesli, raisins, sugar, a dollup of orange marmalade and coconut flakes. ha The hotel had a nice little bag storage, so we left our backs and carseat there and walked 15 minutes or so over to the canals.
This is the Tradgardsforeningen (Horticutural Gardens). I LOVE this glass building. It feels very Victorian…although I have no idea if it actually is. ha…but definitely a DREAM of a greenhouse. We didnt go inside because…alarm clock, but there are supposed to be some great plants and amazing lillypads inside.
"We had to come all the way to Sweden to find some palm trees and alligators?" says Kegan… ha
The strangest and most random posts I've ever seen….
As we exited the park, we saw this big bamboo structure across the street. It's something by a Japanese Artist that was done this summer. It was made out of old wood in a dump with some young bamboo mixed in… called "Reincarnation" because he gave the old discarded wood some new life. I'm not a big art person… so mehhh. but objectively, it was pretty cool.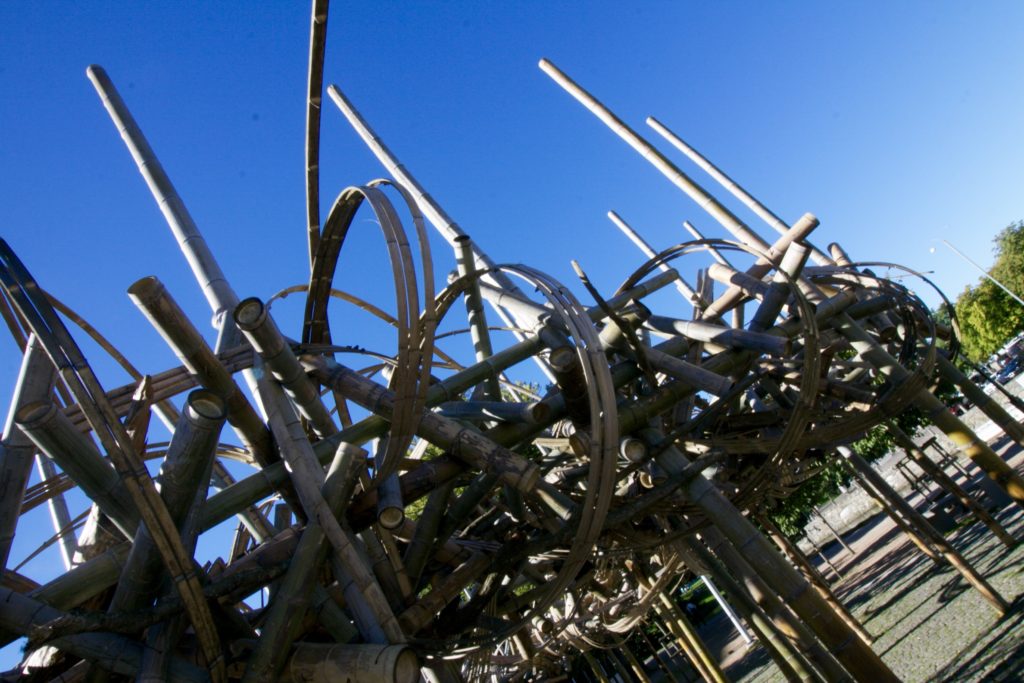 We had reached the canal and we were ready for our 11am boat ride with Paddan boat tours. Can't recommend it enough.
If you go under a bridge or through a tunnel, Norah makes everyone hold their breath…or in her words "get your big bubble in". lol Boat tours are no exception.
We cruised under a lot of low bridges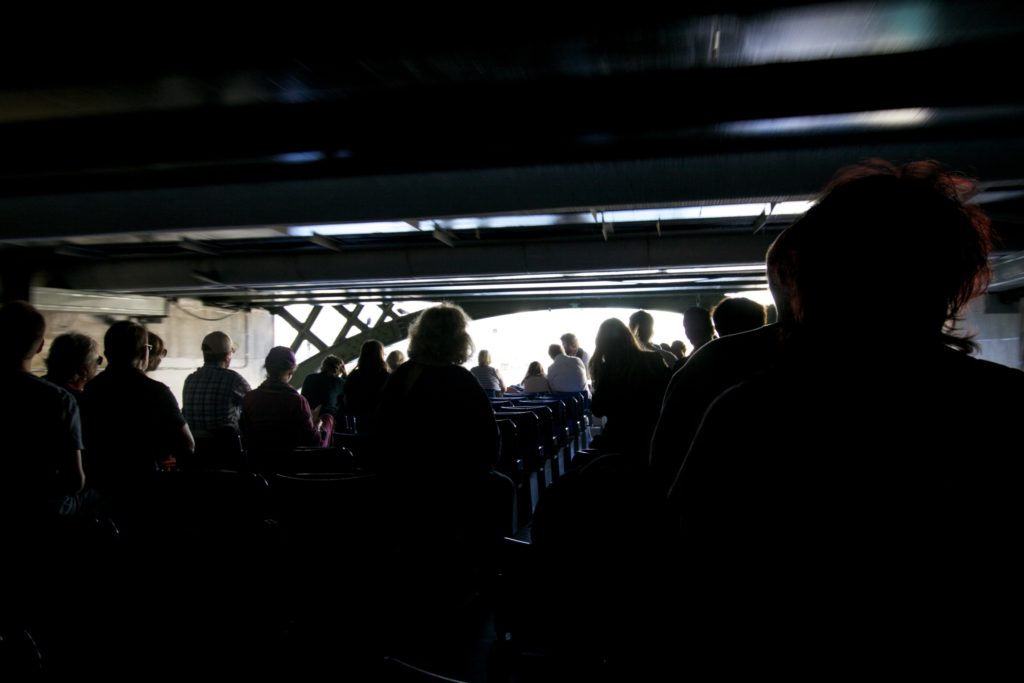 German Church
Sweden Battleship HMS Smaland. Biggest ship in the harbor- now a floating maritime museum.
The new Gothenburg opera house.
We were really lucky to take the tour today, because Gothenburg was hosting the Tall Ship Regatta which brought in tall ships from across the world into the harbor…and our boat captain Hannah just happened to be the most knowledgeable and passionate sailor I have ever met. She basically took the mic away from the tour guide at the front, which I think stunned him a little. ha She said she had been doing the tour for 3 years, so she had done the tour thousands of times…and this was the first one she ever narrated or took off course… so we felt really special!! She took us out past the normal tour route into the more open water to float past ALL of the tall ships. It was spectacular….she said that the crew who sail these tall ships are usually not paid- as there is no market for them and they don't transport any goods anymore… that the average tall ship costs around $1,000 a day to own and maintain while sailing…so these boats are only owned and maintained by true passionate sailors. She said she sails on them from time to time as well… and you could just hear the passion in her voice as she talked about these boats being our heritage and a testament to our past when there were no machines, only keys and sails. A real sea rat, that one. 🙂 Also to note: I love how in Scandinavia truly has gender equality which has yet to reach the rest of the world. I think it harkens back to Viking times. Pre Christianity, Viking women could inherit land, make decisions, rule in absence of their husbands, get divorced. It wasn't until the catholic church came to town that women were marginalized in their society and it's so great to see how "equal" everything is. Not just in namesake, but in practice… something I think we still struggle with in the US. I'm super guilty myself… as the guide and the captain boarded I was 100% certain the guy was the captain and the pretty girl was the tour guide…and then I was 100% impressed and awed at her knowledge and ability.
My new hero Hannah.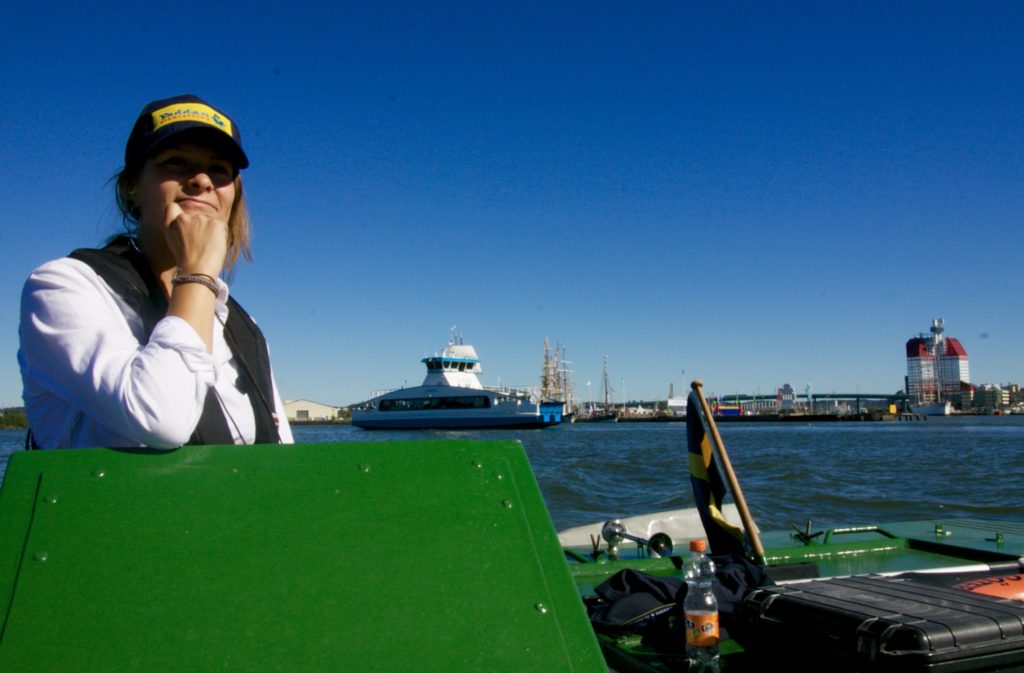 Gothenburg has a history as a shipping port, but since 2014 the cranes have been shut down. It wasn't profitable anymore… but when the city tried to remove them from the harbor to "clean it up", some local celebrities purchased the cranes and saved them because they believed they should always stand in the harbor as a reminder of their history. As a total nerd, I can get behind that! 🙂
Next on our tour came the "Hairdresser" bridge. Since it's so low that you might end up with a new hairdo if you don't duck your head! This would have NEVER been allowed in the US. haha I'd give it one week and some idiot not listening ends up with a broken neck. You really don't get babied as much in Europe. They expect you to act like you have a brain and take care of yourself.
Lastly, on our way back we passed the Feskakôrka..or literally "Fish Church". The building was built in the 1870s by the city architect to house all of the seafood vendors. It still is the place to go for seafood in the city…so says the tour guide. I'll have to find out myself next trip.
After the tour we popped into a market across the street. Even the markets are pretty here.
Mmmhhhh….public drinking water. lol
We caught an Uber here, swung back by our hotel and then headed out of town to the airport to pick up our rental car for the rest of the trip. A black Volkswagen Golf hatchback with automatic. (and yes, Sweden drives the same as the US) so for the first vacation in recorded history…drumroll…. Kegan is the driver! Man, does that make such a huge difference! As we pulled out of the airport, I spotted a McDonalds and we needed lunch quick, so drive thru we go. We were able to order in English, so thats good 🙂 But the menu was of course in Swedish. I got the El Maco burger. Which from the photo ad on the menu, I assumed it was just their version of a Big Mac. (somewhat close advertisement)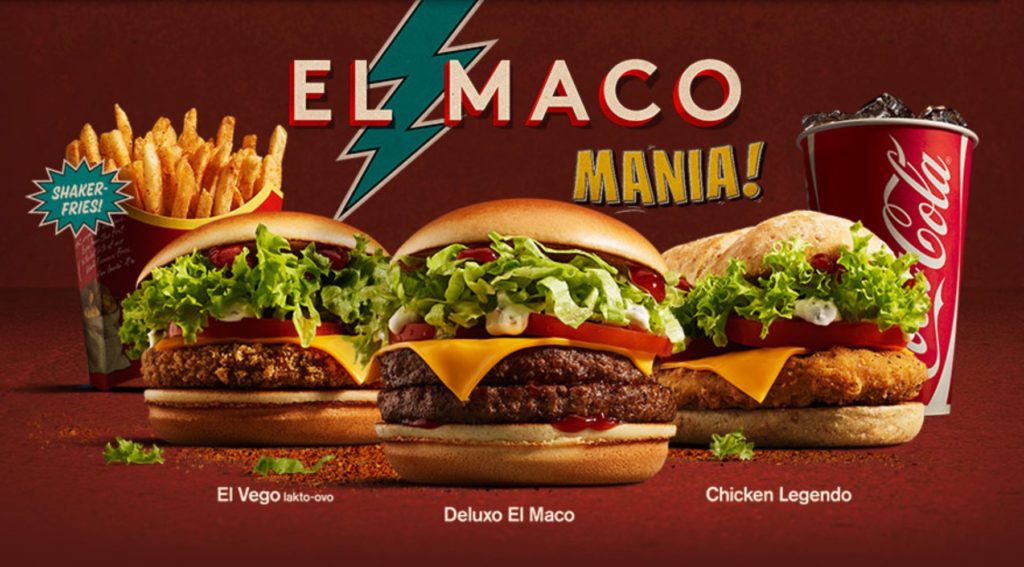 Nope. It was definitely a Taco burger. and i couldn't eat it. haha Luckily, Kegan didn't hate it and he totally won brownie points and traded me for his Double cheeseburger. Seriously? a taco burger at McDonalds? It was spicy like Taco Bell hot sauce, but sweet, too…with sour cream and lettuce on it. ha

After the weirdest McDonalds on all time, we stopped into the town of Boras and drove around a bit. Lots of pretty building art around the town…of which I got no good pictures, but there was this this guy in his summer construction shorts. ha it's 60 degrees. GET CRAZY!

After that, we stopped alongside a giant lake to see some ruins. It's not vacation unless there is some roached out castle on a vista point. These old things are my happy place. This one doesn't have much of a story really. Some count in the 1640s had it built. He lived there. In 1680, he died- in 1708, it caught on fire…and here is sits since. Kinda seems like a waste, but that view. wow.
Next was Alvastra Monestary out by Ögeshög. Originally, it was a monestary of the Cisternian Monks. (the white robes… and the Trappists) They believed in the life through self sufficiency…oh, and they made the best beer on the planet, these Monks. Go to a craft beer store and buy a "trappist" beer. Out of this world- to this day. 🙂
I digress. These monks have land given to them by the government in the early 1200s. and all went well until the 1500s when the Protestant Reformation occurred and the government took it back. (Martin Luther, creation of the Protestant and Lutheran Churches, basically an overhaul of the catholic religion with changes that people tended to agree with more. Like no pope and less corruption.) Another nerdy note: Protestantism was coming about in 1517 and the pope banned Martin Luther in 1521…but it was made official by Henry VIII and MAJORLY fast-tracked, if not totally legitimized, because he wanted a divorce from Catherine of Aragon so he could marry Ann Boleyn and the catholic church wouldn't give him one. Just think, if one crazy man hadn't hated his wife so bad…all Christians might still be Roman Catholics instead of Lutherans, Presbyterians and Baptists! 🙂
It was on beautiful country farmland.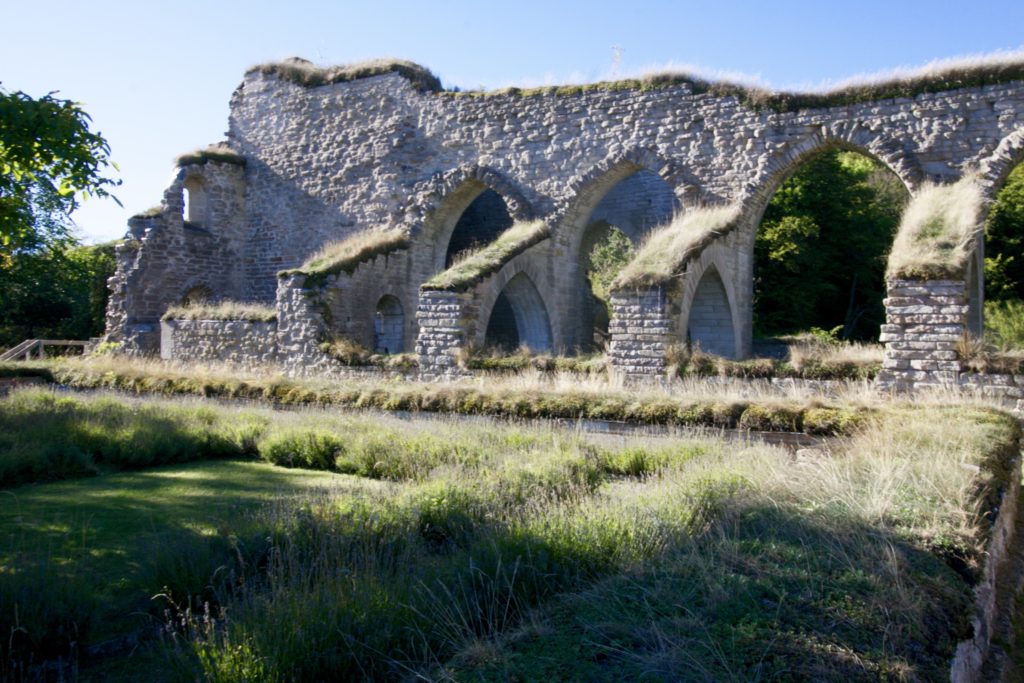 We found this apple tree behind it…and so we searched the ground for an good apples that had fallen. (Im sure it would have been no big deal to pick one judging from the volume of apples on this tree… but just in case thats some sort of personal property felony…we stuck to the ground haha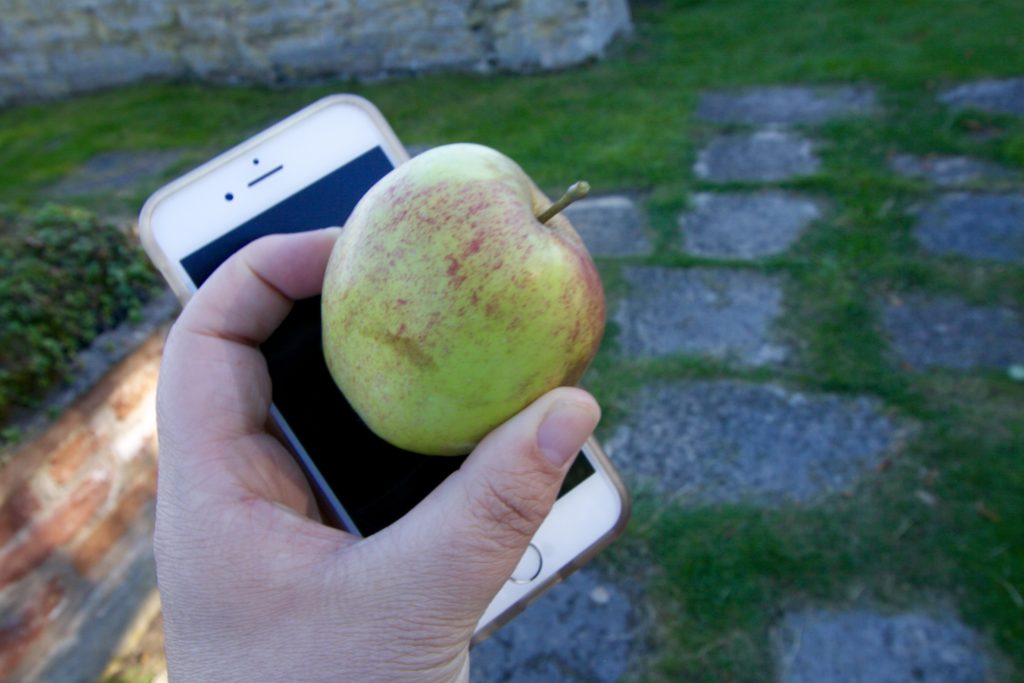 Last stop before our hotel was a little village called Vikingstad and they have a fancy little Runestone outside of town along the highway. The writing along the edges is in Runic. A phonetic line drawn alphabet. This one is broken, so no one knows the full inscription, but the part that can be read says
"…erected this stone after Agute a good…" …a good friend? a good father? a good husband? We'll never know.
Also nerd sidenote: we get the word husband from Old Norse Viking language. húsbóndi 'master of a house', from hús 'house' + bóndi 'occupier and tiller of the soil'. Word etymology is so cool.
It was now getting towards sunset time, so we headed to our hotel.
It is a Hotel/restaurant/spa/conference center in the middle of a wheat field…and we were the only people here… but it was so great! I had a meal that is in my Top 5 of all time. It was the "Farmer's Dinner" on the menu- whatever is fresh and good that day…and man was it. Pork tenderloin with potatoes, veggies, a green peppercorn sauce, some pickles….there wasn't a flavor that wasn't present. I'm going to dream about this meal.
The starter was equally as good: marinated deer back.
Since those two were out of the park…I had to get dessert. For scientific reasons of course…
A Mazatin Cake with dark chocolate, fresh berries and a white chocolate whipped cream. Also to die for. One of my favorite desserts ever. And I forgot to photograph it. #fatkidprobs
Norah was good during dinner so afterwards, the waitress asked her if she wanted to see their pets. and of course she did. Turns out, the "pets" are the little fish they use for the fish spa pedicures where they eat your skin. hahah Norah absolutely loved it and she even got to feed them. I've never had a fish pedicure, but i'm kind of disappointed we arrived too late to do it, could have checked off another thing I've never done 🙂

We watched some tv, showered, smothered the 4 year old and now I'm headed to sleep…. I was talkative tonight! It's 2:30am ha