A day of walking today. Walked two cities. Wowza. I am exhausted. Ha Even Kegan's legs are a little sore, so I feel vindicated. Haha
Leaving our hotel, the guy had a surprise for Norah. An entire bag of candy. I could write a blog focusing only on all the free gifts this child gets. Haha

We started off the morning with a geology nerd alert. I found an 8 foot wide lava bomb in a little village not far out the way from our route, so a late birthday surprise for the scientist.
This area of Germany used to have an active volcano about 10,000 years ago… and there are still lots of volcano related features around. In the village of Strohn lies this beast of a lava bomb- lava that flys out of the volcano into the air- cools as it falls and then crashes into the Earth as a solid boulder. I like to imagine there's a crushed dinosaur under this guy. Lol

We continued on to Trier. Romans!!
I have to be honest- I didn't really know about all of the Roman history in this town until I started planning my trip. This town is on par with Parts of Italy! And I found out it was the capital of the Western Empire. Constantine lived and ruled from here for many years, which explains the extravagant and high class amenities of the city.
We started our tour at the City gate- Porta Nigra, the only gate still standing of the old city wall system. Absolutely massive and in such great condition.
What is even cooler though is the fact that it's all still STANDING 1600 years later. But… this is only due to a couple of things historically. In the 1200s, they used this and turned it into a church, using the side you see in the photos as a side wall…and using the tall tower part as the base of their steeple. It stayed that way until Napoleon bludgeoned through and he demanded they tear the whole thing down. Rumor has it that locals told him of its Roman origins, so he changed his mind and ordered them to return it to its original form. As it stands today is as close as they came. It's gets its present name- Black Gate from the decades of auto pollution that is turning the stone black.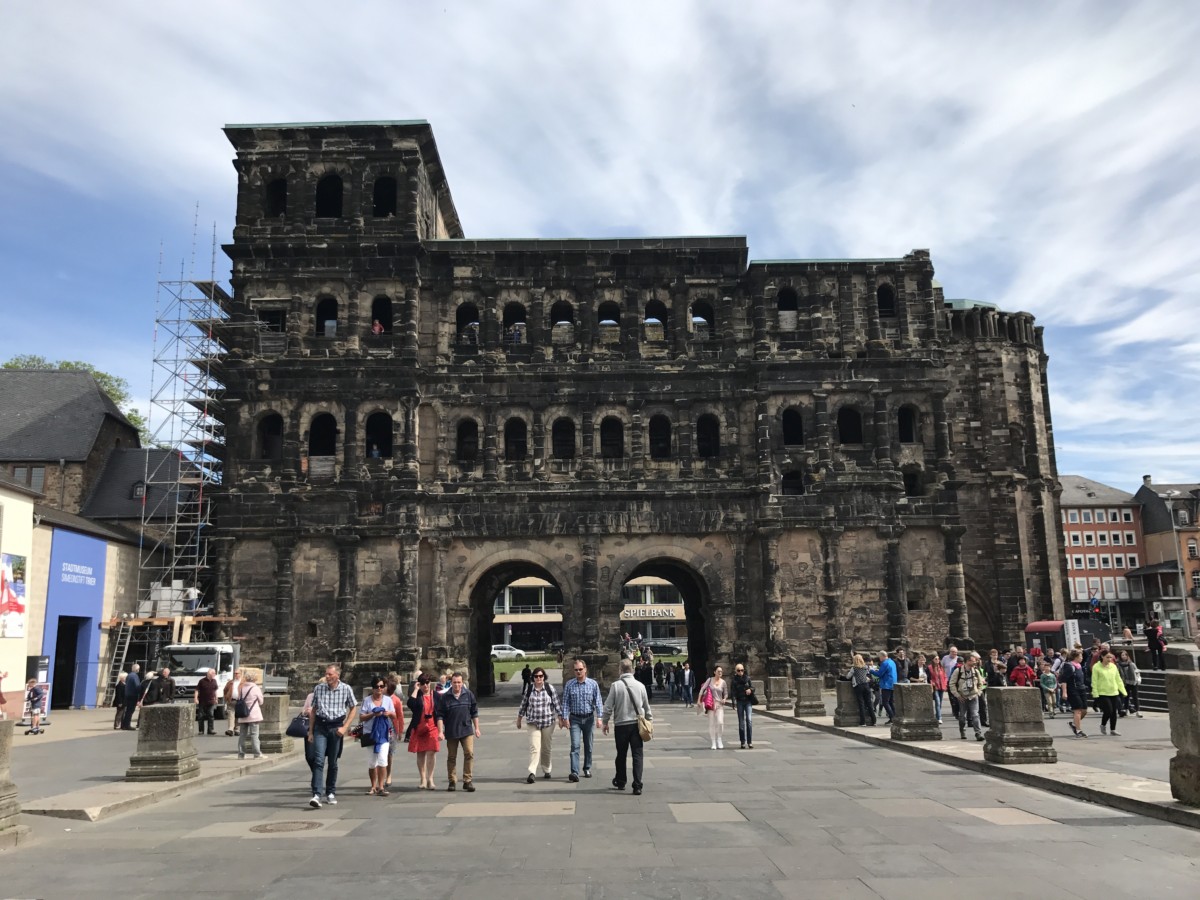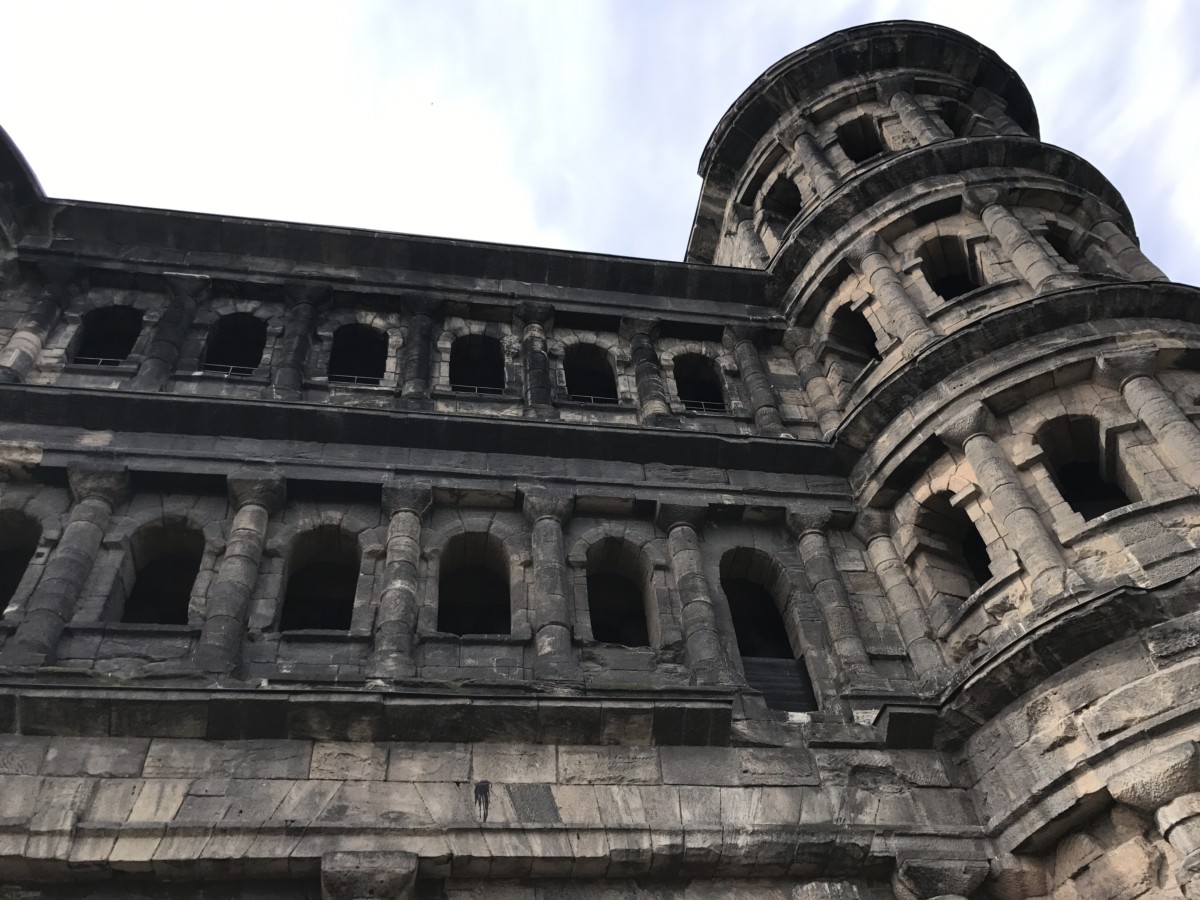 We walked on through town through a marketplace to the Trier Cathedral or Dom Du Trier. The oldest cathedral in Germany. In fact, Constantine's mother gave up her palace so that there could be a cathedral constructed here. Supposedly there is a holy nail from the crucifix somewhere here but I didn't see it.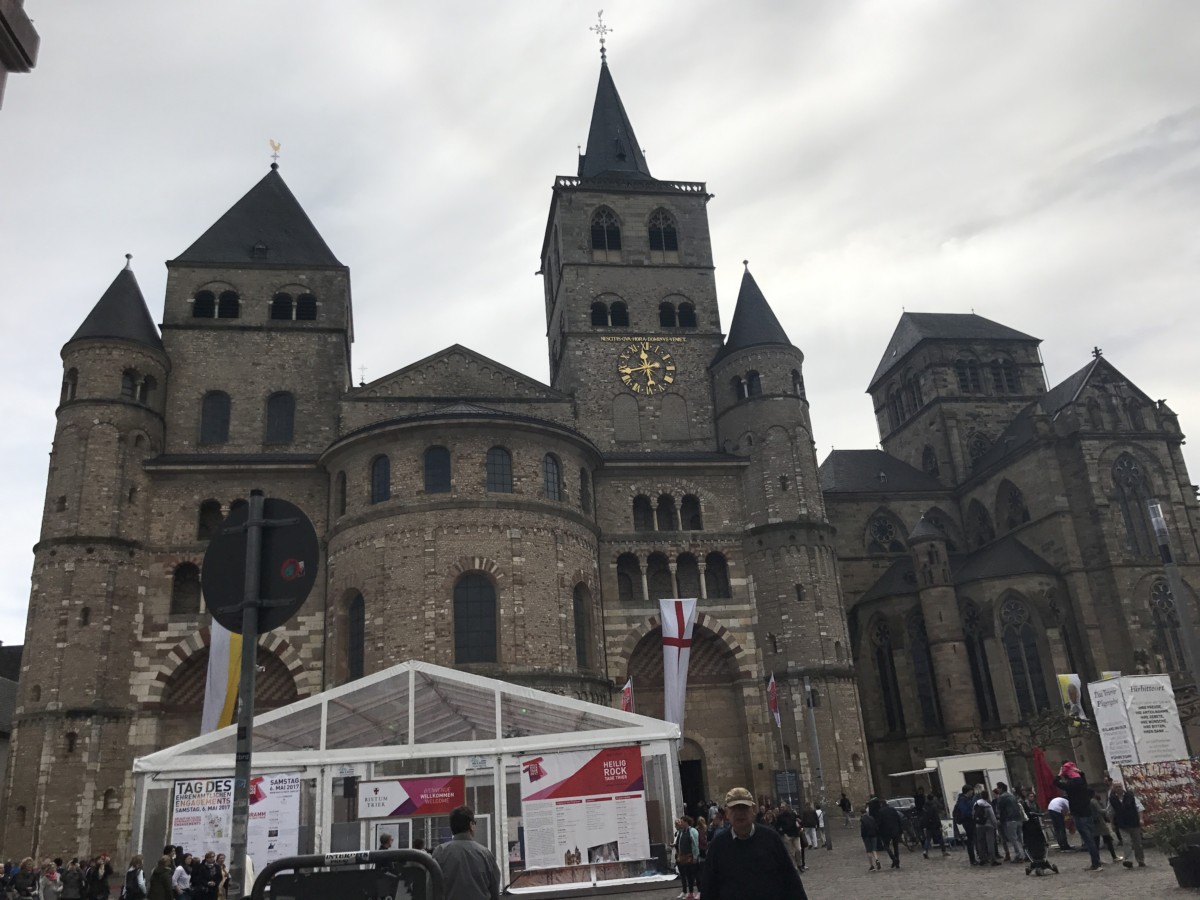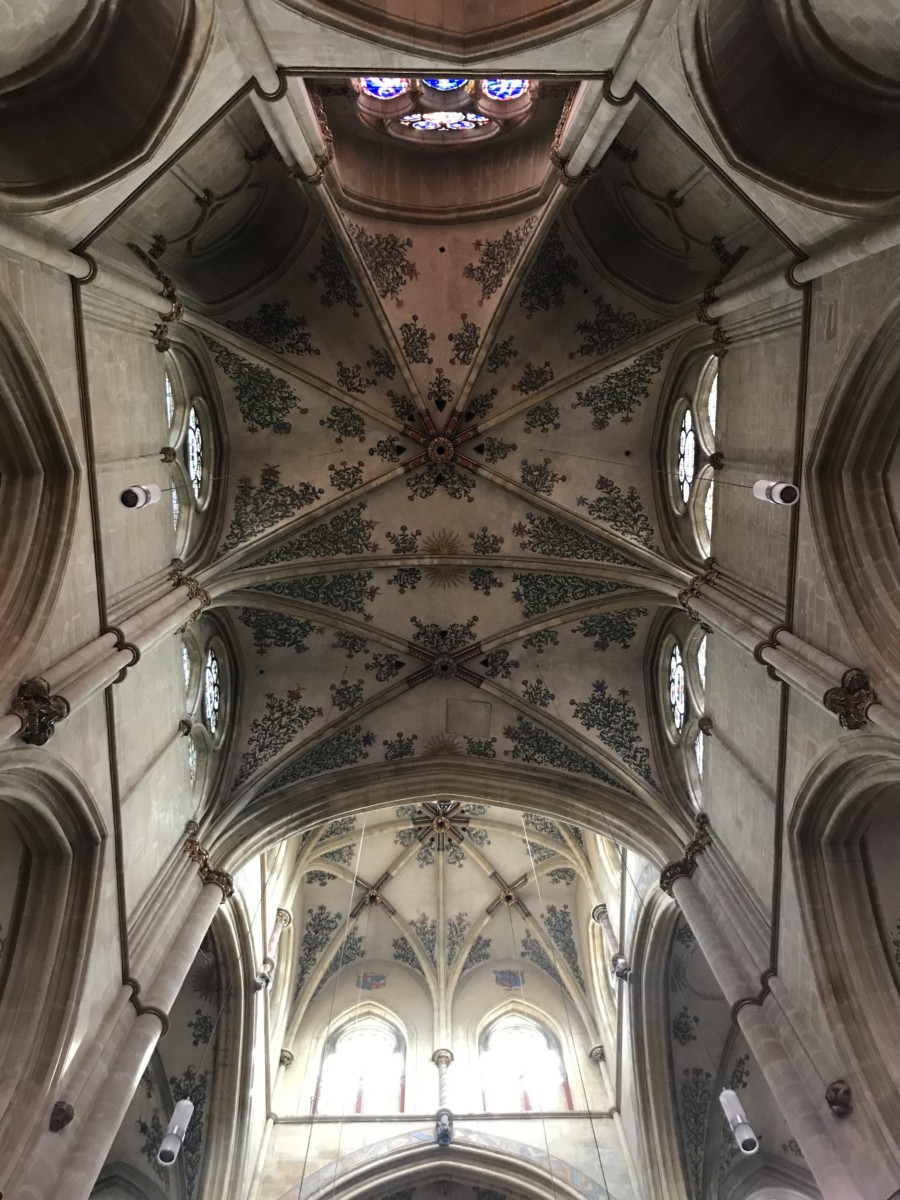 Bought local chocolates at a shop right outside. Oh, and Norah got free chocolates. Haha

Next we headed for the Constantine Throne Room- where Emporer Constantine ruled his empire. But…it was closed. Ha which actually is fine- because it was modified multiple times up through the 1800s, remade "roman" in the 1890s and then burned down in WWII and finally reconstructed… so now, it's just a building. None of the original stuff- so while cool- kinda just doesn't do anything for me.
We continued along through town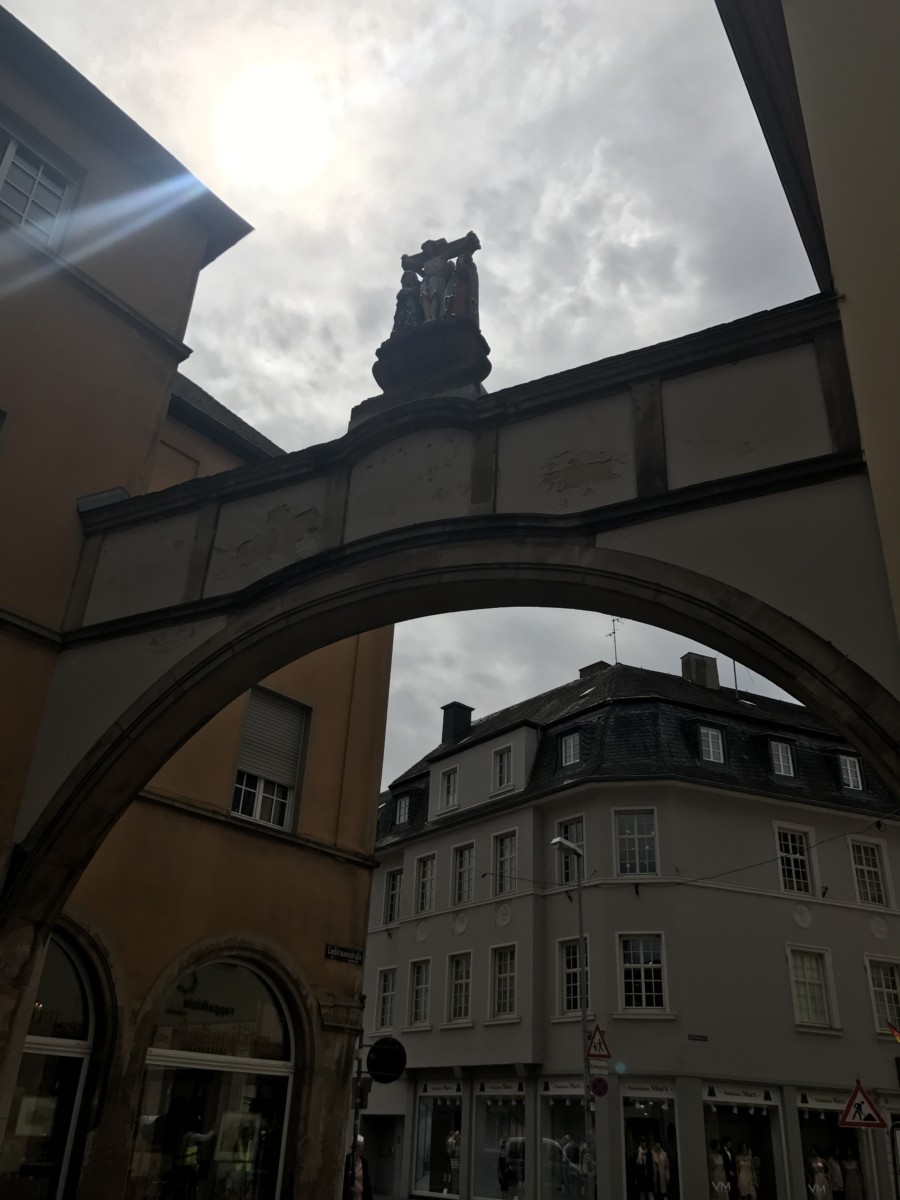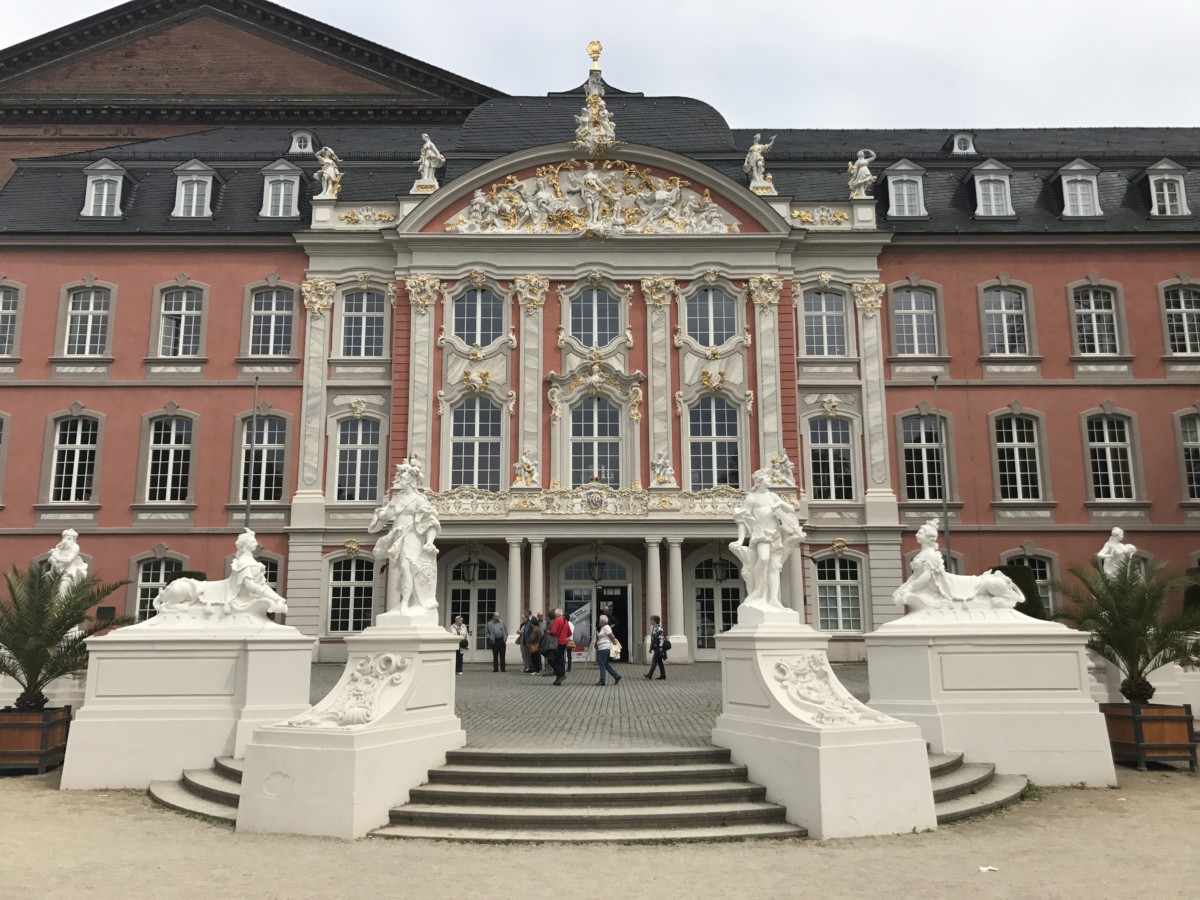 Had some fun in the very Rococo palace gardens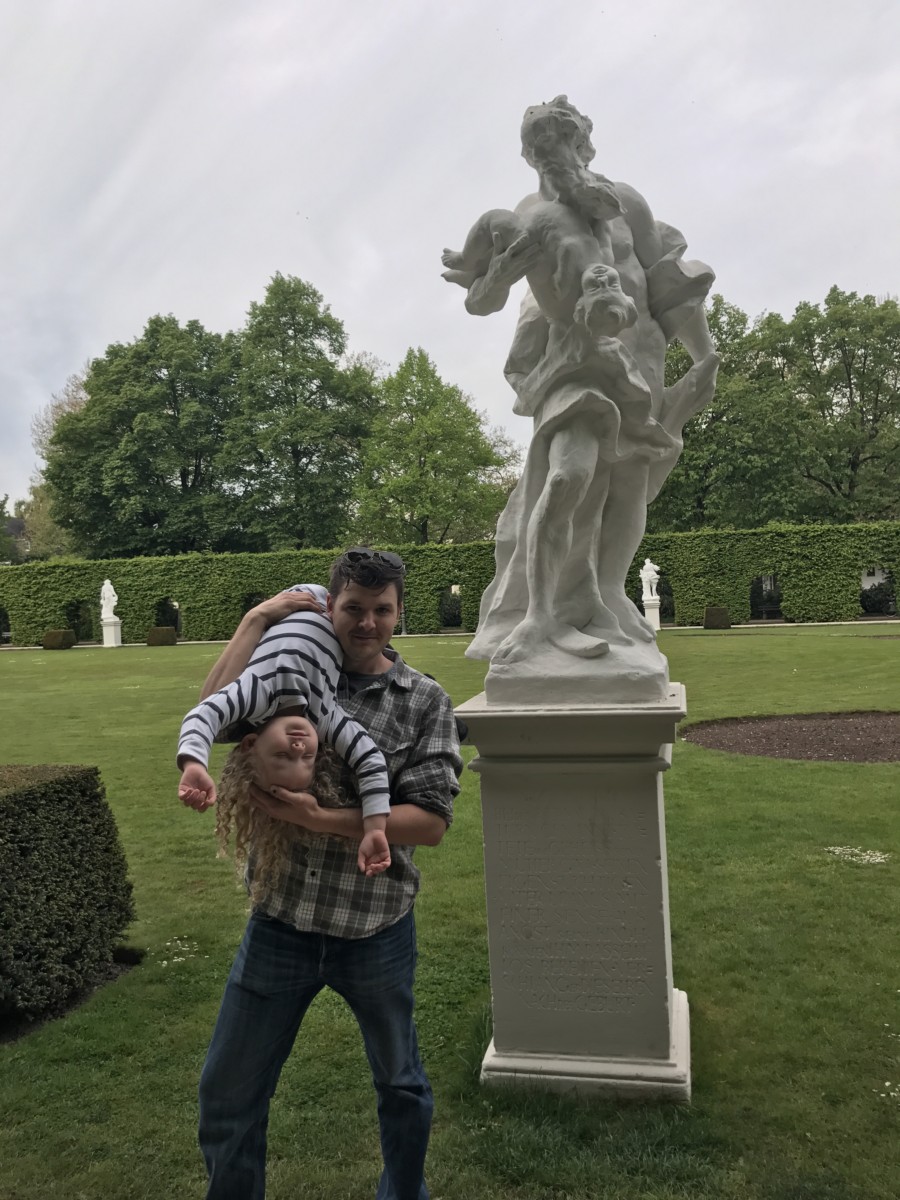 Walked along some of the four miles of city walls.
Norah: "Take my picture with this foot!" Haha
The Roman baths in Trier were meant to be the greatest in the empire- but the empire fell before they were finished. The ruins of the half constructed baths are still impressive.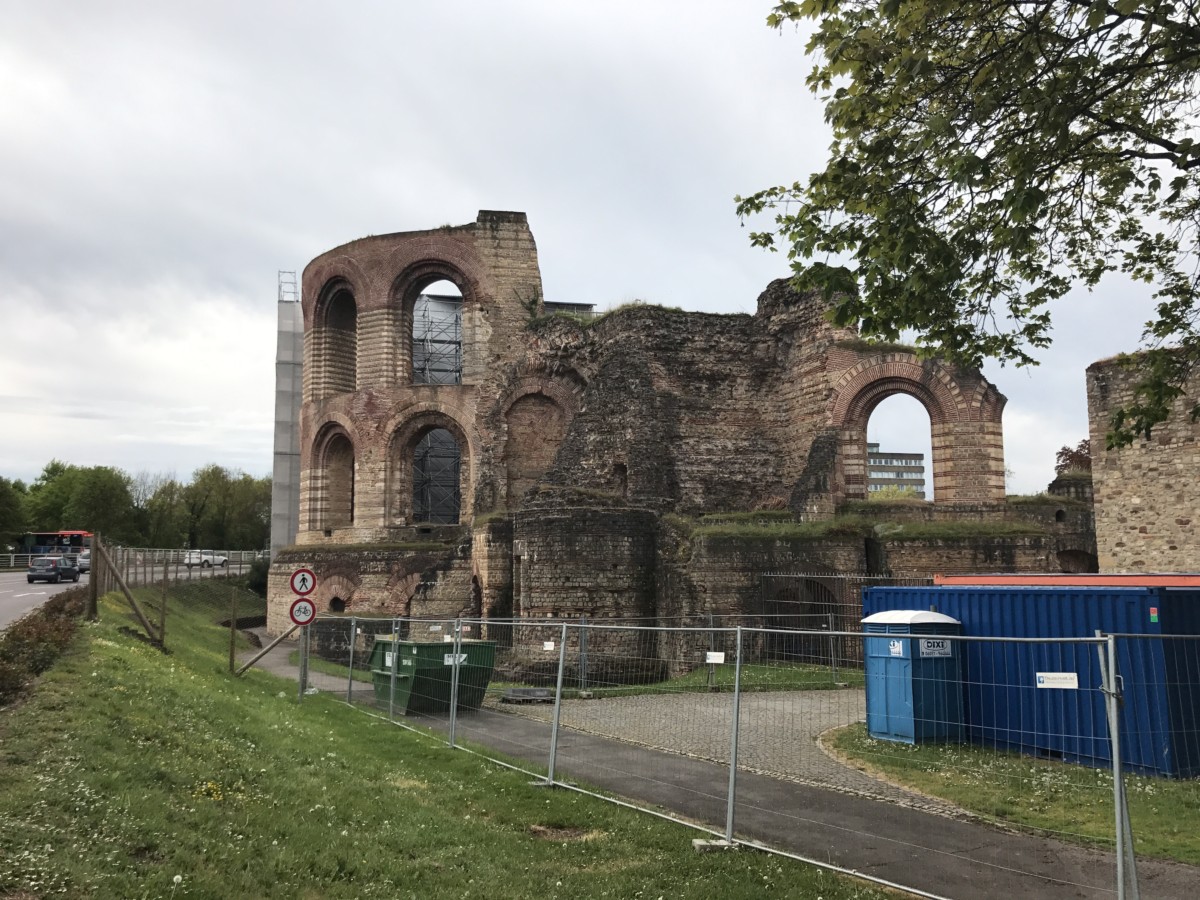 We trekked it back to our car on the other end of town, passing the big town market square where we found Norah a "real life Snapchat filter!!!" (There is a filter in Snapchat that gives you a flower crown- it was for Coachella I think… but I couldn't not get it for her. Haha)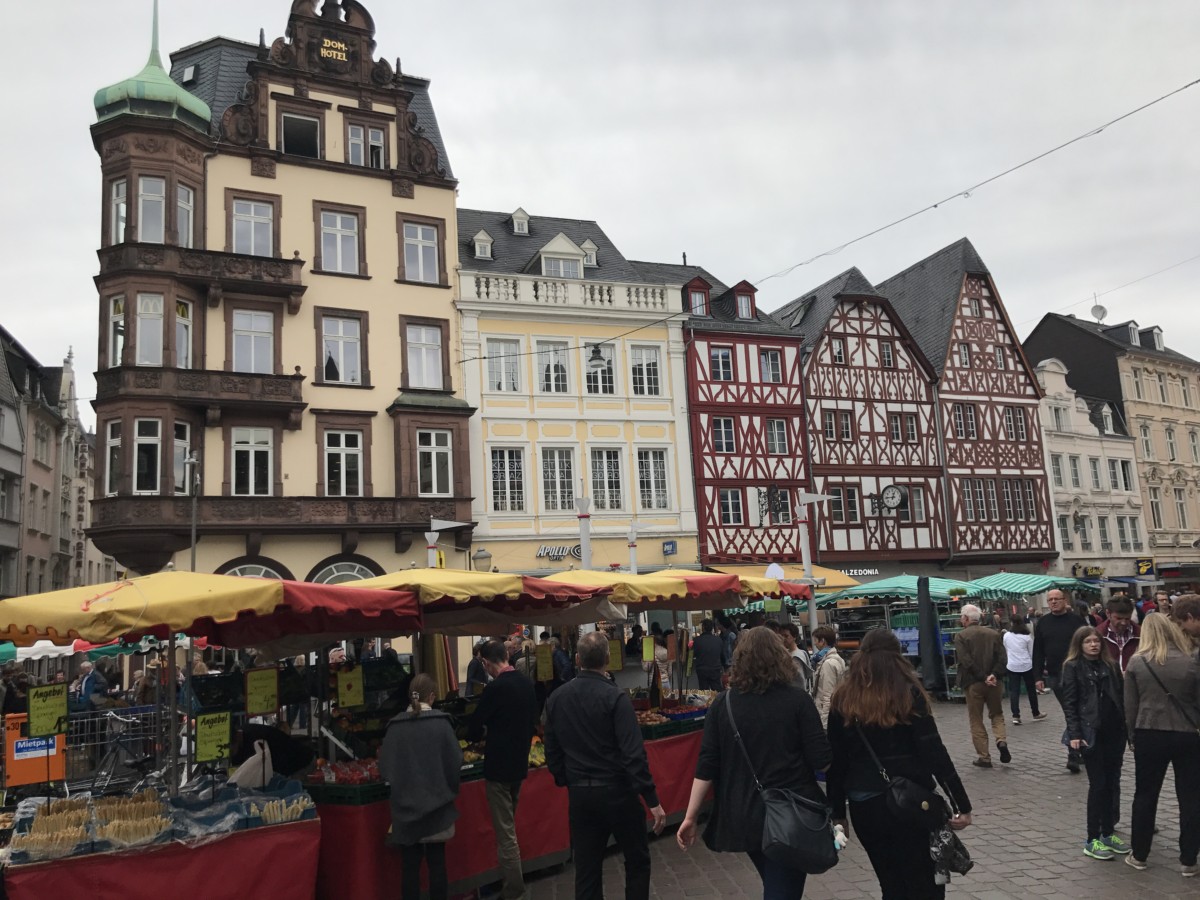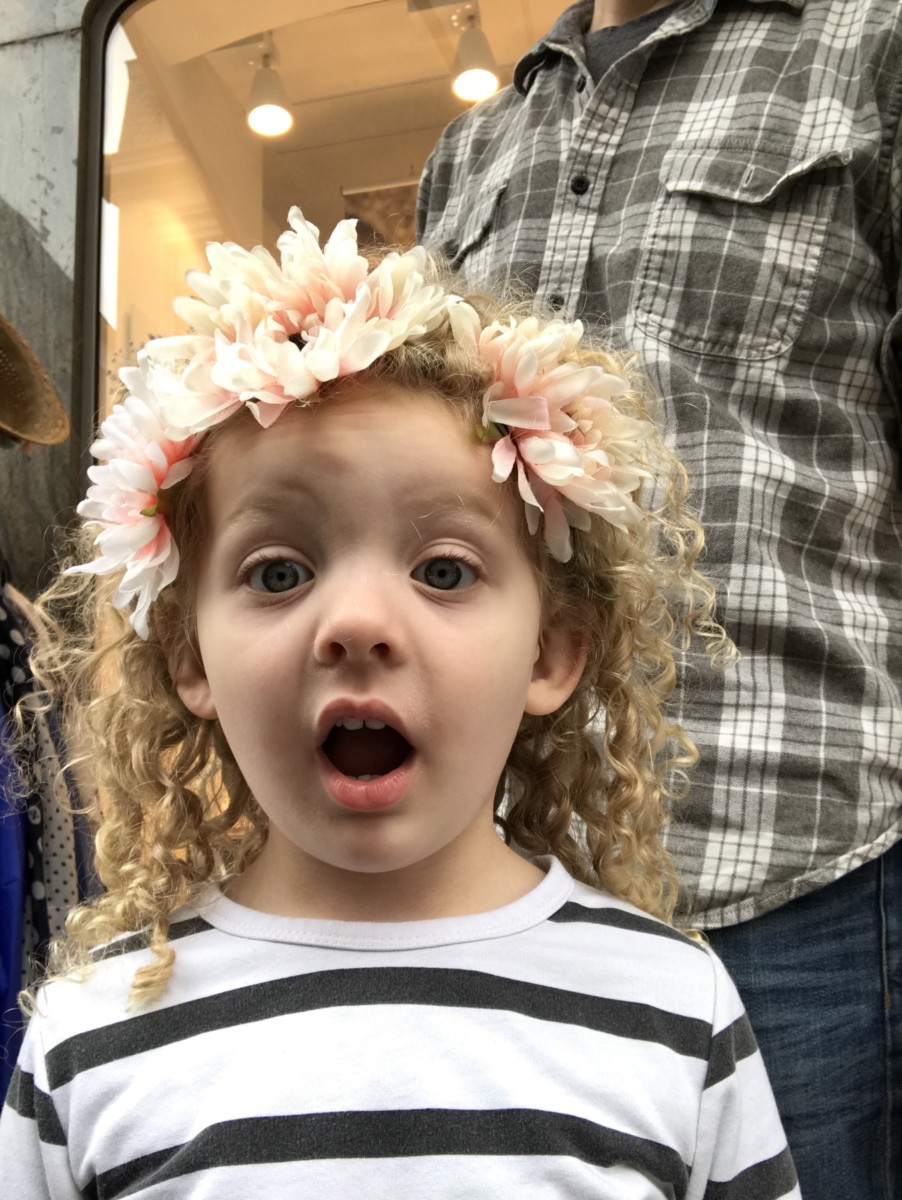 We headed towards Luxembourg. Crossing the border was nothing- just a sign.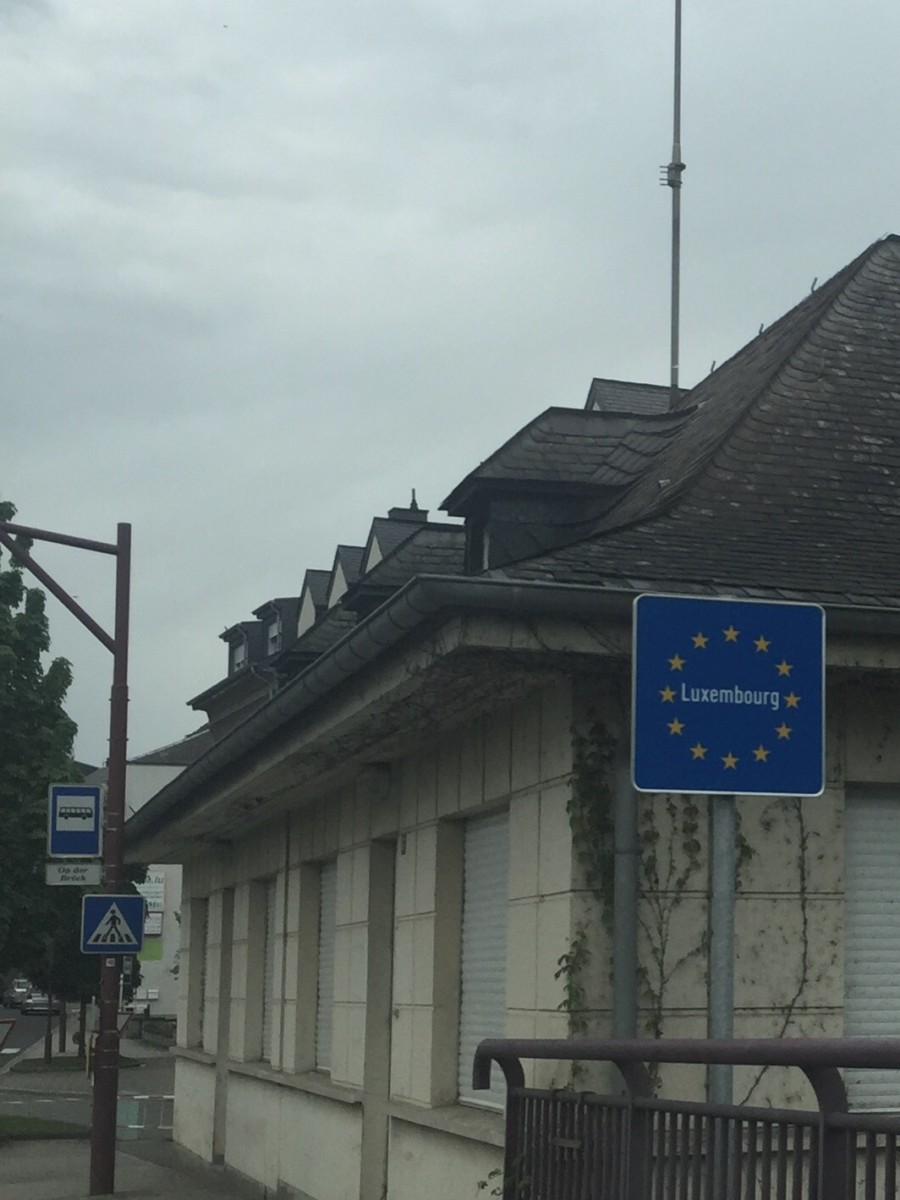 After checking into our hotel, it started raining so we waited that out a bit then decided we best get on with it and put on the rain gear. We walked to city center where the main attraction is definitely La Chemin de la Corniche – or the most beautiful balcony in Europe. A promenade runs on top of the old city walls that protected the city for hundreds of years. I'm a sucker for some medieval city walls…. but these? These are WALLS.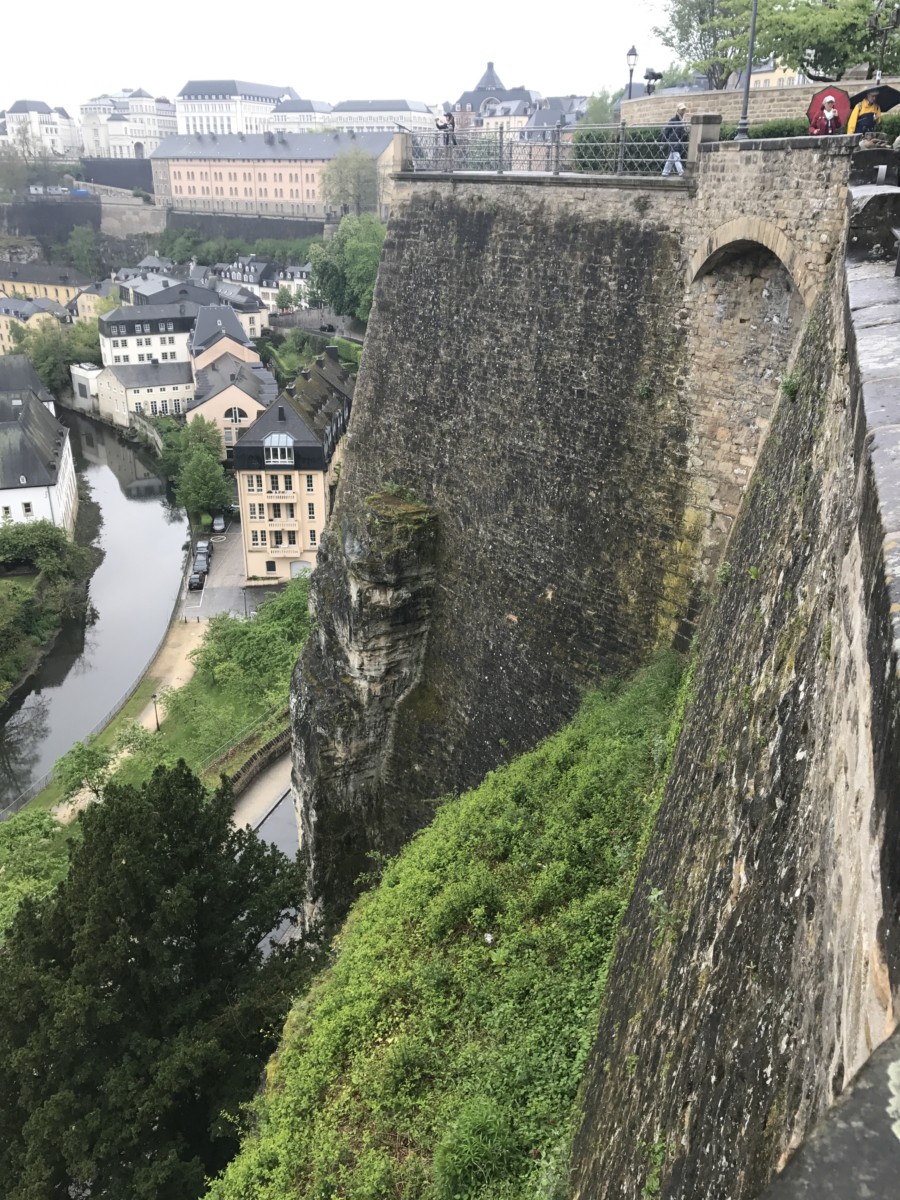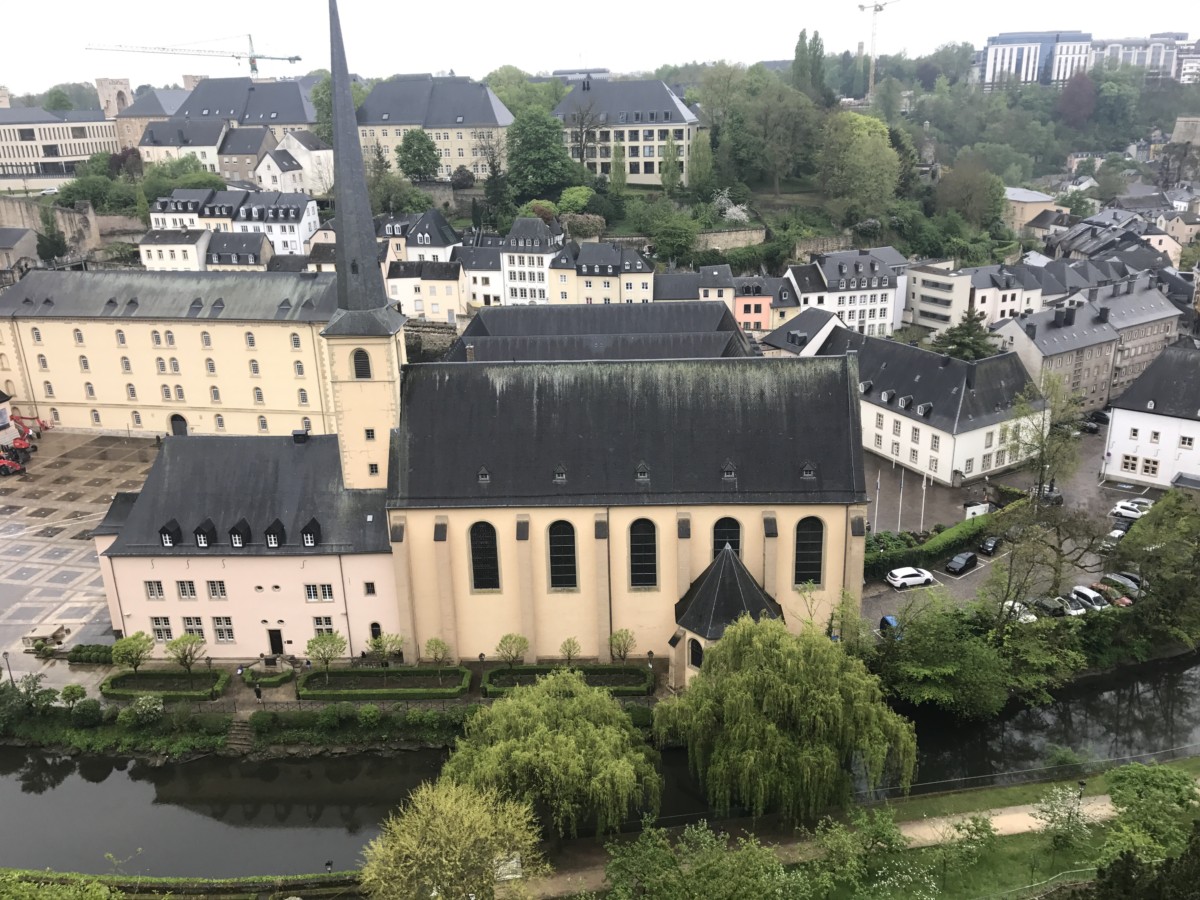 Then we went down under the promonade into the Casemates du Bock. The areas used for defense of the city.
After all of this walking, we deserved more chocolate. 🙂
We found Chocolate House right across from the Ducal Palace where you select a chocolate spoon from over 50 varieties and make your own hot chocolate.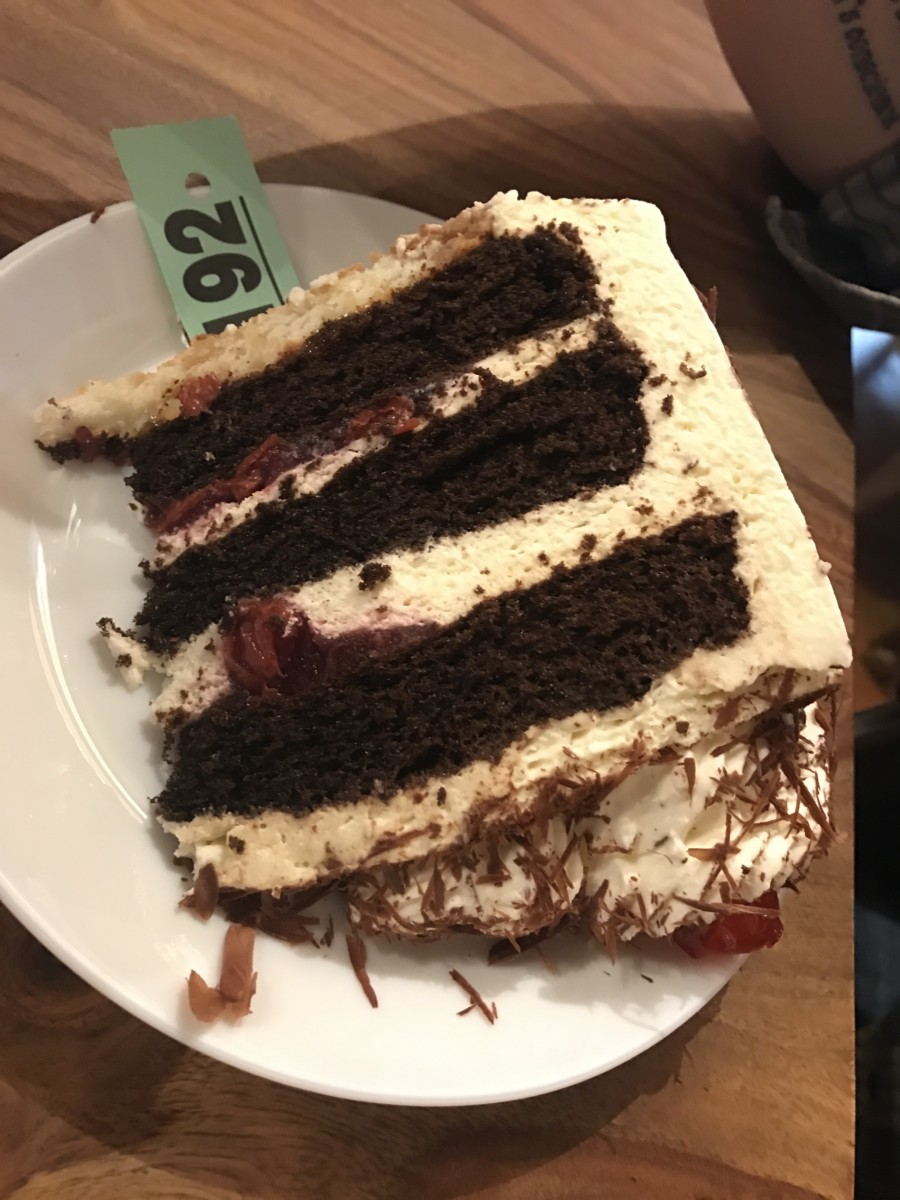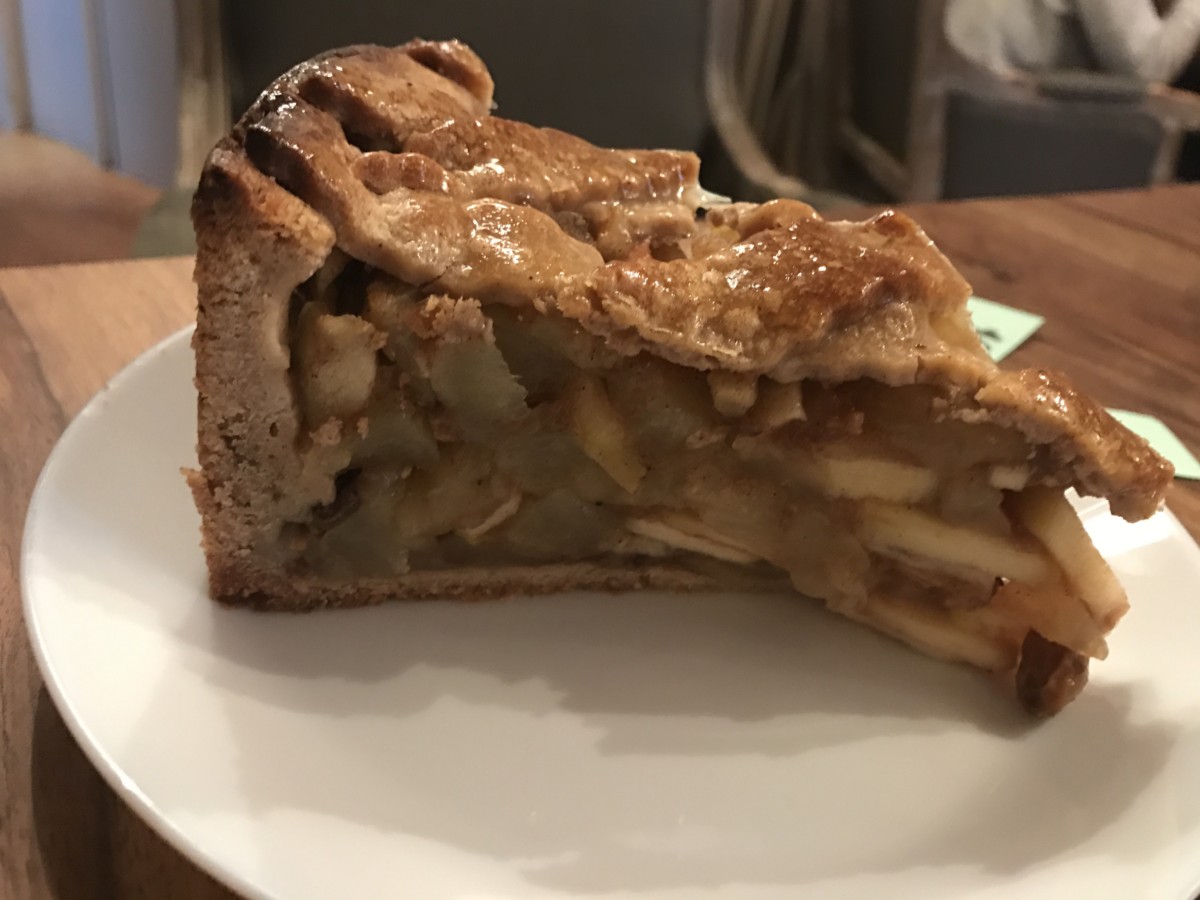 After that we wandered on around town.
We walked through the shopping district and I picked out my new glasses from a case by window shopping. 2nd frames back. (Ordering online- definitely didn't buy them here at this price ha)
Ended our tour at a little Japanese restaurant across from our hotel because the one item we can't get in Ireland is sushi… and the restaurants we tried to stop at didn't open until 7pm and we weren't going to make it another hour. Ha

I might not post again for another couple days because tomorrow we get to Tiffany and Mike's and hang out with them until Tuesday morning. Then we have a couple more days of sites before heading back home.