We started out from the house around 10am, so a rather short day really. Gave us plenty of time to clean up the house and get a start. We skipped breakfast and stopped in Evansville at Gerst Bavarian Hous German restaurant. I had read it was great and a friend even said it was great. I was pretty underwhelmed to be honest…their sausage sampler that I had high hopes for smelled like cheap hot dogs and 2 of the varieties tasted like the Eckrich packaged smoked sausage. So that was disappointing, but the pork knuckle was fantastic! It was sort of like a smoked turkey leg you'd get at the Renaissance fair. I think they are more known for their beer selection-they had 49 beers on tap.
Overall, it felt authentic German… but not like foodie German if that makes sense… There is a German restaurant-Schnitzelbank- in Jasper, Indiana that in my opinion is WAY better. If you need your German fix, I'd head there.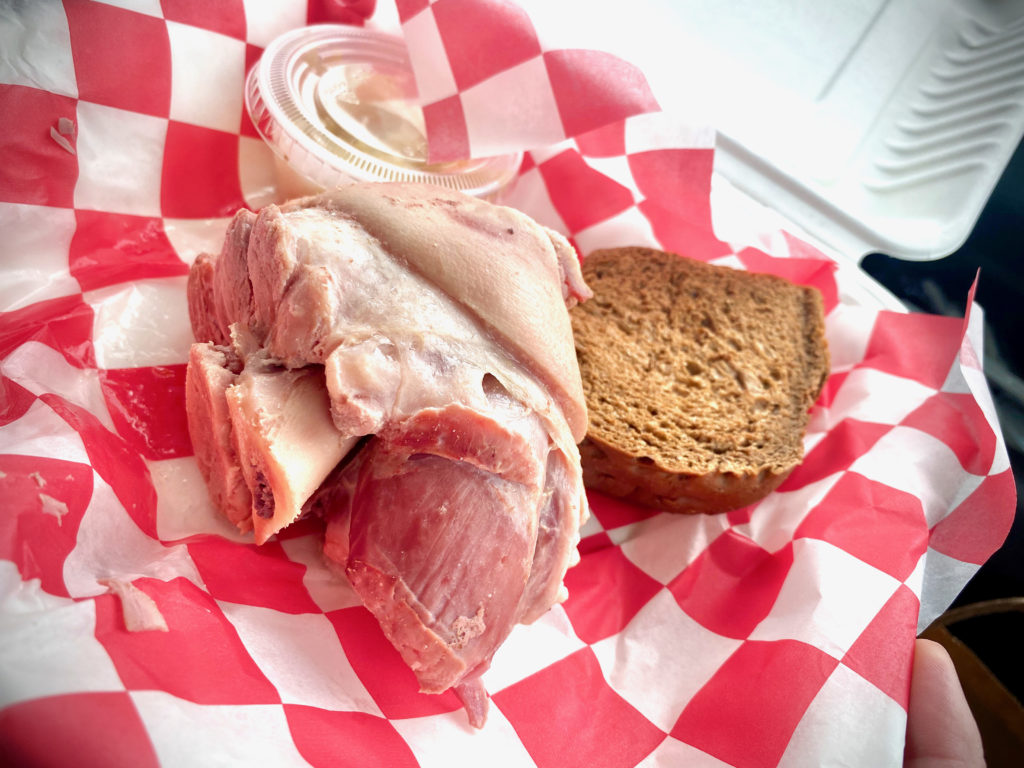 Next we drove through a town, I think it was Eldorado, IL that had an old "muffler man" style statue left over from the 1950s and 1960s. These were really iconic along Route 66 for service stations and auto parts (hence the name Muffler Men)… but this one is for Big John grocery stores. They are pretty rare these days- only 8 Big Johns remain around the country. Ironically, one is in Cape Coral, FL where we have a house! That Big John grocery is long since closed, but the Big John statue still stands in a shopping center.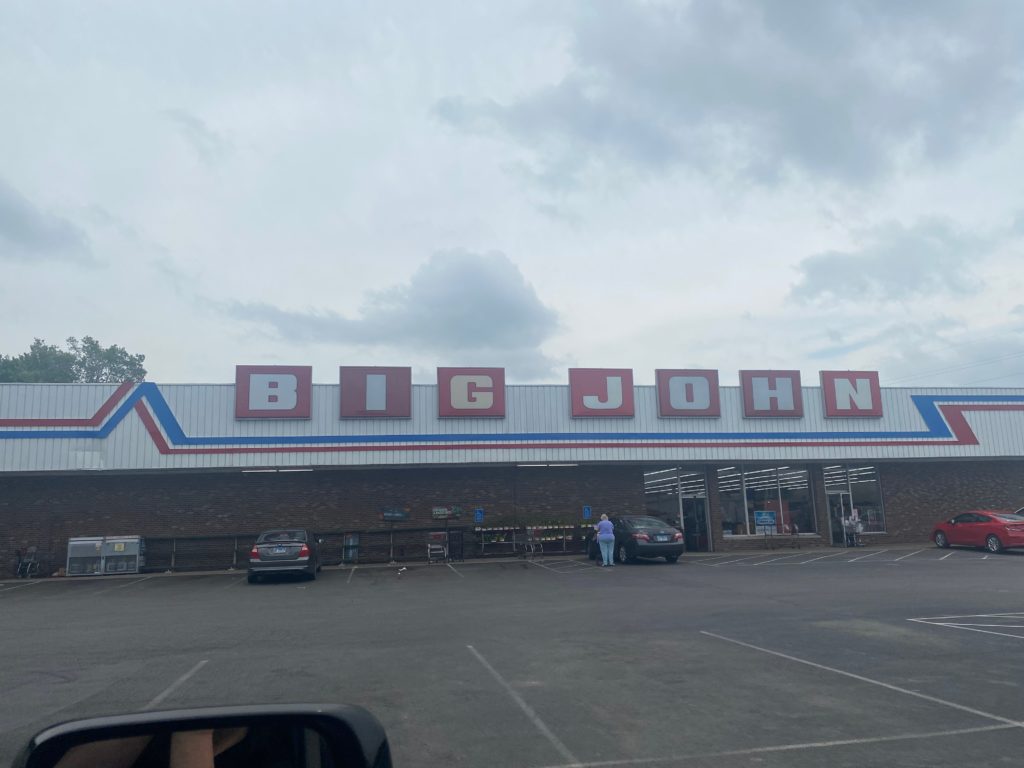 Next we saw a sign for Garden of the Gods in Shawnee National Forest but we had never heard of this Garden of the Gods- only the big popular park out west… so a quick Google said we should go! So we did a quick detour and hike and it was well worth it! It was a quick 1/4 to 1/2 mile loop called The Observation Trail that I would recommend if you're near the area.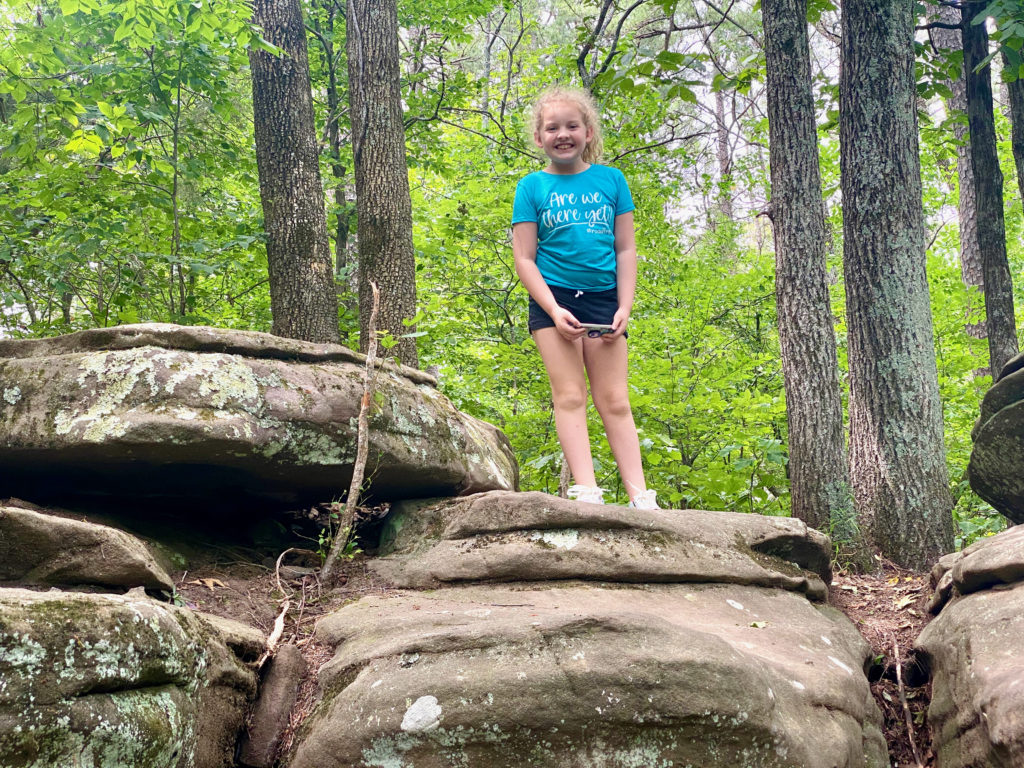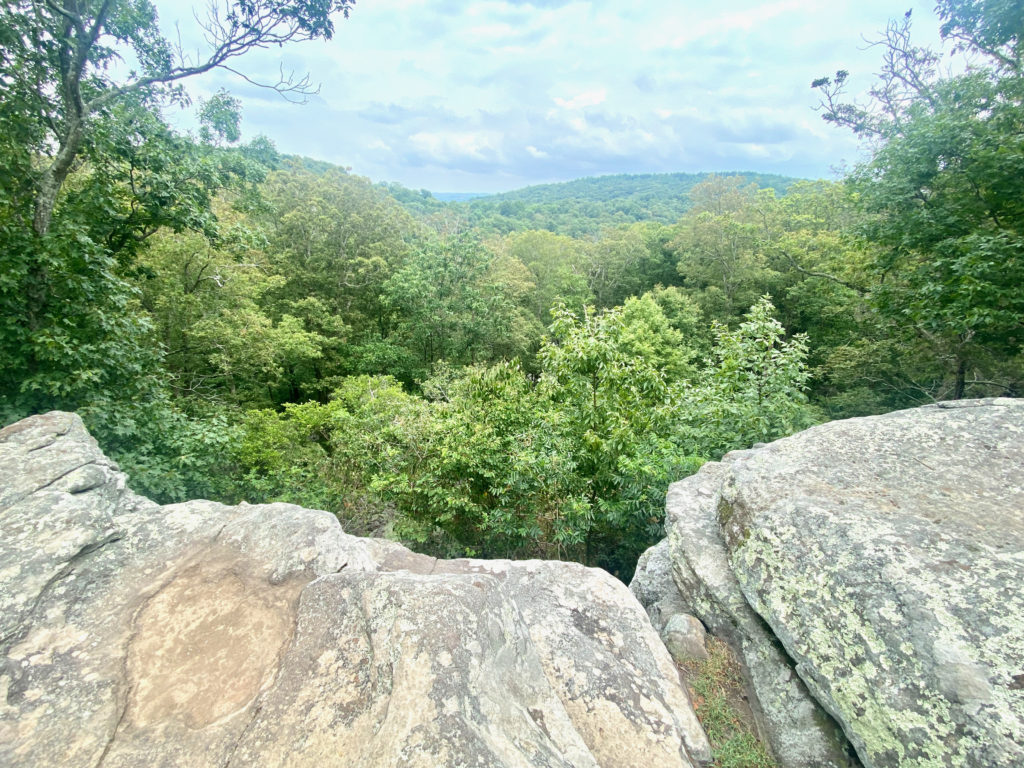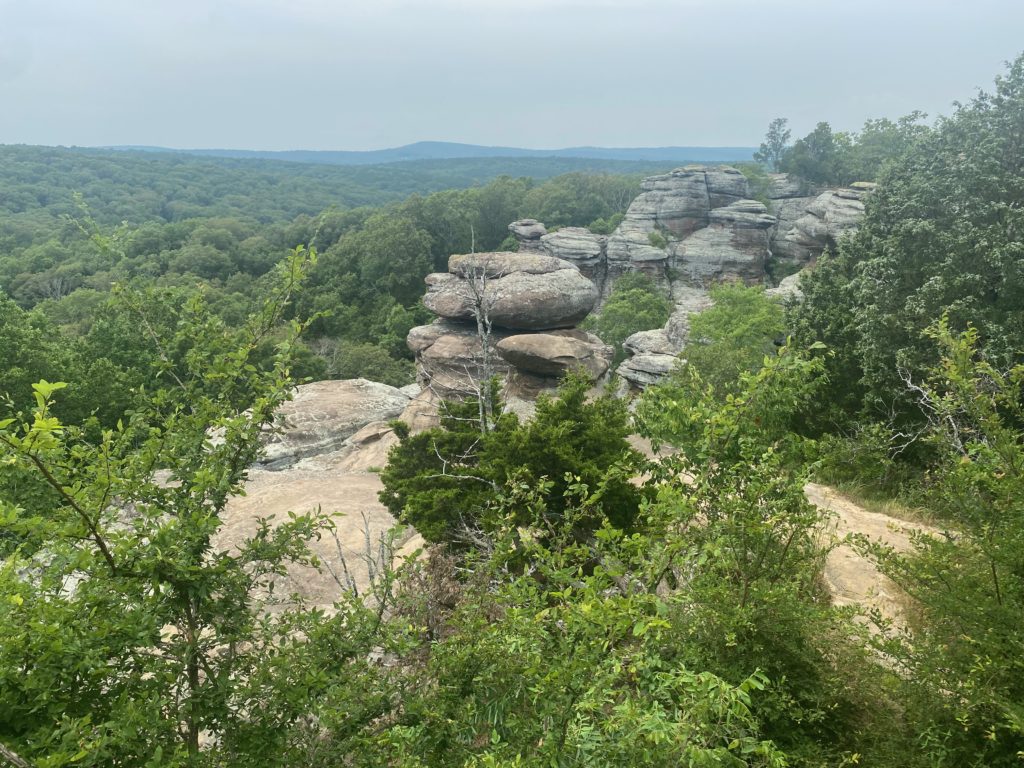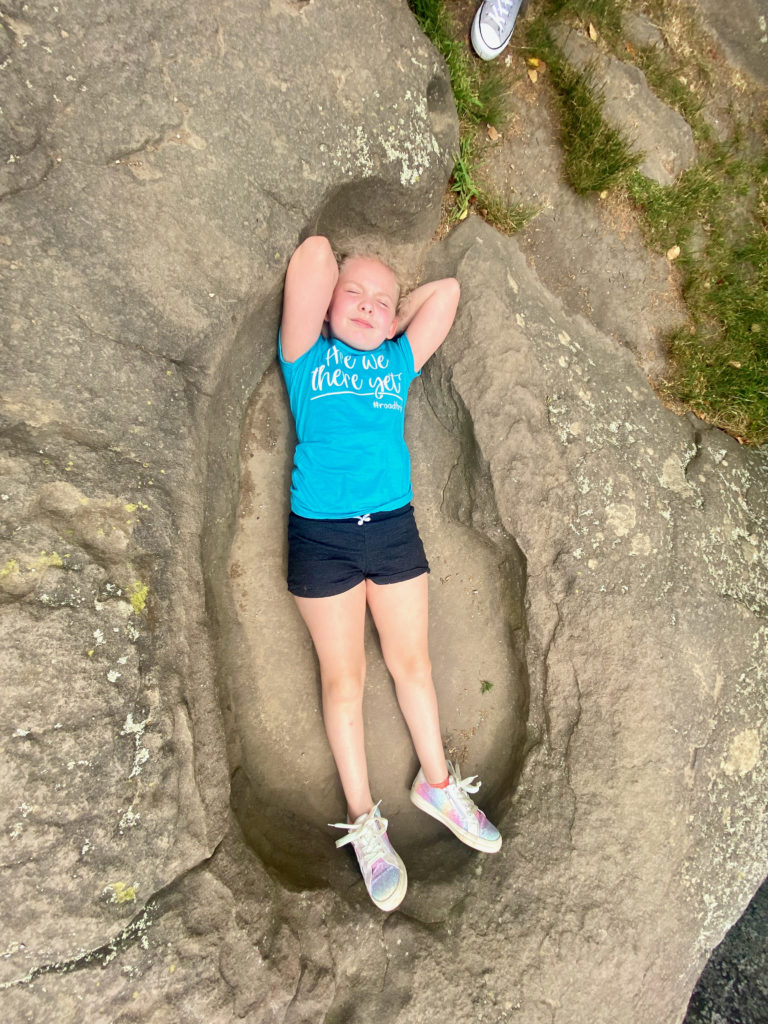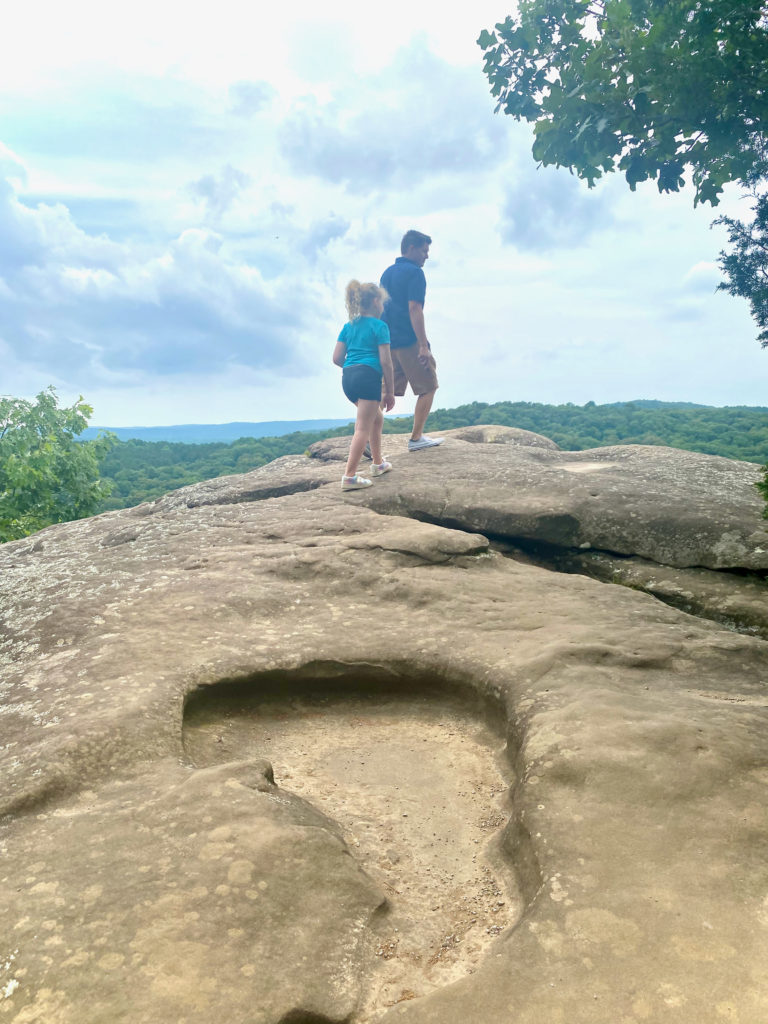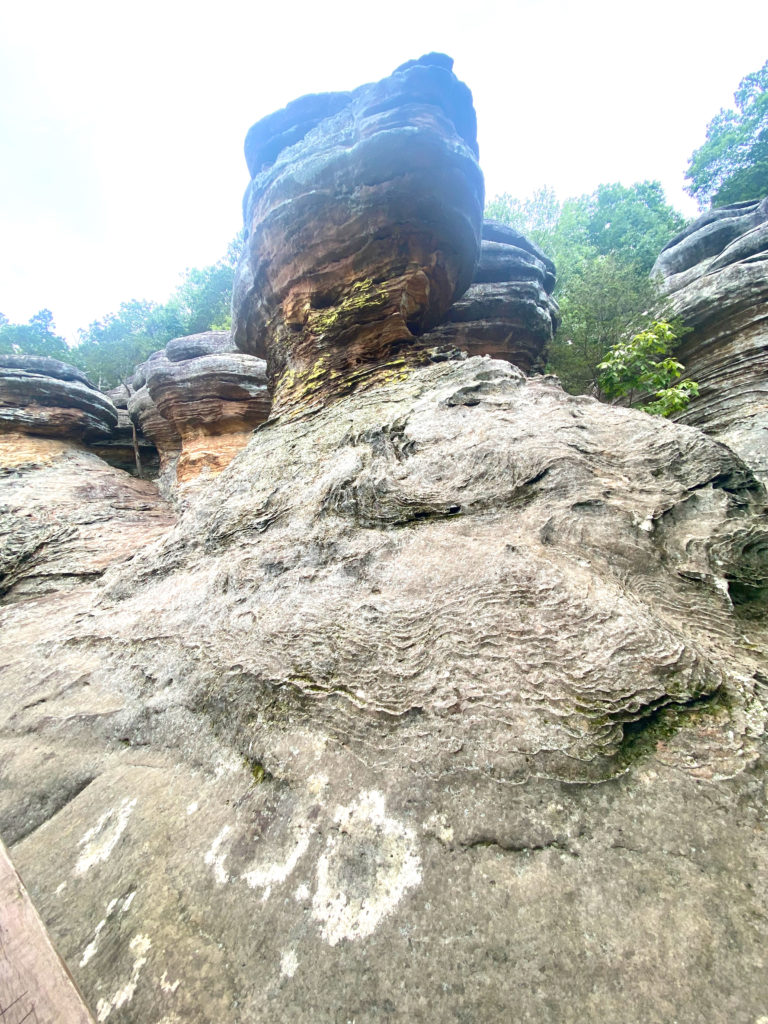 The sandstone hoodoos are like a feature from out west. Very strange and cool geologic features for southern Illinois!
One spot the walkway was very narrow between two rocks.
The rocks had these really papery layers in places. Almost like laminated dough. I hadn't seen that before. It was neat.
Kegan caught me by surprise for a photo- a rare occurrence for a vacation photo of me! Ha I had to post it 🙂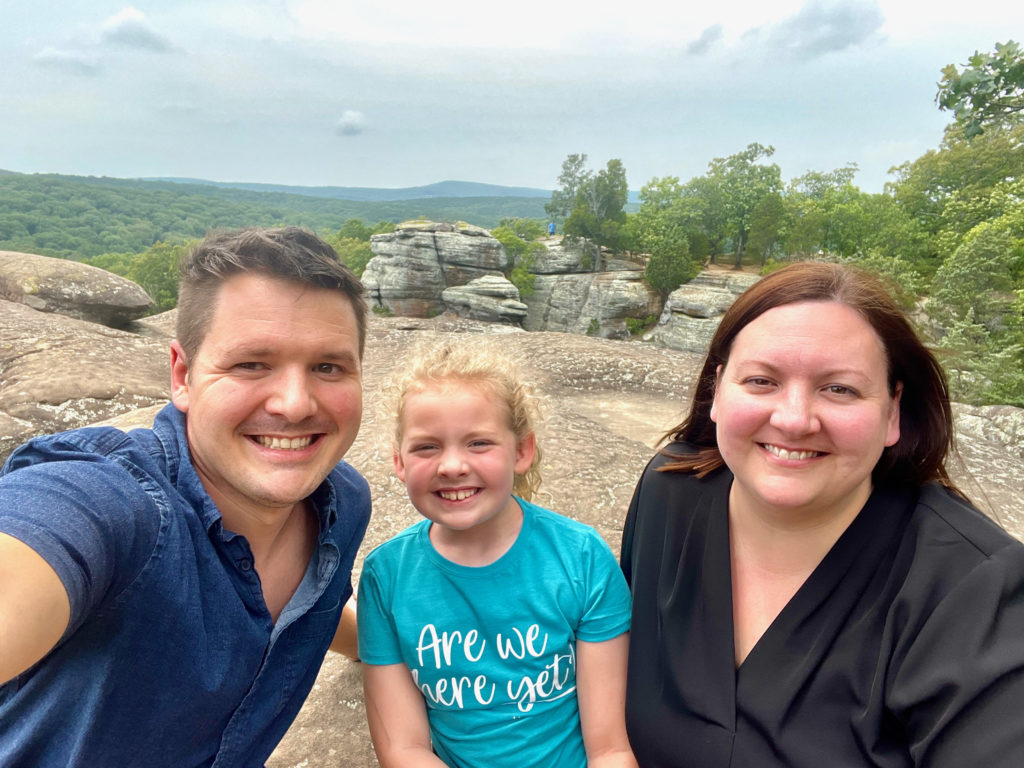 Next stop: Metropolis, Illinois – home of Superman and Lois Lane! Metropolis,IL has been around since the late 1800s, but in 1972 is was officially given the title Hometown of Superman.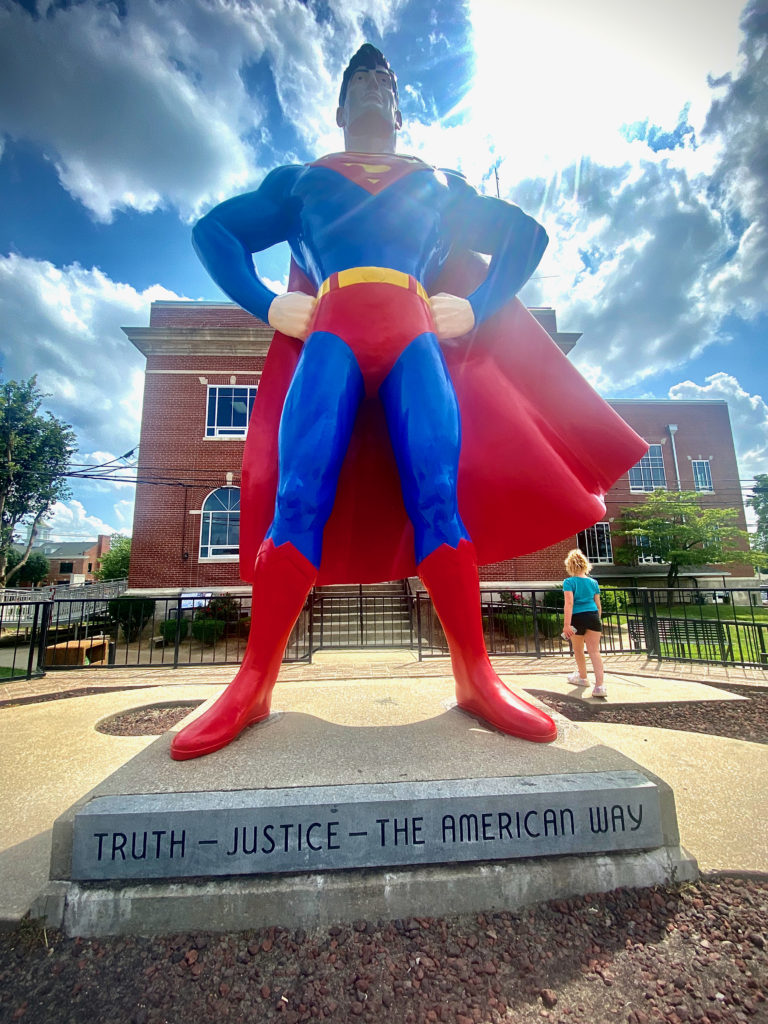 There is a SuperMuseum there and a large comic themed gift shop.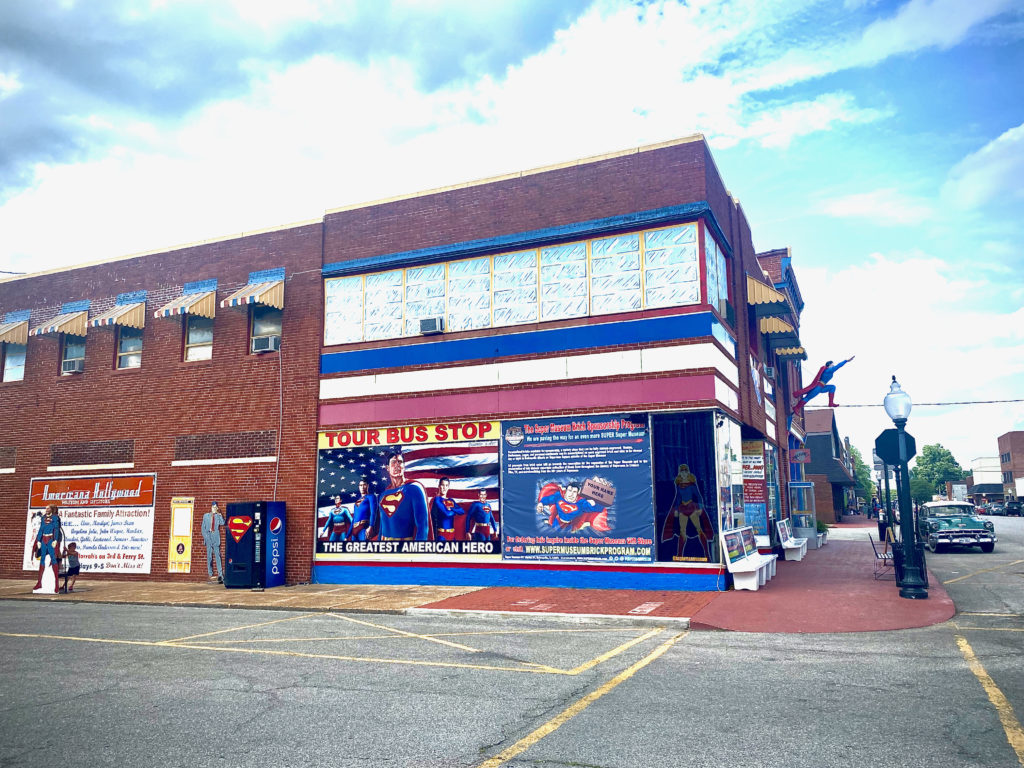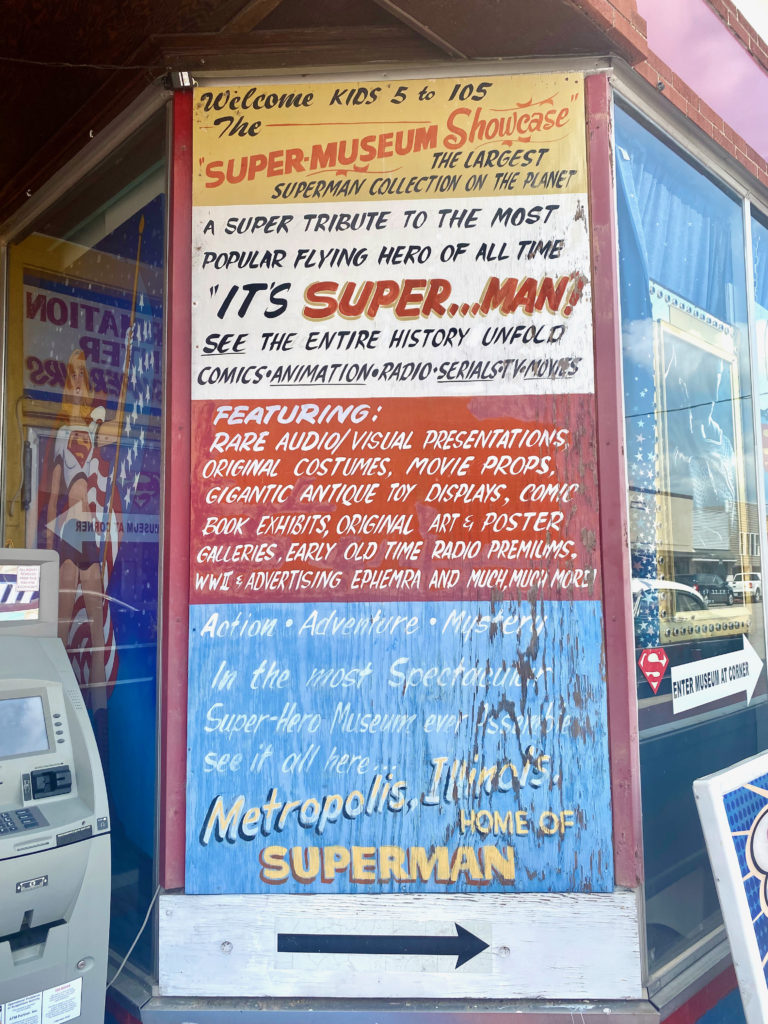 We crossed from Illinois into Kentucky on a side street bridge because the interstate was stopped for construction. It was one of those 25 mile per hour bridges where the wavy road part feels like it's trying to wreck you. Ha did not enjoy.
Our destination next was Paducah, Kentucky, a riverfront town found by William Clark (of Lewis and Clark expedition fame).
We stopped by the carved Indian head art piece of Chief Paduke who is said to be the namesake of the town by local lore. However, the Chickasaw tribe leaders say there was never any known chief by this name and that the Chickasaw don't even have words for Paduke. Instead they think maybe William Clark named the town after a Spanish word for Comanche Indians "Padoucas"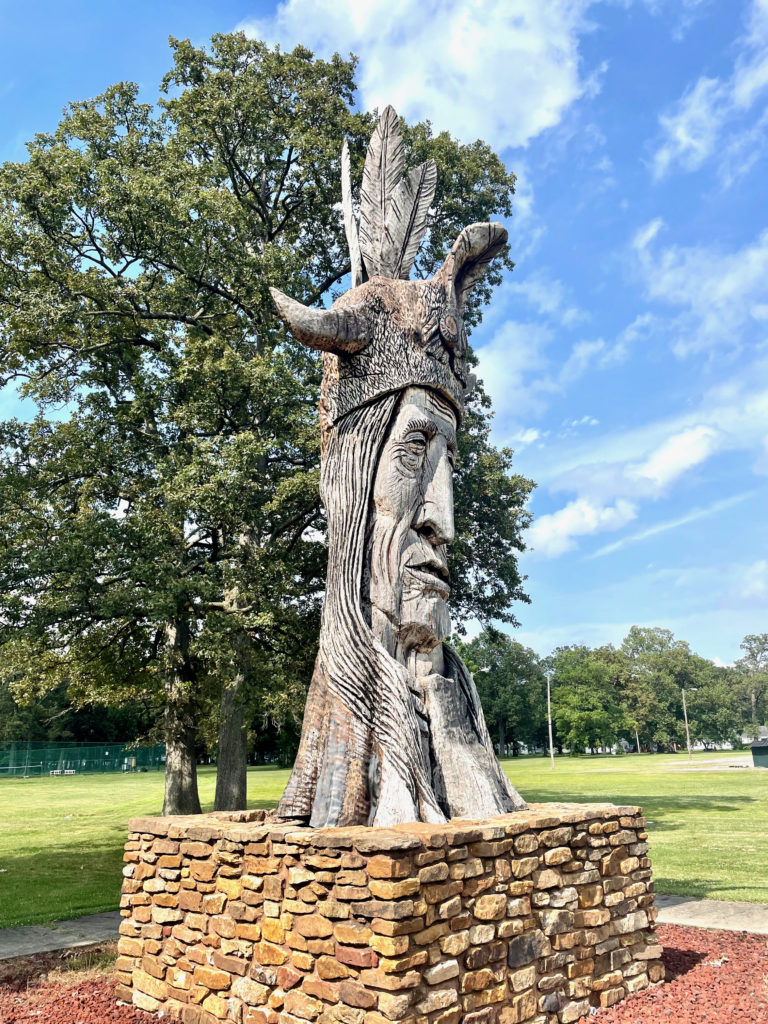 Downtown was super cute and very revitalized. Horse and carriage rides, riverfront sidewalks for strolling, tons of new and trendy restaurants… I was surprised! I don't think I had been to Paducah before.
The irony of the Tent &Awning company's awning being in this shape…well, it deserved a photo. Ha
Paducah was an important river transport/ port town. Many barge companies had headquarters in Paducah because there were tons of dry dock facilities. Also, because of its proximity to Kentucky coal mines, it was an important railway hub for the Illinois Central railroad and was the main connection between St. Louis and Chicago to the Mississippi.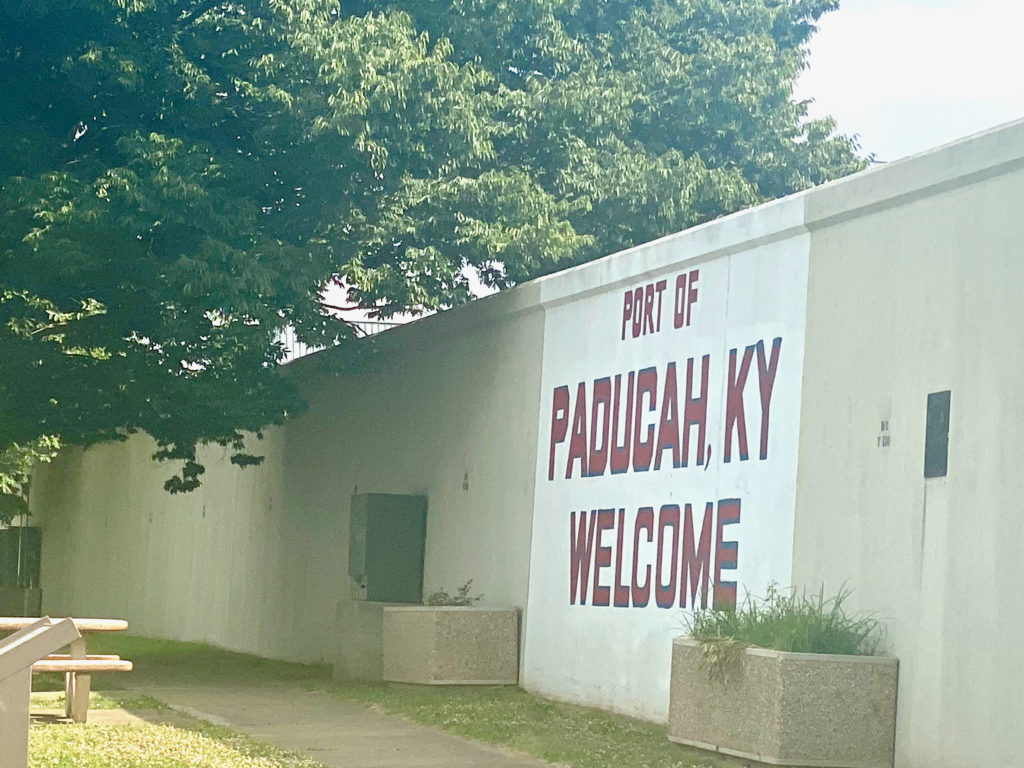 In 1937, there was a historic flood and water was 60 feet above normal level..this prompted the building of a flood wall by the US Army Corp of Engineers. The inside of this floors wall has been turned into an art installation of murals about the town's history. They were really really cool.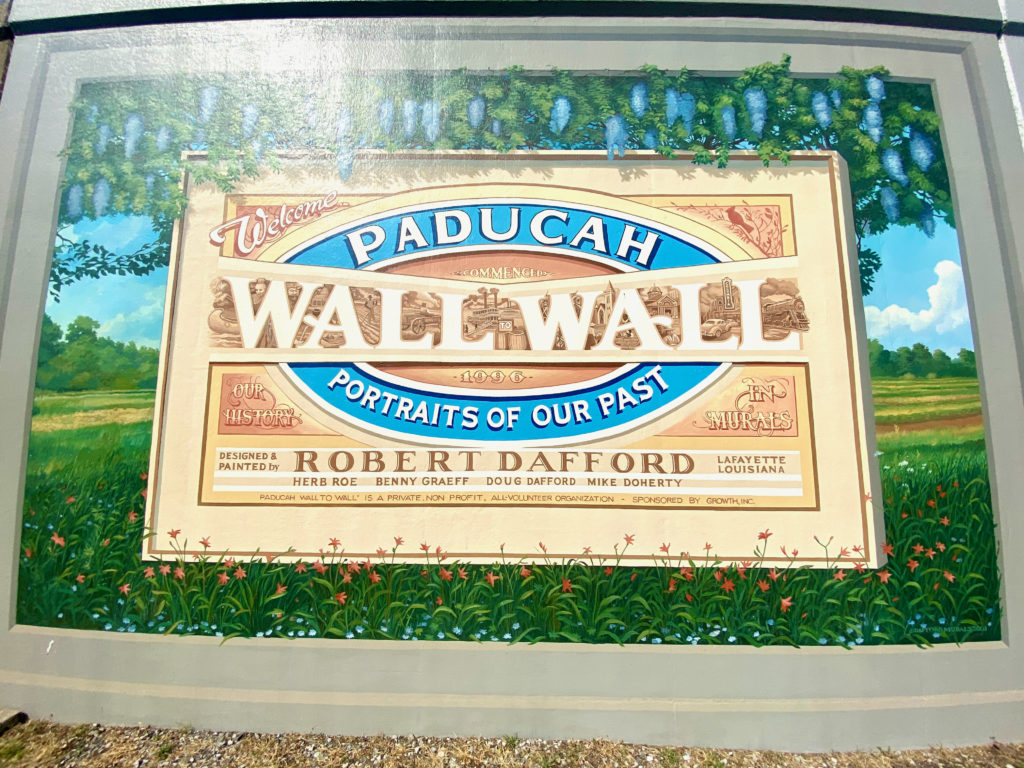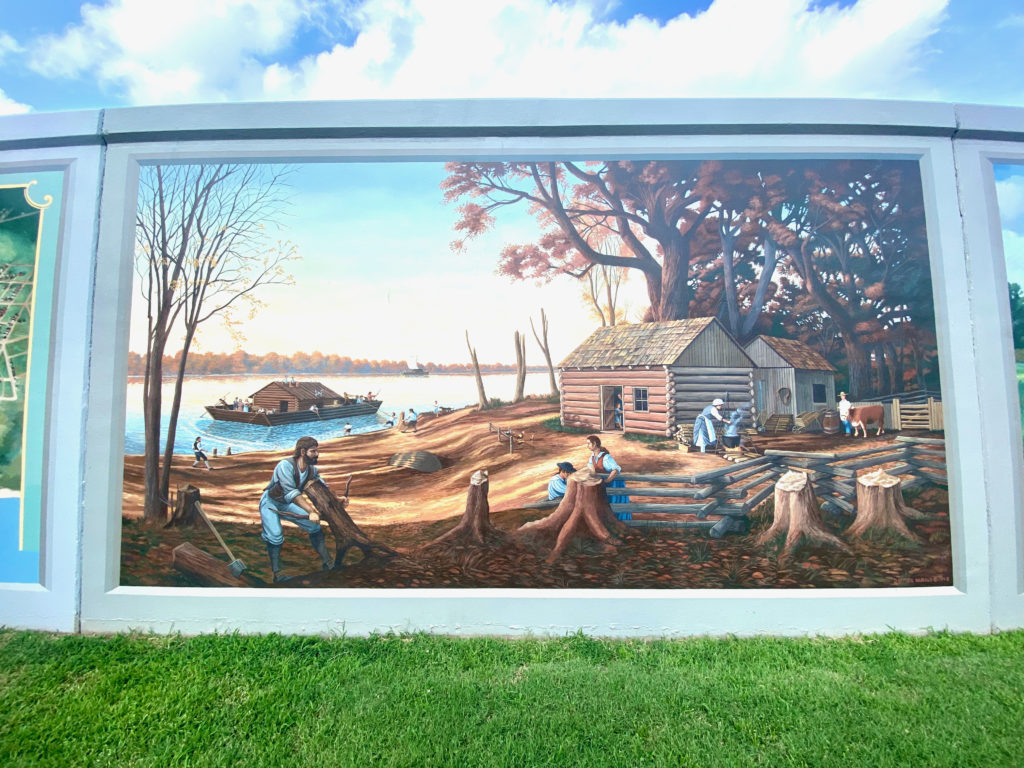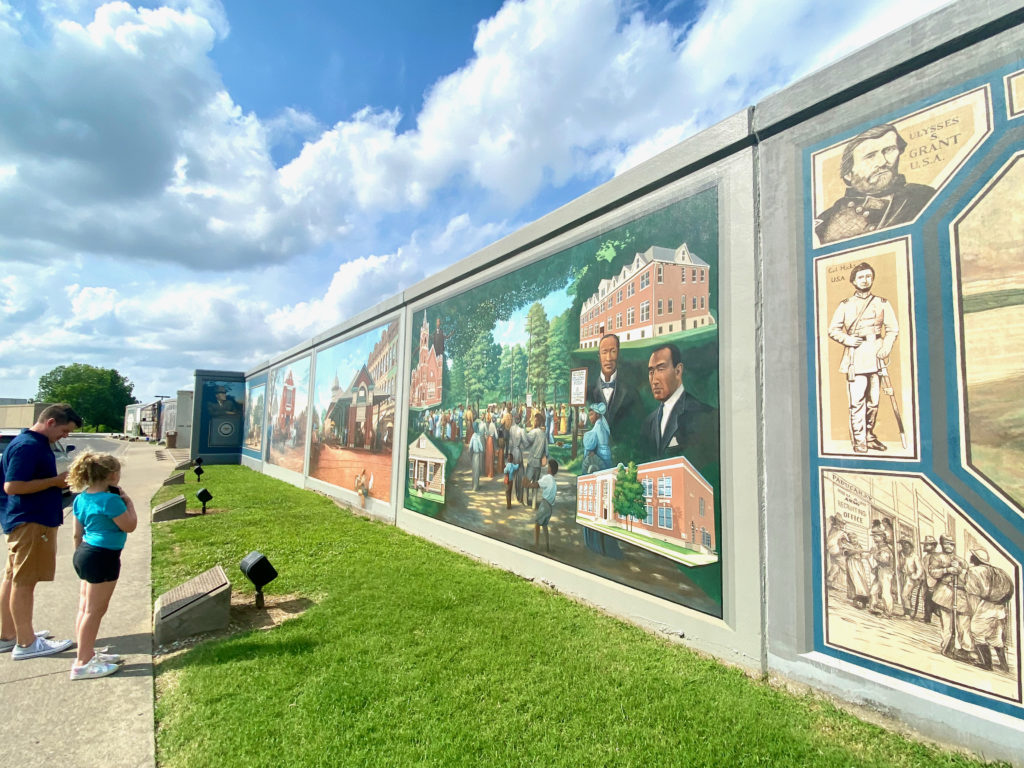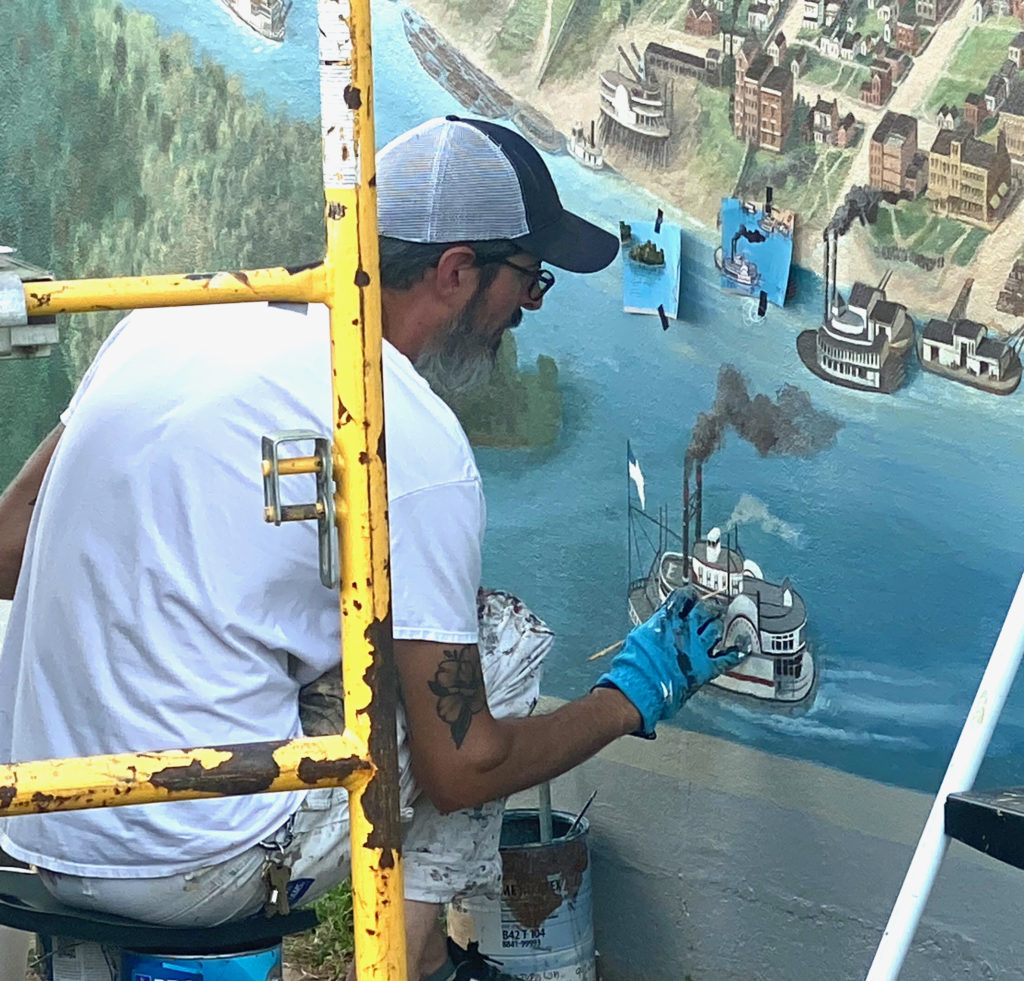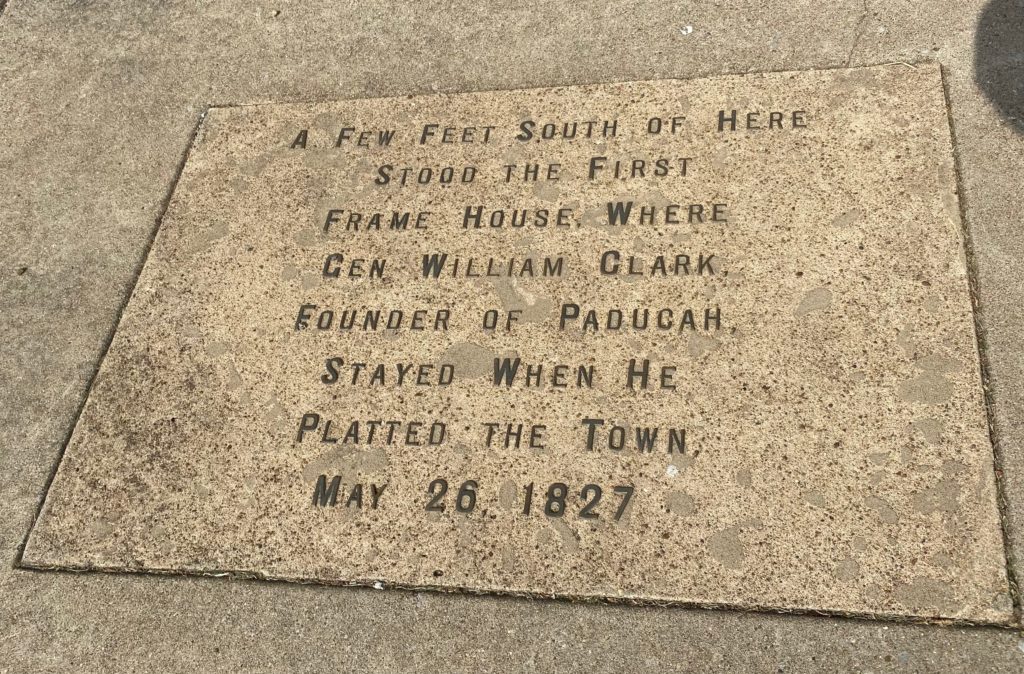 The above mural was my favorite because of the realness of the Old photos being painted and the paint techniques for the borders in the teal color. Just a really well done panel.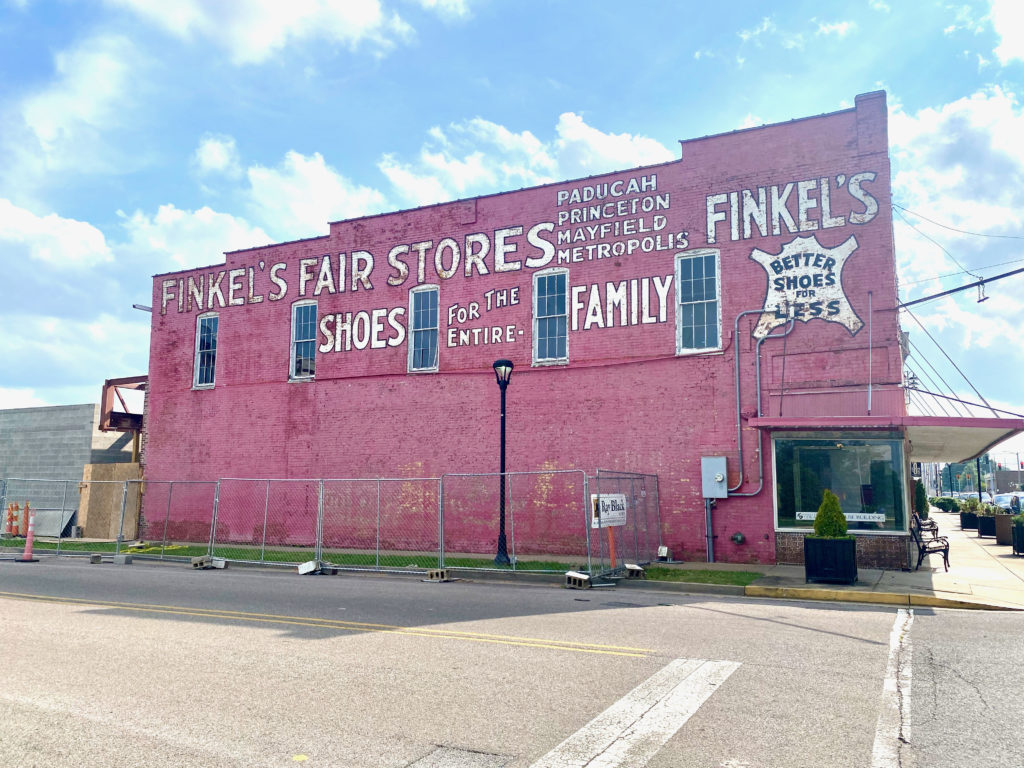 After the mural we walked down a couple downtown streets and worked our way back to dinner.
Kegan used to do some environmental work around Paducah and had eaten at Doe's Eat Place back then…and for years he has talked about their steak and wanting to go back. So…we made that happen for dinner!
We ordered the 2lb Bone-In Ribeye to share and while it was good…I didn't think it was anything crazy good and Kegan agreed that either his memories were rosy or the quality just wasn't there tonight. So both our stops today weren't anything to really write home about…I hope that's not a sign for the trip! Ha
We continued back on the road for another 3.5 hours to south Memphis, Tennessee where we stayed for the night. Tomorrow is Graceland, the Lorraine motel and Civil Rights Museum and a trek across Arkansas on I-40.